For a gal born and raised in New England, I often find myself enamored with traditional foods from the South rather than the North. Brace yourself Mabel, I'm about to cross the line...
The Mason-Dixon line, that is. Yes, it's true. I would rather drink sweet tea than strong coffee.
Give me hummingbird cake over apple pie, and fried chicken over a boiled dinner any day of the week.
Sweet potato anything is music to my taste buds;and I've been known to eschew oatmeal for a hot bowl of grits on snowy mornings. Forgive me New England, forgive me, but Southern food is just plain good!
Wait, wait! Don't string me up just yet. I still love Whoopie pies, maple syrup and more maple syrup, so I hope I can stay in Vermont for at least a few more years. But once you taste this recipe for a Southern staple, spoon bread, you just might want to join me next time I delve into Dixieland cooking.
Spoon bread is a glorious dish of  cornmeal mush lightened with eggs and baked to perfection. It's soft and pillowy, quite different from traditional cornbread. No chunky slices here; you'll need a spoon to serve and eat this dish.
Plain spoon bread is comfort in a bowl, and can be endlessly varied to suit every taste and every meal and menu. Today we'll make two different versions. First, a spicy red-pepper spoon bread; and then a milder cream cheese and chive version. Both recipes will begin with cooking the cornmeal in milk on the stovetop; the variety comes with the ingredients added later.
Let's get started making Spoon Bread Two Ways.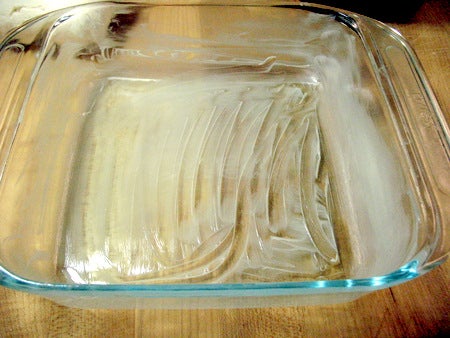 Begin by preheating the oven to 400°F. Heavily butter a 1-quart baking dish or 9" square baking pan, and set aside. I prefer butter over cooking spray for this particular recipe, as it helps the bottom crust crisp up beautifully.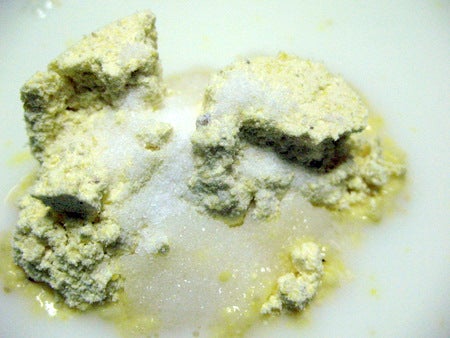 In a medium-sized saucepan whisk together:
1 cup milk
1/3 cup yellow or white cornmeal
¾ teaspoon salt
Cook over medium-high heat, using a silicone spatula to stir constantly – especially along the bottom of the pan.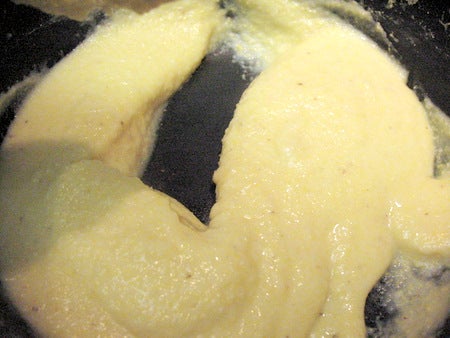 Cook for about 5 minutes, until the mixture has thickened and the spatula leaves a clear trail.
Remove from the heat and let cool for about 5 minutes while you decide which version you want to make today.
I'm going to start with Spicy Red Pepper Jalapeño.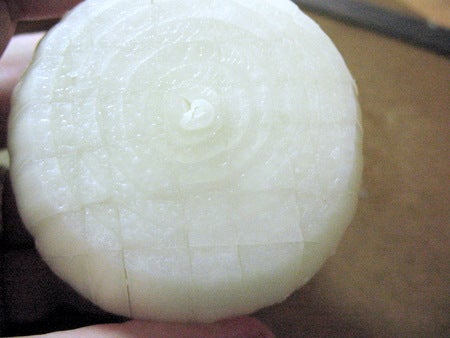 To easily and evenly dice an onion, start by making vertical lines across the whole peeled onion, nearly all the way through but not quite. Turn the onion halfway, and repeat so that the onion is now divided into little squares, but still attached together at the stem end.
Carefully slice the onion as you would for round slices. Because of the previous cuts, your slices will come out as a dice.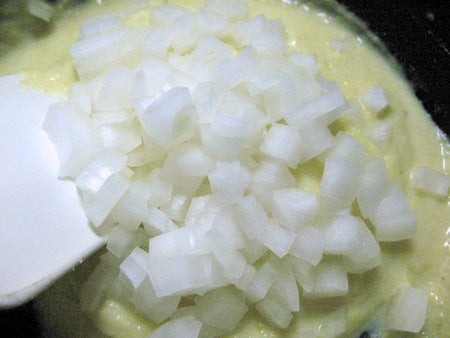 See?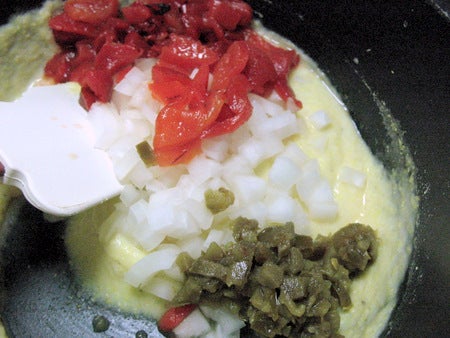 To the warm cornmeal mush add:
1/3 cup diced onion
1/3 cup roasted red peppers (jarred are fine)
1/3 cup diced jalapeños, or to taste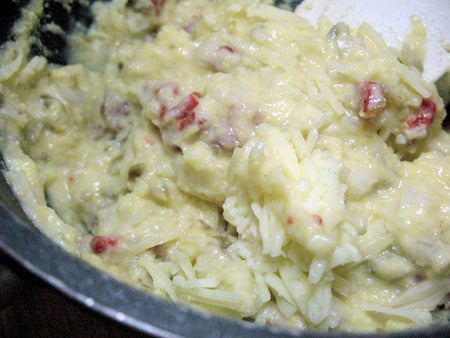 Stir in 1/2 cup shredded sharp cheddar cheese.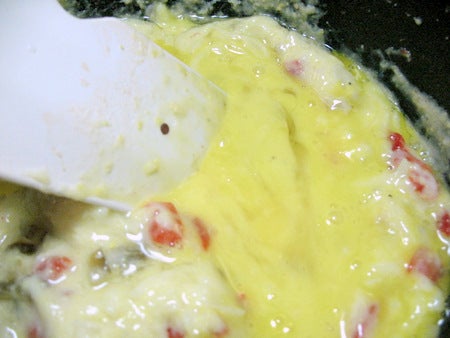 Gently whisk together 2 large eggs, and add to the batter. Stir well until everything is combined.
For a souffle-like spoon bread, separate the eggs and blend in the yolks. Whip the whites to soft peaks, and fold into the batter before spooning into the baking dish. It takes a little longer, but makes an ethereal spoon bread.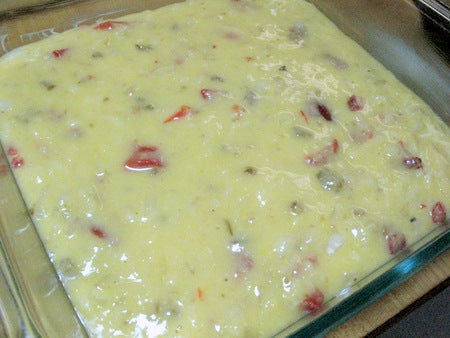 Pour the batter into your buttered baking dish. Sprinkle with another 1/2 cup shredded cheddar.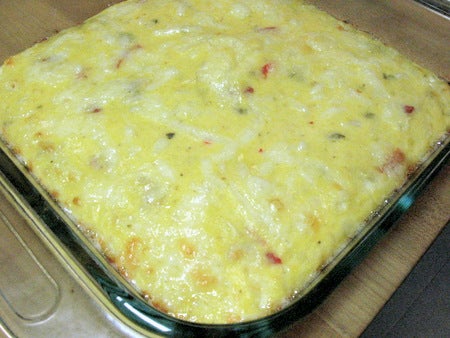 Bake for 25 to 30 minutes at 400°F until the center is just set and the edges begin to brown. Spoon bread should remain soft and custard-like inside. It won't set up as firm as regular cornbread (hence, the need to serve it with a spoon).
Serve the spoon bread right away; it's best when hot. This would make a great side dish for grilled chicken, or a new addition to the regular ham and eggs routine at breakfast.
So, spicy isn't your thing today? How about mellow Cream Cheese and Chive Spoon Bread?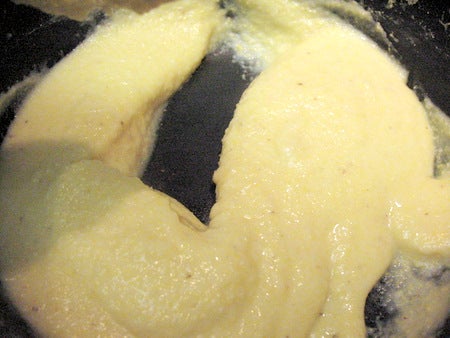 Begin here, where you've just taken the cornmeal mush off of the heat.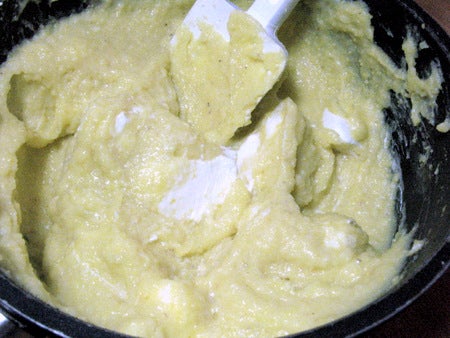 Add 4 ounces softened cream cheese, stirring until it's completely blended in.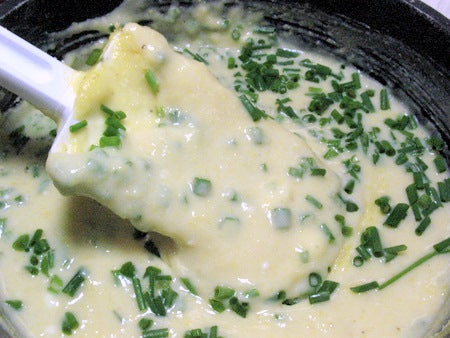 Add 1/2 cup minced chives and 2 well-beaten large eggs.
Again, if you want a souffle-like spoon bread, you can separate the eggs and fold the beaten whites in separately.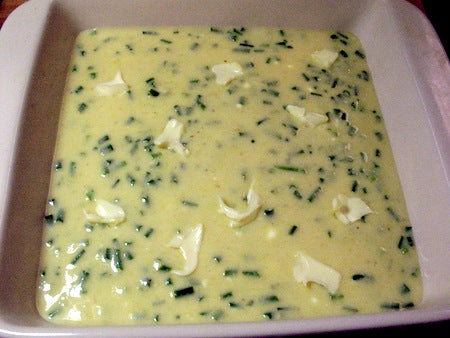 Pour the batter into a buttered 1-quart baking dish,and dot with 1 tablespoon butter. Bake for 25 to 30 minutes at 400°F, until the center is just set and the edges begin to brown.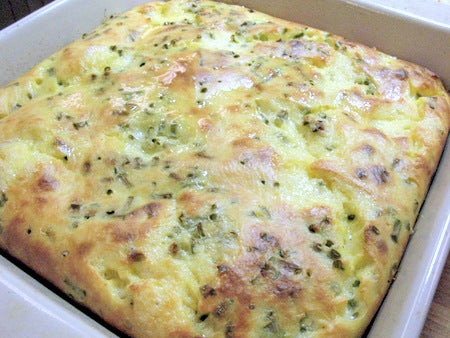 Doesn't that look amazing? Wait until you spoon up a big bowl and taste the soft, warm, chive-y cheesiness. I really could eat this every single day.
Are you absolutely tied into these add-ins?
NO way! You could use mushrooms, asparagus, tomatoes, whatever garden bounty you have on hand. Keep the proportions roughly the same, totaling no more than 1 to 1 1/4 cups. Gently frying juicy veggies first will keep your spoon bread from being runny.
Try it with a big garden salad for a light, easy vegetarian dinner. Any time of day, it's spoon-tacular!
Please bake, rate, and review our recipe for Spoon Bread Two Ways.
Jump to Comments