Visiting Wichita, Kansas, for the National Festival of Breads in June was a real treat. Born and raised in the Midwest, it was fabulous to be back in an area where it was OK to say "pop" instead of "soda" – and not get a sideways glance. While Kansas is farther south than my Midwestern home in Minnesota, a lot of the landscape, food, and people felt familiar.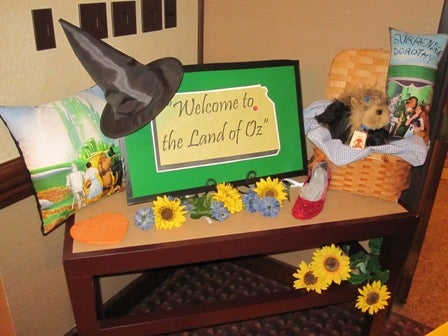 In Wizard of Oz country it's appropriate to say, "There's no place like home," right?
But enough talk about the location. You want to hear about the festival!
The biennial National Festival of Breads is America's only national amateur bread-baking competition. For several years it was a Kansas state competition, but in 2009 the event coordinators at the Kansas Wheat Commission decided to open it up to the entire country. It's a blast meeting the finalists from across the nation, all with their own regional flair and accent.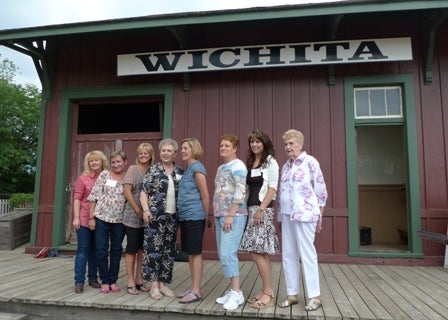 This year more than 500 home bakers submitted original recipes, and eight finalists were invited to participate in the live competition in Wichita.
There were 2 days of activities leading up to competition day.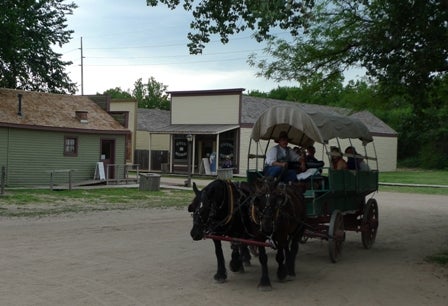 The first day contestants, sponsors, and media were invited to explore Old Cowtown, a living history museum that allows visitors to experience life like it was in the 1870s.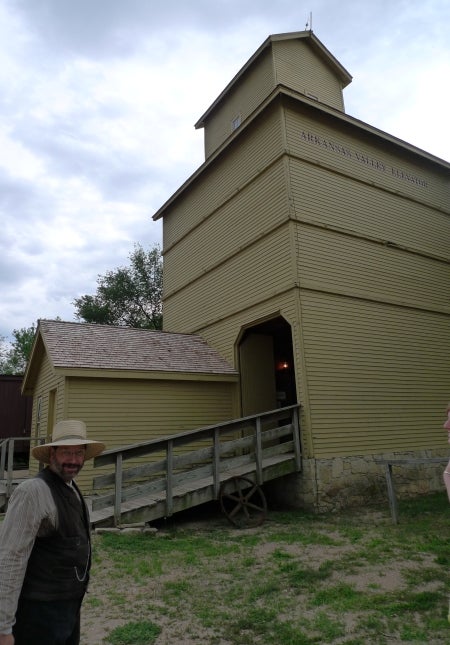 A wooden grain mill in the town provided a historic glimpse of the contemporary milling process we would see the next day.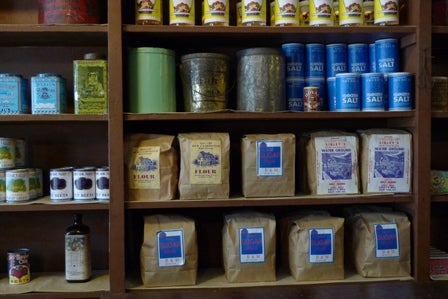 A general store displayed some flour bags that look very similar to the bags seen on the shelves today – although I wouldn't recommend baking with flour purchased from this particular store.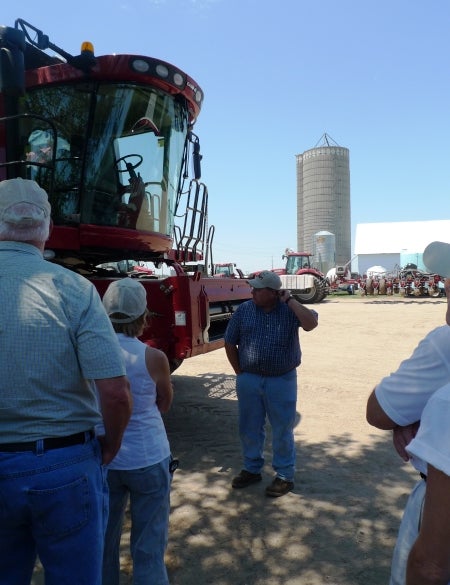 Day 2 was an interactive experience, following wheat from farm to flour bag. We traveled to a family farm…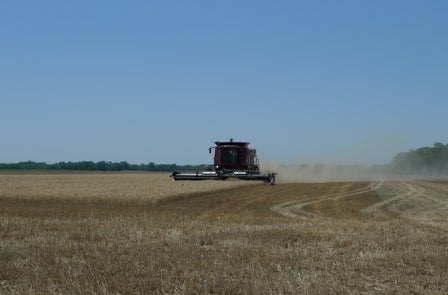 …were given the opportunity to ride in a combine harvesting wheat…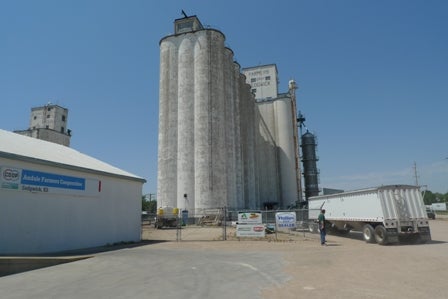 …followed the truck carrying the harvest to the grain elevator…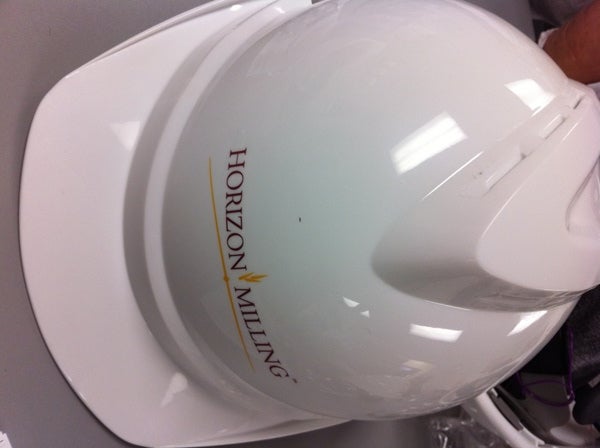 …and toured a flour mill.
Unfortunately no photos were allowed to be taken inside the mill, so all you get to see is the nifty hard hat I wore during the tour. The ear plugs aren't shown, but those were also a necessity. It's incredibly loud in the mill.
Throughout the day we learned how little the flour process has changed in hundreds of years. Of course, technology has made everything more automated, and individual farmers are able to grow and harvest more wheat. But the basic string of events and overall procedures remain very similar to what has been done for many generations.
Day 3 brought us from flour bag to fork. Competition day!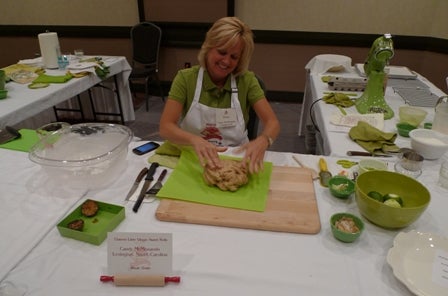 The eight finalists were provided color-coordinated kitchens in the grand ballroom, where they baked the day away as the public stopped by to watch bread-baking demonstrations, learn fun facts about Kansas wheat, and purchase lots of goodies from the Great American Bake Sale (proceeds went to Share Our Strength).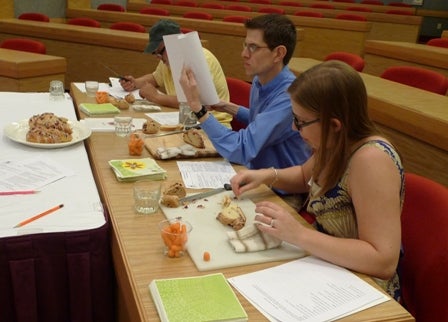 By the end of the day, the delightful aroma of fresh-baked bread was wafting through the entire building. And the judges (Melissa Knific, assistant food editor for Family Circle magazine, Aaron Clanton, baking curriculum manager at AIB International, and Naji Toubia, owner of Bagatelle Bakery in Wichita) had the difficult task of selecting a winner. Having witnessed a portion of the judging proceedings, I know they took their time discussing every aspect of the finalists' creations.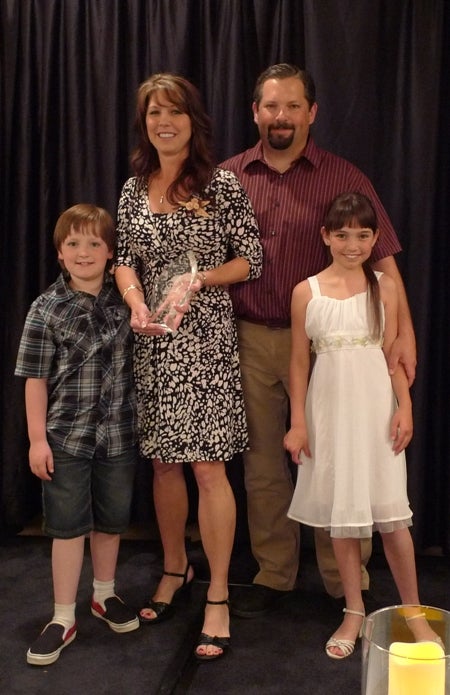 That night the winner was announced: Gale Collier of Redmond, Oregon, won with her Quick Raisin Granola Breakfast Rolls. She happily accepted her award as her husband and children beamed with pride! The huge, glowing smiles of her children were contagious. You know these are two future bakers!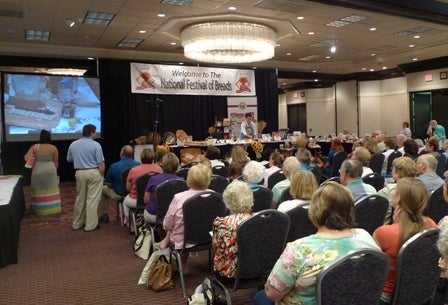 About 500 people attended the festivities on competition day. I hope more than 1,000 attend in 2013! The coordinators of the event – Cindy, Bill, Julie, Aaron, and so many others at Kansas Wheat – worked tirelessly to create an experience that truly builds an appreciation for wheat and the process it goes through on the way to the table. I know I will never look at another bag of flour the same way again, and I'm sure the finalists and other attendees won't, either.
If you'd like to learn more about what goes into a bag of King Arthur Flour, check out our new video series featuring some of the farmers who grow wheat for us. And start working on your recipe now to enter into the next National Festival of Breads. The request for submissions will come out sometime in 2012, so keep an eye out for it.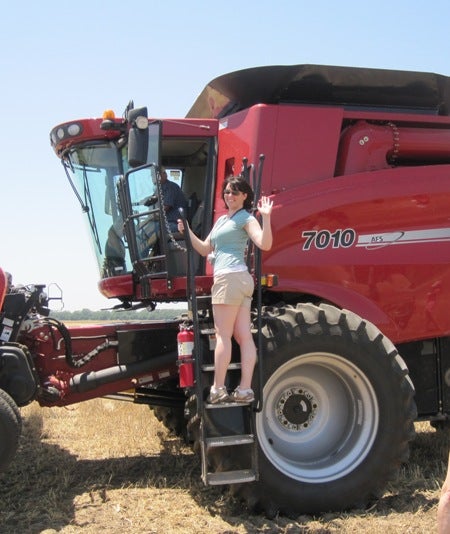 Until next time, Kansas.