We all know how difficult life can be when you're living in the midst of a kitchen or home renovation. While your personal renovation probably isn't as large as ours is here at King Arthur Flour, all renovations share a few commonalities: precious items packed away safely (products from our store shelves), the unbearable anticipation of finishing, and the sweet relief when friends come to visit and give you a distraction from all that noise...
The expansion of our Baker's Store, café, and bakery is well underway, and all of us working at this employee-owned company would love you to pay a visit and give us that much-needed distraction. The store is open the same hours it's always been; and with the exception of a missing display or two, it's just as much fun to visit as ever!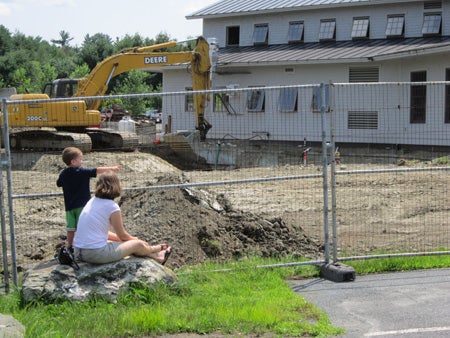 Since the future building will be triple the size of the current one, you'll notice some immediate changes to the grounds. While the trees and greenery are temporarily missing, you can still enjoy your picnic lunch outside on a table – while watching the big rigs at work!
Another major change is the huge hole in the ground where the store's main entry used to be. A lovely new walkway was created on the opposite side of the building, with signs clearly marking the way. Bathrooms have been moved to the hallway by the bakery counter – and "deluxe" portable bathrooms have been placed in the parking lot for your convenience.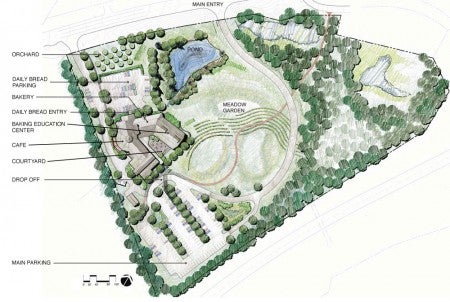 (click on the image above to enlarge it)
We can all agree that things at our store have become a bit cramped. One look at the design plans and you can see how much more room there will be. No longer will the cafe and store have to fight for space. The current building will be dedicated solely to the cafe and bakery counter with a separate room built for retail items. The thing that might "take the cake" though, is the addition of a window into the bakery so you can see our bakers hard at work.
Just like King Arthur's magician, Merlin, the construction crew is making things happen in what seems like the blink of an eye (or the wave of a wand). Just 1 year from now, the store will have been transformed into a truly vacation-worthy destination for your entire family. Visit during the renovation – it'll be like capturing a moment in history.