Twinkling Good Cupcakes
Fruit fillings PLUS bonus bubble sugar demo!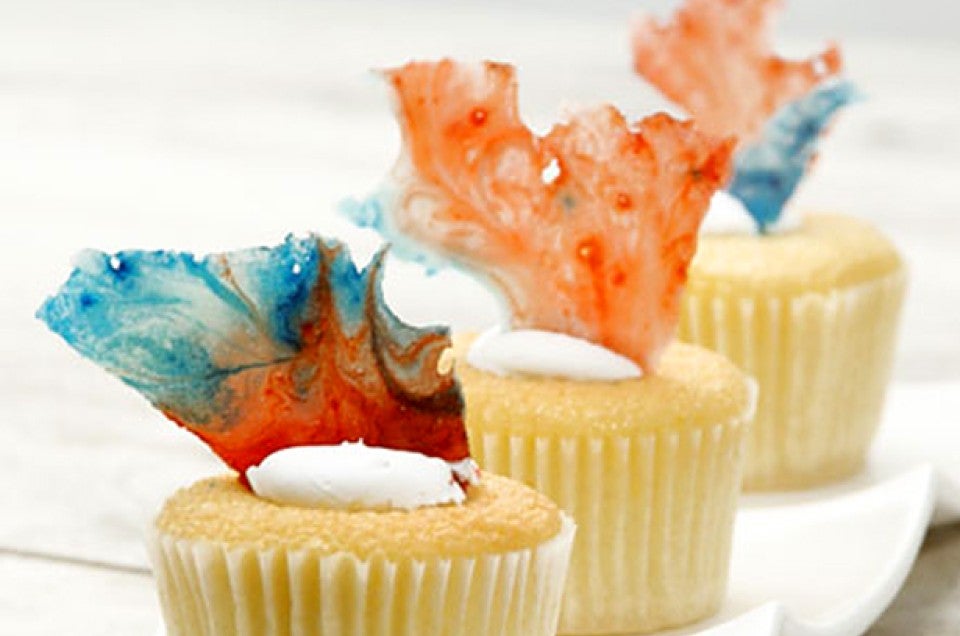 I adore my small-town Vermont life, I really do. Every week, every season has some special occasion or event that reminds me of how nice it is to live where just like that famous fictional Boston bar, "everybody knows your name."
One of my very favorite times of year in our town is the 4th of July. Rain or shine, we have a parade complete with kids on bikes, antique cars, firetrucks, stilt walkers in homemade costumes, and a community band. My eyes always tear up a little as I wave to former students of mine, now all grown up and riding floats. I'm delighted when someone recognizes me and yells, "Hi Mrs. Robbins!" often complete with a handful of candy tossed our way.  My, my, they've grown so much!
Once the big logging trucks appear, it's time to run over to join the line for the chicken barbecue. If you wait until the trucks pass, you may be too late – and this is chicken you don't want to miss .
After we're full of BBQ, we head home until dusk. Around 7 p.m. we drive over to the golf course and find our favorite spot just off of the cart path. We meet up with friends, slap on the bug dope, and break out the sparklers. Several years ago we started the tradition of bringing dessert to share. We've brought ice cream, brownies, and cookies before, but this year I have big plans to impress with these delicious Twinkling Good cupcakes, complete with their show-stopping "bubble sugar" on top.
To make sure you have enough time to make these for your party, I'll stop yappin' and start bakin'. Let's make Twinkling Good Cupcakes.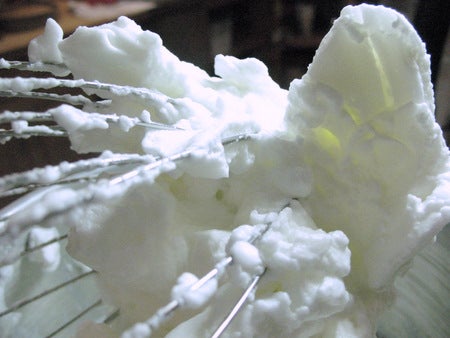 Begin by whipping 7 large egg whites to stiff peaks; reserve the yolks, you'll use them in a minute. The whites shouldn't be dry, and will hold up in a mass if you lift the beater. Set the whites aside in a clean bowl while you make the rest of the batter.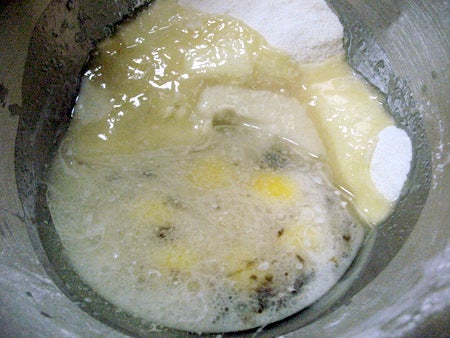 Add to the mixing bowl
• 2 cups King Arthur Unbleached Cake Flour Blend
• 1 1/2 cups granulated sugar
• 1 tablespoon baking powder
• 1 teaspoon salt
• 1/2 cup vegetable oil
• 3/4 cup cold water
• 7 unbeaten egg yolks
• 1 teaspoon Princess Cake and Cookie Flavoring, for true snack cake taste; OR 1 teaspoon vanilla
Beat on medium speed until thick and smooth.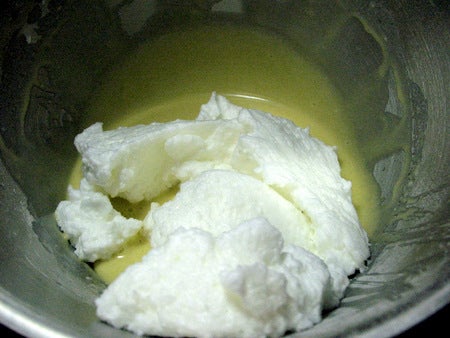 By thirds, fold in the beaten whites. Use a gentle hand to keep as much air in the mixture as you can.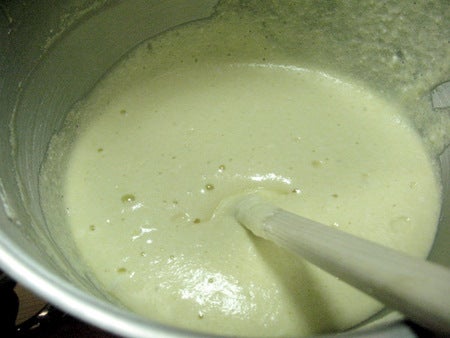 After the third addition of whites the batter will be light and spongy. Divide the batter evenly into paper lined cupcake tins. You should get about 18 to 20, depending on size.
Bake until the cupcakes are very lightly browned and spring back to the touch. They'll be quite domed, but will settle some as they cool.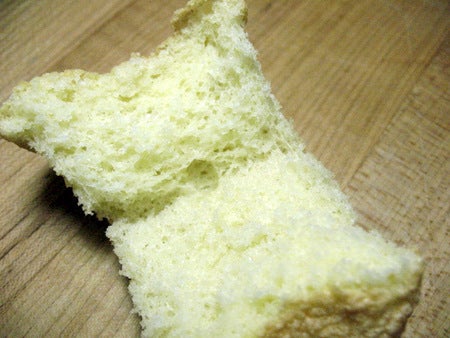 The interior of the cupcakes will be delicate and full of tiny holes. Not surprisingly, they weigh next to nothing – until you fill them.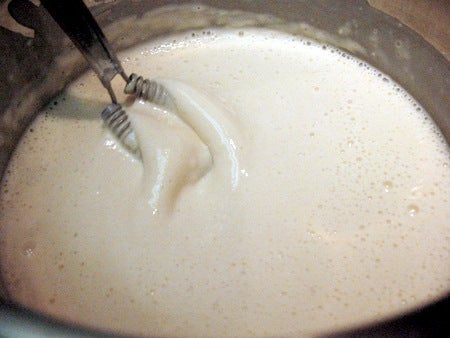 To make a traditional cooked flour filling, whisk together 2 tablespoons King Arthur Unbleached All-Purpose Flour and 1/2 cup milk in a medium-sized saucepan over medium heat.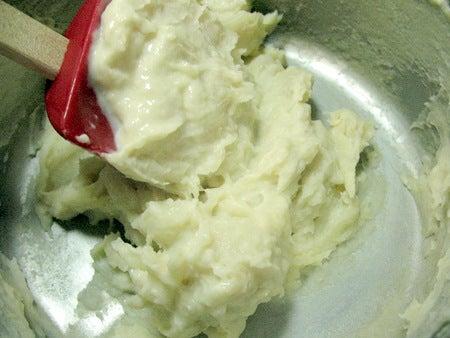 Stir constantly until the mixture forms a thick paste.  Remove from the heat, let cool for a minute, then stir in 1 teaspoon vanilla.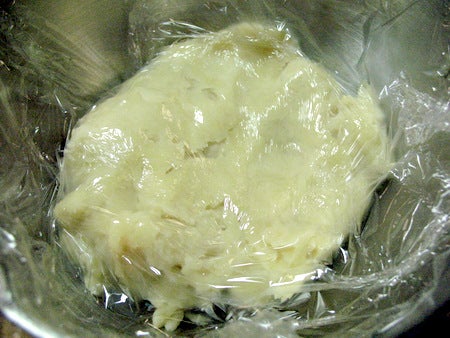 Transfer the paste to a bowl and cover directly with plastic wrap. Place in the fridge to cool completely.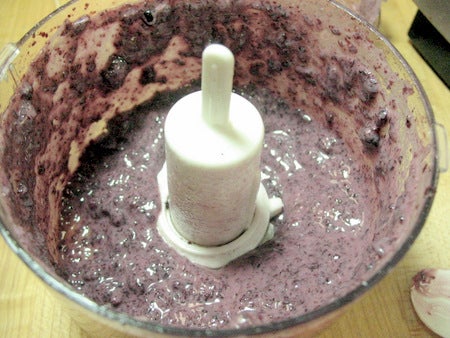 Because it's fresh berry season here in Vermont, I decided to jazz up the plain filling with some fresh blueberries and strawberries. I used blueberries first, then repeated the steps with strawberries.
First, purée about 1/2 cup of fresh berries in a food processor or blender with 1/4 cup of sugar.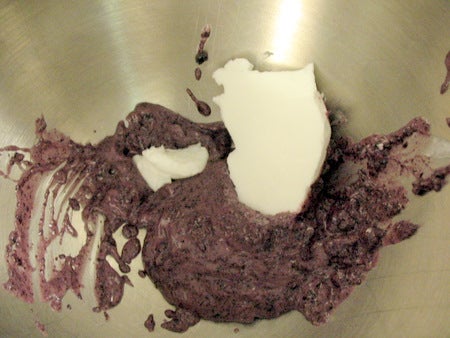 Proceeding with the regular recipe in your mixer, add  2 tablespoons  of the shortening and 2 tablespoons of the  butter and mix well.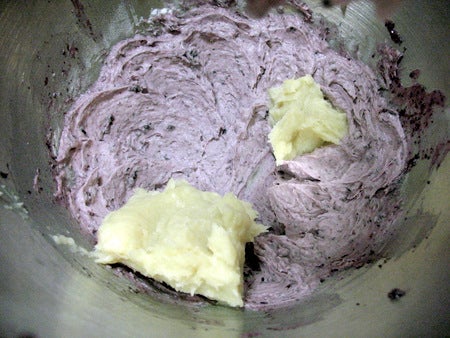 Add half of the cooled flour paste.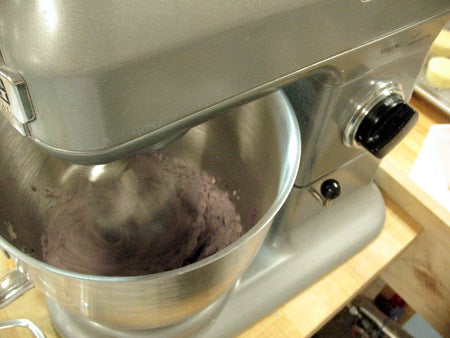 Whip on high speed until light and fluffy.
Repeat all the steps with fresh strawberries to yield two half batches of fresh fruit filling: one blueberry, one strawberry.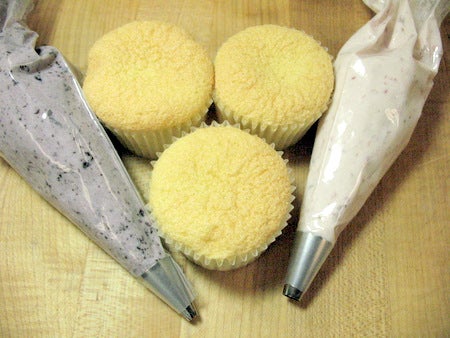 Place the fillings into disposable pastry bags equipped with large-opening tips. Here I'm using one star tip, and one round tip. The size doesn't really matter, as long as it allows the filling to flow easily.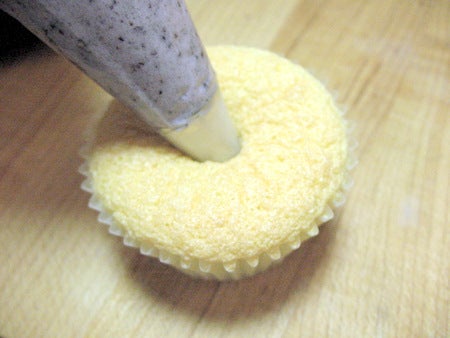 To fill the cupcakes, insert the tip of the bag into the center of the cupcake. Gently squeeze in about a tablespoon of filling. If you hold the cupcake in your hand, you can feel it expanding and you'll have a sense of when it's full enough.
Stop squeezing and remove the tip from the cupcake. You can either pipe the same filling over the hole, or leave the little squirt of filling exposed, à la real Twinkies.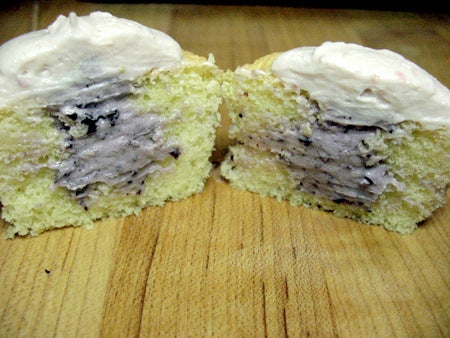 For this cupcake, I piped in the blueberry filling and covered with strawberry. Frank, our pastry chef, came up with the idea for a "surprise" filling that was different from the topping. Thank, Frank!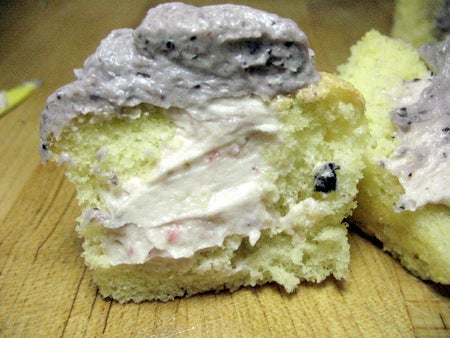 Here's the same idea in reverse. Strawberry filled, blueberry topped. YUM!
********BONUS*******BONUS**********BONUS********BONUS********
Looking for a fast, easy way to jazz up your cupcakes? Try Bubble Sugar!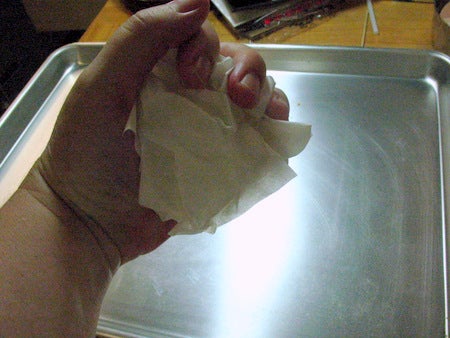 Start by crunching up a piece of parchment paper in your hand. You're looking to make lots of wrinkles in the paper.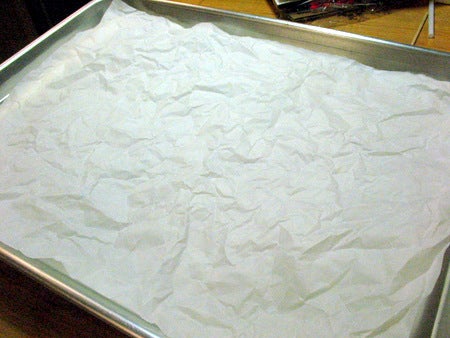 Smooth the paper out in a half sheet pan with a lip. Leave some texture, though.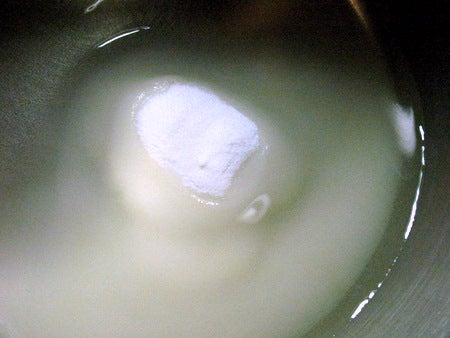 Heat 1/2 cup water with 3/4 cup sugar plus 1 1/2  tablespoons corn syrup over medium-high heat, until the sugar is completely dissolved.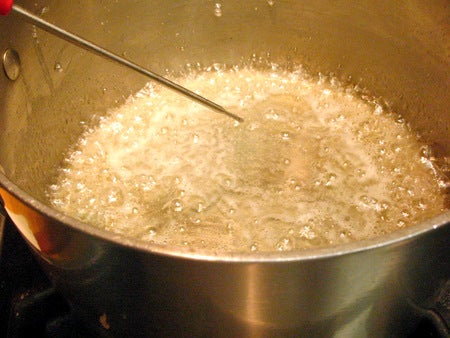 Continue to cook the sugar solution without stirring until it reaches 315°F. The sugar will go from clear to a very light amber color.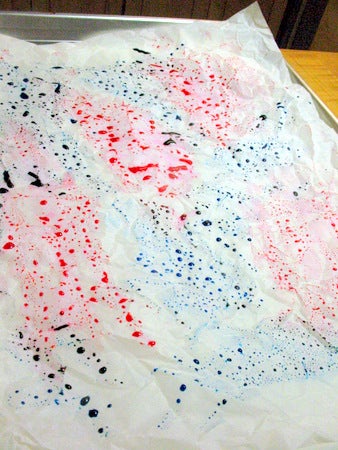 While the sugar is heating, spread 2 tablespoon of clear liquor over the parchment. I used vodka; definitely not top shelf, just plain ol' bar vodka.
Because I was making these cupcakes with a patriotic theme, I colored the vodka with red and blue gel paste food coloring.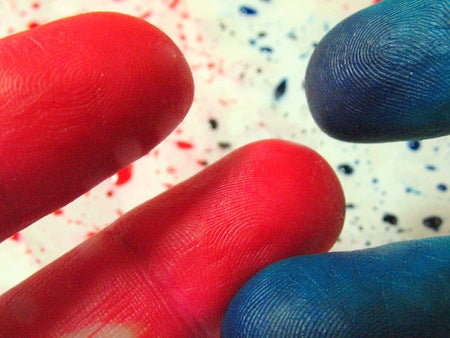 '
Note to self:  Use a brush to spread the colors next time.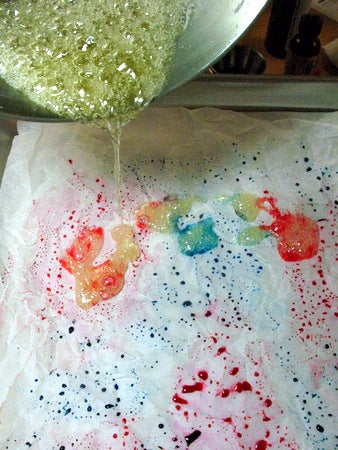 When the sugar reaches temperature, slightly tilt the pan and let the hot sugar run in slow drizzles down the pan.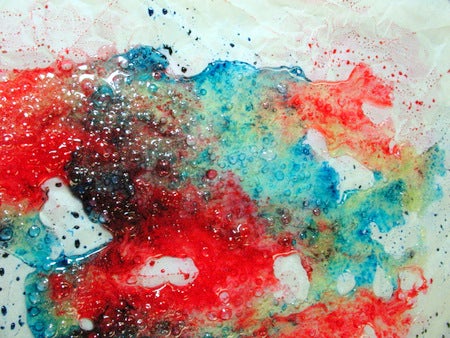 As the sugar hits the alcohol, it will bubble and fizz. If your alcohol is colored, you'll get great swirls and blending of color with the plain sugar. Check out those funky bubbles!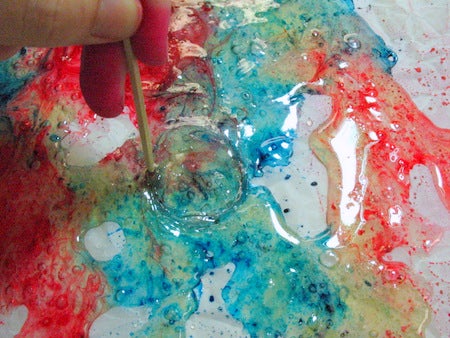 If you want to create a few more swirls to blend colors, you can carefully use a toothpick to mix. Keep in mind that the more you mix, the fewer bubbles you'll end up with.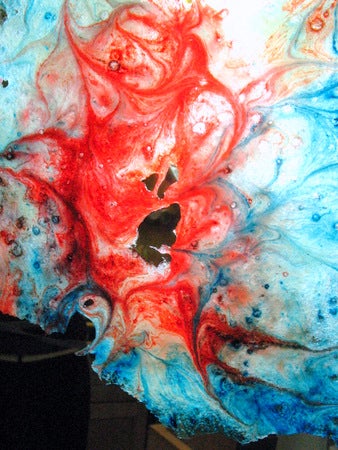 Set the sugar aside to cool completely. You can then lift it from the parchment and hold it up to the light while you giggle in delight. WOW! I can't believe how easy this edible art is!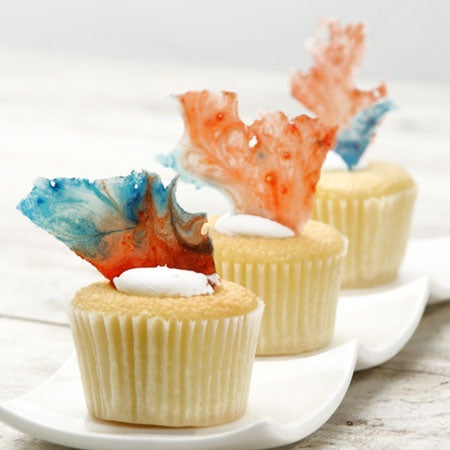 Break the sugar into shards. You can wedge them into filled cupcakes for a really spectacular fireworks display of your own. (Keep in mind the sharp sugar edges if you're serving kids).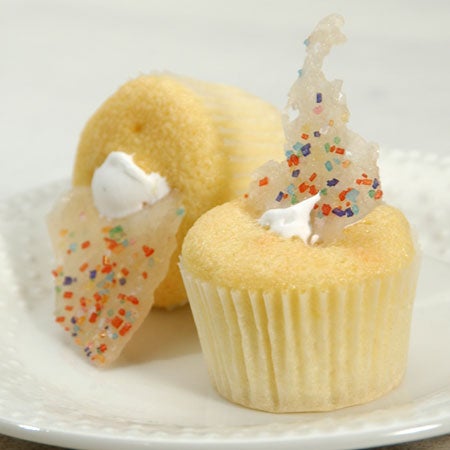 If you want to skip the food coloring, you can still use the plain vodka and then sprinkle your favorite colored sugar on the hot sheet of syrup. Quick and fancy!
I hope you enjoy these Twinkling Good Cupcakes for your next picnic, with or without the bubble sugar. They're an All-American treat straight from your home and heart.
Please bake, rate, and review our recipe for Twinkling Good Vanilla Snack Cakes.