It's a beautiful  afternoon, isn't it? The laundry is done, the lawn all mowed. You've finished the paperback you picked up at a yard sale yesterday and you're aching to get out and stretch your legs in the sunshine. Have you ever heard of...
...geocaching? Geocaching (gee-oh-cashing) is a kind of treasure hunting using a GPS unit. You download coordinates to your GPS unit, and follow them until you're near the cache. Then you have to hunt high and low until you find the actual box, or container. Best of all, it's totally free!
My family has been geocaching for a few years now. For our small town of about 1,000 people, there are actually two caches plus several more within 10 miles. For a science project in 2009 my daughter, Shannon, placed a new cache on the hiking trails sponsored by her school. As a cache host, you receive emails each time someone finds your cache and logs it in on a geocaching website. You read their personal notes and connect with someone you may have never met before.
Quite often in the past, our cache outings have ended with us in line at an ice cream stand, eager to feast on high-butterfat frozen goodness – along with its high price tag. Not that we won't continue to do this on occasion, but this year I'm going to try bringing more homemade treats on our outings. It will save us money and help us maintain the weight losses we achieved over the winter.
Now that I've gotten you interested, you can hike on over to geocaching.com to check it out. Once you've gotten settled over there, swing back here for directions on how to make these great granola bars to carry along on your first treasure hunt.
Granola bars with Jammy Bits, along with some fresh fruit and ice-cold seltzer, will fit the bill very nicely for our summer adventures. The fiber from oats will fill us up, and the protein from the nuts will give us energy. Sure, there's some sugar involved; but moderation will keep us from eating the whole pan in one day.
Let's make granola bars with Raspberry Jammy Bits.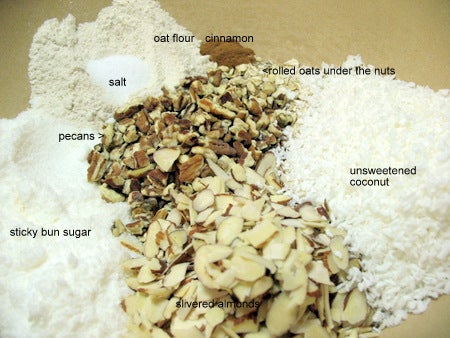 In a large mixing bowl stir together the dry ingredients:
*We like 1/2 cup each chopped pecans, sliced almonds, and unsweetened coconut.
Sticky bun sugar gives these bars a lovely crisp edge with a chewy center. If you don't want to use this ingredient, you can make bars that come close to that texture by substituting 3/4 cup granulated sugar + 2 tablespoons light corn syrup + 2 tablespoons melted butter for the Sticky Bun Sugar.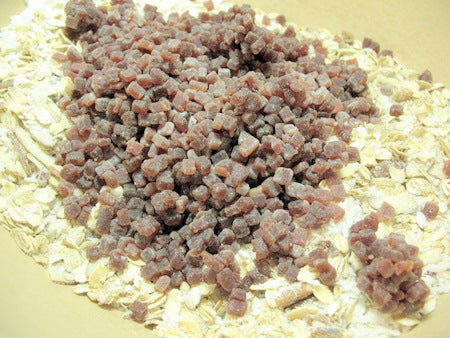 Chocolate chips have been a pretty standard addition to granola bars for years. However, since we've discovered these Raspberry Jammy Bits, they're at the top of my list for dressing up plain granola bars. It's like having little bits of real fruit in your bar without the seeds. If you're a blueberry fan, we've got Blueberry Jammy Bits, too.
If you don't have them or just don't care for them, leave them out; or replace them with your favorite chip or dried fruit.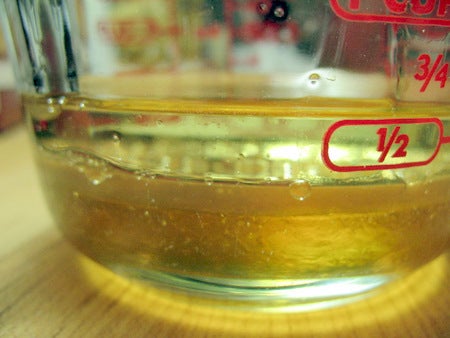 In a measuring cup, measure out:
If you're baking with kids, this is a perfect opportunity to show them about density and how different liquids will settle out in different layers. Even if you aren't baking with kids, it's still pretty cool.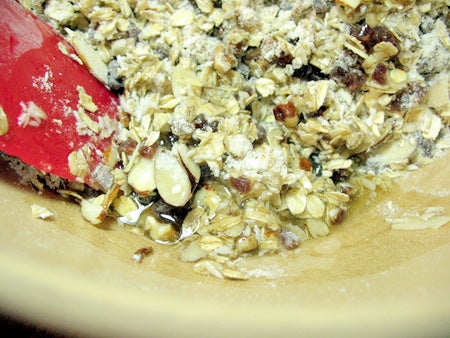 Whisk your liquids together and pour evenly over the dry ingredients. Toss it all together with a spatula...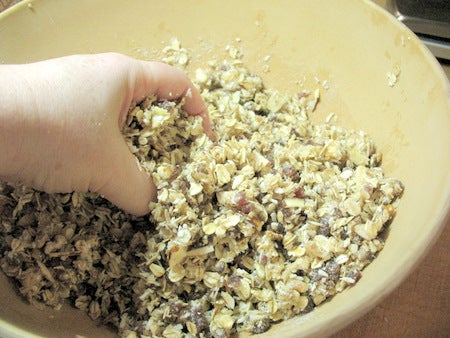 ...or even better, use your fingers to scrunch and crunch the mixture until it's crumbly and damp. It won't really hold together in a ball when you squeeze it; it's a bit drier than that at this point.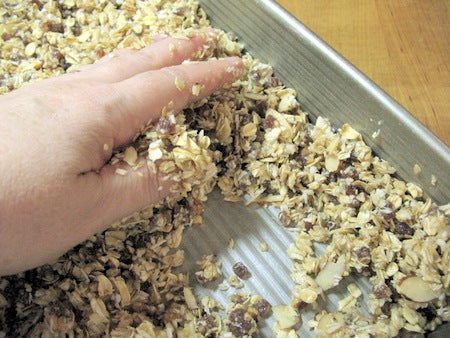 Spread the granola mix evenly over the bottom of a 13" x 9" x 2" pan that's been spritzed with cooking spray.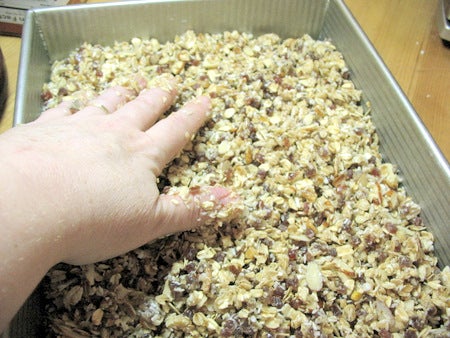 Use your fingers to make sure you have an even layer for even baking.
To help prevent sticking as you press the mix into the pan, spritz a large piece of plastic wrap with cooking spray.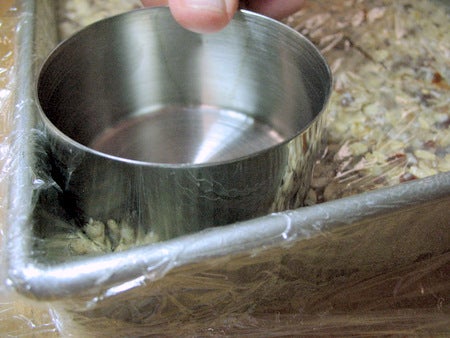 Place the plastic on top of the mix spritzed side down, and use a flat-bottomed glass or measuring cup to press it evenly into the pan.
(Bonus! Andrèa, our test kitchen scientist and humorist, is notoriously camera shy; but this is her thumb playing special guest star in today's blog. Say "Hi!", thumb... )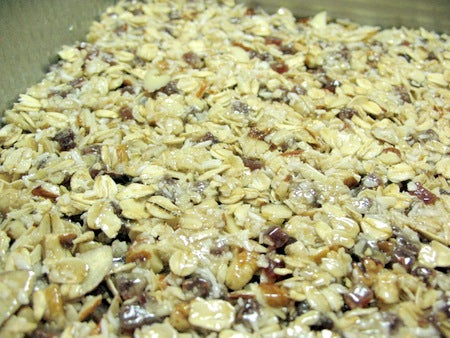 After pressing you should have a flat-topped panful, about 1/2" to 5/8"  thick.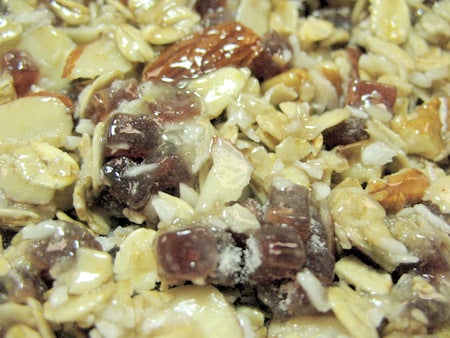 Here's a closeup of the bars and the Jammy Bits before baking...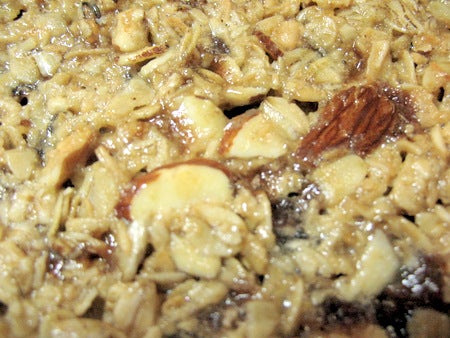 And here's roughly the same area after baking at 325°F for about 25 to 30 minutes. You can see how the Jammy Bits have melted down, and the Sticky Bun Sugar is golden brown. The oats and nuts are married together by the sugars, and the bars will be very fragrant and toasty.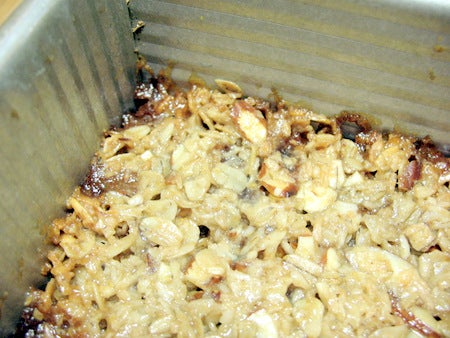 The edges of the bars will be dark golden brown.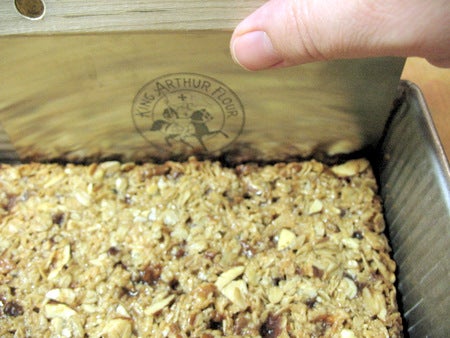 While the bars are still warm, take a firm straight edge like a bench knife, and press it along the edges of the pan to release the bars so that they will cool evenly and not stick to the pan.
Slice the bars into long sections along the width of the pan.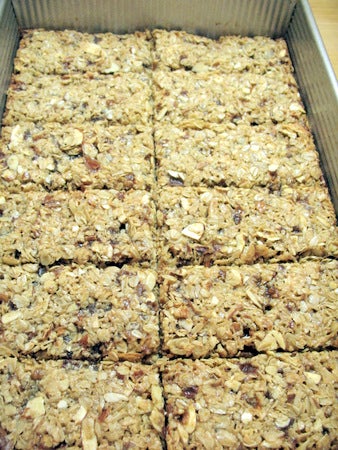 Turn and slice down the center to make individual pieces.  Depending on your needs, you can vary the size of the bars. Allow them to cool completely before removing from the pan.
These bars are irresistible while still barely warm. The nuts and oats are toasty, the Jammy Bits are soft and melt-y. A glass of milk, a good book, and a puppy on your lap will make the experience complete.
Once cooled, you can wrap the individual bars in plastic wrap for a grab-n-go breakfast or snack. If storing unwrapped in an airtight container, be sure to put layers of parchment between the bars to keep them from sticking together.
Whether you choose to try geocaching, or just get outside for your favorite activities, these granola bars will make the outing special.