I distinctly remember the first time I had cherry ice cream. We were in Sturbridge, Massachusetts for the day, and my mother must have been off in the shops as I was alone with my dad. We stopped at a little ice cream window on a side street and he talked me into ordering Bing cherry ice cream.
I couldn't get over the size of those deep-dark red cherries. They were nearly the size of quarters, giant slices with ruby centers so red they were nearly black. They weren't the glaring, artificial red of maraschino cherries; and they were deliciously sweet, with a tart finish. To this day, when I think of the perfect cherry dessert or the perfect cherry flavor, those are the cherries that come to mind. The combination of that tartness with the rich vanilla ice cream was divine.
Over the years I've seen many, many versions of cherry-vanilla ice cream, yet I've never again seen Bing cherry. Ben and Jerry's Cherry Garcia is a great cherry ice cream, although still much sweeter than the ice cream I remember from that day. I'd pretty much forgotten about it until we started to carry cherry concentrate. Lo and behold, there was the flavor I remembered!
Dark and thick, the concentrate's like liquid jewels, with intense cherry flavor. Too strong to drink straight, it's exquisite in soda water, smoothies, and icings. It makes our Cherry Cupcakes sing, and adds pizazz to our Cherry Berry Crumble.
My first version of the following cherry ice cream recipe included pieces of dried cherries and dark chocolate ganache swirled into the ice cream. It was good, but I really wanted a cherry, cherry, CHERRY ice cream. Like cherry pie in ice cream form. Luckily, version 2.0 hit the sweet spot (pun oh-so-intended), and that's the one I'm here to share with you.
Onward to Tart Cherry Ice Cream.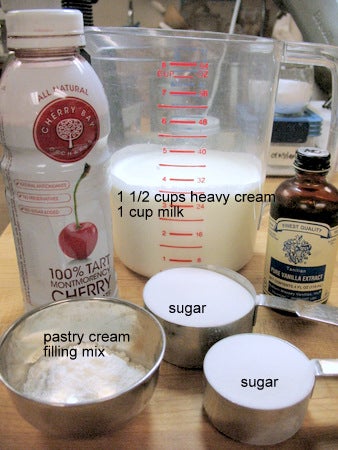 In a large measuring cup with a pouring spout combine:
1 ½ cups heavy cream
1 cup milk
Whisk in 3/4 cup sugar. Add 1/4 cup Pastry Cream Filling Mix, or instant vanilla pudding mix. Pastry Cream Filling Mix will give you a richer ice cream with a silky smooth mouth feel.
Whisk, whisk, whisk.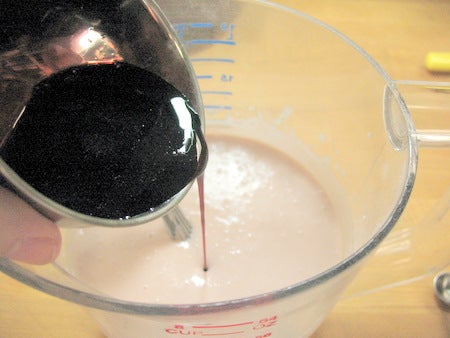 Pour in 3/4 cup cherry concentrate.* This is definitely a tart cherry flavor, not a sweet cherry, not a maraschino cherry. It's got depth of flavor and cherry pucker to it. It's the ice cream version of old-fashioned tart cherry pie, and its extraordinary.
If you want a milder cherry you can reduce the flavor to as little as 1/3 cup, but I wouldn't go any less than that, or the ice cream will just taste weak.
*If you don't have our bottled cherry juice concentrate, check the frozen juice section of your supermarket to see if they have a cherry blend. Use the same amount of thawed concentrate as the cherry concentrate in the recipe. Adjust to taste.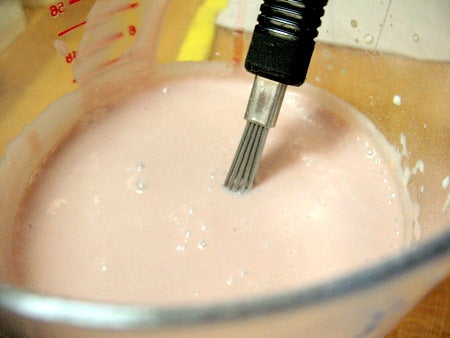 Add 2 teaspoons vanilla. Whisk all the ingredients together and place in the fridge to chill for at least 2 hours, or overnight.
The colder your ice cream base is, the faster it will freeze, the smoother your ice cream.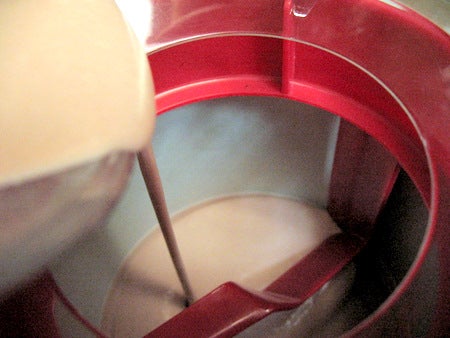 Set up your ice cream maker and pour the base in slowly. Freeze according to the manufacturer's directions.
For our trusty Cuisinart ice cream maker, that's 20 minutes.
Looks like we're just about there. The ice cream is thick and creamy. It's still the consistency of soft serve at this point, but the machine has done its job.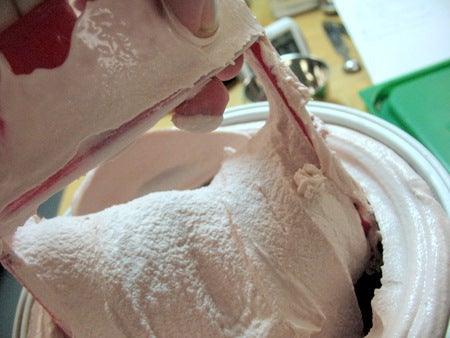 Now that's what I'm talkin' about.  After you take a taste or two (come on, you know you will), scrape the ice cream into a 1-quart container and set in the freezer to ripen. Ripening is the term used for the period of hardening in the freezer after churning. Your ice cream will thank you for it.
Thanks to all you folks who wrote in looking for more ways to use cherry juice concentrate; I hope this recipe fits the bill. For those of you who don't have the concentrate yet, I hope you're inspired to give it a try.
I'd love to hear your childhood ice cream memories, cherry or not. Please share in our comments section and spread the joy.