What's this? A food photography class? Brick Oven Baking 101?
How to use an EXTRA-long baker's peel?
All of the above, plus much, much more. The first 2-day Blog & Bake conference here at King Arthur Flour in Norwich, Vermont, which wrapped up yesterday, included 11 food bloggers from around the country.
Writers/photographers all, they baked, talked, took classes, shot pictures, made what we hope are lasting connections and, of course, collected some great experiences to share on their blogs.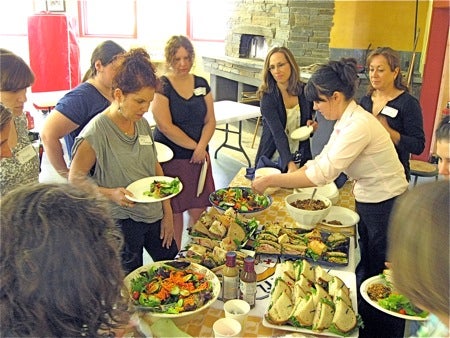 It's all about the food – of course! Day one began with breakfast, then a 3-hour bread class, followed by lunch...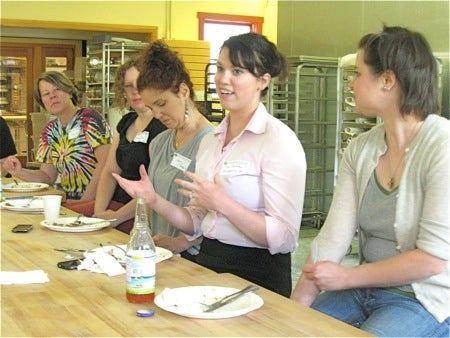 ...and the opportunity to share experiences.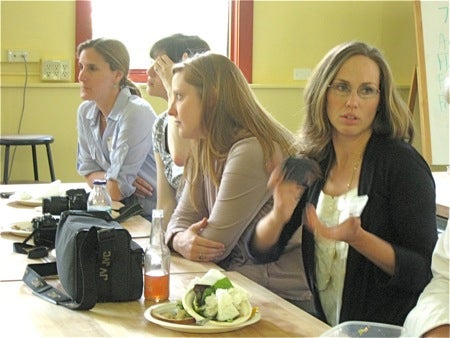 Some tales were serious, such as that of a hostile manager who asked this blogger and her family to leave his restaurant when she requested permission to photograph her meal...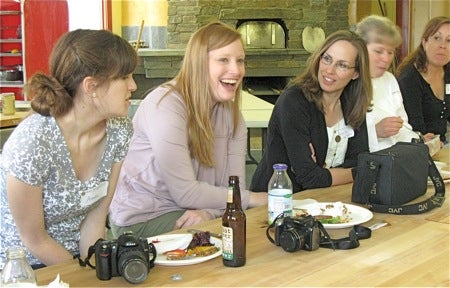 ...and some were much more lighthearted.
After lunch, King Arthur test baker and Baking Sheet editor Susan Reid offered a comprehensive class on flour, including baking the same muffin recipe with 8 different flours. The results were quite interesting.
Bloggers then started the overnight dough for brick oven pizza.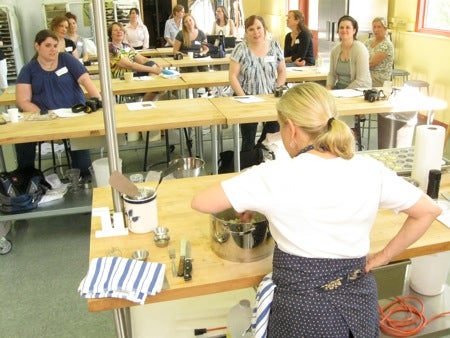 The day concluded with a demonstration by Sara Moulton, long-time chef of the executive dining room at Gourmet magazine, and a chef-host of television shows on both PBS and the Food Network.
The bloggers watched with rapt attention as Sara prepared an imaginative dinner menu featuring flavors of the season...
...prepared with local ingredients.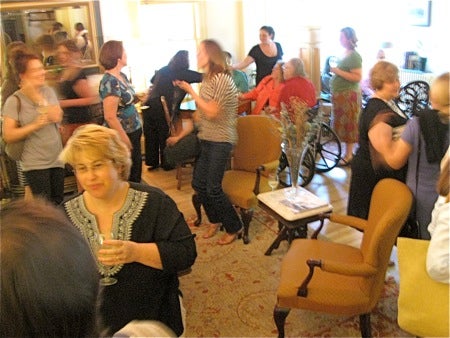 The group then traveled to beautiful downtown Norwich for dinner at the Norwich Inn...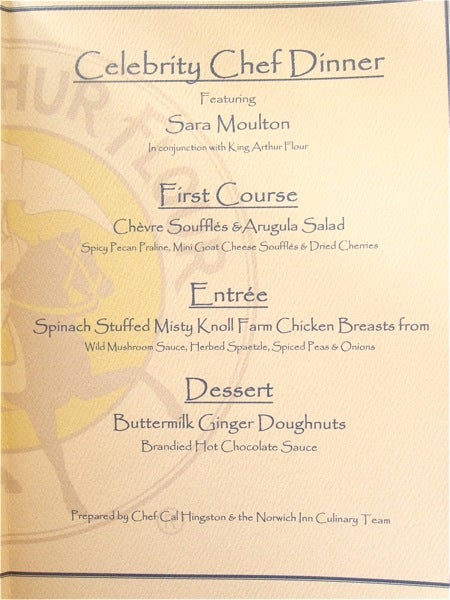 ...featuring the menu Sara had demonstrated, prepared by the Inn's chefs.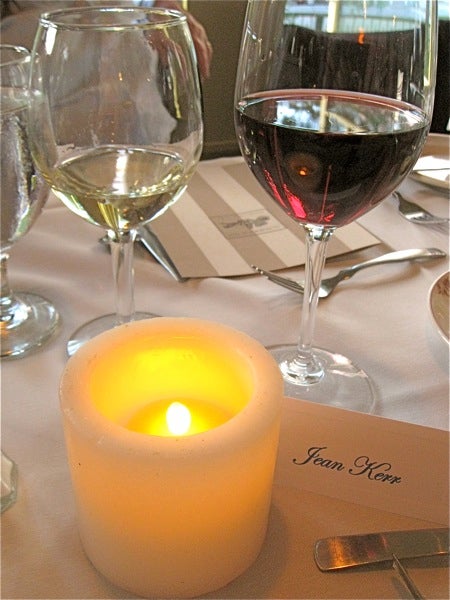 Wine and candlelight...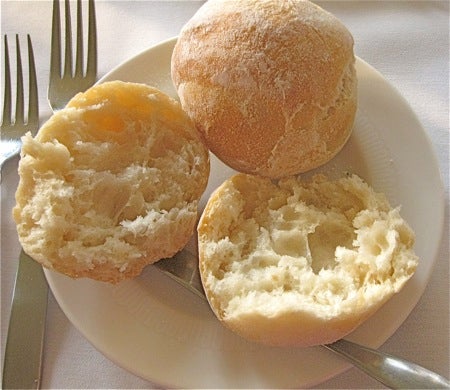 King Arthur Flour ciabatta rolls...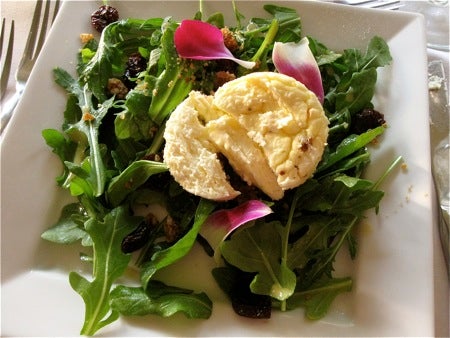 A salad featuring local arugula and a warm goat cheese mini soufflé...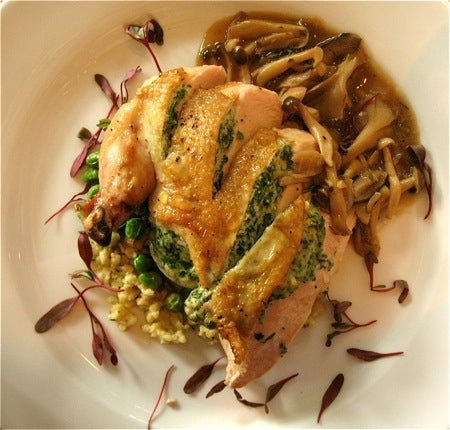 The entrée: chicken breast stuffed with spinach and chicken forcemeat, bound with heavy cream, with wild mushroom sauce.
And sides: a spicy dish of fresh garden peas and onions, and herbed spaetzle.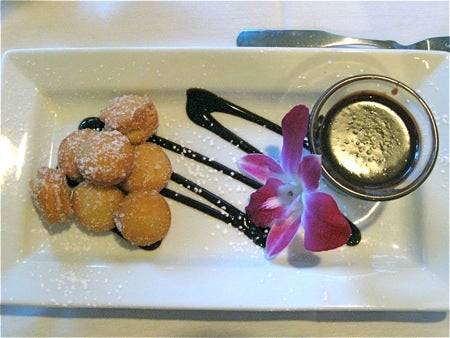 Ah, dessert... Fresh buttermilk cake doughnuts, shaken in spicy ginger-sugar, and accompanied by brandied hot chocolate.
Speaking of doughnuts – next day, the bloggers went out of the frying pan...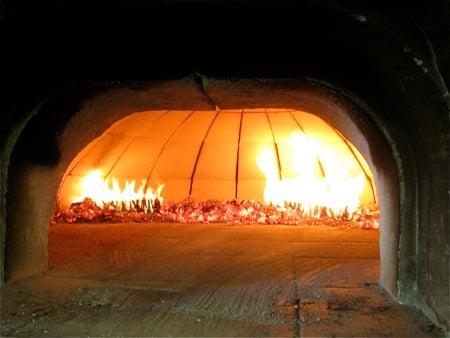 ...into the fire – the wood-fired brick oven at King Arthur's Baking Education Center.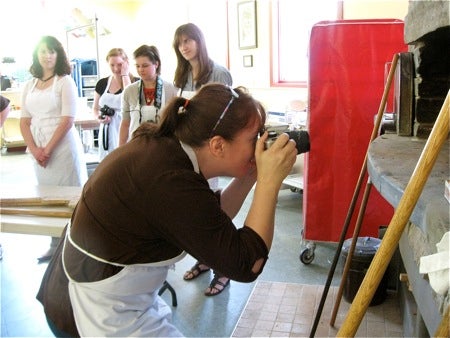 The flaming logs, burning down to embers preparatory to baking pizzas on the hearth, proved quite enticing to those with a camera.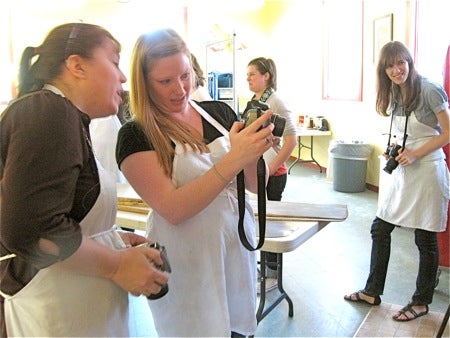 "How did it come out?"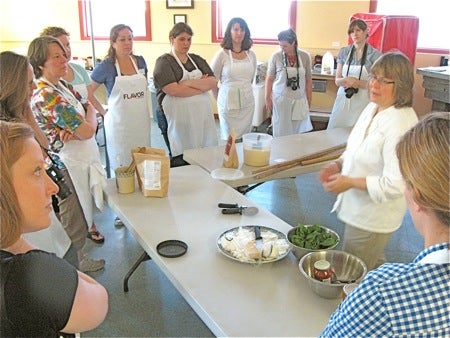 Instructor Michelle Kupiec gave some last-minute advice, before the group tops their crusts and tries their collective hand at wood-fired baking...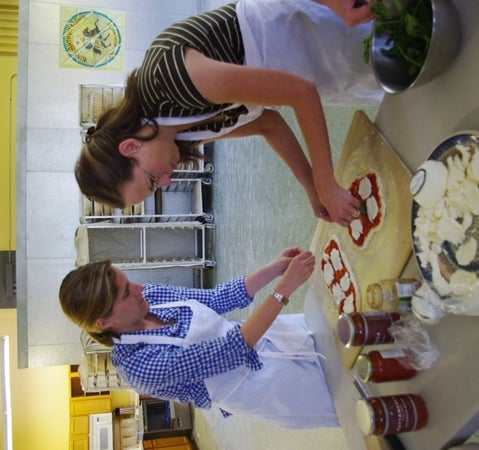 ...from making and topping their own crust...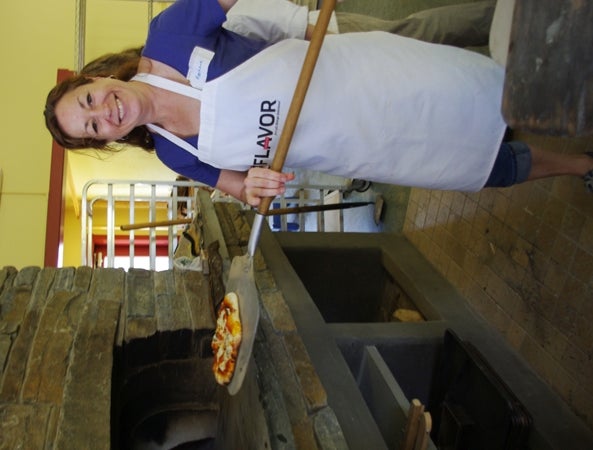 ...to loading it into and out of the wood-fired oven...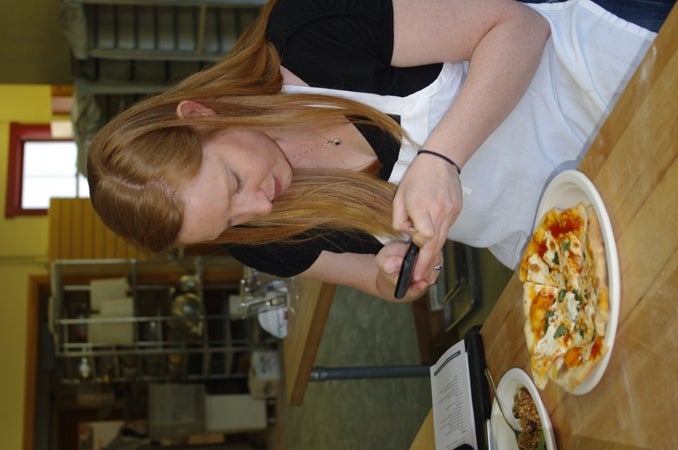 ...to tweeting the results!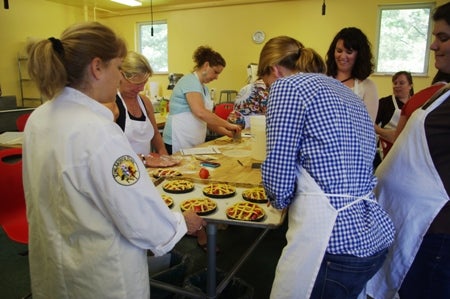 After lunch, everyone made delicious savory tomato pie and sweet strawberry-rhubarb tarts, with the first strawberries of the season from the farm stand next door.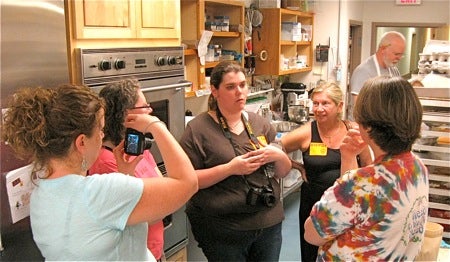 Pies safely out of the oven, most of the group ended their time at King Arthur with a tour, including the test kitchen. As happened throughout the 2 days, there was much kibitzing.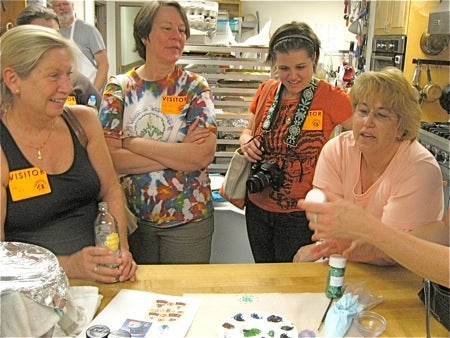 King Arthur blogger MaryJane Robbins talked about using gel paste food colors mixed with vodka to paint her stunning cookie creations.
As the group prepared to depart, event organizer Allison Furbish thanked everyone for coming – and the attendees assured Allison they'd had a blast.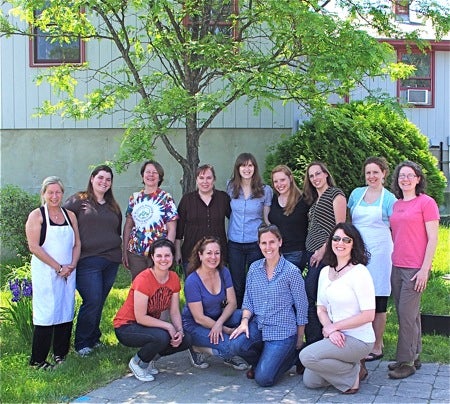 Even the sometimes fickle Vermont weather cooperated beautifully!
Interested in more on Blog & Bake? Check out the blogs of those in attendance:
Maryellen Apelquist
Weathersfield, VT
Love & Scraps
Recipes, Rantings and Ravings from a Vermont Kitchen
Kelsey Banfield
Fairfield, CT
The Naptime Chef
Fitting great food into family life
Casey Barber
Clifton, NJ
Good. Food. Stories.
A chronicle of delicious conversations
Amber Bracegirdle
Scotch Plains, NJ
Bluebonnets & Brownies
Tex-Mex and Southern comfort food
Fiona Coxe
Boston, MA
A Boston Food Diary
Donna Currie
Longmont, CO
Cookistry
Glenda Embree
Seward, NE
Busy-at-Home
Living abundantly on a frugal budget.
Corin Hirsch
Burlington, VT
Seven Days
Vermont's Independent Voice
Jean Kerr
Kittery Point, ME
Northeast Flavor
for all things delicious!
Jennifer Leal
Westerly, RI
Savoring the Thyme
Aimee Seavey
Boston, MA
The Apron Archives
vintage traditions in today's homes and kitchens