WHOA! Are those some nice-looking muffins, or what?
And not only are they handsome – they sport a couple of hidden assets.
1) The batter goes together easily. A bowl and spoon is all you need to stir together dry ingredients, whisk wet ingredients, then combine the two. If you're used to "stir together" muffins playing Cinderella to the typically higher-rising, "cream together" muffins, this recipe belies that truth.
2) Even without the addition of the oat topping and dried fruit (which is usually pretty fiber-rich), these muffins include 4g fiber each – more than most "good for you" breakfast cereals, and many whole-grain breads.
How can that be, you ask?
Hi-maize Fiber, an easy, practically invisible way to add fiber to just about any baked treat.
High-fiber without the grit? Without the color and assertive taste of whole wheat?
Do I hear you saying, "Tell me more"?
OK, don't mind if I do.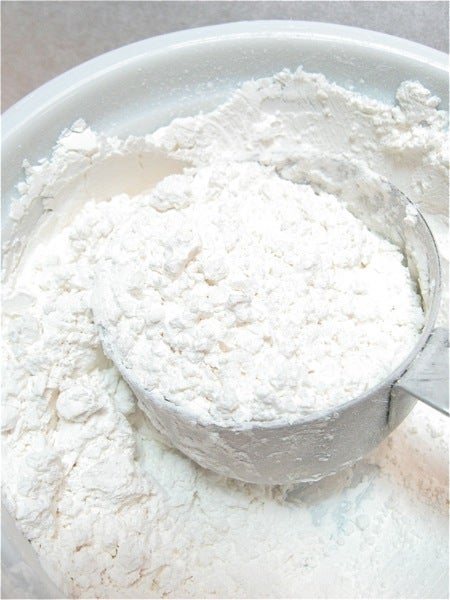 Hi-maize Fiber (pictured above) is made from non-GMO corn. It looks and feels just like cornstarch – but unlike cornstarch, it's "resistant starch," i.e., it resists digestion.
Not to get TOO clinical here, but here's how it works. Most starches are digested and absorbed into the body through the small intestine. But some resist digestion and pass through to the large intestine, where they act like dietary fiber to improve digestive health.
This type of starch is called "resistant starch" – available to consumers as Hi-maize.
To summarize, Hi-maize combines the health benefits of resistant starch (including prebiotic properties), and the texture benefits of a high-quality carbohydrate – e.g., white flour.
Nothing wrong with that, eh?
Let's make high-fiber, high-flavor, high-rising Yogurt & Fruit Muffins.
Preheat the oven to 400°F. Lightly grease the wells of a muffin pan; or line the pan with paper liners, and grease the liners.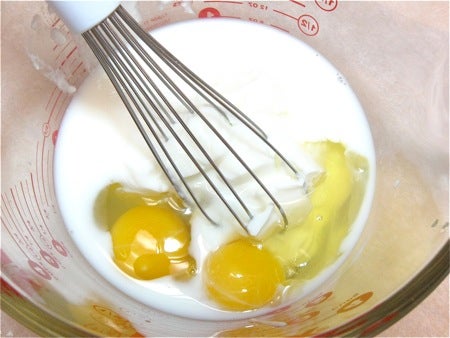 Place the following in a large mixing cup or small bowl:
1/3 cup milk
3/4 cup (6-ounce container) lemon, vanilla, or other fruit-flavored yogurt, regular or low-fat (not nonfat)
2 large eggs
1/8 teaspoon Buttery Sweet Dough Flavor, optional but good; or 1 teaspoon vanilla extract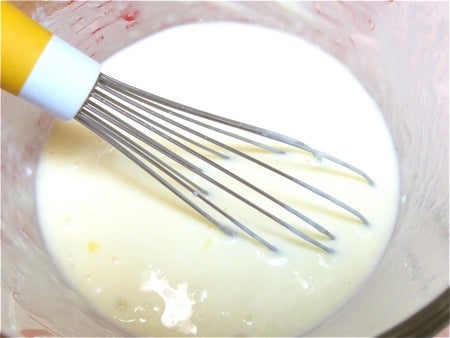 Whisk to combine.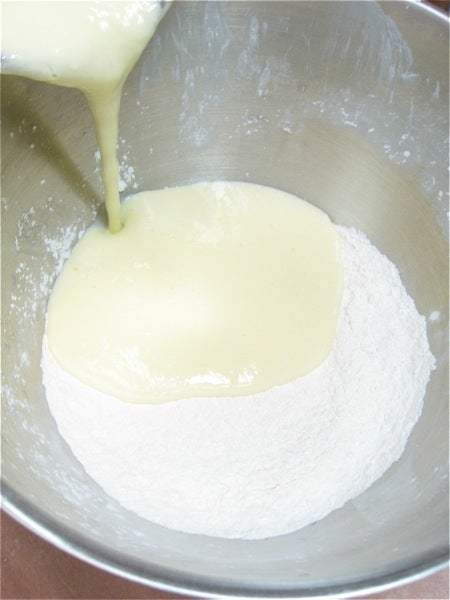 Whisk together the following in a mixing bowl:
1 1/2 cups (6 1/4 ounces) King Arthur Unbleached All-Purpose Flour
2/3 cup sugar
3/4 cup Hi-maize Fiber*
2 1/2 teaspoons baking powder
1/2 teaspoon salt
1 tablespoon Cake Enhancer, optional, for tenderness
*Substitute all-purpose flour, if desired; you'll lose the fiber, but muffins will still be tasty.
Add the yogurt mixture, stirring to combine.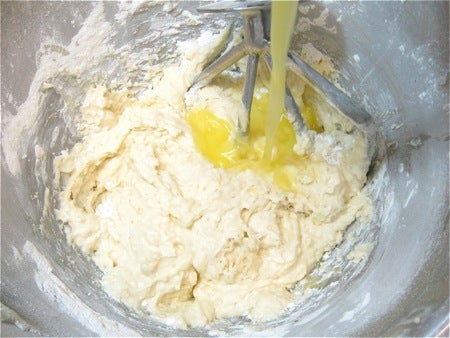 Add 1/4 cup (4 tablespoons) melted butter.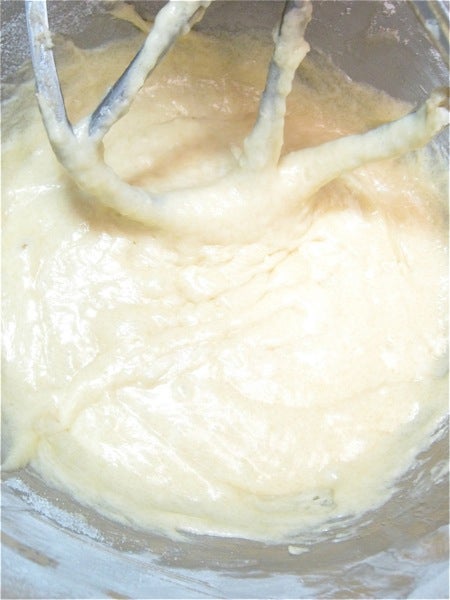 Stir just to combine; no need to beat.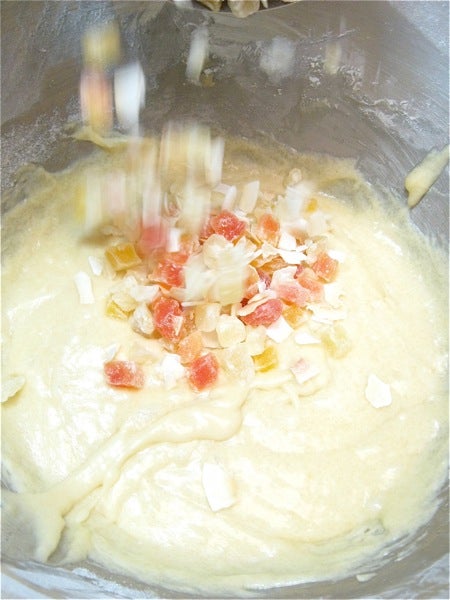 Add 1 cup (6 ounces) dried fruit, chopped if large; Tropical Fruit Blend is what I'm using here.
Don't care for dried fruit? Substitute chopped nuts; chips (chocolate, cinnamon, butterscotch...); fresh blueberries; or nothing at all, if you're a muffin purist.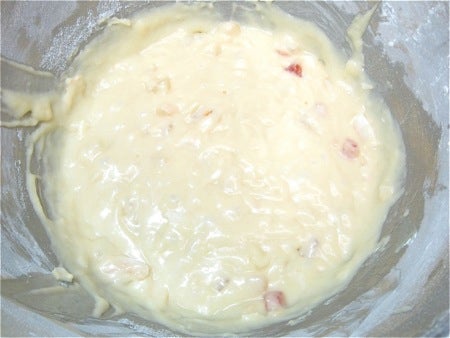 Stir to combine.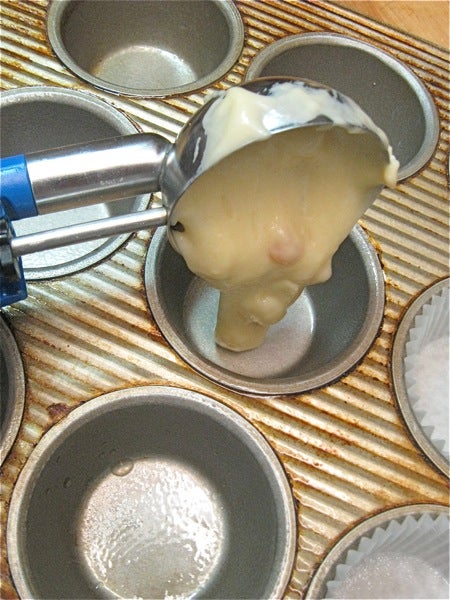 Spoon the mixture into the prepared muffin tin.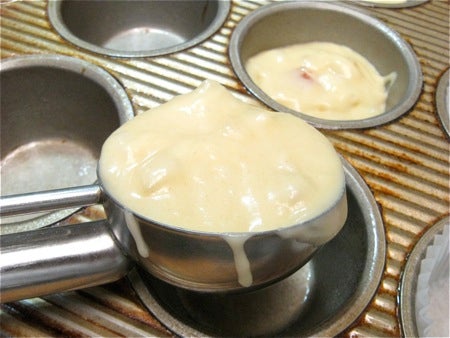 A muffin scoop works well here, depositing even-sized scoops of batter into each well. A very slightly heaped scoop is the right amount.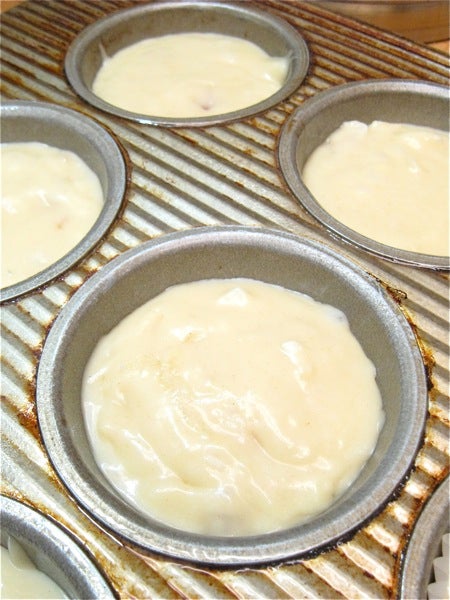 Each cup should be about 2/3 full.
Next, we'll make the streusel topping.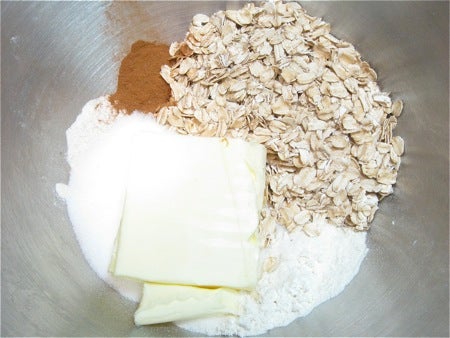 Put the following in a bowl:
1/4 cup (1 ounce) King Arthur Unbleached All-Purpose Flour
1/4 cup sugar
1/2 cup old-fashioned rolled oats
1/2 teaspoon ground cinnamon
3 tablespoons softened butter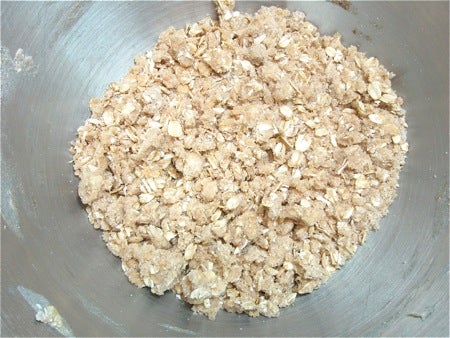 Mix until well combined and crumbly.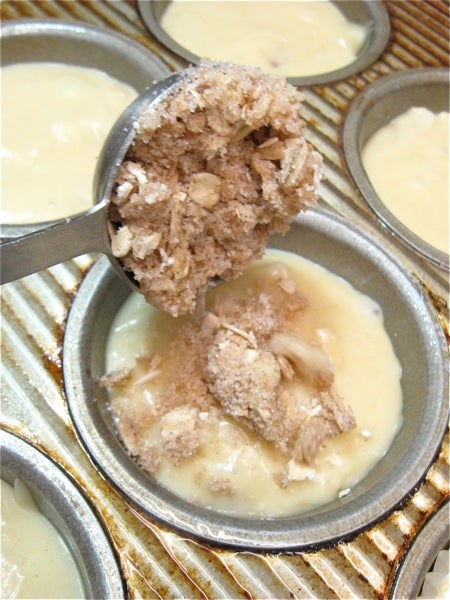 Sprinkle a generous tablespoon of topping over each muffin.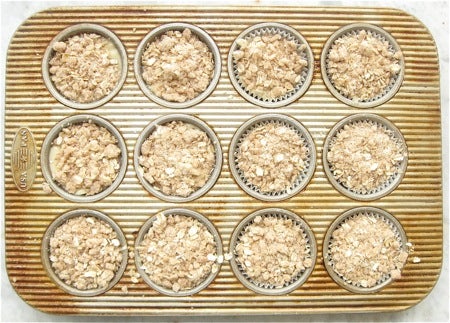 Here they are, ready to go into the 400°F oven – which you've preheated, right? It's important these muffins go into a hot oven, so they rise nicely.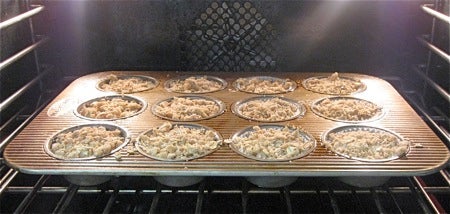 Bake the muffins for 16 to 18 minutes.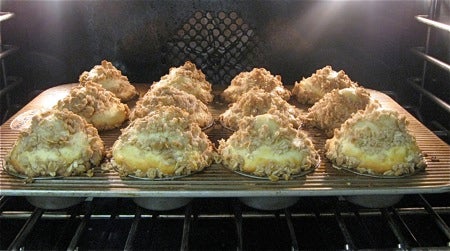 They'll dome nicely, and brown gently.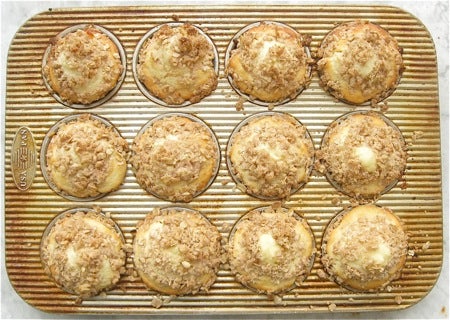 Like this.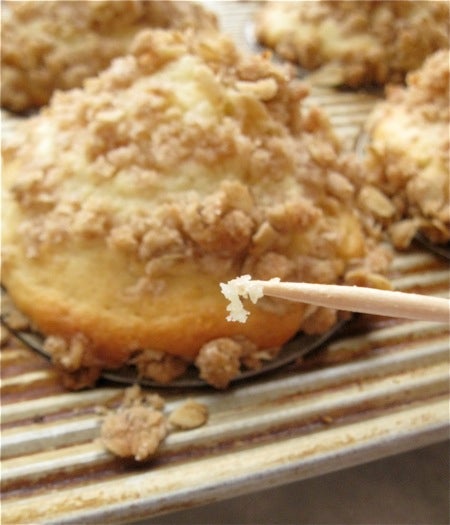 How do you know if the muffins are done all the way through?
Stick a toothpick or cake tester into the center of one of the center muffins. If it comes out clean, or with just a couple of moist crumbs clinging to it, the muffins are done.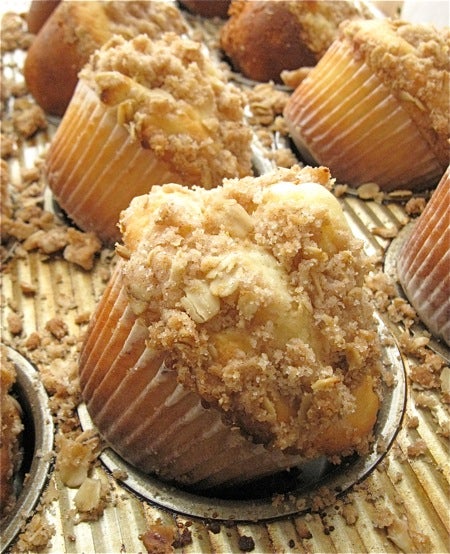 Remove the muffins from the oven, and tilt them in the pan to begin cooling. When you can handle them, transfer them to a rack to cool completely.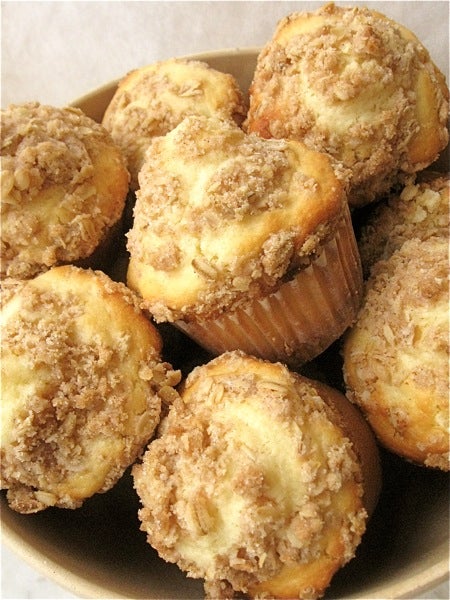 Now those are some handsome muffins! And tasty. AND high-fiber.
Healthy homerun!
Read, bake, and review (please) our recipe for High-Fiber Fruit and Yogurt Muffins.