What IS it about hot, melty cheese, anyway? I mean, you see a picture like this, and you NEED THAT PLATE IN FRONT OF YOU RIGHT THIS INSTANT.
From Gruyère Stuffed Crusty Loaves and Garlic-Herb Mac & Cheese to Sausage Cheese Biscuits and the meltiest cheese dish of them all – Cheese Fondue – some of the most popular recipes on this site feature hot melted cheese.
All involve cheese that goes into the oven (or onto the stovetop) solid and stolid; and comes out a glorious, lava-like, aromatic mass of pure oozing cheesiness. Cheddar, Jack, Swiss, mozzarella... doesn't really matter what kind, does it? So long as it's warm and soft and on your plate.
With Easter here, it's time to start thinking about what you're going to do with the leftover ham. Admit it - while you may not bite off more than you can chew, you probably choose a bigger ham (it's on sale!) than what you and your family can reasonably consume at one sitting.
And, since it's virtually impossible to think "ham" and not immediately follow it with "and cheese," it's inevitable that cheese has to be part of the leftover ham plan.
Ham and cheese sandwiches are a given, plain or grilled. But then what?
Ham and cheese casserole, of course. And this comforting version, instead of the usual ham/pasta pairing, features bread and milk and eggs with ham and cheese to make a dish that's pillowy soft, custard-y, cheese-y, ham-studded and, for a final glorious touch, crunchy on top, thanks to buttered Panko bread crumbs.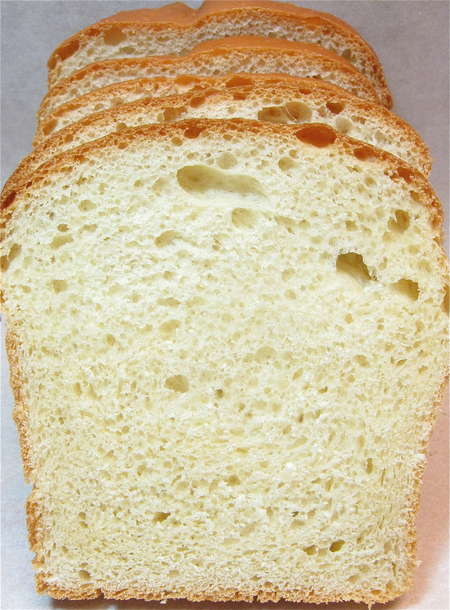 Here's where we start: bread. Choose whatever bread you find tastiest; this happens to be our Classic White Bread, which pairs wonderfully with ham and cheese.
Whole wheat bread? Sure. Rye? Absolutely; think ham and cheese on rye. Orange brioche? Hmmm...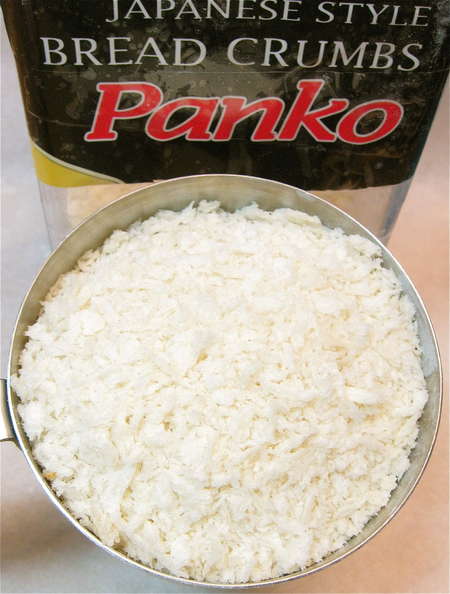 Panko are coarse, light-and-crunchy bread crumbs, not at all like the sawdust-in-a-can that masquerades as "bread crumbs" on the supermarket shelf.
If you don't have Panko, please use your own homemade crumbs. Don't have a supply of homemade bread crumbs? Make some: simply crush (or process) stale bread into crumbs, and store them in the freezer for occasions such as this.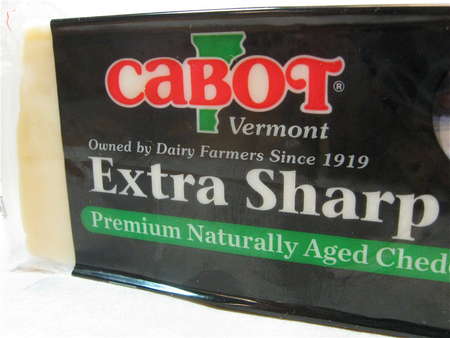 Next, the cheese. I love extra-sharp cheddar. But again, choose your own favorite. Ham and Swiss? Works for me.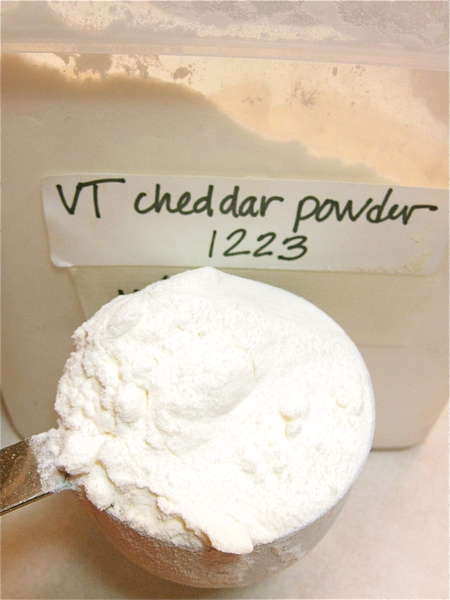 Finally, if you choose a less assertive cheese (read: the aforementioned Swiss), you might want to beef up the general cheesiness of the casserole with a hit of our Vermont cheese powder.
OK, let's dive in. Lightly grease a small (6- to 8-cup) casserole dish, for nicest presentation; or a 9" x 9" square pan.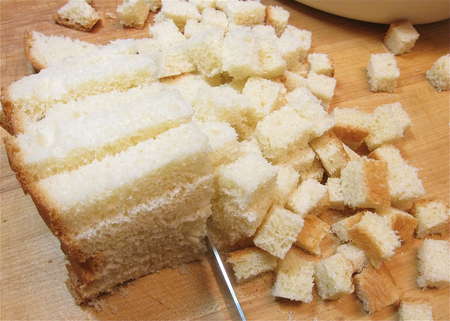 Cut 6 slices (8 ounces) bread into small (1/2" to 3/4" cubes).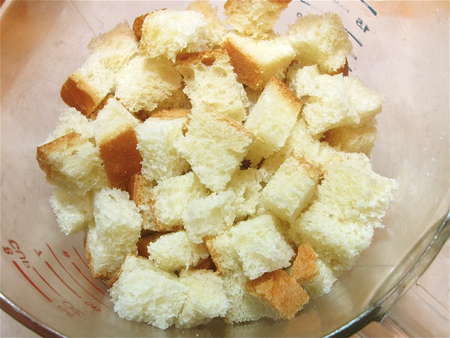 You'll have about 6 1/2 to 7 cups.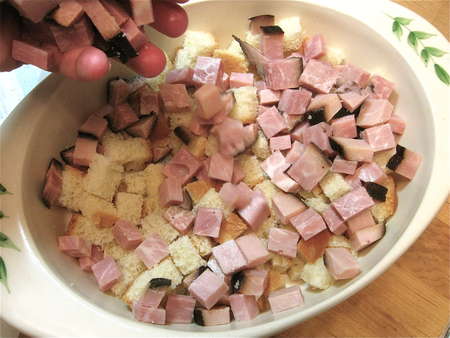 Layer half the bread in the casserole. Spread 1 3/4 cups (8 ounces) diced ham over the bread.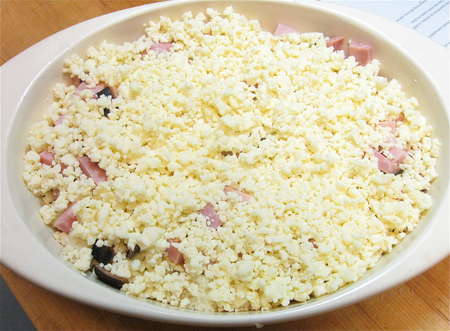 Sprinkle 2 cups (8 ounces) cheese over the ham.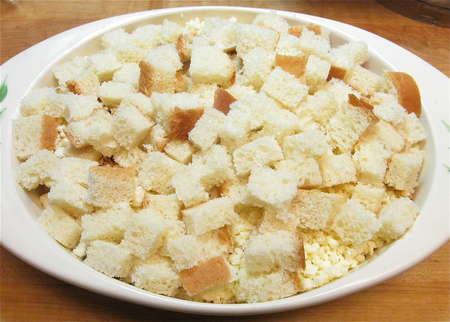 Top with the remaining bread.
In a separate bowl, whisk together the following:
5 large eggs
2 cups milk
1/4 teaspoon salt
1 teaspoon prepared mustard of 1/2 teaspoon ground mustard
1/4 cup Vermont cheese powder, optional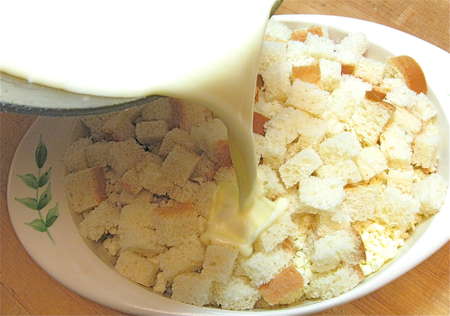 Pour over the bread and ham in the dish...
...pushing the bread down into the milk.
Cover the dish, and refrigerate overnight.
Next day, preheat the oven to 375°F. Remove the casserole from the refrigerator.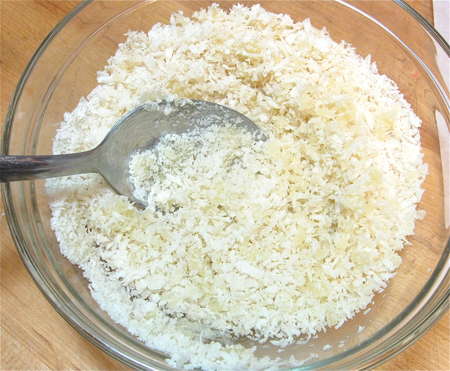 Combine 1 cup Panko bread crumbs (or coarse, dry bread crumbs) and 2 tablespoons melted butter.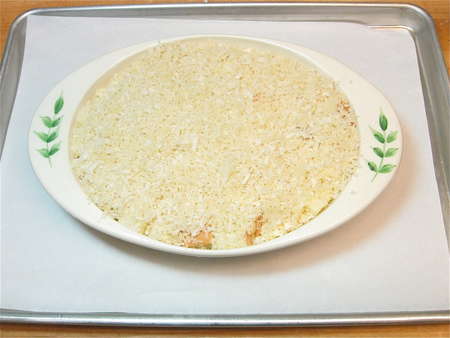 Sprinkle evenly atop the casserole.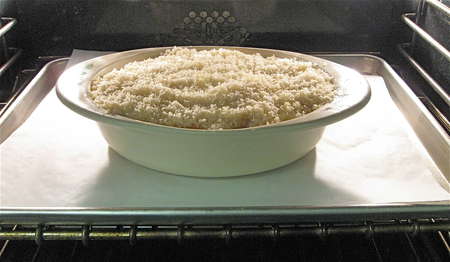 Bake the casserole for 40 to 45 minutes, or until a cake tester or paring knife inserted into the center comes out clean.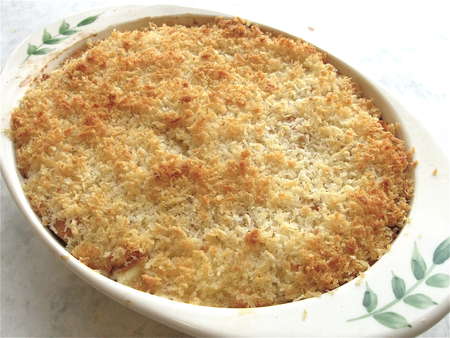 Remove the casserole from the oven.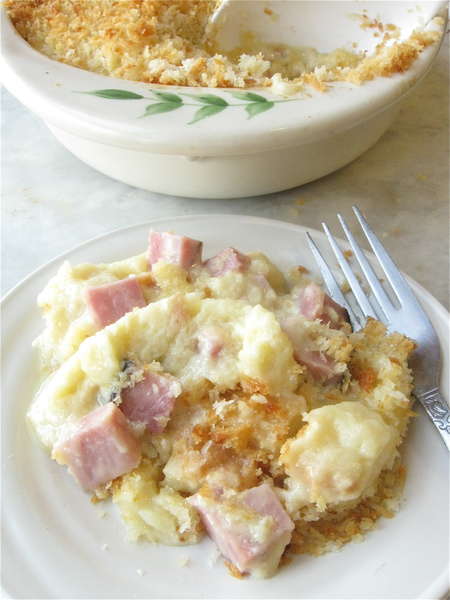 Serve hot, or warm.
Creamy melted cheese, soft bread, crunchy, butter bread crumbs... what a delicious way to make a dent in that leftover Easter ham!
Read, rate, and review (please) our recipe for Easter Monday Ham and Cheese Bake.