Isn't that an adorable cupcake? It's just one of the many imaginative and delicious cupcakes Susan Reid created for our visit to CupcakeCamp Boston last week in Somerville, Mass.
That's right - an event dedicated to the pure enjoyment of cupcakes. How could we resist that opportunity?!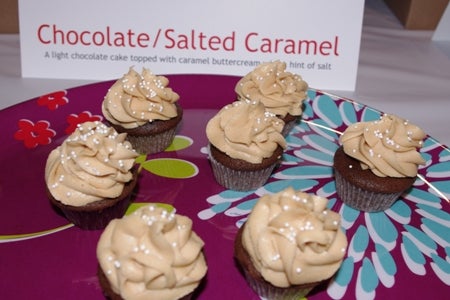 CupcakeCamp is a worldwide movement, "an ad-hoc gathering born from the desire for people to share and eat cupcakes in an open environment." CupcakeCamp Boston featured local bakery vendors and amateur bakers sharing their treats with more than 700 visitors over the course of an evening, plus a demonstration from King Arthur Flour.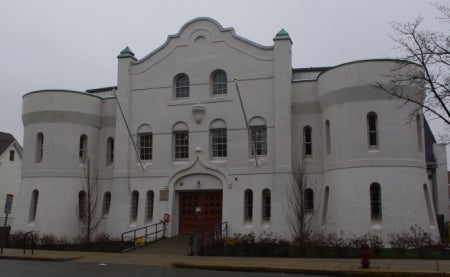 This year's event was held at the Armory in Somerville, a couple hours' drive from King Arthur's headquarters in Norwich, Vermont. So we packed up the truck with cupcakes, frosting, tools, decorations, and prizes, and headed to the city for an evening of cupcakery.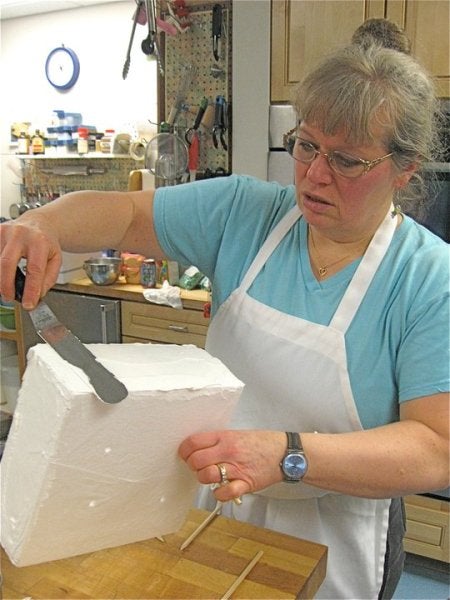 Susan got pretty fancy with the cupcake decorating in preparation for her demo. She even frosted and decorated some styrofoam blocks as the base for an impressive cupcake showpiece.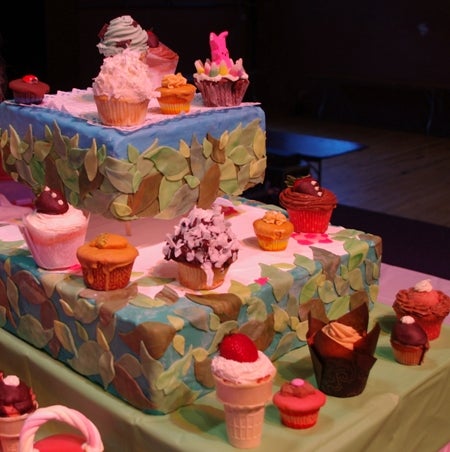 Her spring-themed cupcakes included coconut-chocolate, strawberry cake (watch for the recipe in an upcoming issue of The Baking Sheet), ice cream cone cupcakes (these brought back fond memories of elementary school), and more.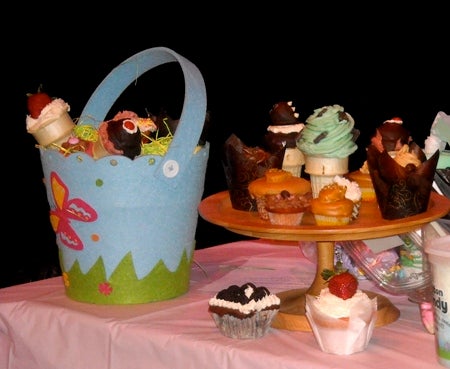 Bunnies, flowers, strawberries, and an Easter basket full of cupcakes completed the display.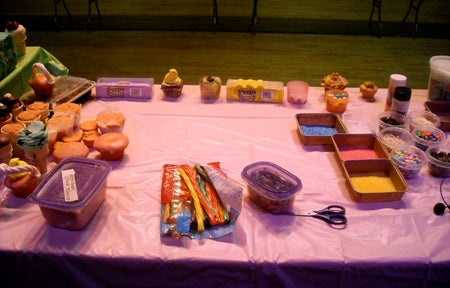 Susan came prepared with plenty of "blanks" (unfrosted cupcakes) for demonstrating her decorating techniques, plus a wide variety of tools, candy, and other accoutrements to dress everyone in their spring finery.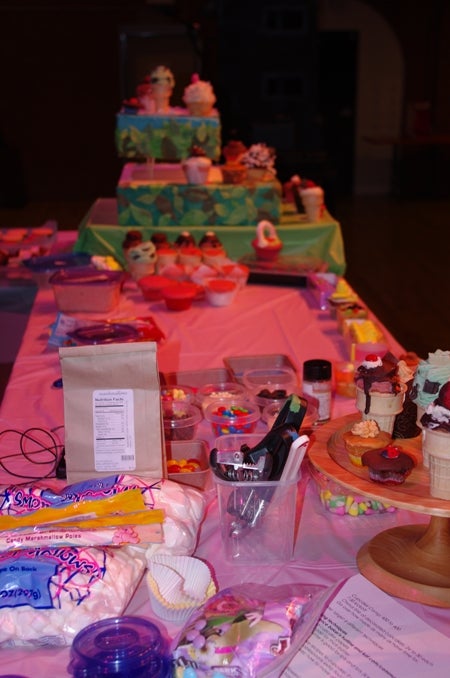 While Susan got set up...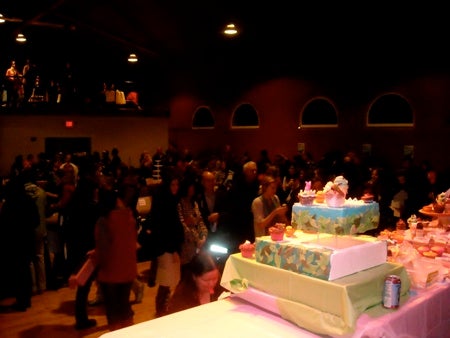 ...and shared her expertise with sugared-up cupcake enthusiasts...
...I shared both her fantastic creations and 300 cupcakes from the King Arthur Flour Bakery with the still-hungry crowd...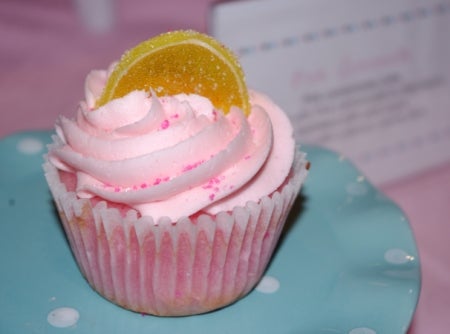 ...and stole a few moments to check out the amazing variety of cupcakes offered by the talented Boston-area bakers in attendance. I loved the presentation of this pink lemonade cupcake.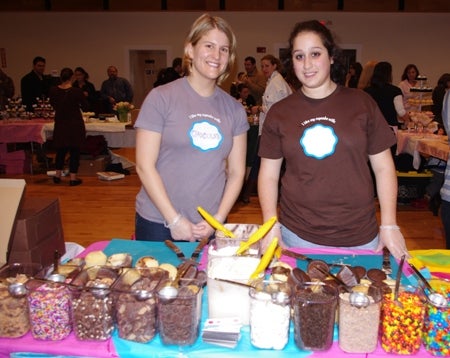 The folks at Treat Cupcake Bar whip up cupcakes Cold Stone Creamery-style: pick your cupcake, pick your frosting, pick your add-ins, and voilà - your favorite cupcake every time!
Whole Foods had some fancily decorated Easter cupcakes on display...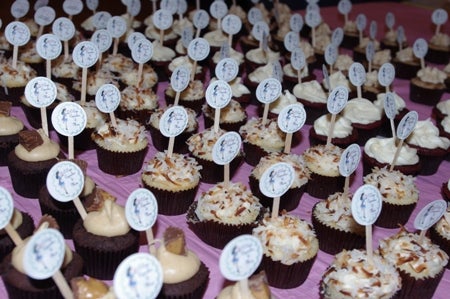 ...and mini cupcakes were everywhere - extremely practical in a room full of so many wonderful things to taste!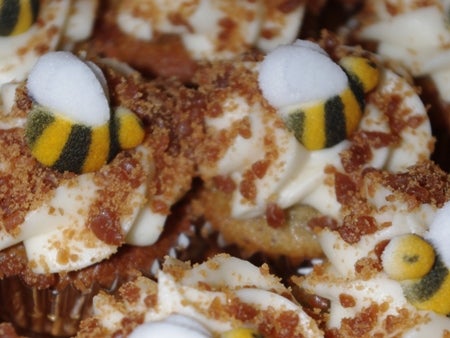 These bee cupcakes were made by Jannine Fisk, who took second place in last year's King Arthur Flour cupcake contest at Massachusetts' Topsfield Fair with her Jumbo Chocolate "P.B. and J." Cupcakes. She's now co-owner of JannaBee's bakery.
If you can believe it, surrounded by all these wonderful flavors, I only ate one cupcake all night!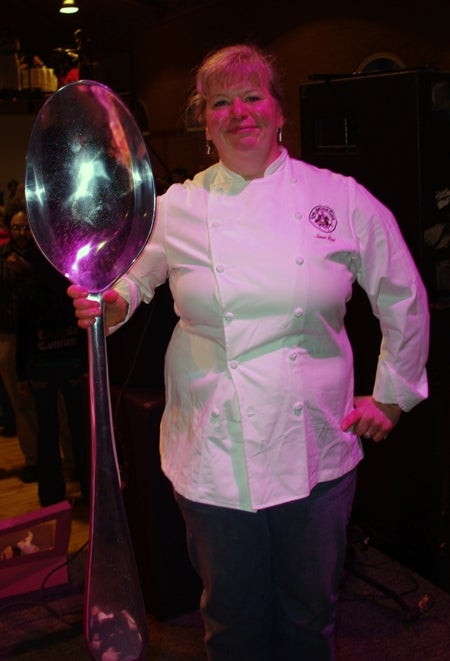 The whole gathering was a fund raiser for Lovin' Spoonfuls Food Rescue, which gets wholesome, ready-to-eat food to the people who need it most in the Brookline, Mass., area. Folks were lining up to have their pictures taken with the group's signature giant spoon, and of course Susan couldn't resist. Thanks to donations from attendees, the food pantry received more than $2,000 to help fuel its good work in the community.
CupcakeCamp Boston was a fun and inspiring experience for us; I'm sure you'll be inspired, too, by some of Susan's cupcake recipes and techniques in future issues of The Baking Sheet and beyond. In the meantime, for something new to try in your cupcake adventures, bake, enjoy, and rate our recipe for Hi Hat Cupcakes.