Holey Hi-Fiber English Muffins
A custom-made recipe for a King Arthur customer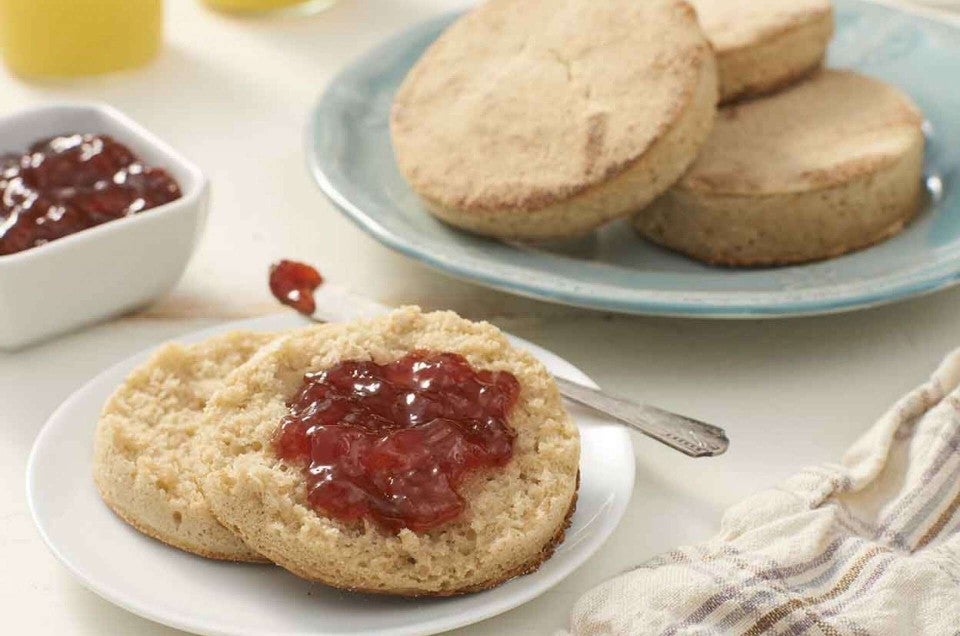 The relationships we have with our customers are the coolest thing about working here. I get lots of mail, both electronic and snail, from Baking Sheet subscribers. They send me requests, ideas, thank yous, and recipes. Lots of recipes.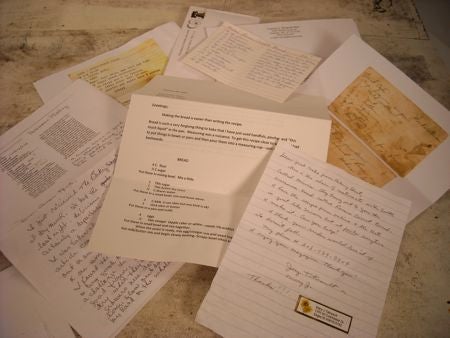 We received an email from Cynthia Holle that was forwarded to me. Here's what it said:
"A few weeks ago in a blog thread you gave me some advice for making English muffins (add baking soda to get the "holey" consistency I was looking for). I experimented with a dough-type recipe that was baked in the oven, and a batter-type recipe that gets baked on a skillet. The batter/skillet type is working out best for me. I've been tinkering with the recipe and now I think I've got something fairly good.
"My goal was a homemade high-fiber English muffin – the FiberOne English muffins cost $4 for a 6-pack. This recipe makes 7 that pretty well rise to the height of the KA English muffin rings. If you get a chance, let me know if you have any other ideas for perfecting this. I've been using them every morning to make my husband and daughter an egg sandwich on their way to work and school (with turkey bacon, low-fat cheese, and egg whites with just a bit of yolk."
Now, I was originally going to tell you about Valerie Gardner and the Strawberry Cake story, but then I realized I've done nothing but cakes lately in blogland. Since Cynthia's quest for a good, high-fiber English muffin was one that I shared, and included a great way to make use of sourdough starter, I figured I'd take her up on her suggestion.
Don't worry, the Strawberry Cake story is in the Summer issue of The Baking Sheet. So is a Recipe Makeover for the Carrot Raisin Bread that Mimi's Restaurant chain serves.  It'll be in mailboxes mid-June. You can catch  it there if you decide to subscribe. For the rest of you, here's a taste of what goes through my head when I do a Makeover. Let's start with Cynthia's recipe.
I tried Cynthia's recipe as written, but didn't have as much success as she seems to. My version was a bit on the heavy side, and didn't have very big holes. I wondered if there was a typo, because there was no baking soda in the recipe Cynthia sent, after she mentioned it in her note. Happens to the best of us. I scratched my head and had to set the project aside to go to Colorado to bake and teach. And hold up the Balance Rock in the Garden of the Gods for a few minutes.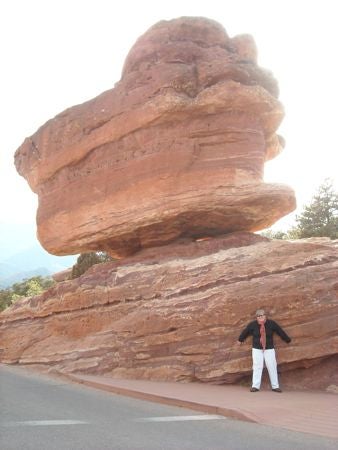 When I got back and took up the project again, I started thinking there may be a better way to get the nutrition from the milk without having it sit on a counter for 8 hours in the starter. I did a little tweaking and rearranging, using water for the starter, cutting down the number of ingredients a bit, and adding some honey for flavor. I used water in the starter and buttermilk in the batter, in tandem with 1/2 teaspoon of baking soda to get the bubbles I was after.
Every once in awhile, the recipe-writing gods smile on you and you get it right on the first pass. This was one of those times. As the muffins were baking, and rising, and showing off some nice bubbles before being turned, I got the same sense of wonder and excitement as I did as a kid, when I dissolved one of those capsules with the sponge dinosaur in it, and something delightful appeared as if out of nowhere.
Let's get to it, and make a batch of Hi-Fiber English Muffins.
We'll begin with the starter. Lucky for me, the test kitchen's batch had been fed the night before to test an artisan loaf, and there was plenty left over for me to work with. Here's how it looked when I nabbed the remaining stash from Frank.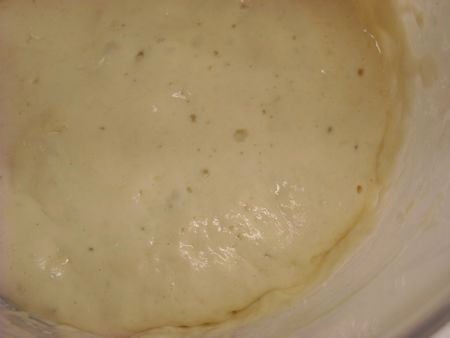 See the bubbles? This guy is awake. He was just fed a few minutes before, or you'd see even more bubbles. Into a large bowl it goes. I'm going to bulk it up and get the batter going by adding water, white whole wheat flour, a teaspoon of instant yeast, and a teaspoon of sugar.
Mix it up. Here's what the consistency looks like. Cover the bowl and let it go to work on the counter for awhile: several hours, or overnight.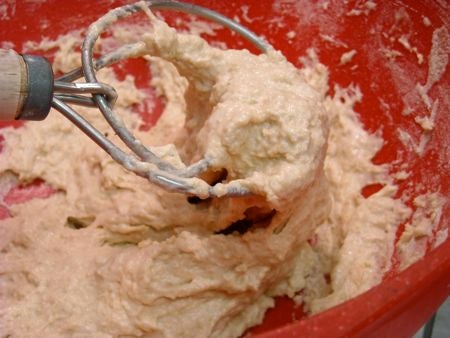 After 4 hours in our warm and cozy test kitchen, here's how the starter looks. It's risen and bubbly; ready for the next step.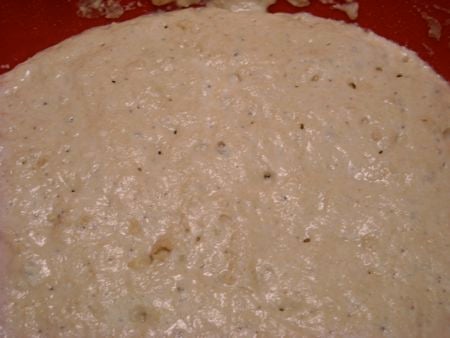 Next I'll add a mixture of buttermilk and honey. When building a dough or batter like this, it's always best to add wet ingredients first. The honey on my station is pretty crystallized.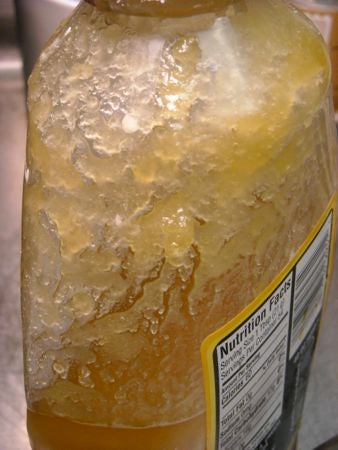 Mixing it with the buttermilk gives it a chance to dissolve so there aren't clumps of honey hanging out in the dough.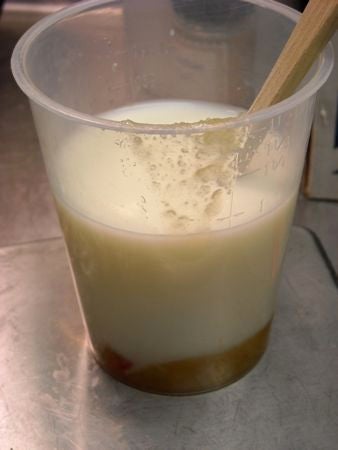 I give this container a 30-second visit to the microwave, to warm it up and get the honey to dissolve.
Next, I'll put all the dry ingredients together in a separate bowl. There's oat bran and Hi-Maize for fiber, salt for flavor, flax meal for Omega 3s, and some bread flour for structure.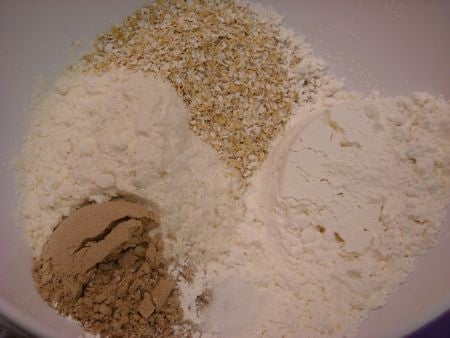 Oops, almost forgot the baking soda for the holes!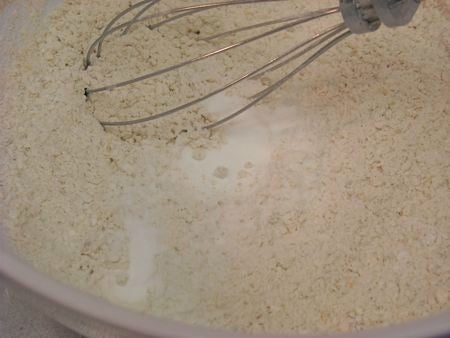 Whisk all this together to combine.
Add the buttermilk/honey mixture to the batter bowl and reach for the dough whisk.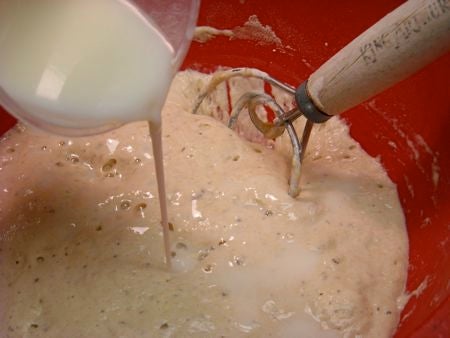 Add the flour mixture next.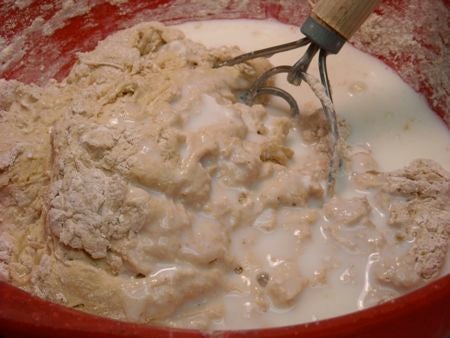 When the batter is mixed, it looks like this. Thicker than a pancake, but not really pourable.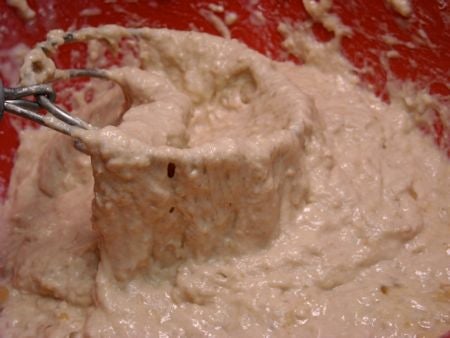 Cover the bowl while you get your griddle set up. While it sits, the baking soda and buttermilk will start to react, creating more bubbles to team up with the ones the yeast is creating.
I've set the griddle to 325°F. This temperature is hot enough to bake the muffins through without going too fast, burning the bottoms, or setting the dough before the leaveners have a chance to create the nooks and crannies we're hoping for.
Eight English muffin rings go on the griddle. Spray the griddle and inside edges of the rings; I used Everbake, which works likes a champion.
Sprinkle the insides of the rings, including the sides, with semolina or Cream of Wheat (farina). The reason for this is to create a teeny bit of space between the dough and the heat source. By doing this, the tops and bottoms of the muffins get a little more crisp.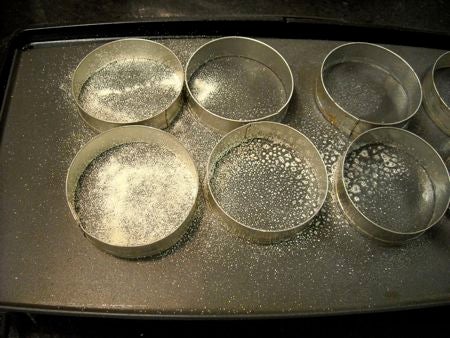 Sprinkling also allows the muffins to cook more slowly, allowing the leaveners to create bigger bubbles before the batter sets, without burning the bottoms. I know a lot of recipes call for cornmeal in this situation, but I've never liked the texture; it also burns more easily that semolina or farina.
Grease the inside of a muffin scoop...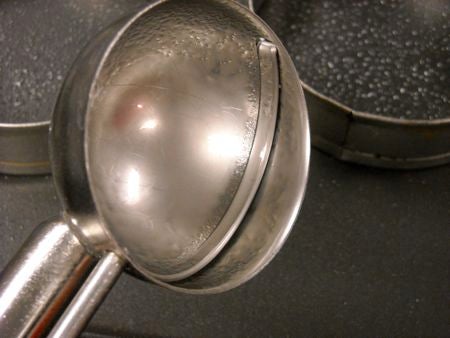 ...and use it to drop the batter into each of the rings.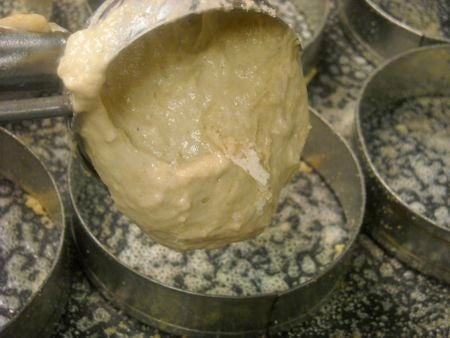 If you grease your finger, you can tease the dough out to the edge of the rings for a round muffin.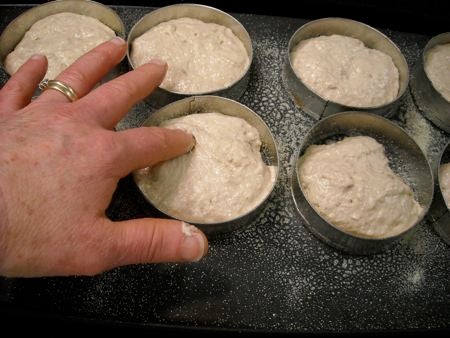 Cook the muffins for 10 minutes. As they're going, you'll see bubbles come up to the top of the batter.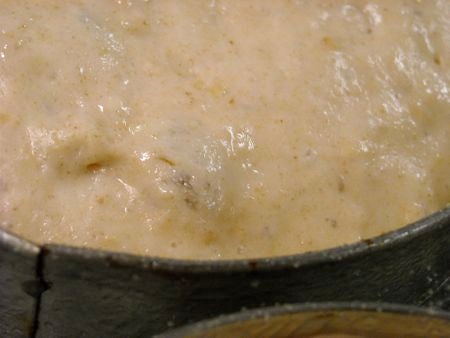 After 10 minutes, sneak a peek at the underside of the muffin, to be sure it's not cooking too fast.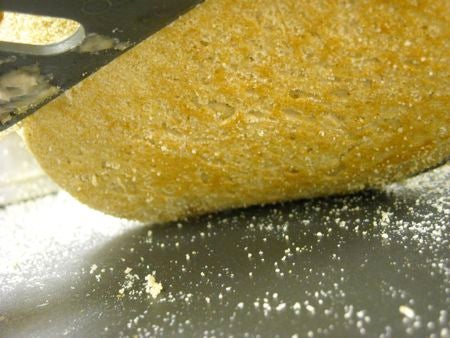 Everything looks fine; this muffin can go another 4 or 5 minutes without burning, at this rate.
When the edges begin to look dry (it could be as long as 15 minutes), sprinkle the top with more semolina and flip the muffin over. Reset your timer for 10 more minutes.
When the time is up, remove the rings. Some rings may come right off; others may have a sticky spot. If that happens, take a dull knife or small spatula and loosen the muffin from the ring.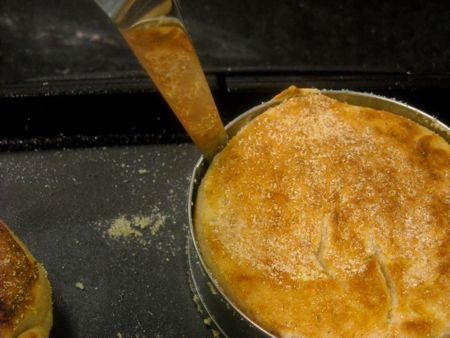 Use tongs to pick up the rings.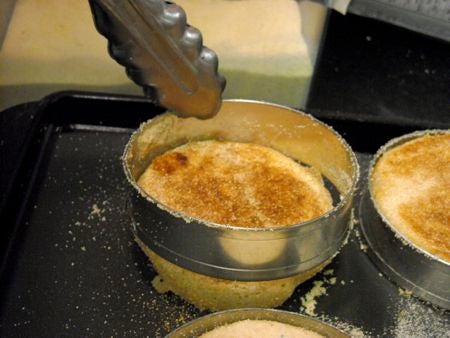 See the gorgeous bubbles? Things are looking good.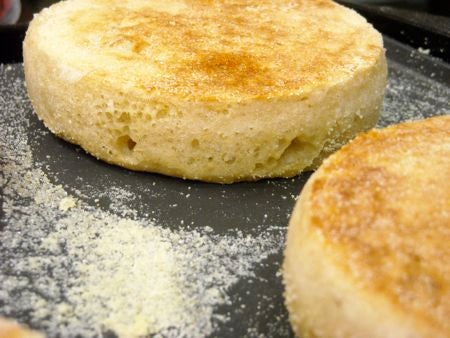 We're close to glory here, but it's important that the muffins be cooked all the way through. Use an instant-read thermometer to check. Poke the muffin from the side. When the temperature in the center is between 195°F and 200°F, the muffins are ready.
This batch had some raw-looking edges, so I put them all up on their sides to color them up a bit, rotating them an inch or so every couple of minutes.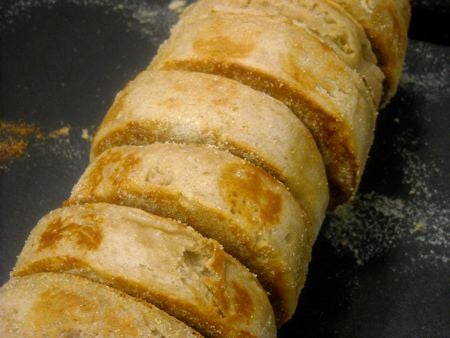 Every time I make these muffins, I do a double batch, because my colleagues start to swarm. I also have a habit of cooking them around 11:45 a.m., when people are ready for lunch.
We have a terrific handy tool for the piece de resistance here: it's our English muffin splitter. MJ says it's been a tremendous boon to her parents, because her dad used to curse every English muffin he handled for breaking into bits. She gave one to them, and reports her mother's quality of life at breakfast has been much enhanced.
Push the splitter into the muffin from the side in 3 or 4 places.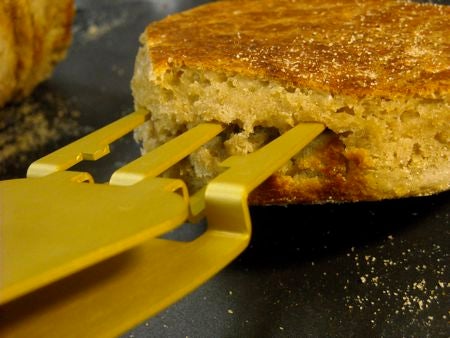 Squeeze gently until the two halves come apart.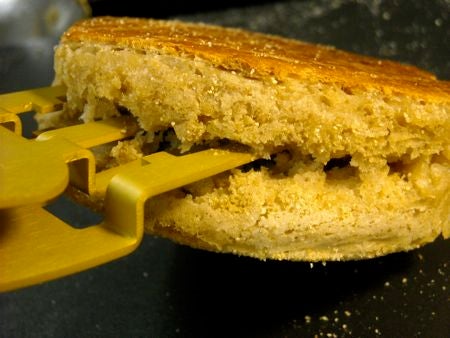 Holey Hi-Fiber English Muffin! Eh voilà, time to eat!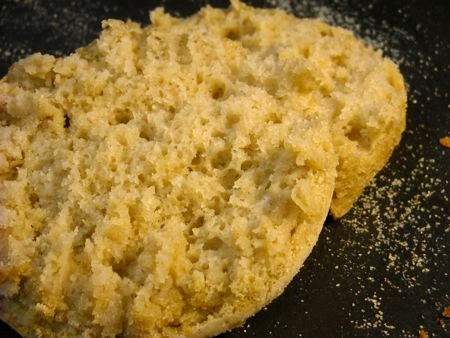 Thank you so much, Cynthia, for setting me on this path. Another recipe born of your ideas and our elbow grease. We hope you'll bake, enjoy, and rate our recipe for Hi-Fiber English Muffins.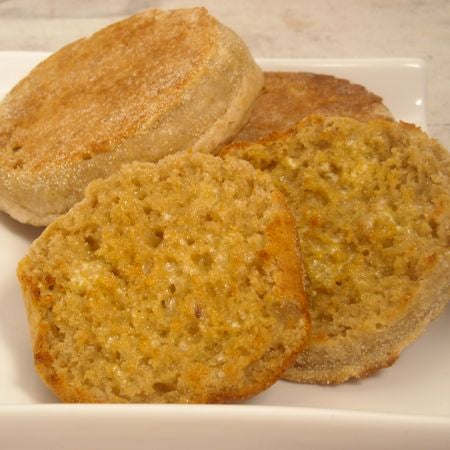 Jump to Comments