Unless you've been on a protracted trip to the Arctic (along with Prince Harry), you probably know by now that Wills and Kate are getting married on April 29.
And, if you don't know who Wills and Kate are - I can't help you. I suggest People magazine as the best way to get current with the popular media's favorite subject these days.
And why not? Between devastating meteorological disasters (to say nothing of national disasters – how about that federal debt limit?), it's time for something a bit less... well, serious.
News Lite.
Google "Wills and Kate wedding," and you'll see what I mean.
The first result trumpets this headline: "UFOs expected at Wills and Kate's wedding."
Then there's "Will & Kate Pez packs near £8,000 mark in eBay auction." (Yes, THOSE Pez.)
Equally compelling stories around the Royal Wedding of the Century fill pages and pages and PAGES of search results. You want to know what hair spray Kate uses? Check online; one of the four stylists working on the soon-to-be-royal locks probably knows the secret.
Speaking of secrets, one thing I haven't been able to find is a recipe for the Royal Wedding Cakes.
Yes, cakes. It seems the couple will have a traditional English fruitcake as the main attraction. But the Groom's Cake is said to be a childhood favorite of Wills, a "secret" recipe revealed by Buckingham Palace to the bakers at McVitie's biscuit company, makers of Rich Tea Biscuits – the cookie that's a key ingredient in the cake.
"The recipe was given to us by the Palace and we've been sworn to secrecy. I'd love to be able to tell you, I really would. But, it's a royal secret," said McVitie's baker Paul Courtney.
Still, Courtney did reveal that the cake includes 1,700 crushed Rich Tea biscuits, and 40 pounds of dark chocolate.
Well, who can resist trying to figure out a secret recipe? Not I. More Googling found a picture of Mr. Courtney and, more important, a photo of the cake itself - BIG clue.
Next, I found the ingredient statement for Rich Tea Biscuits:
"Wheat flour, Sugar, Vegetable Oil (palm), partially inverted Sugar Syrup, Malt extract, Salt. Raising agents are (Sodium Bicarbonate & Amonium Bicarbonate)."
Hmmm, sounds like a plain, mass-produced sugar cookie.
'Nilla Wafer? No; 'Nilla Wafers have eggs, this cookie doesn't.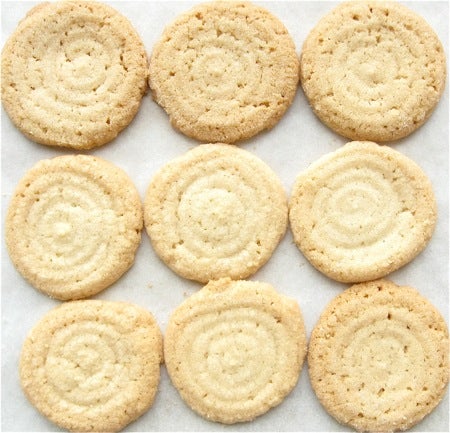 How about our Vanilla Dreams? A light, plain sugar cookie, no eggs. They even use baker's ammonia (ammonium carbonate), similar to the leavening in the Rich Tea Biscuits.
OK, we've got the cookies. How about that 40 pounds of chocolate?
I'm thinking something simple. Something that'll enfold the cookies, soften them up a bit, yet not overwhelm them.
Something like a double recipe of Pots de Crème, a rich, decadent, "adult" version of chocolate pudding.
Let's see how this all comes together.
I'll assume you have the cookies made; you'll need about 3 1/2 dozen. Let's make the Pots de Crème.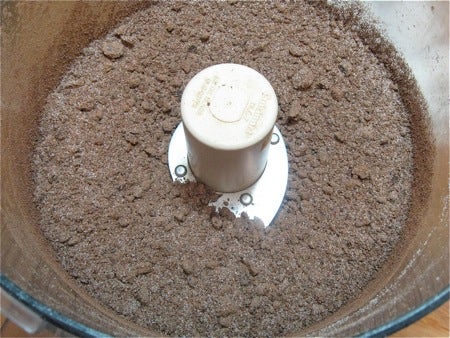 First, process 2 cups (12 ounces) semisweet chocolate chips, 1/8 teaspoon salt, and 2 tablespoons sugar in a food processor.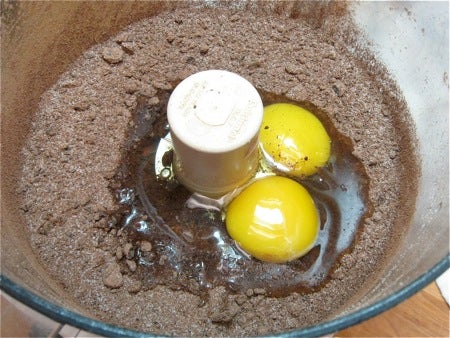 Add 2 large eggs, and process until thoroughly combined.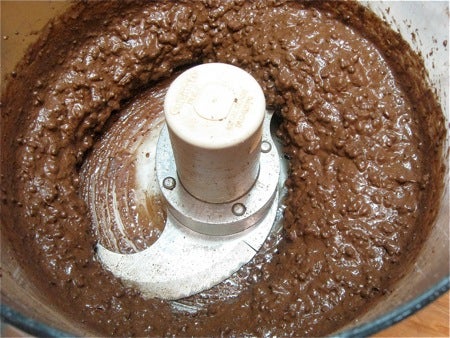 It won't be smooth; that's OK.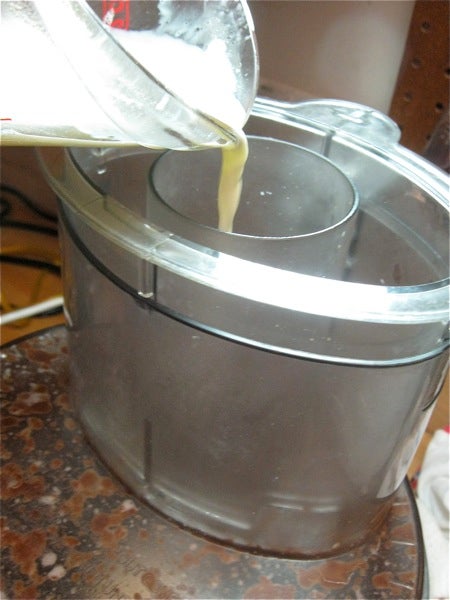 Next, heat 2 cups (1 pint) heavy cream, in the microwave or on the stovetop, until it's very hot, and small bubbles form around the edges. Turn on the processor, and slowly add the cream.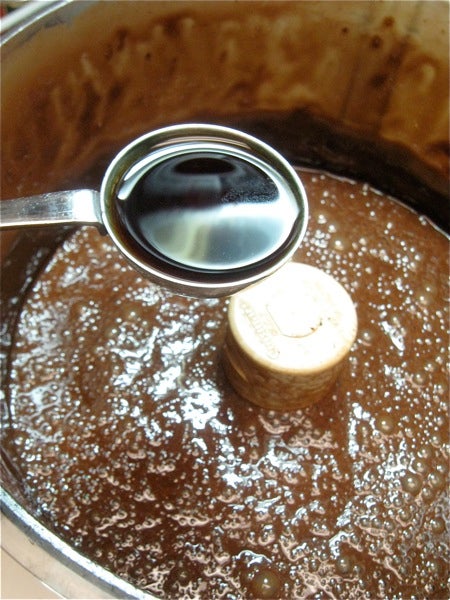 Add 1 to 2 tablespoons liqueur, if desired. I desired Kahlua, though I imagine Wills' childhood nanny might have vetoed that.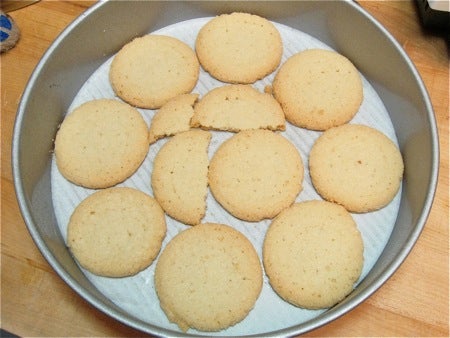 Lightly grease a 9" round cake pan, and line with parchment. Grease the parchment.
Next, you really should put a thin layer of the chocolate in the bottom of the pan; you'll see why later. Live and learn.
Line the bottom of the pan with cookies; McVitie's says they'll crush the cookies; I skipped that step.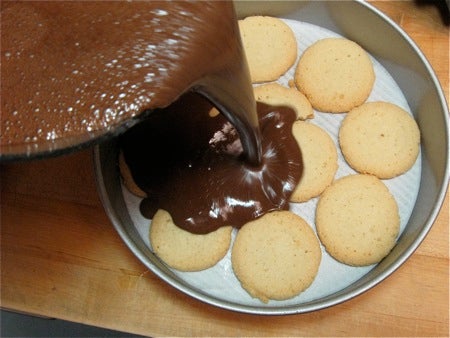 Pour chocolate over the cookies.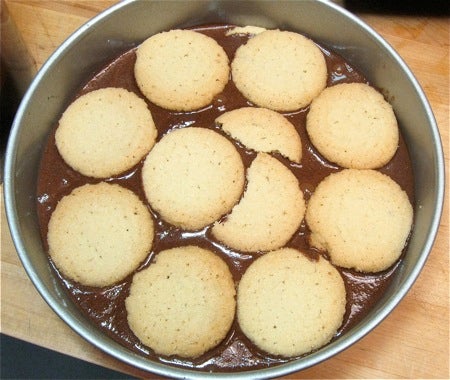 Repeat the process twice more.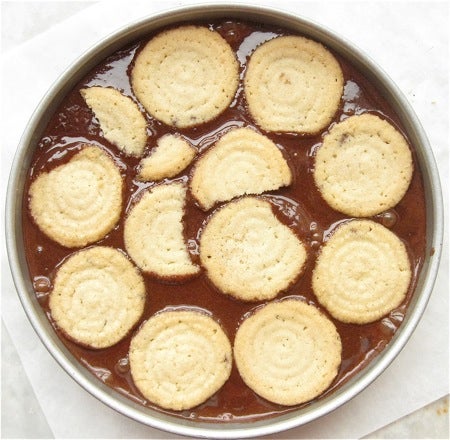 Finish with a layer of cookies. I believe the pan held four layers of cookies, about 42 cookies.
Cover the pan, and refrigerate until set, at least 3 hours.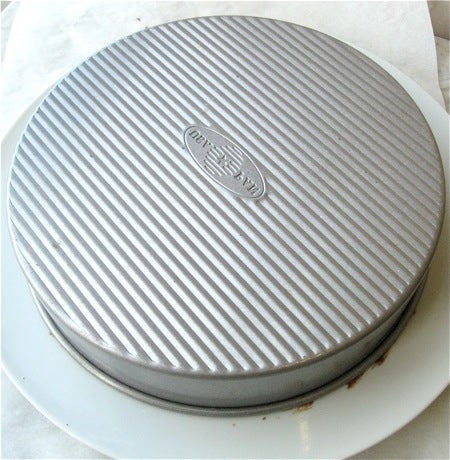 Just before serving, loosen the edges of the "cake," and turn the pan over onto a serving plate.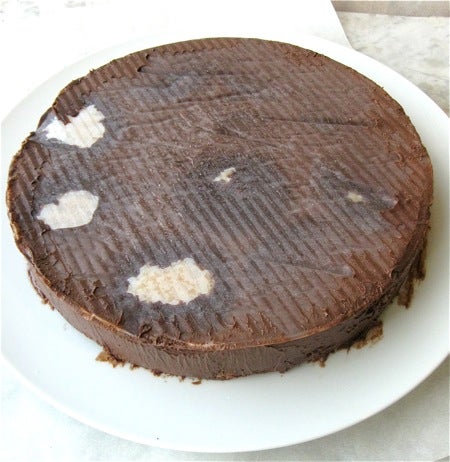 Carefully lift off the pan.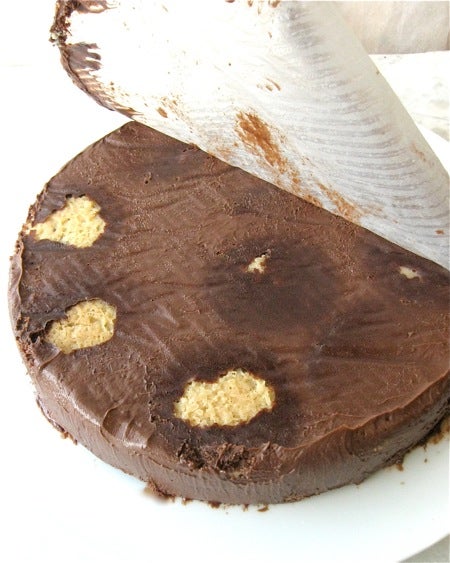 This is why I should have put a layer of chocolate in the bottom of the pan first – it's kinda ugly, and definitely not fit for a Royal Wedding.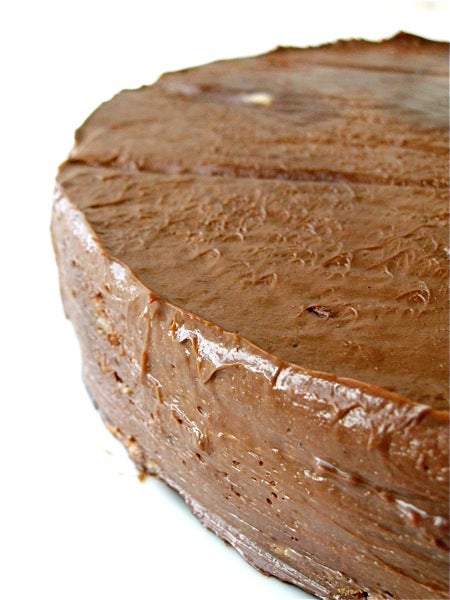 Some judicious work with a spatula helped.
As did a garnish of cocoa. My fellow test-kitchen bakers suggested chocolate curls, confectioners' sugar... I figured simple cocoa would be easiest, and plenty attractive.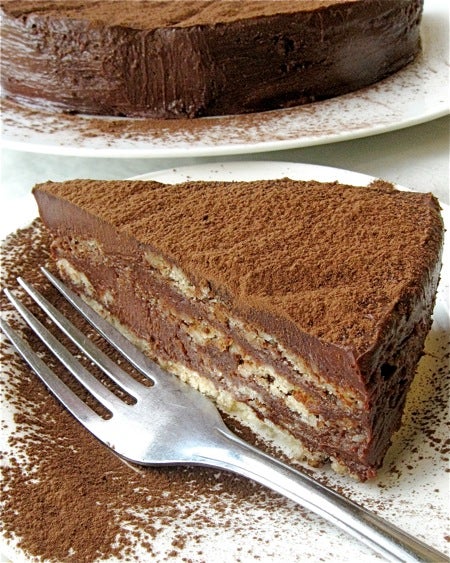 I think I figured right, don't you?
Layers of rich, thick pudding and light, crunchy cookie. This cake almost certainly isn't the "secret recipe" that'll be served at the Royal Reception, but it certainly got a great reception by our taste-testers here at King Arthur!
From the current King (Arthur), to the once-and-future King:
May your palace be filled with light, laughter, and love; and its kitchen with chocolate and McVitie's Rich Tea Biscuits.
So, how would YOU make a cake out of 1,700 Rich Tea Biscuits and 40 pounds of chocolate? Share your best educated guess below.
Note: This recipe uses raw eggs, an ingredient in classic Pots de Crème. Substitute 7 tablespoons refrigerated pasteurized egg substitute if you wish to avoid raw eggs.