I'm sure each of us in our own time have experienced serendipitous events where something fine and good and true arises from a sad or stressful situation. Sometimes it's a small thing, like...
...dropping your coffee on the floor, only to bend down and find your lost ring under the bookcase during the caffeine puddle cleanup.
Sometimes it's a little more powerful. A health scare may turn out to be false, but the impact leads you to a healthier lifestyle.
For Gesine Bullock-Prado, serendipity reached in and radically changed her life when her mother passed away from cancer at the age of 64 in 2000. Gesine (rhymes with subpoena) was a Hollywood executive at the time, running a production company with her sister, Sandra Bullock (Yes, that Sandra Bullock). The L.A. rat race wasn't making her happy, and baking at home was.
So, she left the West Coast for the Green Mountain State and without a shred of formal baking training, opened her first bakery in Montpelier in 2004.  Gesine's Confectionery was a rousing success, and remained open until 2009. Now Gesine sells her extraordinary baked goods online, all still made here in Vermont, although the actual location is kept a bit of a secret.
Here at King Arthur Flour, we've been lucky enough to have Gesine come and teach in our Baking Eduction Center before, and she'll be returning to KAF in May for a demonstration and a hands-on class. Her class, which will revolve around her new book Sugar Baby, sold out in 24 hours, but the demonstration still has room.  Check it out on our Education pages. I know it's not as exciting as meeting Gesine, but I plan to be there too.
We know that not everyone could make the trip, and for those of you who can't be with us in May, here's a sneak peak at an exclusive recipe Gesine was kind enough to share with us from the book (Available April 1).
A riff on classic Florentines, these sweet sugar and almond-laden cookies are delicate and yes, a bit fussier than your standard drop cookie, but definitely something that every baker should try at least once. Watching the simple batter spread and bake to a golden brown circle of lace is like magic; and the sweet/salty taste tempts you like potato chips. No one can eat just one.
And now, on with the show... Florentiners à la Mama.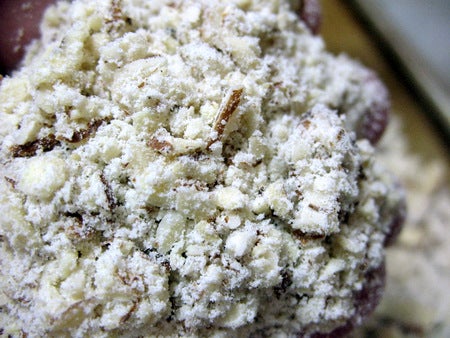 Preheat the oven to 350°F and line several baking sheets with parchment paper.
Pulse in a food processor:
1 ½ cups sliced almonds
¼ cup King Arthur Unbleached All Purpose Flour
1 teaspoon salt
You want to stop when there are still some small pieces of nuts left. Avoid processing the nuts to a fine flour or paste.  Stir in an additional 1/2 cup of unprocessed almonds and set all aside in a medium-sized heatproof bowl.
You'll see in the photos that I made two separate batches and used sliced unblanched almonds in one, and slivered blanched almonds in the other. These were the two most common versions of almonds available that would suit the recipe. We'll talk about some of the differences in results as we go along.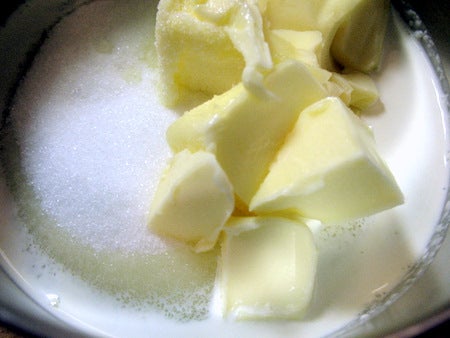 In a medium-sized saucepan combine:
1 cup granulated sugar
3 tablespoons heavy cream
2 tablespoons honey
½ cup (8 tablespoons) unsalted butter
Stir over low heat until the sugar is dissolved.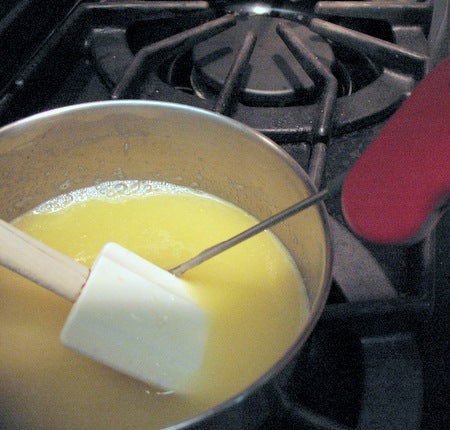 Increase the heat to medium-high and cook the mixture to 235°F. Remember to stir before inserting the thermometer tip for testing the temperature.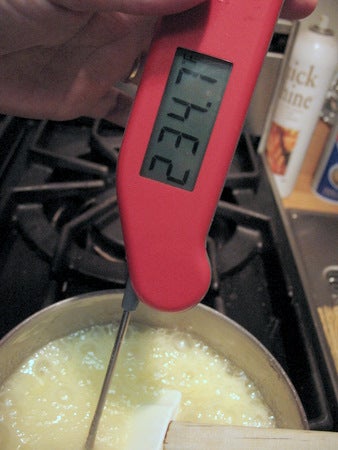 Phew, just about right. By the time I put the camera down and turn off the heat, we'll be at 235°F.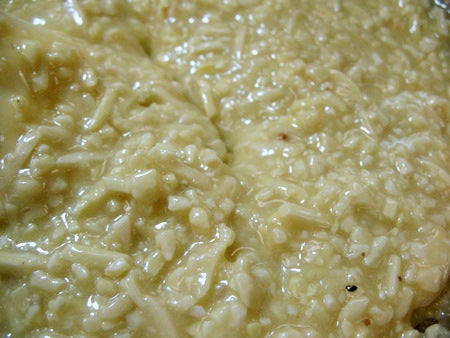 Immediately pour the hot sugar mixture over the almond/flour mixture in the bowl and stir to combine.
You can see that this batch is the blanched slivered almonds. A lovely light, nearly white color.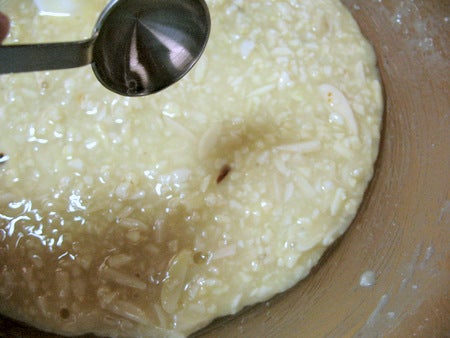 Let the mixture cool for a minute or two, then add 1 teaspoon almond extract. This really bumps up the almond flavor.
If you're using almond oil, 3 to 4 drops should do it.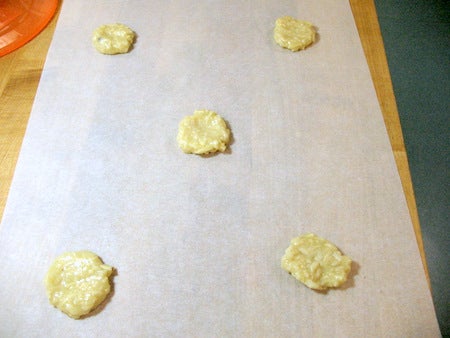 Drop the warm mixture by teaspoons onto parchment-lined baking sheets.
A quick word about parchment. If you haven't been converted yet, let this be your epiphany. Cleaning cooked sugar off  a metal pan is no picnic, believe you me.
A kitchen-table teaspoon of batter will yield a 2" to 3" cookie. If you use our teaspoon scoop, your baked cookies will be 4" to 5" inches. Leave plenty of room between scoops; these cookies spread to more than double their original size.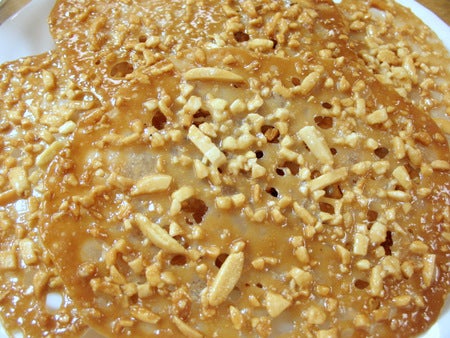 Bake the cookies until deep golden brown all over. The centers tend to brown last, so keep a good eye on them. In our ovens, this took about 8 to 10 minutes.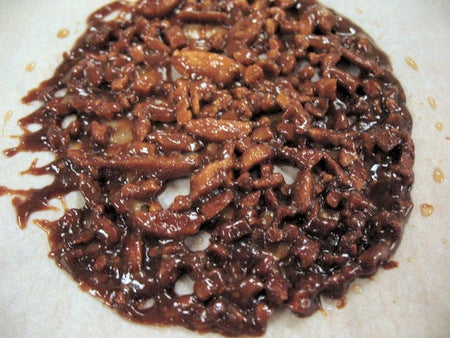 Aarrgh! When baking florentiners, don't try to multitask during the last few minutes of bake time. We went from golden brown and delicious to ghastly, burnt and deadly!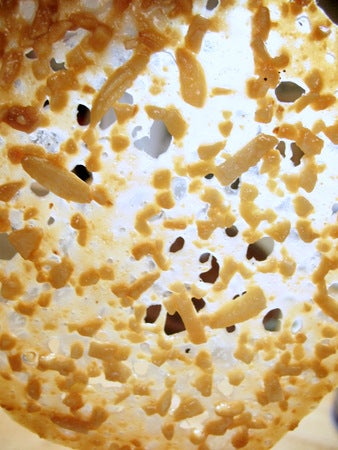 This cookie is from my blanched, slivered almond batch. While it is lovely and quite tasty too, it's a bit too thin and has too many holes to survive more than a few minutes. It soon broke to shards.  The slivered almonds were just too chunky to allow for a good mixture of spread and stability.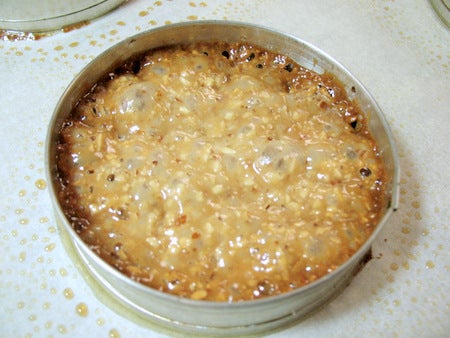 Okay, I know there are those of you out there who, like me, like your cookies to be perfectly round if possible. If you have English muffin rings or other short rings, you can put the greased rings on parchment and place 2 tablespoons of batter in each.
The baking time will increase to about 15 to 18 minutes.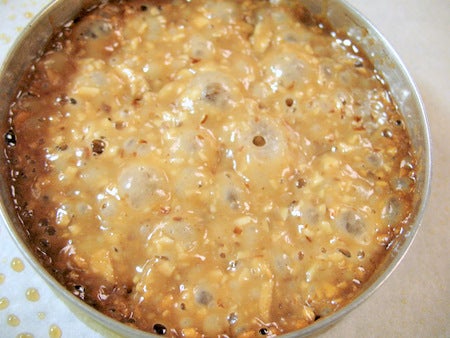 This cookie is from the sliced unblanched almonds batch. You'll see far fewer holes even without the rings, and the cookies held together much better. If you can find sliced, blanched almonds, grab them! You'll get the best of both worlds in your Florentiners.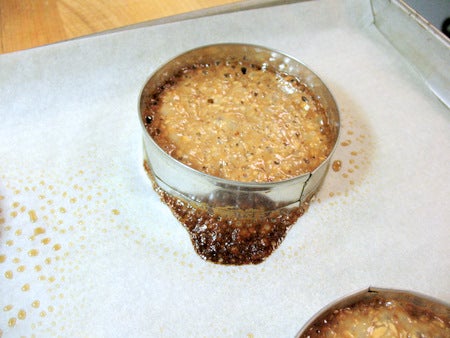 Don't worry if a little batter seeps out and bakes too much. Once you unmold the cookie, just snip off the offending appendage with scissors.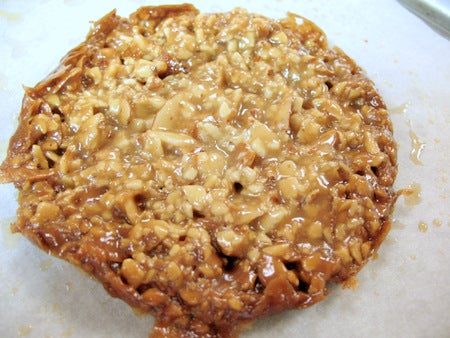 Oh, lovely. A tickling scent of toasted nuts and caramelized sugar will tempt you to bite. The slight stickiness gives you an excuse to lick your fingers, and a pleasant blend of crunch and chew.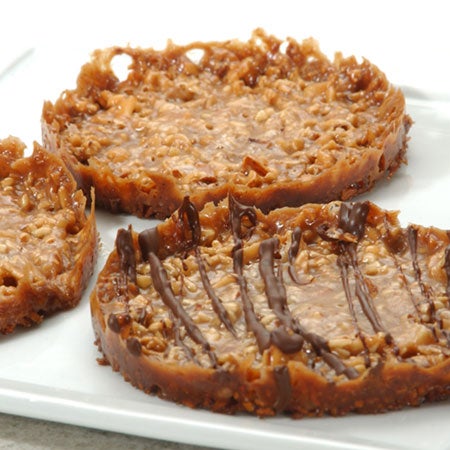 Classic Italian florentines have a bottom layer of dark, bittersweet chocolate to temper the sweetness of the cookies. In this version we simplify by melting 3 ounces of bittersweet chocolate and drizzling over the finished cooled cookies.  All together now... fan cheek with hand, wrist to forehead, close eyes and swoon!
You can learn more about Gesine and her books, recipes and musings at her blog. Her relaxed and down to earth writing style is delightful, and made me laugh out loud several times. If you're in the mood to really treat yourself, you can order baked goods direct from Gesine, via her site.
Please bake, rate, and review the recipe for Florentiners à la Mama.