Isn't  it delightful that some things in life are never going to get old, and there will always be a new and different version around the corner?
Take shoes. Someone is always going to be out there creating new designs for shoes to tempt (or torture)  your tootsies.
Or movies. For better or for worse, someone will spend their days working hard to bring viewers the latest and greatest in boy-meets-girl-meets-zombie-superhero-dancer-on-board-a-sinking-ship-with-jewel-heist-adventure-supernatural-twist-ending films. I can hardly wait.
To me, few things take as well to adaptation as pizza. When your components are crust, sauce, and some toppings, there really is no end to the combinations you can try. Remember the days when anchovies were the most unusual thing you could order on pizza? I do.
Trust me, if I ever meet Wolfgang Puck, I will kiss that little man's feet for really opening the world of pizza up at Spago in the 1980s with the Prince of Pizza, Ed LaDou. Together they revolutionized pizza as cuisine, making over 250 different pizza "concepts." including the ever-popular Buffalo chicken pizza. (check out Wikipedia for more history on cool California-style pizza.)
So, let's take a break from the tomato sauce/cheese/pepperoni pizza that saw us through football season, and make our Spinach White Pizza. Rich ricotta cheese, plenty of mozzarella, and garlicky spices form a base for tender sautéed spinach. Fresh feta cheese adds a bit of bite for a fabulous finish.
Here we go with Spinach White Pizza.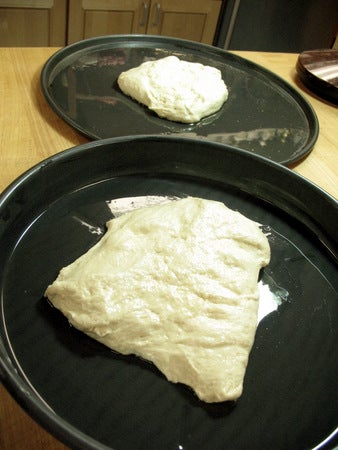 Prepare a batch of your favorite pizza dough. Our Pizza Crust recipe is great; it make two 14" pizzas, which is a perfect size for the amount of filling in this recipe.
Had I been smarter, I would have rolled and stretched the dough before putting in the pans. It was a bit more slippery this way, but you'll see that I managed pretty well. I know you'll be the wise one and stretch your crust first.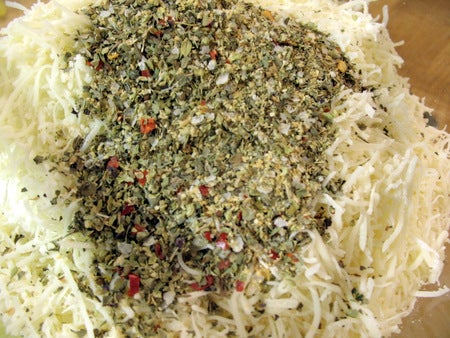 Preheat the oven to 425°F.
In a medium-sized mixing bowl, combine:

1 1/2 cups (340g) ricotta cheese
1 1/2 cups (170g) shredded mozzarella cheese or pizza cheese blend
2 to 4 teaspoons Pizza Seasoning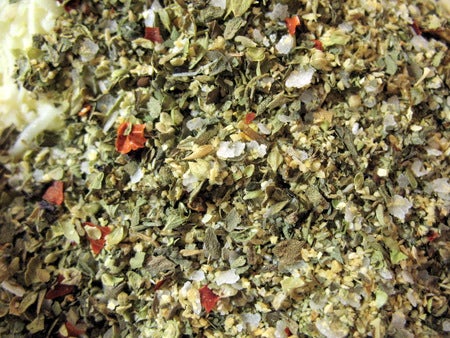 If you plan on using feta on top of your pizza, use the lesser amount of pizza seasoning in the ricotta mixture. As you can see, besides the fragrant onion and garlic and spices, pizza seasoning does contain some salt.
Combine the cheeses and spice until creamy and smooth-ish. Set aside for the flavors to mingle and marry as you sauté the spinach.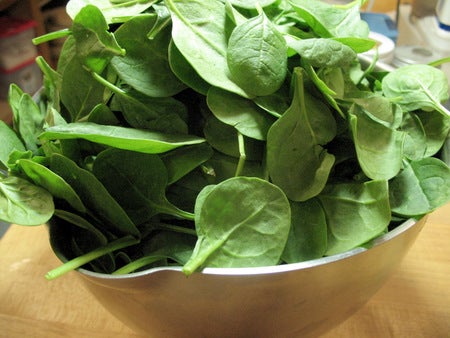 Wowza! Once you pop open a bag of fresh spinach, it reminds me of those toys kids soak in water to make them grow. It just keeps getting bigger and bigger!
Heat 2 tablespoons of garlic oil or olive oil in a large skillet until it just begins to shimmer. Add the fresh baby spinach. Don't worry, it will cook down quite a bit. If it doesn't all fit at once you can wait until it wilts a bit and add more to the pan.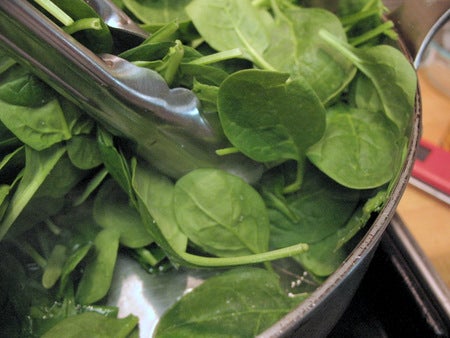 Add a pinch of salt to the leaves, and toss with tongs in the hot oil until the spinach wilts. When most of the spinach has wilted down, remove the pan from the heat and drain the spinach in a colander to remove any latent moisture.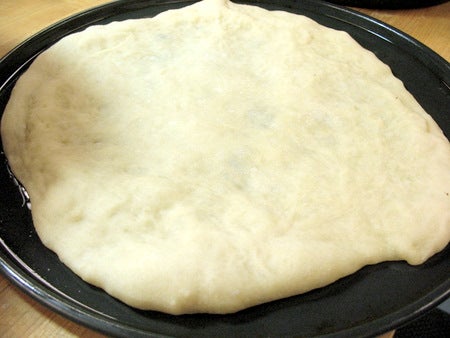 Remember now, your pizza is going to be beautifully flat and perfect, as you'll stretch it beforehand. Mine, maybe not so much this time. The center is fine, but that front edge could have been a bit thinner, eh?
Par-bake the naked crust for about 10 minutes, until it just begins to color.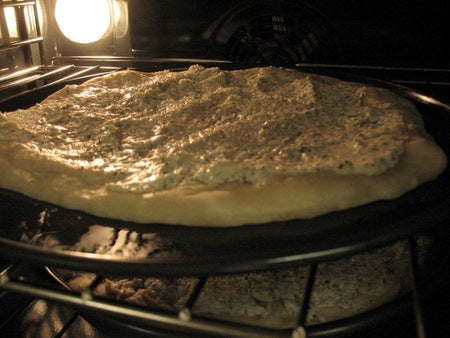 Spread half the filling mix on each pizza and return to the oven briefly while you grab the spinach and feta topping. You don't HAVE to return them to the oven, but it keeps the filling hot and melt-y.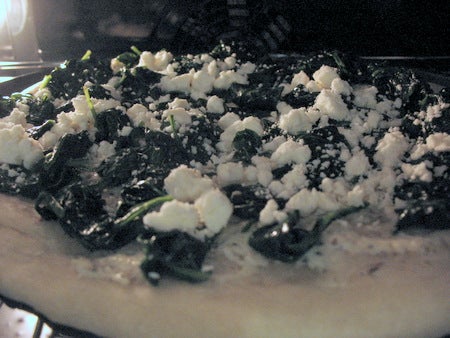 Spread half the spinach over each crust, and top with 1/4 cup of crumbled feta cheese, if desired (1/2 cup feta total for both pizzas).
Return to the oven to finish browning the crust. This should take another 8 to 10 minutes. The feta will also begin to brown, just a touch.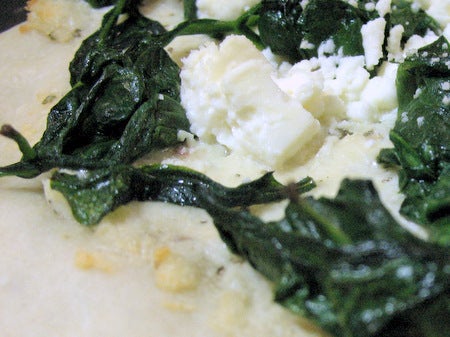 Mmmm, the garlic and spinach aroma of this pizza will make your mouth water. This pizza reminds me a lot of an inside-out calzone or stromboli, all crusty-cheesy-veggie goodness.
So often we get caught up in the red sauce and meat topping pizza trap, it's nice to have an option that can highlight the flavors of the crust. It's an excellent option for a vegetarian dinner, too.
Please bake, rate and review our recipe for Spinach White Pizza.
Jump to Comments