Truth be told, I kinda like to get up early on the weekend. Somehow knowing that I don't have to do it and don't have to be anywhere makes it easier to do. Trust me, if I do have to get up early on a weekday, it's not nearly such a pleasant thought.
If I could, I'd bake coffeecakes and cinnamon buns, Belgian waffles and steamy creamy oatmeal at 6:30 a.m. every Saturday and Sunday. Too bad my house is so small that once I start banging pots and pans, everyone else is awake whether they like it or not. So, I try to be kind and make quiet breakfasts.
Oh, I know I could put things together the night before, but somehow I'm stuck in Donna Reed mode, where I picture myself flitting about in a ruffled apron fixing a perfect morning feast while the sun rises. I've only seen about four episodes of The Donna Reed Show, and don't even own a ruffled apron, so go figure. But there it is: I'm a morning baker.
While surfing the 'net, I am across several different references to pancakes being new and hip again, and that thrilled me to my toes. Pancakes are hot, yummy, personal little bits of heaven, and they're quiet to boot! One bowl, one whisk, a scale, and a griddle.
This recipe features two special twists that make it taste just like your favorite cinnamon coffeecake. First, part of the batter is richly flavored with cinnamon filling mix; and second, you pour real streusel right onto the pancake and bake it in. Cinnamon, crunch, and caramelized sugar in every bite. OH, yes!
Let's tiptoe to the kitchen and make Cinnamon Streusel Pancakes.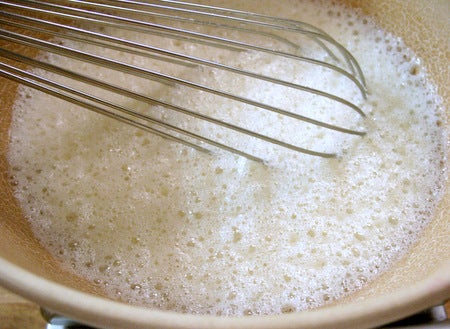 Whisk together 2 large eggs and 1 1/4 cups milk until lightened and foamy. Gently stir in 3 tablespoons oil or melted butter.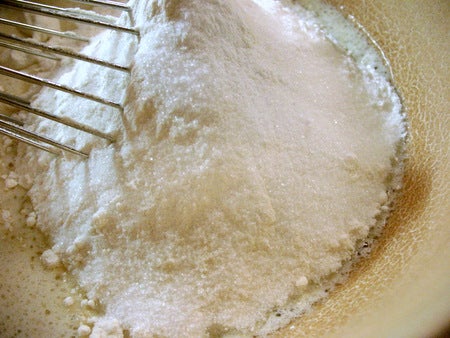 Whisk in the following:
1 1/2 cups (6 1/4 ounces) King Arthur Unbleached All Purpose Flour
3/4 teaspoon salt
2 teaspoons baking powder
2 tablespoons sugar or malted milk powder
Gently mix the wet and dry ingredients until combined. Don't over-mix, or the gluten will become overly developed, making tough, not tender pancakes.
Set the batter aside to rest and thicken while you preheat the griddle and make the streusel topping.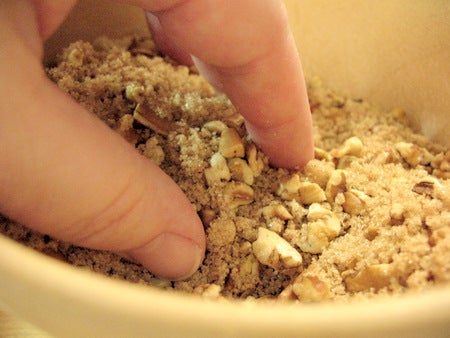 In a small bowl combine:
1/2 cup chopped nuts (I used walnuts)
Blend with a fork or, better yet, your fingers until the cinnamon and nuts are mixed into the sugar.
If you don't want to go the nut route, you could use rolled oats (uncooked oatmeal) instead.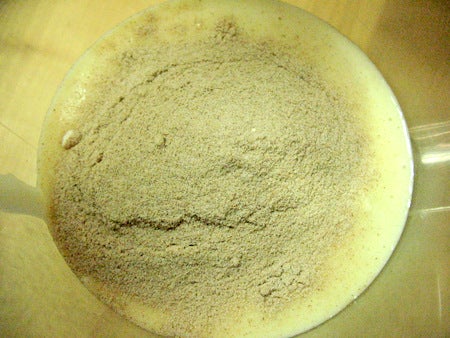 Transfer 1/2  cup of the thickened batter to a measuring cup with a spout and add 3 tablespoons Baker's Cinnamon Filling Mix. Mix until smooth. Check the batter for consistency and thin with milk until it flows evenly.
If you don't have the Cinnamon Filling Mix on hand, you can use 1/2 teaspoon ground cinnamon instead. I'll be honest and say it won't have the same great deep flavor, but it'll do in a pinch.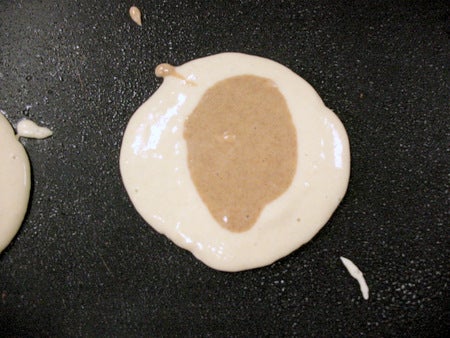 Pour 1/4 cup plain pancake batter onto the hot griddle. Let it spread slightly, then pour a scant tablespoon of the cinnamon batter into the center, like a bulls-eye.
Cook for a minute or so, until bubbles begin to appear on the surface of the pancake. Sprinkle on 1 tablespoon of the streusel, cook for another minute, and flip the pancake, streusel and all.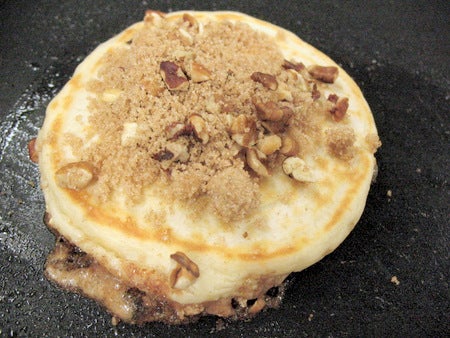 You can see how the streusel that's now on the bottom is melting and caramelizing as the pancake cooks.
So, why is there streusel on top of the pancake? Maybe, just maybe the pancake got flipped before I took the right photo, so I added more streusel to show you how much to use.  Of course, we ate this pancake with the additional streusel on top and it was amazing, so you can streusel both sides on purpose if you wish.
Once you remove the cooked pancakes, there will be some sugar melted onto the griddle.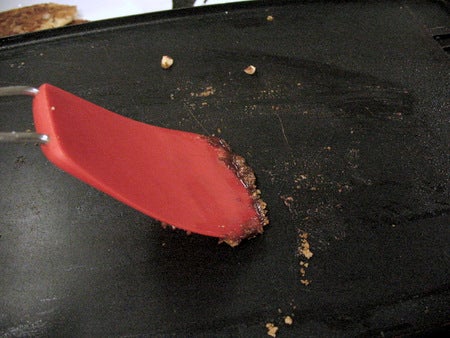 Ah, the beauty of non-stick surfaces. Just scrape up the hot sugar, nuts, etc. with a heatproof spatula. The rest will just wipe up with a paper towel once the griddle is cool.
Mmmm, bonus bite. Melted sugar, cinnamon, and nuts are just right for nibbling as you cook the next batch of pancakes.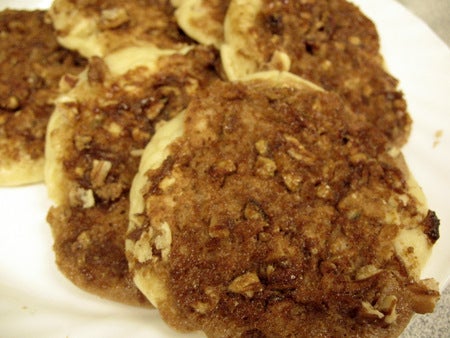 Hot pancakes, richly redolent of cinnamon and sugar and toasted nuts. These pancakes don't need syrup, just a plate and a fork and a big glass of cold milk. These pancakes reminded a lot of our tasters of cinnamon coffeecake, only much faster to make.
So, next time you have a hankerin' to quietly make a big statement, give these pancakes a try. You'll have the family shouting your praises!
Please make, rate, and review our recipe for Cinnamon Streusel Pancakes.