Biscuits.
Snowy white, high-rising, light-as-air biscuits. Best friend of sausage gravy, ham, fried chicken, and strawberry shortcake.
Well, not always.
The biscuits you see at the top of this post are dense, moist, and nubbly, studded with nuts and darkened with whole wheat  and the foodies' newest, coolest flour: grape seed flour.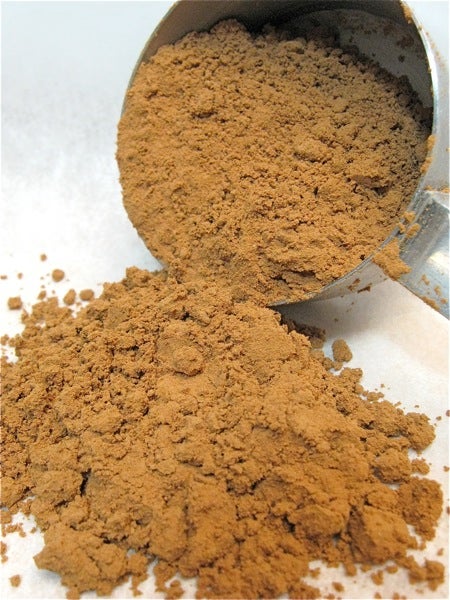 That's right, flour made from grape seeds – Chardonnay grape seeds, to be exact. High in fiber and loaded with antioxidants, flour milled from Chardonnay grape seeds adds texture, taste, and an artisan quality to your baking.
Do you see the ever-so-slight tinge of purple in the biscuits? Grape seed flour adds rich color to whatever you're baking. Try it for breading, or thickening sauces or stews, too.
OK, let's make these unusual biscuits. First, preheat the oven to 425°F. Lightly grease a baking sheet, or line it with parchment paper.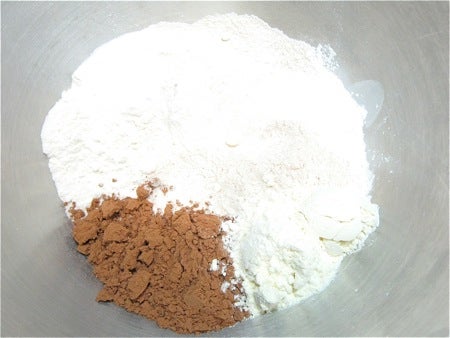 Whisk together the following:
2 cups King Arthur 100% White Whole Wheat Flour
3/4 cup (3 ounces) King Arthur Unbleached All-Purpose Flour
1/4 cup grape seed flour*
3 tablespoons buttermilk powder
2 1/2 teaspoons baking powder
1 teaspoon salt
*No grape seed flour? Substitute either all-purpose or whole wheat flour. The texture will remain the same; the biscuits' color will be lighter.
Now, for some biscuit tips and tricks: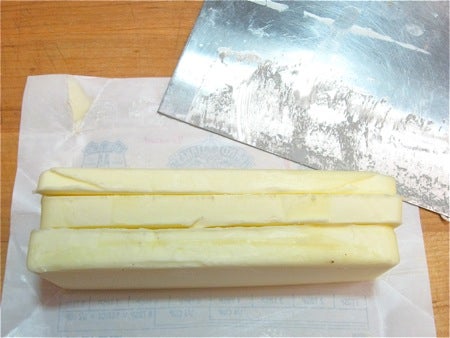 Tip #1: When making biscuits, the recipe often calls for you to work cold butter into the dry ingredients.For this recipe, we're starting with 1/2 cup cold butter; which is one 4-ounce stick.
Here's an easy way to get things started. Cut the butter into three slabs, lengthwise.
Turn it 90°, and cut it into three parts again.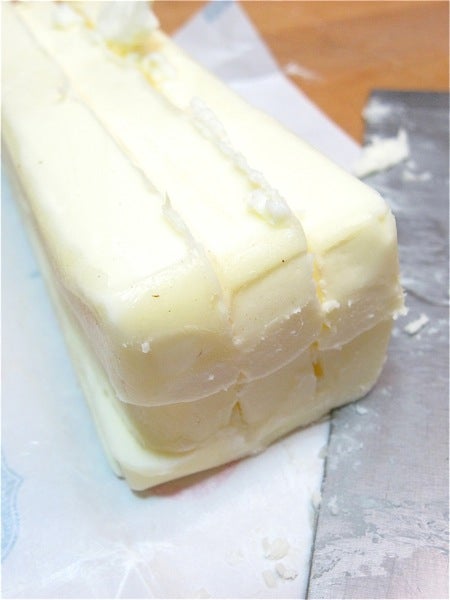 You'll have nine skinny "sticks."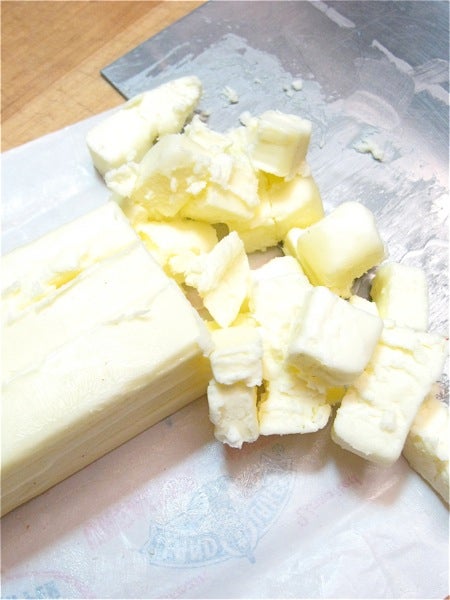 Cut those skinny sticks crosswise.
Ta-da! Tiny butter cubes, easily worked into the flour.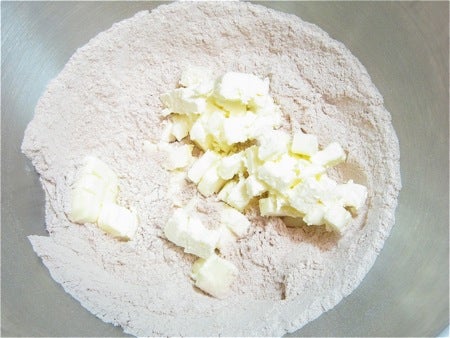 Add the butter to the dry ingredients. Work it in until it forms coarse crumbs.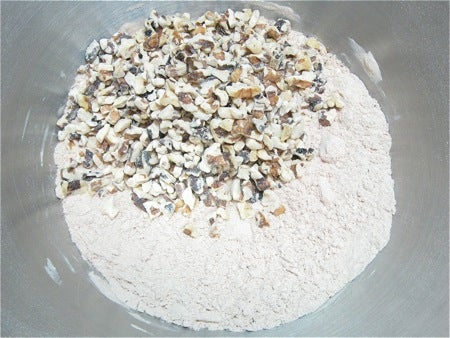 Add 1 cup chopped walnuts.
Can you leave out the nuts? Of course. Can you use some other type of nut or seed? Yes.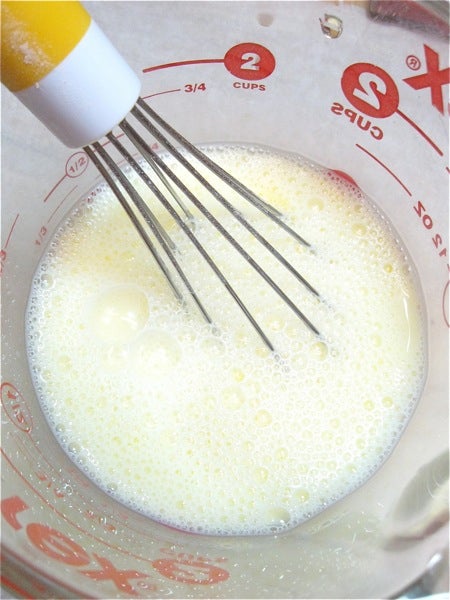 Next, whisk together 1 large egg and 1 cup cold milk.
If you like, omit the buttermilk powder from the dry ingredients, and substitute buttermilk for the milk.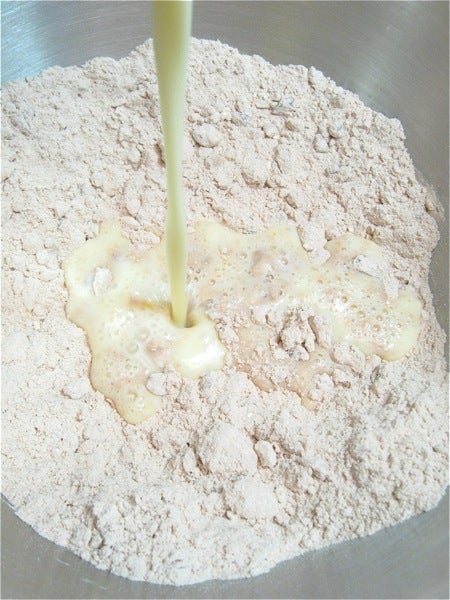 Add the liquid ingredients to the dry ingredients.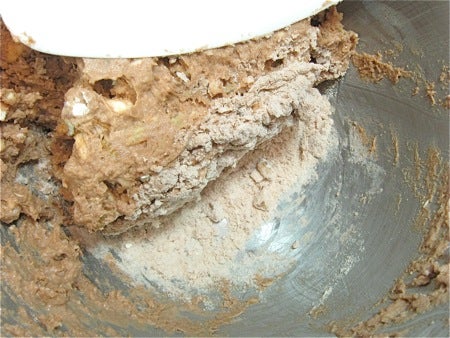 Blend lightly until the dough is evenly moistened.
See that flour in the bottom of the bowl? Add a tablespoon or so additional milk to incorporate it, if necessary.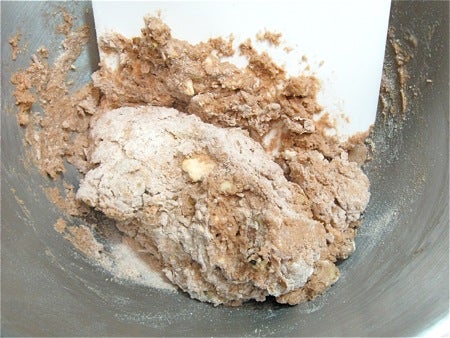 Or simply work the dough with a bowl scraper until all the flour is worked in.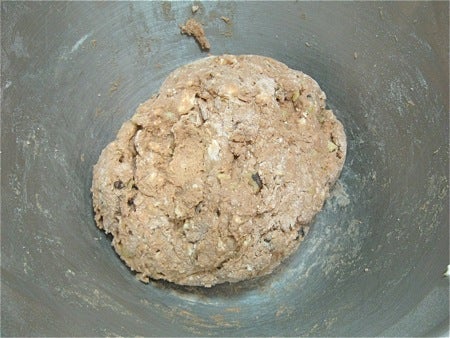 Like this.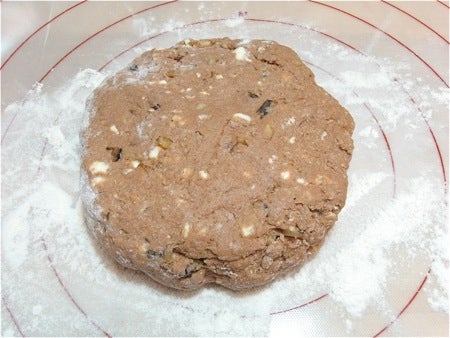 Turn the dough onto a floured work surface. Our silicone rolling mat is a good choice here.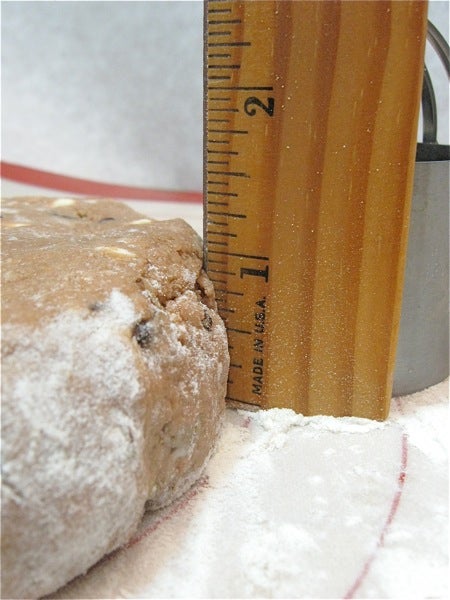 Pat the dough into a 1"-thick circle.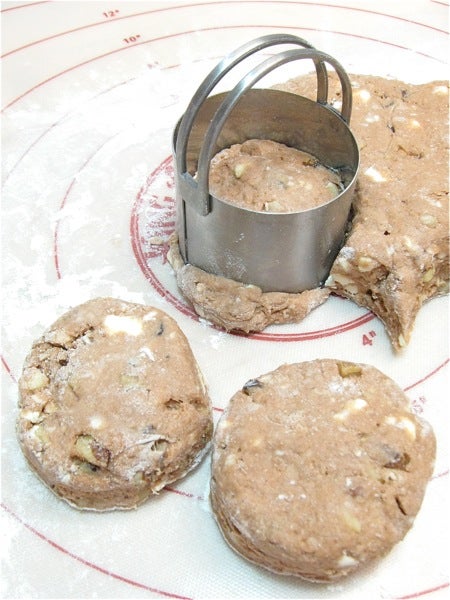 Use a 2" biscuit cutter to cut rounds.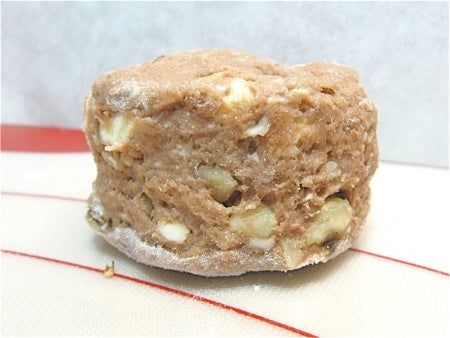 Tip #2: For highest-rising biscuits, use a sharp cutter.
See how the edges of this biscuit are cleanly cut? That's because they were cut with a sharp biscuit cutter, not the top of a drinking glass. It's much easier for clean-cut edges to rise in the oven than those that're squashed onto themselves.
One caveat: If you're cutting on a silicone surface, be VERY careful not to press down too hard as you cut.
Tip #3: Once you've cut as many biscuits as possible out of the dough, you'll end up with scraps. Most recipes call for you to "Gather the dough scraps, re-roll, and cut more biscuits."
But, as any biscuit baker knows, the more you handle the dough, the tougher the biscuits will be. Gathering, squashing, patting, and cutting again usually results in noticeably tough biscuits.
The solution?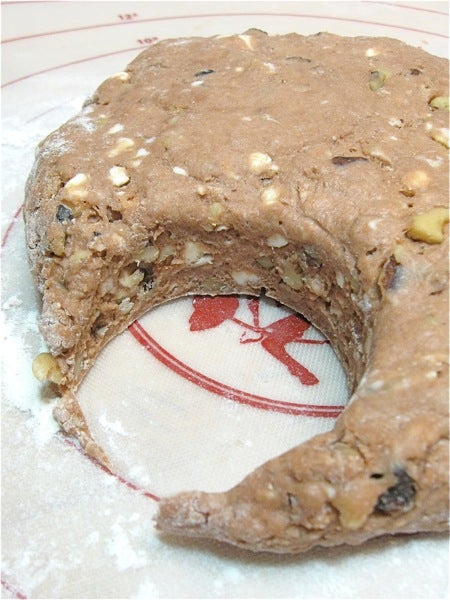 After each cut, you'll be left with some skinny ends.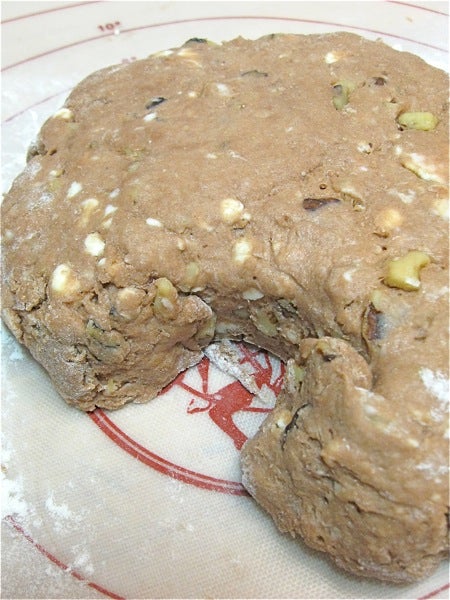 Gently nudge them inwards, towards the rest of the dough. Cut more biscuits, continuing to nudge/pat the thin ends of dough into the center.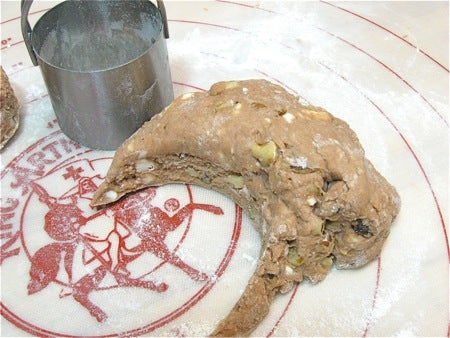 Finally, you'll end up with one last piece.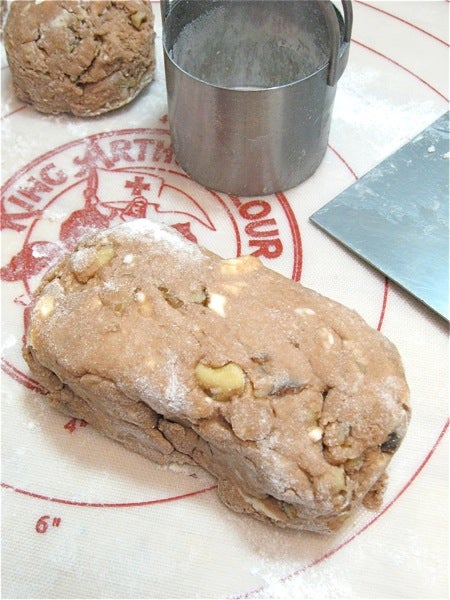 Gently shape it into a rectangle...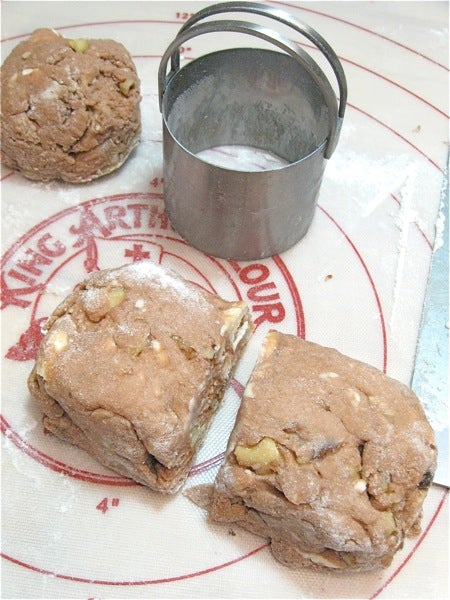 ...cut it in half...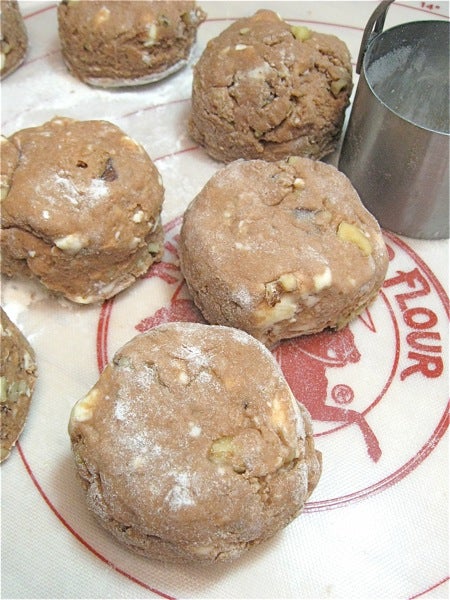 ...and GENTLY round the cubes into circles.
Or not; there's no rule against square biscuits. In fact, an easy way to avoid the patting and nudging is to simply shape the original piece of dough into a square, and cut it in a criss-cross pattern to make square biscuits. No leftover scraps to fuss with.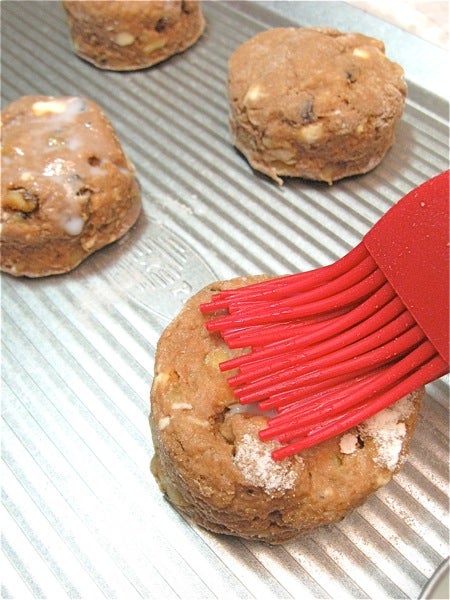 Tip #4: For a golden-brown crust, brush biscuits with milk or cream before baking.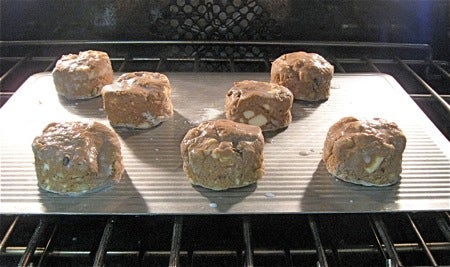 Bake the biscuits for 14 to 16 minutes.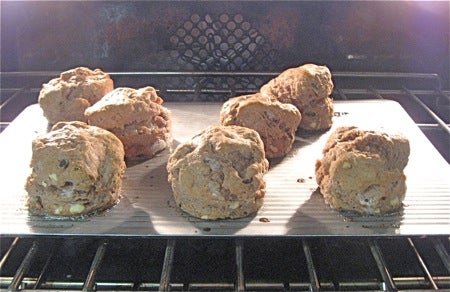 When done, their tops will be starting to brown.
Notice that these biscuits aren't super high-risers; that's why we cut them 1" thick to begin with, rather than the more usual 1/2" or 3/4".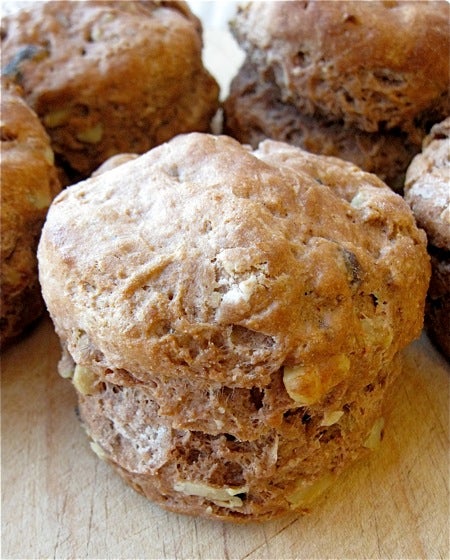 Remove the biscuits from the oven.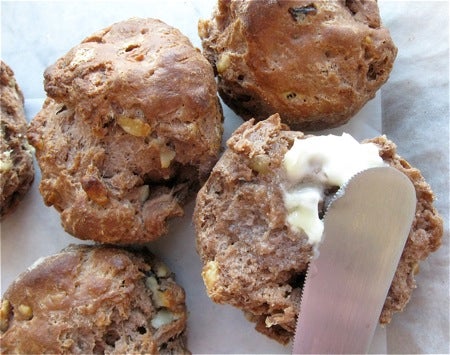 Serve warm – with butter, if desired.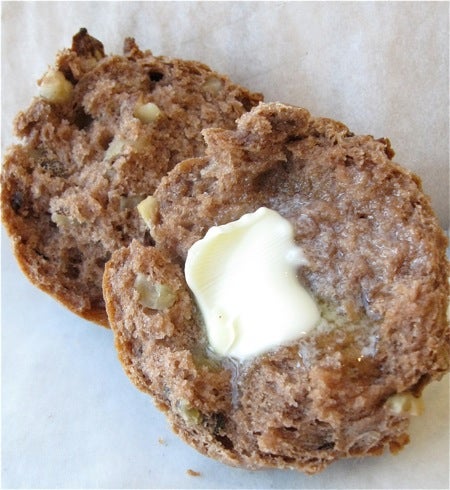 Hot biscuit, melting butter... extremely satisfying, wouldn't you say?
These biscuits are nicely moist; deliciously flavored from the nuts, and a rich, deep brown, courtesy of the grape seed flour.
Read, rate, and review (please) our recipe for Whole Wheat-Walnut Biscuits with Grape Seed Flour.