I still remember my first bread pudding, back in the early 1990s...
I had just begun dating my husband and was spending the weekend at his mother's house. She suggested bread pudding for dessert. I had known my own parents to eat bread pudding, but certainly no one under the age of 50 ate it. In my mind bread pudding was a grownup dish; something no one really liked, but you ate it when you got older – like liver, and Grape-Nuts.
Still, to be polite I didn't say anything,  planning to have a "no thank you" helping.  Once the pudding was baking, though, the rich, custard-y scent filled the house, overlaid with cinnamon and caramelizing sugar. Maybe this would turn out better than I  had thought.
Oh, the first bite. Warm from the oven, slathered in whipped cream, it was delightful. Bread pudding is definitely a baked good that you experience with your nose as much as your taste buds. You inhale the cinnamon scent at the same time the caramel-y custard-y goodness hits your tongue; then you get the coolness of the whipped cream on the roof of your mouth. It's a very sensual experience.
I became a convert that night and have enjoyed bread puddings of all shapes and sizes for years, despite still being under 50.  When Sue Gray began testing this New Orleans Pecan Pie Bread Pudding recipe, using pecan pie filling as a base, I was nearly on my knees in gratitude. Combining two of the best desserts on earth made Sue a goddess in my eyes (and not for the first time).
I have been in love with our Pecan Pie in a Jar for a couple of years now and don't really make pecan pie from scratch anymore. The slight hint of marshmallow in the filling just rocks my world.
Rock along with me and make New Orleans Pecan Pie Bread Pudding: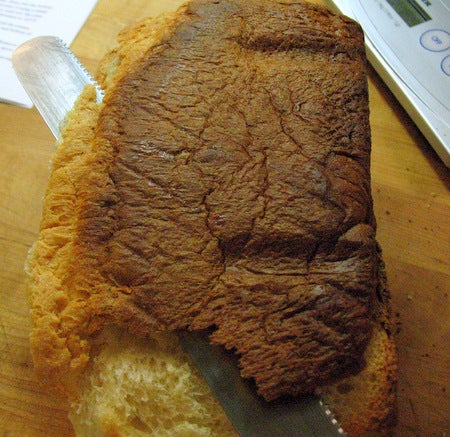 For the bread, you'll need about 11 to 12  cups of bread cubes. That's roughly a 1 1/2 pound loaf after the crusts are removed.
I felt like one of those fancy cake carvers as I sliced and diced my bread.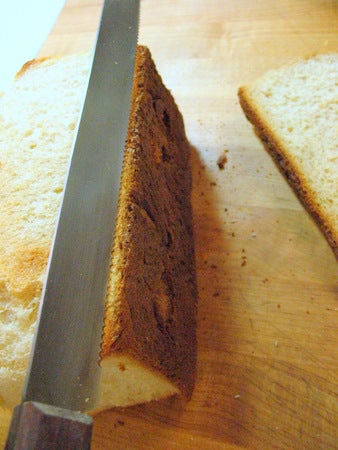 It also reminded me of trimming the crusts off of sandwiches when the kids were little. Truth be told, I still like to cut the crusts off some kinds of sandwiches!
Your cubes should be around 3/4" square. Don't sweat the size too much, they should be about the size of of a square Kalamata olive, or a Yahtzee die on steroids.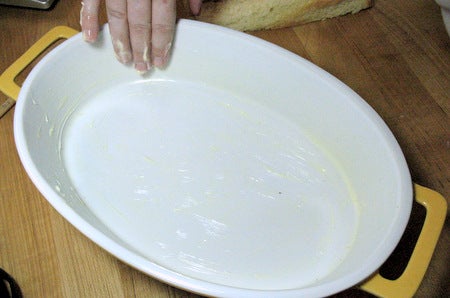 Generously butter a 2-quart baking dish. During the winter, I like to use my hands for this; I'll take all the moisture and softness on my hands that I can get.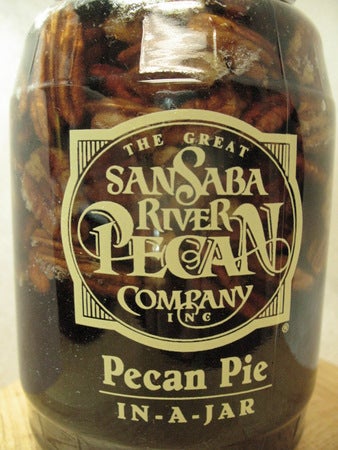 The real star of this bread pudding is this amazing Pecan Pie in a Jar. Just look at the amount of whole pecans packed in there. The syrup is sweet but not cloying, with just a hint of marshmallow... and very thick.
You'll need to microwave the jar for about a minute, uncapped, to soften and loosen the filling from the jar.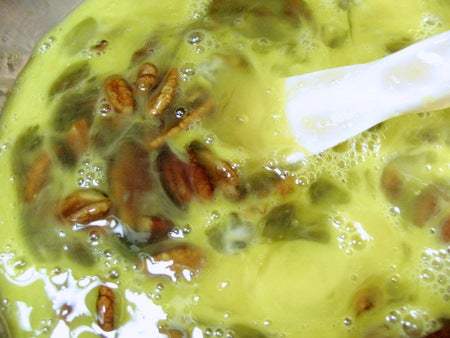 In a large mixing bowl combine:
• one jar Pecan Pie in a Jar
• 6 large eggs
Stir to break up the eggs.
Add:
• ¼ cup (4 tablespoons) butter, melted
• ¾ cup (6 ounces) half & half or cream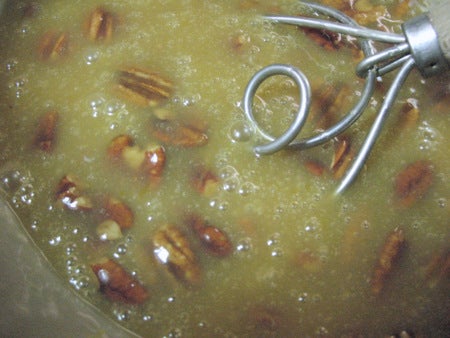 Whisk the ingredients together until well combined. I found that a Danish dough whisk worked particularly well for this as it allowed the pecans to pass through unbroken, but combined the other ingredients beautifully.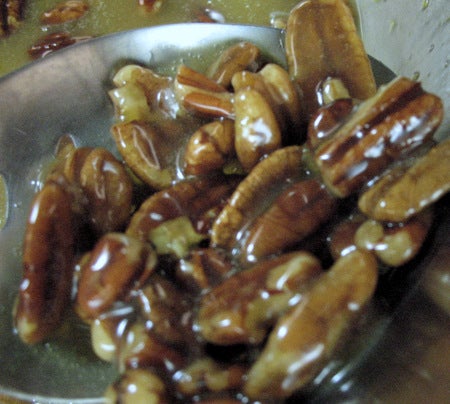 Using a slotted spoon, scoop out most of the pecan halves and save for topping the pudding before baking.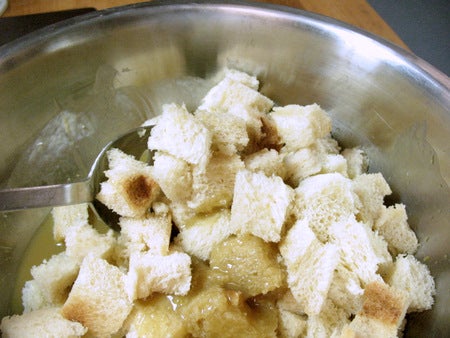 Add the cubed bread.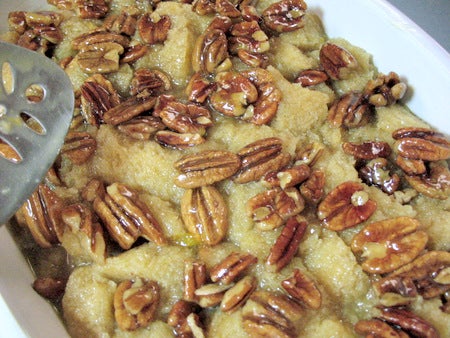 Press the bread into the syrupy goodness until it's soaked evenly. Spoon on the reserved pecans.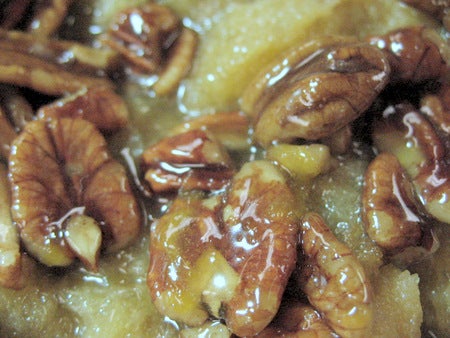 Must...resist...eating...pecans!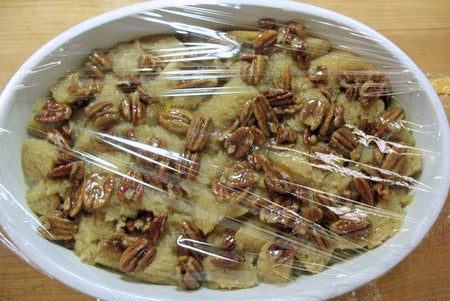 Cover the dish with plastic wrap and allow to sit at room temperature for about an hour.  You can also prepare the pudding to this point and refrigerate it overnight, covered.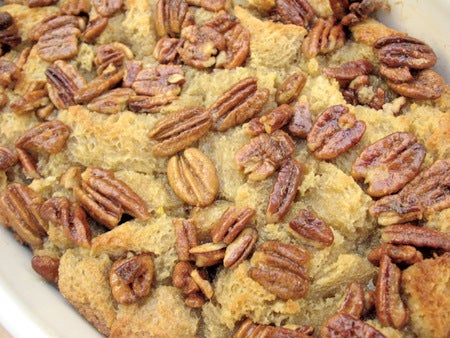 Bake the uncovered  pudding in a 350°F preheated oven for about 45 to 55 minutes.  The center will be set and will spring back when lightly pressed. No wet pockets should remain.
The top cubes of bread and pecans will be lightly toasted and golden brown. These are the pieces that family will fight over, the caramelized crispy bits.
Serve the bread pudding warm with vanilla ice cream, freshly whipped cream, or even whiskey sauce to put a tingle in your toes.
** Don't have Pecan Pie in a Jar? I tried the recipe using my favorite Pecan Pie filling recipe, increasing the eggs to 6 to cover what is in the original recipe here and it works just beautifully! **