"Some people think football is a matter of life and death. I assure you, it's much more serious than that."
--Bill Shankly
Whether you see football as a sport, hobby, religion, or societal bane, you have to admit the association between football and good eatin' is a big plus. Any sport where planning the tailgating menu is as important as knowing the players is A-OK in my book.
While I've never attended a professional football game, I do watch a game or two on weekends. I've watched the Patriots since I was a kid, and I know someone who knows someone who dated Doug Flutie, of "Hail Mary pass" fame.  That fateful Halloween night when the Pats' winning streak was broken as my daughter was ringing doorbells and saying "Trick or Treat," I was right behind her asking, "What's the score?"
Nowadays I find I can't keep up with the players' names or teams as much anymore, but I still enjoy the chance to spend time with my husband, David, and taking time to find fun/comforting food to eat in the living room, where we can shout "Go, go, go!" or ""No, no, NO!" as needed.
One of our favorite football foods is "The Big Sandwich." That's what we call it, honestly.
"Hey, hon, what do you want for football on Sunday?"
"How about The Big Sandwich?"
"Oooh, sounds good to me!"
A big chunk of sandwich, heavy on the salami and onion. A big puddle of yellow mustard for dipping; chips, and a cold beer. The tang of the rye, the cool creamy spread with a little bite from cayenne pepper. A touchdown, the kicker whiffs the extra point, and Howie Long is the cutest thing on 4 wheels.
Life on Sunday afternoon is good.
Ready to make your own big sandwich? Hop up on the tailgate, and let's go.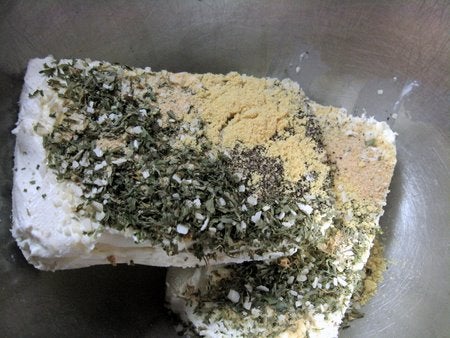 First, let's make the spread for inside the bread. It needs time to let the flavors work together as a team, so we make it first.
In the bowl of your mixer combine:
2 packages cream cheese (8 ounces each), softened
2 tablespoons parsley
1 teaspoon dried mustard
1 teaspoon garlic powder
1 teaspoon dried onion
1/2 teaspoon salt
1/2 teaspoon ground black pepper
1/2 teaspoon cayenne pepper
Beat on medium speed until smooth, scraping the bowl occasionally. You can most definitely tailor this spread to herbs and spices that you like, increasing this one and decreasing that; it's very flexible. You can even use a purchased cream cheese spread, as long as its flavors will enhance the meats and cheeses you choose.
Football is an honest game. It's true to life. It's a game about sharing. Football is a team game. So is life.
--Joe Namath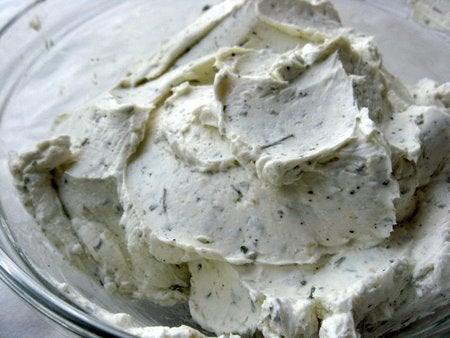 Transfer the spread to a small bowl, cover, and refrigerate for at least 1 hour, or up to overnight.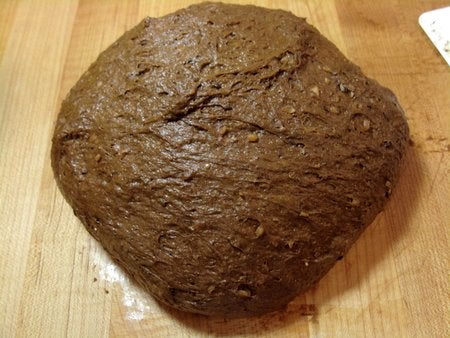 Using your favorite method, by hand or machine, prepare a hearty rye bread dough through the first rise.
Here I've used our Dark Pumpernickel bread mix. Our Caraway Rye Bread recipe, baked as one large loaf, would also be great for this sandwich. In fact, any hearty, hearth-style bread will work well for this. Regular soft sandwich loaves just don't have what it takes to hold up all of the ingredients, so go for something sturdier.
Obstacles are what you see when you take your eyes off of the goal.
--Vince Lombardi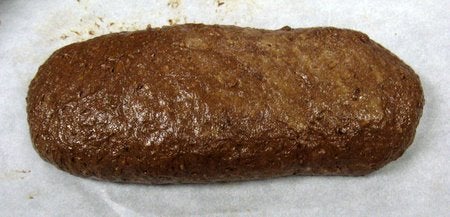 Shape the bread into a long loaf, but not too skinny. Actually, think football shaped, just not as pointy.
Bake the loaf in a preheated 350°F oven until its center registers between 190°F and 200°F on an instant-read thermometer. This will take around 30 to 40 minutes, depending on your bread.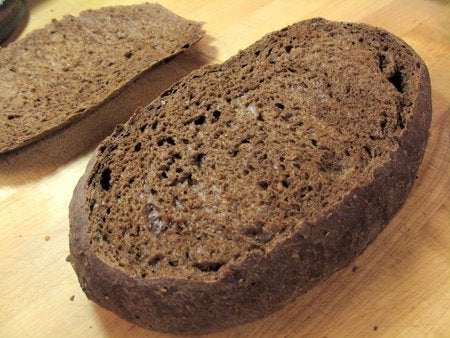 Cool the bread completely. Using a long, sharp serrated knife, remove the top inch of the bread. The crisp outer crust will help cradle the fillings; and the warm, pickle-y scent of the rye bread is mouthwatering.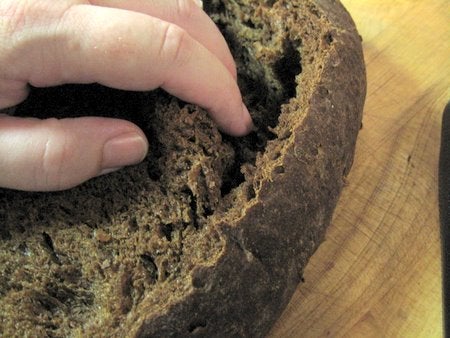 Break out your "grip and rip" technique and pull the inside of the bread out, leaving a 1/2" shell all around, and a 3/4" shell on the bottom.
If my mother put on a helmet and shoulder pads and a uniform that wasn't the same as the one I was wearing, I'd run over her if she was in my way. And I love my mother.
--Bo Jackson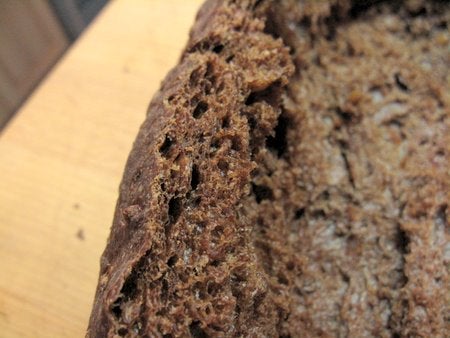 Here's a closeup of how much shell you should have left after removing the soft, bread-y insides. It's fine if you have slightly thicker and thinner spots; you just need a good front line to hold the fillings.
DON'T THROW THE INSIDES AWAY!  Toast them for croutons, dry them for bread crumbs, or just nibble as you work.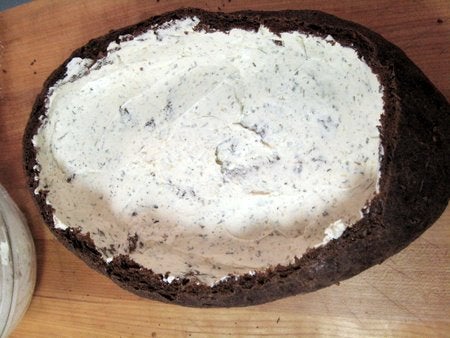 Remove the cream cheese spread from the fridge. If you need to, give it a quick zap in the microwave to make it soft and spreadable again.
Generously spread all of the cream cheese mixture around the bottom and sides of the hollowed-out shell. Don't forget to spread filling on the "lid" of bread that you cut off, too. That's going back on later.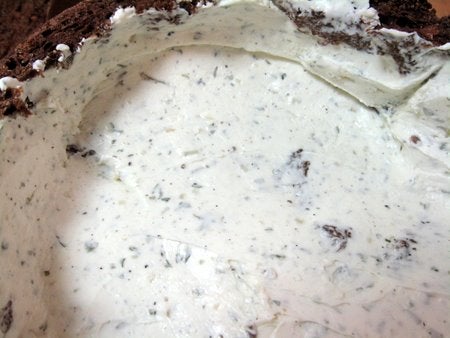 You want a nice, thick coating; you should barely be able to see the bread through the filling in a few spots.
If your bread is smaller and you feel that adding all the spread would be overkill, break out the leftover bread you pulled from the center and have a little bread/spread fest.
"You guys, line up alphabetically by height."
--Bill Peterson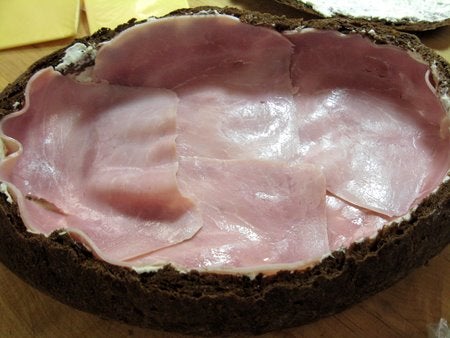 Now for the fun. Start layering your favorite cold cuts, sliced cheeses, and veggies into the bread.
**You'll need about 6 to 8 slices of meat or cheese per layer. Choose the ones you like best, it's really up to you**
First up for me, ham. Make sure that your fillings go up the sides, too, not just into the bottom of the hollow.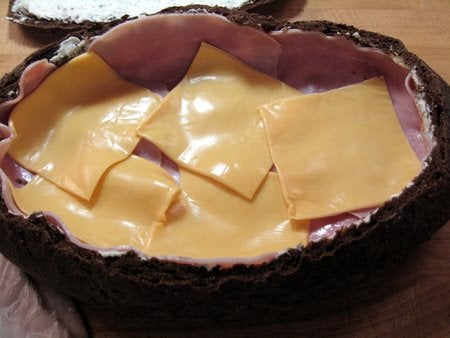 Next, American cheese. Usually I'm a white cheese girl, but I like the color contrast that the yellow cheese brings here.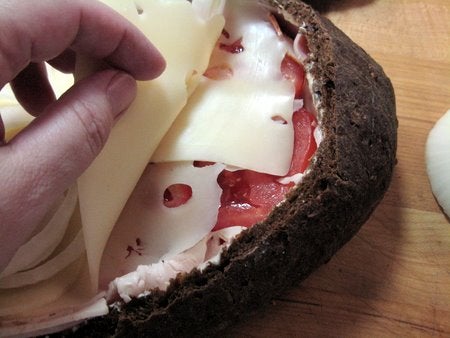 I added turkey, tomato, and Swiss to the lineup. Er, pileup.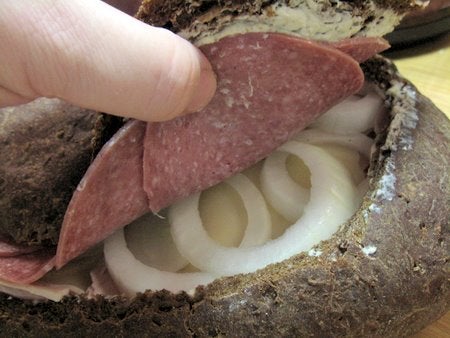 And I finished with onion and salami slices, topped off with the cream cheese-smeared bread lid.
"Most football teams are temperamental. That's 90% temper and 10% mental."
--Doug Plank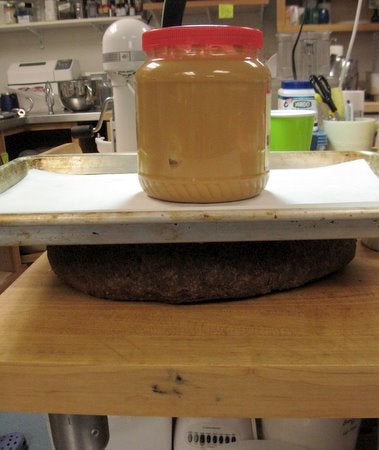 Time to put the squeeze on your sandwich. Place a large plate or tray over the sandwich and add a nice, heavy weight. A jug o' peanut butter works quite well. Leave the sandwich to set under the weight for about an hour. Any longer than that and you'll want to do your squeezing in the fridge.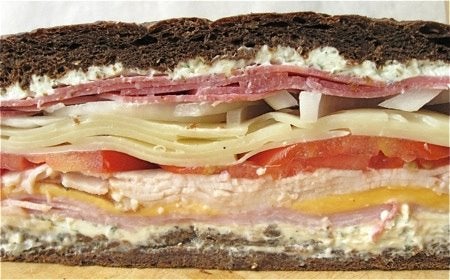 When you're ready, remove the weight and cut the sandwich in half the long way, then into chunky wedges. Be generous, skinny wedges will fall apart too easily.
Need a refresher about what all the layers are? Here's a list:
Dark pumpkernickel bread
Cream cheese spread
Ham
American cheese
Turkey
Tomato
Swiss cheese
Vidalia onion slices
Salami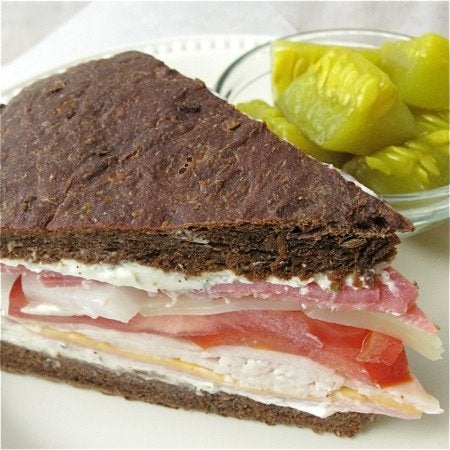 Serve your sandwich with potato chips, crisp pickles, and an icy cold beer. This sandwich can be tailored with your choice of meats and cheeses; even the bread and spread can be changed to your tastes. This version* won rave reviews from my husband; PJ's and Andrea's, too. But definitely experiment and create your own super sandwich!
*No recipe, just use what you like best!
"Sometime when the team is up against it and the breaks are beating the boys, tell them to go out there with all they've got and win just one for the Gipper."
--Knute Rockne, All-American