Jan Brett, a wonderful writer and incredible artist, has been delighting families with her internationally famous books for years. Featuring magical tales of children and animals, and intricate, beautifully painted pictures, Jan's books are the source of many a bedtime story.
We were thrilled to find out recently that Jan is a baker, too. And that she's developed a recipe for a delicious whole-grain bread – using all kinds of our King Arthur flours and grains.
We discovered the recipe posted in her blog, and asked if we could reprint it here. To which Jan graciously assented.
This dark, earthy, whole-grain bread, studded with cranberries and walnuts, makes marvelous sandwiches and toast - perfect for sharing with your young children, along with one of Jan's books. And while we've clarified the recipe slightly, it remains true to its origins – with Jan.
Thanks, Jan - for the pleasure of your books, AND your bread.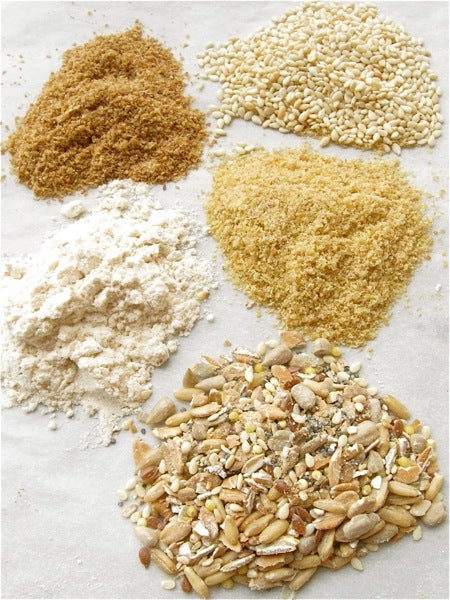 Here are some of the key ingredients that make Jan's bread special. Clockwise from the bottom, we have Harvest Grains Blend, an ultra-high fiber, easy-to-use mixture of seeds and grains, both whole and flaked; 9-Grain Flour Blend, offering the goodness of nine different nutritious whole grains, plus the rising power of high-gluten flour; stabilized wheat germ, the vitamin- and mineral-rich heart of the wheat berry, ground for easy use; nutty, flavorful toasted sesame seeds; and organic milled flax seeds, a great source of fiber and antioxidants.
Now, before we start, let's examine how different methods of measuring flour can yield very different results.
If you scoop your measuring cup into your all-purpose flour or bread flour canister, gently tap the cup to settle the flour, then level it off, here's what it'll weigh: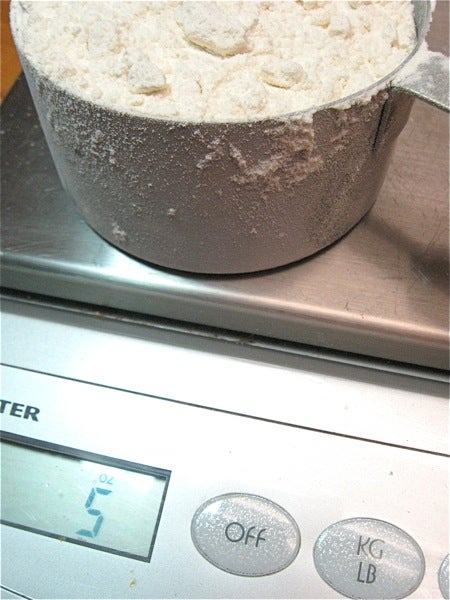 About 5 ounces of flour in a 1-cup measure.
If you stir the flour in your canister, SPRINKLE it into your measuring cup, then weigh, you'll have about 4 1/4 ounces of flour.
Most bread recipes include between 3 and 4 cups of flour. That means there can be a variance of almost 1 cup of flour, depending on how you measure.
That's a HUGE difference, especially when you're trying to make dough with perfectly balanced hydration: not too moist, not too dry.
Jan's bread rises very differently, depending on how moist the dough is. If it's super-sticky, it'll rise quickly. If less sticky, it'll take longer.
Neither way is "right" or "wrong;" just be aware that rising times may vary a lot, and it's often due to how you measure flour.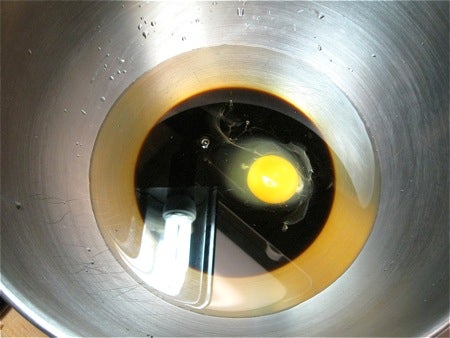 Begin by putting the following in a large mixing bowl:
2 cups lukewarm water
1/2 cup molasses
1 large egg
Whisk to combine.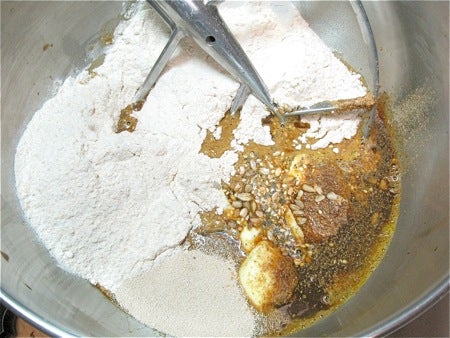 Add the following:
1 tablespoon salt
4 teaspoons instant yeast
1/2 cup softened butter
1/4 cup milled flax seeds
1/4 cup stabilized wheat germ
1/4 cup Harvest Grains Blend
3 cups (12 ounces) 9-Grain Flour Blend
Stir to combine.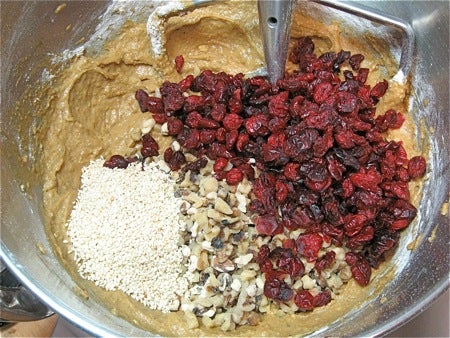 Add the following:
1 to 1 1/2 cups finely chopped walnuts
1 to 1 1/2 cups dried cranberries
1/4 cup sesame seeds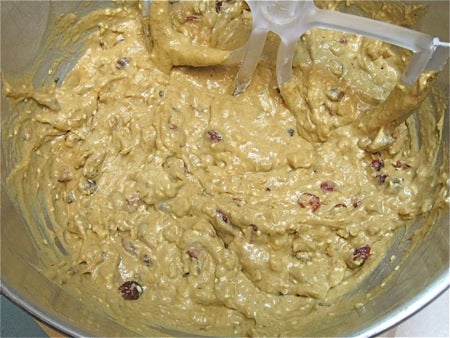 Stir to combine.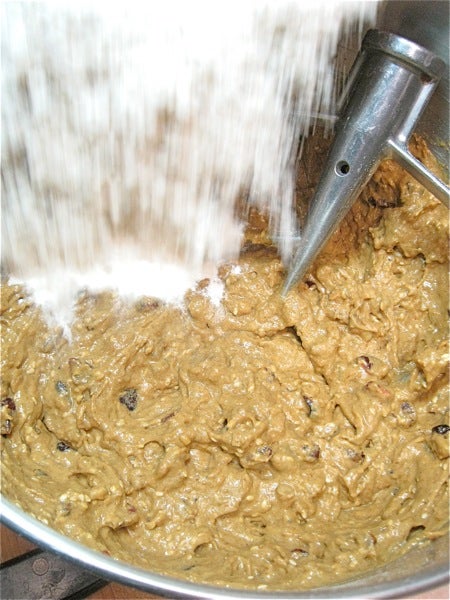 Finally, add 4 cups (17 ounces) King Arthur Unbleached Bread Flour.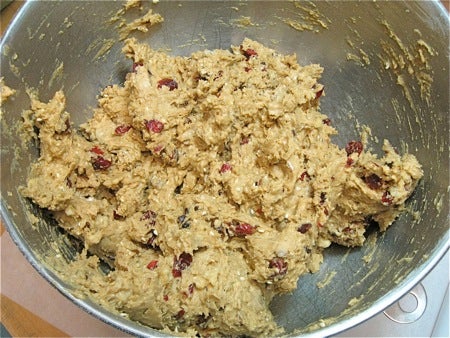 Mix until cohesive.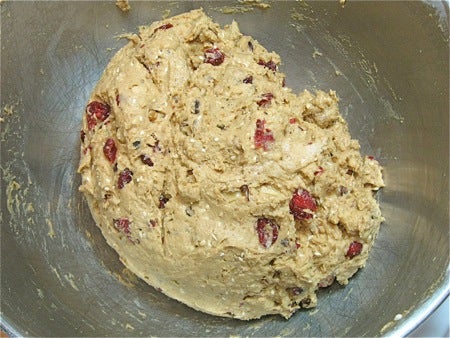 Scrape the soft dough into the center of the bowl...
...then knead for about 3 minutes. The dough will seem quite sticky.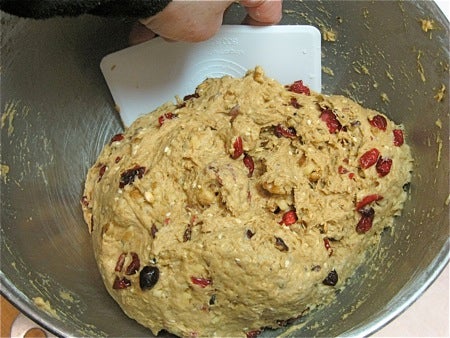 Scrape it into a ball in the center of the bowl again...
..and continue to knead vigorously for about 4 to 5 minutes, until it starts to leave the sides of the bowl.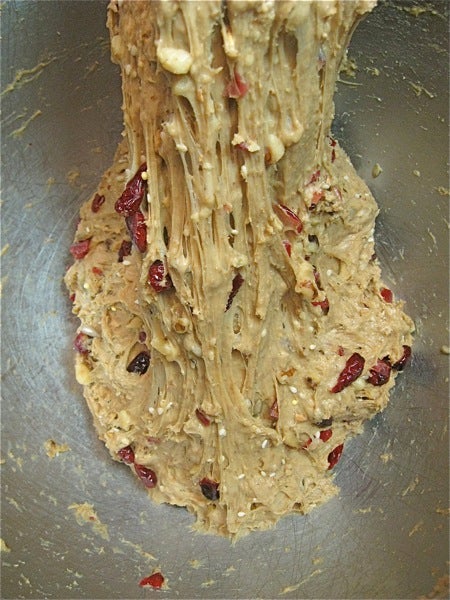 It'll remain sticky, but look at that nice, stretchy gluten!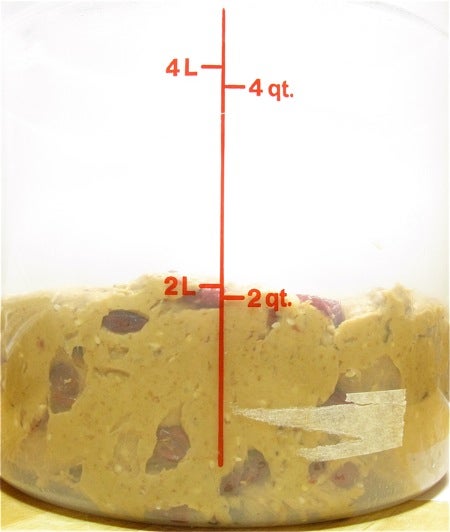 Transfer the dough to a lightly greased bowl (or dough rising bucket, as I'm using here; I like to be able to track its rising progress). Cover the bowl or bucket, and let the dough rise until it's expanded, though probably not doubled in bulk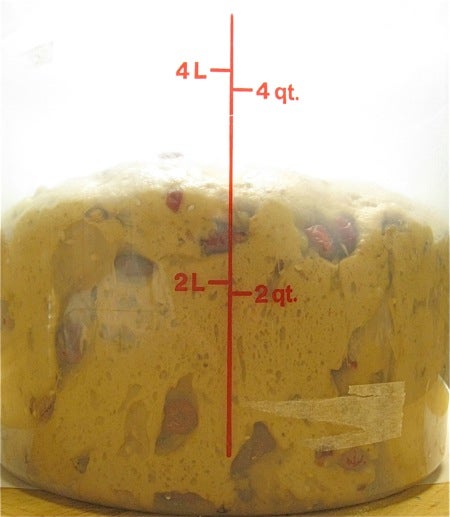 This will take about 1 1/2 to 2 hours; though it might go faster, if your dough is a bit moister.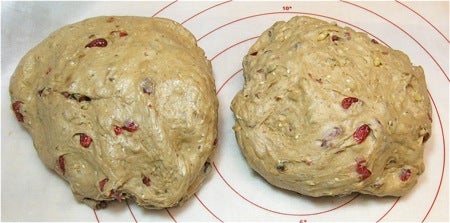 Gently deflate the dough, and divide it in half.
Lightly grease two 9" x 5" loaf pans.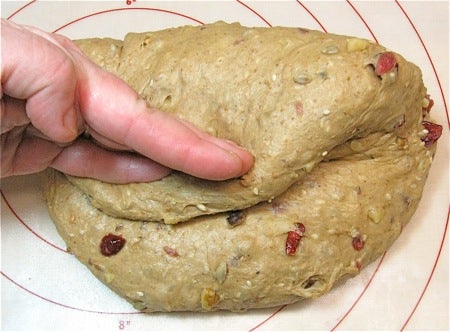 Working with one piece of dough at a time, flatten it into an oval, then fold it over on itself, pinching the seam with the side of your hand.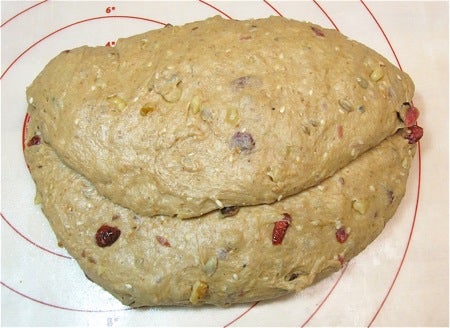 Don't fuss over it; just press it down.
Flatten it out slightly...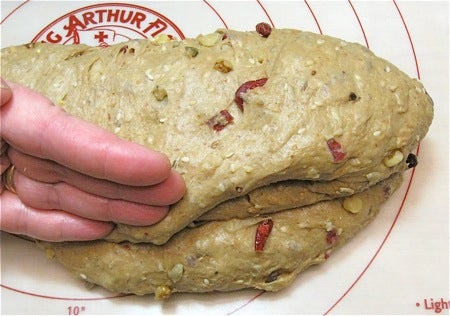 ...and fold it over again.
As you do this flattening/folding process, you'll notice the dough is lengthening itself into a log shape.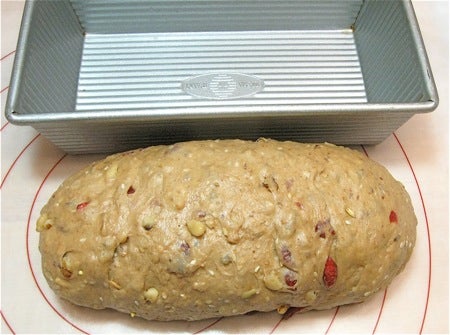 Turn the log over so the seam is on the bottom. Place it in the pan.
Repeat with the remaining piece of dough.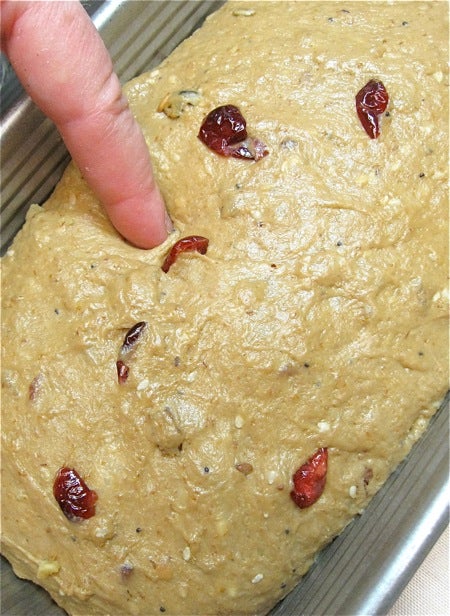 To prevent burned, acrid fruit or nuts, gently push any cranberries or walnuts poking out of the dough's surface back underneath.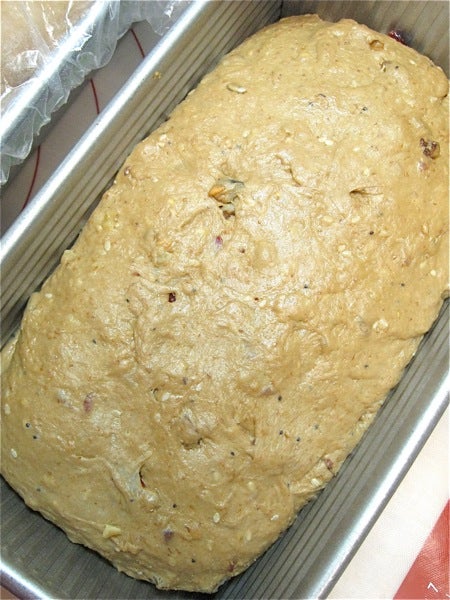 Like this.
It's a finicky thing, but it does make a difference.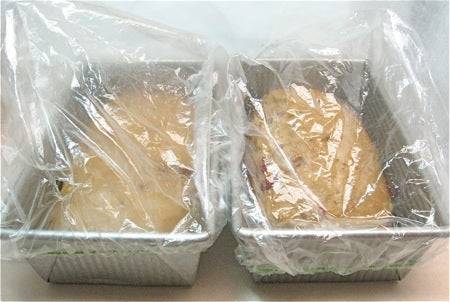 Tent the loaves with plastic (shower caps work well), and let them rise until the center of each loaf has crested about 1" above the rim of the pan...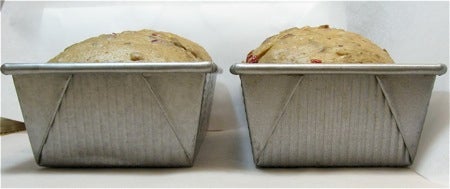 ...like this. It'll take 1 to 2 hours.
Towards the end of the rising time, preheat the oven to 350°F.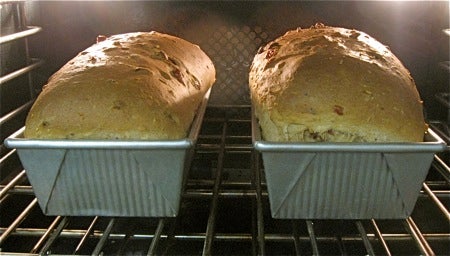 Bake the bread for 40 to 45 minutes, until the center of a loaf registers 200°F on an instant-read thermometer. Tent the loaves lightly with aluminum foil after about 30 minutes, to prevent over-browning.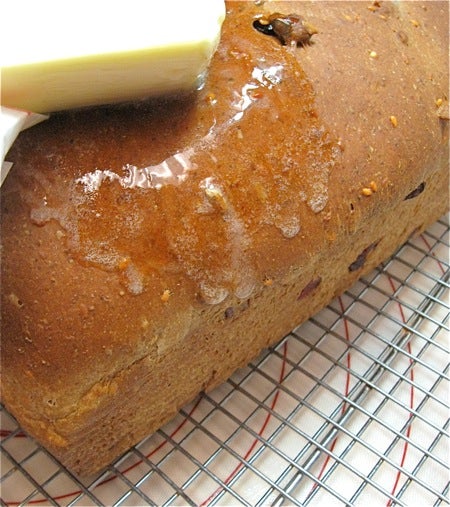 Remove the bread from the oven, and turn it out of the pans onto a rack to cool. If desired, run a stick of butter over the crust for a satiny sheen and buttery flavor.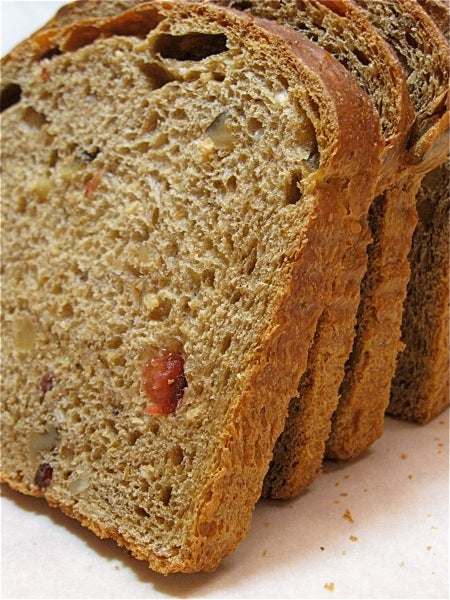 Cool completely before slicing.
I see a piece of warm, buttered toast in my near future...
Read, rate, and review (please) our recipe for Jan Brett's Crunchy Whole Grain Bread.