[Note: Welcome to new blogger Gwen Cook, a member of our Baker's Store team.]
King Arthur Flour is America's premier baking resource. And I've managed to land myself a job here, at The Baker's Store and Café – my first job after college.
It's not like I was coming into a retail job with no experience; I've worked at an amusement park since I was 13, and a grocery store since I was 16. I understand how busy it gets during the holidays.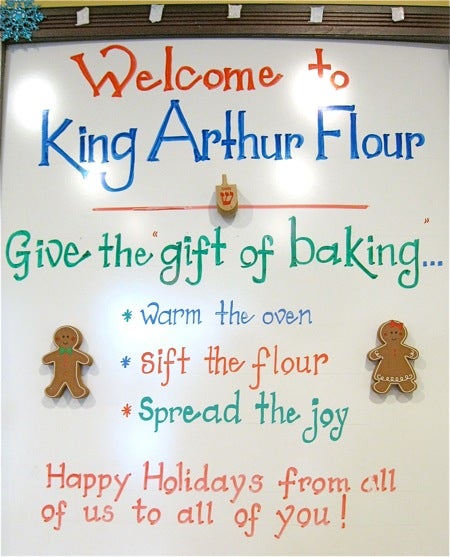 Or at least I thought I did.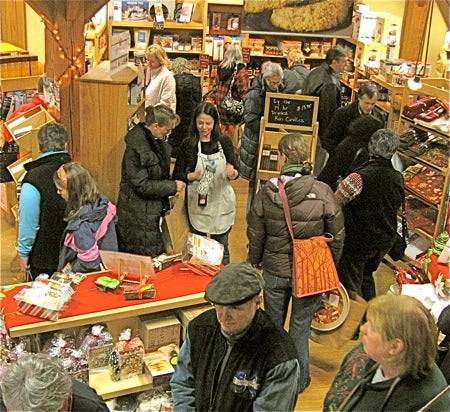 I was told on my first day of work that I was joining the team during the busiest time of the year, and sometimes it gets so hectic that there's barely enough room to move. I shrugged off these words of warning, thinking that it couldn't possibly be that bad.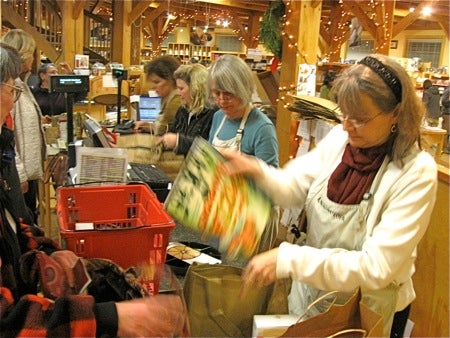 Wrong-o.
My first experience with a truly busy day was during the beginning of foliage season. Did you know that there are buses filled with people out leaf-peeping who absolutely love King Arthur Flour? I certainly do now.
It was like a slow-motion scene at a department store on Black Friday, where people are literally pouring in the door… and heading straight towards the bathroom.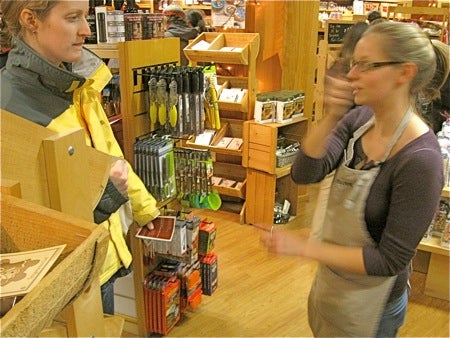 In all seriousness, it was one of the most intimidating things I've ever witnessed and been a part of. All of these excited people coming at you with questions about products, the company's history, and shipping –  these questions being nearly impossible to answer, given the two days of experience I had under my belt.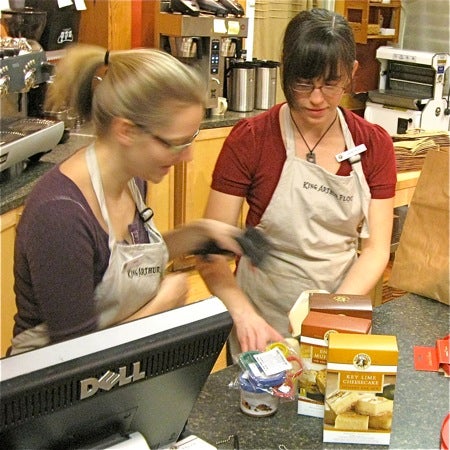 One of the best things I've gotten from my time so far at King Arthur Flour is the truly wonderful and knowledgeable people I've met and worked with. Whenever I have a question (which is often), I can ask any of my co-workers; they're always so patient with me, not to mention knowledgeable about everything to do with the company. I think because of them I strive to learn as much as possible, and in turn I've truly fallen in love with the place that I work.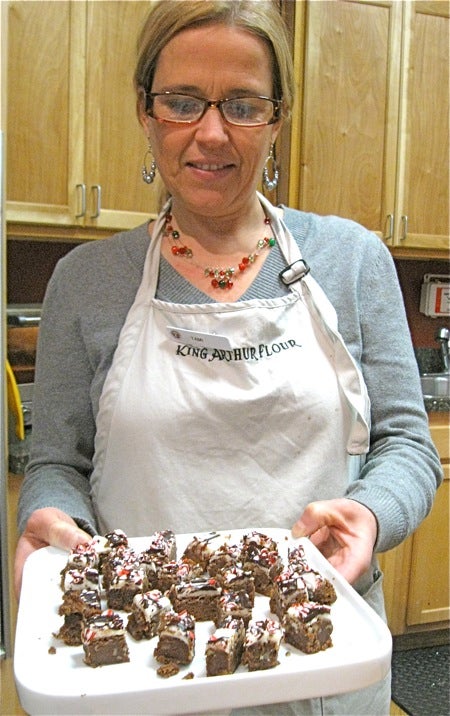 The women who work in our demo kitchen are amazing. Not only are they sweet as can be but they test our mixes and usually find a way to incorporate chocolate. I dare you to find a person who can resist warm, chocolate-y baked goods. I certainly can't.
There's no way you can't be excited to go to work each day with the thought of tasty samples running through your mind.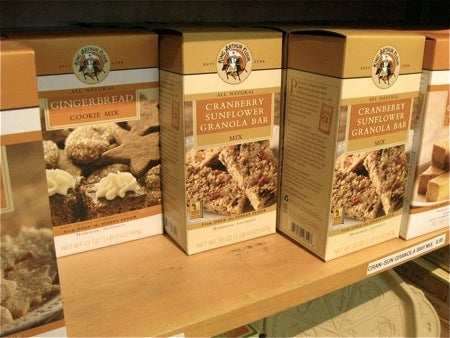 Restocking in the store is planned around the busy times, such as the lunch rush and 5 o'clock swarm.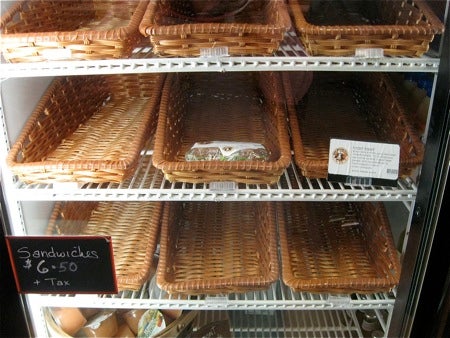 Sometimes, though, things run out...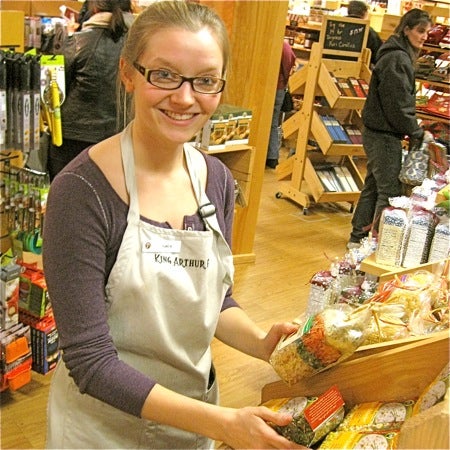 ...and there's no other option than to take that gray cart out and with a pack full of "excuse me's" handy, attempt to restore order.
I think the very best thing is when customers come over to the cart and pull things from it. I feel like a very efficient worker when that cart is empty and I exerted minimum effort. Thank you, everyone!
King Arthur Flour is a big believer in versatile employees. We should know how to do as many different things as possible, since the company is employee-owned and we're so invested in everything. On my second month of work my friend Tami and I got to go to our fulfillment center to learn how to pack and ship packages.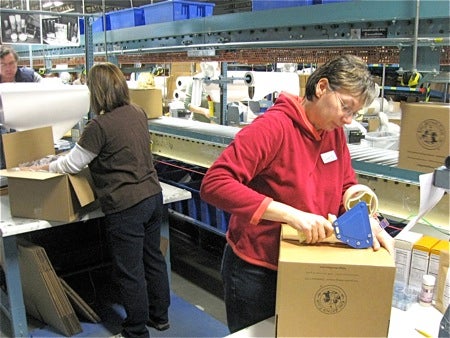 I give so much credit to every single person there who has to do that each day. It's tough.
After lots of practice packing boxes we brought our skills back to The Baker's Store, since we ship store purchases and there was going to be a lot happening in the upcoming months.
Our store's café serves freshly baked pastries and treats, sandwiches, soups, salads, panini, hot specialty drinks, and so much more. It can get stressful behind the counter, when there are lines of people waiting to order, there's more product to put out, drinks to be made, and coffee to brew. The day flies by, though.
When I'm working the bakery counter I usually have a smile on my face all day, simply because everyone is pleasant, both co-workers and customers.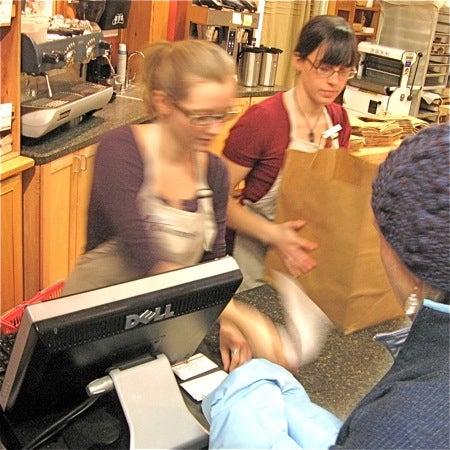 It says a lot about King Arthur Flour that customers are happy to wait for our products because they're so delicious, and employees can genuinely smile even when dealing with a line.
One of the most rewarding things that I can say that I've gained from working at King Arthur Flour is that I can answer most questions now with the utmost authority. And when people ask for my advice on a product I can say that I enjoyed it.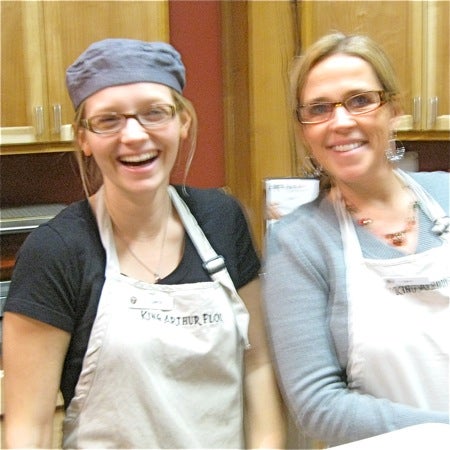 As sappy as this may sound, working in The Baker's Store and Café makes me happy pretty much all the time.