As many of you know, sometimes we bloggers here at King Arthur Flour get requests and suggestions from our fearless Web leader, Halley. Sometimes they're subtle: "I'd love to see something chocolate in January." Sometimes they're a bit more um, er, direct. "Someone needs to blog this recipe for March 3." And sometimes, they're just plain...
...wistful. As we began to talk about the winter holidays, Halley suggested we find a way to make Hanukkah gelt from some of our high quality chocolates. I explained that to make molded chocolates, you needed some kind of mold, and we just didn't have anything like that right now.
A few days later, Halley mentioned the gelt again. She really wished we could find a way to make it work.  Sweet Halley, I could tell that she'd been thinking about the gelt for awhile. By the third time she longingly mentioned gelt, I decided I really needed to find a way to make this gelt for Halley. It simply meant a lot to her and that's what friends do.
By happy coincidence, I had borrowed a book from test kitchen maven Sue Gray.  "The Whimsical Bakehouse," by Kaye and Liv Hansen, features some of the most amazing cakes I've ever seen. The most fantastic part was that many of Liv's decorations for her cakes are made from melted chocolate, piped from pastry bags onto parchment paper in the most attractive and, yes, whimsical designs. I was starting to get an idea...
What if I put some gourmet chocolate into a piping bag and piped my own gelt? I was off to the kitchen to give it a try.
Here's what I learned: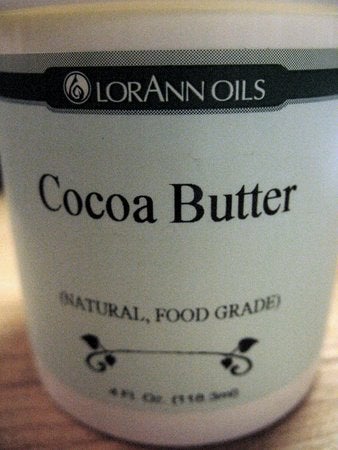 Lesser quality chocolates like the discs you can purchase at the party store do work quite well for this technique, but if you're using higher quality chocolate, you may need some cocoa butter to thin it a bit for better flow.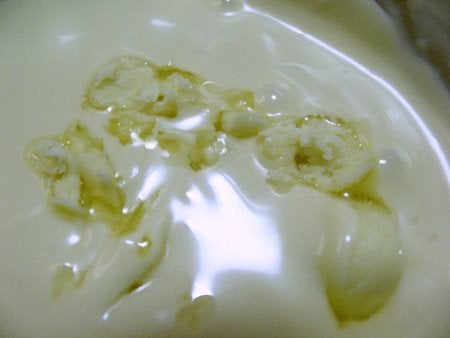 The cocoa butter is particularly helpful when using white chocolate. Just 1/4 to 1/2 teaspoon added to the warm chocolate frees it up to pipe smoothly.
I can't tell you exactly how much you'll need to use, if any. It will depend on the chocolate you have and you'll need to add it bit by bit, until the chocolate flows easily, but isn't runny.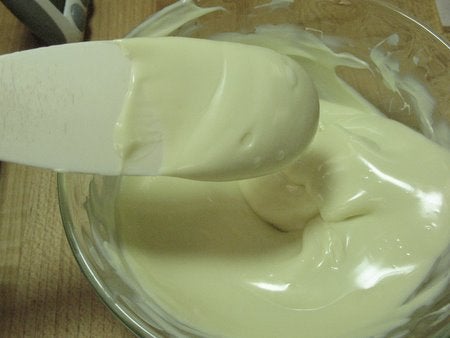 While it's very tempting to add gel pastes to color this chocolate, PLEASE DON'T DO IT!  Adding a water based food coloring to chocolate will cause it to seize into a solid clump. Not good. There are special coloring agents for chocolate available on the great wide Web if you need to go that route, but I like the contrast of the original brown and white of the chocolates.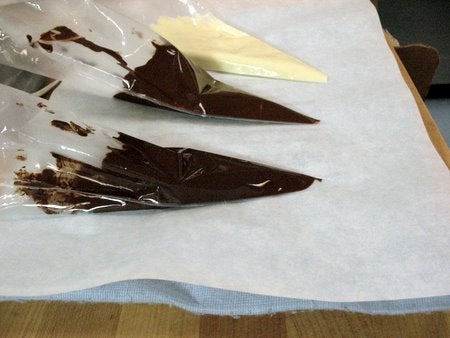 Once your chocolates are melted and thinned with cocoa butter if needed, you'll want to keep them warm as you work. A heating pad covered with a sheet of parchment works like a charm.
Choose a setting that will keep the chocolate warm and flowing, but not too hot that it scorches or separates.
Our disposable plastic decorating bags are da bomb for this application. No special tips needed, just snip off the end.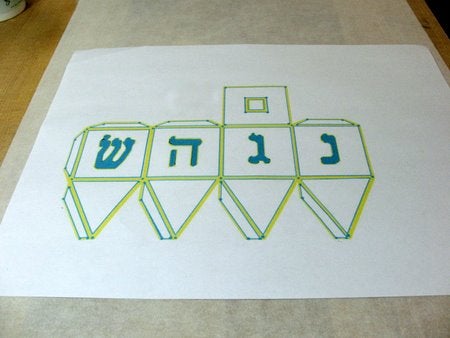 Now, I do love to pipe and swirl icing on cookies. But for this gelt, a template made sense to me. I wanted to be sure the symbols were correct, so I printed them off, including the dreidel template.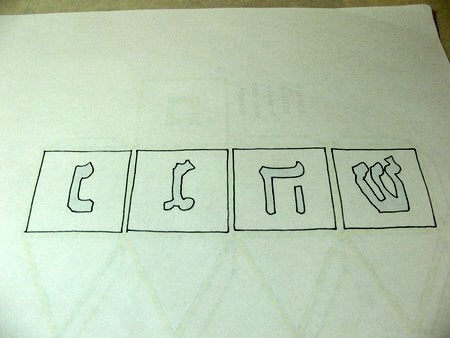 If you're quicker thinker than I am, you may have realized that designs piped onto parchment paper and then removed and flipped over will actually be in reverse. SO, if orientation is important be sure to either print your design as a mirror image, or go old-school and trace it backwards on the back of your paper.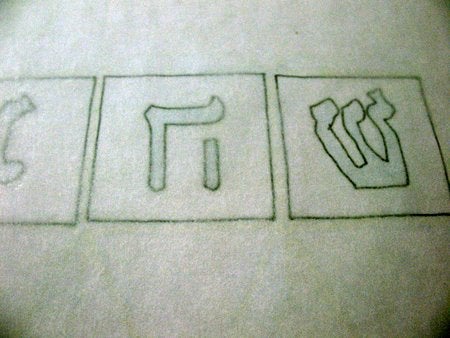 Place your design under a clean, smooth piece of parchment paper. If it seems too wiggly, you can tape the edges down for stability.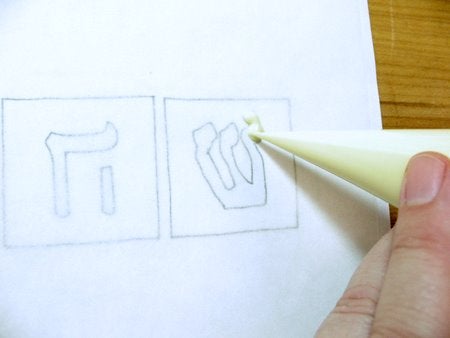 Slowly pipe the melted chocolate onto the design.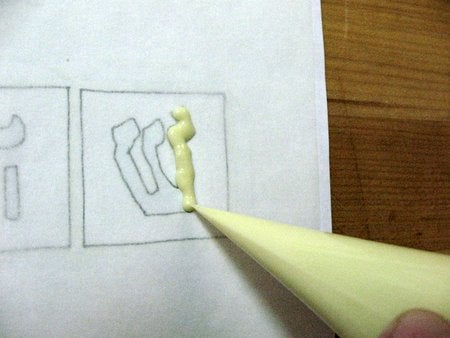 It's OK if the back looks a little blobby. It's the back and will be partially covered in more chocolate later.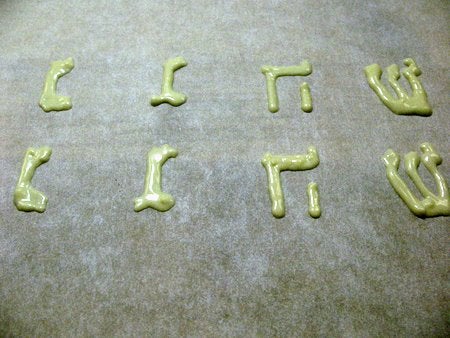 By moving the parchment paper over the design, you can easily pipe multiples.  Be sure to leave a little space for the rest of the chocolate and some drying space in between.
Set the first "color" of the design aside to dry. Drying time will vary, depending on the chocolate, thickness of the design, etc.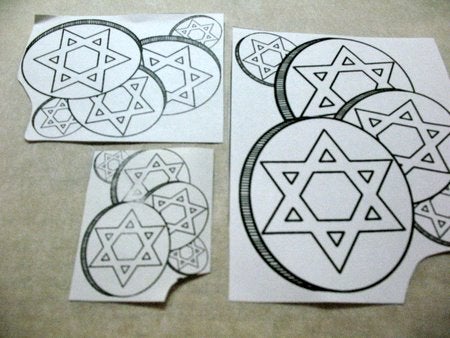 By making several different copy sizes, you can customize to your heart's content.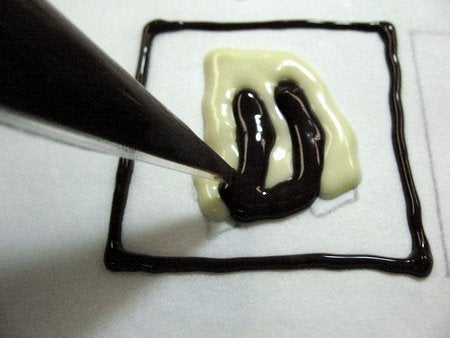 Once the first color is  mostly dry, you can return to the parchment to pipe the rest of the design.  You do want to keep the first color a bit soft, so that it can re-melt when the new warm chocolate touches it.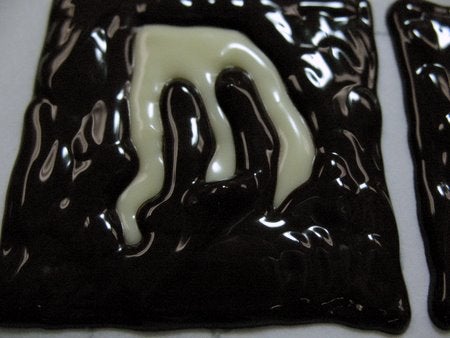 Tempting, but no licking!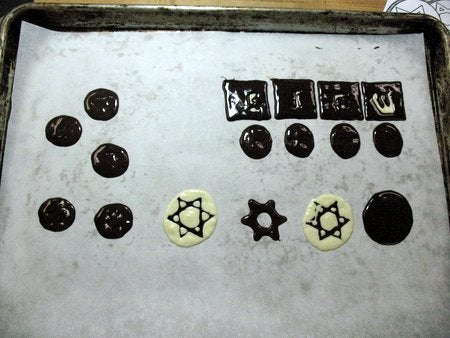 Several different designs will fit on one piece of parchment. I did find if you crowd too many on one sheet, though, you run the risk of putting a finger, thumb, or elbow into a previous design.
Set your chocolate goodies aside to firm up completely.
Once they're very firm to the touch, just peel them off the parchment with the help of a butter knife or nylon spatula, turn them over, and ...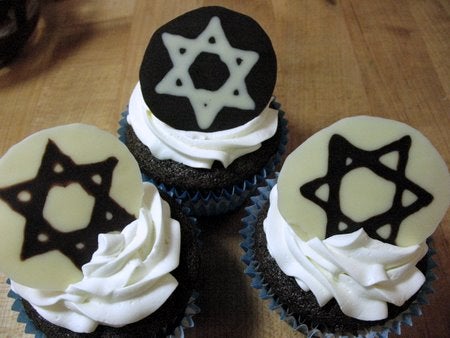 OMG, it's HMG – Home Made Gelt!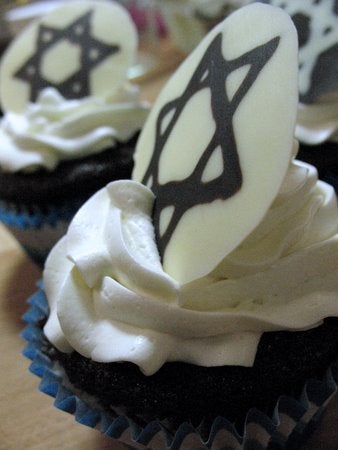 Tucked into the icing on a cupcake, these make a wonderful treat for any night of Hanukkah.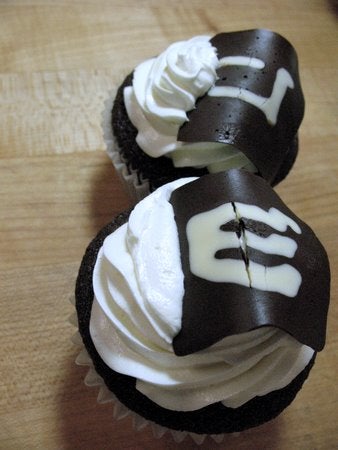 Be careful that you don't make your designs too big, or leave them in a warm place for too long.  It's not pretty.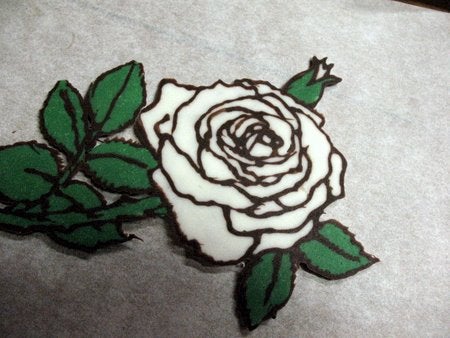 Looking for other ideas using Liv Hansen's great technique? Check out this rose that my 15-year-old daughter Shannon made. No, she'd never tried this before, just used a really nice image from a book, and piped away.  (The green chocolate is from the party store, left over from another project).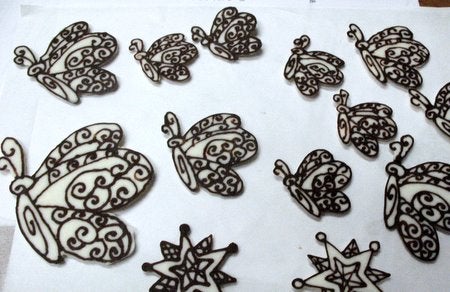 I'm a fan of classic black and white, so these butterflies and stars in several sizes were right up my alley. Placed on top of a bright pink cake, they made a nice surprise for Shannon's Spanish teacher's birthday.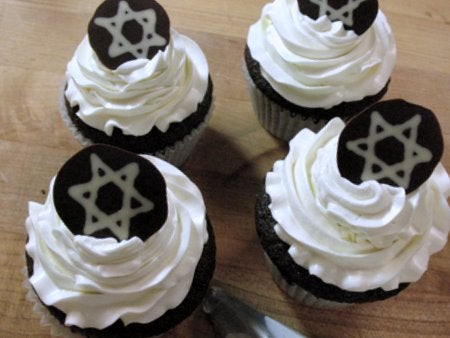 I just know you'll find so many new ways to use this technique. As for these beauties, I say "gimmel"!