It's that time of year again: the holiday season, those four weeks between Thanksgiving and Christmas when peppermint joins chocolate center stage.
At heart, I'm a chocolate traditionalist. Not for me chocolate/orange, chocolate/raspberry, or chocolate/any other fruit combo, thanks very much. I'll take my chocolate dark and plain.
OK, I do make exceptions. Chocolate-dipped strawberries... plump dried apricots half-coated in dark chocolate... even chocolate cherry cordials, with their sticky liquid dripping off your fingers – all good.
And chocolate/coffee – more than good. Exquisite.
But chocolate cake with Grand Marnier frosting? No thanks.
Maybe it's simple nostalgia, but I do enjoy chocolate and peppermint. Like many girls back in the day, I was a Girl Scout and sold Thin Mints. They weren't my favorite, though; even back then I was a budding chocolate Luddite, and preferred Do-si-dos.
Which, somewhat surprisingly, are one of only three GS cookies (the other two being the aforementioned Thin Mints, and shortbread Trefoils) that are offered every year without fail. Lemon Chalet Cremes may come and Daisy Go Rounds may go, but The Big Three live forever. (Though Samoas and Tagalongs are pretty much a given, also.)
But I digress. Christmas. Candy canes. Chocolate and peppermint. It all comes together, eh?
And comes together very nicely indeed, I must say, in these dense, moist chocolate cupcakes, crowned with a thick layer of white peppermint icing.
Looking for a good chocolate cupcake recipe for the holidays?
You've found it.
What puts the pop in these cupcakes? Peppermint. Extra-strong peppermint oil, to be exact.
Line two muffin or cupcake pans with papers, and lightly grease the papers. If you only have one pan, you'll need to bake in shifts; this recipe makes 21 cupcakes.
Preheat the oven to 350°F.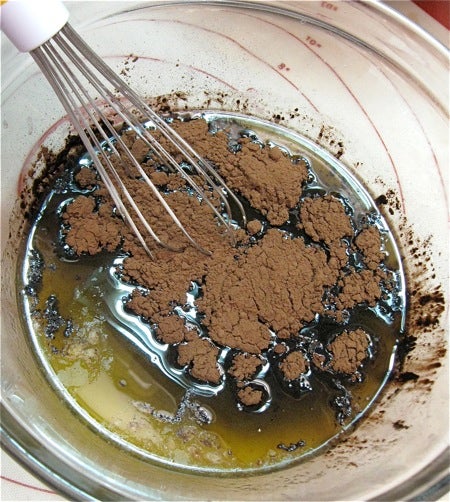 Place 1 cup melted butter, 1/2 cup Dutch-process cocoa, and 1 cup hot water in a bowl.
Whisk to combine.
Place the following in another bowl, or a measuring cup:
1/2 cup plain or vanilla yogurt, or 1/3 cup buttermilk
2 large eggs
1 teaspoon vanilla
Whisk to combine.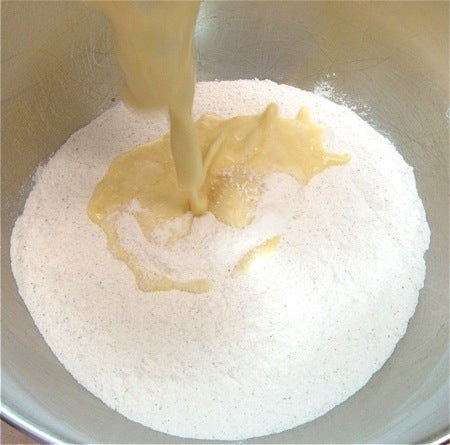 Whisk together the following:
2 cups (8 1/2 ounces) King Arthur Unbleached All-Purpose Flour
2 cups granulated sugar
1 teaspoon baking soda
1 teaspoon espresso powder, optional but good
1/2 teaspoon salt
Pour the yogurt/egg mixture on top.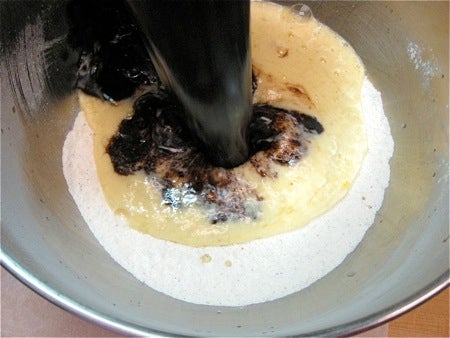 Add the cocoa mixture.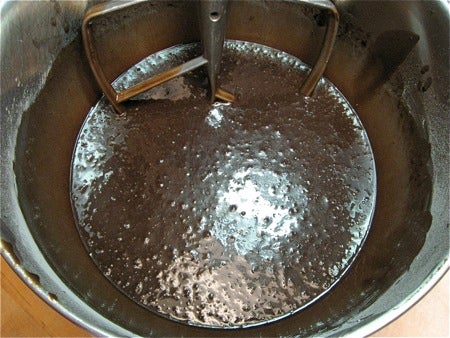 Beat until smooth.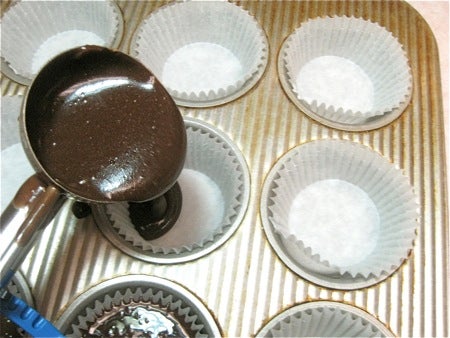 Pour a scant 1/4 cup of batter into each cup. A level muffin scoop's worth of batter makes just the right size cupcakes. And, each cake will be exactly the same size; no having to line up stunted cakes next to overblown monsters and try to make the whole presentation look gorgeous!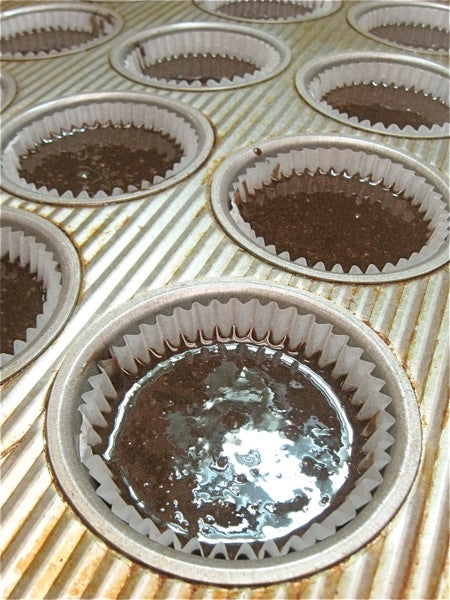 You'll fill the cups about 3/4 full.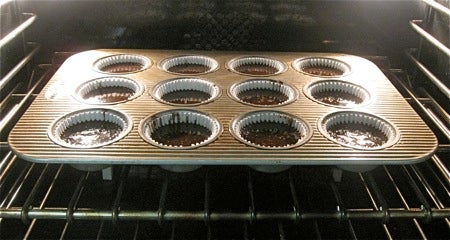 Bake the cupcakes for 23 to 25 minutes, or until a cake tester or toothpick inserted into the center of one of the middle cupcakes comes out clean.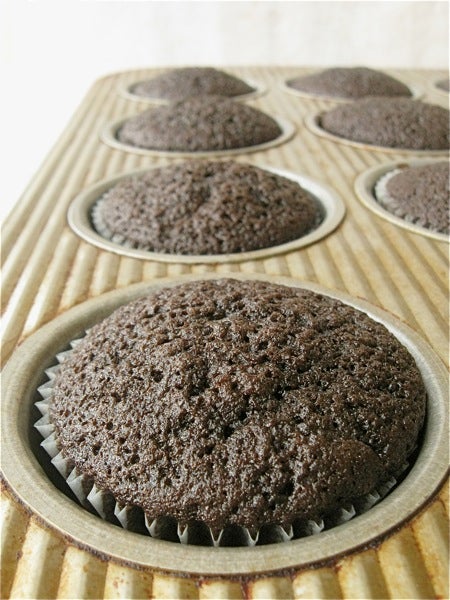 Remove them from the oven and cool on a rack.
Ah, just what I was after - a nice rise, but relatively flat across the top. The decorations I'll be laying on top won't need to teeter on a huge peak.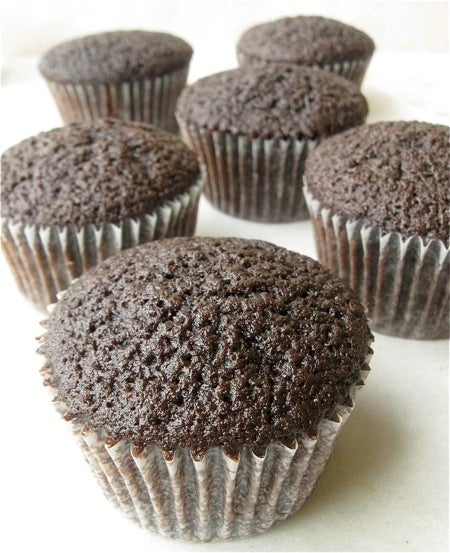 And, see? All the same size.
Next, our peppermint icing.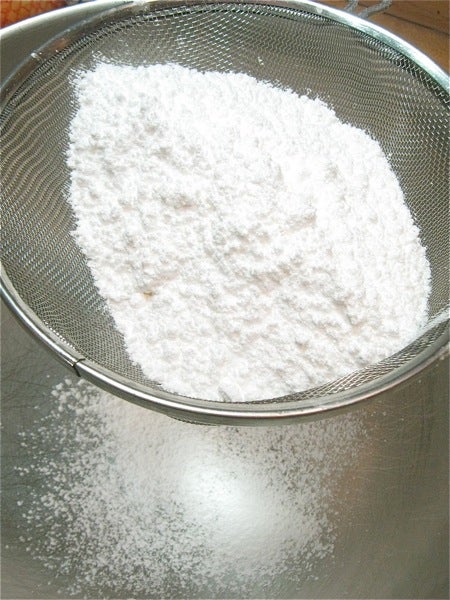 Sift 4 cups (1 pound) confectioners' sugar into a bowl. Yes, you DO want to bother sifting the sugar, to prevent lumps in your frosting.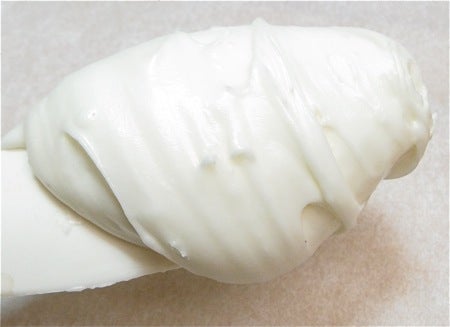 Next, add a pinch of salt; 1 to 2 drops peppermint oil, or peppermint extract to taste; and up to 1/3 cup heavy cream. Stir until smooth.
Add just enough heavy cream to make a thick-yet-smooth, spreadable icing. You want icing that, when you plop it atop the cupcake, very gradually settles into a smooth surface (with a bit of nudging from a spatula). Try icing one cupcake first; if the icing's too thick and doesn't smooth itself out as you spread it, add a tiny bit more cream.
Want to use milk instead of cream? Be my guest. You'll want to use less. Start with 1/4 cup milk, and go from there.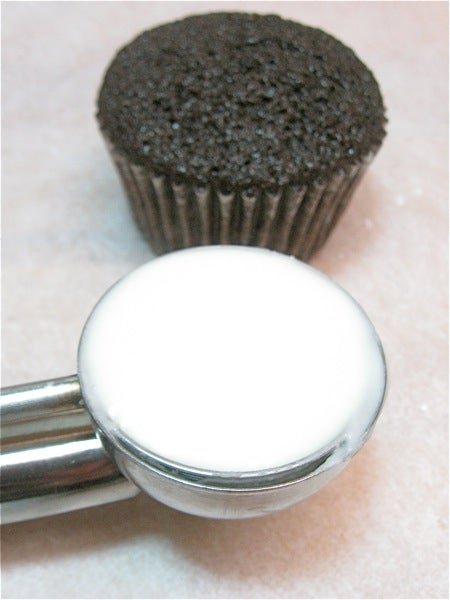 1 level tablespoon scoop (4 measuring teaspoons) is just the right amount.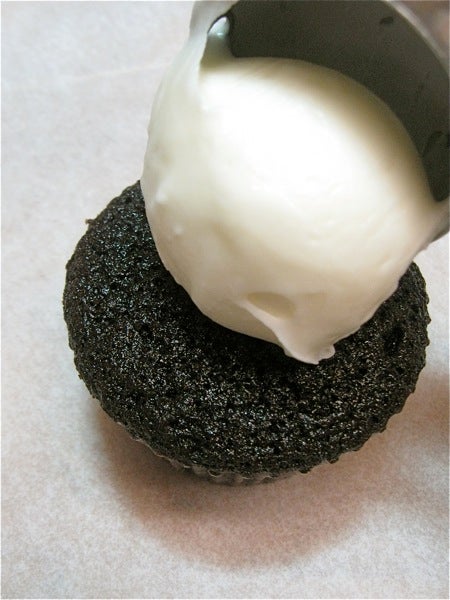 Scoop it on...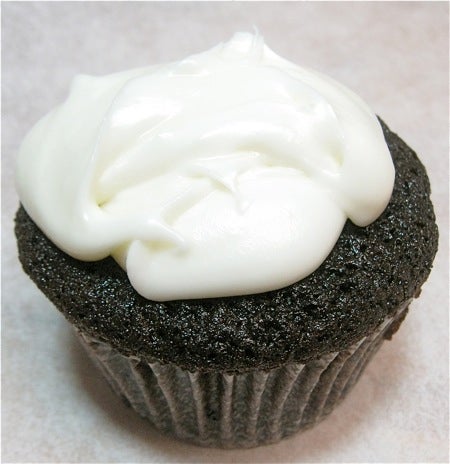 See how the icing's both thick and smooth?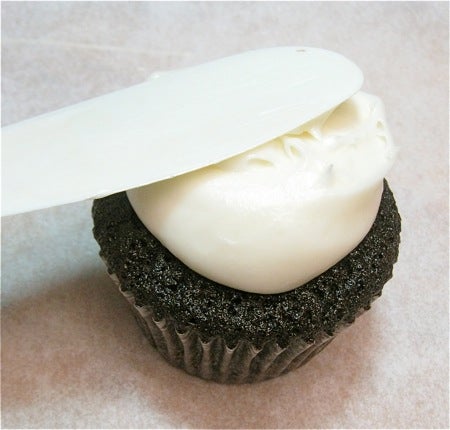 A gentle, flattening nudge with a spatula...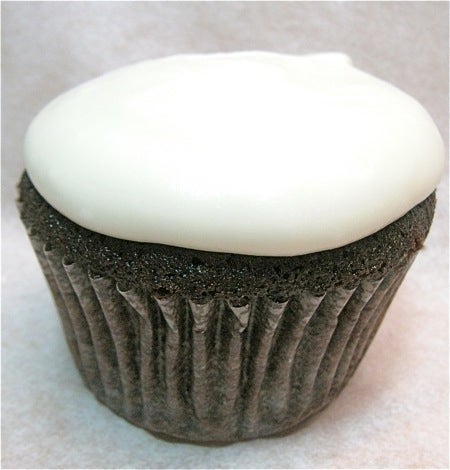 ...presses the icing nearly to the edge of the cake. Don't go all the way to the edge. If you do...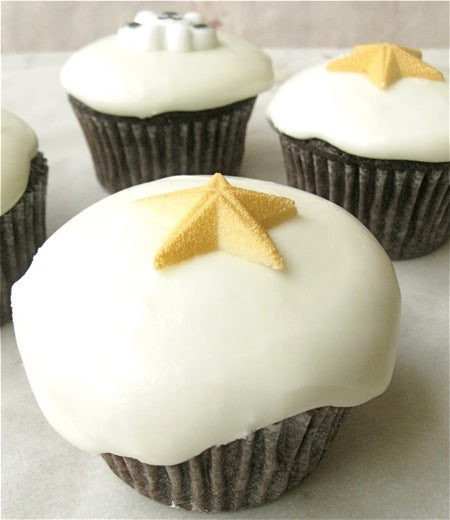 ...this is what might happen. A little too much icing, too close to the edge.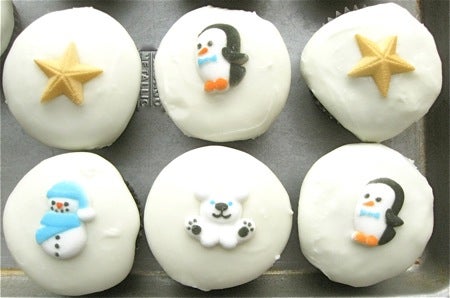 Are these sugar decos cute, or what?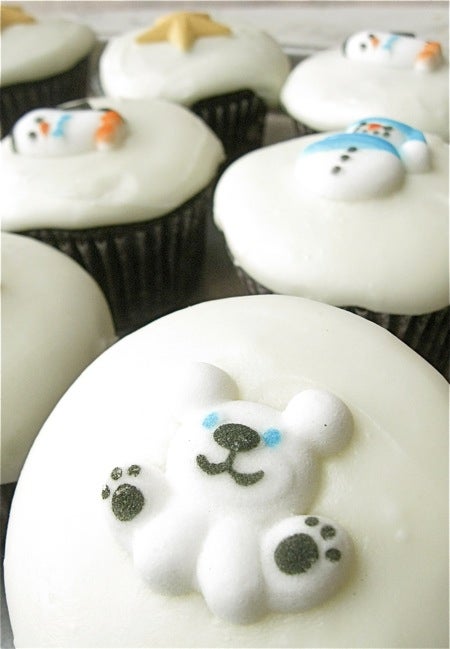 You could decorate with crushed peppermint candies, as well. Our peppermint crunch takes the effort out of crushing candy canes, and trying to get the pieces relatively uniform in size. If you've ever tried to crush a candy cane - you'll know what I mean!
Read, rate, and review (please) our recipe for Peppermint-Fudge Cupcakes.
Jump to Comments