Spook up your sweets
Fondant ghosts, spiderweb brownies, and cookie spiders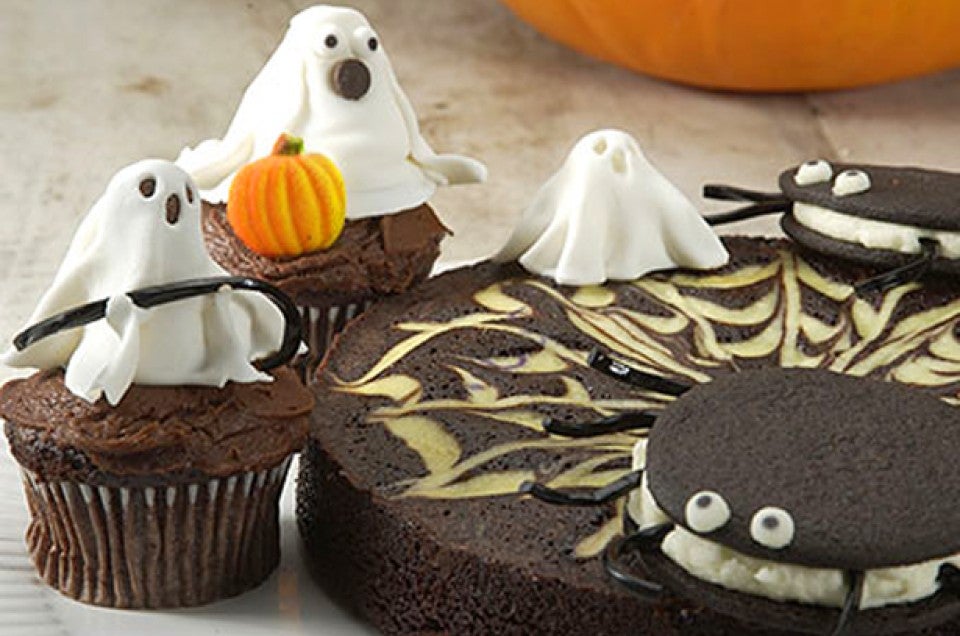 In the dark of the knight the baked goods in the King Arthur Flour test kitchen have come alive to celebrate their favorite time of year with a festive song...
~~On the first day of Halloween, my true love gave to me...  An owl in a spooky old tree~~ On the second day  of Halloween...
Well, it looks like this could go on for awhile, so let's take some time and learn how to make these delightfully spooky treats for your celebration.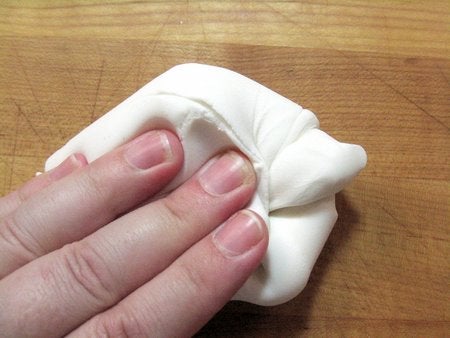 For the ghosts, knead prepared fondant until soft and pliable. Use a little cornstarch or confectioners' sugar  to prevent sticking if needed.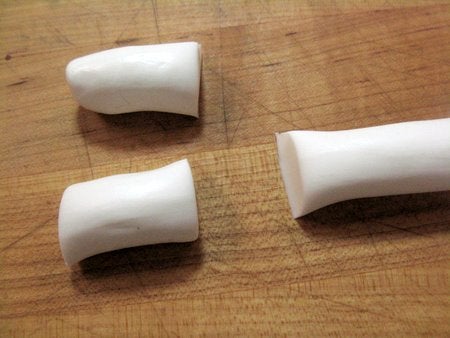 Roll the fondant into a rope and cut off small pieces. How big? It will all depend on where the ghosts will end up. Start with 1 1/2" pieces and adjust with more or less fondant until you have a size that works for you.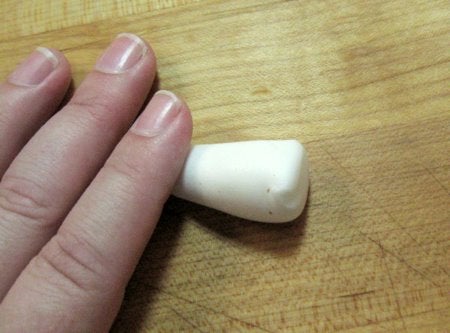 Roll one end of each piece to make a cone shape with a rounded top. No need to roll to a point; you want a softer look to the top of the ghost's head.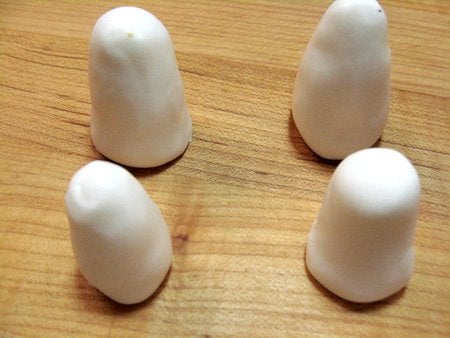 Tamp the opposite end of the cone on the tabletop until the cone will stand up independently. Adjust the shape with your fingers until you're pleased with each one.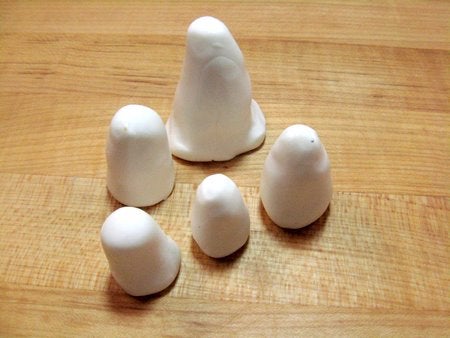 You can make a variety of sizes at once. Having big and little, fat and thin ghosts will add to the visual interest and make each ghost more of an individual.
*SET THESE BASES OUT TO DRY FOR SEVERAL HOURS OR OVERNIGHT*
If you try to work with the soft fondant, your ghosts will sink and squash before your eyes. Plan ahead and give them a chance to set, saving you extra work and frustration.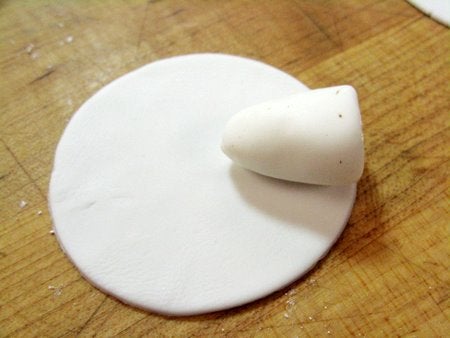 To form the ghost's "sheet," roll out additional fondant 1/8" thick. To determine the size circle you'll need, measure the height of the cone base and multiply by 2, then add 1/2".
So, a 1" cone would need a 2 1/2" circle. (1 x 2 + 1/2= 2 1/2).
Remember, this is just a place to start. If you like your ghosts with really long sheets, make your circles larger.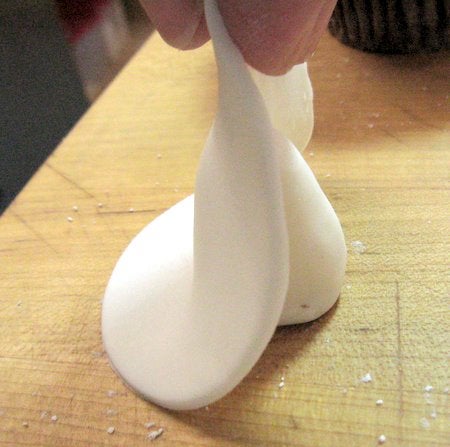 Brush the cone with a little bit of water or egg white to act as glue, and drape the sheet piece over the cone.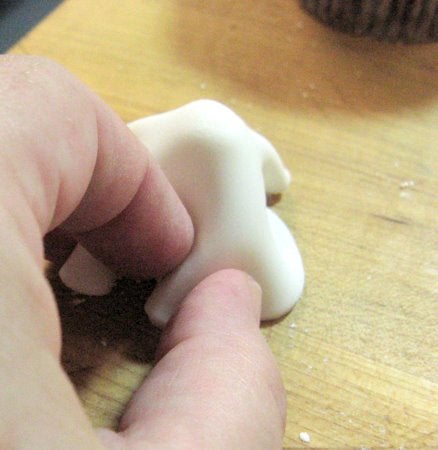 Use your fingers to shape the pliable fondant into attractive folds and curves on your ghost.  As the fondant dries, the folds will become permanent.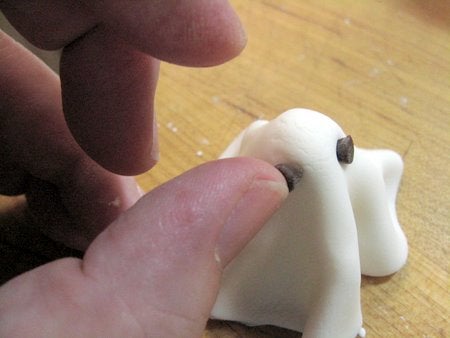 To make a face on the ghost you can use mini chocolate chips. Simply press them point first into the soft sheet fondant.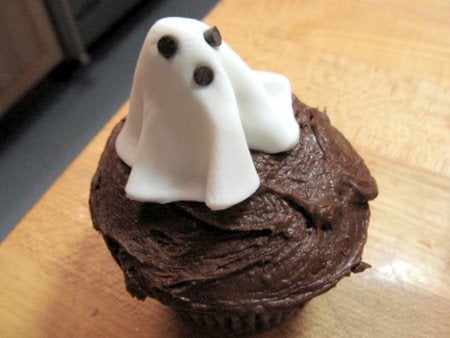 Just booo-tiful!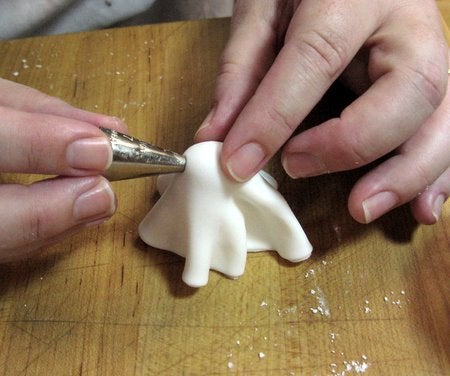 Another great way to make faces on the ghost is with gumballs or malted milk balls. I saw this trick online and thought it was so cool.
When the fondant cones are still soft, press a colored gumball or malted milk ball firmly onto the top of the cone. Dry as usual.
After draping the cone with the sheet, use the small end of a piping tip to cut out eye and nose holes in the soft fondant. A coffee stirring straw would be a good tool too.  Use your imagination to see what you can find in your pantry to make spooky faces.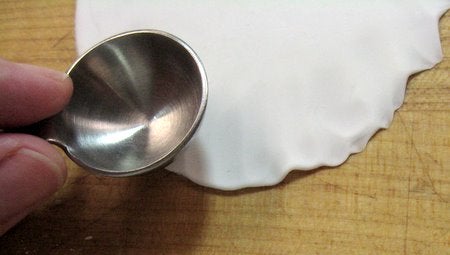 To make your ghosts a little more floaty and ethereal, you can use soften the edge of the sheet fondant before applying it to the cone. The rounded back of a measuring spoon works well if you don't happen to have fondant tools.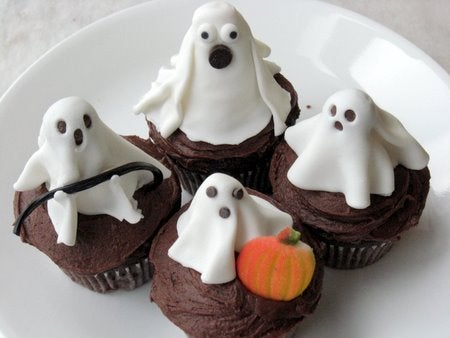 Ahh, a gaggle of ghoulish goodies. The black licorice "chain" and sugar deco pumpkin add a dash of whimsy to the scene.
Next up: Spiderweb Brownies.
Begin by making a batch of your favorite brownie batter poured into the appropriate sized pan. I've used a 9" x 2" round cake pan here in the blog.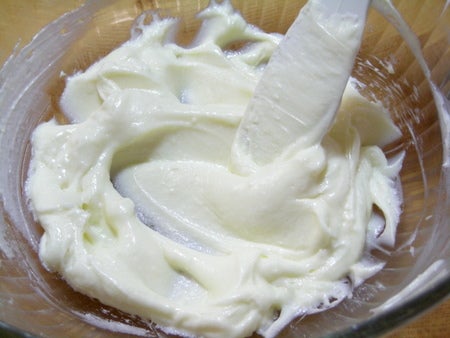 In a small bowl combine:
* 4 ounces cream cheese, at room temperature
* 2 tablespoons sugar
* 1 tablespoon King Arthur Unbleached All-Purpose Flour
Stir the mixture until it is very smooth and no lumps remain.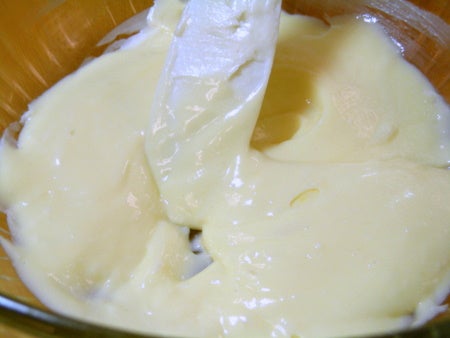 Add one large egg yolk and stir again. The mixture will be very smooth and creamy colored, no longer bright white.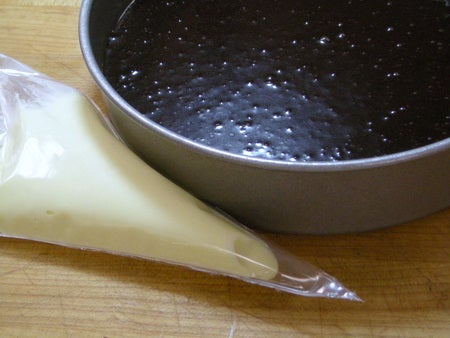 Scrape the cream cheese filling into a piping bag or disposable bag. A good strong zip-top bag can also be used.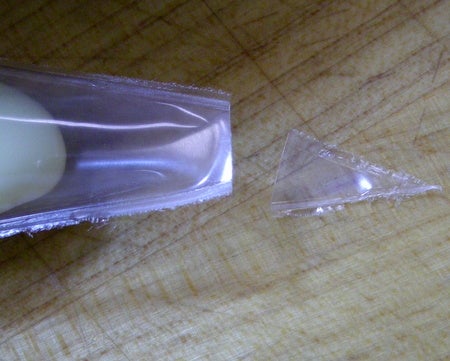 Snip off a fairly large piece of the end of the bag, or use a fairly wide tip. You're going to pipe broad bands of the filling onto the brownie batter, so you'll need a large hole for easy flow.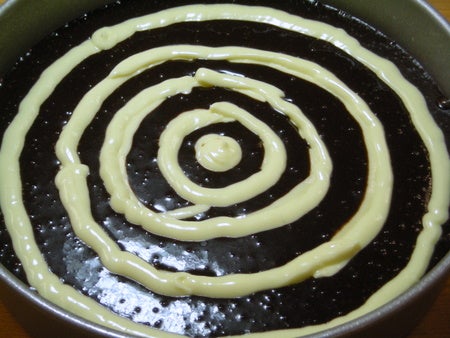 Pipe concentric rings onto the brownie batter. Space the rings about 1" apart.
Don't worry about perfect rings or drips and drabs, it will all look fine in the end.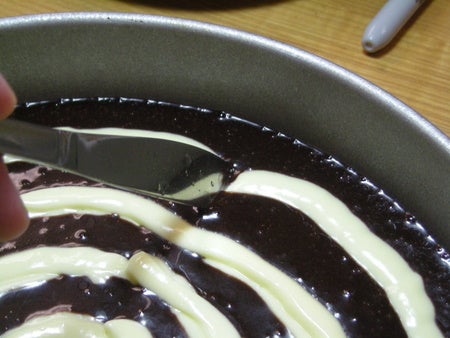 Using a butter knife, draw through the rings from the outside of the pan to the center. You'll want to sink the knife into the batter deeply to ensure that the filling and batter combine.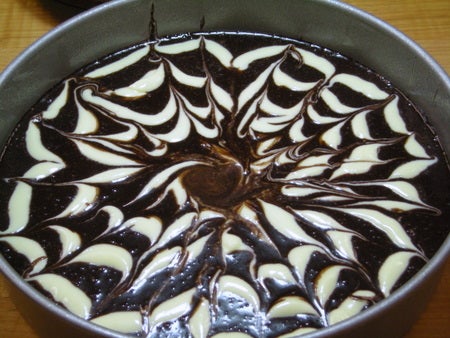 Repeat around the whole circle, making as many spokes as desired. I think I got a little carried away as I took photos; you can make fewer spokes than I did.
If you have leftover filling, you can pipe lines to define the spokes of the web, if desired.
Bake the brownies as directed until they begin to pull away from the edges of the pans slightly, and a tester comes out with just a few moist crumbs.
You can serve the brownies from the pan, or remove and serve on a tray, whichever you prefer.
Last but not least: Cookie Spiders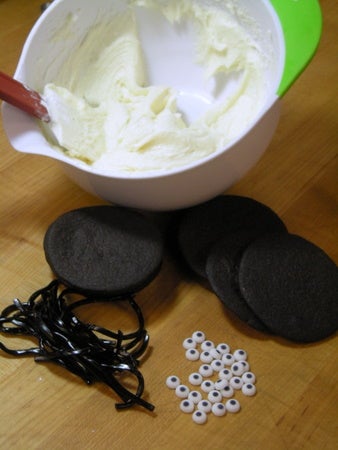 For the spiders you'll need chocolate wafer cookies, filling, black licorice whips, and candy or icing eyes. Check the Halloween section or the cake decorating section of your local craft and department stores for the licorice and eyes.
A dab of icing and a chocolate chip also makes a fine googly-eye.
I used our Faux-Reos recipe with the vanilla filling. You could tint the filling orange, green, or purple if you want really colorful spiders.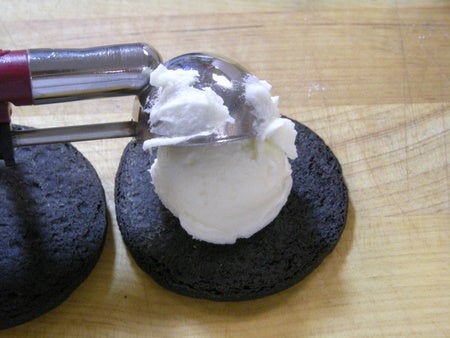 Use a generous scoop of filling to sandwich two cookies together. Be sure to spread the filling so that it will just peek out of the cookie edges, so that the licorice legs will have something to stick to.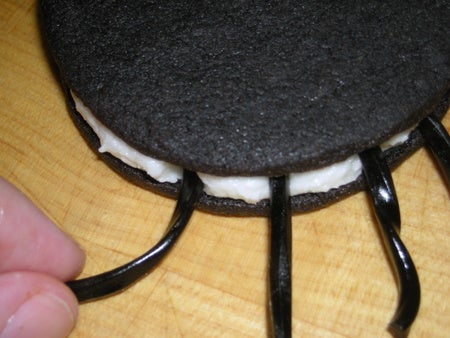 Cut the licorice whips to approximately 3" sections. You'll need 8 sections per spider. Again, if you'd like longer legs on your creepy crawlies go for it!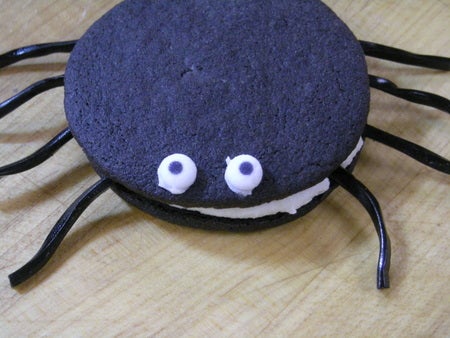 Finally, use tiny dabs of filling to secure the eyes onto the spider. Try different placement for the eyes – it can really change the spider's expression!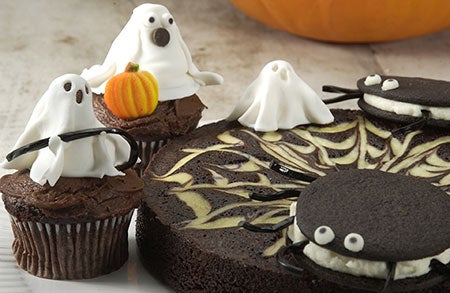 ~~~On the twelfth day of Halloween my true love gave to me – twelve bats a-flying, eleven masks a-leering, ten ghouls a-groaning, nine ghosts a- booing, eight monsters screeching, seven spells a-going, six goblins gobbling, five scaaary spooooooooks... four skeletons, three spooky witches, two trick-or-treaters, and an owl in a spooky old treeeeeeee.~~
We hope you've enjoyed this baking and musical interlude. Happy Spooking!
Please bake, rate and review our recipes for Spiderweb Brownies and Faux-Reos.