From "USA Today," Sept. 27, 2010:
"PORTLAND, Ore. – Pumpkin lovers can relax: A nearly year-long shortage of the canned stuff is over. That means an end to the hoarding, rationing and even pumpkin profiteering that have been going on since heavy rain ruined last year's harvest and caused a shortfall..."
WHEW! I'd been having serious worries about the absence of canned pumpkin in the baking aisle of my local grocery store.
I mean, for weeks I'd been heaving disappointed sighs every time I looked at the hugely expensive cans of organic butternut squash crowding the shelf where my favorite One-Pie canned pumpkin ought to be.
After all, what's fall baking without pumpkin? From muffins, bread, pie, and cake, to frosted bars, and even soup – pumpkin lends a bright splash of color and flavor to what might otherwise be a pretty somber autumn landscape.
The other day, when pumpkin finally reappeared at the grocery store, I was in the mood for scones. Pumpkin scones. So I went searching for a King Arthur Flour pumpkin scone recipe online, and found... nothing. Zip, zilch, nada.
OK, kingarthurflour.com did offer a recipe for Curried Pumpkin and Ginger Scones. But I was looking for something simpler and more traditional: a moist, tender/crumbly treat, lightly spiced with pumpkin's best friends – ginger, cinnamon, nutmeg, and a touch of allspice.
The recipe doesn't exist? Great! That's what test kitchens are for.
Bottom line, I quickly formulated a recipe based on our guaranteed scones; made the dough, baked the scones...
Oh, MY! Major success, on the very first try.
In fact, they were so good, I immediately made them again, just to be sure.
And once more, the next day - using the last of my precious canned pumpkin.
No brag, just fact: even taste-testers lukewarm about pumpkin were scarfing these down as fast as they came out of the oven.
Has pumpkin reappeared at your supermarket yet? If so, grab a can – or two, or three. It's pumpkin baking time!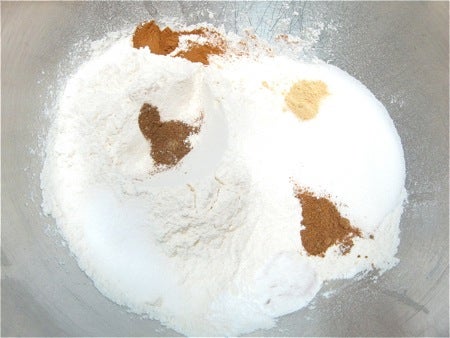 Put the following in a mixing bowl:
2 3/4 cups (11 1/2 ounces) King Arthur Unbleached All-Purpose Flour
1/3 cup sugar
1 tablespoon baking powder
3/4 teaspoon salt
3/4 teaspoon ground cinnamon
1/4 teaspoon ground ginger
1/4 teaspoon ground nutmeg
1/4 teaspoon ground allspice
When you're making something with a lot of different dry ingredients – especially spices – put in the flour first, then make little wells for as many other dry ingredients as you're adding. Put each ingredient in one of the wells. That way, if there's an empty well at the end, you'll know you missed an ingredient.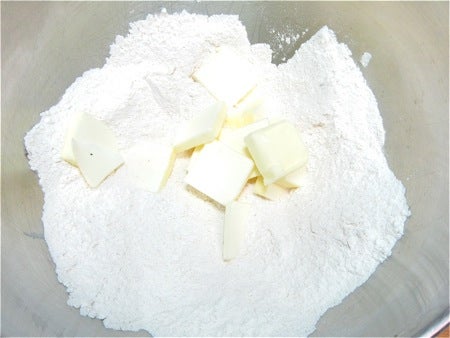 Add 1/2 cup cold butter, cut into pats.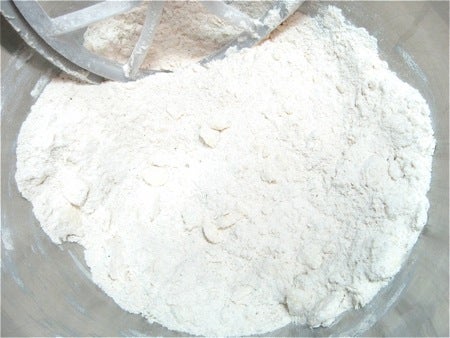 Work in the butter just until the mixture is unevenly crumbly; it's OK for some larger chunks of butter to remain unincorporated.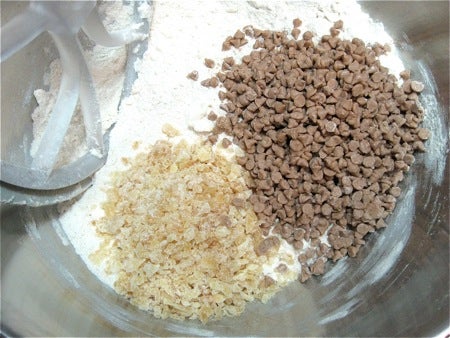 If desired, add 1 to 2 cups minced crystallized ginger, cinnamon chips, or chocolate chips; I've used 1 cup each mini diced ginger and cinnamon chips here.
Stir to combine.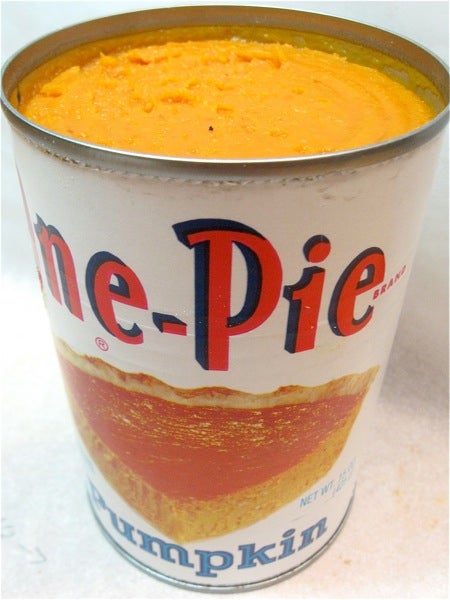 Next: the pumpkin. If it's still in short supply at your supermarket, use canned squash – if you can find it.
Now, this is pumpkin - PLAIN pumpkin. Don't be fooled and use that canned pumpkin pie filling. It's thick, not liquid; and bright orange. And it makes delicious muffins (gluten-free!), cake, and quick bread. And soup. And pie, of course.
Go ahead, search pumpkin online: King Arthur has 51 delicious recipes. (Did I mention pumpkin whoopie pies?)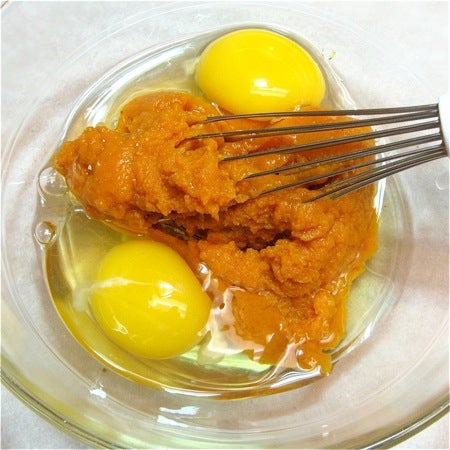 Put 2/3 cup canned pumpkin and 2 large eggs in a bowl.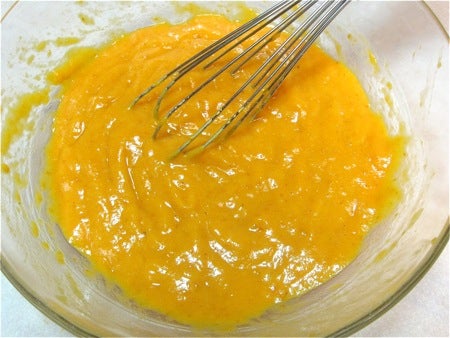 Whisk to combine...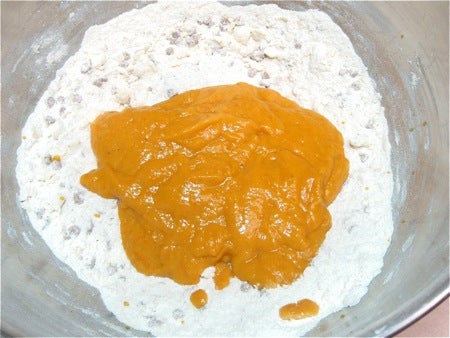 ...then add to the dry ingredients.
Mix to form a shaggy dough. Don't mix any longer than you have to; the more you handle the dough, the tougher the scones will be.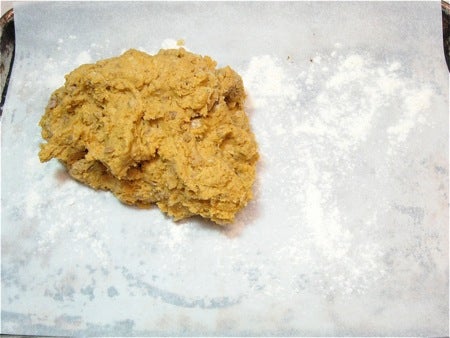 Line a baking sheet with parchment; if you don't have parchment, just use it without greasing it. Sprinkle a bit of flour atop the parchment or pan.
Scrape the sticky dough onto the floured parchment or pan.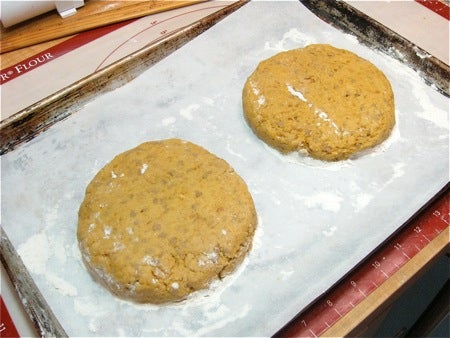 Divide it in half, and round each half into a 5" circle (if you haven't incorporated any add-ins); or a 6" circle (if you've added 2 cups of fruit, chips, etc.). The circles should be about 3/4" thick.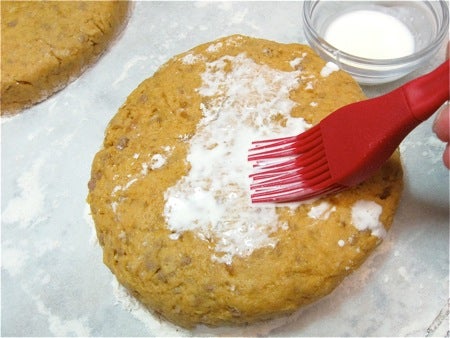 Brush each circle with milk or cream...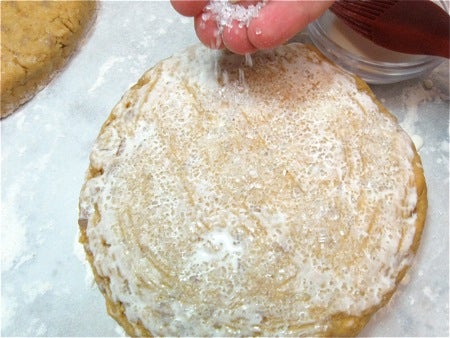 ...and sprinkle with some coarse white sparkling sugar.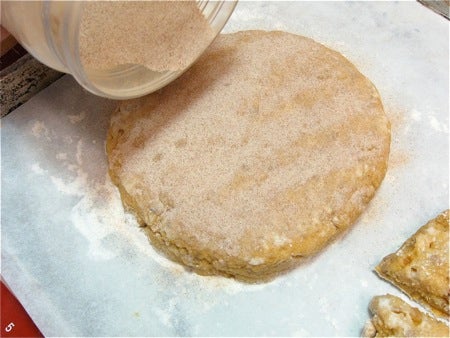 Or sprinkle with cinnamon sugar. Here I'm using my favorite Cinnamon-Sugar Plus, a simple combination of two superior ingredients: Vietnamese cinnamon, and superfine sugar.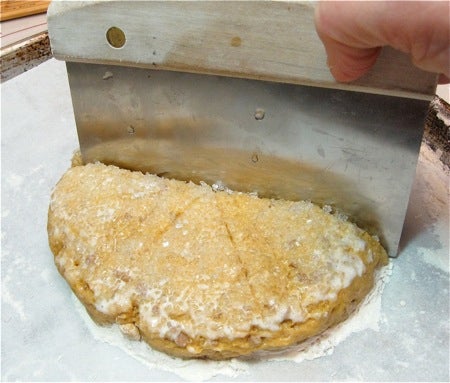 Using a knife or bench knife that you've run under cold water, slice each circle into 6 wedges.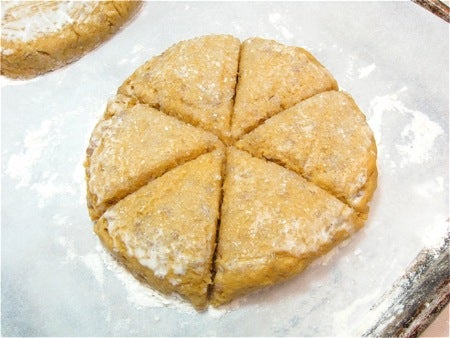 Like this.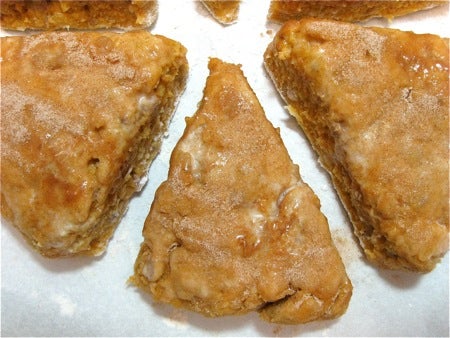 Carefully pull the wedges away from the center to separate them just a bit; there should be about 1/2" space between them, at their outer edges.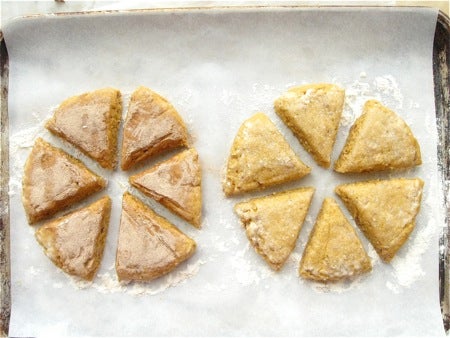 On the left, cinnamon-sugar topped scones; on the right, scones topped with coarse white sparkling sugar.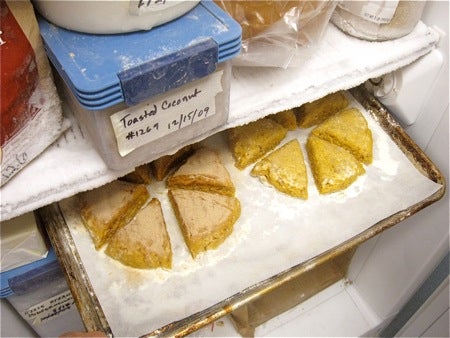 For best texture and highest rise, place the pan of scones in the freezer for 30 minutes, uncovered.
And while we're at it – here's a tip on freezing unbaked scones. If you don't want to bake scones right away, shape and put them on a pan, but don't brush with milk, nor sprinkle with sugar. Place in the freezer, covered with plastic, and freeze until solid, which should take an hour or so. Remove from the pan, and bag airtight; return to the freezer.
When you're ready for scones, there's no need to thaw them; just place frozen scones on a pan, brush with milk, sprinkle with sugar, and bake as directed below, giving the scones about 5 additional minutes in the oven.
While the scones are chilling, preheat the oven to 425°F.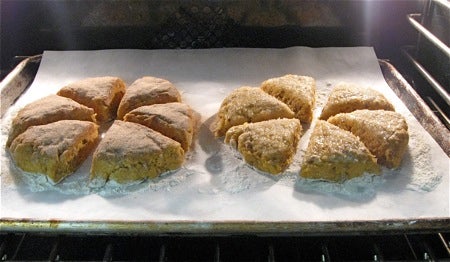 Bake the scones for 22 to 25 minutes, or until they're golden brown and a toothpick inserted into the center of one comes out clean, with no wet crumbs.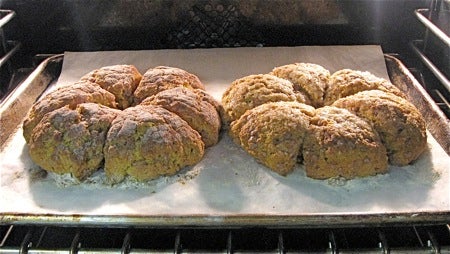 Nice rise, eh?
If you pull one of the scones away from the others, the edges should look baked through, not wet or doughy.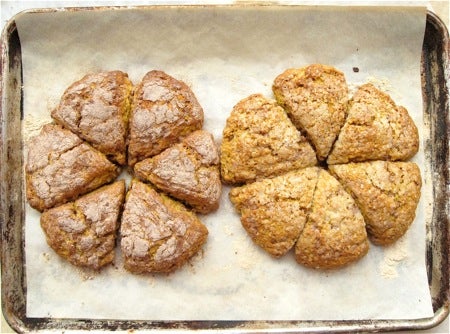 Remove the scones from the oven. They're best served warm; but they also reheat in seconds, one at a time, in the microwave.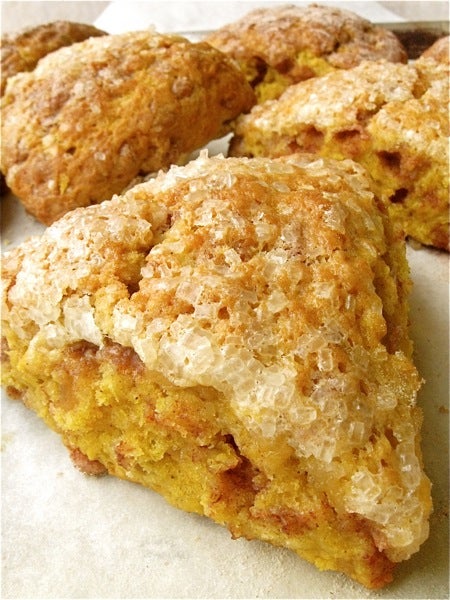 Here's a scone topped with coarse sugar. Look at that gorgeous orange interior!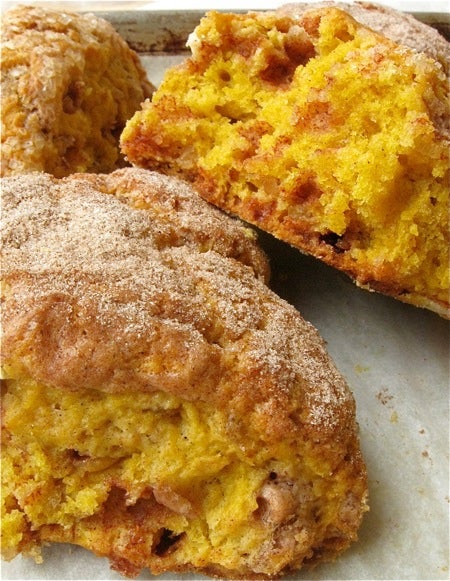 And here's how they look with cinnamon-sugar topping. It's up to you; cinnamon-sugar enhances flavor, while coarse sugar adds crunch.
Hey, how about both?
Read, rate, and review (please) our recipe for Harvest Pumpkin Scones.
Are you a pumpkin lover? Check out our 51 delicious pumpkin recipes. (Did I mention the pumpkin whoopie pies?)
One final note: I realize it's possible to bake with cooked fresh pumpkin, rather than canned; I simply like the ease and consistency (both meanings of the word) of canned pumpkin.
Are you a make-it-yourself pumpkin purée fan? Go for it.