These ladies have a secret.
Actually, a secret ingredient. MANY secret ingredients...
Want to know why they're smiling?
Because every day, the ladies pictured above – Marie Amell and Kris Barry – join the rest of King Arthur's manufacturing team to blend and pack the "secret" ingredients that go into our King Arthur Flour mixes.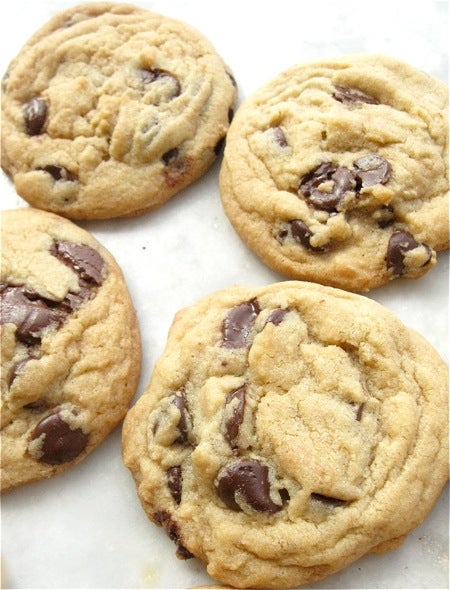 Mixes that make sublimely delicious treats like these Triple Chocolate Chip Cookies.
How does a King Arthur mix go from sweet dream to reality?
First, our test kitchen bakers come up with an idea. Say, the ultimate chocolate chip cookie. One that occupies that perfect middle ground between soft and crunchy. A cookie with buttery, brown-sugary flavor, loaded with chunks of chocolate as well as both bittersweet and semisweet chips.
The bakers develop a recipe, then bake, taste, tweak, bake, taste... till they've got the perfect formula.
Which is then handed off to the product development team.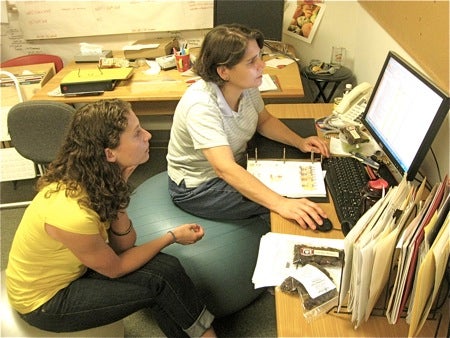 Meet our product development team! Here, Liz Fairley and Molly Delaney check out sources for chocolate chips. Their goal? A chip with perfect balance between superior taste and "meltability," at a reasonable price.
Prices on ingredients are constantly changing, not only season to season, but often week to week; keeping the cost of mixes at a reasonable level can be a challenge. Liz, Molly, Brook Stewart, and Sarah Prunk are constantly searching for new or additional sources for the hundreds of ingredients that go into our mixes, as well as the products we sell here online.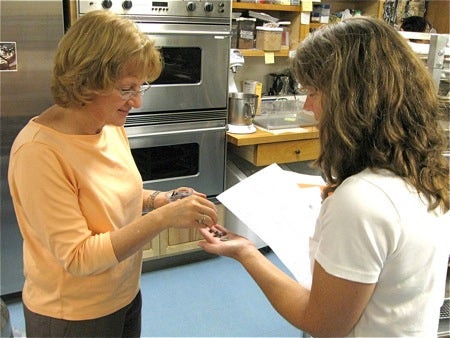 Next, the all-important (and oh-so-enjoyable) taste testing. Sarah (r), who heads up our ingredients team, offers a sample of new chips to Sue Gray (l), our mix maven. Sue has a superior palate; if there's even a hint of off-flavor, she'll pick it up and reject the chips.
Once the mix of ingredients is perfected, the recipe is scaled up to manufacturing size (think hundreds of pounds of flour), and the formula sent to our manufacturing team.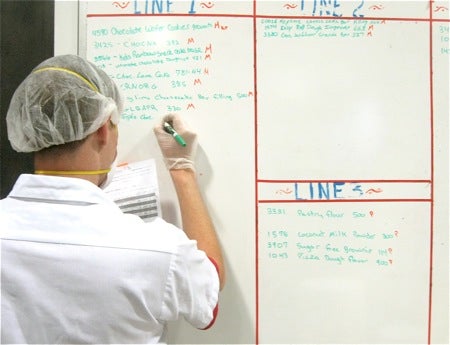 Time to make the cookies! Travis Benson enters Triple Chocolate Chip Cookies onto the daily schedule.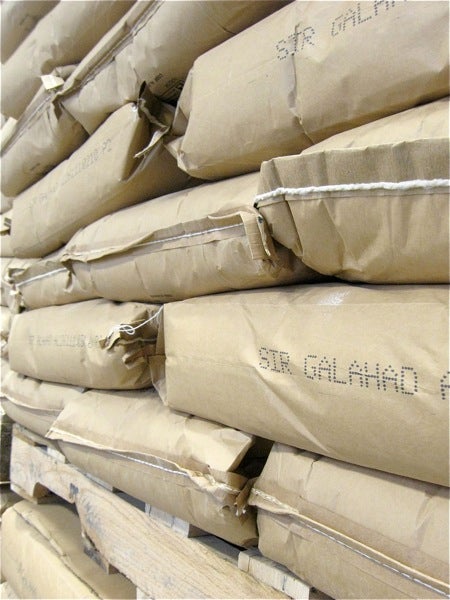 It all starts with the flour... lots and lots of Sir Galahad, which is the 50-pound-bag version of the King Arthur Unbleached All-Purpose Flour you find at your supermarket.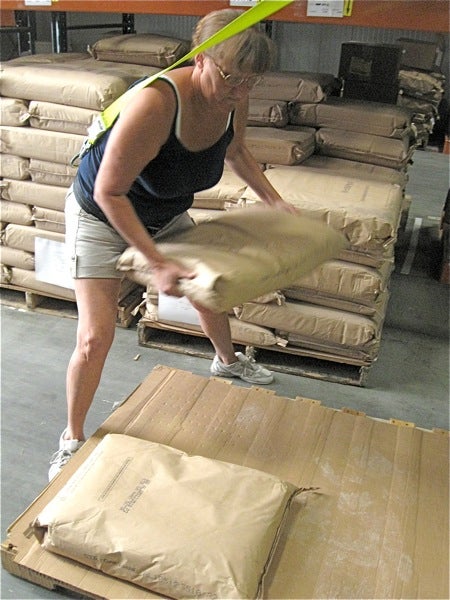 Kate Clark's in charge of driving her forklift around our warehouse to gather the necessary ingredients. First, the flour...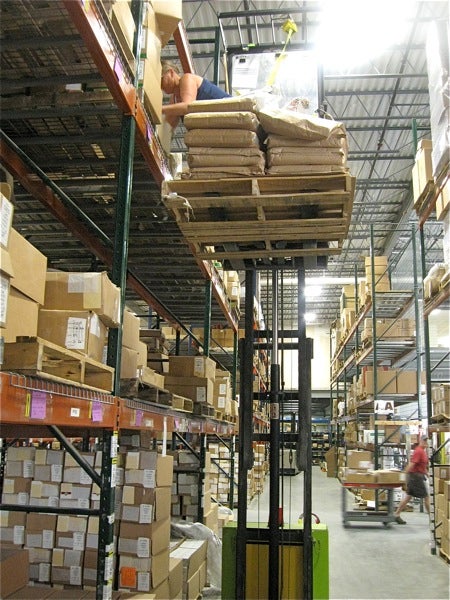 ...then the sugars, and the leavening. Then she goes up top, for chocolate chips and chunks.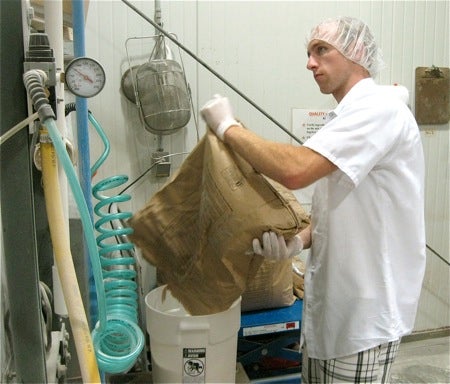 Once Kate has delivered the ingredients, Peter Vella takes over.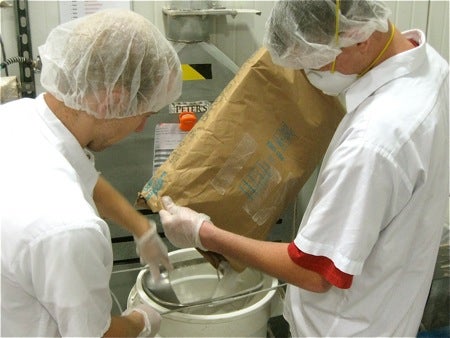 Peter and Travis weigh sugar into a bucket, sifting it through a strainer to make sure it's lump-free.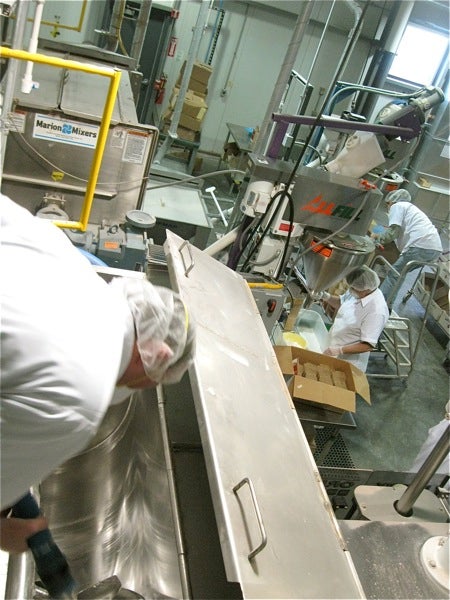 While Peter and A.J. measure and weigh, Jered Condon gets the mixer ready, vacuuming out all traces of any previous mixes.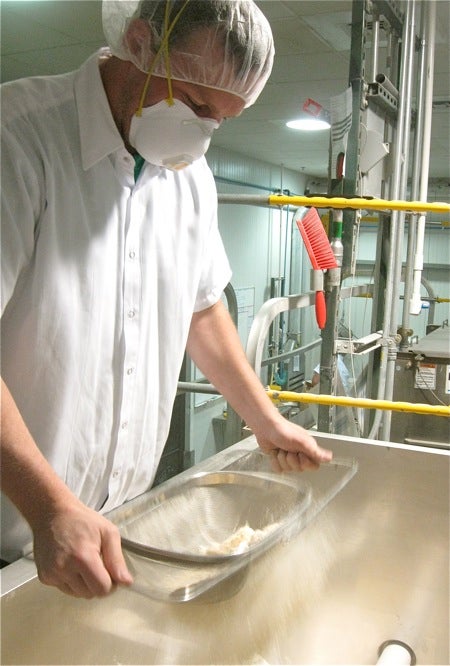 Jered puts all the cookie dough ingredients into the mixer. Here he's sifting superfine brown sugar. Again - we want to make sure your mix is absolutely perfect, which means no lumps.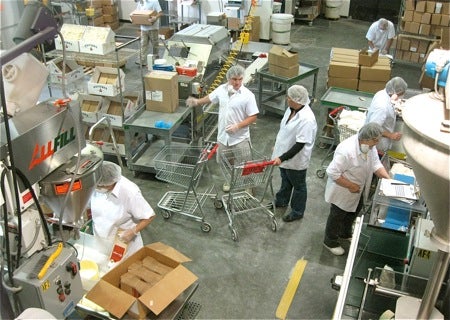 Jered has a bird's-eye view of the manufacturing area from his perch up above.
Once the mix's dry ingredients are thoroughly combined, they funnel into a hopper, which then fills bags, one by one.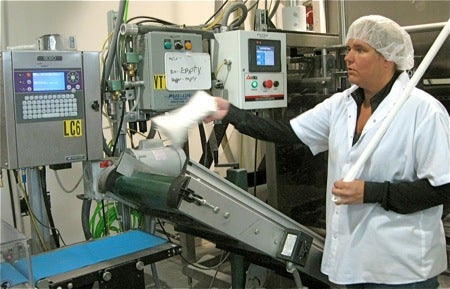 Martha Marchetti grabs one of the filled bags and moves it to the next process–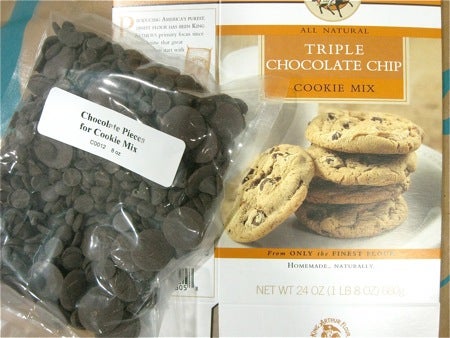 Packaging. A bag of chocolate chips and chunks and a bag of dry mix need to go into this box.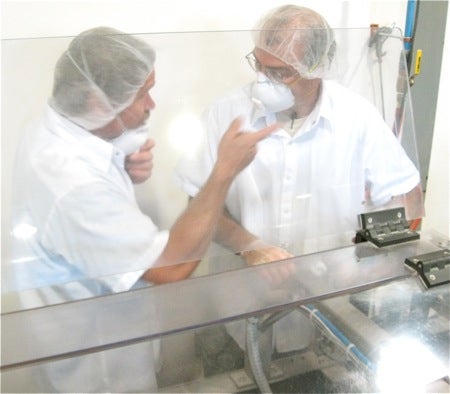 The day I photographed this process, the team was trying something new with their equipment. Here Woody Woodsworth and Dan Krawiec discuss what might go wrong. Looks like a surgical consultation before a major operation, doesn't it?
Success! It's working just like it's supposed to.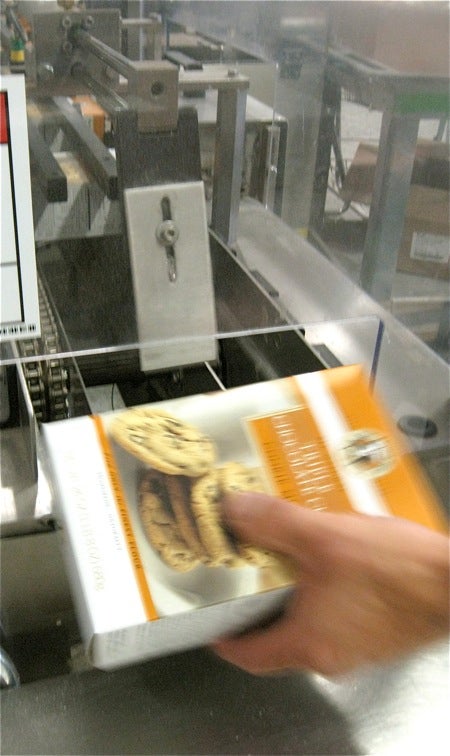 Woody grabs each box as it comes off the line, checking to make sure it's in perfect condition: no rips, no scrapes, no crumpled corners.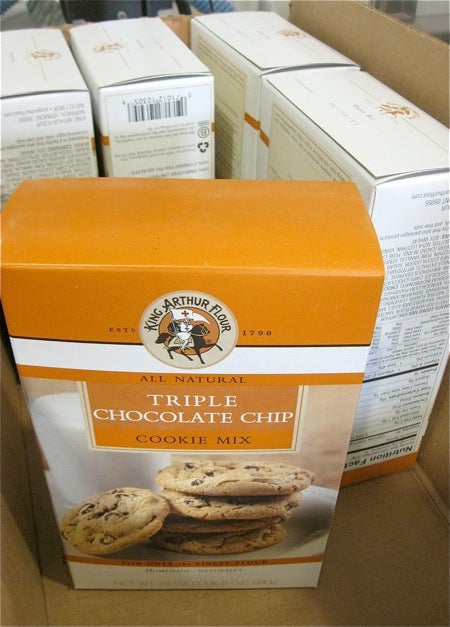 Mixes are inserted into boxes...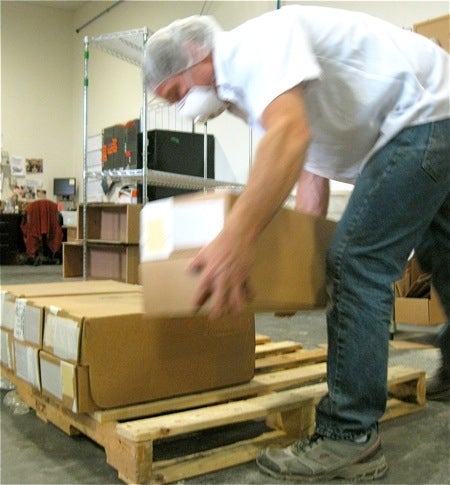 ...and Woody and Dan stack the boxes on pallets. When the pallet's full, it'll be handed over to the restock team, which will load it onto its designated shelf in the fulfillment area.
We're almost ready to start selling this batch of chocolate chip cookie mixes. But first, it has to undergo one last test – it's most important one yet.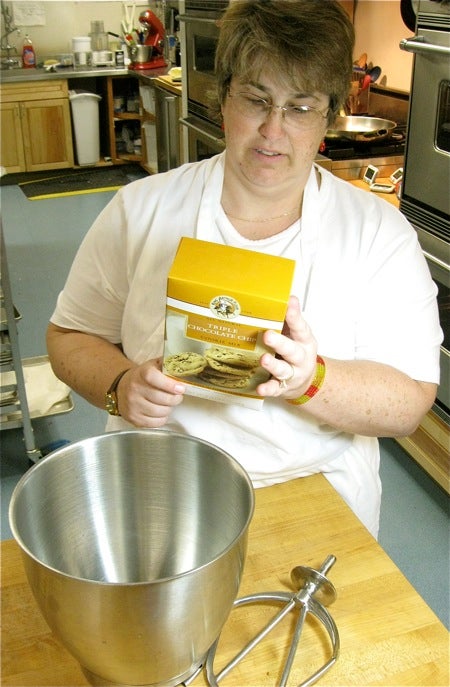 Does it work? Does it taste good?
MaryJane, my fellow blogger and test baker, walks through the customer experience.
"OK, I just got this mix. What do I do? Are the directions clear? Does it come together like it says it will?"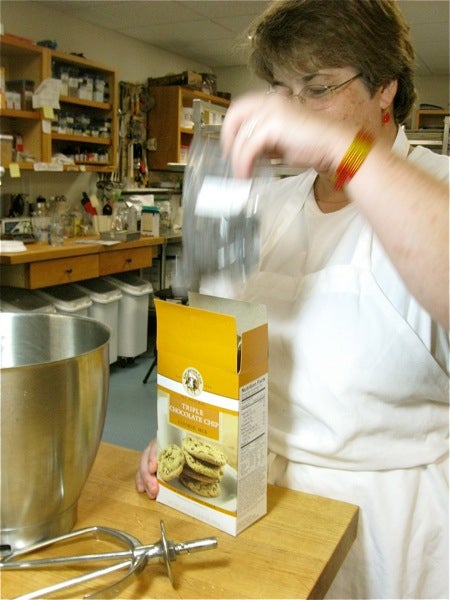 Let's find out.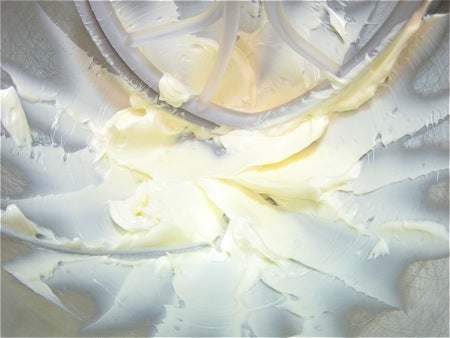 First step: beat 10 tablespoons of butter till soft.
Next, beat in half the cookie mix.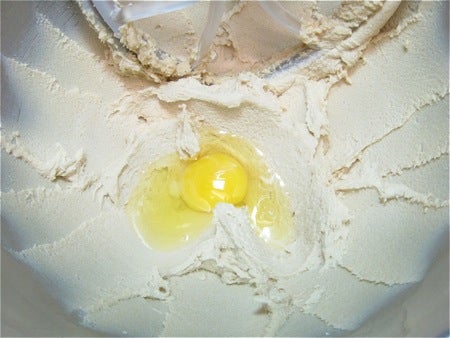 Beat in 1 egg...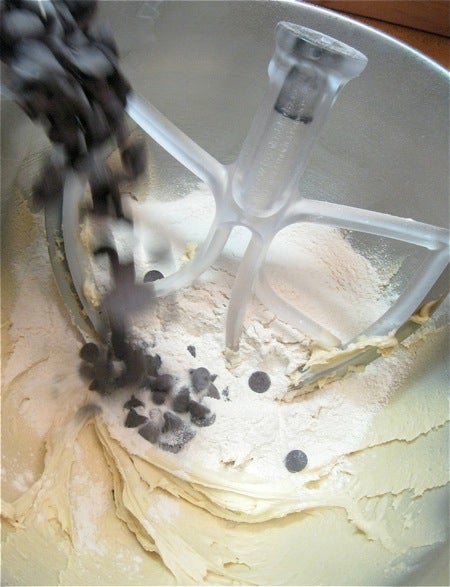 ...then the rest of the cookie mix, and the chips and chunks.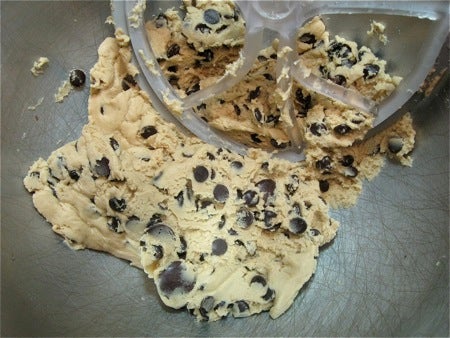 LOTS of chips and chunks!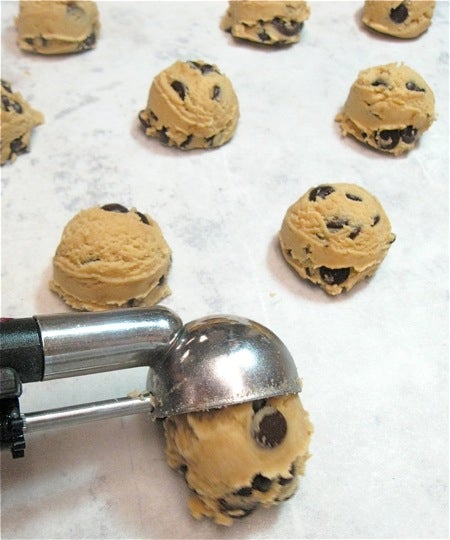 Drop balls of dough onto baking sheets. A tablespoon cookie scoop works well here.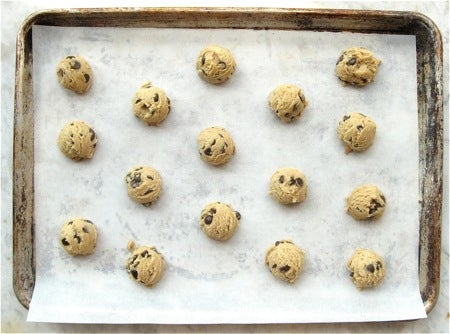 Perfect! Ready to go into a 375°F oven.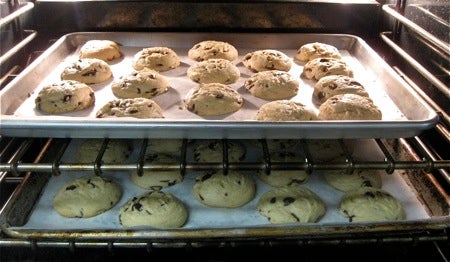 Bake the cookies for about 10 minutes...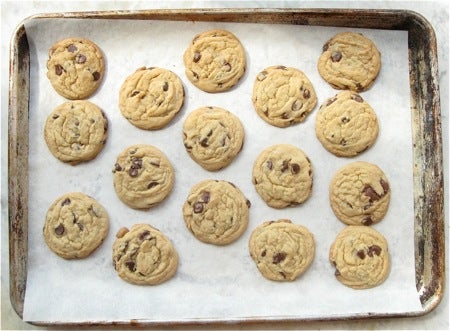 ...and there you have it. Totally awesome chocolate chip cookies.
MaryJane pronounces the mix good to go, and it gets the green light: we're ready to take orders.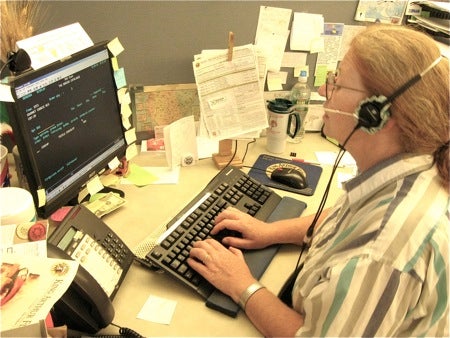 Carol Colby, a long-time member of our customer service team, takes a phone order.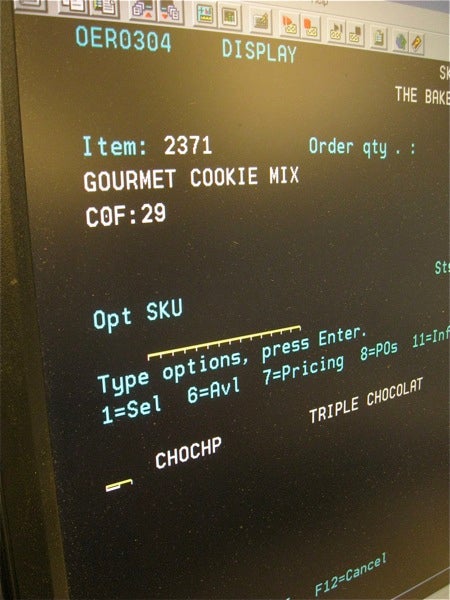 One Triple Chocolate Chip Cookie Mix - check!
The order is transmitted downstairs to the fulfillment area...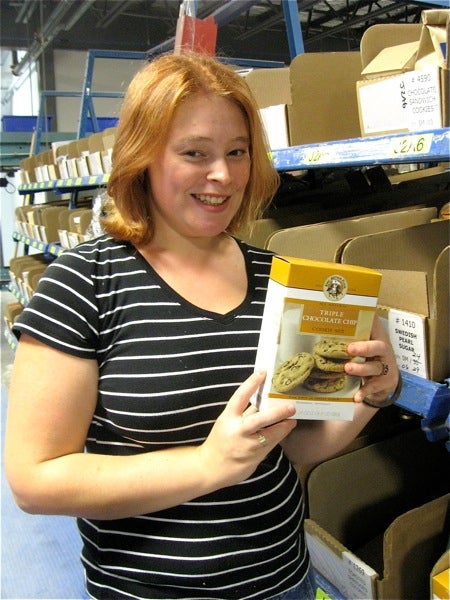 ...and Danielle Wheeler, a member of our pick-pack team, grabs it off the shelf.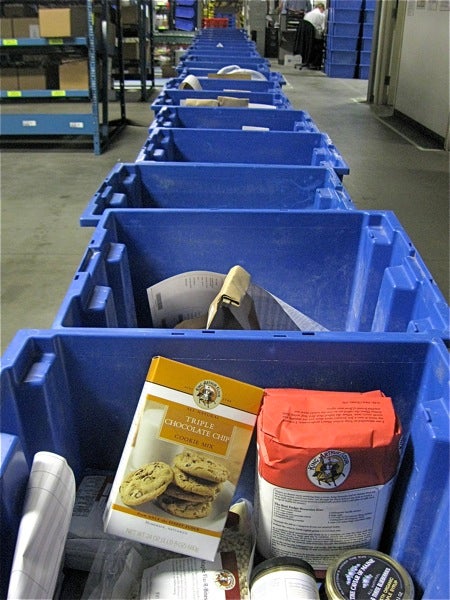 The mix goes into a bin. The bin goes onto a conveyor...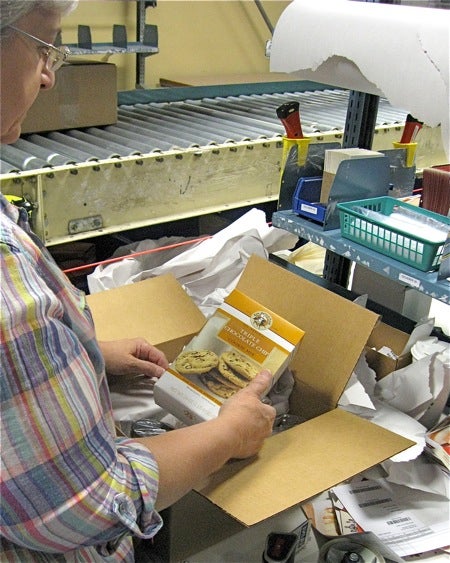 ...and Sue Bowen, a long-time member of our fulfillment team, carefully packs it into a box.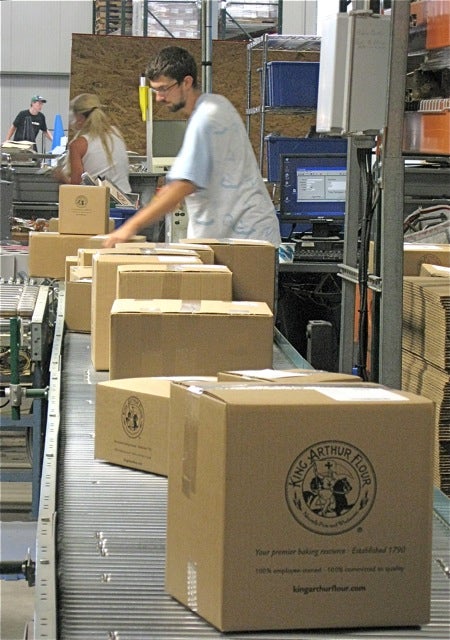 Back onto the conveyor belt...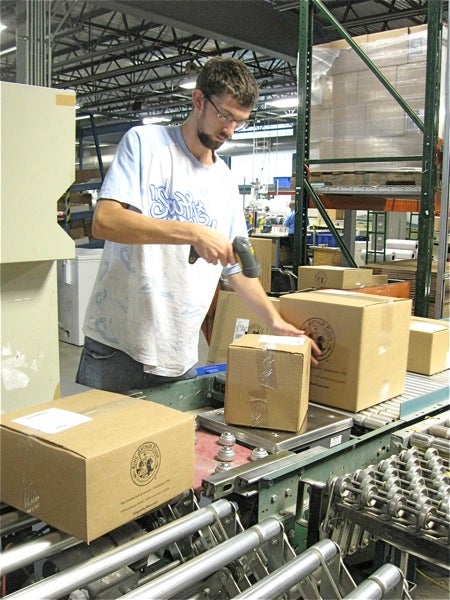 ...where it gets its tracking scan. Justin Shepard is the last person to handle your package before it goes onto the UPS trailer.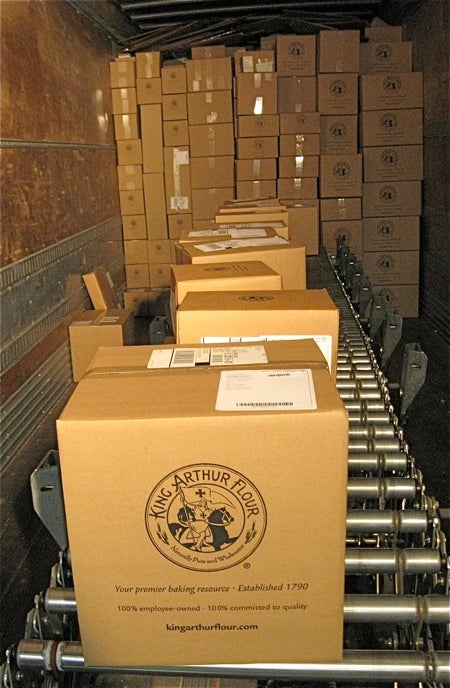 The conveyor belt goes right into the trailer. At the end of the day (or when the trailer's full)...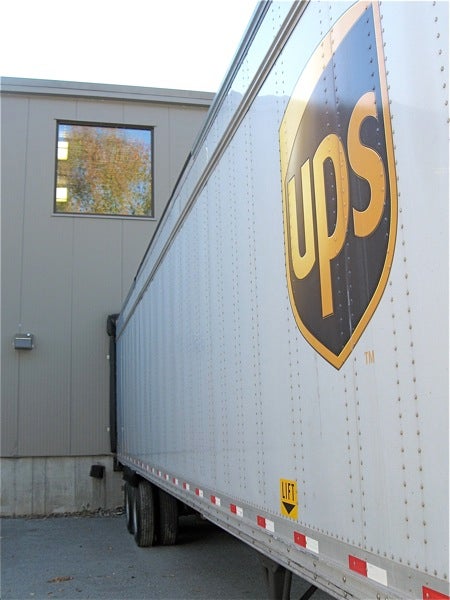 ...a UPS driver will come hook it up and drive it away.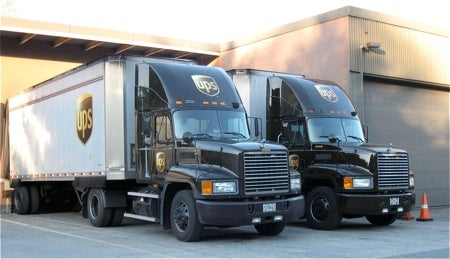 Luckily, one of UPS's regional centers is just about a block away from us. So the trailer doesn't have far to travel. Once it's unloaded at UPS, your package goes through a "geographical sorter," and is then placed on a truck for delivery to its next location.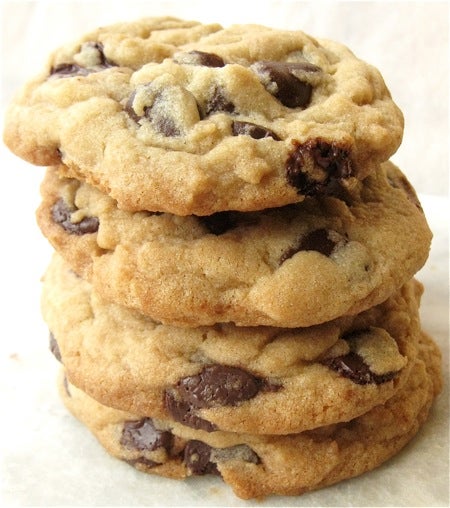 Your kitchen!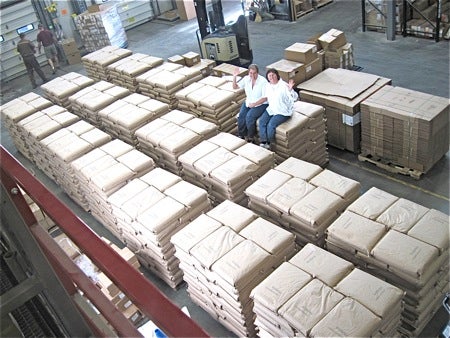 Meanwhile, back at King Arthur, Martha Marchetti and Barb Dyke have just supervised the delivery and unloading of more flour.
Make that 19 pallets' worth of flour.
Did we mention it's all about the flour?
Want to find out for yourself just how good our mixes our? Start with our Triple Chocolate Chip Cookie Mix.
Did you know that when you buy 5 or more King Arthur mixes, you'll automatically save 15% on those mixes?
And, did you know that we offer over 150 mixes?
Not a mix baker, you say? Trust me, all of us King Arthur test bakers keep a couple of mixes in our pantry, "just in case" – guests drop by unexpectedly, or we run out of baking powder, or chocolate chips, or time... The holiday's are coming. Now's the time to find out just how handy a King Arthur mix can be!