It was 20 years ago this month I moved from Maine to New Hampshire, found a job at King Arthur Flour across the river in Vermont... and discovered the best company in the world.
Frank and Brinna Sands owned King Arthur Flour back in 1990, when I arrived. Frank's family had been involved with the business since the early 1800s; generations of Sands men had sold King Arthur Flour, headed the company as president or, from 1932 to 1996, owned it outright.
In 1996, without a next generation of Sands family to take over, Frank and Brinna sold the company to the employees. King Arthur is now 100% employee-owned.
Over the years, King Arthur has transitioned from a small New England business to one of the nation's top flour companies. We're equally proud of our flour, our customer service – and our status as the #1 educator of home bakers in the world. We've taught hundreds of thousands of people to bake – including tens of thousands of middle-school students, who'll share their skills with the next generation.
It's a great legacy, and one we're very proud of.
So what does all of this have to do with chocolate cake?
My first job at King Arthur, all those years ago, was to rent a U-Haul truck, drive to the printing company in the next town, pick up thousands of cookbooks, and bring them to the post office to mail.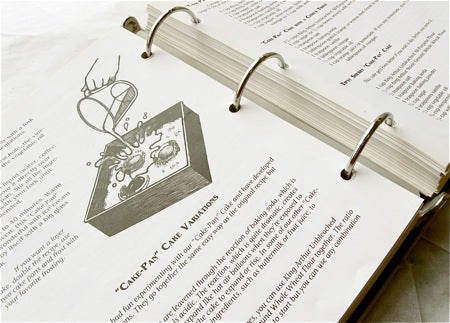 The book was "The King Arthur Flour 200th Anniversary Cookbook," which Brinna had worked on for years before finally seeing it come to fruition in September, 1990. This 600+-page book, in its three-ring binder, was a real heavyweight: literally! Luckily, some of the guys at the press helped with the loading, and the initial press run of 10,000 books was soon on its way to customers who'd pre-purchased it from ads on the sides of King Arthur Flour bags.
Several years later, we got out of the self-publishing business, and turned the book over to Countryman Press, a couple of towns away in Woodstock, Vermont. Countryman immediately transformed the book into a softcover, which has sold nearly 300,000 copies.
But a funny thing happened - people kept requesting the original three-ring binder version. And for good reason: it lies flat on the counter as you follow a recipe. And chapter tabs make it easy to turn to exactly the recipes you want.
So, in honor of the book's 20th anniversary, we've reissued it in its original three-ring-binder format. The Original King Arthur Flour 200th Anniversary Cookbook is now for sale on our Web site. And, for each of the first 2,000 books sold from our site, we've decided to donate $5 to The Family Place, here in our hometown of Norwich. This parent-child center offers young parents the skills they need to care for their children – including cooking. And baking.
All right, already! What about the chocolate cake?
It's one of my all-time favorite recipes in the book. This simple stir-together Cake-Pan Cake is ridiculously rich-tasting; super-dark, and so moist it doesn't even need icing.
Ready? Let's get baking.
Preheat your oven to 350°F.
Grease a 9" round cake pan or 8" square pan with sides at least 2" high. If your pan isn't 2" deep, choose a 9" square pan.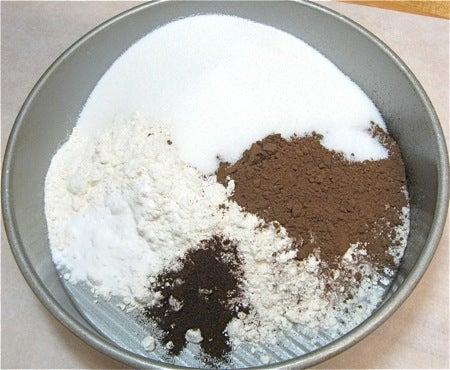 Put the following right into the pan:
1 1/2 cups (6 1/4 ounces) King Arthur Unbleached All-Purpose Flour
1 cup sugar
1/4 cup cocoa
1/2 teaspoon salt
1 teaspoon baking soda
1/2 teaspoon espresso powder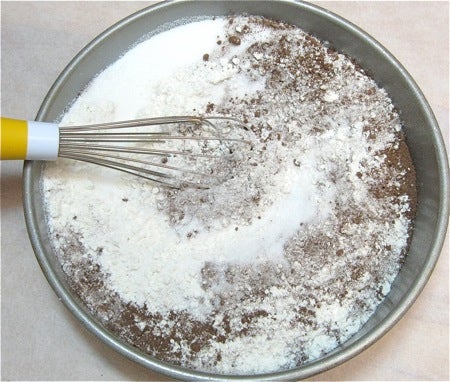 Mix these dry ingredients thoroughly with a whisk or fork.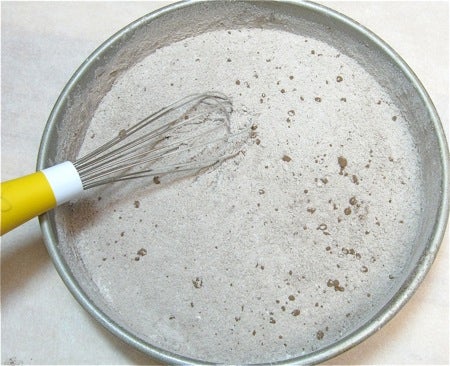 Like this.
See those little dark bits? They're little lumps of cocoa. If you worry about stuff like this (I tend not to worry), you can actually sift the dry ingredients into the pan, rather than just dump them in. Sifting will take care of any lumps, as well as mixing the ingredients about halfway; you'll still need to whisk, but not as much.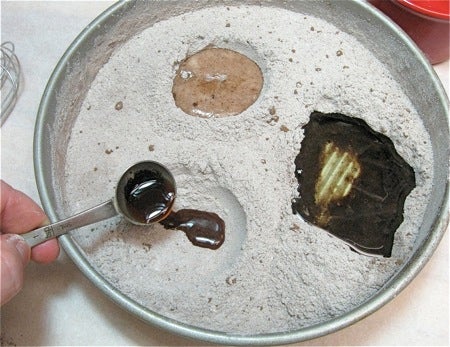 Next, you're going to make three wells in the dry ingredients. Put the following ingredients into the three wells, one in each:
1 teaspoon vanilla
1 tablespoon vinegar
1/3 cup vegetable oil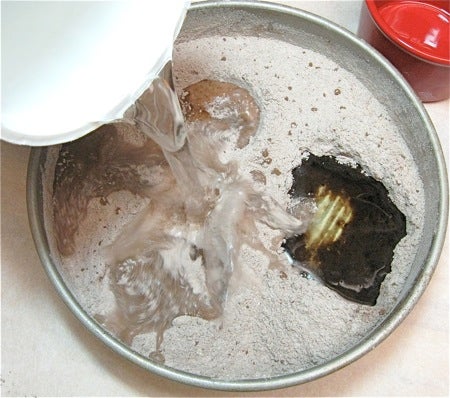 Pour 1 cup cold water over all.
The original recipe called for "1 cup cold water (original recipe), coffee (next inspiration), milk (later inspiration), or 3/4 cup water and 1/4 cup rum (latest inspiration)." If you use espresso powder, as we do here, adding coffee will make this a mocha cake.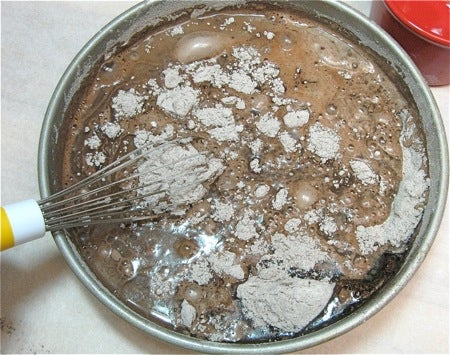 Stir all the ingredients together with a whisk or fork until well blended.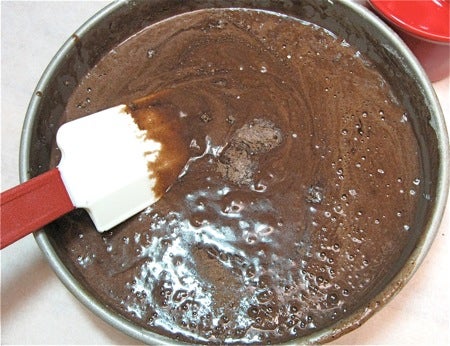 Switch to a spatula at the end, to incorporate any dry ingredients in the bottom of the pan, especially around the edges.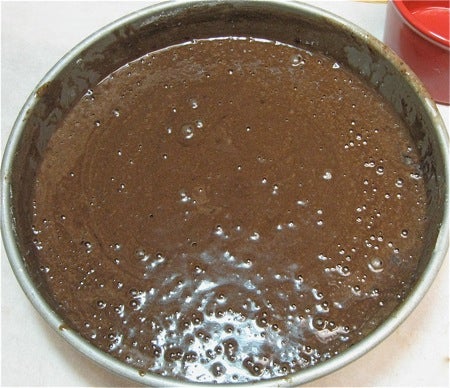 A bit messy looking, but no worries.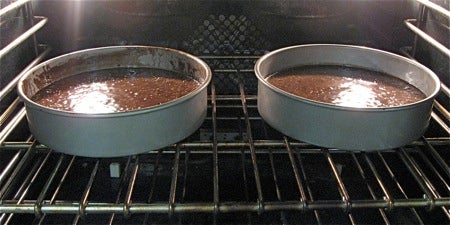 Bake the cake for 30 to 35 minutes, until the top feels set, and a toothpick or cake tester inserted into the center comes out moist, but clean of any crumbs.
Wait a sec – what's with the two cakes? I thought this recipe made one cake...
Indeed it does. But I was doing an experiment – the results of which you'll see below.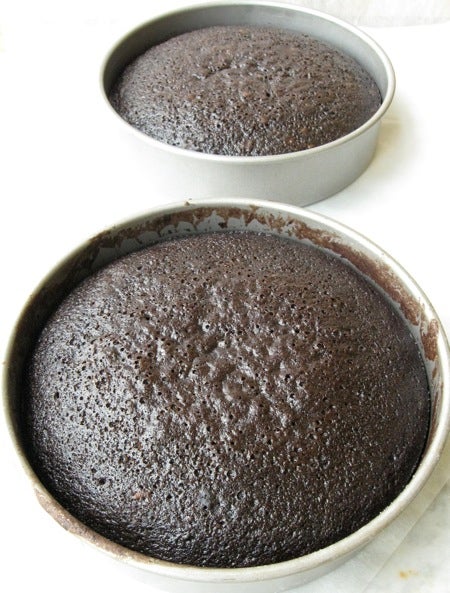 Perfectly baked in 33 minutes.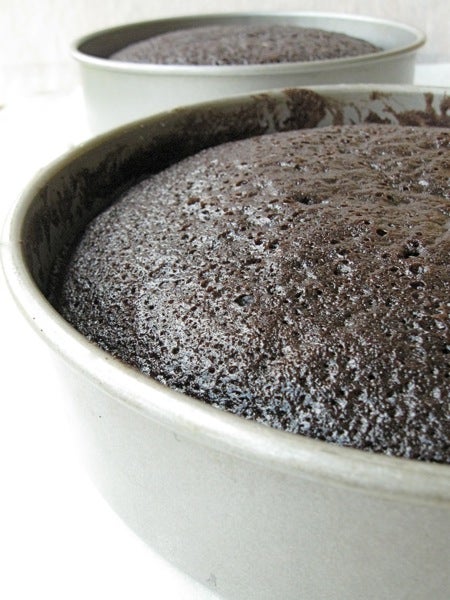 Oh, boy... It's tempting to just dig in, isn't it?
As the directions in our 200th Anniversary Cookbook say, "Warm from the oven, this Cake-Pan Cake is wonderful with ice cream or just by itself with a big glass of milk."
So, this was the experiment: Could I turn a Cake-Pan Cake out of the pan intact?
All the time I was mixing the cake in the pan, I was thinking, hmmm, this has the potential to mess up that thin layer of vegetable oil spray I spritzed in the bottom.
So, just in case, I'm going to mix up another Cake-Pan Cake in a bowl, then pour the batter into the greased pan.
THAT was the second cake you saw in the oven.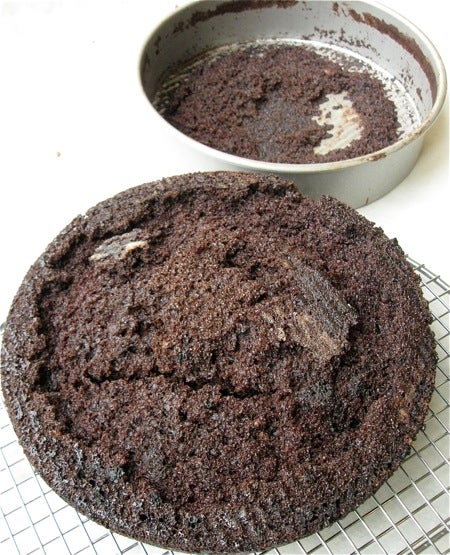 OUCH! The cake whose batter was mixed in the pan is suitable for eating right out of the pan, as the instructions say. Don't try to turn this cake out onto a rack.
The cake I made by mixing the batter in a bowl, and pouring into the pan, turned out onto a rack just fine. So, use this second method if you want to make a double-layer cake with icing.
Now, what to do with that somewhat crumbled cake?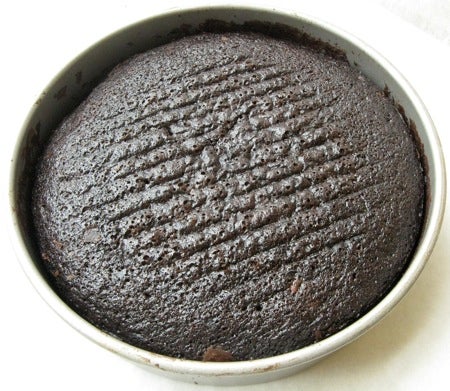 Just stick it back in the pan, and no one will be the wiser!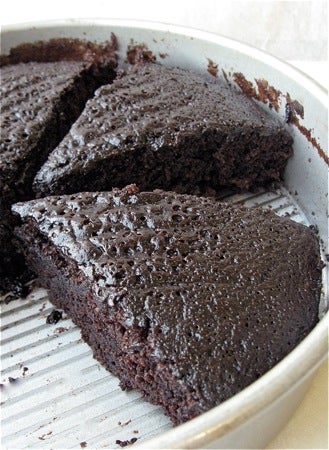 Lesson learned: if you've mixed in the pan, SERVE from the pan.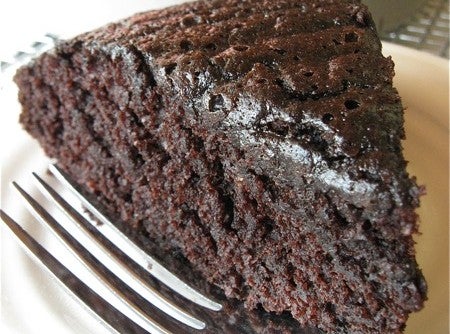 Is that moist, or what? I took this picture 3 days after I'd made the cake, and it was still incredibly soft and moist. This cake is a GREAT traveler.
Read, rate, and review (please) our recipe for Cake-Pan Cake.