As the weather cools here in New England, I start to think about hot tea, hot cocoa, and all the warm fall drinks I enjoy while sitting on the deck.  I love a good Vermont Steamer (hot milk and maple syrup) in the morning and a rich hot chocolate in the evening.
What makes each sip even better is when I have a sweet little treat to nibble on, just warm from the oven.  Our Maple Walnut Brownies are soft and meltingly good, heady with maple and nuts.  Mystery Cake is another fall favorite, spicy with cinnamon and clove to pair with your favorite tea.
While the brownies are homey, and the cake is fun, when I'm feeling romantic and Victorian, I make these Frangipane Cherry Tarts. Frangipane (fran-gee-pahn) is a rich almond filling that can be served baked solo in a tart crust, or mixed with fruits to make delightful fillings.
Crisp on top with a creamy center, frangipane is one of the classics of pastry making but little used outside of bakeries. Once you learn how to make it though, you'll find yourself turning to it's intense almond flavor and creaminess again and again.
These tarts also feature fresh cherries. Cherry and almond together are a taste sensation, and the deep red color of the fruit echoes the reds of the fall leaves as they turn sections of the valley to bright flame.
Let's make Frangipane Cherry Tarts: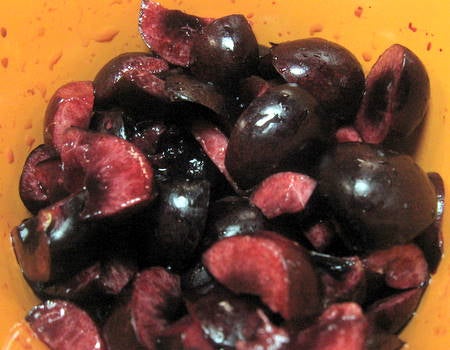 Roughly chop your cherries and check for pits. Place them in a microwave safe bowl and add the liquor or juice. Cover and microwave for 30 seconds. Set aside to cool as you make the batter.
Now is a good time to preheat the oven to 350°F and grease a pop up tart pan, or standard muffin tin.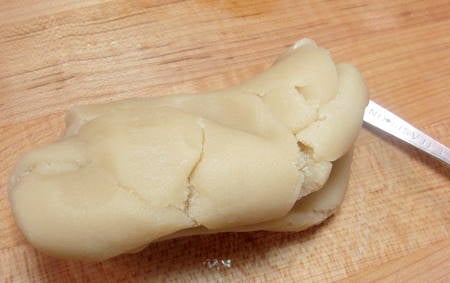 What  looks like Play-doh, but is so much tastier? Almond paste is less sweet than marzipan, it's easy to knead and break into pieces for adding to your recipes.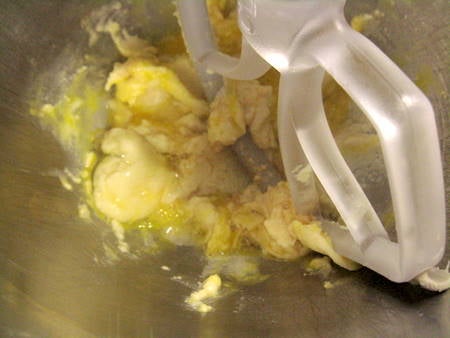 Cream the butter and almond paste with the sugar until light and fluffy with no lumps, then add the egg yolks.  Then beat in the vanilla.
On low speed, mix in the flour and almond flour. You don't want to incorporate lots of air, so stick to a lower speed until the mixture is well combined.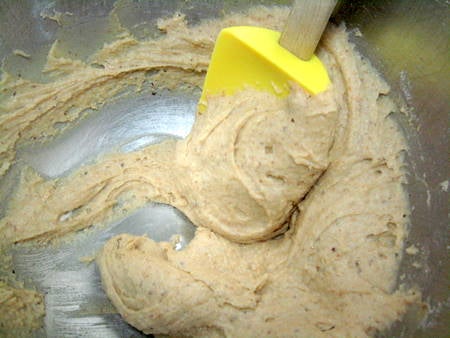 The mixture should be thick, like cake batter and slightly grainy from the nut flour. For almond lovers, it will hard to keep from eating it by the spoonful.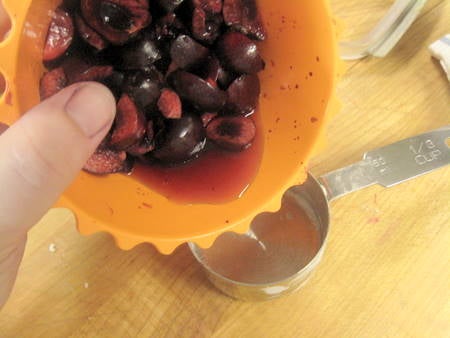 Drain the excess liquid from the cherries and gently fold them into the batter by hand.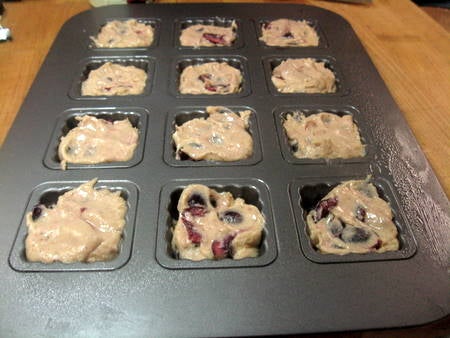 Fill the wells of your pan right to the brim. These tartlettes don't rise so much as puff, so you shouldn't have over-spill.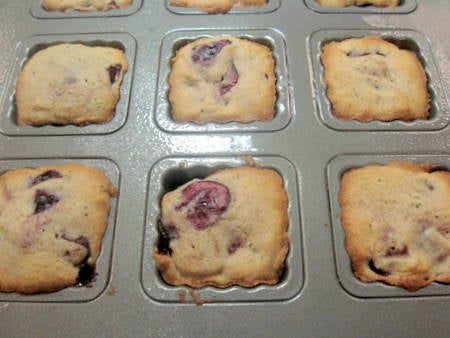 Bake until the edges are light golden brown and the centers are puffed and set. You want the centers to still be soft and tender inside so don't overbake.
Cool the tarts in the pans for 5 to 8 minutes then remove to a wire rack to cool completely.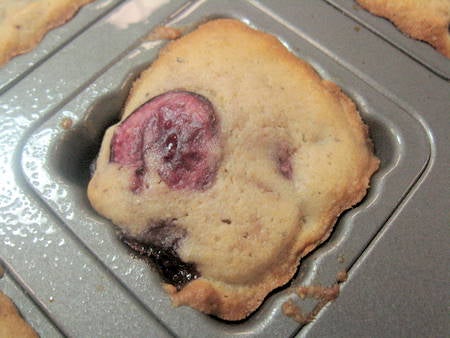 Mmmm, warm cherry almond goodness.
If you are using muffin tins, take a minute to spread the batter out with your finger. The thick batter doesn't spread much during baking so you want to fill all the pan with batter.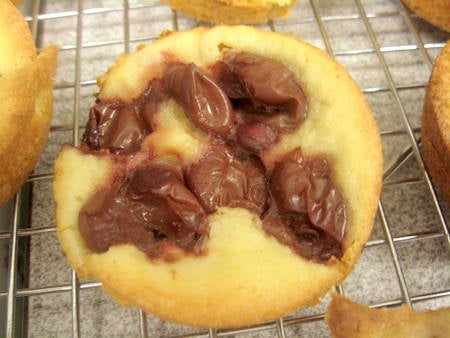 If you are wondering, yes, you can use canned cherries. The color isn't a lovely and deep red but it can be done.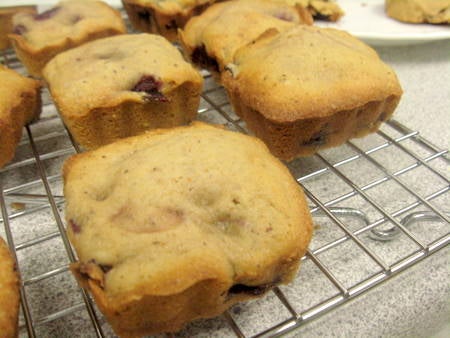 These tarts can be served warm, or at room temperature. They are delicious as is or you can dust with confectioners' sugar to dress them up a bit. The contrast of crisp outer edges with the creamy, soft, melt-away middle is divine, it's hard to eat just one. Good thing the recipe makes several!
Please bake, rate and review our recipe for Frangipane Cherry Tarts.