Every year King Arthur Flour sponsors baking contests across the nation at county and state fairs; this year the list tops out at about 70! The fair activity peaks in August and September, which means we spend a lot of time during those months sending prizes and receiving lists of winners accompanied by photos and interesting stories.
My job here at King Arthur Flour involves planning and executing all of the baking contests. At the beginning of August, I took a trip out to the Ohio State Fair. WOW! The Ohio State Fair is the largest fair I have ever visited. It stretches across a major thoroughfare, and the parking lot is filled with cars as far as the eye can see; shuttles are available to transport fair-goers to the entrance.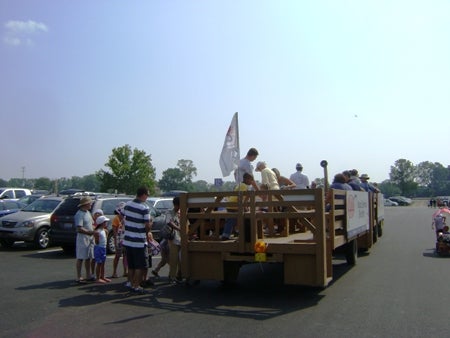 Monday, August 2, was Family Day.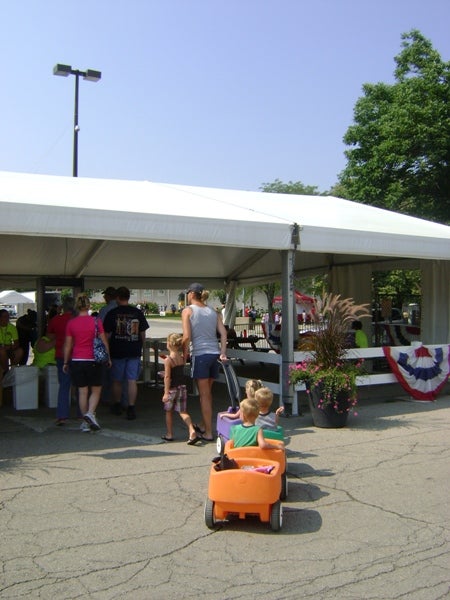 My 24-hour stay in Columbus included making  personal connections with the contestants and the folks behind the contest scenes; spreading the word about our Traveling Baking Demos, heading to Ohio in October; and taking lots of photos for our blog!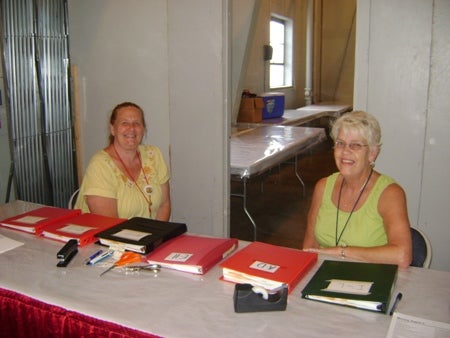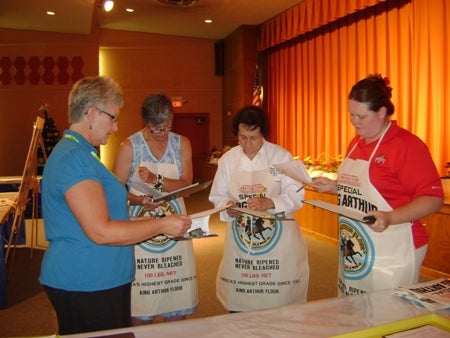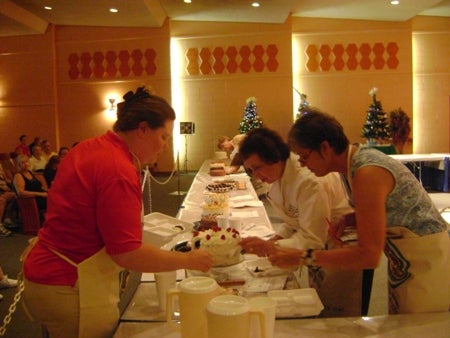 A look behind the scenes. The judges focus on taste, texture, and appearance as they examine and taste each cake.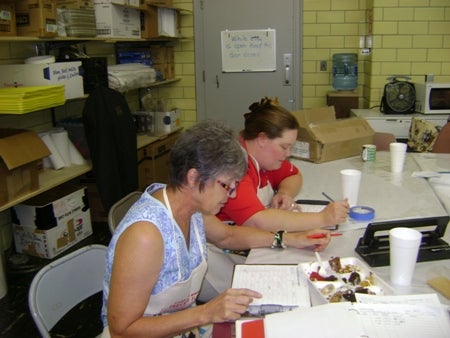 I announced the winners.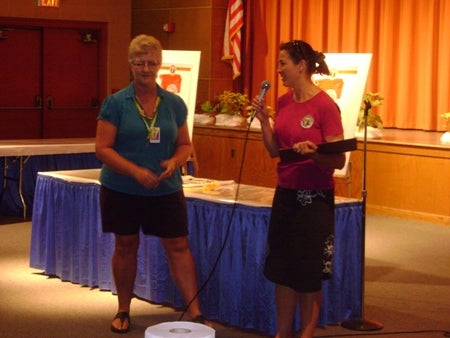 Third place went to Catherine Blackwood for her decadent German Chocolate Cake.
Second place was awarded to Amy Kent for her gorgeous Razzy Chocolate Coconut Cake.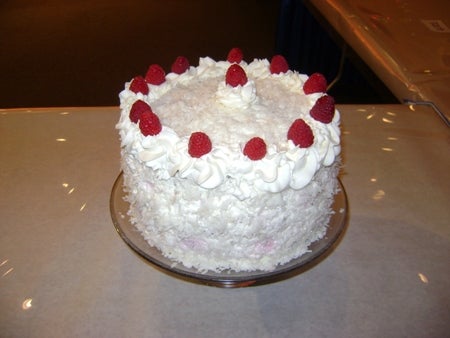 And the blue ribbon went to Jody Benton of Ashland, Ohio, for her delicious Grandma Eikenbary's Carrot Cake.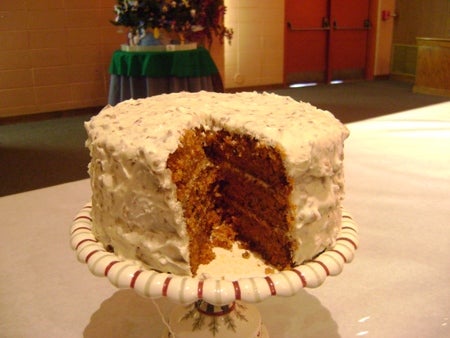 A flow of happy tears ensued when Jody heard her name. Jody was so proud; here she is holding her blue ribbon behind the winning cake.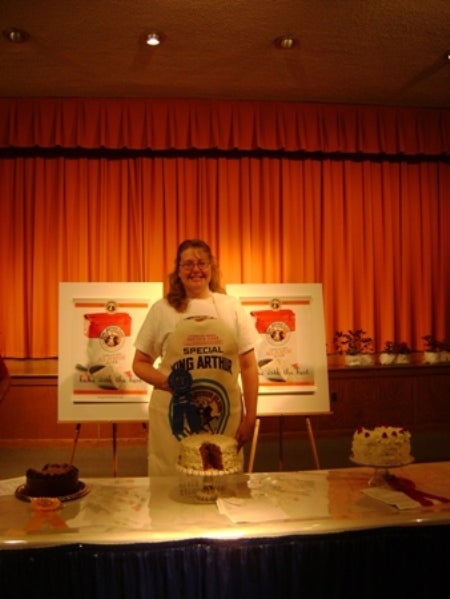 Jody was accompanied by her husband and their youngest daughter, a baker herself.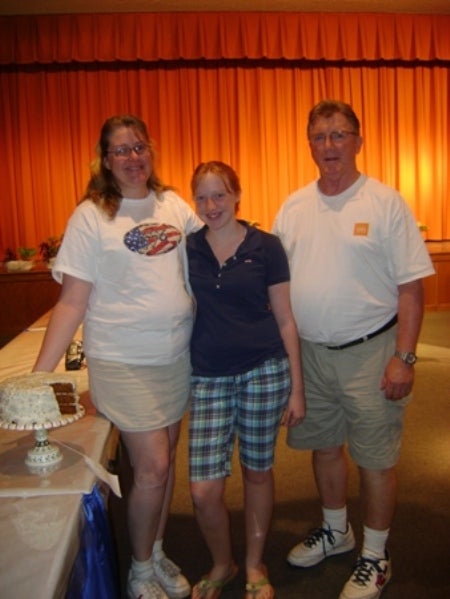 NBC Channel 4, Columbus, had slated 2 minutes live with the winner of the Great Cake Contest to air on the evening news.  I was encouraged to participate in the segment; a chance to be discovered!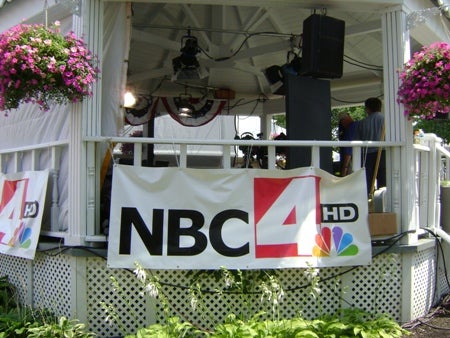 Colleen Marshall, the NBC evening anchor, was wonderful. Jody and her daughter did a fabulous job remaining calm and focused during the interview. I stood by their sides proudly displaying my King Arthur Flour logo - alas, no calls from Hollywood... yet.
The Great Cake Contest takes place at 15 different fairs from Pennsylvania to California. Of the 15 blue-ribbon winners, one recipe will be selected by the experts in the King Arthur Flour test kitchen for a grand prize: either a $500 King Arthur Flour shopping spree, or a trip to a class at our Baking Education Center in Norwich, Vermont. You had better believe I will taste that carrot cake when it takes its trip around the KAF test kitchen!
One last photo to share. You know you're at a fair in Ohio when...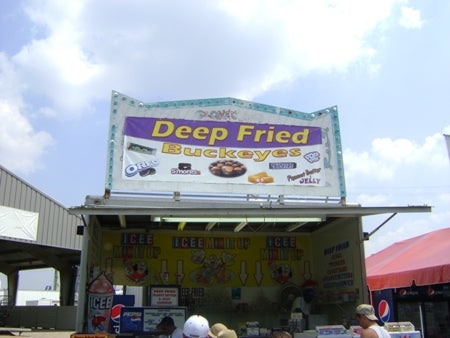 ...deep-fried Buckeyes are on the fairway!
Interested in entering a contest at your favorite local fair? Check out the list of fairs hosting King Arthur Flour baking contests; it may not be too late!