Sweet rolls.
Soft, tender (keep reading), gooey, buttery (keep reading), lick-your-fingers (keep reading), crunchy with nuts (or not) -
...and ready for breakfast in under 45 minutes.
How can that be?
NO YEAST.
No kidding!
When you think sticky buns and cinnamon rolls, you think yeast dough, right? That's the usual path we all take. Yet think of those Doughboy buns you pop out of a can; no yeast in those.
And, remember those cinnamon rolls you made in home ec. class (if you're old enough that you took home ec., while the boys were in shop) - no yeast in those, right?
The secret to super-fast leavening? Baking powder and baking soda, those little white powders bakers simply can't live without.
Yeast, with the long, slow rise it demands, adds inimitable flavor to breads of all kinds. But sometimes it's just not necessary.
Sweet rolls are potentially one of those times. With their over-the-top crown of gooey syrup, a sweet tide that seeps into the interior to meet a spiral of brown sugar, the bread part of these rolls is strictly an afterthought. It's a great base for everything else; but on its own... meh, whatever.
So let's not be yeast purists here. Yeast baking has its place. And I DO love it.
But when I want something sweet and gooey and hot on the table, FAST - baking powder, you rock my world.
The following recipe comes from our Baking Education Center. As employee-owners here at King Arthur Flour, we're invited to take any of the classes offered at our education center, free (so long as there's an opening).
We're also required to take a certain number of classes per year - and that's everyone, from the CEO, to accounting, to forklift drivers.
You work at King Arthur - you learn to bake.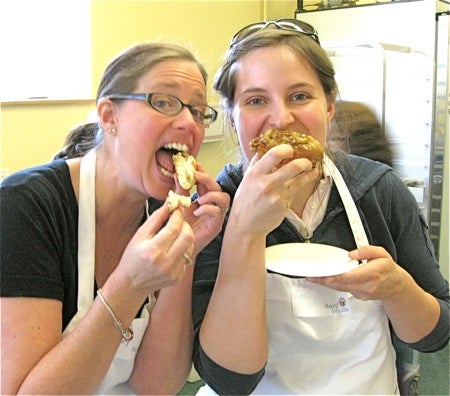 I recently took a class on sweet breakfast breads, and one of the treats we made were these baking powder caramel buns. Here Hillary and Emily  enjoy the "fruits" of our labors... well, more like simple carbs, but heck, that's why we have Weight Watchers on site.
Ready to save yourself some time in the morning? Hankering after a sweet roll that goes from "hmmm..." to "WOW" in under 40 minutes?
Take a class in Quick & Easy Sticky Caramel Buns.
First step: preheat the oven to 400°F. Lightly grease a 9" square pan (first choice, to make absolutely sure the hot syrup doesn't bubble over the sides); or a 9" x 2" round cake pan (which should work fine so long as it's a true 2" deep: not 1 1/2", not 1 3/4").
To make the topping: Combine 1/4 cup melted butter with 1/2 cup brown sugar. Stir to combine.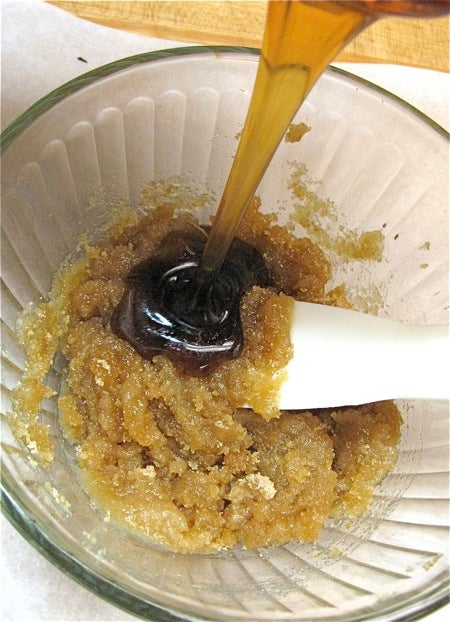 Add 2 tablespoons dark corn syrup or maple syrup.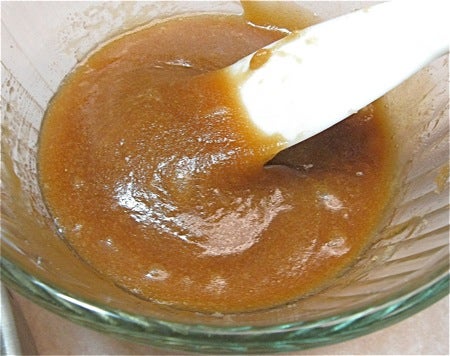 Stir to combine.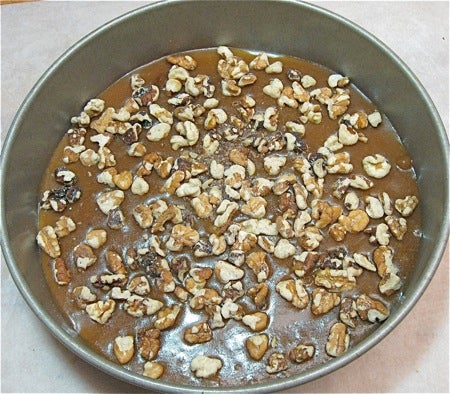 Spread the syrup in the prepared pan, and sprinkle with 1/2 cup coarsely chopped pecans or walnuts.
Can you leave the nuts out? Of course.
Set the pan aside while you make the dough.
Stir together the following:
3 cups (12 3/4 ounces) King Arthur Unbleached All-Purpose Flour
2 tablespoons granulated sugar
1 1/4 teaspoons baking powder
1/2 teaspoon baking soda
1/2 teaspoon salt
Next, warm 1 cup buttermilk just to lukewarm.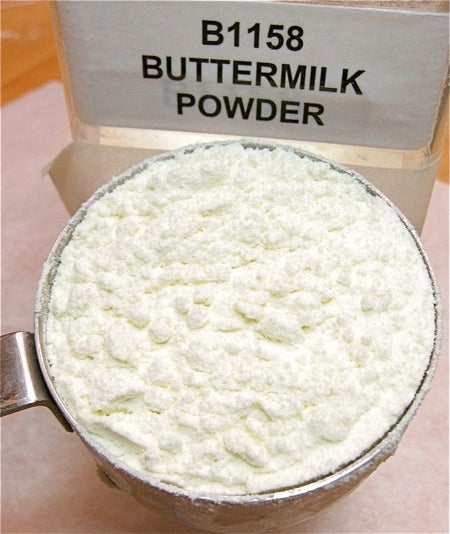 Can you substitute buttermilk powder for fresh buttermilk? Sure. Stir 1/4 cup buttermilk powder into the dry ingredients.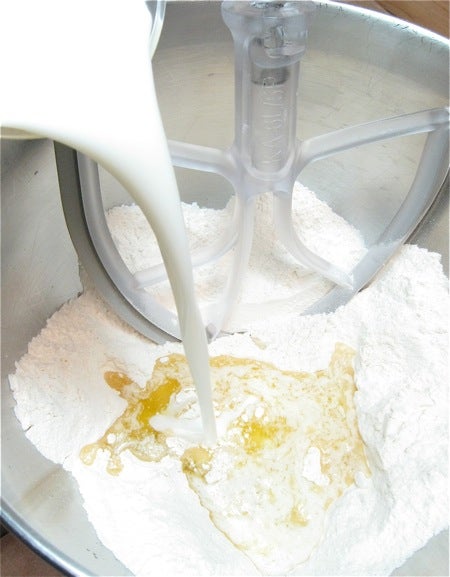 If you're using fresh buttermilk, simply pour it atop the dry ingredients, along with 1/4 cup (4 tablespoons) melted butter. If you've used buttermilk powder, substitute lukewarm water for the fresh buttermilk.
For added flavor, stir in 1/2 teaspoon Buttery Sweet Dough Flavor, or 1 teaspoon vanilla extract.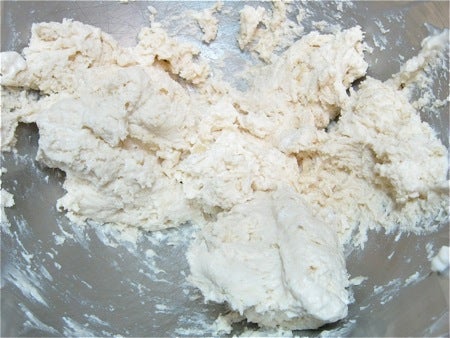 Stir to combine. The dough will look very shaggy.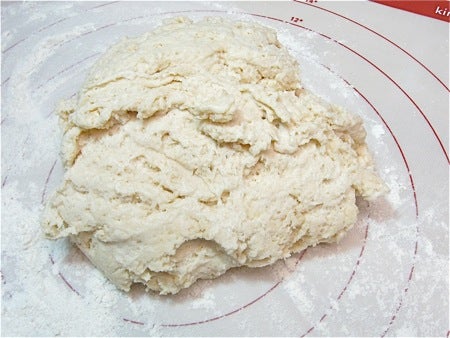 Transfer the dough to a floured surface; a rolling mat works well here. Knead it very briefly, just to smooth it out a bit.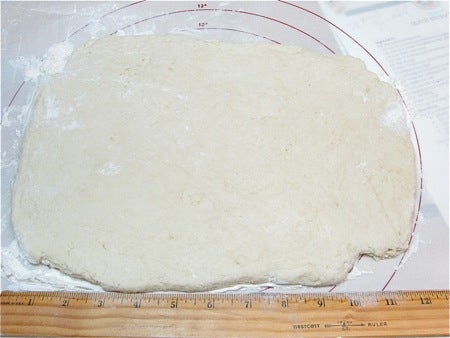 Gently roll the dough into a 9" x 12" rectangle. Eyeball it; don't worry too much.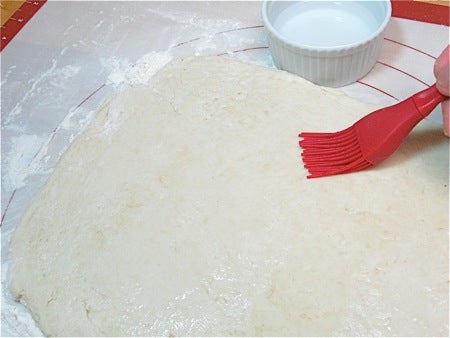 Brush the dough with water...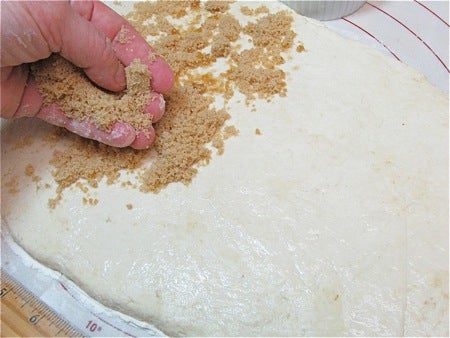 ...and sprinkle with 1/2 cup brown sugar.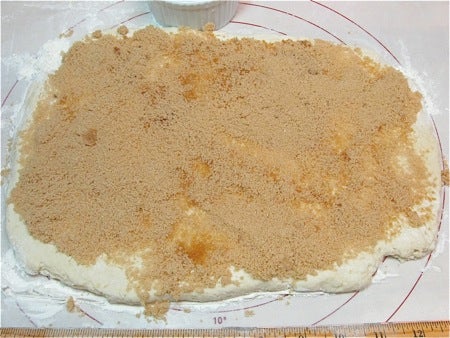 Spread the sugar evenly over the dough.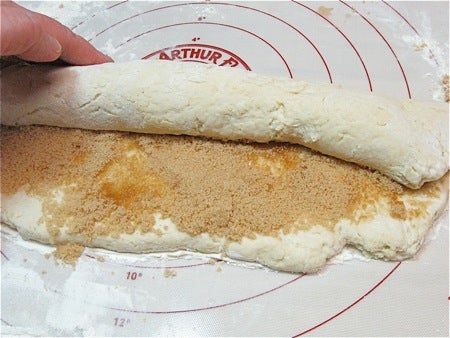 Roll the dough into a log, starting with a longer edge. Pinch the seam closed as well as you can; it'll be a bit messy, with sugar spilling out. That's OK.
Notice there's no cinnamon in these buns. That's why they're caramel buns, not cinnamon rolls.
But hey, no Baking Police - sprinkle the brown sugar with cinnamon, if you like.
How much? Up to you, cassia fan.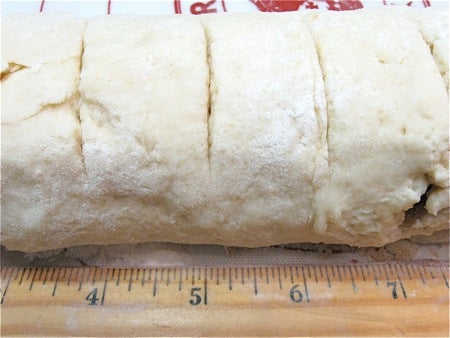 Now, make your life easy by scoring the dough in 1" increments – if you're baking in a 9" round pan.
If you're baking in a 9" square pan, you'll divide the dough into 16 pieces.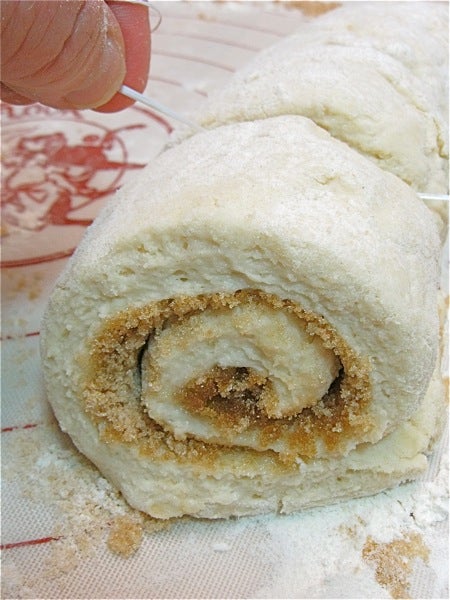 Then use a serrated knife – or a piece of plain dental floss, as I'm doing here – to cut twelve 1" slices.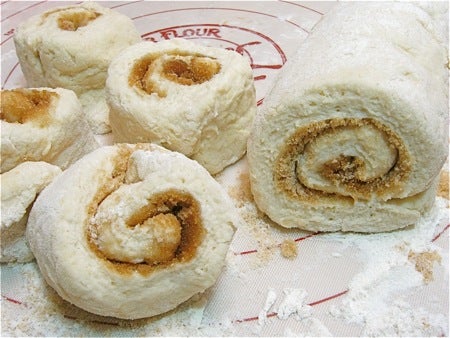 Like this.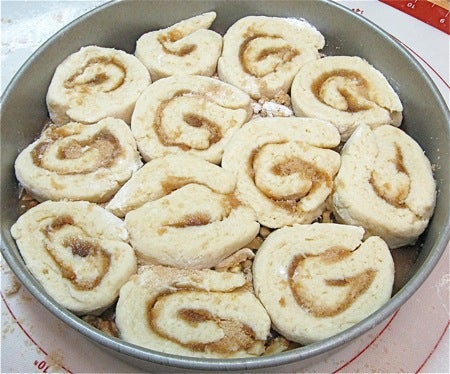 Lay the slices in the prepared pan, atop the topping.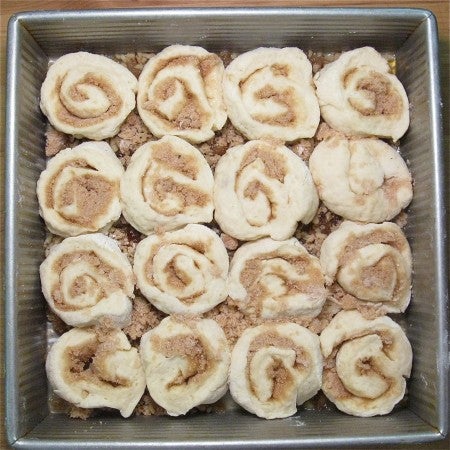 Here they are in a 9" square pan.
OK, here comes the good part – no rising! Stick those buns right into the oven.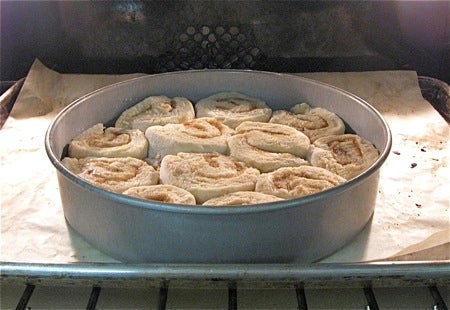 Bake the buns for 26 to 28 minutes...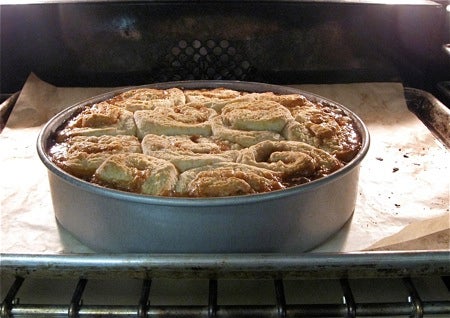 ...until they're golden brown, and the topping is bubbling up around the edges.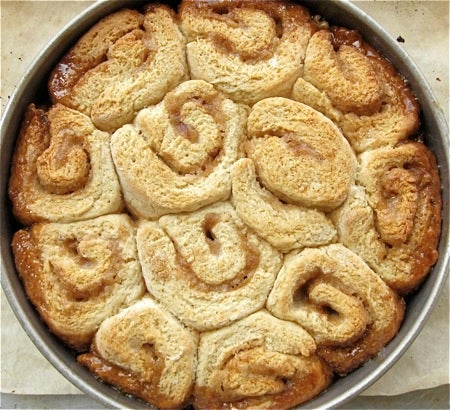 Remove from the oven.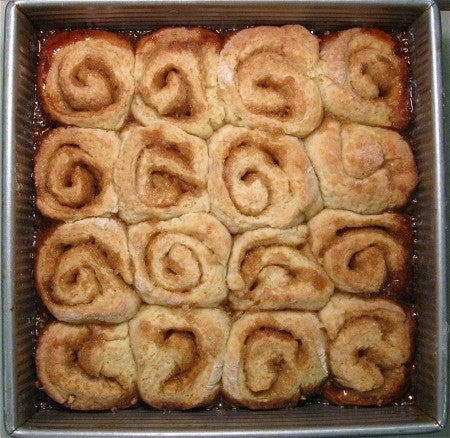 The anticipation builds...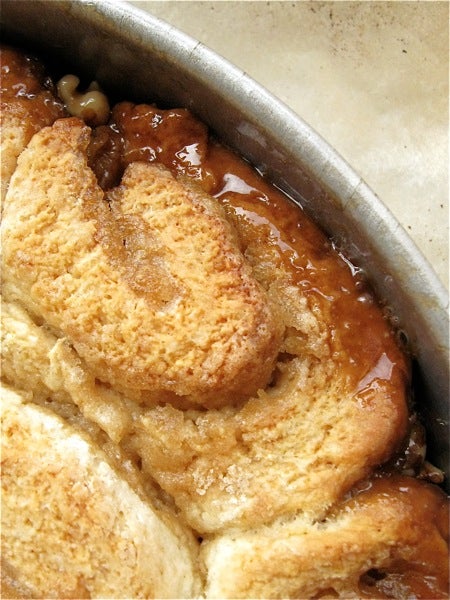 See that hot syrup, bubbling up around the edges? This is going to be GOOD.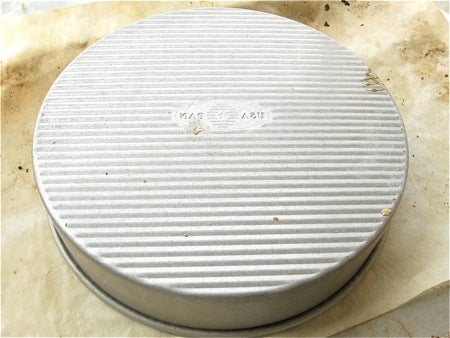 Immediately invert the pan onto a serving plate. Or onto a piece of parchment, as I've done here.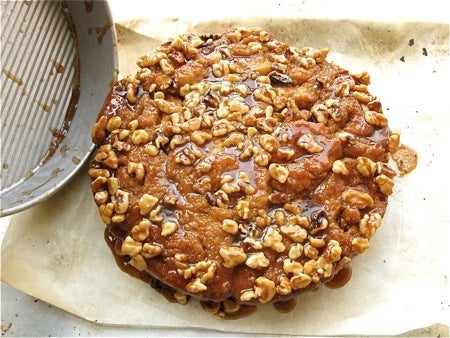 Let the buns sit for about 15 seconds, then remove the pan.
Scrape out any topping that's stuck in the pan, and spread it back onto the buns.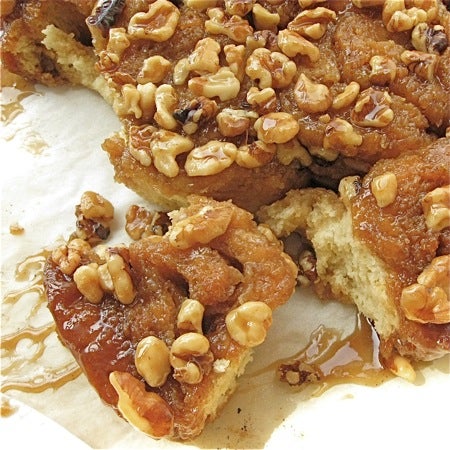 Enjoy warm.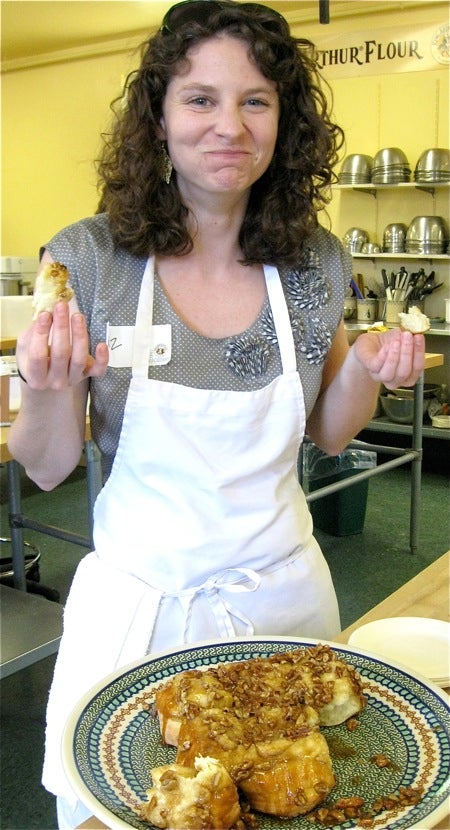 Liz did!
Ah, taking classes, baking, eating – it's SO tough to work here at King Arthur Flour...
Read, rate, and review (please) our recipe for Quick & Easy Sticky Caramel Buns.