This is a story about a wedding. And a very special wedding cake.
One that took two bakers, working at different sites miles apart, to pull off – to perfection.
Interested? Read on.
We'll let the mother of the bride, Dani, tell the saga.
Last January I got a call from my daughter, Kate. She was visiting Israel and Jordan, and called with exciting news:
"Mom, I'm getting married."
A proposal in the romantic setting of ancient Petra led to a plan to have a wedding just 4 months later in New Hampshire, followed by a second wedding in Israel.
The engaged couple carefully planned every aspect of what was a lovely, sincere, and very personal celebration here in Lyme, NH. They considered the feelings and wishes of each family member. One wish – from this mother – was that there be a wedding cake... something they were willing to forgo. Ori, the groom, isn't fond of sweets; Kate's gluten-intolerant.
After visiting a few local bakeries, the bridal couple was even more uncertain. No one in this area was offering gluten-free wedding cake.
To help out, I offered to take the cake "off their plate." I had baked and decorated a wedding cake 20 years earlier for my sister. What I remembered most clearly was a lot of last-minute fussing.
I was worried that while entertaining out-of-town family and helping my daughter get ready for the wedding, there'd be no space on my to-do list for fussing with a cake. I was also worried about baking a gluten-free cake that would be pleasing to the palates and the eyes of 80 guests.
I was worried about making my daughter's dream wedding come true.
Lucky for me, I live near King Arthur Flour, and count PJ Hamel as a friend. After several consultations she gave me the confidence to take this project on. PJ suggested that I bake the cake, find someone to frost and decorate, then I assemble and do the final fresh flower decorations.
In the end there was a beautiful homemade cake, inspired by the vision of my daughter, and decorated by the hand of a talented caked designer, King Arthur baker Susan Reid.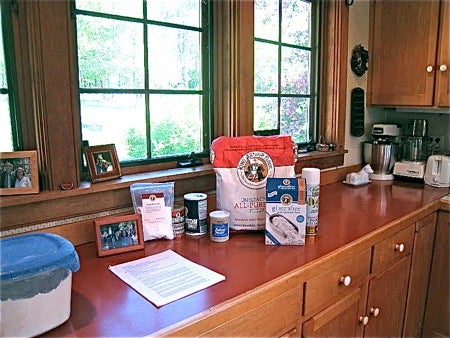 Several weeks before the wedding, Susan sends me detailed directions, with a shopping list of items I need.  She also kindly lends me large base pans for baking.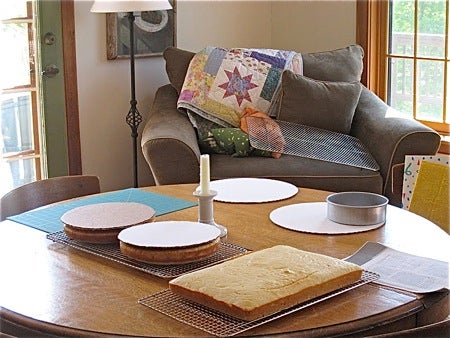 I spend a long day baking cake layers. These are just a few of the 15 layers I ended up baking: side cake, base layers, middle layers, two gluten-free top layers, and extra layers in case something went wrong. Each layer is cooled, placed on cake cardboard, and double-bagged. The bags are carefully labeled "gluten-free" or "Yellow Cake," then put into a zero-degree freezer.
Let me pause and share some of what I learned along the way.
•Take time ahead to try several recipes. Gluten-free baking isn't that hard, but there's a learning curve to get things right.
•The flour mix you use makes a huge difference in texture and flavor. I tried my own flour mix, Bob's Red Mill gluten-free mix, Betty Crocker gluten-free yellow cake mix, and King Arthur gluten-free flour mix. In the end I used the King Arthur flour mix, with a recipe that PJ gave me.
•Be sure your baking powder and vanilla are gluten-free. King Arthur carries Sonoma Syrup Company's Vanilla Bean Crush, which is gluten-free, as is Penzey's vanilla extract.
•Don't grease the side of your baking pans – you get better volume in baking without. Do use parchment paper in the bottom of the pan.
•GF baking doesn't stay fresh for very long. Freeze baked items after they cool; they defrost well and taste fresh. Freezing doesn't seem to seem to affect texture.
•I tend not to wash my dry measure cups. It's easy to forget that you stuck a measure into the flour bin,  and then use it later for sugar. If you're doing regular GF baking, you need to wash everything, every time, after every use. If you're just an occasional GF baker, open fresh ingredients: sugar, baking soda, etc.
Better yet, use the many new mixes on the market. King Arthur has a new line, and I've tried all of them. They're easy to use and delicious; even non-GF guests smile at the yummy baked goods coming from my kitchen.
•Finally, if you're using fresh flowers, order a few ahead of time. It would have helped Susan if she had the exact shade of rose while she was decorating the cake.
In the end, it all worked.
A week before the wedding, all the frozen layers are put in coolers and transported to Susan at King Arthur's test kitchen. Now let's see how Susan decorates those 15 layers.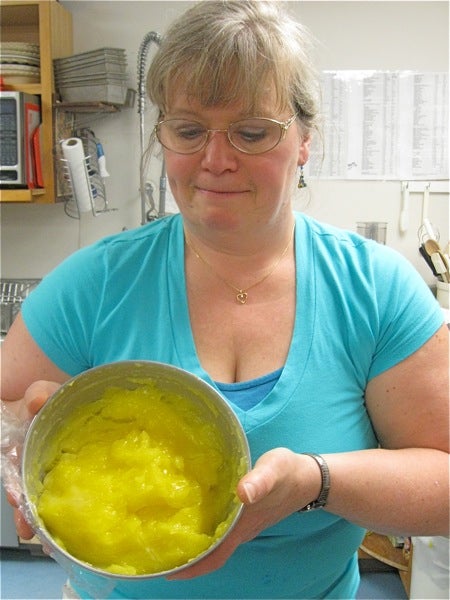 First up: lemon curd filling, made from scratch.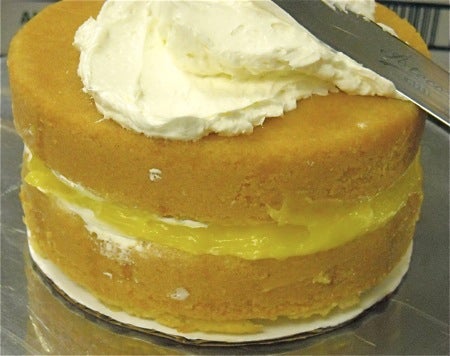 Here's the gluten-free cake, which was the top two layers.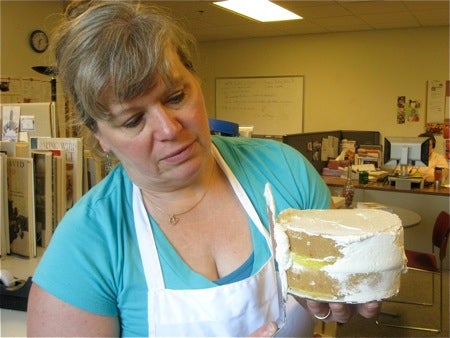 Susan carefully keeps it away from any gluten, using specially washed tools.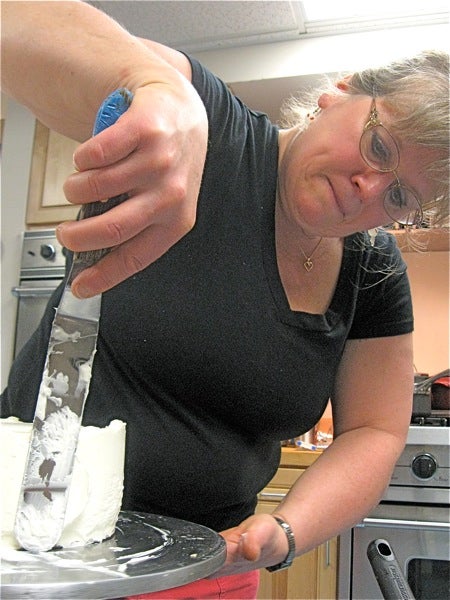 Next, the regular layers. Here's the cake's second tier, getting its coat of buttercream icing.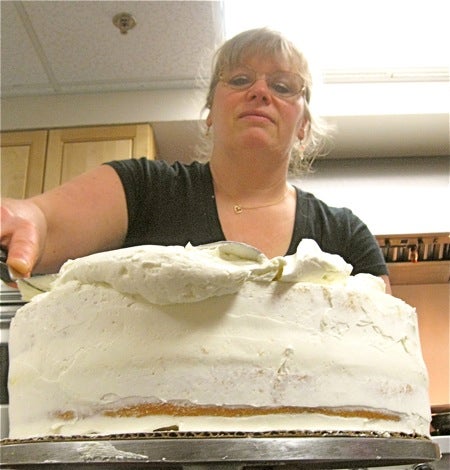 And here's the bottom tier. It takes a LOT of icing to make a gorgeous cake!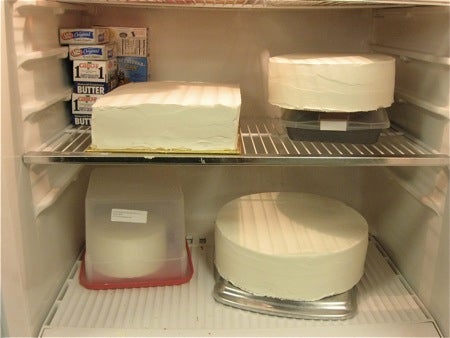 In the fridge: gluten-free cake (carefully segregated, bottom left); the other round tiers, and the rectangular "side" cake, which won't be part of the "presentation" cake, but will be plated and served to guests separately.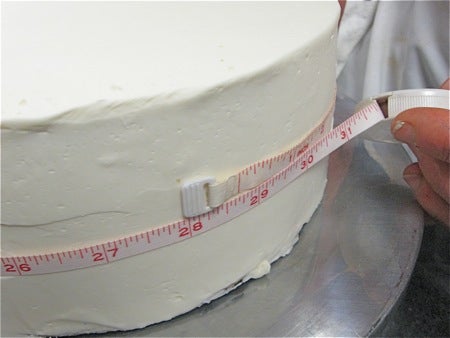 Next: a ribbon of white chocolate will encircle each of the tiers.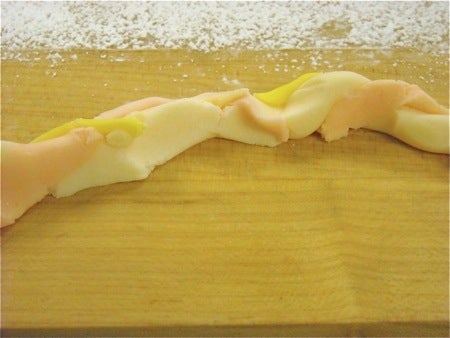 "Chocolate plastic" - a combination of white chocolate and corn syrup – is used for both ribbons, and hand-shaped flowers. Here Susan is marbleizing it with pale peach and yellow coloring.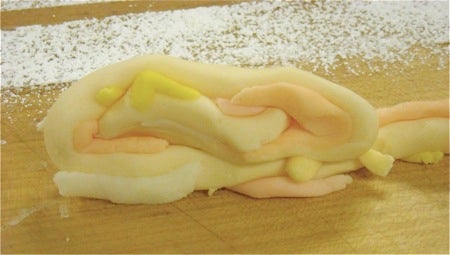 Fold...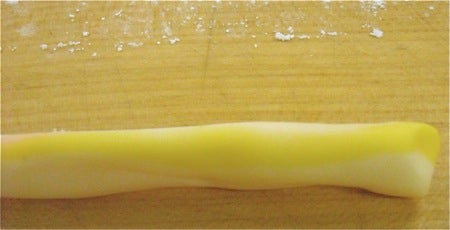 ...roll...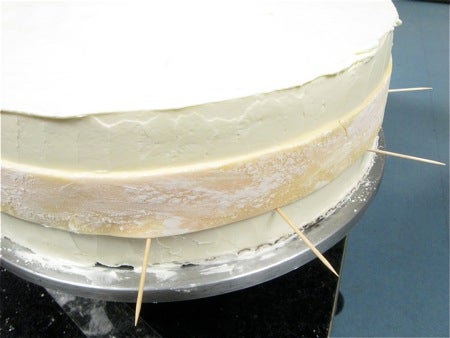 ...then flatten into a ribbon. Here it is, being temporarily held on with toothpicks.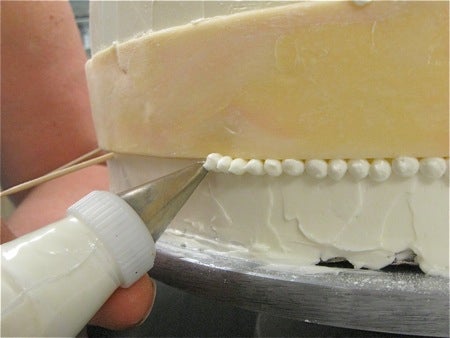 Susan painstakingly pipes Swiss dots all around the chocolate ribbon, top and bottom, on all three tiers.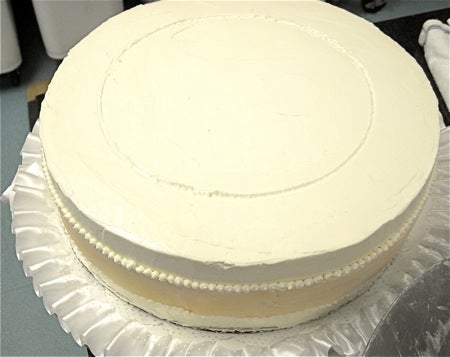 It helps to draw a circle right where you want the second tier to rest.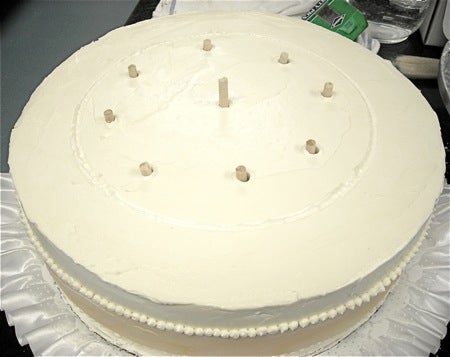 It also helps to add some wooden supports. Nothing like the top-heavy tiers of a wedding cake sliiiiiding sideways as you're driving it to the wedding!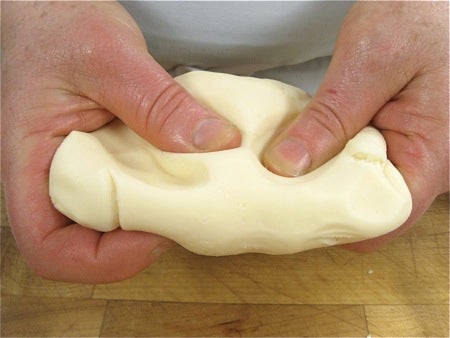 Here's the "chocolate plastic" for the flowers.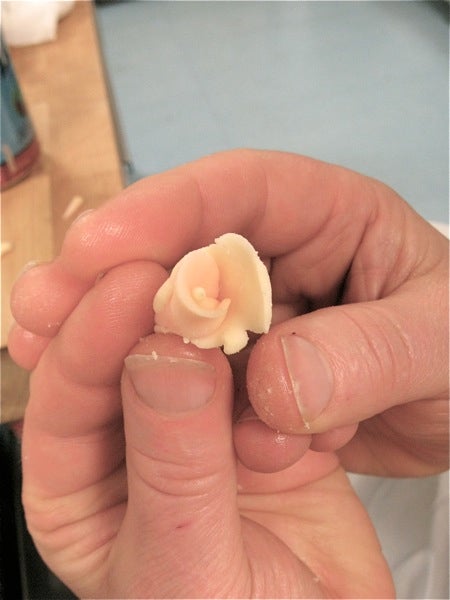 Hand-shaped...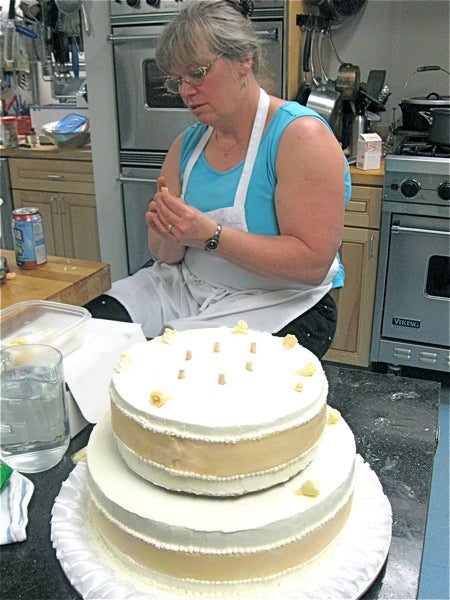 ...and carefully applied one by one.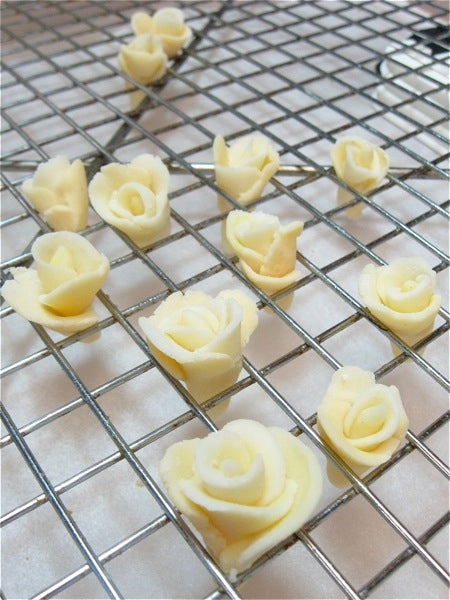 Here they are, waiting to be placed.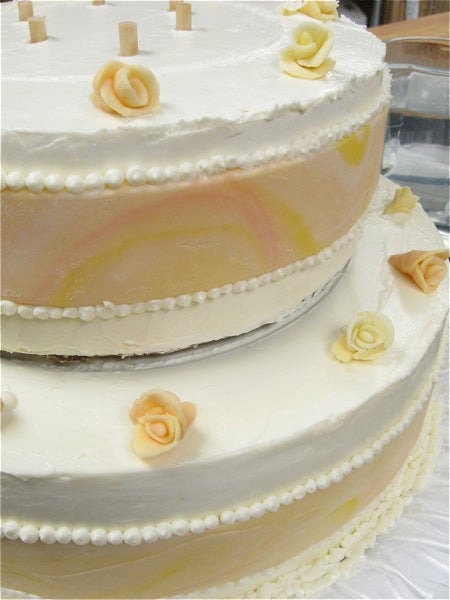 You begin to see the final effect.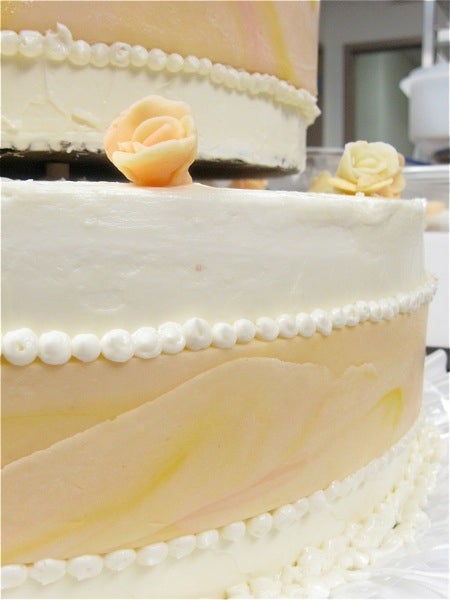 Notice the gap between layers. Cake decorator's secret – you need to leave room for the stems of the fresh flowers that'll be added as final decorations.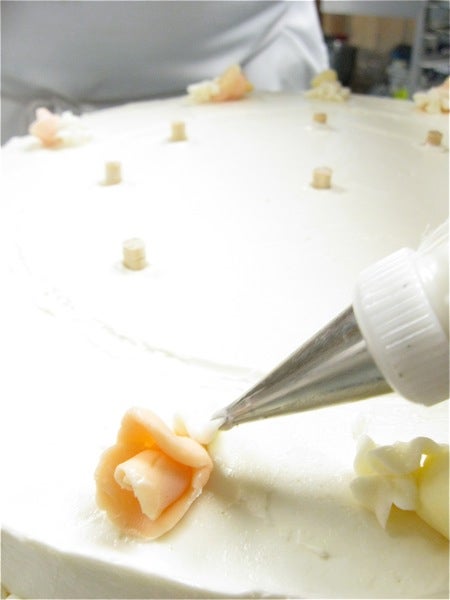 Each flower has its own stem hand-piped.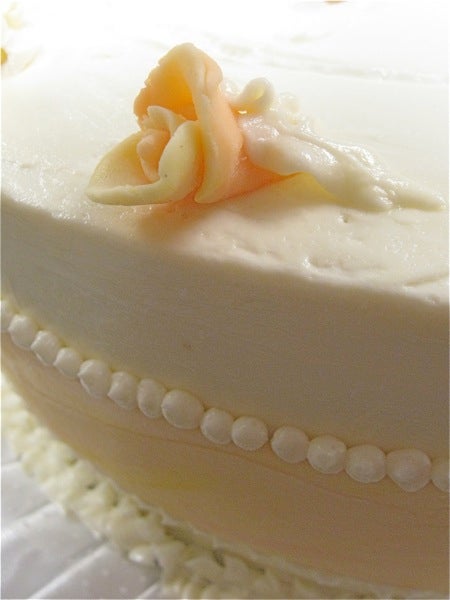 Lovely!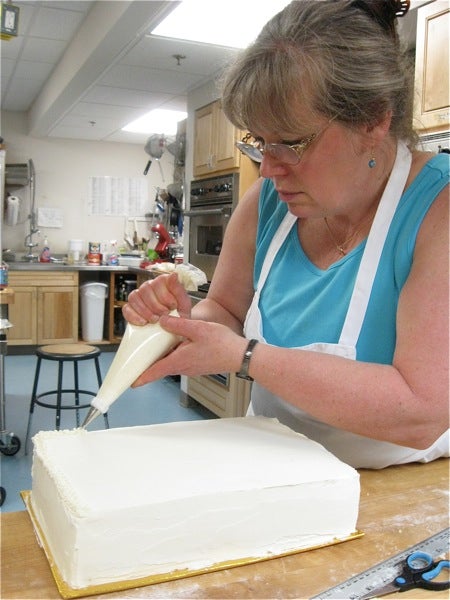 Even the "side" cake gets its edges Swiss-dotted.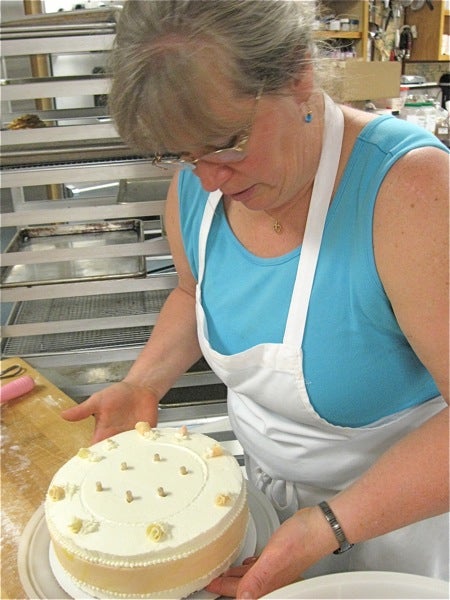 Susan VERY carefully puts the decorated layers into large plastic containers, each with a non-skid silicone base inside.
She boxes everything up, and even puts together an emergency kit of extra frosting, flowers, and tools - just in case.
The day before the wedding, the groom's parents and I drive to King Arthur. With some fanfare from the office staff, we load the decorated and boxed layers onto a cart, and transport them to my car. It's 95°F, so the AC is running full-tilt.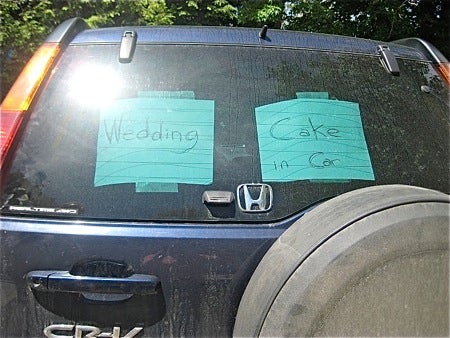 We put blankets around the cake, and a big WEDDING CAKE IN CAR sign in the back window, and have a slow, 20mph drive up Vermont Route 5. The speed limit is 50mph. Drivers behind us tailgate, until they see the sign – then they smile and back off.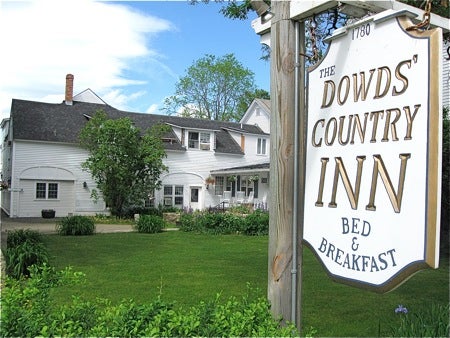 The staff at Dowds' Country Inn, where the ceremony and reception will take place, take the cake from the car to their cooler.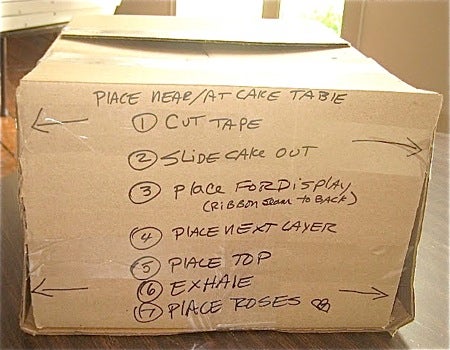 As an extra touch, Susan had carefully labeled the boxes with unpacking directions, including a critical step - EXHALE!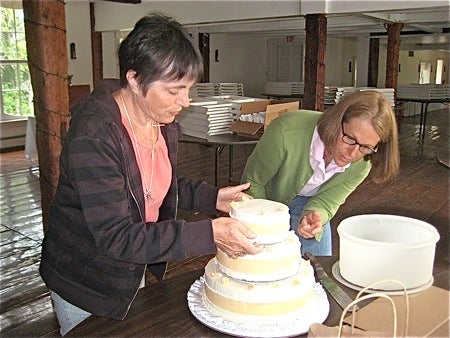 We assemble the cake just a couple of hours before the wedding. That's the groom's mom, Reli, on the left; me on the right.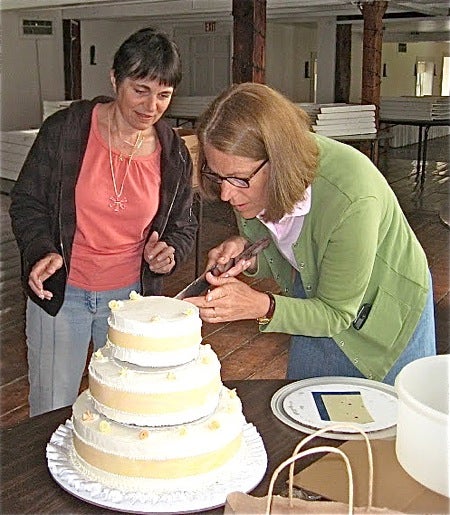 A little repair work makes it absolutely perfect.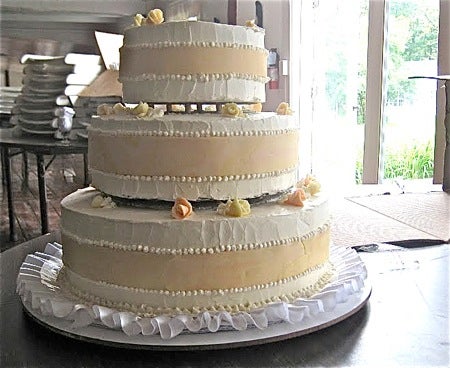 BIG sigh of relief. Ready for its flowers. I'd picked up roses, ordered weeks earlier, from our local coop. I worry and wonder if they'll match the cake.
But, the wedding's about to begin. Onward and upward!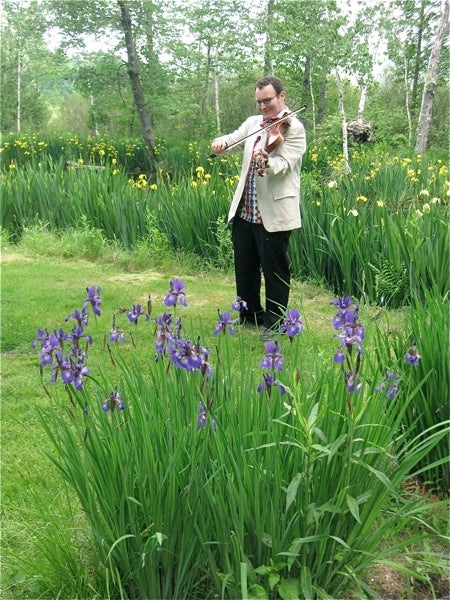 The ceremony's held beside a small pond and stream.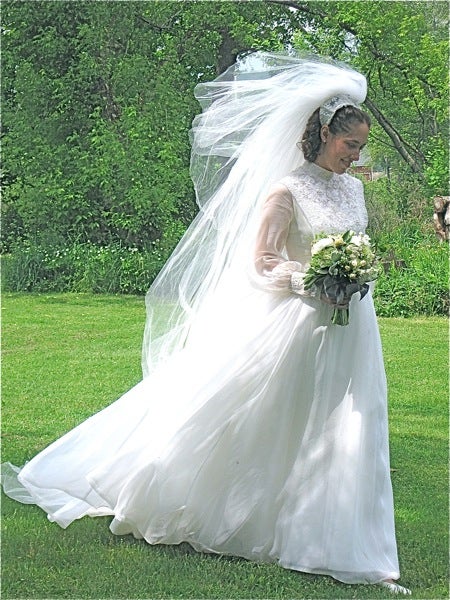 Here comes the bride! Kate is radiant, wearing the dress I was married in.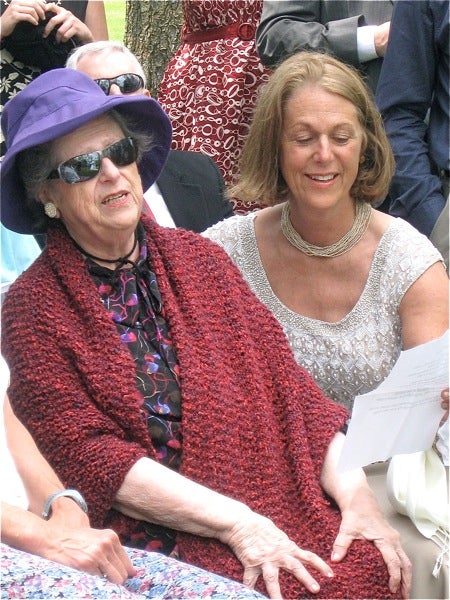 My mother recites a sonnet. I had it typed for her, but she never looks at the paper - she says it all from memory.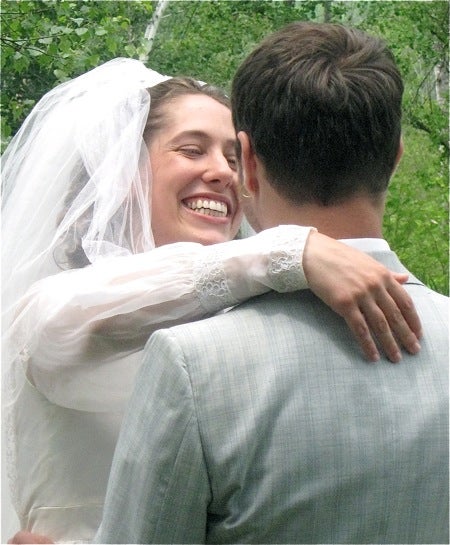 "You may kiss the bride" - Kate and Ori.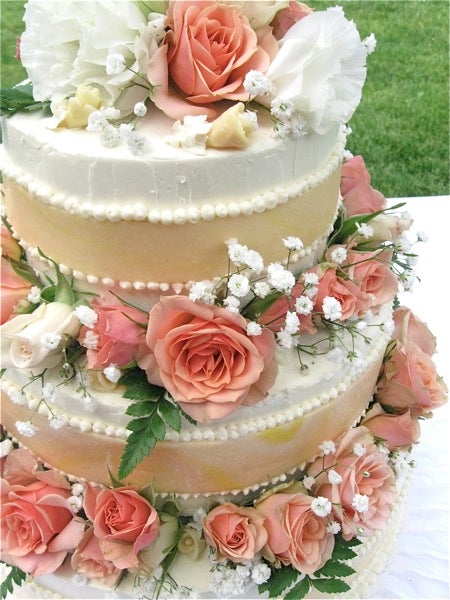 The roses had been placed on top of and around each layer. Phew, they match! I'd forgotten to put some of the roses on the bottom layer - too much going on.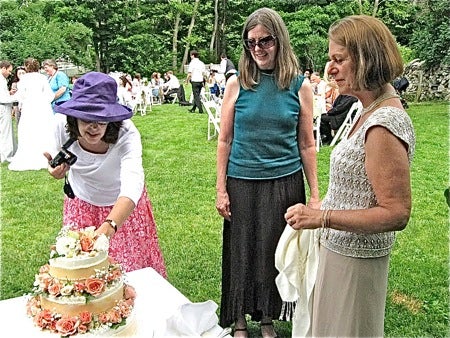 But I think I'm the only one who notices.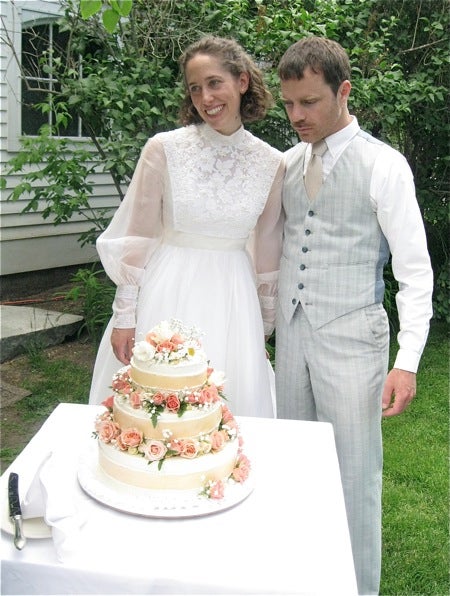 In the end, it's the glowing and happy couple who take the spotlight.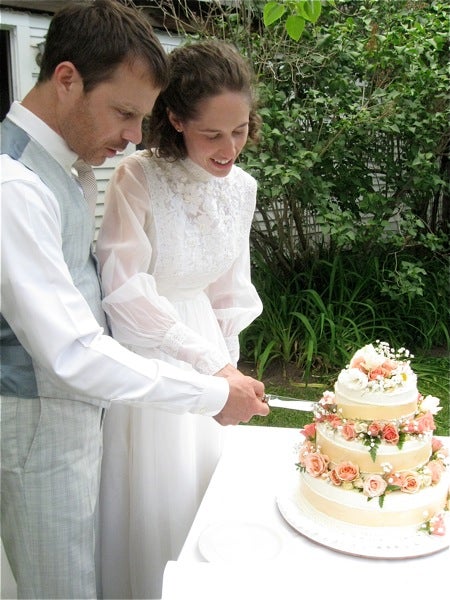 The first cut.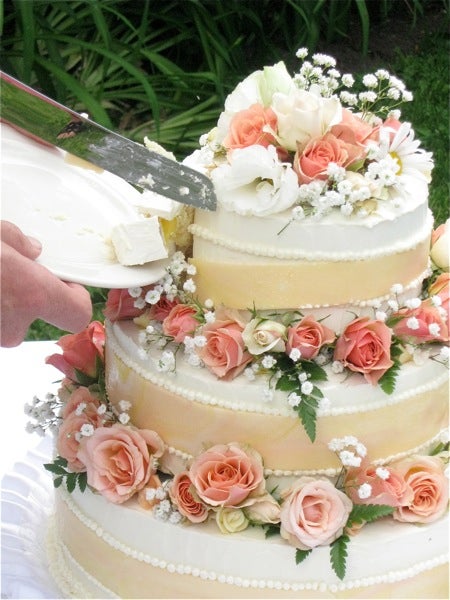 So far, so good - the gluten-free tier looks like it held up just fine.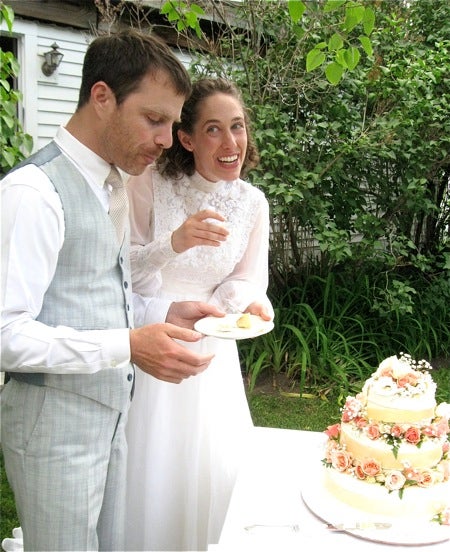 Now, for the taste-test –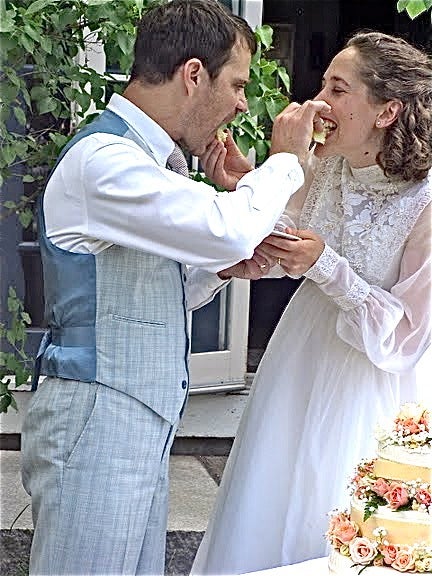 Not sure how much they're actually tasting, but they're certainly enjoying it!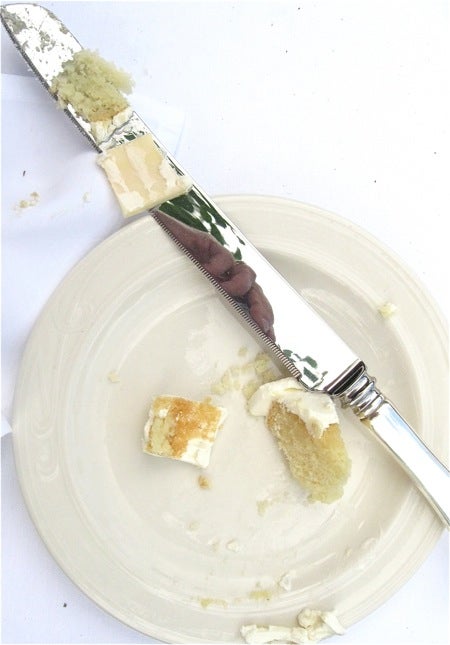 Good to the last crumb.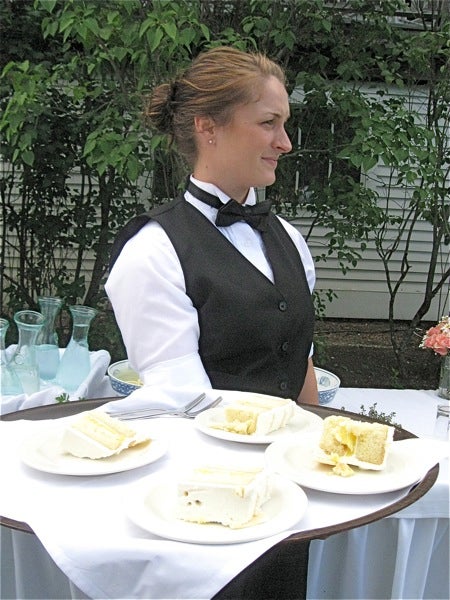 The staff at Dowds' does a great job helping us store and assemble the cake. They're careful to cut and serve the GF cake before cutting the non-GF cake. They even set the plated slices on separate tables, so our GF guests are comfortable. For some GF folks the slightest cross-contamination, like a knife used on both cakes, can create a major digestive upset.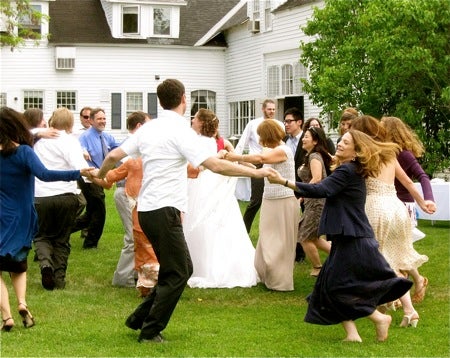 Guests dance across the lawn...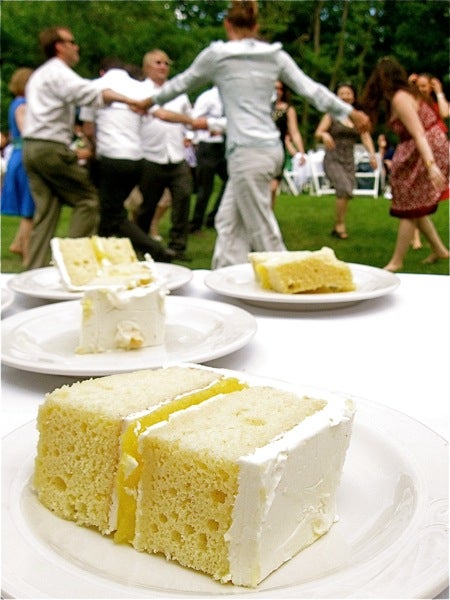 ...and later enjoy cake.
In fact, the guests go back for seconds and thirds. A guest I don't know tells me later that she's a pastry chef in New York City. She carefully compares the GF/non-GF cakes, and declare both to be of great texture and flavor.
OK, it really is all about the bride and groom, but I have to say, that comment made me smile almost as much as my daughter's happiness.
In the end, having a daughter get married is a happy occasion. Having a gluten-free wedding cake is entirely possible – even easy – with some planning.
And having the help of good friends and loving family makes the whole thing a joy.
Thank you, Susan. Thank you, PJ.
Ed. note: And thank you, Dani, for writing this blog!