Tzatziki.
This yogurt-based spread/dip/salad is a must at most Greek-style meals. Including cucumbers, garlic, and mint, with a touch of cumin, it's very similar to India's raita.
And, it's a snap to make. Really.
Once you see how easy this is, you'll find yourself reaching for that big container of plain yogurt in the dairy section over and over again. Because, trust me – you'd be hard-pressed to find anything better to do with plain low-fat yogurt than make it into thick, rich tzatziki.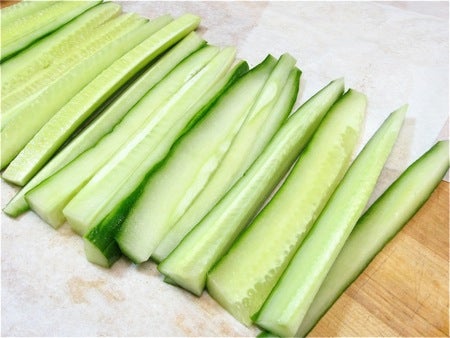 I like to use one of those long English cucumbers for tzatziki; the kind that usually come wrapped in plastic in the produce section at the supermarket. They're not as juicy (cuke juice is your enemy here), and generally less seed-filled. Also, they're not waxed, so no need to peel them.
Dice the cucumber by first cutting it in half lengthwise, then cutting each half into long strips.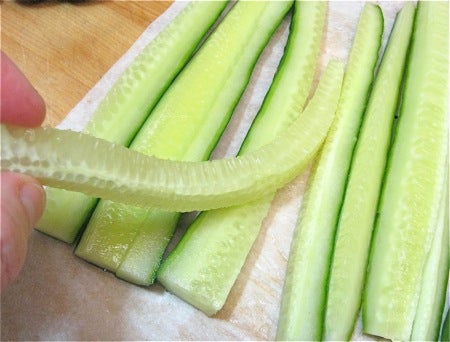 If any of the strips are mainly seeds, slice out the seeds.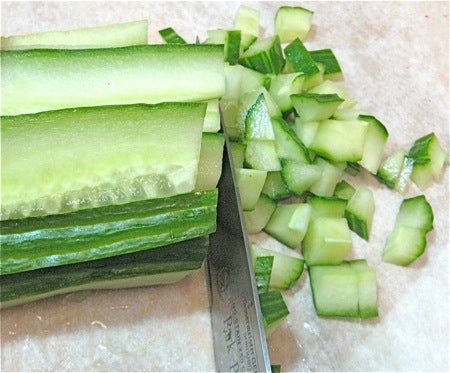 Dice small; 1/4" to 1/2" is about right.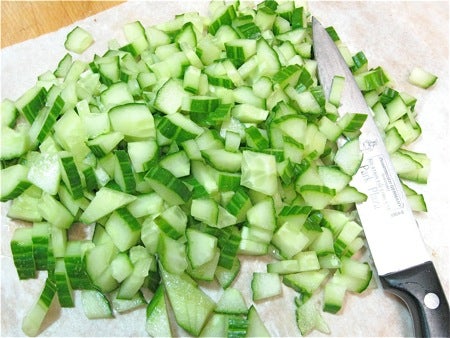 Ah, there we are.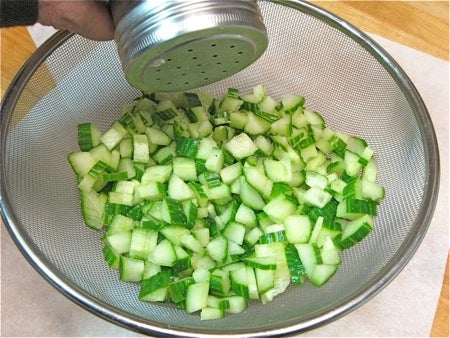 Layer the diced cuke in three layers in a sieve, lightly salting each layer.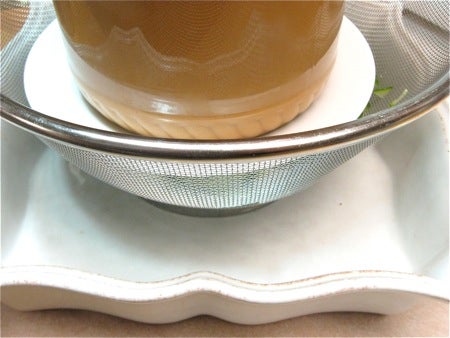 Place a plate or piece of plastic wrap over the cucumbers, and put a weight on top: a heavy bottle, a jar filled with water, or something to press down on the cucumbers. Place the sieve in the sink, or in a bowl to catch liquid.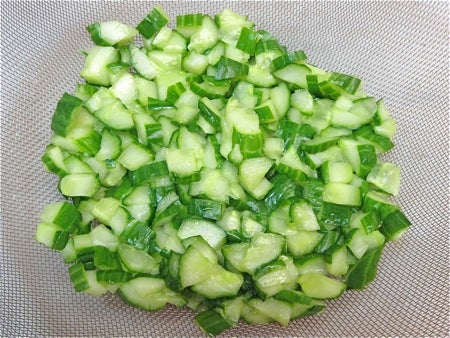 Let the cucumbers sit at room temperature for several hours, till they've given up quite a bit of juice.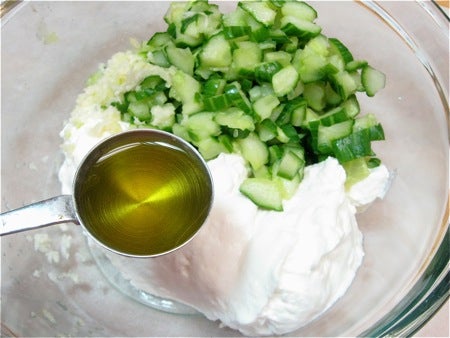 Mix the diced cucumbers with the following:
2 cups thick Greek-style yogurt*
1 to 4 cloves garlic, peeled and minced, to taste
1/2 teaspoon ground cumin
1 tablespoon garlic oil or olive oil
1 teaspoon lemon juice or rice wine vinegar
*Make your own Greek-style yogurt by draining 1 quart (32 ounces) whole-milk or low-fat yogurt in a yogurt cheese maker or cheesecloth for 24 hours. Like this: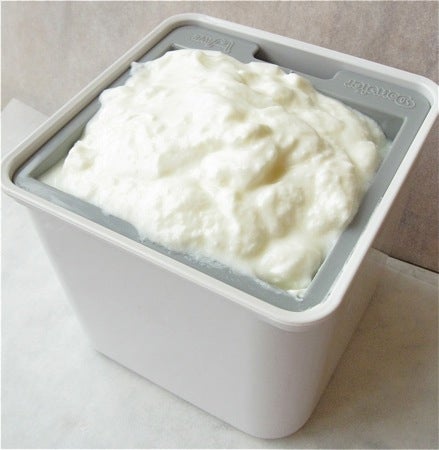 1 quart low-fat yogurt in the Wave yogurt cheese maker.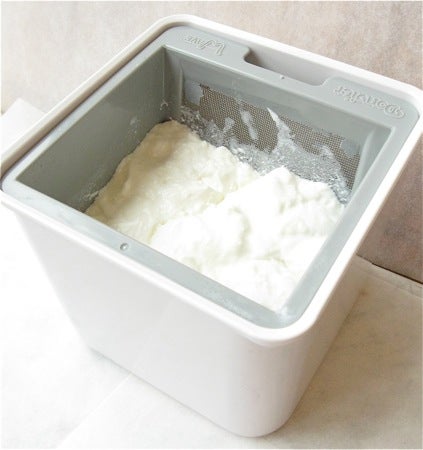 Same yogurt, 24 hours later. Now that is THICK yogurt! And you'd never, ever know it's low-fat, it's so rich-tasting.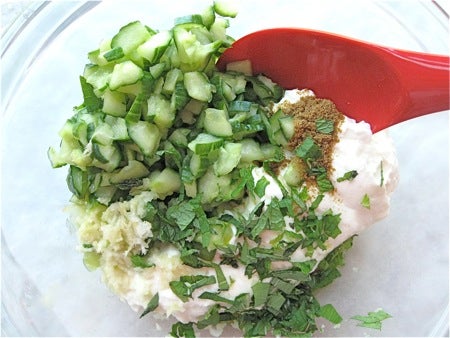 OK, back to the recipe. Stir it all up. While fresh mint isn't always included in tzatziki, I love it. Add about 2 to 3 tablespoons snipped fresh mint, or to taste.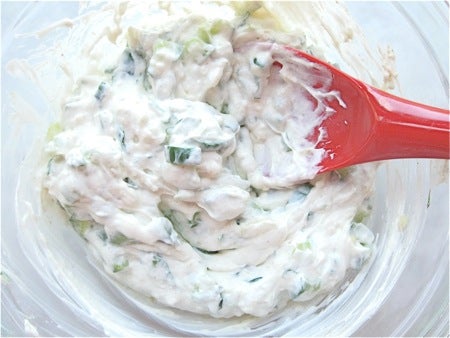 Stir-stir-stir...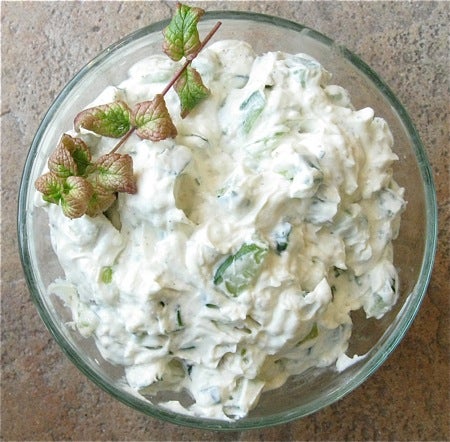 ...and scoop into a bowl. Garnish with a sprig of fresh mint, if desired.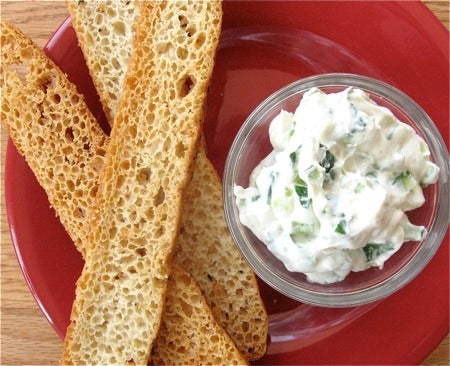 Chill for several hours, for the flavors to meld. Serve with soft bread sticks, pita, bread, or with the crunchy twice-baked focaccia slices shown above. Tzatziki and bread are integral parts of a Greek meze (assortment of small dishes).
For best storage, store right in your Wave yogurt cheese maker. The cucumbers will continue to give up their juice as the tzatziki sits, but the juice will drain right out the bottom of the Wave, keeping your tzatziki nice and thick.