Is that not just the prettiest thing you've ever seen?
Fresh, fresher, FRESHEST garden vegetables. Summer's song, captured in a bowl of crisp salsa cruda: chopped fresh veggies, lightly seasoned with chili and/or cumin.
Here's the basic recipe, which makes about 2 1/2 cups of crisp, chunky salsa. Feel free to amend it (or increase it) as desired.
1 1/2 cups diced Roma or plum tomato, about 2 tomatoes
1/3 cup diced red onion
1/3 cup diced red bell pepper
1/3 cup diced green bell pepper
1 to 2 peeled garlic cloves, minced
1/4 to 1/2 teaspoon ground cumin, to taste
1/2 teaspoon salt, or to taste
2 tablespoons minced fresh cilantro, or to taste; optional
Let's start with the tomatoes – I'm using Roma, as they're less juicy than most. I prefer a salsa that's more veggies, less juice.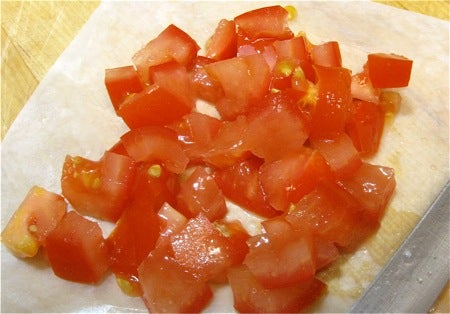 Chop into 3/8" pieces. Now, don't make yourself crazy measuring exactly; anywhere between 1/4" and 1/2" is fine. You just want fairly small dice.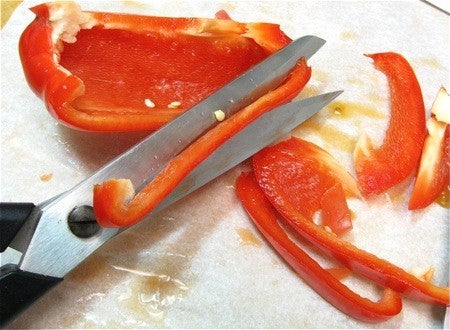 In fact, it helps to have all the veggies chopped to a similar size. A pair of scissors works well with the red and green bell peppers.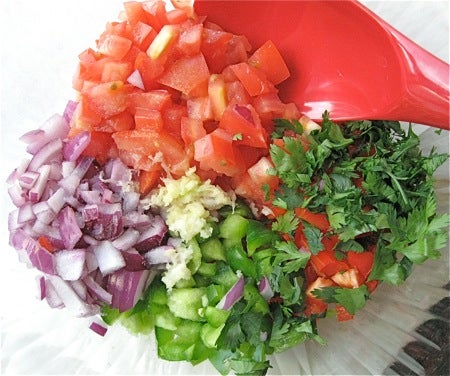 Here it all is: peppers, onions, tomatoes, cilantro, garlic.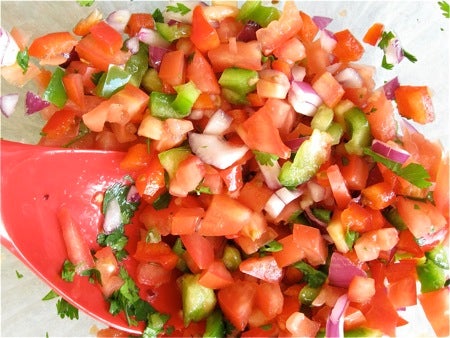 Stir together. Add the salt and cumin to taste.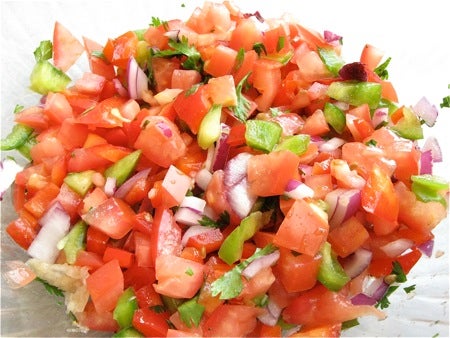 Lovely! Serve with crisp tortilla chips, or toasted pitas.
How about a sweet-tangy pineapple salsa?
Here are the ingredients:
1 1/2 cups grilled pineapple, diced
1 tablespoon lemon juice
1 tablespoon lime juice
1/2 cup diced red bell pepper
1/2 cup diced red onion
1 jalapeño pepper, seeded and minced
1 to 2 cloves garlic, peeled and minced
2 tablespoons chopped fresh cilantro, plus extra leaves for garnish
¼ teaspoon salt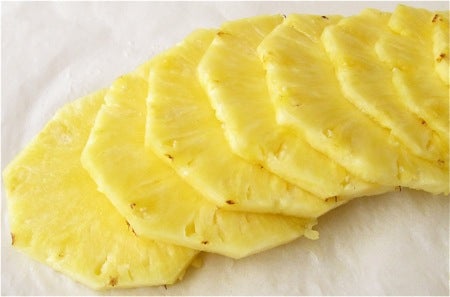 First, slice a fresh pineapple in 1/4"-thick slices.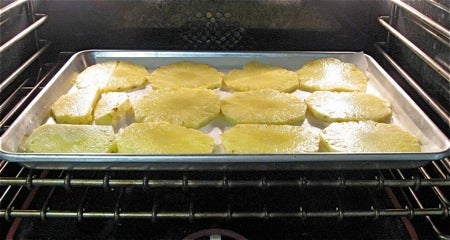 Place on a lightly greased or parchment-lined baking sheet, and bake in a 350°F oven for about 50 minutes...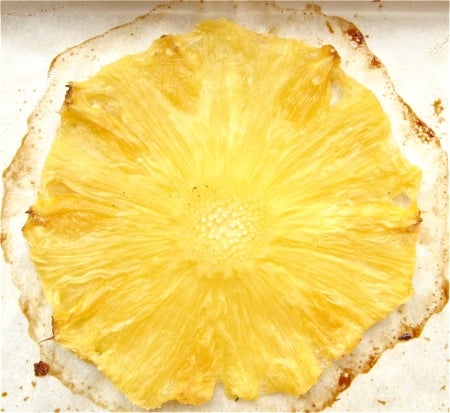 ...till the pineapple is noticeably dry, and barely beginning to brown around the edges.
Dice the pineapple into 3/8" (or so) pieces.
Toss with the remaining ingredients.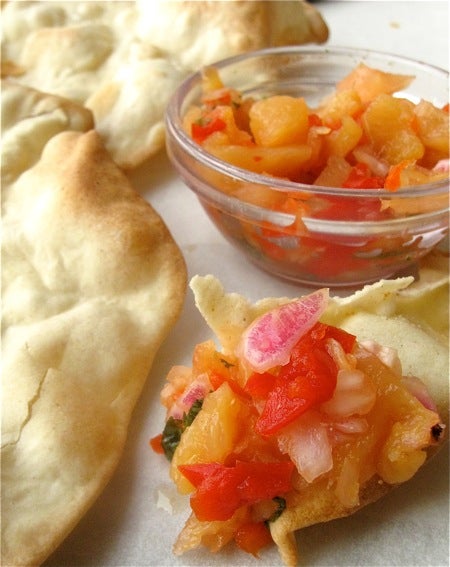 Scoop it up!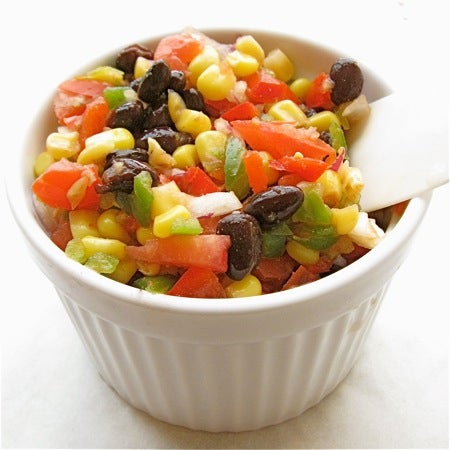 And then there's black bean and fresh corn salsa. Using the original salsa cruda recipe, substitute 1/2 cup cooked or canned black beans and 1/2 cup uncooked fresh corn kernels for 1 cup of the diced tomatoes.
Hint: a corn stripper removes kernels from an ear of fresh corn beautifully intact.
Read, rate, and review (please!) our recipe for Salsa Cruda.