Ah, summer.
Think berries. Fresh fruits of all kinds. Bounty from your garden. Lighter flavors, like lemon, vanilla, almond...
So, what's this ridiculously chocolate ice cream fudge brownie cake doing here?
Well, chocolate's always in season. And the mantra for so many of us is, you can never have too much chocolate. So with ice cream season already in full swing, I figured it was time for one of the most successful birthday cakes I've ever made here at King Arthur:
Halley's Fudge Brownie Ice Cream Cake.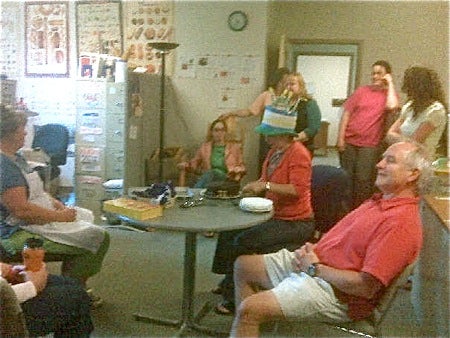 Birthday parties are a regular feature of life in the King Arthur Web room. But this one attracted a larger crowd than usual.
Halley (center), our Web director, donned the birthday hat, blew out the candles, and carefully cut the cake – while her colleagues PATIENTLY waited. Trust me, no one was leaving till they got a piece of THE CAKE.
It's a simple thing, really – brownies sandwiched around ice cream, topped with fudge sauce.
But simple as it is, for chocolate lovers, it's a thing of beauty.
Yes, this cake is going to be messy.
The brownies are sticky and dense, the fudge sauce on top is warm, the ice cream starts to melt...
If you're someone who doesn't enjoy a challenge; or someone who can't live with drips, crumbs, and lava-flows, then please make something else.
But if you LOVE LOVE LOVE chocolate, and don't mind the devil-may-care look of this ridiculously intense dessert – read on.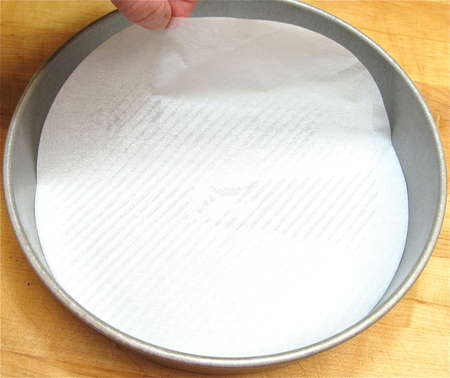 First, since this is going to be a cake – not brownies – it's best to line your 9" round cake pan with parchment. Grease the parchment, to be extra-safe; the last thing you want is a crumbled brownie-cake.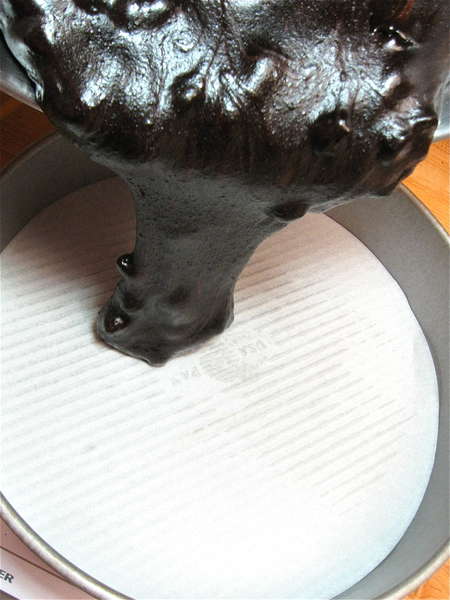 Make our Guaranteed Fudge Brownies up to the point where you're ready to pour it into the pan. Divide the batter between the two pans; each will hold about 25 1/2 ounces (if you've used the additional chocolate chips, as I did here; without chips, pour about 19 1/2 ounces batter into each pan).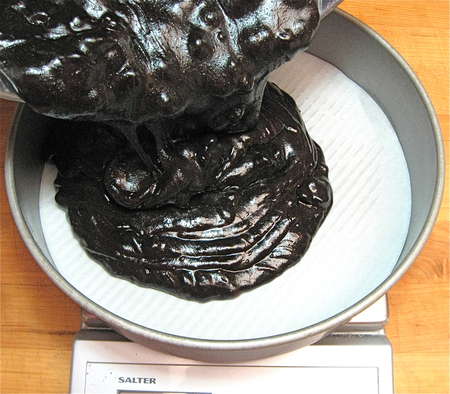 A scale makes it easy to evenly divide cake or brownie batter among multiple pans.
Bake the brownies for about 20 to 25 minutes in a preheated 350°F oven. When done, a cake tester or (clean) broom straw, inserted into the center, will come out almost clean; it should have wet crumbs clinging to it.
Brownie alert: It's best to under-bake these brownies, as you want them to be as soft as possible when you cut the cake. So long as you don't see any totally wet batter when you poke a knife into the center and peek – they're done.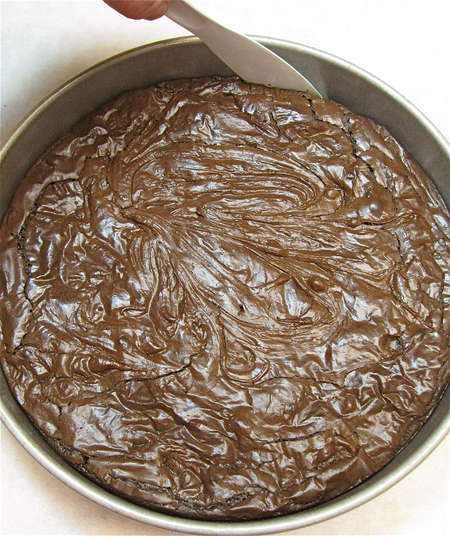 Remove the pans from the oven, and run a flat spatula or table knife around the edge, to loosen the sides.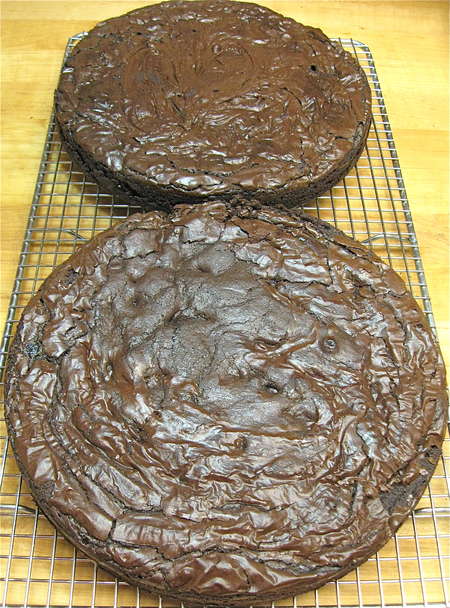 After about 10 minutes, turn the brownies out of the pan onto a rack. Peel off the parchment, if you like; or just leave it till you're ready to assemble the cake.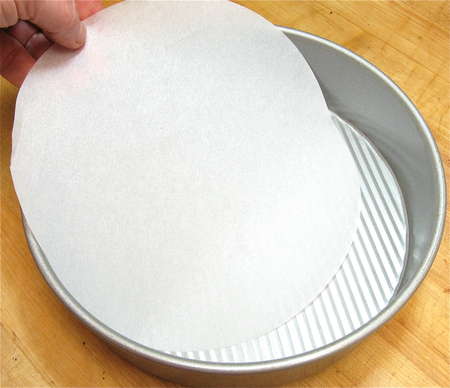 While the brownies are cooling, get your ice cream ready.
Line an 8" round pan with parchment. You'll see why shortly.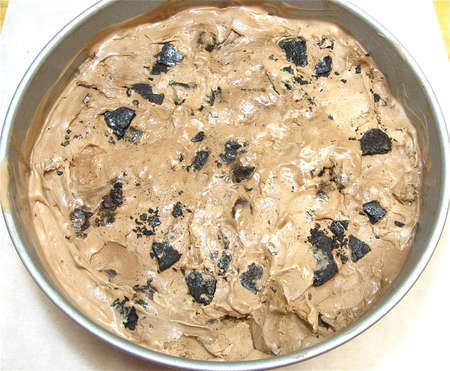 Press about 1 quart of slightly softened ice cream into the pan. Our homemade Mocha Madness is a great match for brownies.
Ice cream alert: In general, the more air ice cream has pumped into it, the more quickly it'll melt, the harder it'll be to deal with in this cake. If you use store-bought ice cream, try to use one that's denser/heavier than most, e.g., a quality Ben & Jerry's-type ice cream.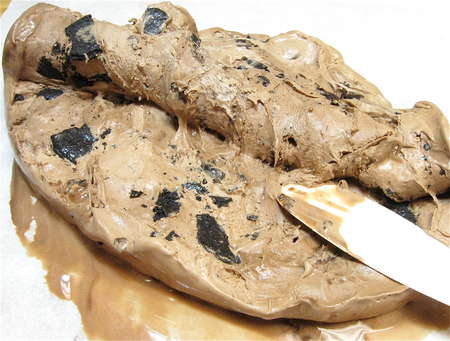 Here's what happened when I didn't line the pan with parchment, and tried to flip the ice cream out. WHOOOOOOPS.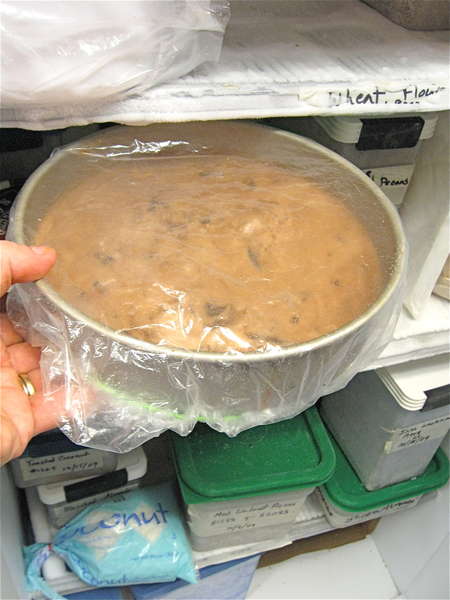 Cover the pan, and place it in the freezer for the ice cream to firm up. Leave the ice cream in the freezer till just before you're going to serve the cake.
So, why bother to take this extra step of pressing ice cream into a pan? Why not just scoop ice cream onto the brownies before serving?
Because this gives you a nice, round layer. And you don't have to waste time time hacking at hard ice cream trying to spread it evenly atop a brownie.
Next step: get ready to party!
This cake should be assembled right before you serve it.
Why not simply put it together and leave it in the freezer till you're ready? Because the brownies will freeze rock-solid.
First, let's make the fudge sauce.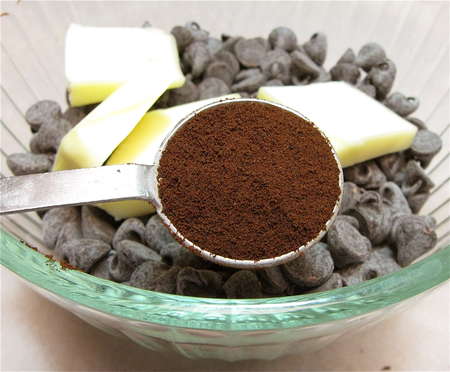 Put the following in a microwave-safe bowl (or saucepan):
1 ½ cups chocolate chips
2 tablespoons butter
1 teaspoon espresso powder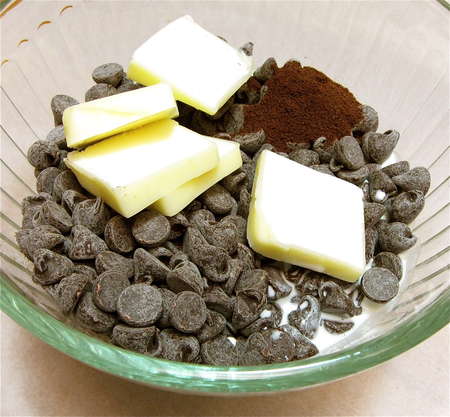 Add 1/3 cup heavy cream.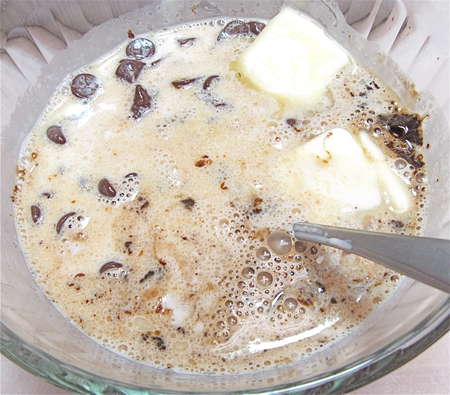 Heat till the cream is bubbly. Remove from the microwave.
Yes, you can do this on the stovetop using a saucepan. Heat on a medium-low burner till the cream is bubbly, stirring frequently.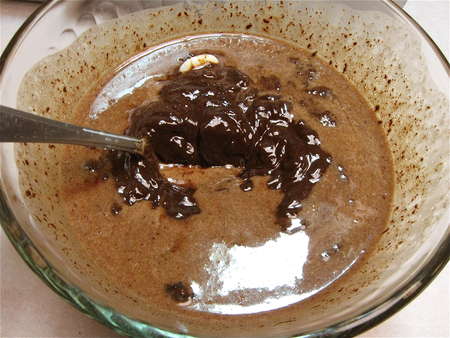 Stir to melt the chocolate and butter. At first you'll think, "Uh-oh, what did I do wrong? This is a mess..."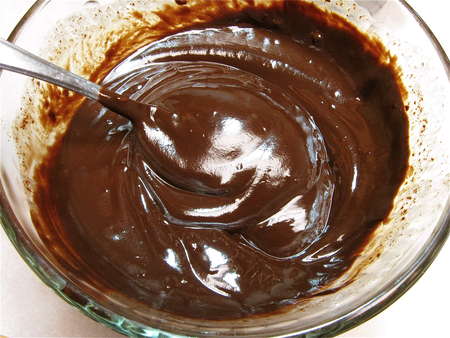 Just keep stirring – trust me, all will be well in the end.
These next steps need to be performed quickly. Please read and internalize the directions and photos before you start, OK? You're working against the ticking clock of melting ice cream.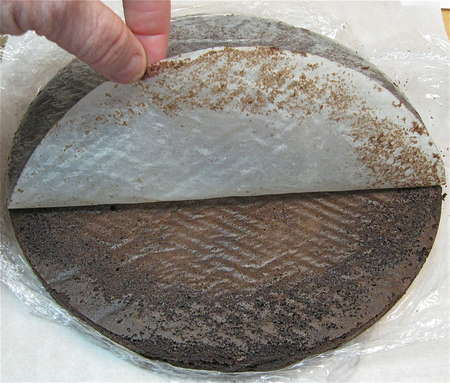 Peel the parchment off both brownie layers.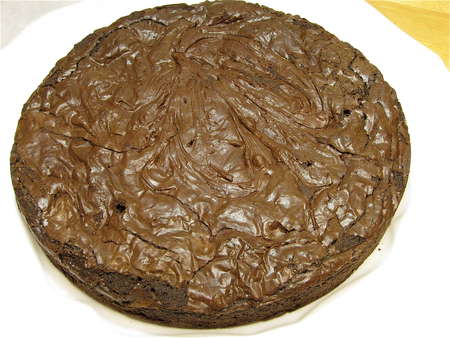 Place one layer on a plate.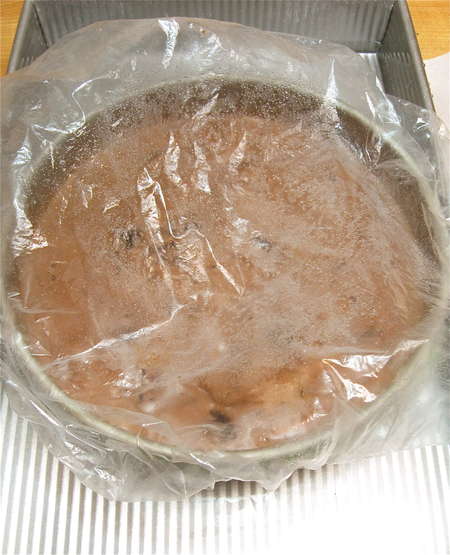 Remove the pan of ice cream from the freezer, and place it in a pan of hot water for maybe 20 to 30 seconds, JUST to loosen the edges.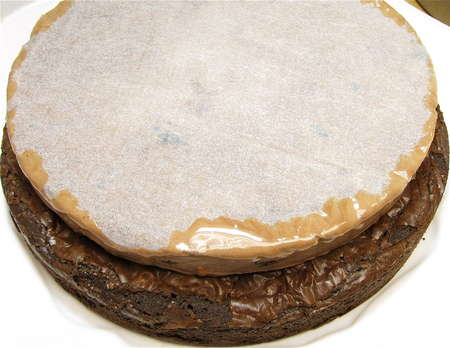 Turn the pan over onto the brownie layer. Remove the pan. So far, so good.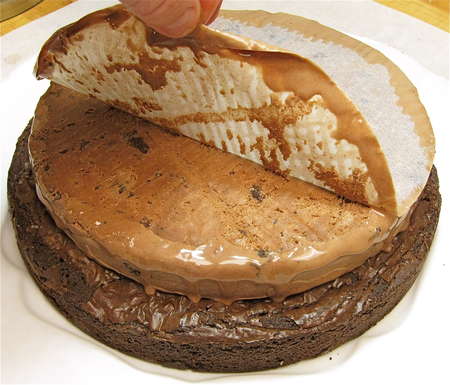 Peel off the parchment.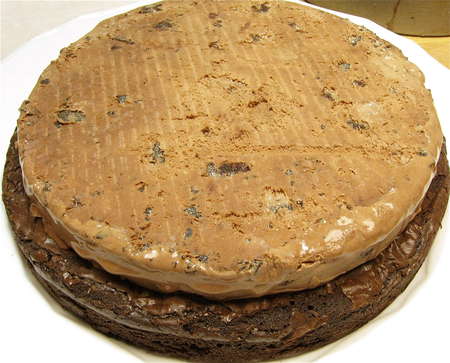 Voilá! Nice even round of ice cream, centered atop the brownie.
Why use an 8" round of ice cream on a 9" brownie? I figured it would melt a bit and flatten down. It did melt; but it didn't really flatten much. Feel free to pack your ice cream into either an 8" or 9" round pan.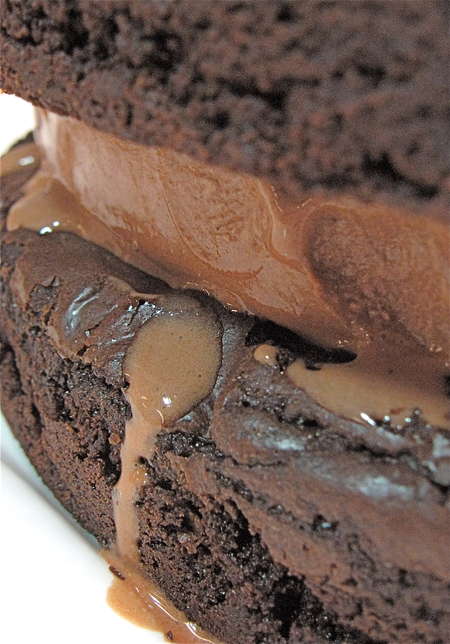 Place the other brownie layer on top. Let the melting begin!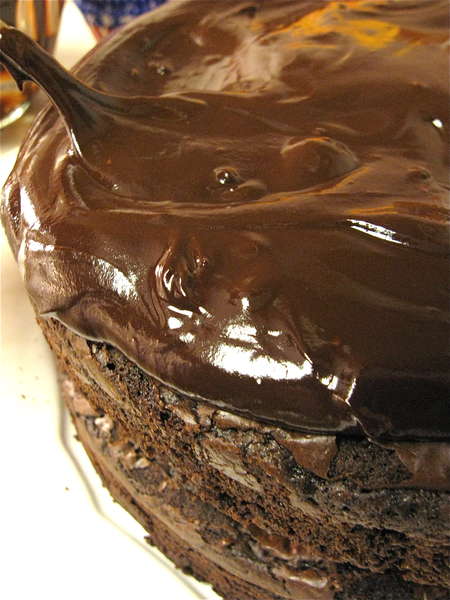 Spread the fudge sauce on top.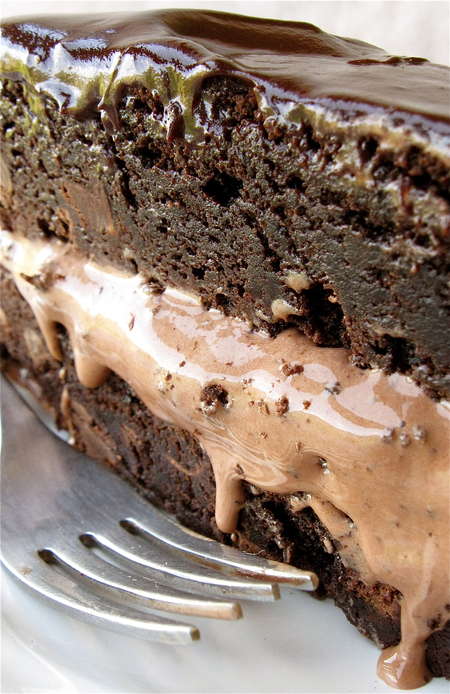 Slice and serve. Swoon.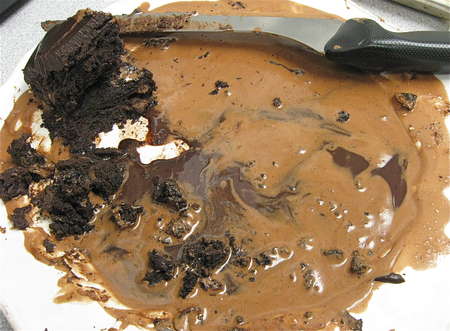 Ten minutes after sending out an email with this subject line, "Fudge brownie ice cream cake now melting in the test kitchen."
Ephemeral. Ethereal. Earthquake-like in appearance.
And OH-so-tasty.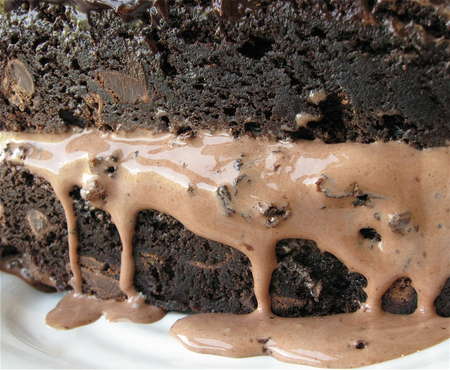 Just couldn't end on that TOTALLY messy note. Here's one last look at the cake at its best - check out the chocolate chips in the brownies... And the crushed Oreos in the ice cream.