Cinnapineapanana – wha...?
That would be cinnamon + pineapple + banana, all wrapped up in a tender, rich yeast dough. Topped with crunchy sugar, and baked to golden perfection.
This delightful bread was created by Ricardo Neves Gonzalez, a Brazilian bakery owner and regular contributor to the comments section of this blog. Way back at Christmas, Ricardo sent me photographs of an unusual-looking bread, which he called Jewish Strudel.
Ricardo explained that he makes challah dough, then tops it with different sweet fillings; the photo he sent looked like banana and cinnamon, though I seem to recall he also mentioned mango, as well...
It appeared from the photo that he rolled out the dough, and simply gave it a 3-fold like a letter, with different fillings in the two layers of the fold. He then baked the loaf in an oversized baguette-type pan - like a baguette pan designed for wider, fatter Italian bread.
Rich, golden, eggy challah dough. Tropical fruits nestled inside. And the whole bathed in cinnamon – why had I never thought of filling yeast bread with bananas and cinnamon? I'm on this.
And I was - almost immediately. The challah dough was easy. And tropical fruits? Well, bananas are a must. But I felt uneasy putting anything too juicy within the folds of this rich dough, imagining a lovely golden exterior, but a soggy mess in the center.
OK, DRIED tropical fruit.
Dried pineapple and banana? Perfect. Dried mango would have been awesome, too. Or coconut, now that I think of it. But cinnamon and pineapple and banana were speaking to me that day, and thus a star was born –
Cinnapineapanana bread!
A.k.a. Jewish Strudel.
OK, forget the name. Let's just bake Ricardo's bread.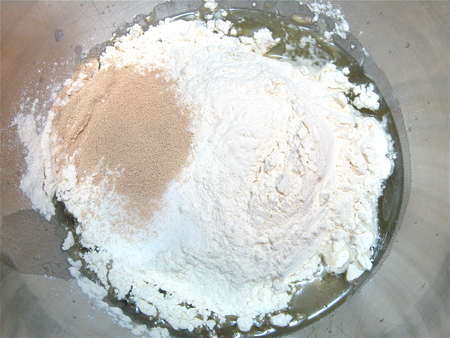 Put the following ingredients in a mixing bowl:
1/2 cup to 2/3 cup lukewarm water*
6 tablespoons vegetable oil
1/4 cup honey
2 large eggs + 1 large egg yolk, white reserved for topping
4 cups King Arthur Unbleached All-Purpose Flour
1 1/2 teaspoons salt
1 tablespoon instant yeast
*Use the greater amount in winter or in a dry climate; the lesser amount in summer or a humid climate.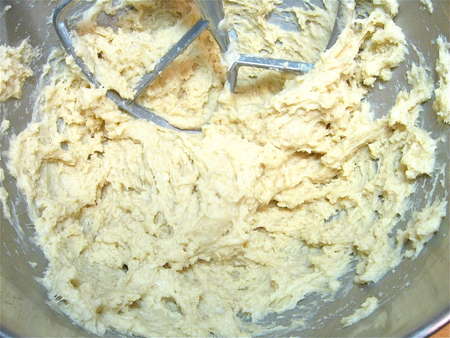 Mix everything together to make a very soft dough.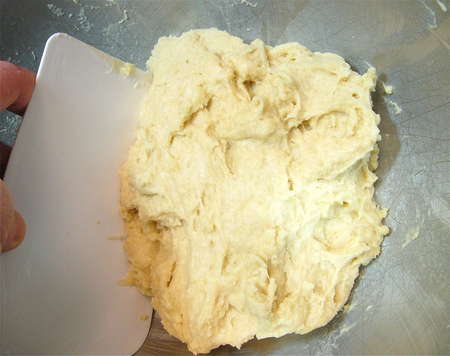 Scrape down the sides of the bowl, gathering the sticky dough in the middle...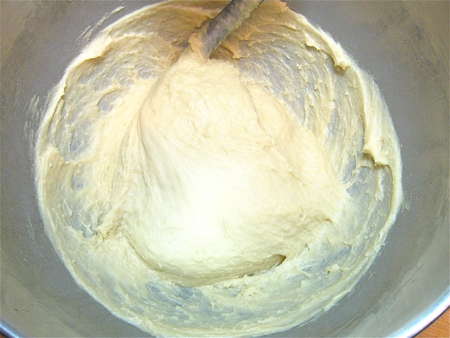 ...then knead, using the dough hook, for about 7 minutes. As you can see in the picture, the dough will stay fairly sticky.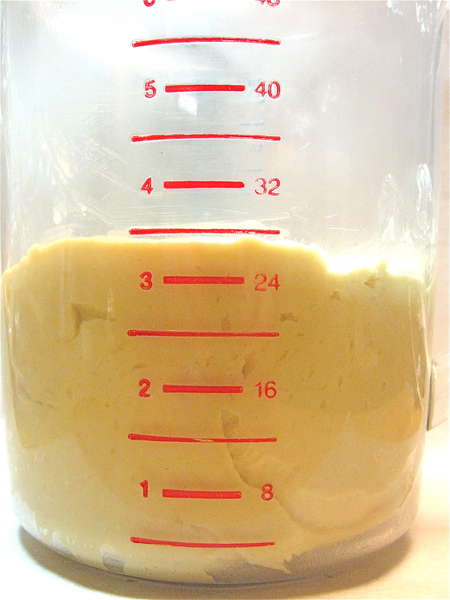 Transfer the dough to a lightly greased bowl or large measuring cup, and cover it.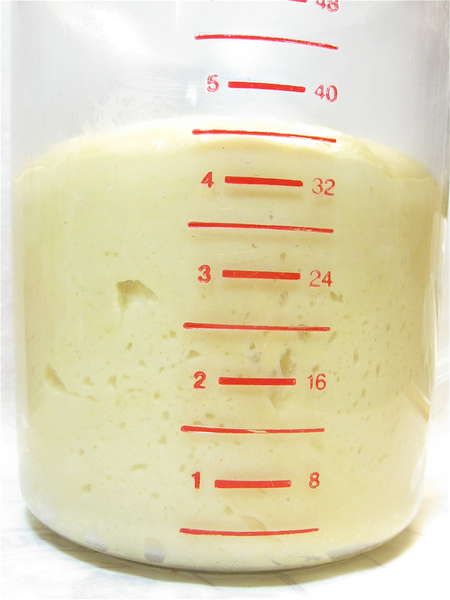 Let it rise for 2 hours or so, till it's definitely puffy, but probably not doubled in bulk.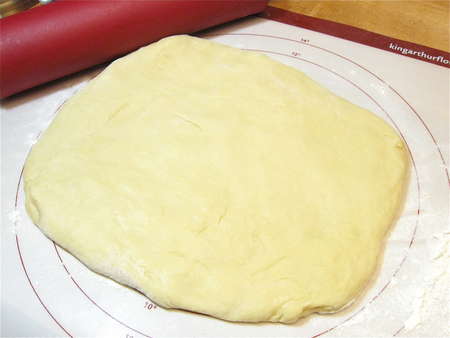 Gently deflate the dough, and transfer it to a lightly greased work surface. Pat it into a rough rectangle about 10" wide.
Next, the filling.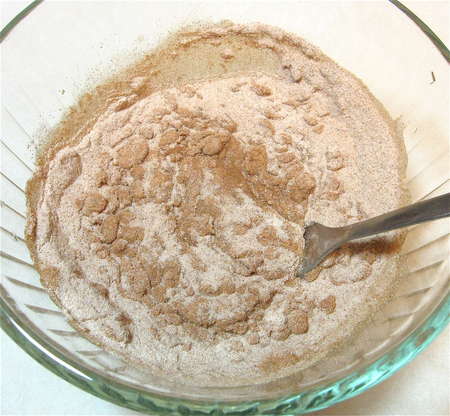 Combine 3/4 cup Baker's Cinnamon Filling with 3 tablespoons water.
Stir to make a rich, sticky, intensely cinnamon-y filling.
And now, a word from our sponsors. Yes, I love Baker's Cinnamon Filling. Yes, I'm giving you the hard sell here. PLEASE try it; you'll never go back to plain cinnamon-sugar again.
And – if you don't have Baker's Cinnamon Filling and want to make this loaf RIGHT NOW, go ahead and use plain cinnamon-sugar. Mix it with some melted butter, if you like, to make it spreadable. It won't be as cinnamon-y, or as sticky/rich, but it'll work OK.
Pat and roll the dough into a rectangle about 18" x 14".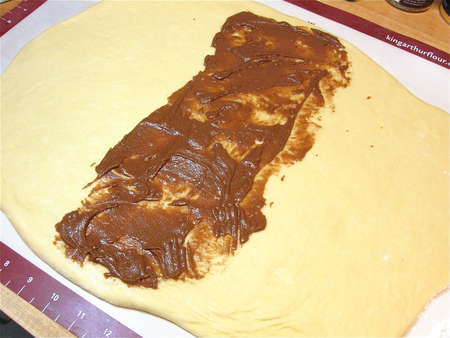 Looking at the dough horizontally (so it's 18" wide), spread half the filling down the center third of the dough.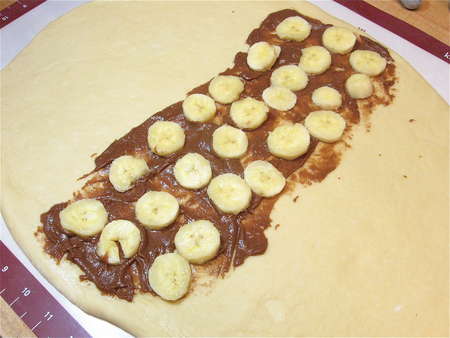 Slice two bananas into about 12 rounds each. Space the slices atop the filling.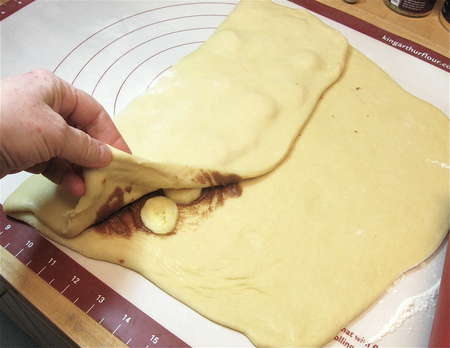 Fold one of the end pieces into the center to cover the bananas and filling.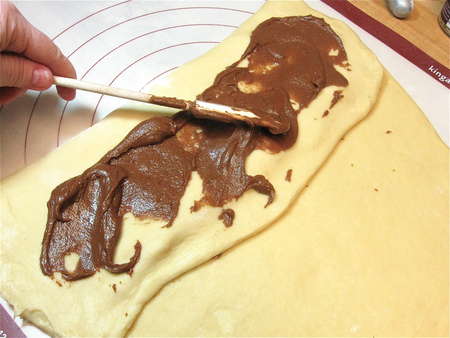 Spread the remaining filling atop the piece of dough you've just folded into the center.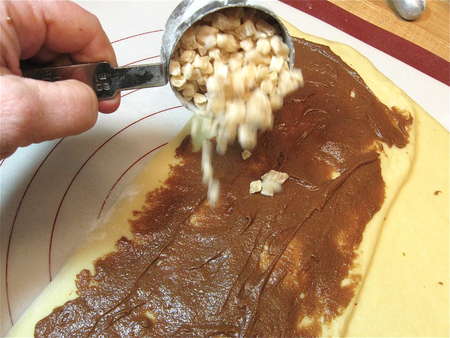 Sprinkle 2/3 cup diced dried pineapple over the filling.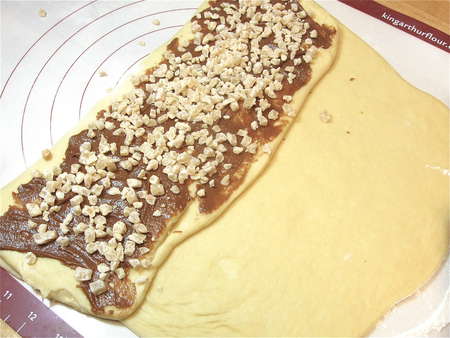 If you don't have dried pineapple, use another dried fruit; golden raisins would be fine. So would dried coconut flakes. You don't want to use any juicy fresh fruit, e.g., berries, apples, peaches, etc.; they'd make the loaf soggy.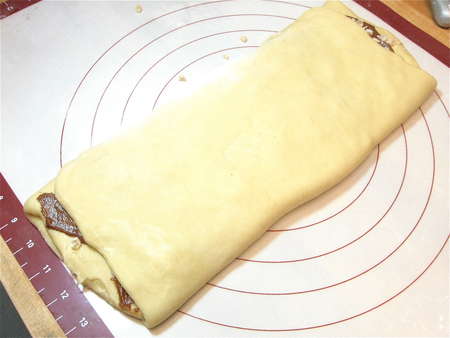 Fold the other side of the dough over the filling to cover it.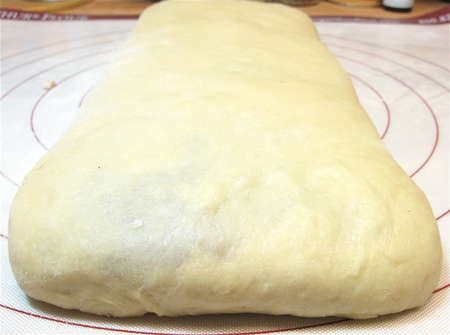 Pull the long side seam underneath, and tuck each end underneath, too. You should have a long, flat log with no filling showing.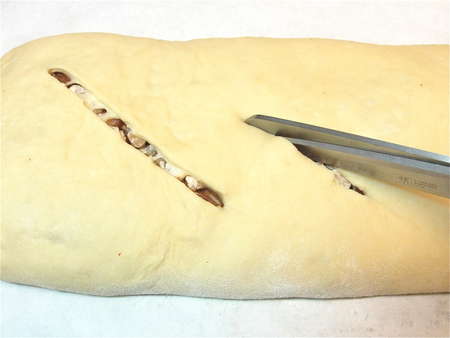 Use a sharp knife or a pair of scissors to cut 4 diagonal slashes atop the loaf, going deep enough to cut through both layers of dough: top, and middle.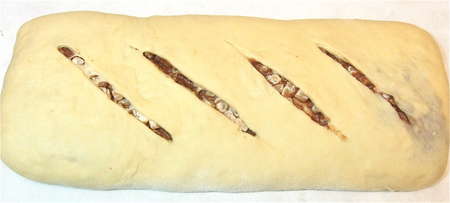 This will allow steam to escape.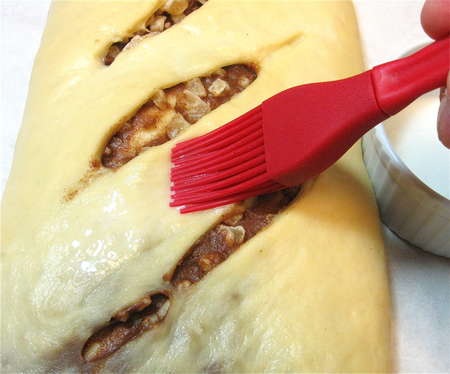 Brush the loaf with the reserved egg white, which you've whisked with a fork to make spreadable.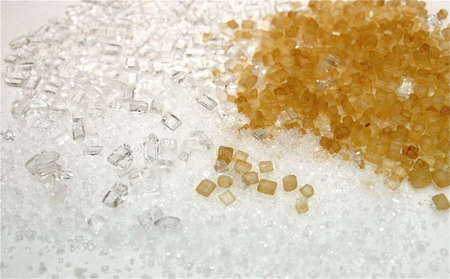 Now you have a choice: sprinkle the loaf with coarse white sparkling sugar, or coarse brown Demerara.
OK, I'll try some of each, see what happens.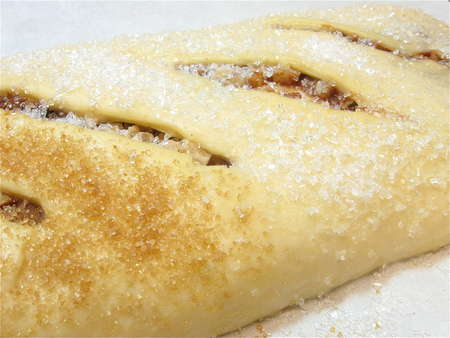 Cover the loaf gently with lightly greased plastic wrap, and allow it to rest for 1 hour. It won't rise much, if at all.
Towards the end of the resting period, preheat the oven to 375°F.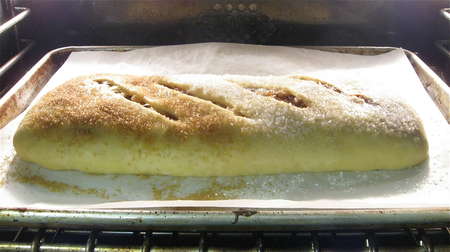 Bake the loaf in the middle of the oven for 25 minutes. Tent with foil, and bake for an additional 20 to 25 minutes, till it's golden brown and a sharp knife poked into the center doesn't reveal any raw dough.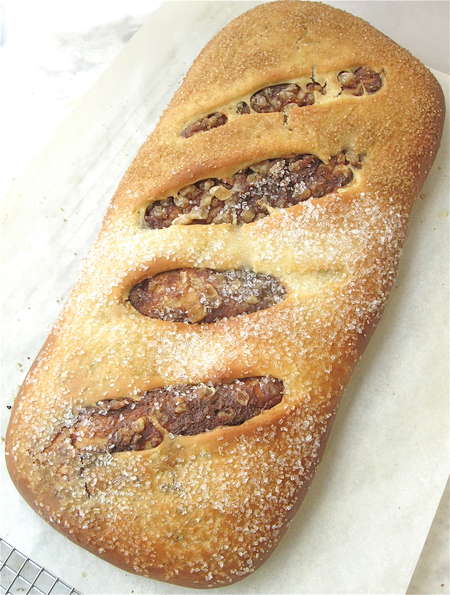 Remove the loaf from the oven, and set it on a rack to cool.
Notice the Demerara sugar at the top, the white down below. I think the white looks more striking, in this case.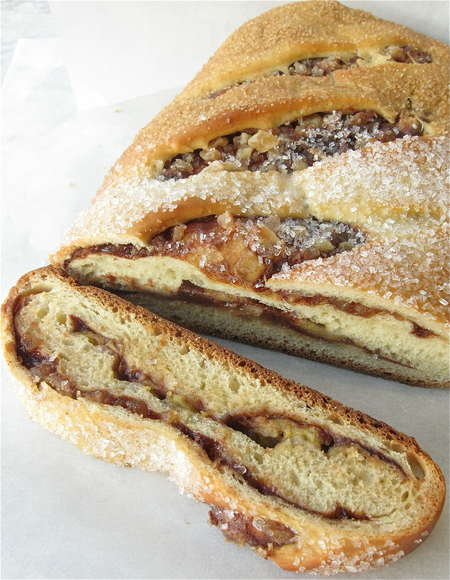 Lovely. See how those dried pineapple bits softened up in the cinnamon filling?
Since the loaf didn't seem to change any during its 1-hour rise prior to baking, I thought I'd do a test to  see if it really made any difference.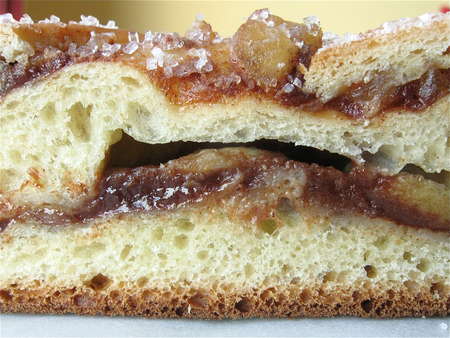 Here's the loaf I let rise. Notice the two distinct layers of dough with filling in between. (I happened to cut at one of the slash marks, which is why the top of the loaf appears open.)
Here's the loaf I didn't let rise. Although the outer edges of the dough were fine, in the center it simply became a thin, wet, gummy layer. So don't skip the rise before baking, OK?
So, Ricardo, here's your Jewish Strudel – at last. Thanks for your patience.
But then, anything this good is worth waiting for, right?
Read, rate, and review (please) our recipe for Brazilian Sweet Bread.