Smoky grilled goodness, sweet caramelized onion, a hint of sharp cheese. Next time you're grilling, grill up some extra asparagus for stromboli, a super simple dinner any night of the week, great for parties on the deck or at the beach.
Stromboli, or "boli" as they are known, are gaining in popularity. They have been a long-time staple in many areas of the country, but are unheard of in others, rather like the New England Whoopie Pie or southern Sweet Tea. Stromboli is flavorful pizza dough literally wrapped around a filling, often quite similar to pizza toppings. Popular stromboli are pepperoni, sauce and cheese, or salami and cheese. Today, with eyes on summer and bathing suit season, we are going with the vegetarian option. Besides, asparagus is out in force and nothing beats fresh asparagus in season.
The best asparagus I ever had came from a roadside stand, actually more of a table really, set up at the end of the farmer's driveway. The table held bunches of asparagus, a coffee can, and a sign with the price per bunch. There was no one attending the table, it was strictly honor system. Those thin, tender sweet stalks  were simply divine and I ate them with my fingers. Even Miss Manners says you can eat asparagus with your fingers, so I'm good. Of course, I probably break more of her rules than I follow, so it's good to know I meet the mark once in awhile.
The worst asparagus I ever had was on my honeymoon cruise. The menu described the appetizer as "tender asparagus wrapped in ham, with a delicate creamy white dressing". What I got was CANNED asparagus wrapped in limp boiled deli ham with a squirt of mayonnaise on top. You could almost make out the ridges on the mayo from the edges of the foil packet they must have squeezed it  from.  Needless to say, it was awful. (Between you, me and the lamppost the whole trip was pretty awful, but that's a story for another time).
One of my mother's favorite dinners in spring is steamed asparagus on buttered toast. That's it. No meat, no sides. Asparagus, butter and toast. Pretty darned good in my book. She also used to make a killer Pasta Primavera with fresh asparagus and early sweet peas. The days of wine and heavy cream ended with my dad's first bypass, but we all remember that dish fondly, and I've never quite been able to duplicate it. Besides, it's better to have Dad here than any food in the world.
It wasn't until more recent years that we began cooking asparagus on the grill.  My husband David got one of those veggie grilling trays for Christmas, and we grilled everything we could get our hands on. I discovered that leftover grilled asparagus, caramelized onions and Italian sausage made for one dynamic pizza and that became the inspiration for this stromboli. Now when we buy asparagus for the two of us, we need to buy at least 2 pounds to make sure there is enough for all the treats we want to make.
Well, now that you are just dyin' to have some asparagus, let's get started on our Grilled Asparagus Stromboli. First, the dough.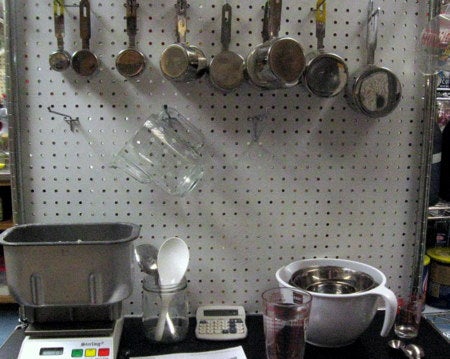 Check out our new weighing station in the test kitchen. This was Susan Reid's special project, and it rocks! Scales, bowls, measures, pitchers, everything you need to measure out all your ingredients in one place.  Thanks a million Susan!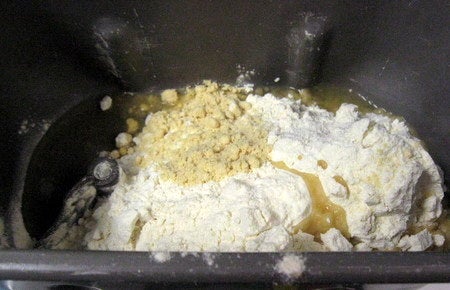 This dough can be made by hand or in your bread machine on the dough cycle. In goes the flour, water, yeast, Pizza Dough Flavor, garlic oil (or olive oil) and salt.
If you look closely at this picture, you won't be able to see the salt. Not because it's at the bottom, it's because I forgot it. Keep that in mind when we get to some of the final pictures, there's a lesson to be learned here.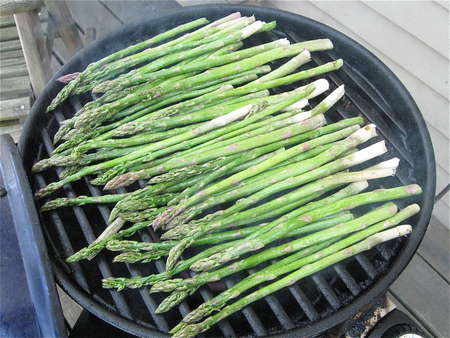 For this recipe, one pound of asparagus works well. You can grill the whole pound and then snack on some while you assemble and still have plenty for the filling. Oil the trimmed spears and place on the hot grill. Cover and grill for several minutes, turning occasionally. Our panini grill would also work beautifully for this.
You can place several thick slices of onion on the grill at the same time if you have room, or you may have to grill in stages.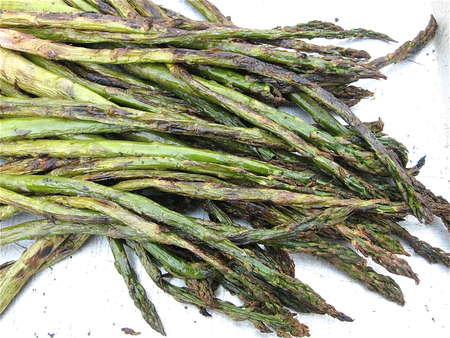 The finished asparagus will be tender, and well caramelized and very very fragrant.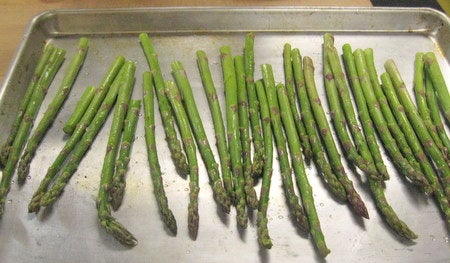 If you don't have a grill or if you are still buried in snow, you can roast the asparagus and onions on a sheet pan in the oven.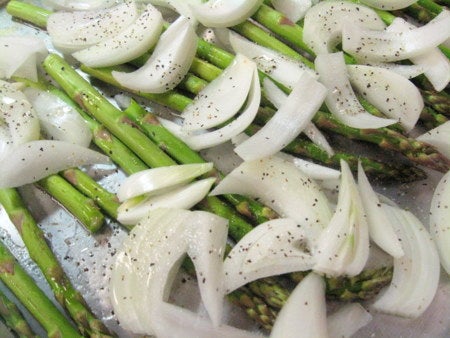 Wash and trim the asparagus, add the onion in large chunks. Drizzle oil over the whole pile of veggies, add a pinch of salt and pepper, and roast in a 300°F oven. The timing will depend on the size of your veggies, but plan on at least 30-40 minutes.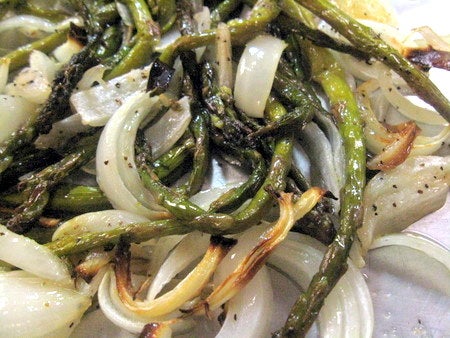 Nothing smells so good as caramelized onions! The sweet/smoky flavor is really going to make this 'boli sing. Set the veggies aside to cool slightly. You could even do this step a day or two ahead of time and then just warm the veggies before using for the filling.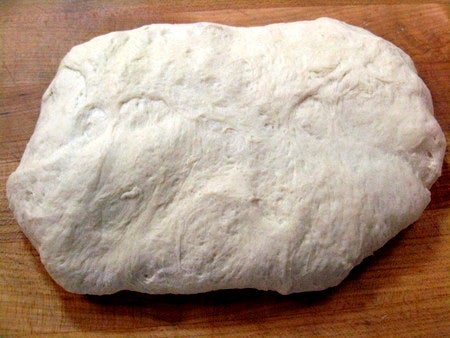 Here's our dough, ready to go. If you used the dough cycle on your bread machine, that will include the mix, knead and first rise. If you did the dough by hand, this would be after the first rise.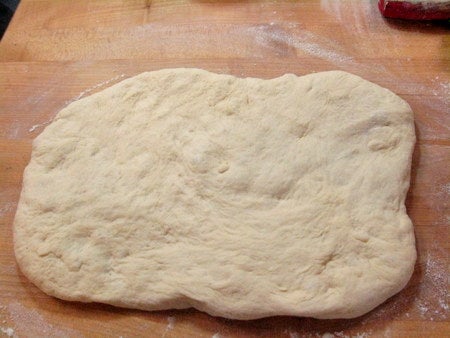 Gently pat the dough into a rough rectangle. For ease in rolling, let it rest for 5 minutes before beginning to roll, to let the gluten relax.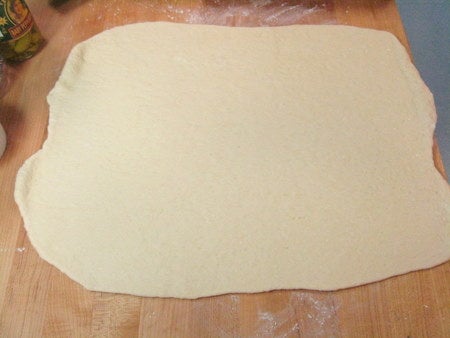 Roll the rectangle to 10" x 15", approximately. This is a rustic type of bread, so don't worry about being too precise. The dough should be about 1/8" thick.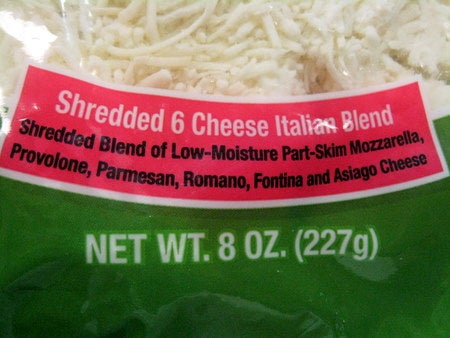 While I love to use freshly grated cheese on top of pizzas and pasta, a pre-packaged cheese blend can offer you a lot of flavor for a small investment. I like the 6 cheese blend, but use what you are happy with.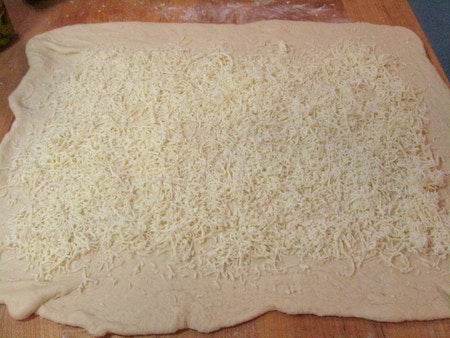 Spread the cheese in an even layer over the dough. Leave 1" uncovered  around the edges for sealing the dough.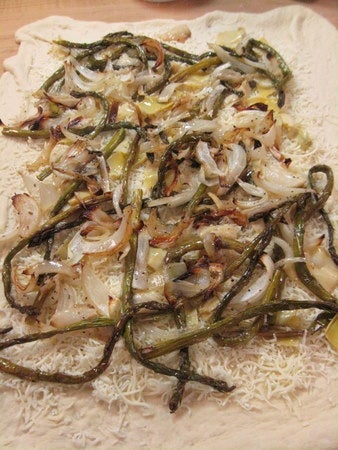 Add the grilled veggies.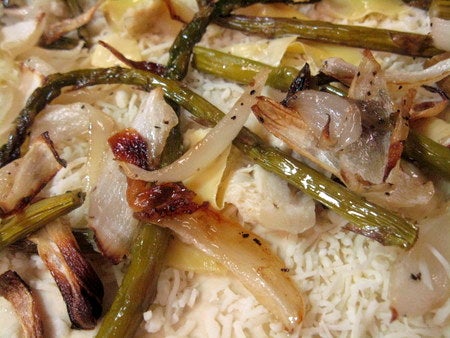 I happen to love artichoke hearts, so I've added one small jar, drained. Break up the hearts with your fingers and distribute the leaves evenly over the veggies. If you aren't a fan, just leave the hearts out.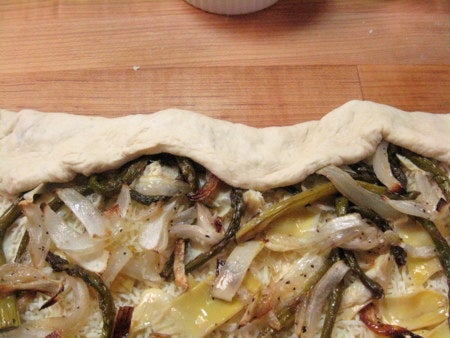 Beginning on one of the 15" sides, roll the stromboli up, cinnamon bun style.  Keep the tension even and tuck in any stray bits that try to escape out the sides. Remember, you want this bread to rise again, so avoid too tight a roll, or you'll get thin spots in the dough and blow-out in the oven.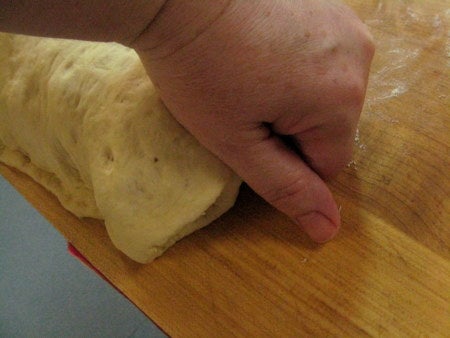 When you reach the end, pinch the end seams well.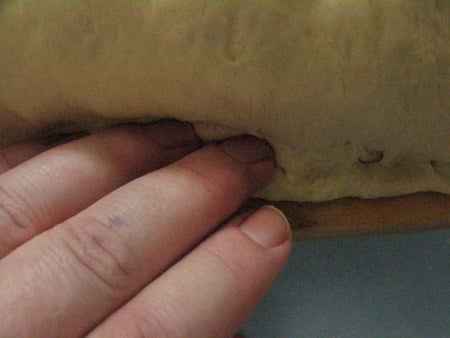 And use your fingers to press the long seam firmly. Seams are weak spots and you need to seal them well so that the steam doesn't blow them open.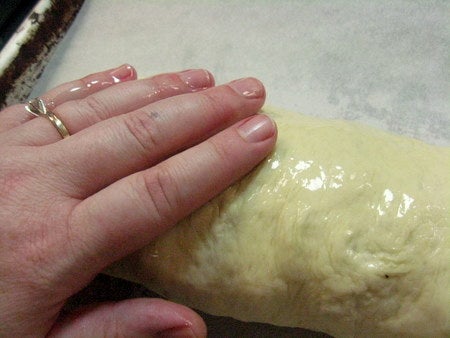 Place the 'boli seam side down on a parchment lined baking sheet and rub the surface with garlic oil or olive oil. Garlic oil is olive oil that has been infused with garlic, so it adds another layer of flavor to your stromboli.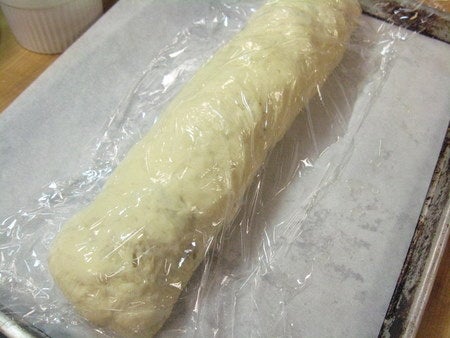 Loosely cover with plastic wrap and set aside to rise for 40-45 minutes. Be sure your oven gets preheated to 400°F  during this time.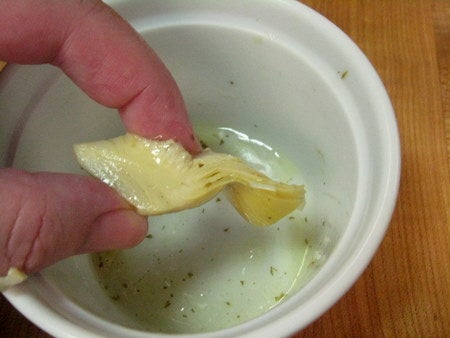 Bonus! A little bit of artichoke heart escaped the 'boli. Guess I'll just have to eat it myself!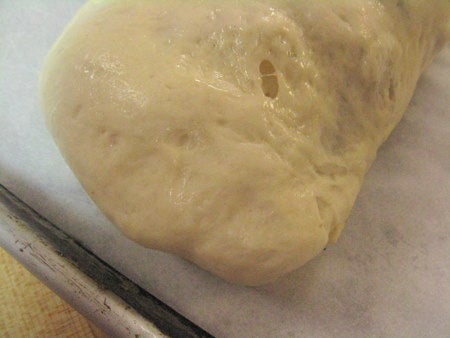 Checking the dough, you'll see that the ends are nice and puffy. You can see that I have a bit of a thin spot on the side, we may see some leakage here during the bake.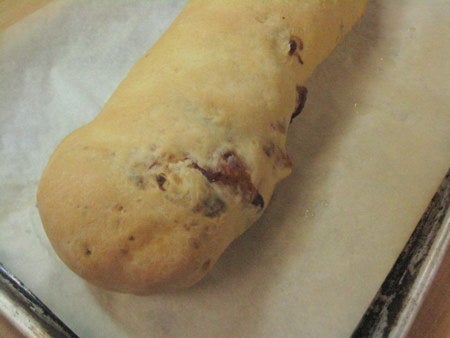 Remember the missing salt? Well, one of the biggest benefits of salt in yeast dough, besides flavor is that it keep the yeast from consuming all the sugars during the fermentation/rise periods so that during the bake there are still sugars left to brown.
Not knowing that the salt was missing at the time, I baked this 'boli a bit long. I checked it for browning, nothing. I checked again and again until it finally dawned on me that the bread HAD to be done, and there must be something else going on. Sure enough, the dough was dull, pale and bland. Bingo! No salt.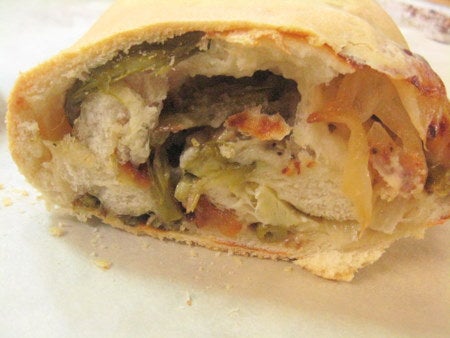 The filling however, was just beautiful and really saved this bread from disaster. We just sprinkled Maldon salt on individual servings to compensate, but learn from my mistake and add that salt!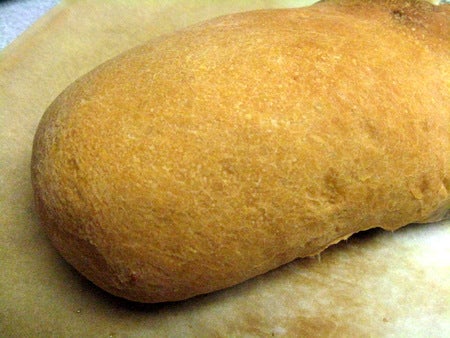 Here's my stromboli from a later date, with salt added. See the difference in the browning? The dough had better structure too, no thin spots or holes.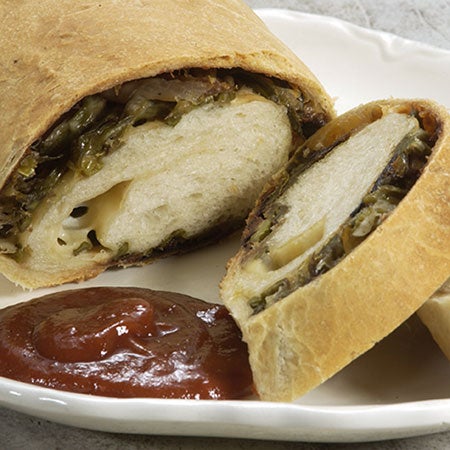 Serve the stromboli hot, with marinara for dipping. The sweetness of the onion and asparagus pairs beautifully with the creaminess of the cheeses and the tang of the tomato sauce. Despite its size, this bread will disappear in no time. Good thing they are so easy to make. Stromboli also freezes beautifully, so you can make and bake several with different fillings for parties and as the lucky host, keep all the leftovers for yourself for those lazy summer nights. Just be sure to tell the mosquitoes to find their own meal!
Please bake, rate and review our recipe for Grilled Asparagus Stromboli.