It's chocolate!
It's peanut butter!
It's a MESS!
Welcome to our annual April Fool's compendium of kitchen disasters, where we present the King Arthur test kitchen's finest moments, compiled over the past 12 months.
Well, that's why they call it a TEST kitchen, right?
Baking isn't always a piece of cake. Or easy as pie.
We're smart cookies, all right. But some of the stuff that happens here in the kitchen makes us go absolutely CRACKERS.
Without further ado - welcome to our (imperfect) world!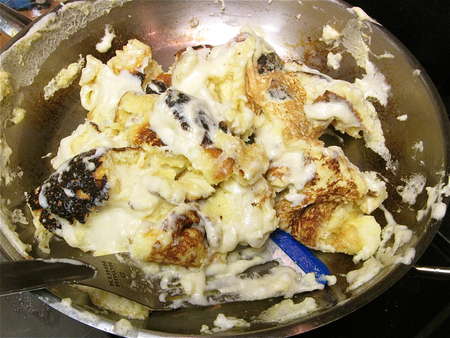 Susan is cooking something at the stove.
Me: "Susan, what IS that?"
Susan: "It's a baked pancake... gone WAY wrong."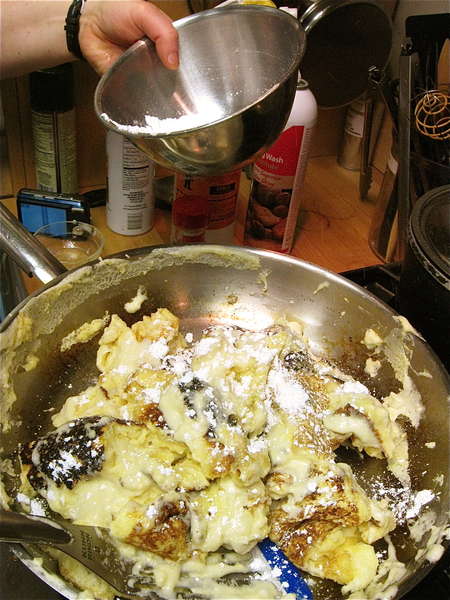 Gee, maybe some confectioners' sugar will help...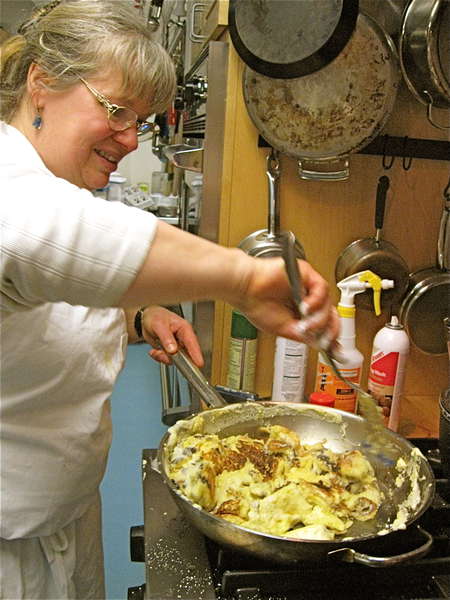 ...or not. One thing all of us test bakers share is an occasional inability to let go.
Recipes are like our children. We coddle them, we nurture them, and we NEVER give up!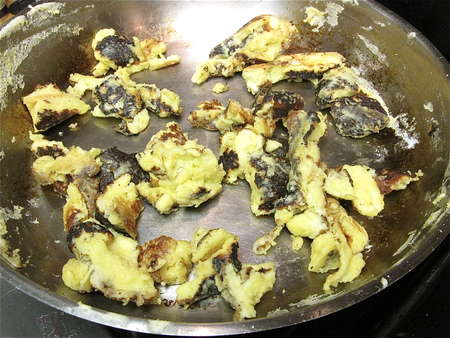 There! Breakfast fit for a king.
"Here, King, good dog..."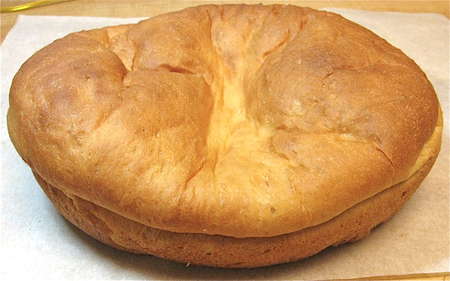 What do you do with soft, pillowy, absolutely under-baked and sunken-centered yeast bread?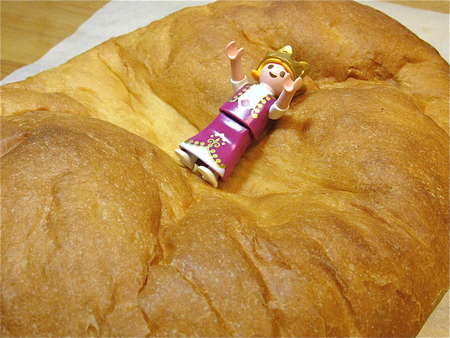 I don't know, but one of my kitchen comrades did.
You just never know when Playmobil people will come in handy, do you?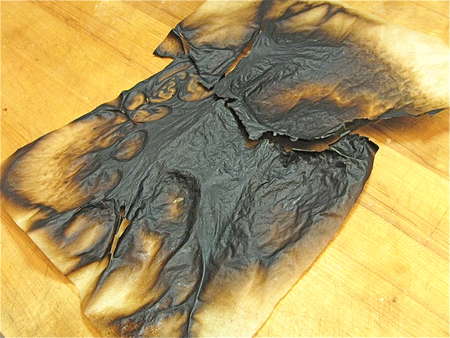 Q. Can parchment catch fire in the oven?
A. No. But it can definitely catch fire when it's sitting on the stovetop and you don't notice it and you turn on a burner and walk away and 10 seconds later smoke alarms are going off.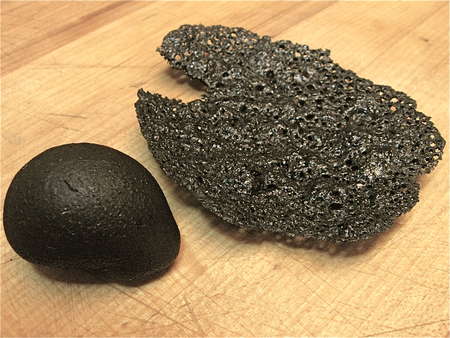 Speaking of smoke alarms – did you ever wonder what happens when you inadvertently leave ONE roll in a 450°F oven for, like, 6 hours? Charcoal. (Char-roll?)
The other artifact was – something – on the oven floor. Never did figure out what.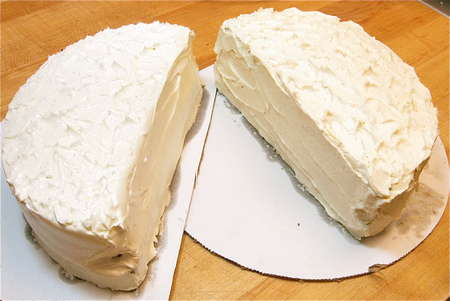 Who says you can't halve your cake and eat it, too?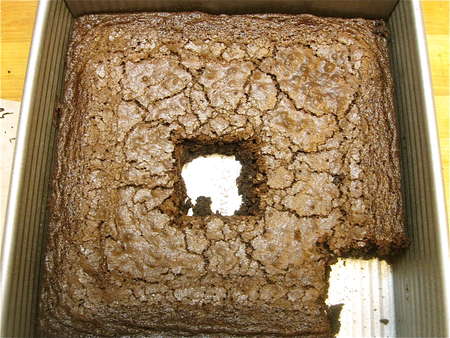 Some of us like the crunchy edge. Some like the fudgy center. And we're not shy about taking EXACTLY the piece we want.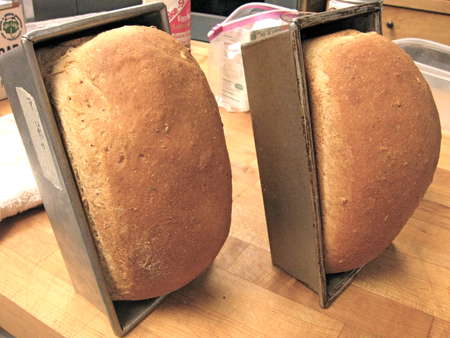 The March of the Yeast Loaves. No counter space? No problem! Stand 'em up, they'll cool just fine.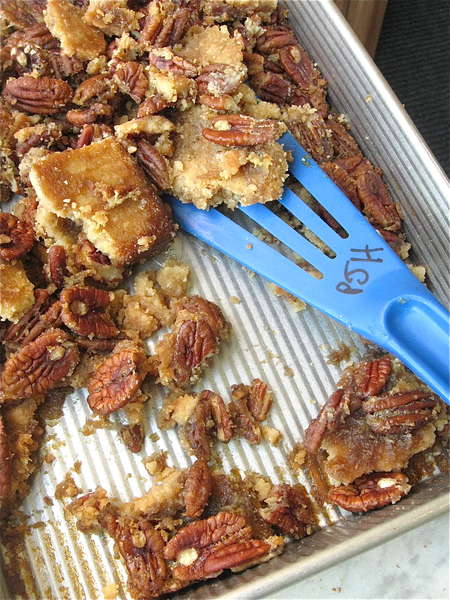 I wonder if I should put an egg in this crust. It doesn't seem like just flour, sugar, and butter will hold together. But that's what the recipe says... Hey, let's give it a try.
WOW! Really tasty. But the presentation could use some work. YA THINK?!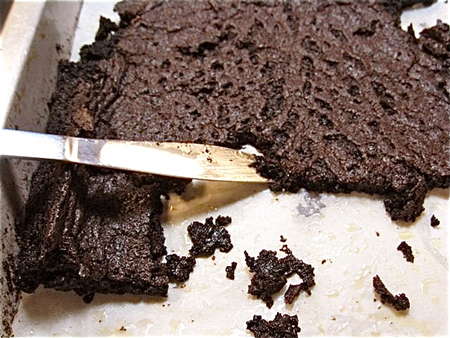 MaryJane's "I forgot and only added half the flour" brownies. As MJ wrote in her test results, "Very thin and fudgy, good tasting... a BIG FAT ZERO in the looks department."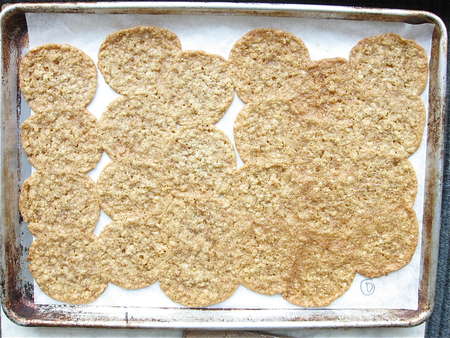 I wonder if I'm leaving enough room between these cookies? I wonder how much they'll spread?
Wonder no more. Hey, great oatmeal lace cookie recipe!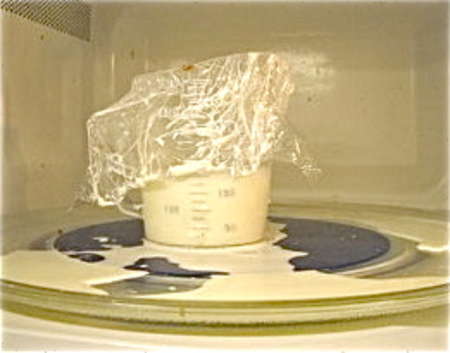 Ah, the daily microwave explosion. If it's not butter (the usual suspect), it's a bowl of breakfast oatmeal. If not a bowl of oatmeal, it's cream. If not cream...
... it's a spaghetti squash.
Did you know squash could blow up in the microwave? We didn't.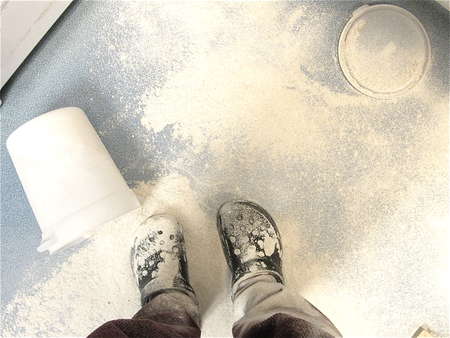 Gee, I love it when the lid on the 10-pound bucket of whole-wheat flour isn't snapped on tight when you go to grab it out of the freezer.
After I pointed the camera down and snapped this picture, I just stood there and said "Uhhhh..........."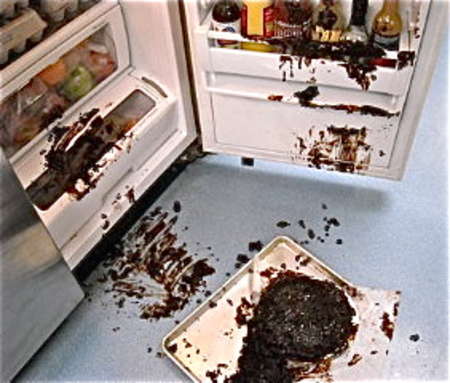 It's also a blast when gravity has its way with the chocolate cream cake that was oh-so-precariously balanced in the overstuffed fridge.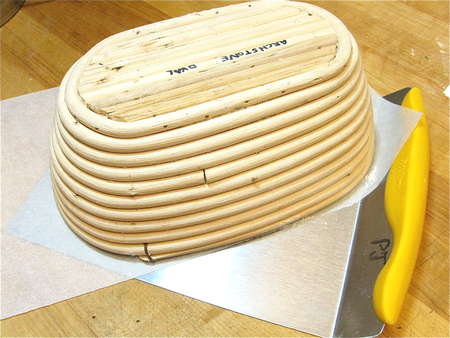 Hey, kids, let's try this sticky no-knead dough in a banneton.
Seems like it would work, so long as the banneton's REALLY heavily floured.
Right?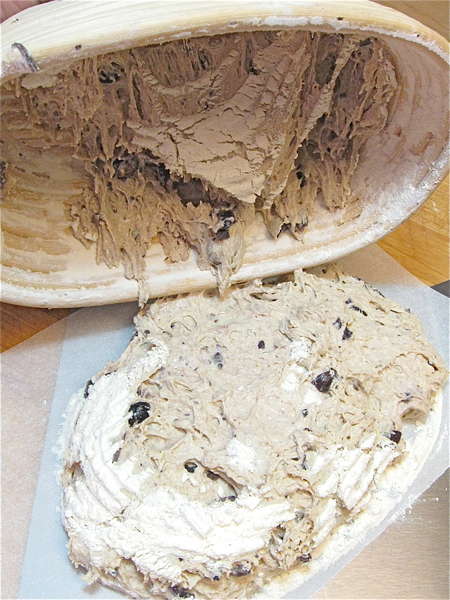 Wrong.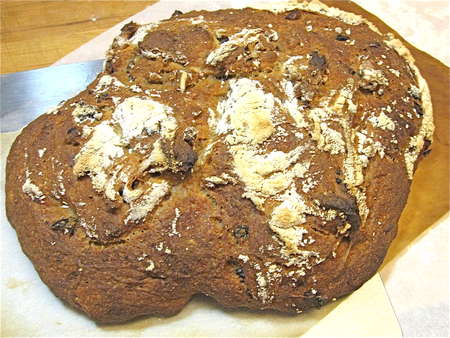 Well, no sense wasting a perfectly good wad o' dough. Let's bake it up. Maybe the birds will want it.
Or not. Sadly, even the crows out on the back lawn avoided this one.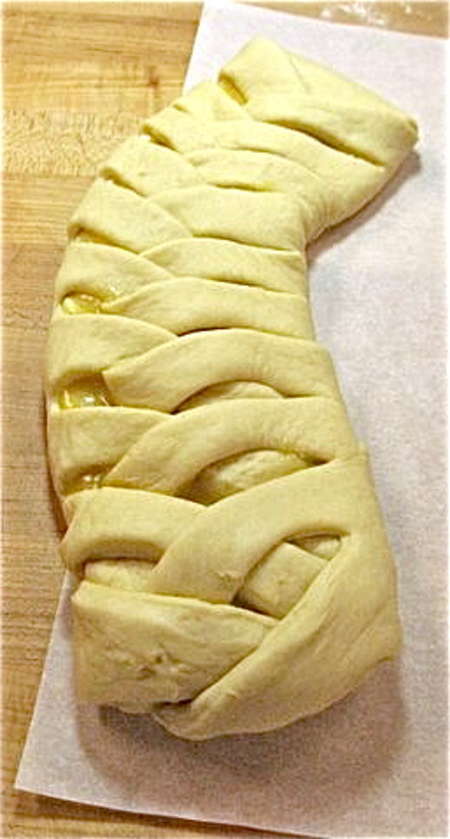 MaryJane is one of our top "fancy" bakers. She can decorate cookies like no one's business. She creates intricate Easter eggs. Lovely miniature desserts.
And really snaky braids, when we all get to yapping and laughing at once!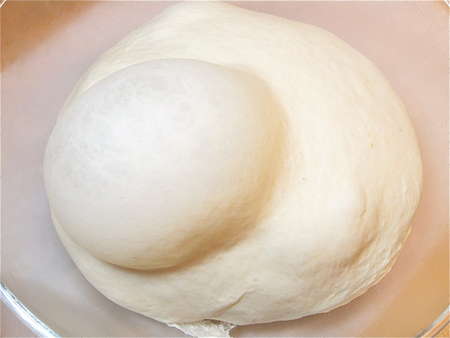 [Censored]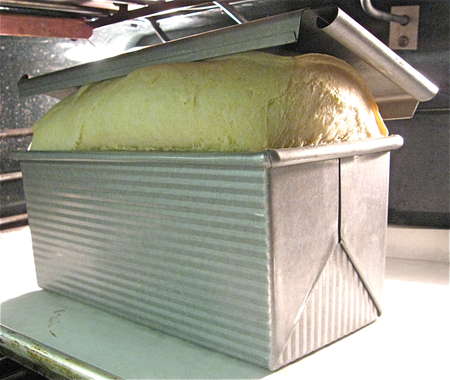 OK, Doors fans, this one's for you. Cast your mind back to the refrain from L.A. Woman. You know, the part about Mr. Mojo –
The dough is rising...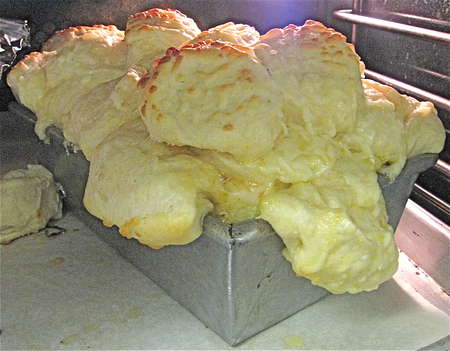 keep on risin'...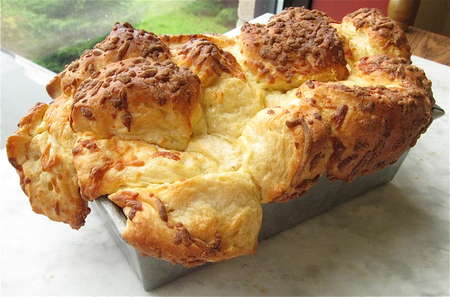 ...over-rising...
OK, if you can't hear the music in your head, you're losing a lot of the effect.
But if you CAN hear L.A. Woman - I guarantee you've just laughed yourself right out of your chair.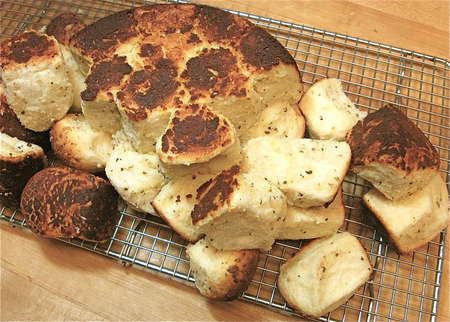 "Turn the bread out of the pan onto a rack to cool."
Watch the pull-apart bread break itself into multiple pieces, all on its own.
Really, I MEANT it to do that.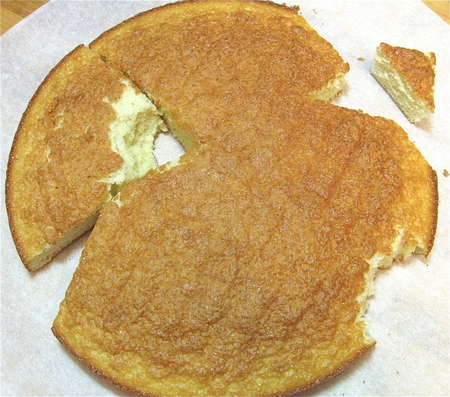 Oh, man, who's been hacking away at this cake? I need it for a picture!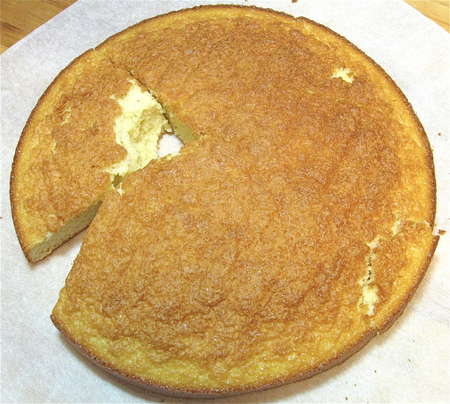 OK, let's put this baby back together.
Will icing cover its multitude of sins?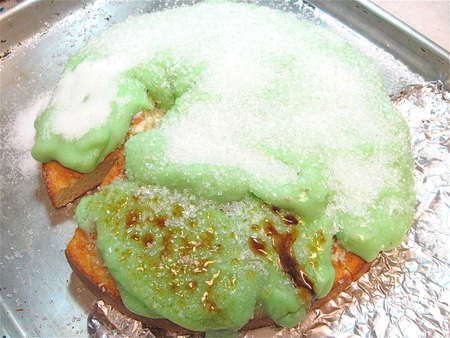 No. But pistachio pudding will. I wonder if you can sprinkle sugar on top of pudding and put it in the broiler and it'll caramelize?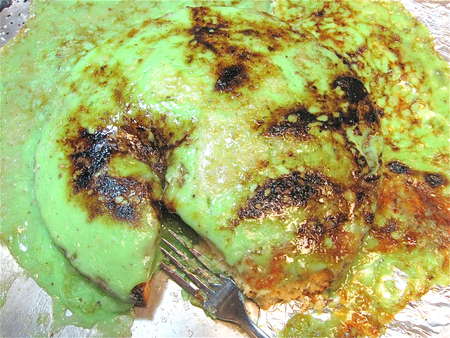 Absolutely. The sugar caramelizes (read: burns); the pudding melts; and there are still those willing to take an exploratory bite.
"Not bad!"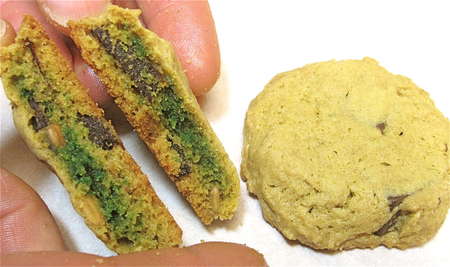 "I wonder if we could substitute sunflower butter for the peanut butter filling in these cookies?"
Wonder no more! The answer is a resounding YES – so long as you don't mind cookies with green filling.
How did it DO that?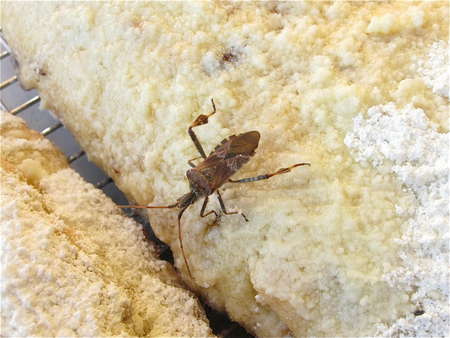 Gee, guess I'd better tweak this recipe, I think it still has a few bugs in it....
Now, before you get all worked up about the cleanliness of the KA test kitchen - I'd taken this pastry outside, to catch the light for a photo. Went back in to get my camera, came out, and this nosy fellow had already found the sugar...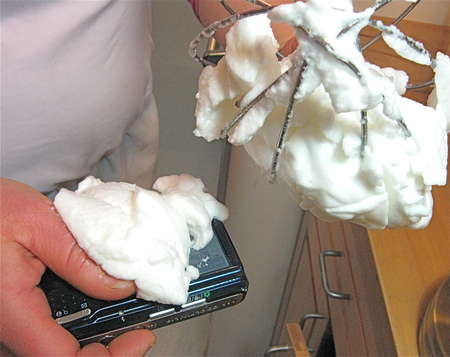 Susan had her camera in one hand, her whisk with beaten meringue in the other, and as she used her third hand to quickly turn off a burner on the stove... Oh, wait, she forgot she didn't have a third hand!
The juggling act that ensued resulted in a sticky situation.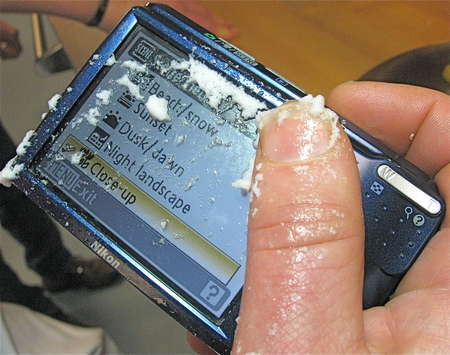 "Close-up" is right. That's called getting up close and personal with the contents of your mixing bowl.
So, folks, that's the way the cookie crumbles...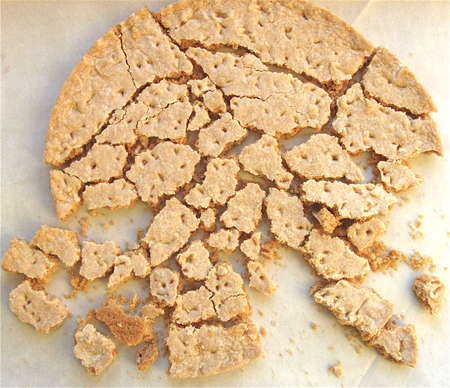 ...especially when you're making gluten-free shortbread.
But wait, there's more! The fun just never ends around here – check out our 2009 disasters.