Beyond flourless chocolate cake and macaroons: chewy almond cookies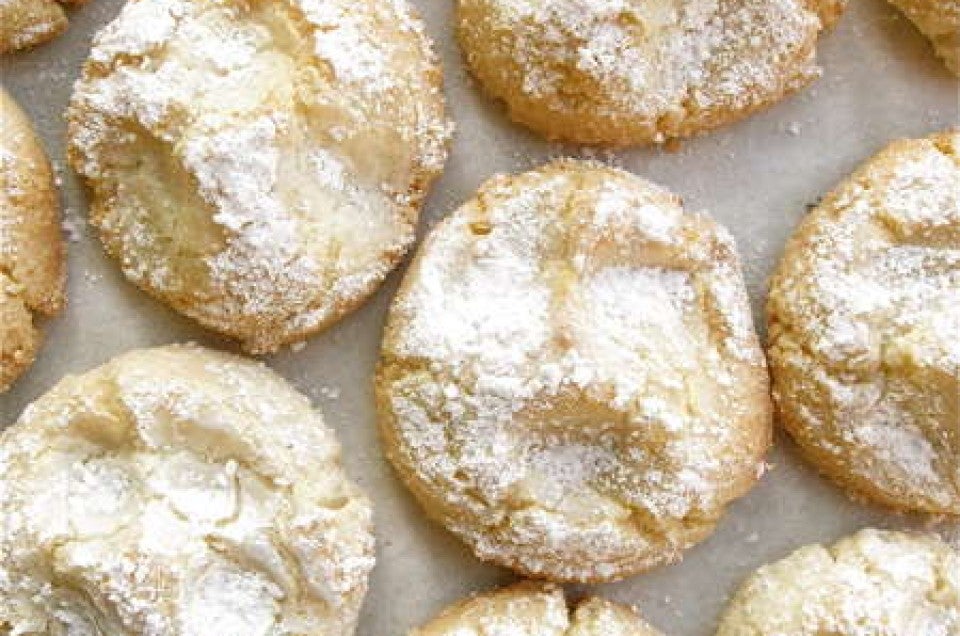 So Monday is the first day of Passover. I'm sure you've got your seder meal all planned. Except maybe the dessert. Hmmm, what'll it be this year? Same old, same old? How about something different, like almond cookies?
Almond cookies?! B-O-R-I-N-G...
Not if you like almond flavor – and certainly not these particular almond cookies, the likes of which you'll never encounter in the cookie aisle at your local grocery store.
First of all, these aren't the crumbly-textured almond cookies you're served at the end of your American-Chinese restaurant meal, with chunks of pineapple and fortune cookies. Or fragile, lace-like Almond Crisp Sandwich Cookies. Or dunkable almond biscotti.
No, these almond cookies are wonderfully chewy, and bursting with almond flavor – thanks to two types of almond: paste and extract.
Not only that, they're flourless and unleavened, which makes them perfect for Passover – so long as you can work your way around the confectioners' sugar and other possibly non-kosher ingredients.
They're also just right for any of you craving a gluten-free sweet treat.
And finally, with only six ingredients, they go together in about 5 minutes flat. Plop the dough onto a pan, bake for 20 minutes, and you can have warm, intensely almond cookies – light and meringue-like outside, dense and chewy inside – on the table in well under 45 minutes.
That's one of the reasons these cookies have become one of my go-to treats for the non-chocolate crowd.
Hmmm... speaking of chocolate, wonder what would happen if I added chocolate chips?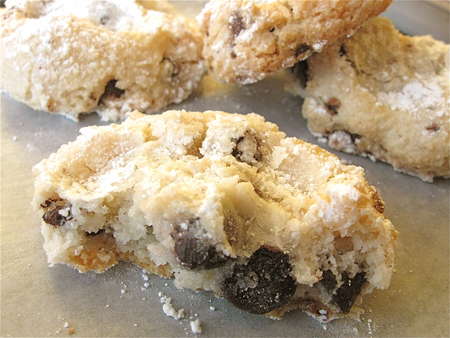 WOW!
Attention, almond lovers (you know who you are ) - this recipe demands almond paste, both for taste, and texture; and almond extract.
Let's get started. Preheat the oven to 325°F. Lightly grease (or line with parchment) two baking sheets.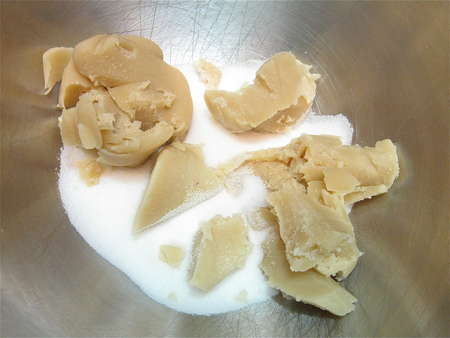 Put the following in a bowl:
1 3/4 cups (454g) almond paste*
1 cup (198g) sugar
1/4 teaspoon salt
*After publishing this recipe we discovered that different brands of almond paste, as well as homemade almond paste, produce varying results in the cookies' texture. After extensive testing, we decided that 16 ounces (454g) of almond paste is the amount that's most likely to produce good results across the whole spectrum of options. Exception: If your preferred brand of almond paste is American Almond's "Love 'n Bake," use 10 ounces (284g). You also do not have to refrigerate the cookies before baking if you choose this brand of almond paste.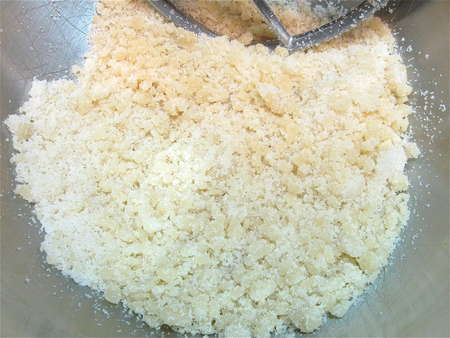 Beat until the mixture becomes crumbly; this is most easily done in a stand mixer, though an electric hand mixer will do the job, too.
Put 2 large egg whites in a small bowl.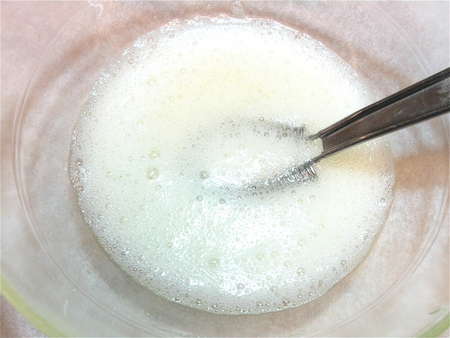 Whisk till frothy. This makes them easier to drizzle into the almond mixture – which is the next step.
Unbeaten egg whites would simply PLOP into the bowl all at once; if you whisk them first, they become pourable.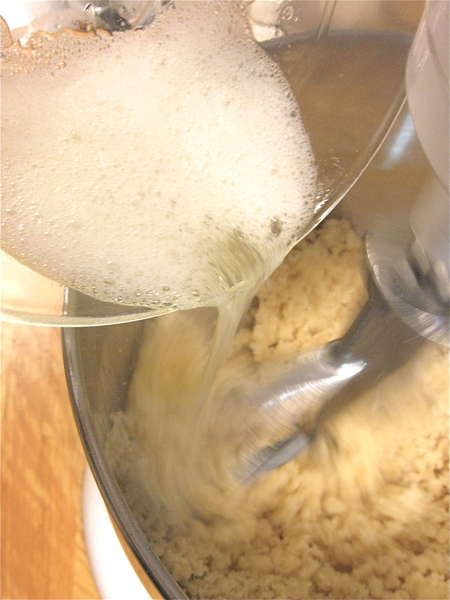 Add the egg whites gradually, while mixing, to make a smooth paste.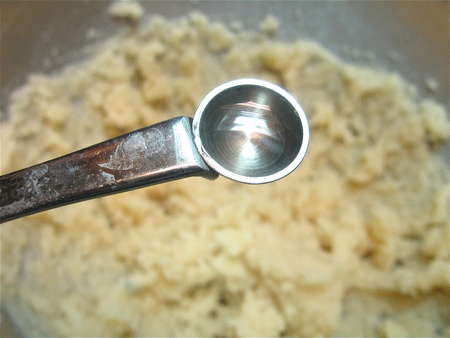 Stir in 1 teaspoon almond extract.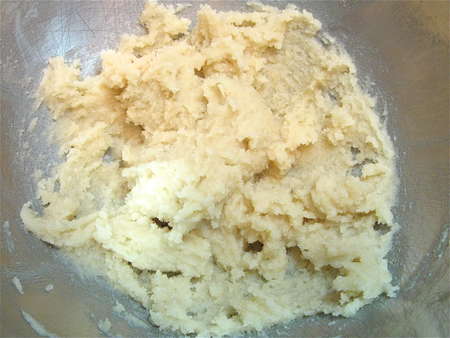 Here's the stiff dough, ready to scoop.
Note: this is the point where you'd add 1 cup chocolate chips, if you're a chocolate fan.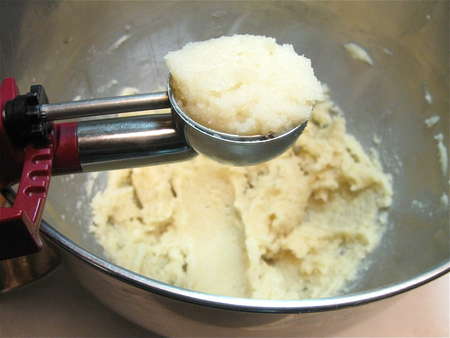 Scoop the dough by heaping tablespoons; a tablespoon cookie scoop is the ideal size.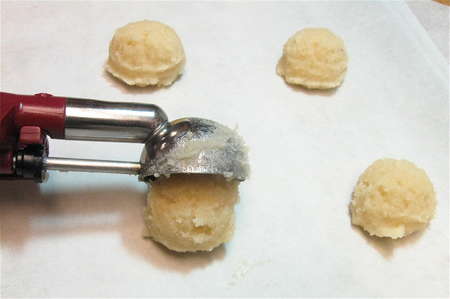 Deposit onto the prepared baking sheets, leaving about 1 1/2" between the cookies.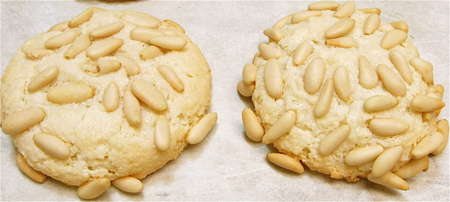 Hint: Want to make Italian pignoli cookies (above)? Dip tops of balls of dough in pine nuts, and flatten gently on the baking sheet. Skip the confectioners' sugar and three-finger indentations in the following pictures, and bake as directed.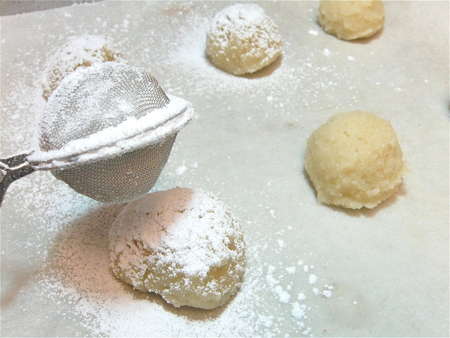 Sprinkle heavily with confectioners' sugar.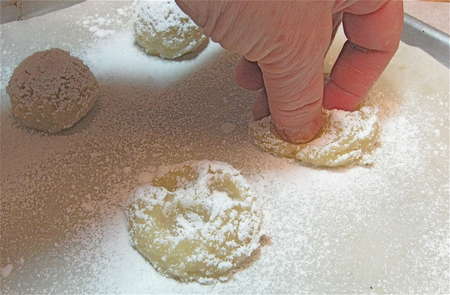 Using two fingers and your thumb, make three deep indentations in the top of each cookie.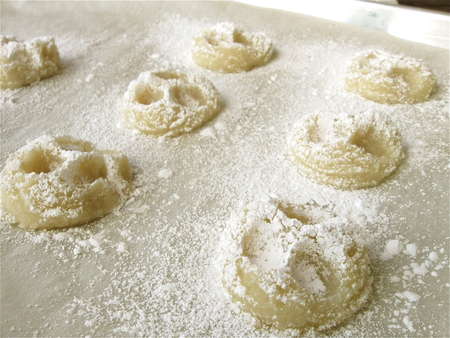 Here they are, ready to bake.
Bake the cookies until they're brown around the edges, about 20 to 25 minutes.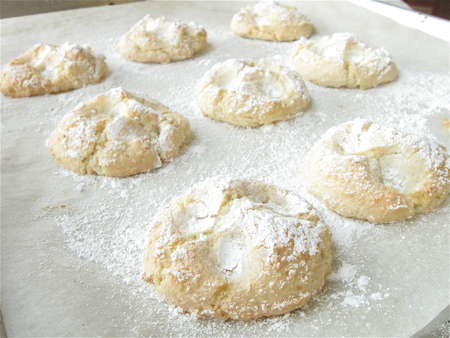 Remove them from the oven, and let them cool right on the pan.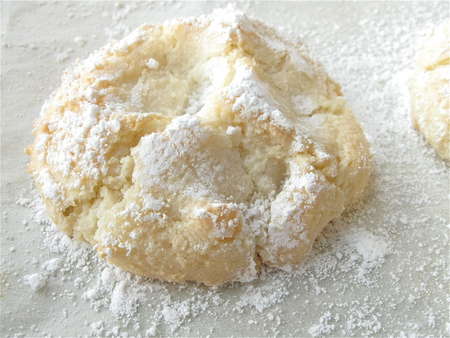 Light and crisp and crunchy on the outside...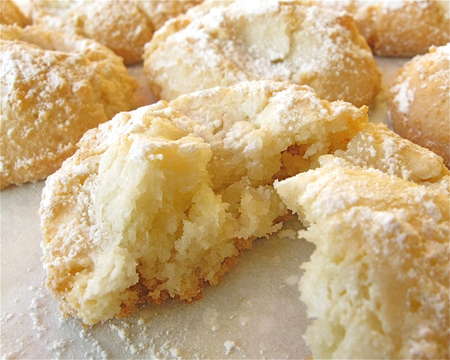 ...wonderfully chewy and almond-y inside.
Read, rate, and review (please) our recipe for Almond Cloud Cookies.