In June 2009, eleven members of the King Arthur Flour sales and marketing team met in Kansas for a week-long, 1000+ mile journey across the state – from Kansas City to Denver. Our objective was to meet in person the folks who grow and mill the wheat that becomes King Arthur Flour. Several people on our team already knew many of the farmers and millers and possessed an in-depth knowledge of wheat, milling and baking. Yet it was still very important for us to meet them as a team and to show our appreciation for the work they do. I had a secondary objective: to shoot some video that would allow us to share the experience with you, our customers.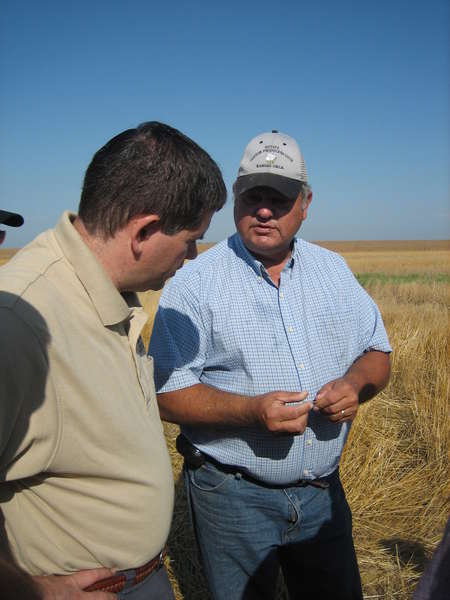 These relationships are important enough for all of us to take an entire week out of our busy schedules. Believe me, we certainly weren't in it for the 100°F heat we were expecting!We arrived in Kansas City on a sunny Monday afternoon from all corners of the country. We flew in from Florida and Utah; from Portland, ME and Portland, OR. Others came from New York, Tennessee, and South Carolina. Four of us flew in from New England.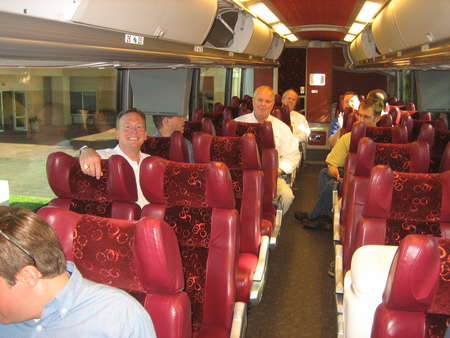 We assembled on a bus, a comfortable motor coach, together with our hosts for the week, Kent and Marcia. Their company, a farmer cooperative, makes up the Kansas network of farmers and millers who produce King Arthur Flour. (Wheat for our flour is grown and milled in other states, too – North Dakota, Texas, Oklahoma and others – but Kansas has the largest wheat harvest of them all). We could have spent another whole week in Kansas alone visiting farmers who grow wheat for us.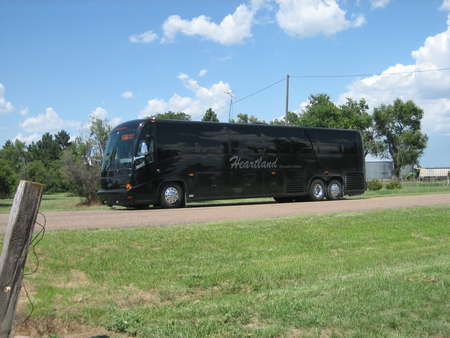 Our home for a week. Do you know how hot it can get inside a bus in Kansas when you have to drive with the air conditioning off? The dirt roads were clogging up the air filter and we couldn't use the A/C.Kent and Marcia had planned a very full itinerary that would have us crisscrossing the state of Kansas, meeting the growers and their families, visiting mills and grain elevators, and seeing acres and acres of wheat fields – from the vantage point of not only our tour bus but from the seats of combines and tractors as well.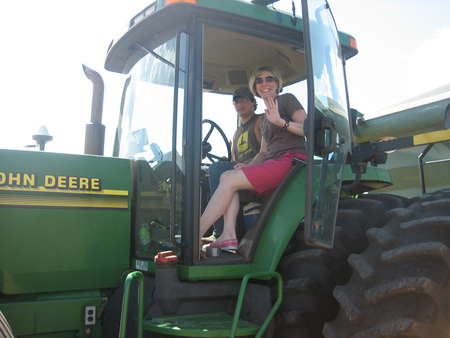 Here's sales & marketing analyst Amy Roy in a John Deere.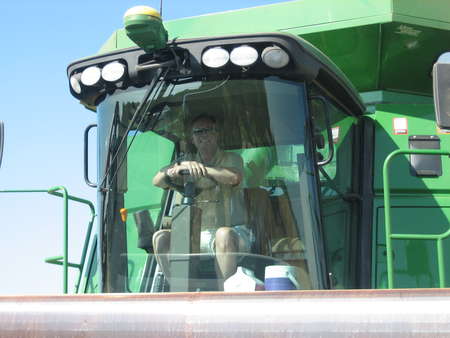 And Sam Sweet, northeast regional sales manager... I hope they took the keys out of the ignition before letting him in there! But I'm getting ahead of myself. Before we were turned loose on the fields of Kansas, we needed an in-depth education in wheat.Our first stop was at Kansas State University in Manhattan, KS. This school in "The Little Apple" boasts the country's premier grain and milling science program. At Kansas State we used equipment in a milling classroom to grind wheat berries into flour.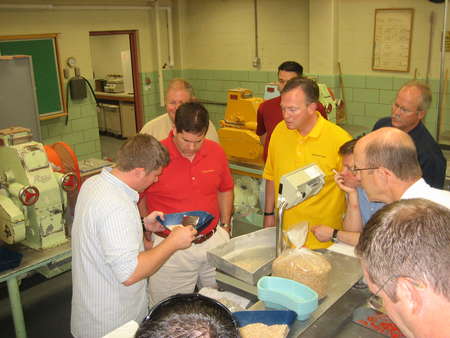 We used a laboratory approach to approximate the steps that occur in a commercial mill, carefully separating the various parts of the grain with the aim of producing a fine, white unbleached flour. Most instructive for us in this exercise was learning about all the different output streams in the milling process. To obtain the very purest, whitest flour (without bleach), you cannot use all the streams.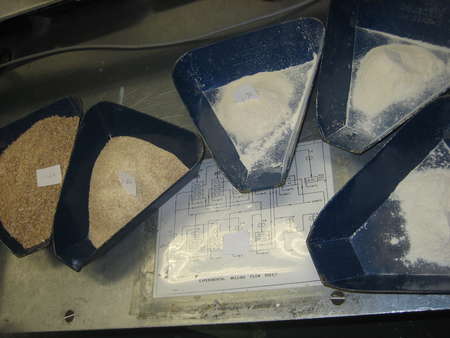 Here are the various streams separated into bins.To produce our all-purpose and bread flour, King Arthur is very selective in capturing only those streams that have the best baking properties – the whitest "heart" of the wheat berry.Other parts of the stream are sold to other flour companies or used in animal feed. They just don't possess the qualities necessary to be called "King Arthur Flour." What this means is it takes more wheat berries pound for pound to produce King Arthur Flour than most other flours.Of course none of that applies to our whole wheat flour, which is ground from the entire wheat berry. Our whole wheat excels because we grind it finer and, as with all our flours, we start with a superior quality grain (a higher protein and lower moisture content).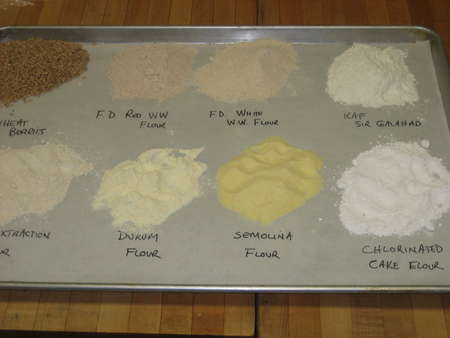 It was also fun looking at many different varieties of flour you get from various grains.
We also got a thorough tour of KSU's state of the art working production mill. Here students get an authentic mill experience before going to work in the industry. The place was spotless and almost brand spanking new.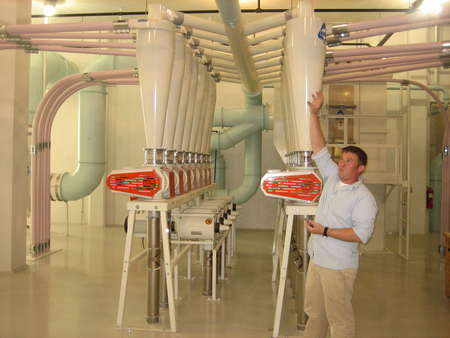 Our guide, Chris Miller (above), told Tod Bramble of our bakery/foodservice team that he had studied Tod's KSU thesis as part of his own studies as a graduate student. We hadn't seen Tod blush before.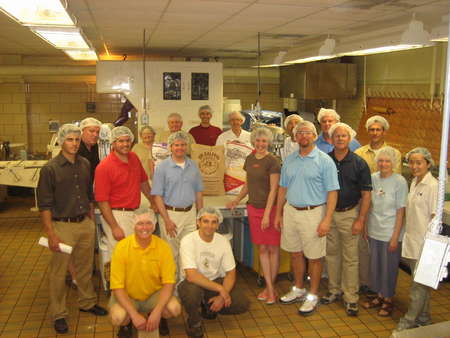 Our next stop was the baking labs at KSU, run by former KAFer Dave Krishock. We got to shape some dough pieces and make our own graham crackers. Yum!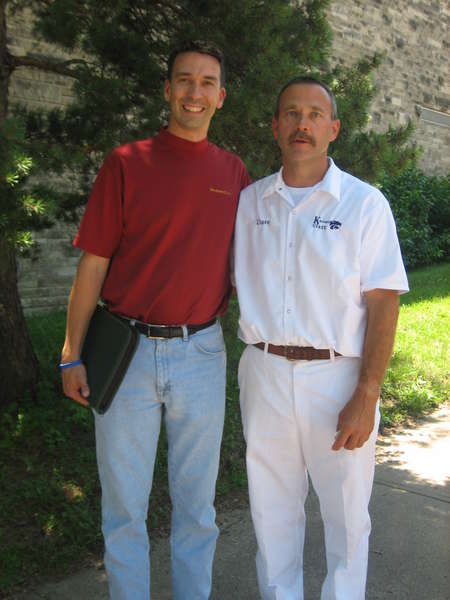 Here's Dave (on the right) with Michael Bittel, KAF's senior VP and general manager for flour.The harvest generally rolls northward from Texas as the standing wheat dries out in the heat of the sun. Our plan after Kansas State was to "chase the combines" in search of wheat harvest. Our hosts had a good idea where harvest should be. But weather is unpredictable and we had to be prepared for last minute changes to our itinerary. Rain or cool weather could delay harvest in one place; hot, dry weather could speed it up in another.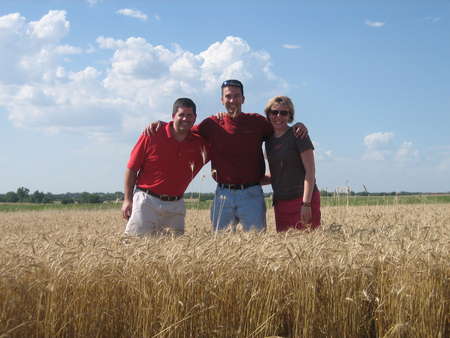 Finally, Wednesday afternoon we got out into the fields. From Manhattan we traveled to the first farm on our tour. The temperature had already reached 100°F. The harvest in Kansas was underway.What follows are some photos we took at different locations throughout the state that illustrate the wheat harvest (though not necessarily all on one farm or in chronological sequence). We learned something new at each farm, experienced different parts of the process, and witnessed varied practices of soil conservation and water management.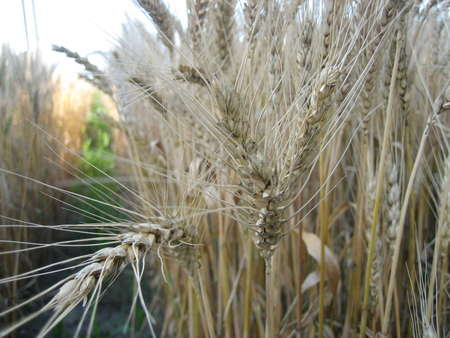 It is important that the wheat be harvested when it reaches ideal dryness, which typically happens by late morning or mid-day. Then it's a race against the clock to harvest as much of the field as possible before sundown.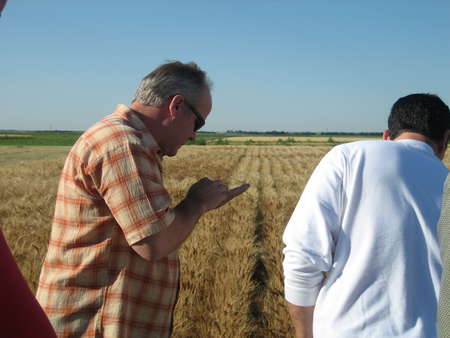 You can check the wheat's moisture by biting a few grains (the unscientific, artful method) or more likely by running a scientific moisture test. Western region sales manager Mark Roberts, is attempting to determine whether this grain is ready. Or maybe he was just feeling a little nibbly.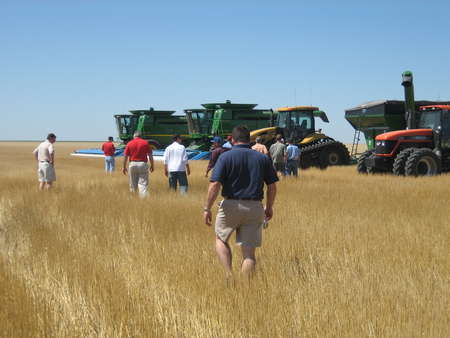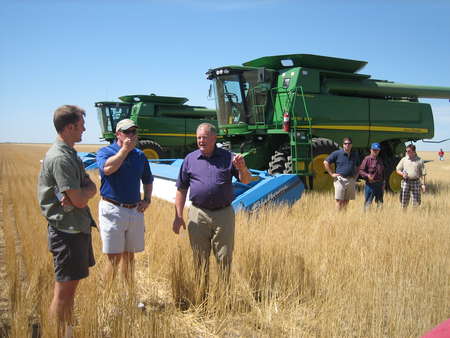 Some of the fancier harvesting machinery has built in moisture detectors so the operator can continuously monitor the moisture level of the grain as it is being harvested. The grain elevator co-op, which buys the grain from the producer, does not want to pay for moisture (water) because 1) it inflates the weight of the load and 2) a higher moisture content decreases the storage life of the grain.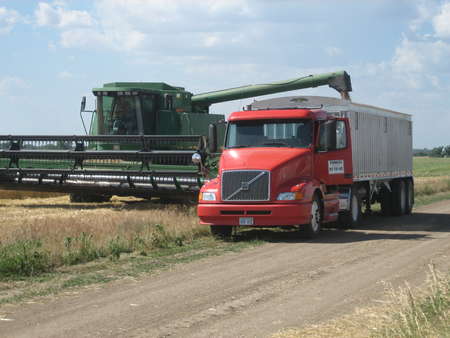 The grain elevator will run its own moisture content analysis when the load is brought in; a number of other factors including protein content, variety of wheat, local yield and commodity board pricing play a role in determining the price the farmer will get for the grain.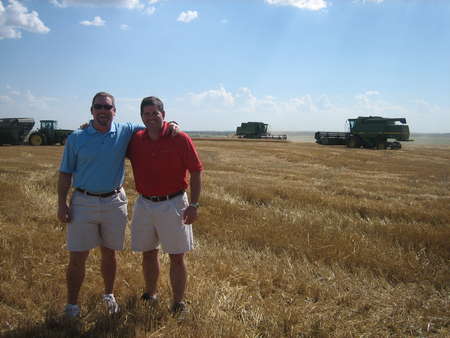 Here is our southern region sales manager, Duncan Giddens (left), and our director of flour sales, Peter Bouchard in the corner of a wheat field that had just been cleared. You can see the two combines and a grain trailer behind them.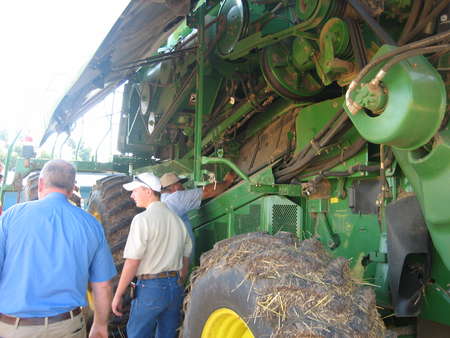 We were fascinated by the size of these monstrous machines and got a look inside the threshing mechanism – the part of the combine that separates the wheat from the chaff.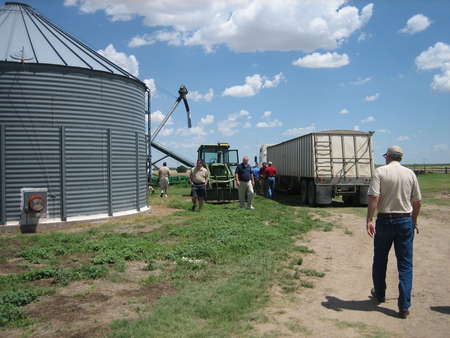 We followed the grain back to the farm where it was moved by auger from the trailer into storage bins. In some cases the grain is trucked from the field directly to a nearby grain elevator.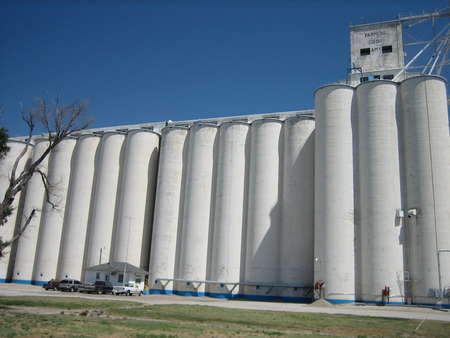 Take a look at the enormity of this grain elevator we passed along the way. Each one of those gigantic bins will be filled with grain. Now imagine one or more of these elevators in every community and you begin to feel the scale of the amount of wheat grown in Kansas.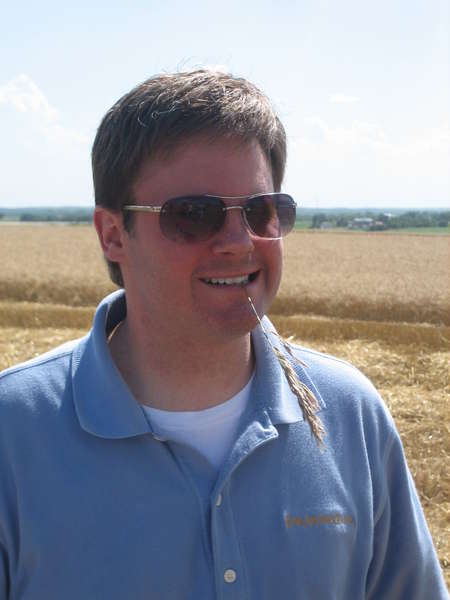 By now the temperature had topped out at 107°F. We were sweltering on that bus and relished any chance to get outside in the "cool" Kansas sun. Yet as a native Midwesterner, I quickly found myself feeling right at home in Kansas.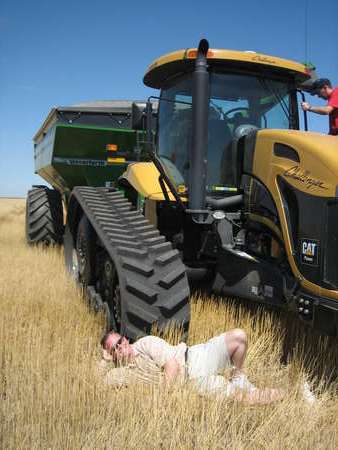 Apparently so did Sam.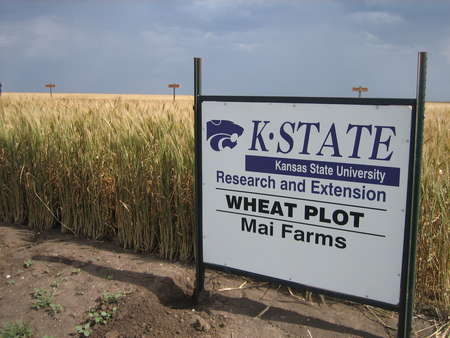 Next it was on to some experimental wheat plots on Bill Mai's farm in Sharon Springs. The Mais have lent a portion of their wheat field to Kansas State Extension for growing different wheat varieties in order to develop strains that are more disease or drought resistant, higher yielding, and any number of other favorable characteristics.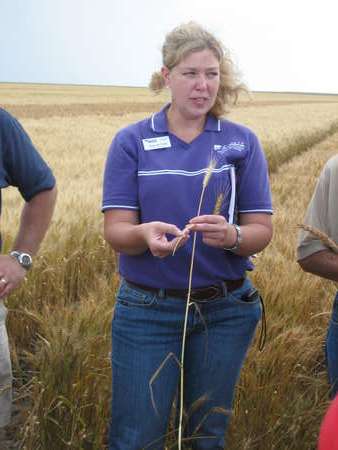 Jeanne Falk, the local extension agent, came out to the plots with us. Here she's explaining leaf rot.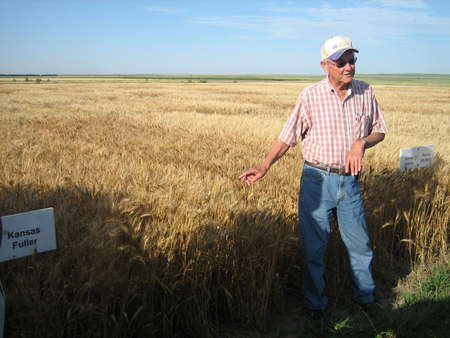 Another K-State researcher, Dr. Joe Martin, talked to us about the differences between the varieties growing in other test plots.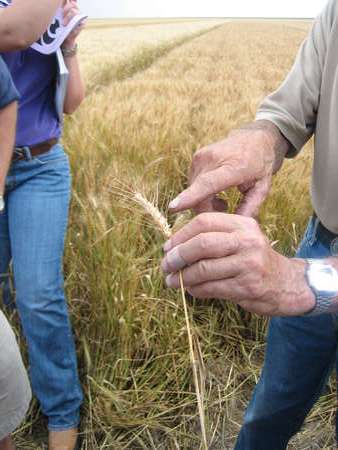 Thankfully at this time there are no genetically-modified wheat strains in commercial use in the United States. With the help of research at Kansas State, our wheat producers are able to achieve great results without it. The only bioengineering in our current wheat supply has occurred through good old fashioned cross-breeding.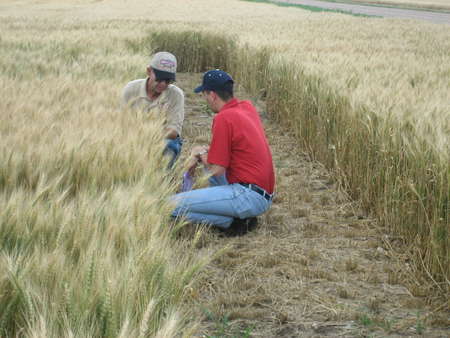 Here's Michael kneeling in the field with Bill Mai. Looks like an important conference. Or maybe they were hoping to scare up some pheasants.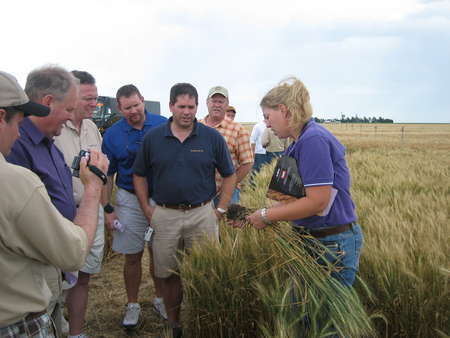 Jeanne also showed us how an entire clump of wheat (obviously not the technical term) grew from a single seed. Note me holding the video camera. You can see a clip of Jeanne's demonstration in our video. The second of our two videos focuses on the milling process.
Unfortunately we didn't get a lot of useable photographs from inside the mills (flour tends to coat the camera lenses). But I encourage you to spend a couple minutes watching this video to get a better understanding about how wheat becomes good King Arthur flour.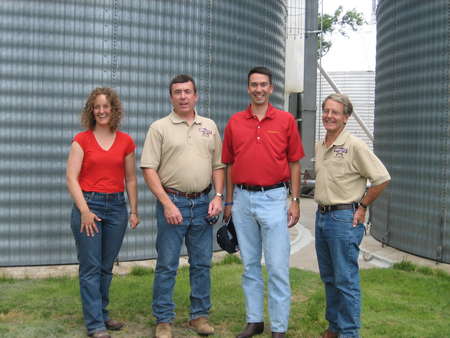 While we learned a great deal of useful information about wheat growing, harvesting and milling on our trip, the best part about the whole week was meeting the people. Here is Michael with the Ayers family, father Charlie (right) and his daughter Kara (left). Standing beside Kara is Todd Siverson, who helps her run the farm.We were astounded by the respect these people had for the environment and the care they took in producing their grain. It gave me renewed appreciation for our conventional (non-organic) flour; the absence of an organic certification isn't necessarily an indication that the producers of the grain are not great stewards of the land.I really can't say enough good things about the integrity and passion these people have for what they do. I believe that the wheat farmers in Kansas, particularly the ones who are producing grain for King Arthur Flour, really understand that what they are doing is growing food for other people.A lot of grain in this country goes into commodity markets and becomes generic, run of the mill flour (I now understand where that phrase comes from). At the peak of harvest, when grain elevators are literally overflowing with grain, the wheat can pile up outside on the ground, unprotected. However this farmer cooperative was unique in that its members knew that the grain they produced would end up in bags marked "King Arthur Flour." Because of that, they took the utmost care in its cultivation and handling. "Our King Arthur grain is never disrespected by being left on the ground," John Tibbits, director of the cooperative, told us.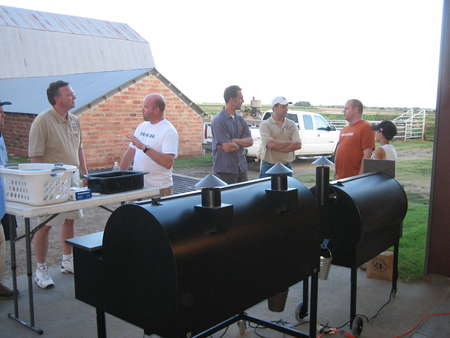 And finally, this story wouldn't be complete without mentioning the food we ate. And ate. And ate. We were welcomed at the farms with literal feasts. Above you see the smokers that were brought in at the Haselhorst Farm in Gorham. We were treated to the tenderest fillets that night. Fortunately none of our vegetarians back in New England were traveling with us that week.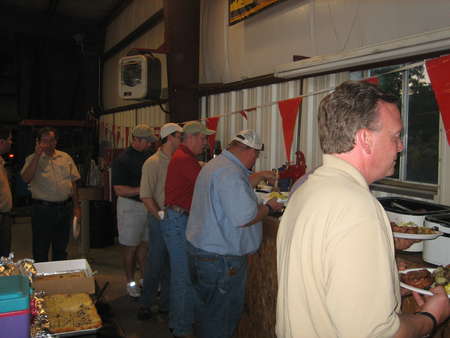 As the sun set, the combines turned on their headlights and continued to bring in the grain well into the evening. Meanwhile we continued to eat.I hope you enjoyed seeing the highlights of our Kansas wheat tour. I'd really like to go back this June and get stories from the farmers themselves. If I do, I'll be sure to share them with you all here.In closing I would like to thank all the fine folks in Kansas who welcomed us into their homes and businesses. While I couldn't picture all of them here, I'd like to mention them by name. Thanks to the following farm families for your hospitality and for your extraordinary care in producing the grain that becomes King Arthur Flour: the Tibbits (Minneapolis), Kaufmans (McPherson), Bleumers (Wright), Griffiths (WaKeeney), Haselhorsts (Gorham), Suppes (Dighton), Ayers (Leoti), Mais (Sharon Springs), Sayles (actually in Siebert, Colorado but the Sayles are natives of Meriden, Kansas). And thanks to Shad Mehl for pausing his harvest to jump on the bus for a while to tell us his story. He's an occupational therapist by training who went back to the family farm in order to raise his children there.Thanks also to the folks from the industry who gave us tours of their facilities and increased our knowledge of grain, milling and baking: Ken Embers (AIB), Joe Martin (KSU), Chris Miller (KSU), Dave Krishock (KSU), Jeanne Falk (KSU Extension), Dave Heavey (Homestead stone mill and elevator) and Reuhl Foote (Stafford County). And special thanks also to our hosts Kent Symns and Marcia Walters, who planned the itinerary, kept us on schedule and made sure we got from A to B to C...