Crusty apple-walnut bread.
Enjoy it hot from the oven. Slather it with butter. Or dip in fruity olive oil.
Dollop with ginger marmalade. Or apricot preserves.
Cut thin lengthwise slices, and toast. Top with Brie and apple butter.
Spread with sweet butter, sprinkle with brown sugar, bake till crisp.
Or – get ready, now...
Here it comes, the VERY BEST THING you can do with crusty apple-walnut bread  –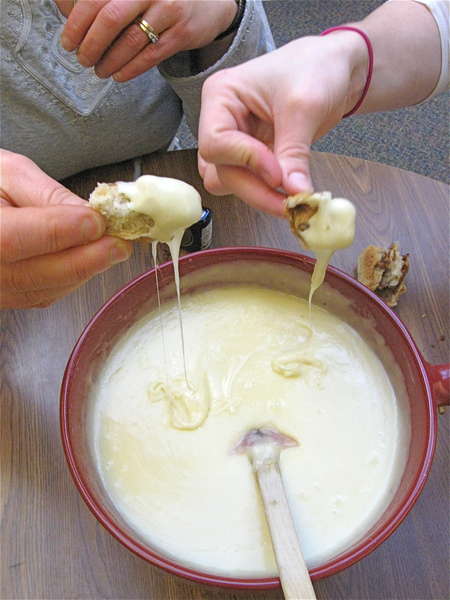 Have a fondue party!
Ah, cheese fondue. Introduced to America by Chef Konrad Egli of New York's Chalet Swiss restaurant back in 1956, fondue quickly became a make-at-home dish. Throughout the'60s and '70s, fondue was a ubiquitous entertainment vehicle.
Call your friends, buy some bread, melt some cheese: bingo! Instant party.
Over the years, I tried to join the fun. I really did. I love cheese; feel the same about bread. So what could be so difficult about dipping bread in melted cheese?
1) The bread.
2) The melted cheese.
Till I learned to bake my own bread in the mid-1970s (thanks, James Beard), crusty bread just wasn't an option. I lived in Maine; it was Wonder Bread or Nissen (the local Wonder equivalent).
"Crusty," "artisan," and "bread" were three words never spoken together.
Then "Beard on Bread" showed me the light. My beloved, bedraggled copy of that excellent book still flops open, automatically, to the recipe for Pizza Caccia Nanza - a basic rosemary-garlic focaccia. I lived on that bread for years, tearing it into wedges to serve with pasta – my main food group, back in those days when $2 an hour was considered a liveable wage.
Still, fondue eluded me. It was never smooth enough. Or it tasted like WINE with a hint of cheese. Or it was just boring (which probably had more to do with the cheese selection at my local IGA food store than with my fondue technique).
Now, all these years later, fondue has re-entered my life. We're selling a fondue pot – a really nice, burner-safe, stoneware fondue pot, imported from France. The call went out:
"P.J., do a fondue blog!"
I smiled, nodded, and experienced a moment of panic.
"But – I can't DO fondue."
Followed immediately by a mental tongue-lashing. "Don't be ridiculous. Of course you can. You're surrounded by good bread and delicious Vermont cheese. Stop whining. Get into that kitchen and rattle those pots and pans!" (Thanks, Bill Haley...)
Which I did.
The result?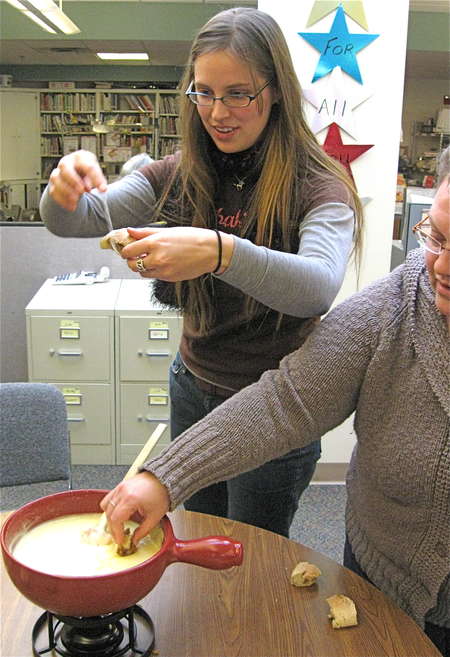 A fondue frolic! Ooey-gooey melted cheese, crusty bread, happy campers in King Arthur Kingdom.
If I can do fondue, you can do fondue, too. WOO-HOO! Let's go.
First the crusty bread: Apple-Walnut Fondue Bread.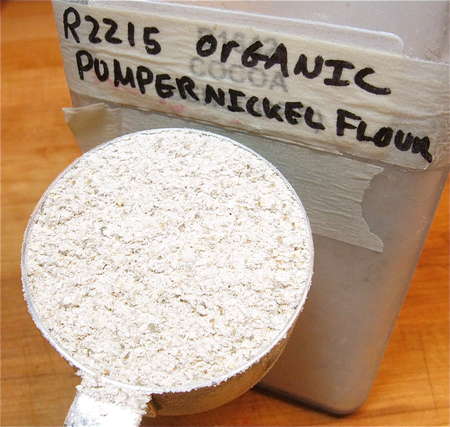 Adding just a touch of rye flour to crusty artisan breads can help enhance their rise; yeast seems to like the added/different minerals in rye. Rye also adds a bit of warm color. Choose pumpernickel for best color.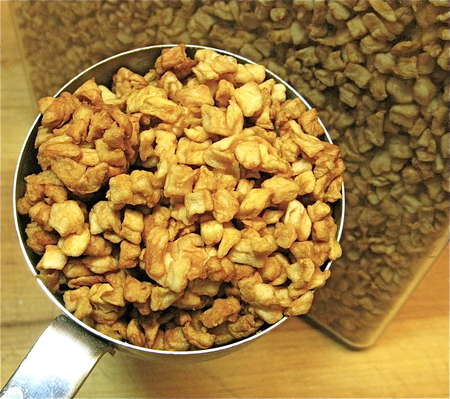 Don't try to use fresh apples in this recipe; they'll make the bread soggy. Use diced dried apples, as I have here; or another dried fruit: cranberries, apricots, pears, anything that goes well with sharp cheese.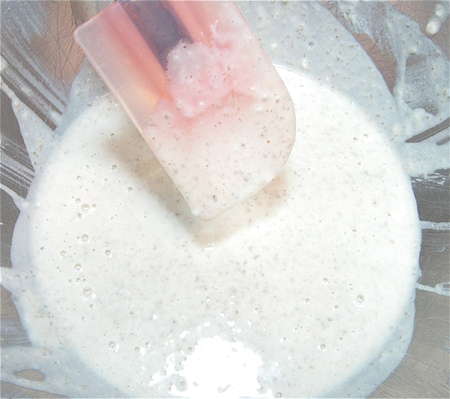 Let's start with an overnight starter. This one is fairly liquid, compared to most.
Combine the following in a bowl (in your mixer bowl, if you'll be using it to make the bread):
1 cup (4 1/4 ounces) King Arthur Unbleached All-Purpose Flour
1/4 cup rye flour (white, medium, or pumpernickel); OR King Arthur white whole wheat flour
1 1/4 cups cool water
1/4 teaspoon instant yeast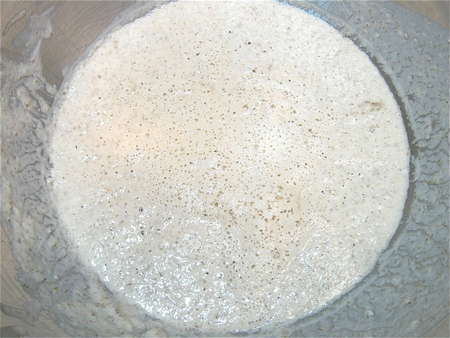 Cover and let rest at room temperature overnight, 12 to 15 hours. It'll develop lots of tiny bubbles.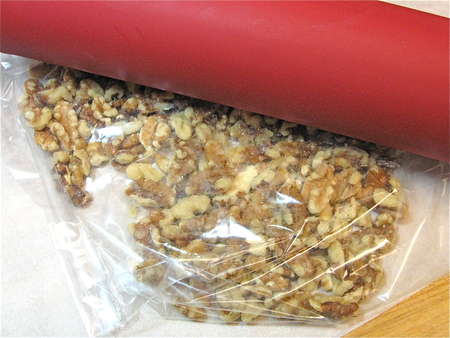 Next, ready 1 cup walnuts by crushing them gently, and NOT thoroughly.
Crushed walnuts on the right; original pieces on the left. You just want to break the walnuts up a little, not chop them fine or crush completely.
Toast the walnuts in a preheated 350°F oven for 8 to 10 minutes, or until they're barely beginning to brown. Set them aside to cool.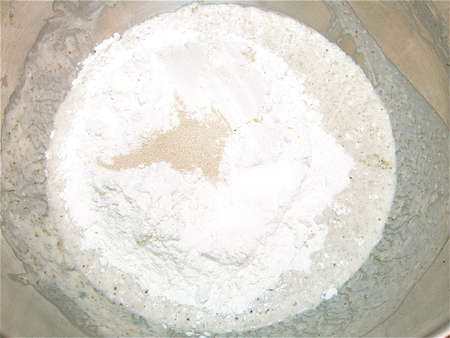 Add the following to the bowl with the starter:
2 cups King Arthur Unbleached All-Purpose Flour
1 1/4 teaspoons salt
1/2 teaspoon instant yeast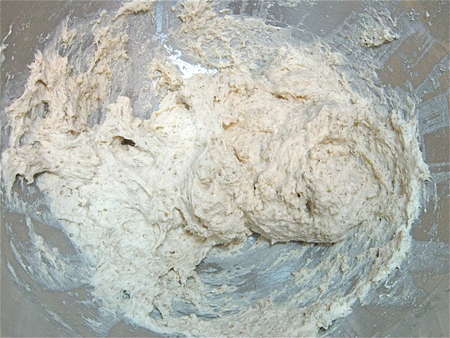 Mix to combine...
...then knead to make a smooth, soft dough. Look at those nice flecks of pumpernickel, eh?
Add the walnuts, and 3/4 cup diced dried apples, or the dried fruit of your choice.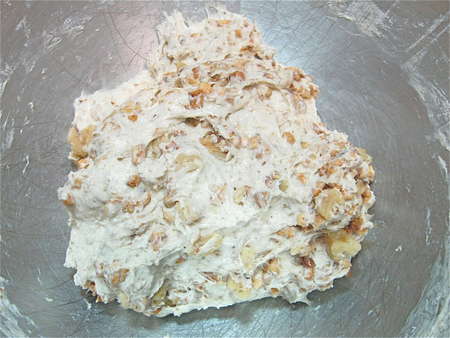 Knead briefly, just to combine.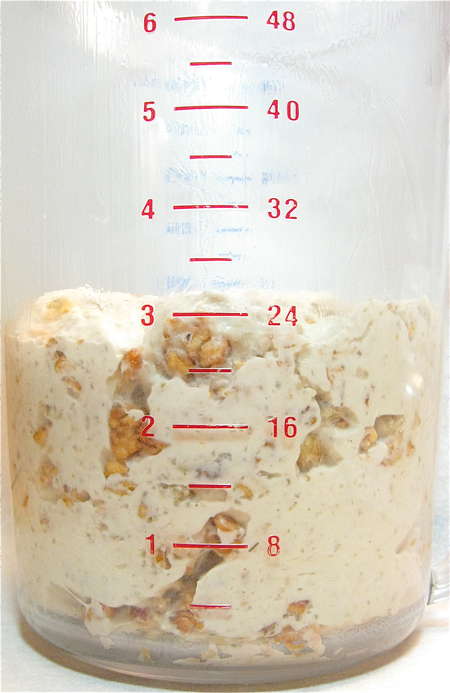 Place the dough in a lightly greased bowl or 8-cup measure (which makes it easy to track its rise), cover, and let rise for 60 to 90 minutes, till it's nearly doubled in bulk.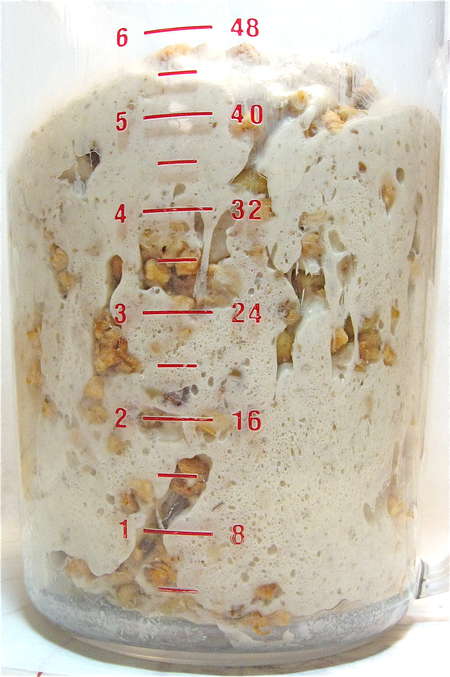 You go, Mr. Dough!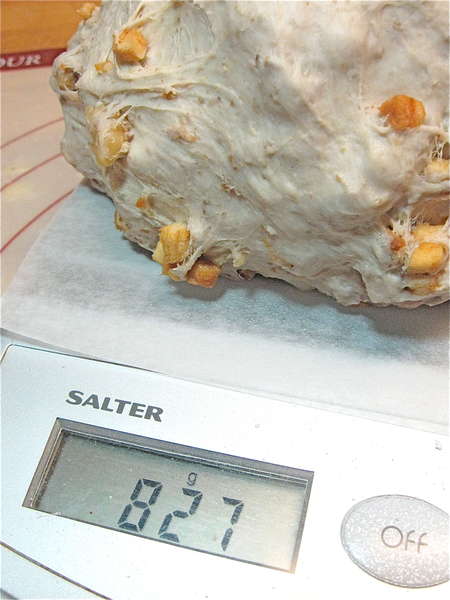 Gently deflate the dough, and divide it into three equal pieces. A scale makes the "equal" part easy.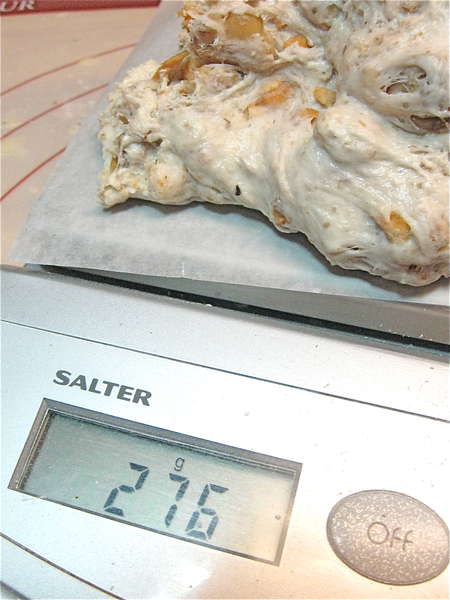 827g divided by 3 = 276. Nice, huh?
If you don't have a scale, just eyeball the dough and do your best.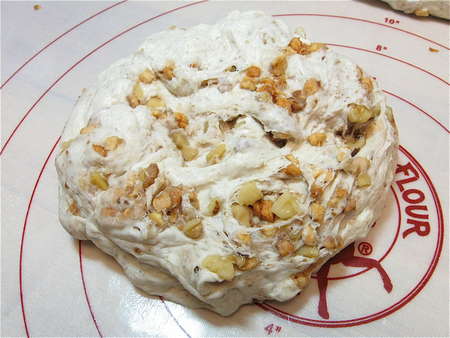 Place one piece of dough on a lightly greased work surface. A rolling mat works very well here.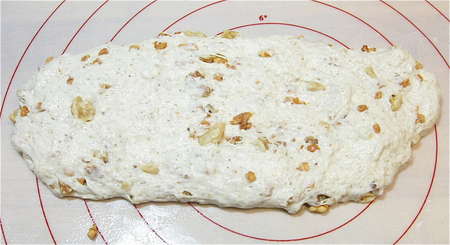 Flatten the dough into a rough oval.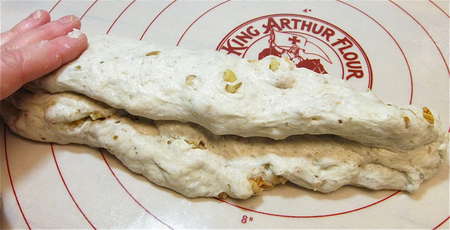 Fold it in half lengthwise...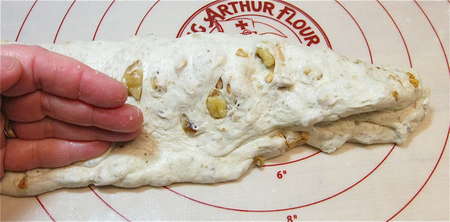 ...and seal the fold with the heel of your hand.
Repeat (flatten, fold, seal), and gently roll the dough into  a 12" log.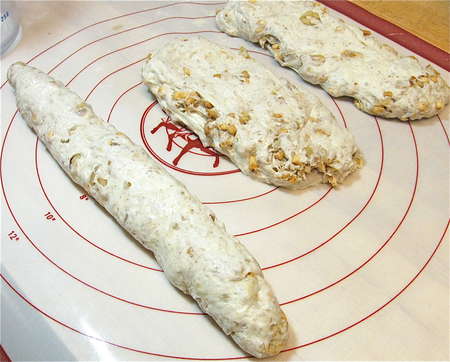 Taper the ends of the log. Nice, huh?
Repeat with the other two pieces of dough.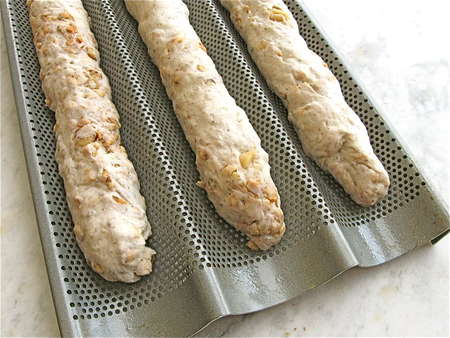 Put the logs in a lightly greased baguette pan. I prefer a perforated pan; I feel it yields a crunchier crust.
If you don't have a baguette pan, put the loaves on a lightly greased (or parchment-lined) baking sheet, leaving a couple of inches breathing (rising) room between them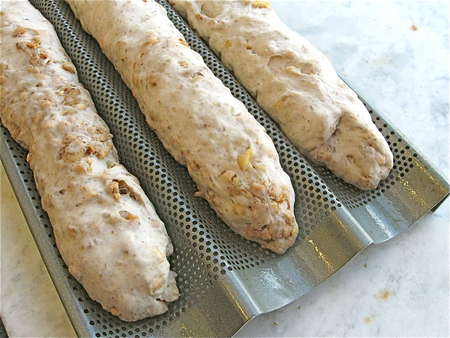 Cover with lightly greased plastic wrap, and let the loaves rise for about 1 hour, till they're quite puffy.
Towards the end of the rising time, preheat the oven to 425°F.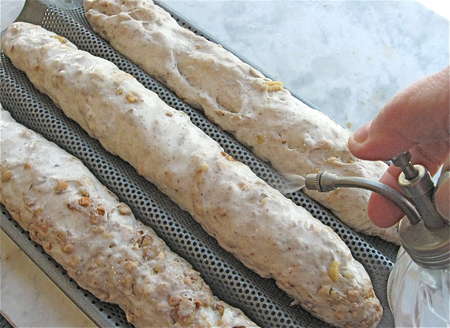 Spritz the loaves lightly with water.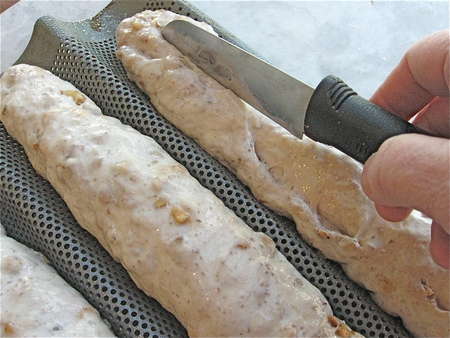 Cut three diagonal slashes down the center of each. Use a firm, quick stroke; don't hesitate, or your knife will drag.
The fairly deep cuts will start to deflate the loaves. Pop them into the oven immediately...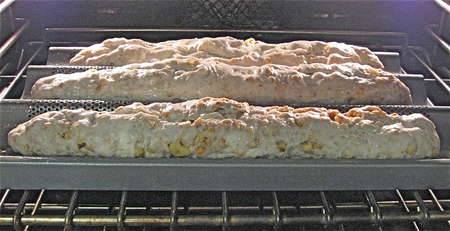 ...and they'll rebound nicely.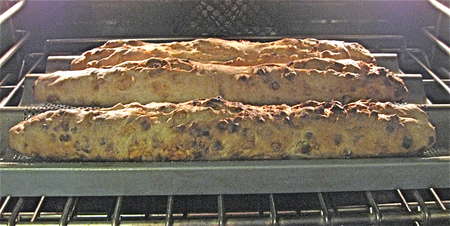 Bake the loaves for about 25 minutes, till they're a deep golden brown.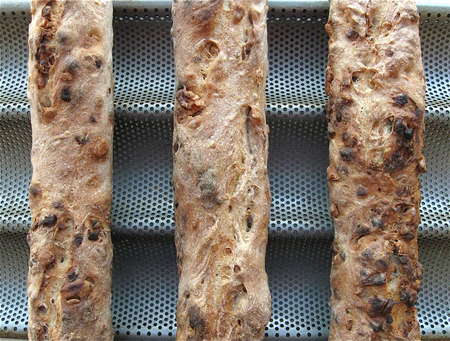 Remove them from the oven, and cool on a rack. Or crosswise on the baguette pan.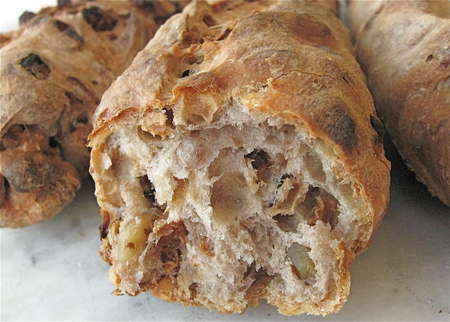 You may notice the loaves have a slight purplish tinge. This is from the walnuts; no harm done.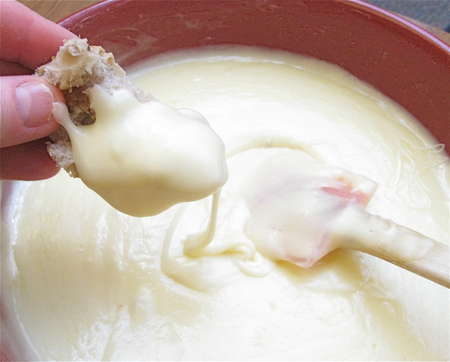 Next up: fondue. YUM.
If you think you can't make fondue, trust me; you can. My fondue was always grainy, or gummy, or separated into a big wad of hard cheese swimming in a wine bath.
As it turned out, I'd never found the right recipe. Till now.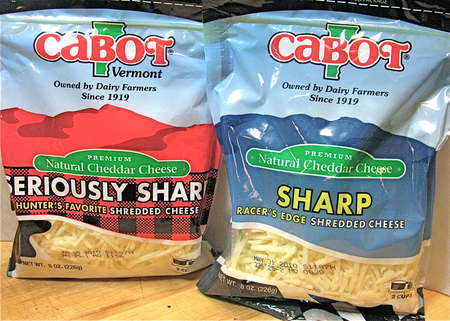 Let's start with the cheese. I happen to like Cabot - which, if you read this blog regularly, you'll know by now. It's a national brand, though you may not be able to find it everywhere. It's widely distributed in the East; and also available in Costco, Trader Joe's, Sam's Club, and Walmart, if you don't see it in your grocery store. Both of these Cabot cheddars are delightfully full-flavored.
"Real" fondue uses Gruyère or Emmentaler cheese. Unfortunately, you need 1 3/4 pounds of cheese, and those two choices can be quite pricey. Plus, I prefer a "sharper" fondue.
So here's the combination I chose: 1 pound (4 cups shredded) Gruyère (or Emmentaler, or Swiss) cheese; and 12 ounces (3 cups shredded) sharp cheddar cheese.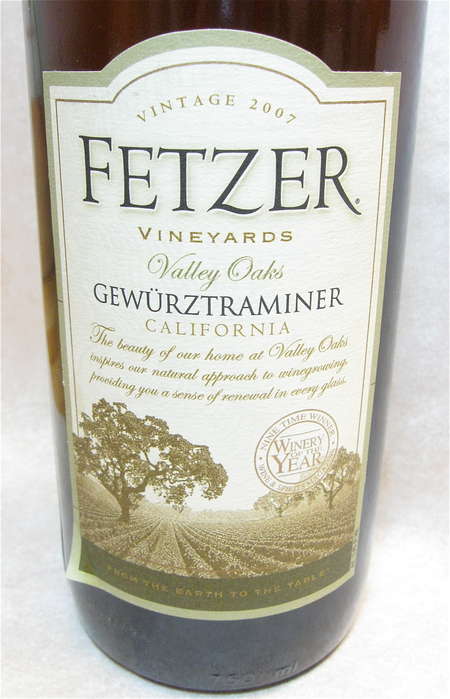 Next, the wine. You'll need 1 3/4 cups (14 ounces, about 414ml) of dry white wine. This Gewürtztraminer is quite fruity (not classic-fondue dry), but I found it very tasty.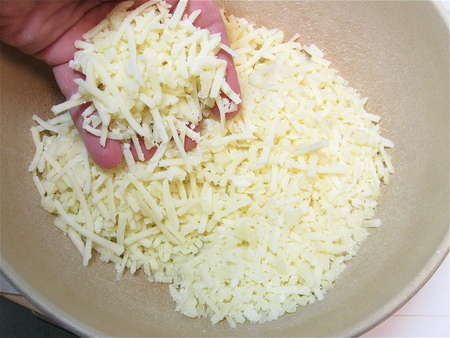 Toss the 7 cups shredded cheese with 3 tablespoons cornstarch or Signature Secrets. This starch is what'll keep your fondue nice and smooooooth.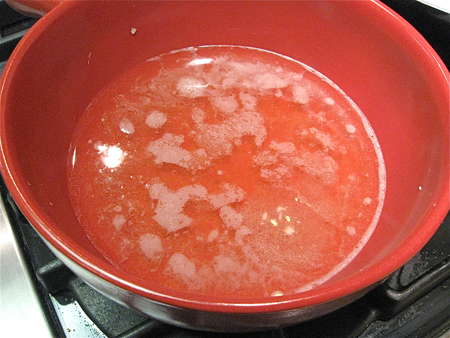 Heat the wine in a pot on the stove. I'm using a burner-safe fondue pot here.
Whoops, forgot to show a step: FIRST, rub the inside of the pot with a cut clove of garlic. You won't get any "wow, garlic!" taste; it'll just subtly enhance the fondue's flavor.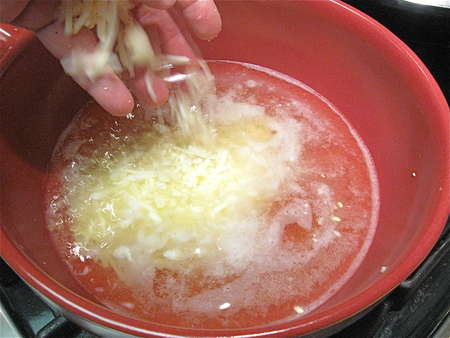 Add the cheese a handful at a time. Really. In the past I've been in a hurry and just said, "Oh, what the heck. It doesn't REALLY matter if you just add the cheese all at once, does it?"
Actually, it does. A handful at a time, at least at first, is the way to go.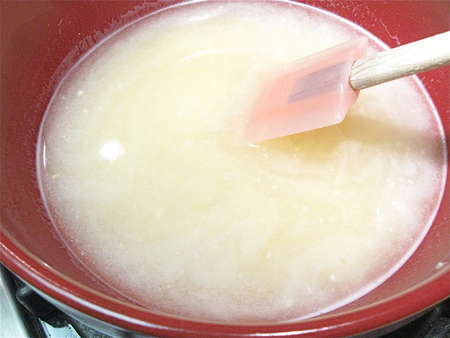 Make sure all of the cheese is melted before adding the next handful. At first, the fondue will look really suspect.
"Oh, no... another failure."
Keep your chin up. Have faith.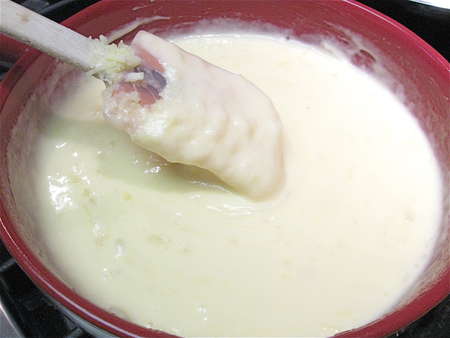 Add and stir, add and stir...
Ah, success!
Right at the very end, add 3/4 teaspoon dry mustard and 1/8 teaspoon grated nutmeg, if you like. Both will enhance the flavor of the cheese.
Cut your crusty apple-walnut bread into chunks. Place the fondue pot over its heat source, and serve immediately. If you've made the fondue in a saucepan, transfer it to your fondue pot before serving.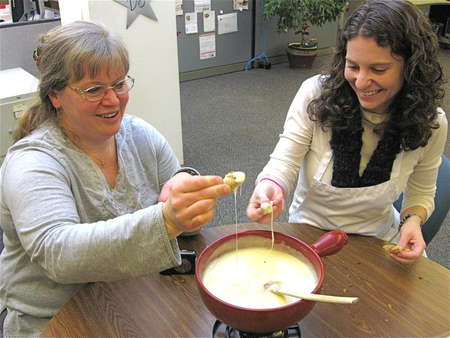 Let the fun begin!
Susan and Liz, my fellow test kitchen bakers, were first to respond to the email: "Fondue's hot, come and get it!"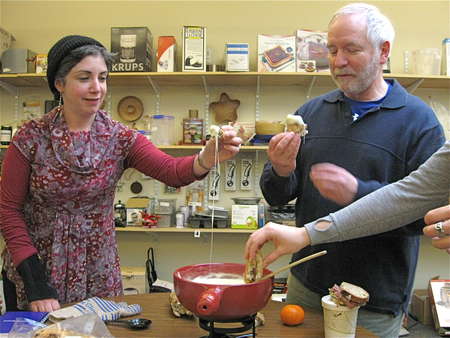 Next, my Web teammates, Halley and Jim.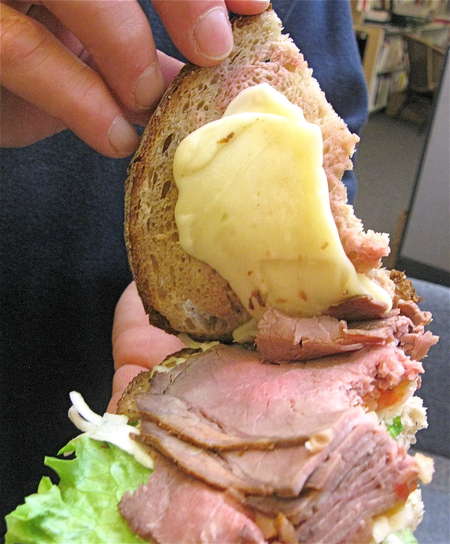 Jim, in the middle of lunch, decided fondue was the perfect touch atop his roast beef sandwich.
Bread and melted cheese: the ultimate comfort foods.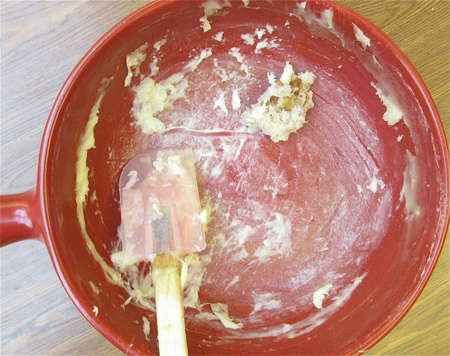 You never saw so many people respond to an email so quickly!
Read, rate, and review (please) our recipes for Apple-Walnut Fondue Bread, and Cheese Fondue.