Inside out. Mirror image.
However you look at it, this fudge-filled vanilla cookie is a 180° twist on America's favorite store-bought cookie, the Oreo.
A line extension, so to speak, of our original Oreo clone: the Faux-Reo. And its evil (calorically speaking) twin, the Faux Joe-Joe. As well as a bald-faced copy of the "Uh-Oh! Oreo," one of Nabisco's variations on their oh-so-popular original theme.
Once the first new Oreo (DoubleStuf) hit the shelves, it was only a matter of time before we began to see seasonal Oreos. Orange-filled Oreos for Halloween. Red for Christmas. Purple (yes, purple) for spring.
The white-on-white Golden Oreo; the milk-chocolate-covered mint Oreo. Cakesters, including Nilla Cakesters, "coming soon to a cookie aisle near you."
Oreo ice cream cones. Oreo pie crust. The fun just never ends.
In fact, if you go to oreo.com, you can see the full range of Oreo products – at last count, 49  of 'em. Including (who knew? ) organic Oreos.
Now I promise you, I'll never come close to matching Nabisco's lineup with my homemade knockoffs. But Reverse Faux-Reos are a logical next step.
So why not go ahead and buy "Uh-Ohs," you ask? Because it's just such fun to figure out how to make your own.
And, let's face it – you can never have too many crunchy vanilla cookies filled with rich chocolate ganache in your recipe repertoire.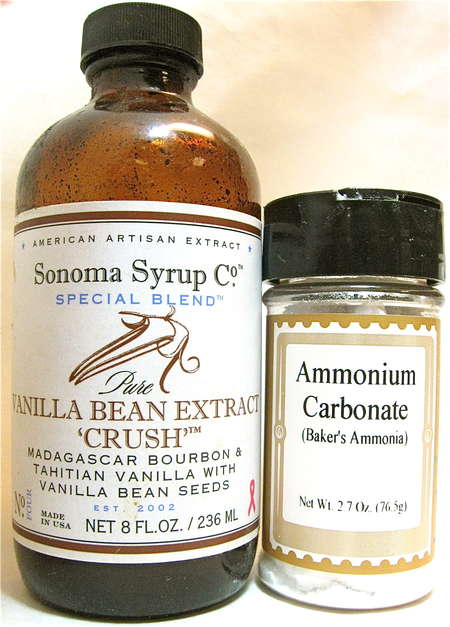 Two characteristics distinguish these cookies: their flavor, and texture. Since vanilla is the key taste, make sure you use a full-flavored vanilla. My favorite is "Crush," laced with shredded vanilla pods and seeds. (The manufacturer, Sonoma Syrup, also donates a portion of its sales to breast cancer research. Thanks, Dave!)
And for a cookie fully able to retain its crunch while sandwiched around a moist, rich filling – ammonium carbonate, a.k.a. baker's ammonia.
Can you make these cookies without baker's ammonia? Sure; they just won't be quite as wonderfully crunchy.
See what I mean about the shredded pods and seeds? When you're looking for elegant-looking flecks in your vanilla stuff (think vanilla bean ice cream), Crush is a great choice.
Let's begin. Preheat your oven to 350°F. Lightly grease two baking sheets, or line with parchment.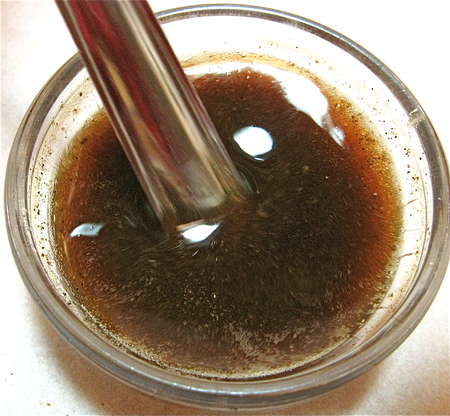 Combine 2 to 3 teaspoons vanilla extract, 1/2 teaspoon baker's ammonia (or 1 1/2 teaspoons baking powder), and 1 teaspoon salt in a very small bowl. Stir to dissolve the ammonia; the salt won't fully dissolve.
If you use baking powder in place of baker's ammonia, you can skip this dissolving step.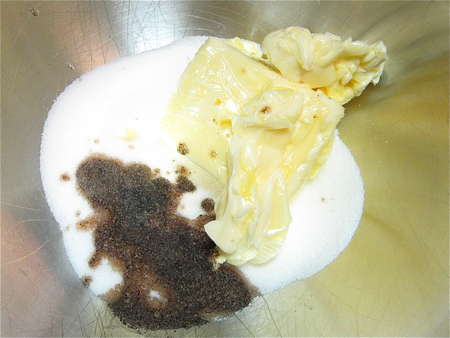 Combine the vanilla mixture with 1 1/4 cups granulated sugar and 1 cup softened unsalted butter.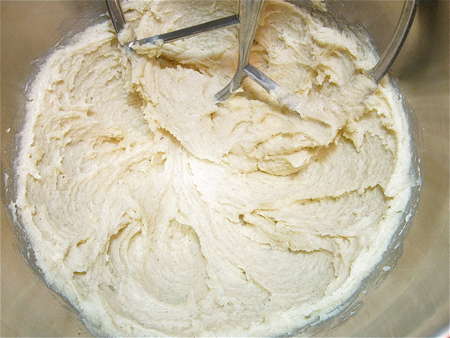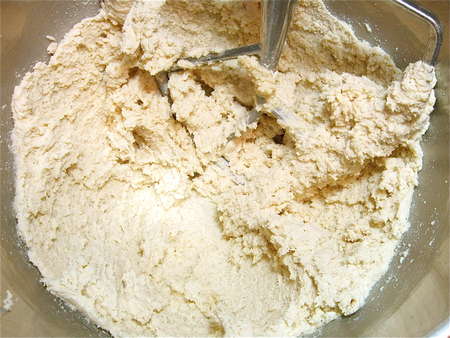 Add 2 cups (8 1/2 ounces) King Arthur Unbleached All-Purpose Flour, mixing till fully combined. The mixture may seem quite dry at first. Continue beating until the dough comes together.
This is a good time to talk about measuring flour. It's winter right now, which means your flour is at its driest; and that, with the possibility that you're heavy-handed when measuring your flour, may mean  the dough will be too dry, and never come together. Please read our tip on how to measure flour; you'll find a video link there, as well.
Of course, if you have a scale, you can bypass the technicalities and just dump everything right into the mixing bowl, no measuring cup required.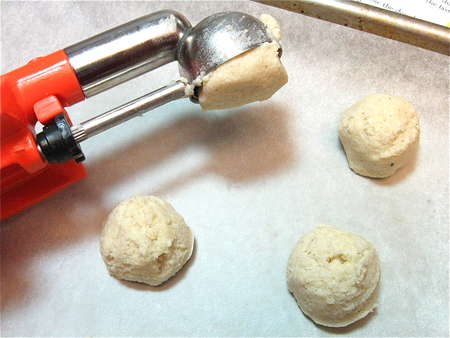 Scoop the dough into 1"-diameter, 3/8-ounce balls. A level teaspoon cookie scoop works perfectly here.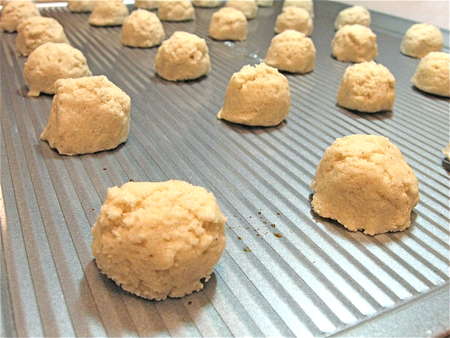 Space the balls on the prepared baking sheets, leaving about 1 1/2" between them. I'm using my new best friend in the kitchen here, our USA Pans large cookie sheet.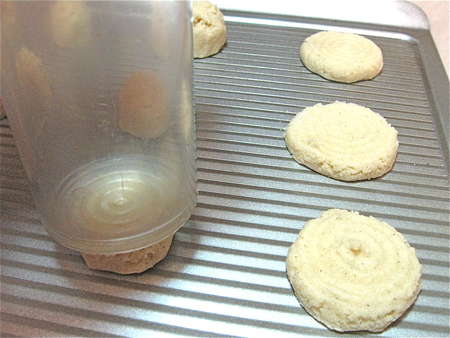 Use the bottom of a glass, dipped in sugar if necessary to prevent sticking, to flatten the balls to about 1/4" thick. If you have it, use the end of the food pusher from a food processor.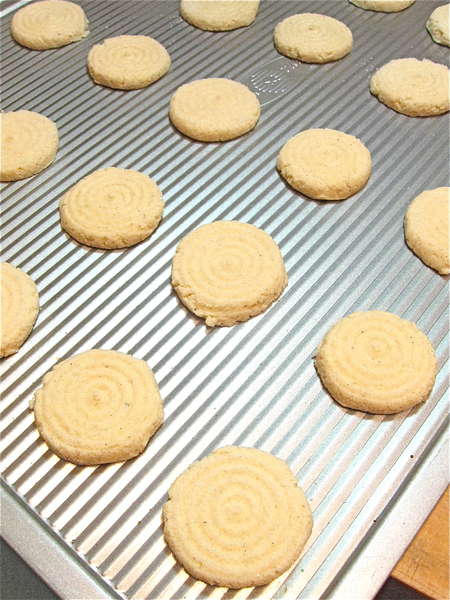 Many of these pushers have a circular, ridged pattern on their end, which imprints the cookies with a nice design.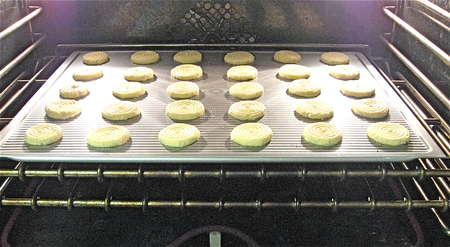 Bake the cookies until they're set, and a very light golden brown around the edges, about 15 minutes.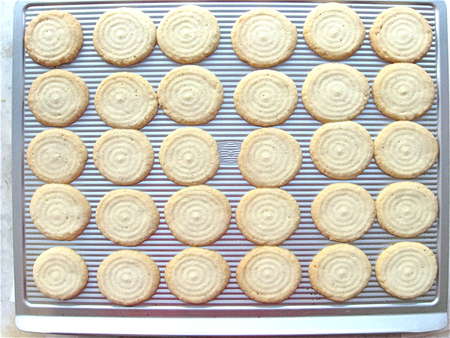 Remove them from the oven, and leave them right on the pan to cool, as you make the filling.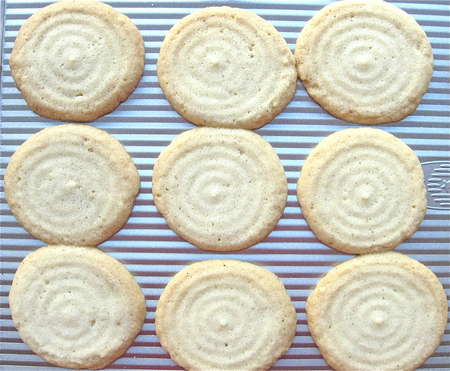 Now was that the perfect size pan for these cookies, or what?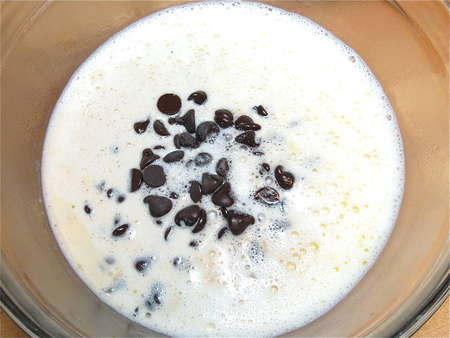 Place the following into a large microwave-safe bowl, or into a large saucepan:
2 cups (12 ounces) semisweet chocolate chips
1 1/2 tablespoons light corn syrup
1 teaspoon vanilla extract
1/2 teaspoon espresso powder, optional but good
3/4 cup heavy cream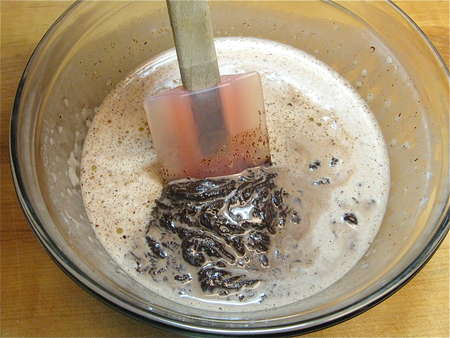 Heat the mixture till it's very hot; the cream will start to form bubbles. Remove from the heat, and stir until smooth.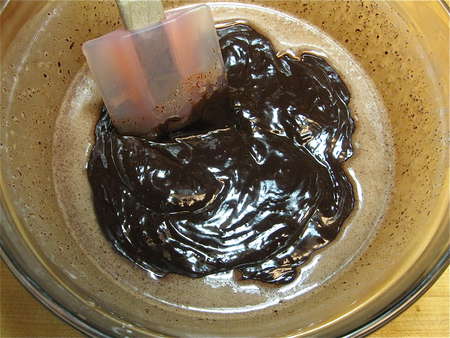 Don't panic if the ganache (yes, that's basically what this is: chocolate ganache) seems gloppy and uncooperative at first.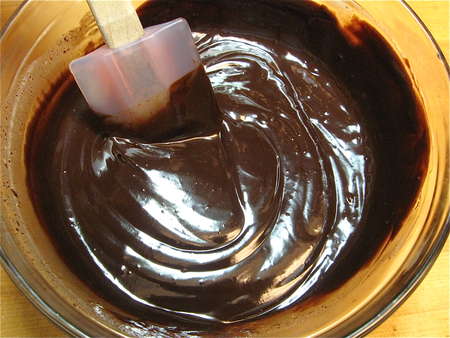 Just keep stirring; all will be well.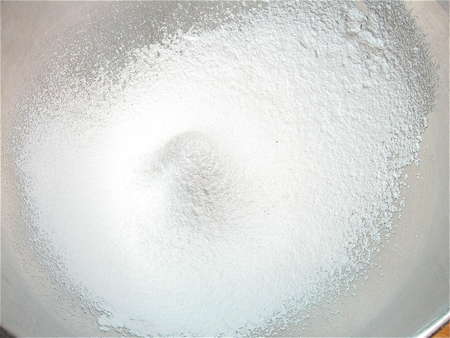 Next, sift 1 1/2 cups confectioners' sugar into a mixing bowl. Yes, sift it; you don't want lumpy filling, do you? I seldom sift anything, but in this case, it's worth it.
Don't have a sifter? Simply shake the sugar through a sieve.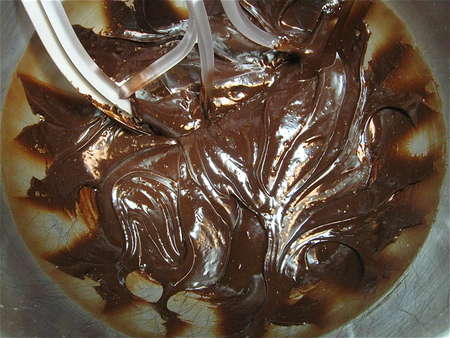 Add the chocolate to the sugar, beating till smooooooooth.
Well, PRETTY smooth; I see there are still a few lumpy flecks here. No matter. Scoop up about 4 teaspoons of filling; a tablespoon cookie scoop, filled to just below the rim, works very well here.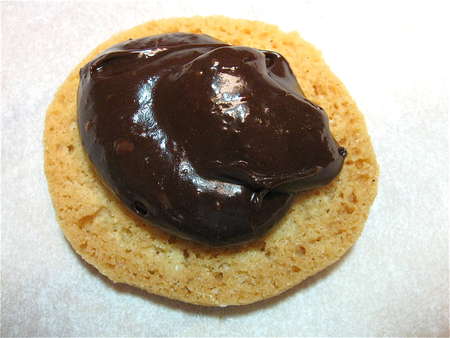 Dollop the filling onto the flat (bottom) side of a cookie, spreading it to within about 1/2" of the edges of the cookie, if necessary.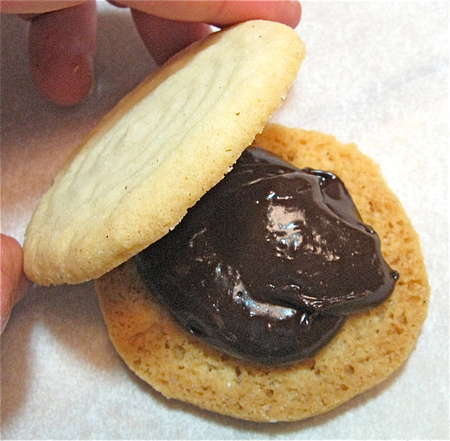 Top with a plain cookie...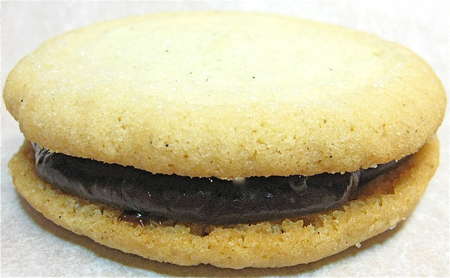 ...pressing down gently to push the filling out to the edges.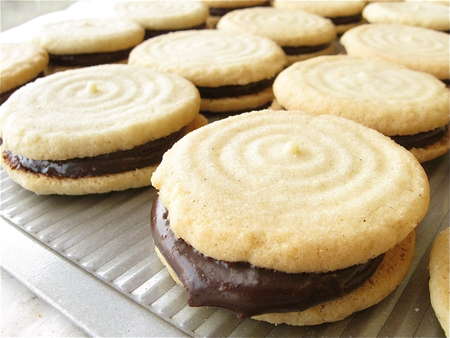 Place the cookies on a rack, or back on the cookie sheet, so the icing can set.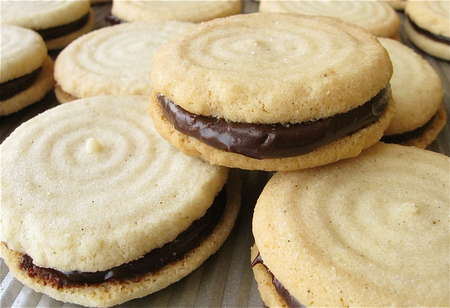 And yes, they're every bit as tasty as they look. For best freshness, wrap in plastic and store at room temperature.
Read, rate, and review (please) our recipe for Reverse Faux-Reos.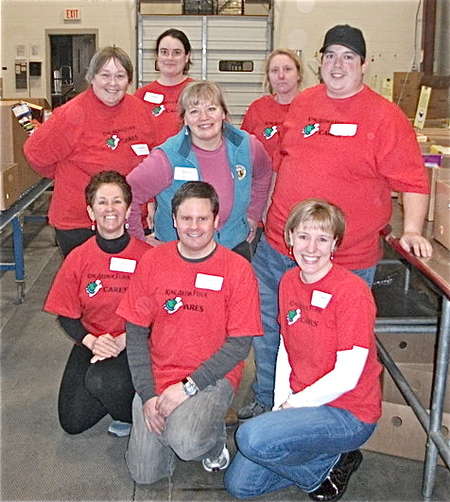 In honor of Martin Luther King Day this past Monday, King Arthur Flour employee-owners participated in a range of community service projects, including working at a Vermont food bank...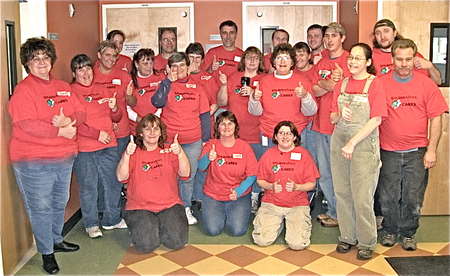 ...cleaning and painting a homeless shelter...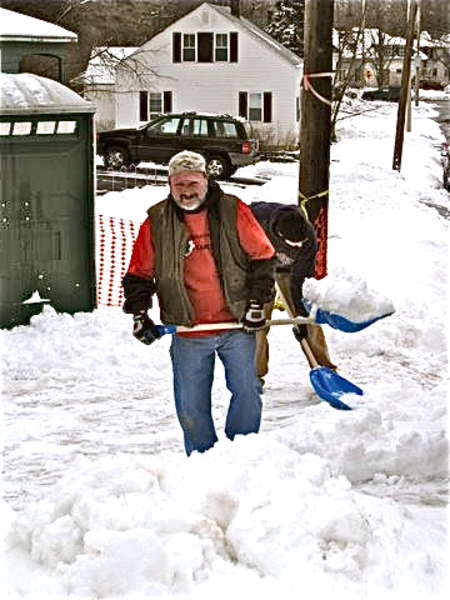 ...and doing carpentry (preceded by shoveling snow!) in a Habitat for Humanity house in neighboring New Hampshire.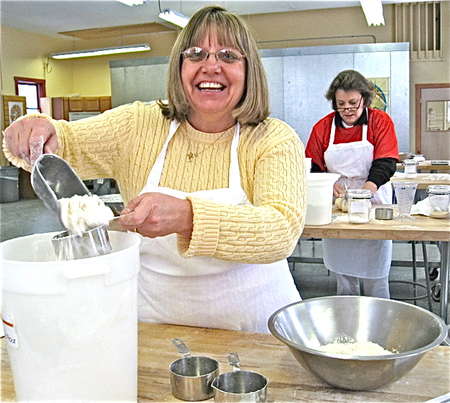 Many employees chose to bake bread, which was then donated to a local shelter; and distributed at a dinner for our needy neighbors.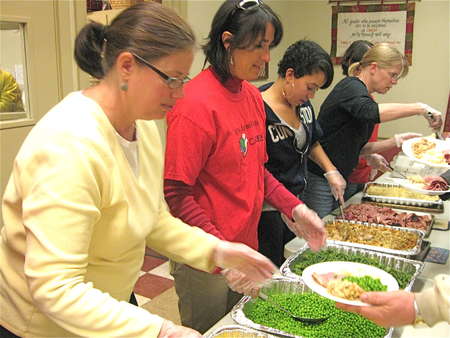 Three times a year, we prepare dinner for folks needing a hot meal, as part of a larger community-wide program. We're proud to say that King Arthur Flour dinners are some of the best-attended, due to the generosity of our menu – everything from appetizers to desserts. But then... we have a 220-year-old reputation for "doing the right thing" to uphold.
Did you know that King Arthur Flour regularly hired Irish workers at its headquarters in Boston back in the 1920s, when "Irish Need Not Apply" was the standard sign you'd see on the door of any business?
Did you know that King Arthur Flour sold flour to Jewish shopkeepers Max and Joseph Rabinovitz back in 1913, when no other Boston vendors would do business with them? The Rabinovitzes founded the Economy Grocery Company – which went on to become one of New England's largest supermarket chains, Stop & Shop.
Did you know that King Arthur Flour is now owned by us, its 167 employee-owners? And that we're proud of our history, and continue our centuries-old traditions of ethical business practices and community support?
Can you tell we're happy to work here?
And what did we get for our volunteer day of dinner-making, bread-baking, stocking shelves, cleaning, painting, and carpentry? (Aside from the satisfaction of helping our neighbors, of course.)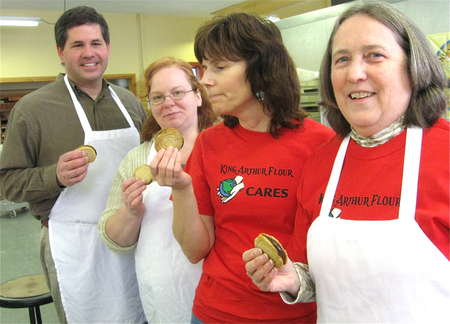 Reverse Faux-Reos, of course. Looks like a grand time was had by all.