Necessity is the mother of invention. And nowhere is this truer than in the King Arthur test kitchen.
I recently watched a couple of my fellow bakers struggle to create Tarte Tatin – France's classic apple tart – with a perfectly caramelized sugar sauce, and crisp, flaky crust.
While Andrea and Liz had nailed the caramel, they were still trying to figure out the best way to produce a crisp crust underneath that liquid caramel.
They eventually settled on refrigerating the baked filling overnight, before topping it with pastry and baking again the next day.
Two-day Tarte Tatin? Not for me; I'm an impatient pastry baker.
Bread? I'm happy to let the dough rest for hours on end, knowing it'll be JUST PERFECT whenever I manage to get back to it. Yeast dough is like that; the most flexible, forgiving dough you'll ever make.
But Tarte Tatin? This delicious (but admittedly somewhat challenging) dessert falls into my most dreaded baking category: "fussy." The sooner I can wade through the process and have a hot piece of pie in front of me, the happier I am.
So, listening to Andrea and Liz, I'm already mentally ditching the "let the filling rest overnight" step. And quickly moving on to "What if...?"
What if I bake the crust separately, and turn the baked apples and bubbling caramel right out onto a fully-baked, nice-and-crispy crust?
Sounds like a plan; but I have to admit to a couple of misfires.
First I made a crust that was never destined for crispness, a soft, butter- and milk-rich crust. My bad #1.
Then I made an easy puff pastry crust, one designed to be ultra-crisp. I decided to be clever, and place the baked crust atop the apple filling as it simmered in the oven. Within a minute, the crust had softened and drooped, drowning itself in the bubbling caramel. My bad #2.
So I finally wised up: made the easy puff pastry crust; baked it; baked the apple filling; THEN set the crust over the filling, and oh-so-carefully turned the whole thing over onto a serving plate.
The result: hot caramel apples; crisp, buttery crust; vanilla ice cream... and much happiness all around.
Without further ado, let's make this non-traditional Tarte Tatin.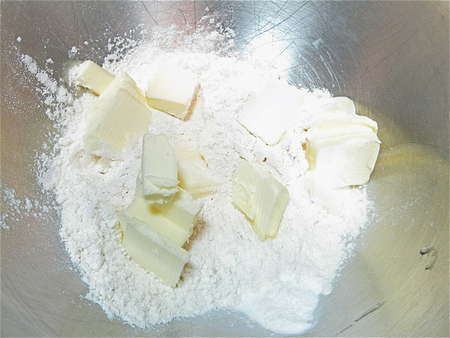 Let's start with the crust, as it's the lengthiest part of this recipe, due to its rest in the fridge.
Whisk together 1 1/2 cups (6 1/4 ounces) King Arthur Unbleached All-Purpose Flour, 1/2 teaspoon salt, and 1/2 teaspoon baking powder. Add 1/2 cup cold unsalted butter, cut in pats.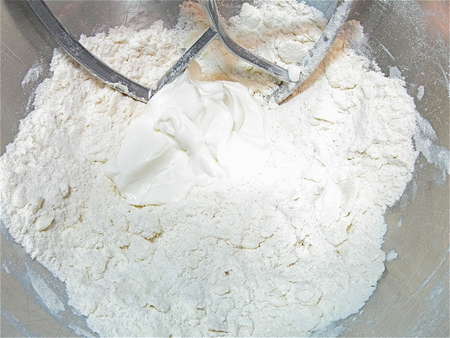 Work in the butter to make a coarse/crumbly mixture. Leave most of the butter in large, pea-sized pieces.
Add 1/2 cup sour cream.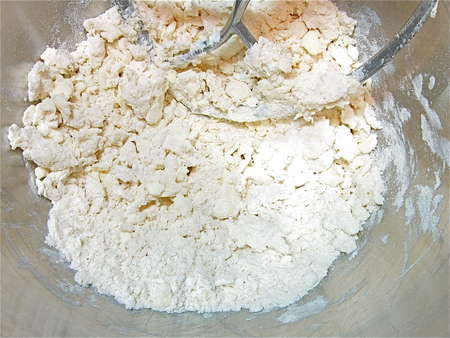 Stir it in; the dough won't be cohesive.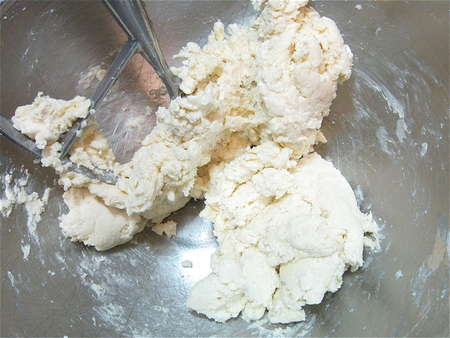 Add 2 to 3 tablespoons ice water, enough to bring the dough together.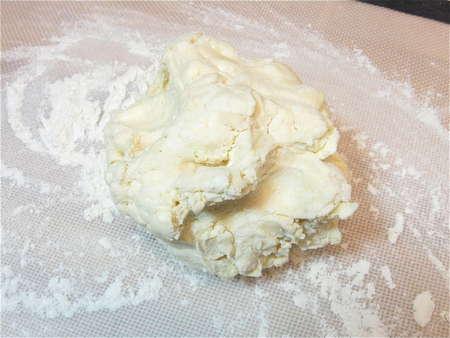 Transfer the dough to a well-floured work surface.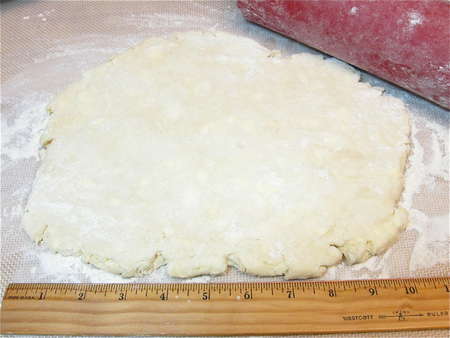 Pat the dough into a rough log, and roll it into an 8" x 10" rectangle.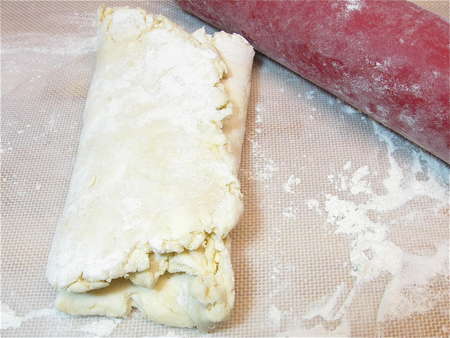 Starting with a short side, fold the dough in three like a business letter.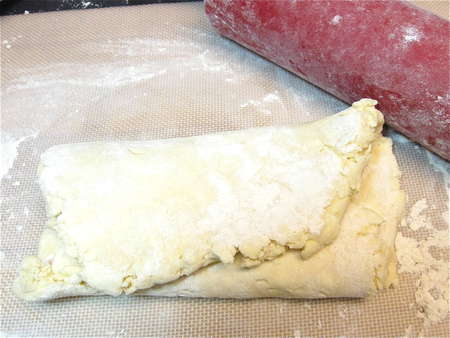 Flip the dough over, turn it 90°...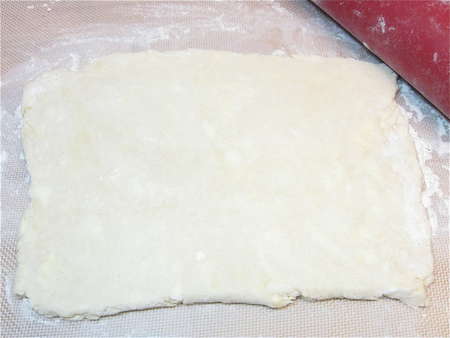 ...and roll it into an 8" x 10" rectangle again.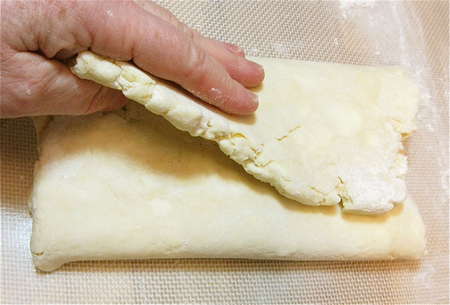 Fold it in three again.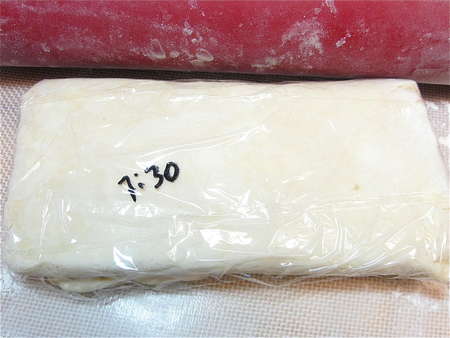 Wrap the dough in plastic, and chill for at least 30 minutes before using.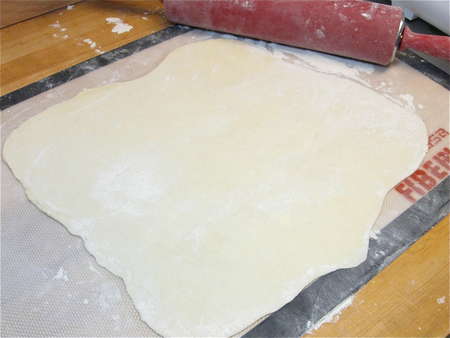 Roll the chilled dough on a lightly floured surface to a 13" circle.  I know, not exactly circular, huh? Do the best you can.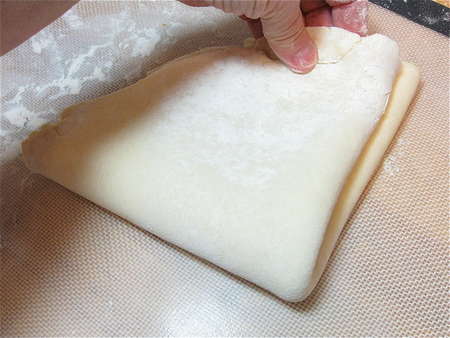 Fold it in quarters...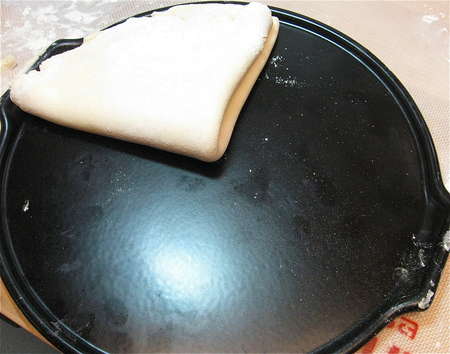 ...then place it on the round flat bottom of a tarte tatin set; or on a 14" shallow pizza pan, or other flat baking sheet large enough to hold it.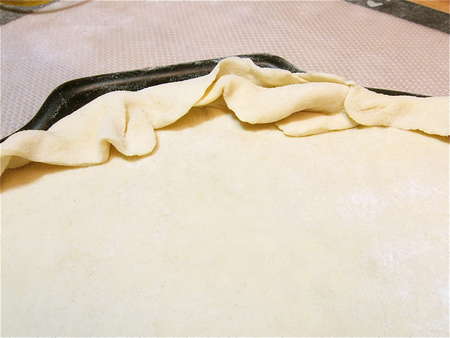 Unfold it to cover the bottom of the pan.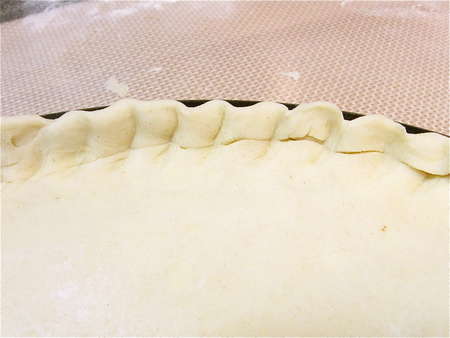 Make a short crimp around the edge, no more than 1/2" high; this is just to corral the hot apple syrup from the baked tart.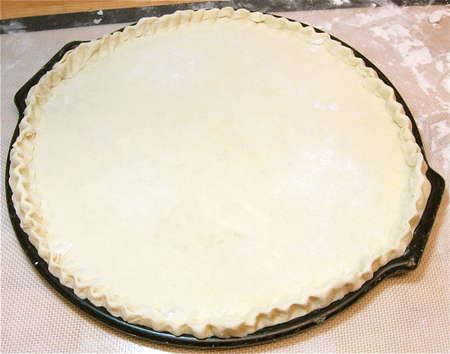 There. Ready to bake – almost. First, a rest in the fridge. Chill the crust for at least 30 minutes. This will prevent it from shrinking as it bakes. While it's chilling, preheat the oven to 375°F.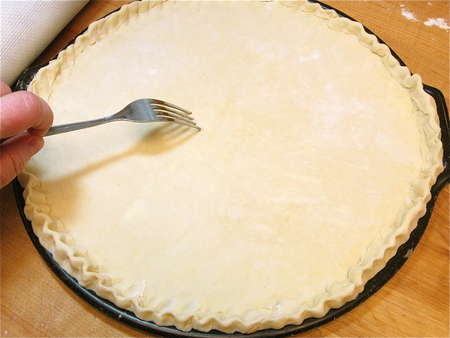 Prick the chilled crust all over; this will prevent it ballooning up as it bakes.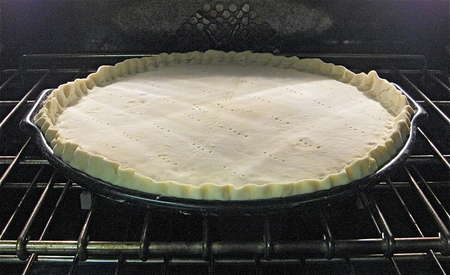 Bake the crust for about 20 minutes, till it's golden brown.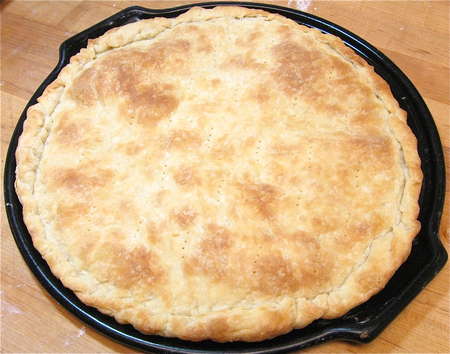 Remove it from the oven (leave the oven on), and set it aside while you prepare the filling.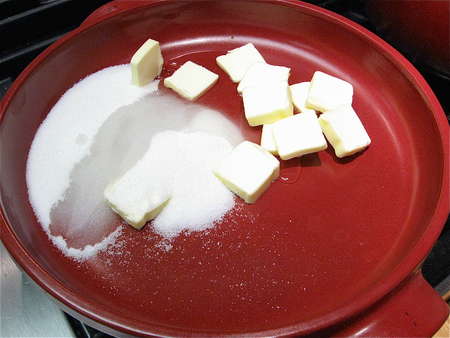 Put 7 tablespoons unsalted butter, 1 cup sugar, 2 tablespoons light corn syrup, 2 tablespoons water, and a pinch of salt in the bottom of a burner-safe, oven-safe 11" round pan. A cast iron skillet or our stovetop-safe ceramic pan work well.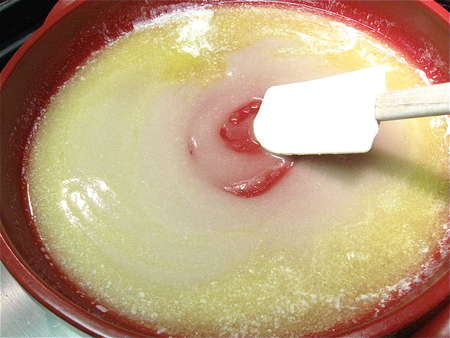 Over medium heat, melt the butter and dissolve the sugar, stirring gently.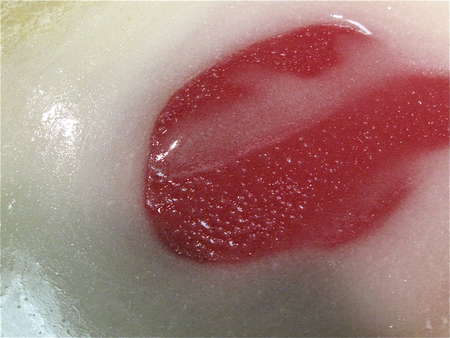 See the grains of undissolved sugar? You're not quite there yet, keep heating and stirring.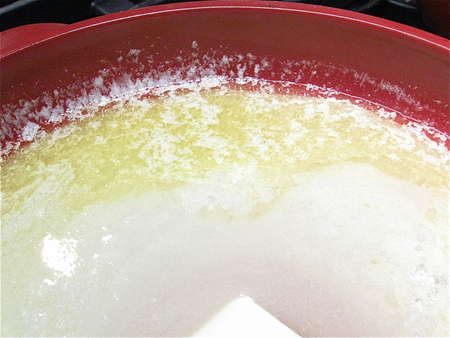 At first, you'll see a rim of butterfat around the edge of the pan.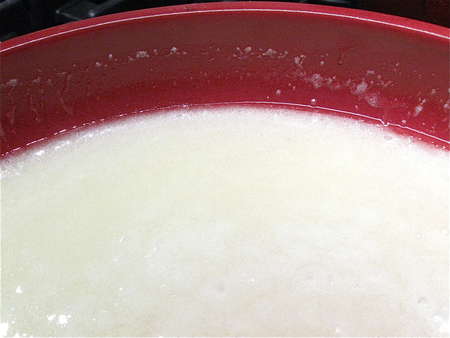 But as you continue to cook and stir, the mixture will become creamy.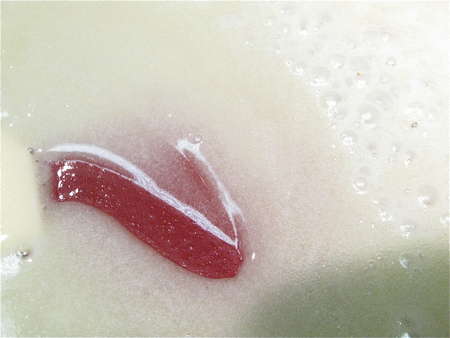 See how the sugar grains have mostly disappeared?
When the butter and sugar have completely combined, stop stirring and allow the mixture to bubble. Cook, stirring occasionally, till it darkens slightly, to about the shade of a palomino pony: a light, golden tan.
Turn off the heat; the mixture will continue to darken as it sits.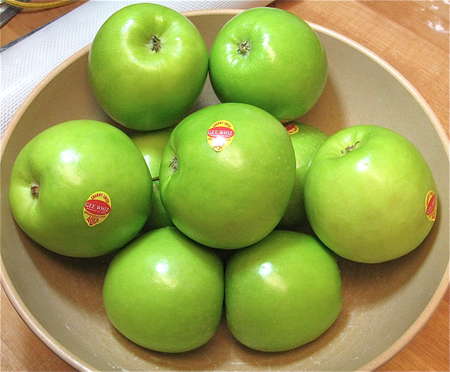 Next, the apples. You'll need 3 1/2 pounds (about 9) firm baking apples, such as Granny Smith or Golden Delicious.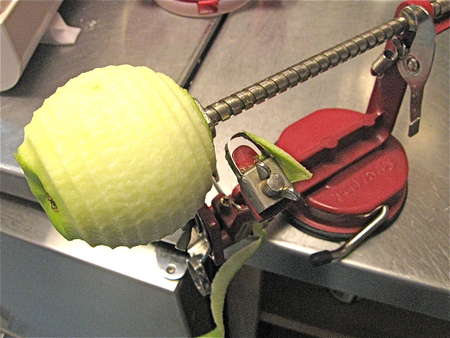 ...then core and slice, cutting each apple into 8 fat wedges. Our adjustable Dial-a-Slice corer/slicer works very well here.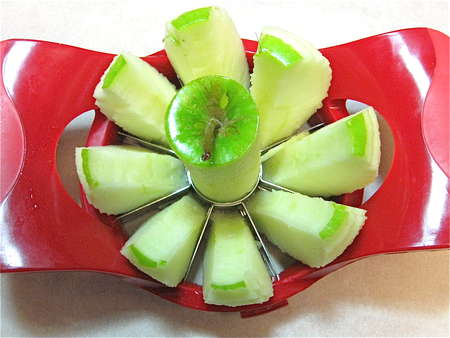 One peeled apple, cored and wedged – in 1 second flat!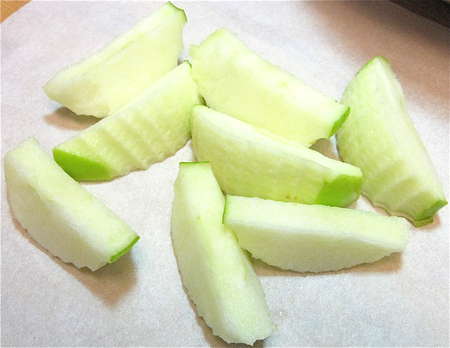 This is what I mean by fat wedges. Why fat wedges? Because you want them to hold their shape through the baking process, and thin slices are more liable to turn to mush.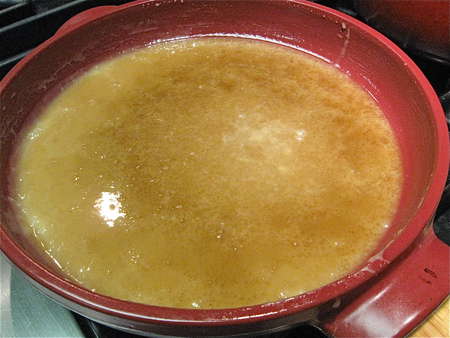 See how the syrup darkened as it sat?
Lay half the apples in the pan. If you used 9 apples, each cut in 8 wedges, this will mean 36 wedges in the pan.
Of course, I didn't think to actually count wedges before I did this the first time. I went back and squeezed in six more wedges after I took this picture.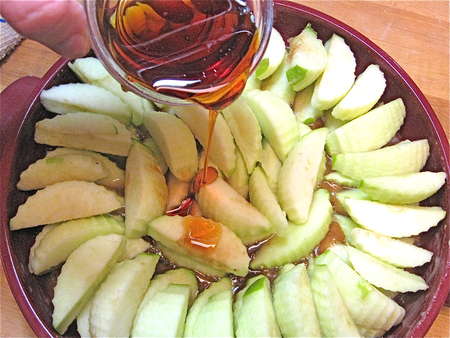 Place another layer of apples on top. Drizzle 2 tablespoons boiled cider, or thawed frozen apple juice concentrate, over the apples. This is an extra step; it's tasty, but not a deal-breaker if you don't have boiled cider (or apple juice concentrate).
Can you use maple syrup? Sure. Honey? Sounds like a plan. Molasses, brown sugar syrup, cane syrup, agave, pomegranate syrup? Go for it.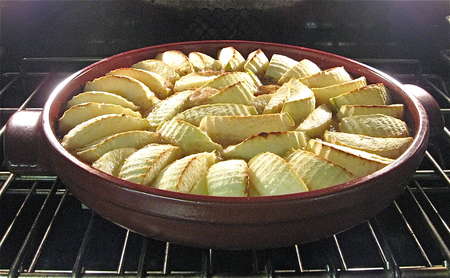 Bake the apples and syrup for about 30 minutes, until the apples are barely fork tender.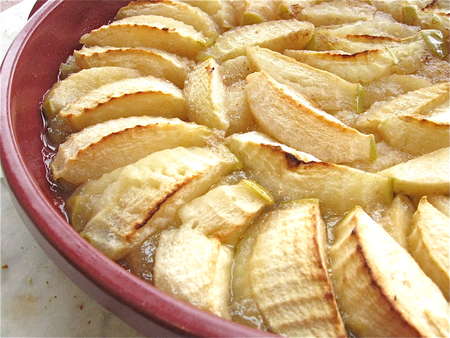 Take the pan out of the oven.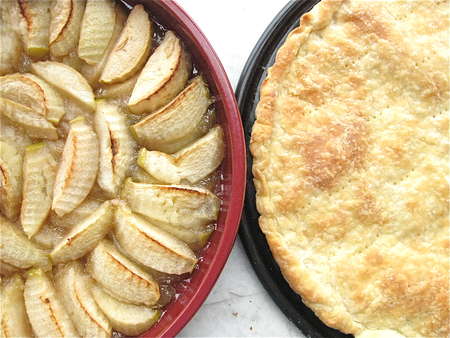 OK, here we go...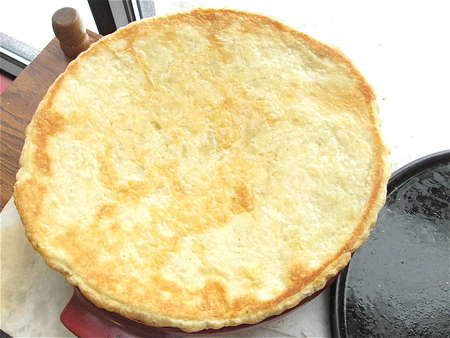 Place the baked crust atop the dish with the cooked apples in syrup. The crust should be crimped side down (bottom up).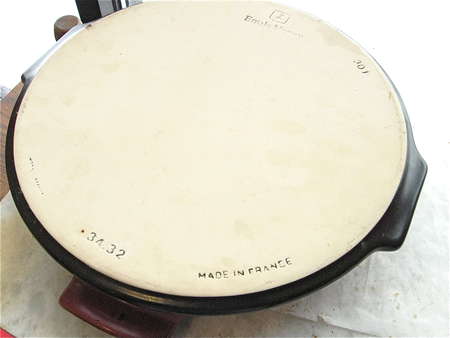 Then take the flat, round pan on which the crust baked, and put it atop the crust.
See where we're going here? We're going to flip the whole thing over, so the crust is on the bottom, the apples and syrup on top.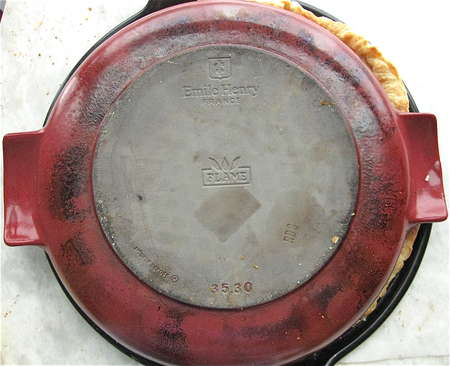 Carefully turn the apples, crust, and pans upside down.
(I know this pan is a bit blackened - it's from using it on the burner. It's OK, really. It'll look like this after the first time you use it. And you can certainly scrub it clean, but I'm not one for unnecessary cleaning. An honestly blackened pot is just fine with me.)
Wait a few seconds, then lift off the top pan, the one the apples and syrup were in.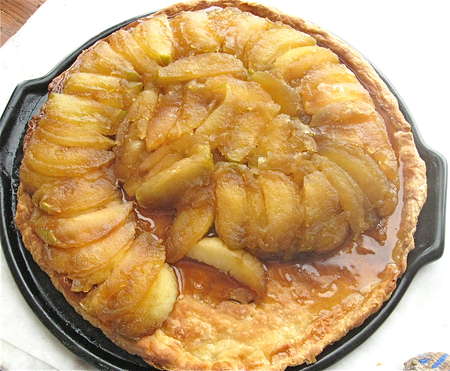 The apples should have settled onto the crust. If any have remained in the pan, use a fork to transfer them to the crust.
If the apples on the crust have slid to one side (as they did here), use a fork to very gently rearrange them so they're in their original position, covering the crust completely.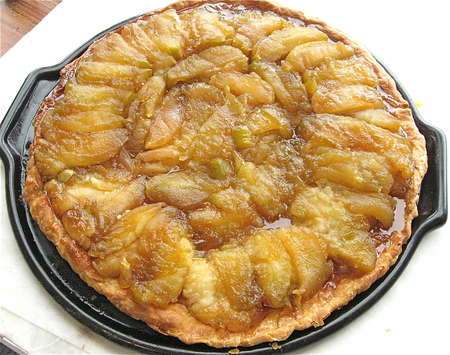 Like this.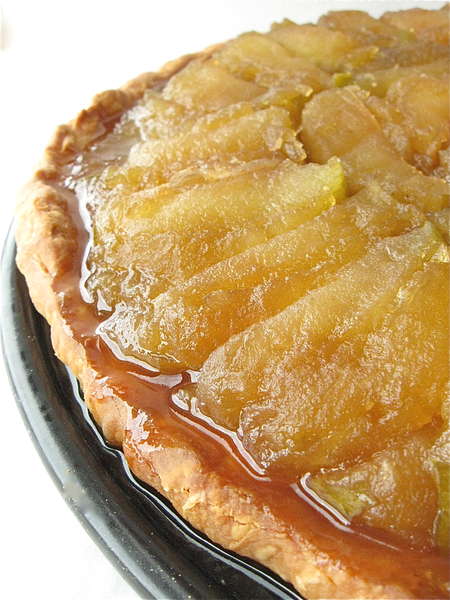 The syrup will pool within the crimped crust, then gradually soak in.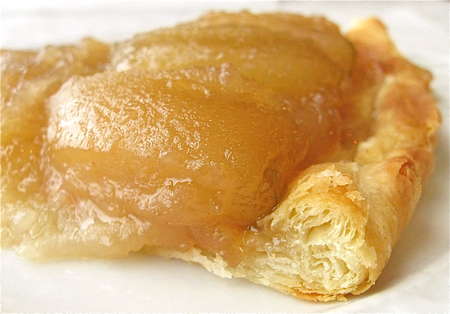 Look at those flaky layers!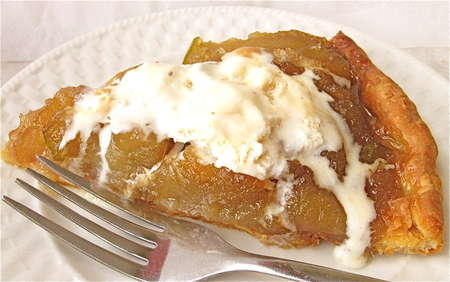 Serve warm; ice cream is always welcome.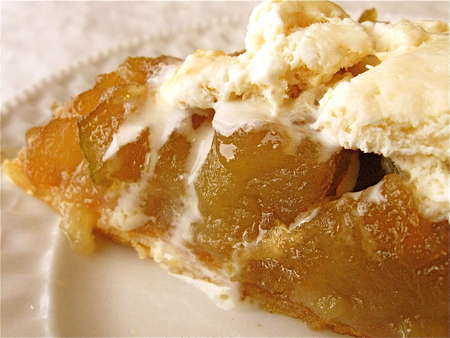 Be still, my heart... Is there anything so comforting as vanilla ice cream melting into warm apple pie?
Or, as they might say in France, tarte tatin avec glace vanille?
(Any of you who want to correct my long-ago high-school French – feel free!)
P.S. The crust on this Tarte Tatin is crisp, but can't withstand the softening assault of liquid caramel forever. Enjoy this treat soon after it's made.
Read, rate, and review (please!) our recipe for Tarte Tatin.