Sometime around August, we were planning our holiday email schedule.
Tracy:  What should we email on Friday, December 11?  It's right after our free shipping offer, so maybe a 3-recipes campaign?
Me:  That's the first night of Hanukkah!
PJ:  (silence)
We all understand the silence... none of us can forget the famous flourless chocolate cake that she blogged for Passover, or the No-Knead Challah for Rosh Hashanah. PJ, born and raised Catholic, has  eagerly researched traditional Jewish holiday foods for our blog.  But try as she may, there's always something that's not "kosher."  So, this time I volunteered - after all, I'm Jewish, and I'm the one who's always requesting these recipes.
So what do we blog?  Latkes have been done twice, rugelach of many flavors, mandelbrot... what's left?
Then it comes to me - I'll BAKE a menorah!  Eight mini-cupcakes, plus one regular sized for the shamash. Perfect.
But I hesitate.... there's got to be some rule I'm breaking.  My mother is in town, so first I ask her. "Do you think it's OK to make a menorah out of cupcakes?" She thinks for awhile, then responds, "I think so. But I think that each branch needs to be connected somehow." Hmmm...
I consult Wikipedia. "In celebration of this miracle, the chanukkiyah has eight branches for eight candles or oil lamps, none higher than any other, except for one higher branch for the auxiliary candle, or shamash, which guards against secular use of the other lights and is also used to light them. The 'shamash' symbolically supplies light that may be used for some secular purpose." Nothing about a connecting branch, but better consult the Rabbi just to be certain.
So a few weeks ago, I'm picking up my kids from Sunday school, and I decide to go early to ask the Rabbi what he thinks of a cupcake menorah. Sure enough, he's hosting a parent discussion about the "December Dilemma."  And he suggests - I kid you not - creating fun menorahs with your kids. And then he pulls out a menorah that his family made out of BEER BOTTLES!
Well, if my Rabbi can make a menorah out of beer bottles, then surely I can make one out of cupcakes.
Now I'm feeling good about the concept, but how should it look?  Food styling here is key... we often say "better to have no recipe photo than an ugly photo." I'm not a baker, and I'm not a food stylist, so I need to be extra-careful.  There's a high chance that this will be U-G-L-Y.
We recently redesigned the cupcakes that we sell at the bakery counter in our retail store, so I decided to start there.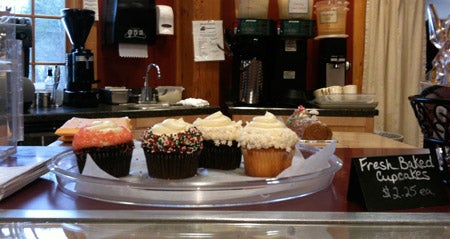 I love the way these look, so I make a plan to wake up early and consult with the baker who decorates them. Early one morning I show up at the bakery, and she walks me through the process. Take one cupcake, and icing in a piping bag with a wide plain tip. Ice in a spiral, beginning at the outside edge and ending in the center.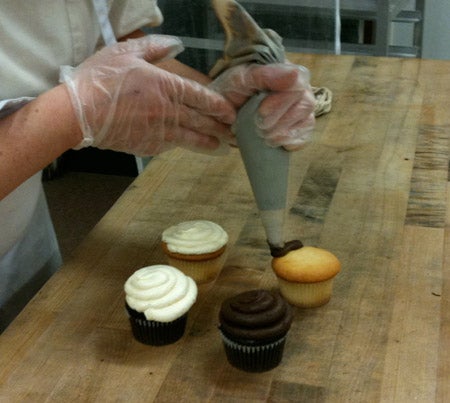 Pour sprinkles into a cupped hand, and with your other hand twirl the cupcake around to cover the outer edge of the icing with sprinkles.
I can do this!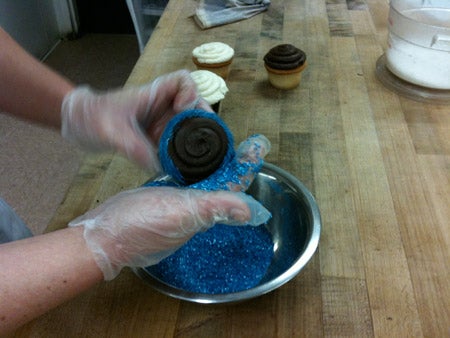 Here she is in action - makes it look so easy.
So, let's get started.  First, I start with our Golden Vanilla Cake recipe.  I admit, I've never baked a cake from scratch before - I'm a mix baker. But this one is guaranteed - if I fail, I get a $5 gift card. I figure I can't lose.
Sure enough, it's quick and easy to put together. I even get brave and improvise, adding 1/4 teaspoon of almond extract to make the cupcakes extra-yummy.
I cut the recipe in half, which was plenty for the menorah: 6 regular-sized cupcakes, and 20 mini cupcakes. A full recipe would make 12 regulars and 40 minis. The large cakes baked in 23 minutes; the minis baked in 12 minutes. As a decorative touch, I made them in our new blue swirl cupcake papers - thought these would be perfect for Hanukkah.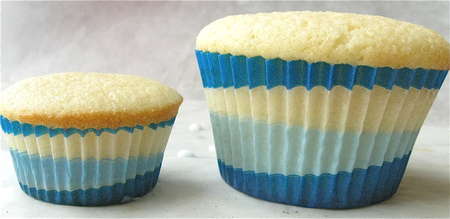 And they were.
This recipe was originally developed for our AP Flour, but I was inspired and decided to do another batch, this time with our new unbleached cake flour blend.  The batter seemed to be a bit lighter, and have more volume, thus making a few more cupcakes.
Also, the crumb of the finished cupcake was a bit lighter.  The general consensus around the office was that both were very good, but the ones made with unbleached cake flour (pictured below, at right) had a nicer texture.

Now for the icing.  I went for the basic Easy Vanilla Frosting recipe.  The name does not mislead - this recipe was so easy, I won't even try to walk you through it.  In short, throw ingredients in a mixer and mix.
But piping - I fear the piping bag. I've tried it a few times before, and can never seem to fill it without making a complete mess. I consult with one of our bakers, and she gives me the magic trick: take the bag with tip, put it in a heavy glass (a beer stein is perfect for this), turn the top of the bag over the outside of the glass, and then scoop in the icing.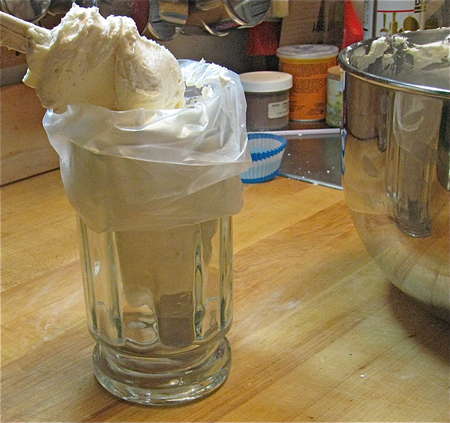 Voilà!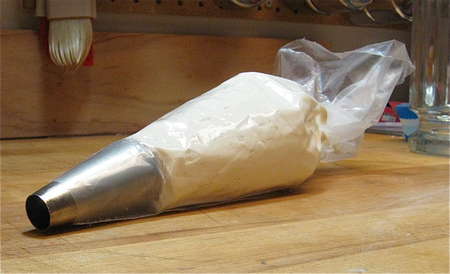 The piping itself really was as easy as the baker demonstrated.  I piped on the icing...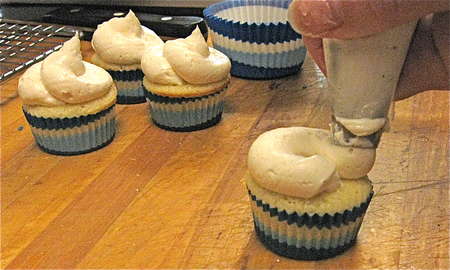 And then twirled the cupcakes in sparkling blue sugar...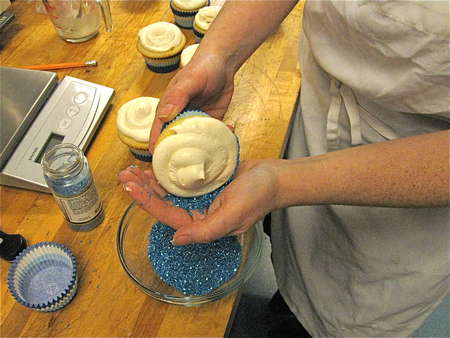 And the result?  Just what I'd pictured in my mind:

My young daughters caught a glimpse of this as I was writing the blog, and immediately begged for us to do one this Hanukkah.  I have a feeling that I may have just started a new family tradition in my house.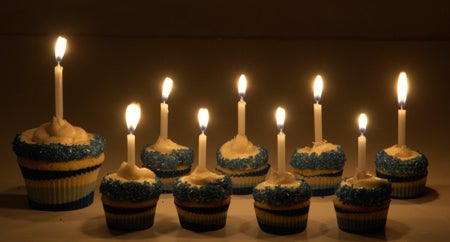 Red and green sprinkles for Christmas?  White for New Year's Eve?  A few fun decos on top?  Have fun, happy baking, and a very happy holiday season to you!