Whoa! It's not even Thanksgiving, and the parade of holiday goodies has begun. The eggnog French toast. The chocolate-dipped vanilla cookies. And that butter-pecan kringle...
It may be time to add something a bit less disastrous to your dessert diet.
Something made with whole wheat, perhaps. Something lower in sugar, higher in healthy antioxidants, and with a mere 1/2 teaspoon fat per serving.
Something like Sparkling Cranberry Gems.
These tangy-sweet, mildly chewy treats are less guilt-inducing than most holiday cookies. And I've discovered they're a most-welcome gift for friends trying to "eat healthy," for whatever reason: losing weight, watching their cholesterol, or lowering carbs.
Now, don't get me wrong. These aren't sugar-free, fat-free SnackWell clones. They're still a homemade cookie, with the standard attributes – both good (fresh, delicious), and "bad" (calories).
But if you're going to eat a cookie anyway, why not enjoy one with some nutritional positives?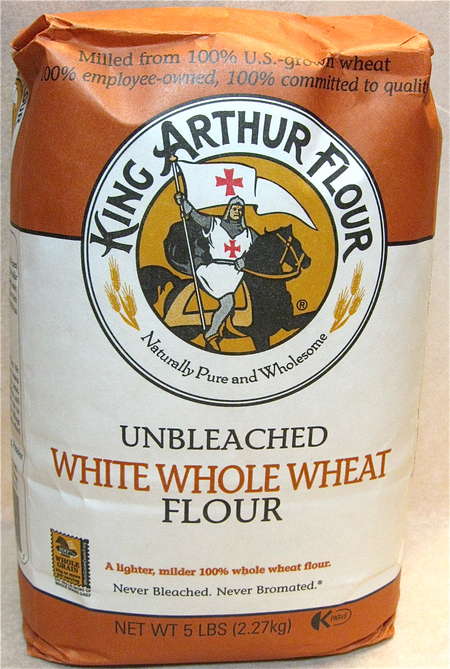 Like this flour. Our King Arthur Unbleached White Whole Wheat Flour is a 100% whole wheat flour that's lighter colored, milder tasting, and a somewhat finer grind than standard red whole wheat flour.
Don't misunderstand – white whole wheat (milled from white, rather than red wheat berries) is WHOLE WHEAT FLOUR (not "white" flour). It has all the fiber and nutrition of traditional whole wheat, but acts much more like white flour in your baking.
Which is a good thing, for those of us who don't love the taste of whole wheat.
We routinely substitute white wheat for 100% of the all-purpose flour in cookie, muffin, brownie, pancake, and other recipes where the difference won't be noticeable.
Warning: don't make an angel food cake with it! But banana bread? Chocolate chip cookies? Blueberry muffins? Go for it!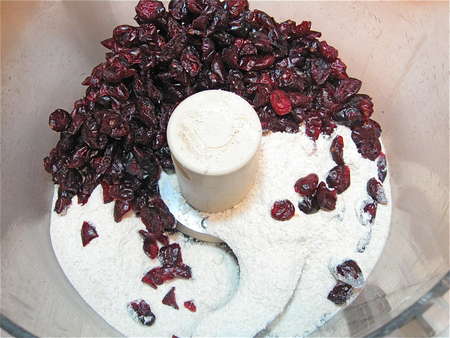 Now, let's get to those cookies.
Preheat the oven to 350°F. Lightly grease (or line with parchment) two baking sheets.
Place 1 cup (4 1/4 ounces) King Arthur White  Whole Wheat Flour (or King Arthur Unbleached All-Purpose Flour, if you insist); and 1 1/2 cups (7 ounces) dried cranberries (pack the cup tight) in the bowl of a food processor.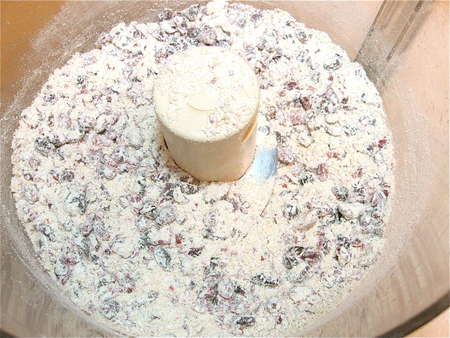 Process until the cranberries are coarsely shredded.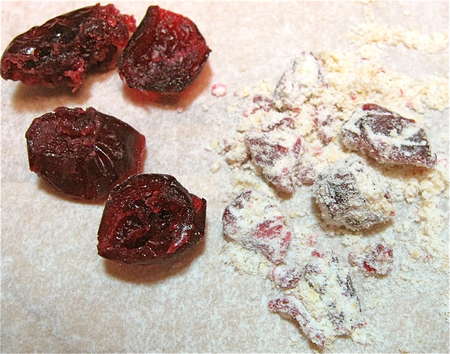 Imagine a single dried cranberry cut into about 3 to 4 pieces: that's your goal.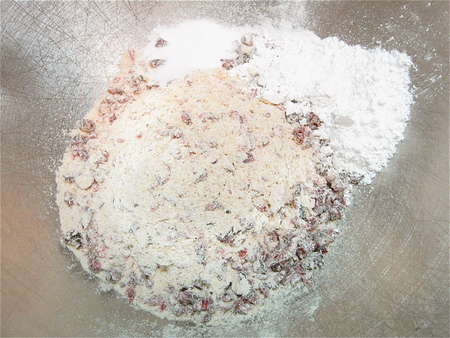 Whisk the flour/cranberry mixture with 2 tablespoons confectioners' sugar, 1 teaspoon baking powder, and 1/4 teaspoon salt.
Add 1 teaspoon vanilla extract, and 6 tablespoons cold unsalted butter, cut into pats.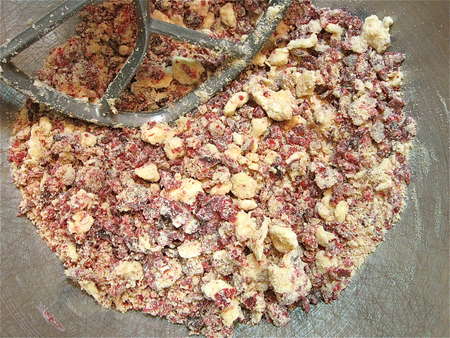 Mix until the butter is thoroughly distributed, but some pea-sized chunks still remain.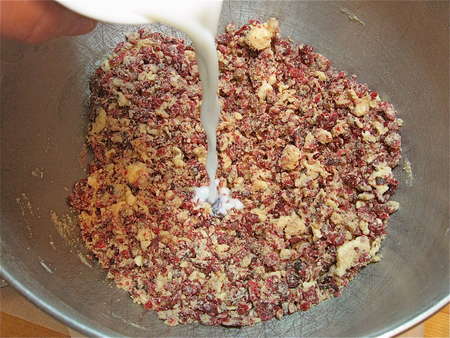 Dribble in 3 tablespoons of milk, continuing to mix.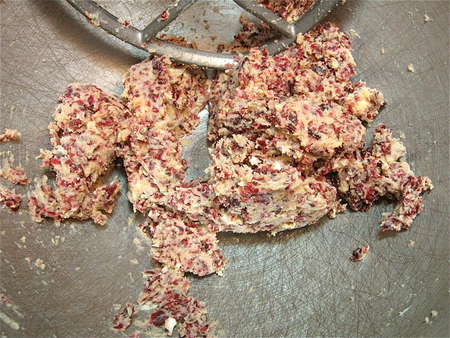 The dough will become cohesive.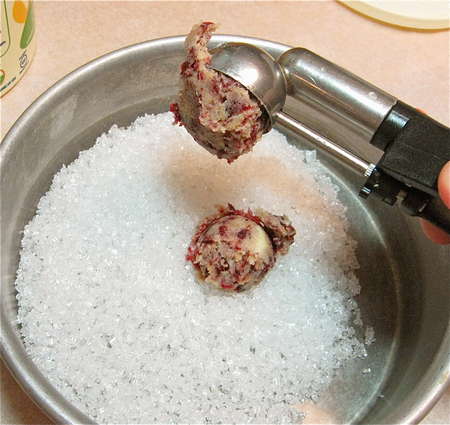 Place a scant 1/2 cup coarse white sparkling sugar in a shallow bowl or round cake pan. Using a teaspoon cookie scoop (or a spoon), scoop the dough by 1 3/4-teaspoonfuls (about 1 1/4" balls) into the bowl or pan.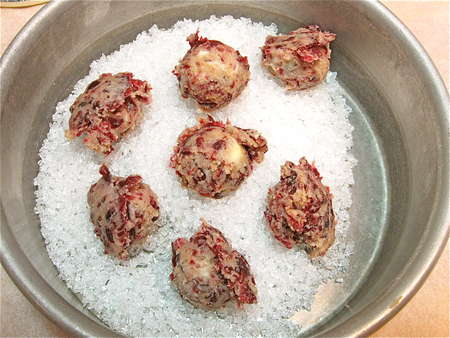 Scoop about 6 or 8 at a time.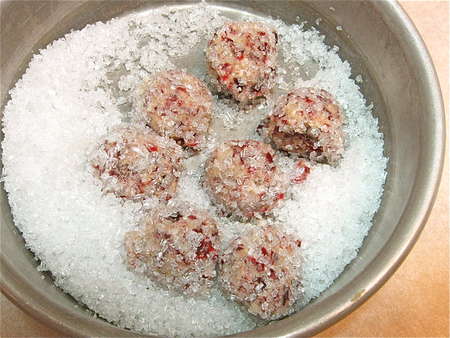 Gently shake the bowl or pan to coat the balls with sugar.
Place them on the prepared baking sheets, and use the bottom of a measuring cup or a glass to flatten them to about 1/4" thick (about 1 1/2" in diameter).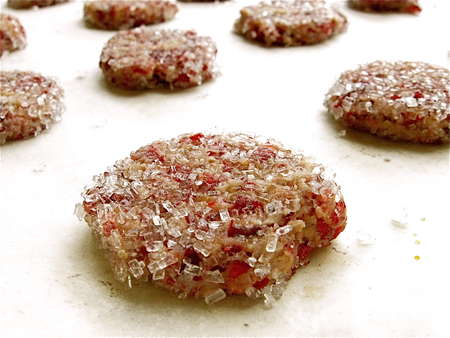 Like this.
Bake the cookies for 16 to 17 minutes, until they're set and barely, BARELY beginning to brown around the very edge; the tops shouldn't be brown at all. If you gently tilt a cookie off the pan, the bottom should be brown.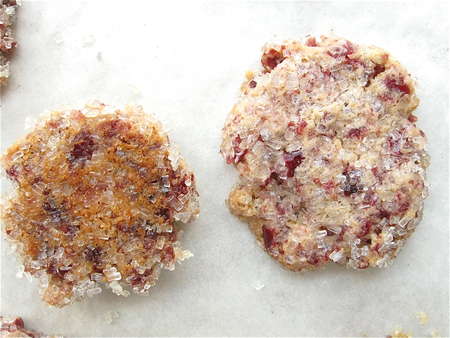 See the lightly browned bottom (l), and the barely browned edge (r)?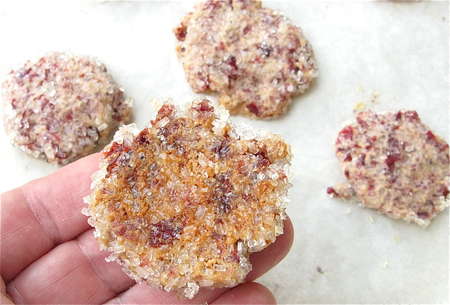 Yes, the bottoms will be a pretty brown, but the tops will look quite pale. That's OK; these cookies are supposed to be moist, so you don't want to over-bake them.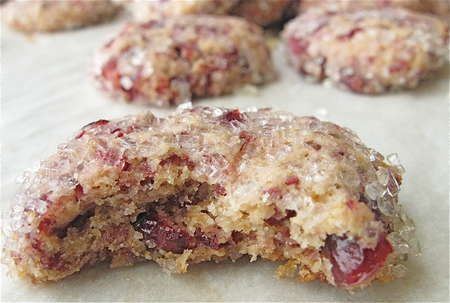 The liberal helping of chopped cranberries in each cookie adds great flavor and a pleasantly soft/chewy texture.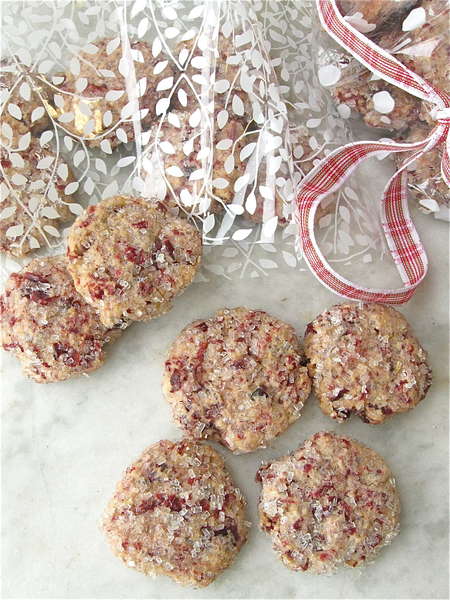 Bag 'em up; head 'em out. YEE-HAW! A great gift for the "Sorry, not on my diet" crowd.
Read, rate, and review (please!) our recipe for Sparkling Cranberry Gems.