Holiday cakes for the decorating-challenged baker
It's all in the pan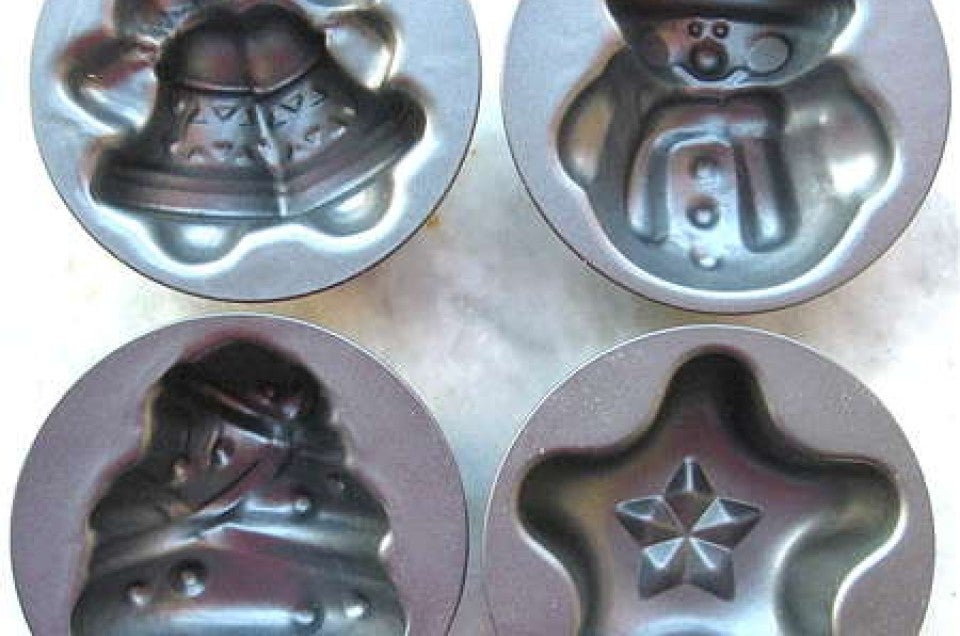 "Help!"
That was the cry coming from my colleagues on King Arthur's merchandising team yesterday.
"We love these little bakers, but they're only online, not in the catalogue; and no one is SEEING them! Could you...?"
"Do a blog?" I finished the sentence for them. "Well, you KNOW I'm not one of those fussy bakers. Ummm..."
They sensed my reluctance.
"Please please please PLEASE..."
Well, who can resist abject groveling and pleading? I feel their pain. King Arthur Flour is all about baking, but we need to sell stuff: to support this blog, our recipe site, the free classes we give around the country, our free LifeSkills program...
Which is why I sighed and said, "Sure, I can sell these bakers."
So, into the test kitchen.
2 p.m. – quick batch of eggnog muffins. Perfect, I thought.
NOT. Too much rise; the thick batter simply didn't fill the bakers quite right.
3 p.m. – brainstorm. Need a thinner batter.
Lightbulb!  My favorite chocolate cake recipe makes a VERY thin batter.
4:30 p.m. Batter made, amounts figured, cakes baked and sampled (YUM).
This morning – glazes and toppings tried.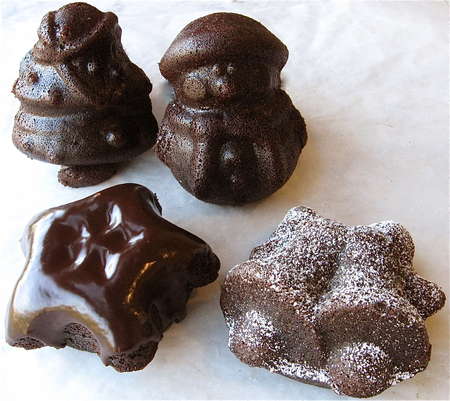 Witness the winners: chocolate ganache (front left), and a simple dusting of confectioners' sugar.
Or just leave the cakes plain; the tree and snowman in the back have a gorgeous satiny sheen just on their own, don't they?
So, what do you say –  Are you ready to go fancy (not fussy) with some holiday chocolate cakes? Consider these cute little bakers.
I did. And (surprise, surprise, from this lazy baker), I LIKE them.
And they're ON SALE NOW: $14.99 for the set of 4, or $3.99 each.
Now for the fun part –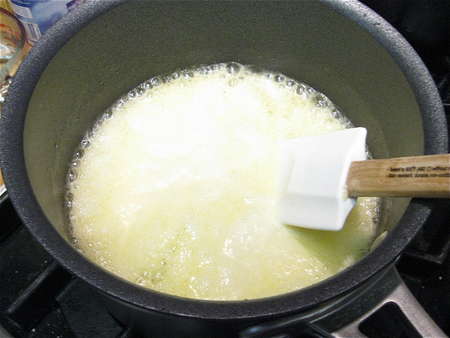 Let's make this fast fudge cake. First, preheat your oven to 350°F.
Melt 1 cup (2 sticks) butter in a saucepan. Add 1 cup hot water, and bring to a boil.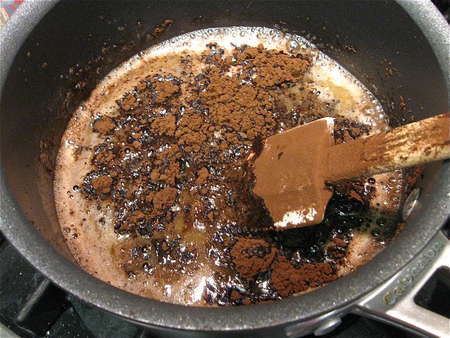 Add 1/2 cup Dutch-process cocoa powder.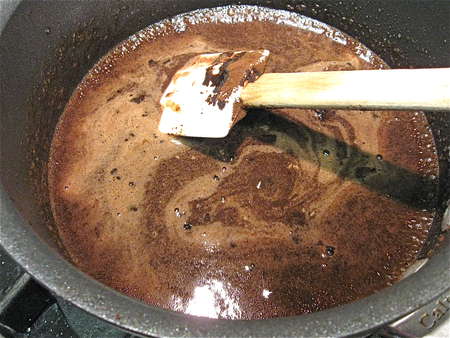 Stir to combine.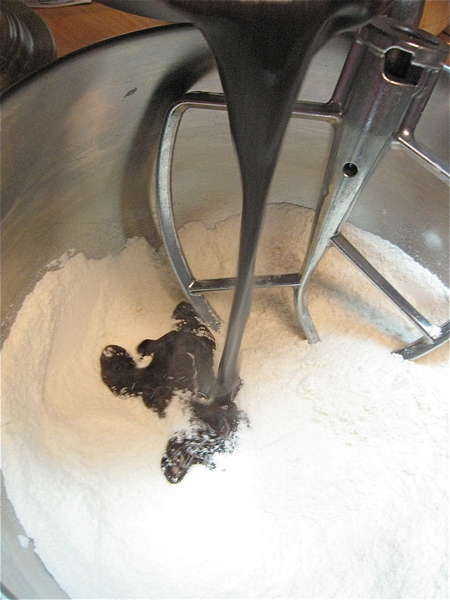 Place the following in a mixing bowl:
2 cups (8 1/2 ounces) King Arthur Unbleached All-Purpose Flour
2 cups sugar
1 teaspoon baking soda
1/2 teaspoon salt
Pour the hot chocolate mixture over the dry ingredients, and beat until smooth.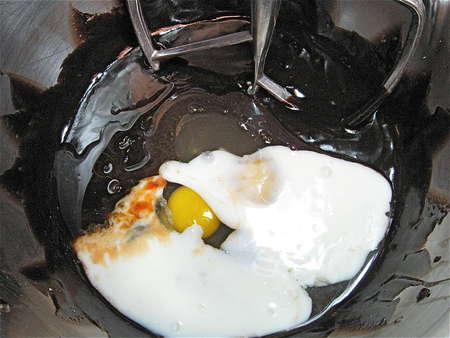 Add 1/2 cup buttermilk or yogurt, 2 large eggs, and 1 teaspoon vanilla.
Beat till smooth.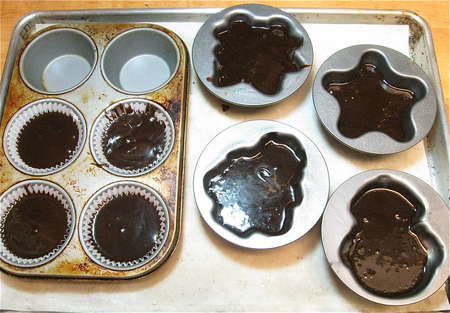 Now comes the "fancy" (but oh-so-easy) part: grease your baking shapes, and fill with batter to within about 1/4" of the rim. I found that this amount of batter will make about 14 shaped cakes.
I ended up making 10 shaped cakes, then poured the remainder of the batter into cupcake cups. If you use cupcake cups, fill them about 3/4 full.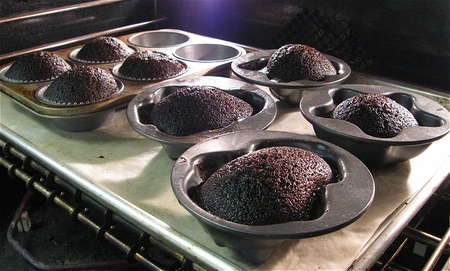 Bake for 20 to 23 minutes, until a cake tester inserted into the center comes out clean.
Notice that the cake will mound up rather than spread itself to the edges of the pan. I thought, well, THAT'S not good. But work with me here...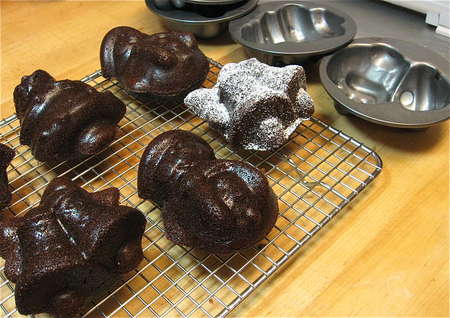 When you remove the cakes from the oven, and turn them out onto a rack, they're soft enough that the big mound on the back just flattens itself out, leaving you beautifully shaped cakes, ones that lie nice and flat...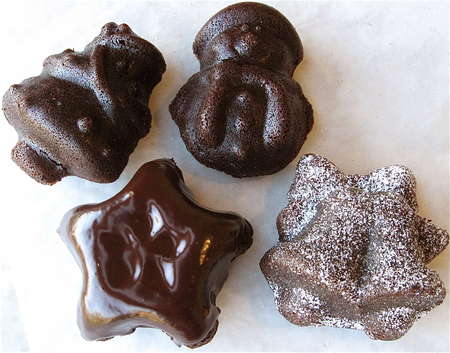 ...like this.
I sprinkled the tiniest dusting of confectioners' sugar on the bells. And the star is enrobed in a thin ganache – 3 parts heavy cream to 2 parts chocolate chips, by weight; heat in the microwave till hot, then stir till smooth.
See? Fancy doesn't have to be fussy. And talk about delicious – this is the fast, easy, moist-dark-rich chocolate fudge cake you want to go through life with.
(So, how did I do? Do I have a future in sales? Tell me below!)
And if you want to see a recipe for the cake, simply made in a 9" x 13" pan with the best fudge frosting ever, here it is: King Arthur's Favorite Fudge Cake.