We've all heard the never-ending array of holiday fruitcake jokes, right?
The famous Johnny Carson line: "There really is only one fruitcake in the world, passed from family to family."
And the recipe that starts like this: "10 undented cans of Spam, 5 bags of those horrible little jellied fruits..."
And this ditty, sung to the tune of The Monkees' Last Train to Clarksville:
Eat the last piece of fruitcake
that we got from Auntie Mabel
We can't keep it in the kitchen
'cause it broke right through the table and the floor
Oh no no no, oh no no no...

But honestly, there are those who love fruitcake. Pretty much any fruitcake – dark, light, filled with green cherries and candied peel, or red cherries and pecans, or...
The "I love fruitcake" crowd isn't generally overly picky about ingredients, so long as they can take their stand in favor of this much-maligned holiday treat.
And then there's the middle ground, the blue-dog Democrats of American fruitcake society. We enjoy a certain kind of fruitcake – light-colored, no bitter candied peel, no gluey candied fruits, not overly spiced. More a fruit cake than a fruitcake, if you get my drift.
I'm in this "fruitcake is OK" crowd. I'll enjoy a slice – and probably just that, one slice – at Christmas. But it has to be moist, and it has to be mild, tasting more of fruit than spice.
The following cake fits this description to a T.
Filled with pecans, my favorite dried fruits, plus toasted coconut and banana; and with NO spices at all, save salt, it takes its flavor from the fruits themselves.
Which is just fine with me. And my husband, a long-standing fruitcake lover and absolute traditionalist, who nonetheless devoured two loaves of this maverick tropical version on our recent vacation.
Willing to chance a new fruitcake recipe? One that doesn't call for 10 cans of Spam? Here we go –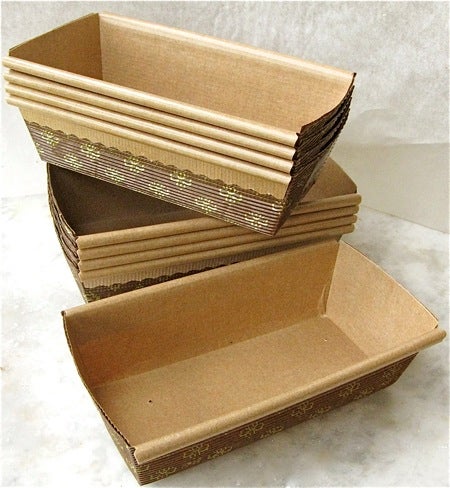 These bake & give pans are a neat little item. Made from heavy coated paper, they're completely bakeable; use just as you would a metal pan. The difference is, you can give someone a baked treat without worrying about getting your pan back afterwards. We sell all kinds of different sizes and shapes; take a look at our favorite holiday bake & give pans.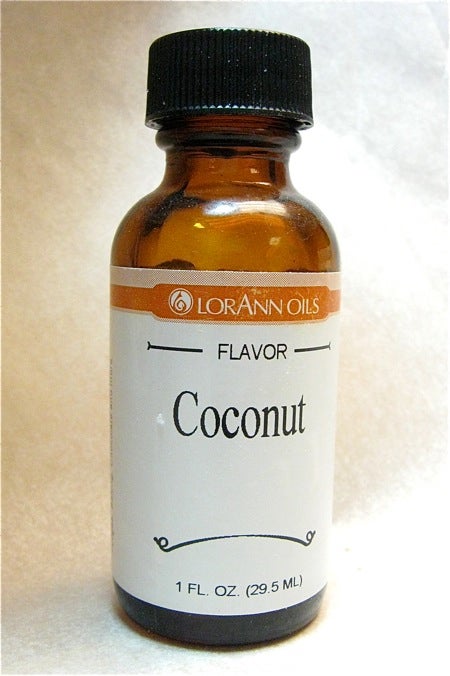 Coconut lovers, rejoice! 1/2 to 1 teaspoon of this extra-strong flavor punches up the taste of anything coconut.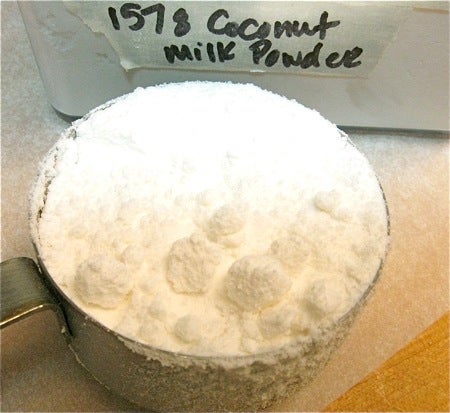 As does this coconut milk powder, a tasty substitute for canned coconut milk. Never mind opening a whole can of milk when all you need is 1/3 cup; use this handy milk powder instead.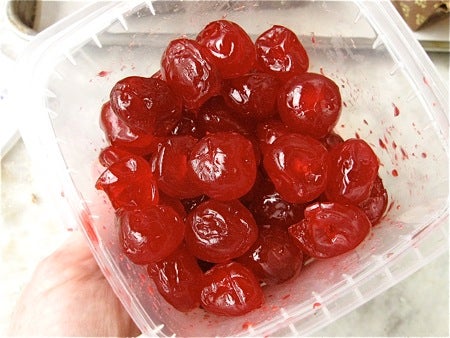 And what fruitcake is complete without candied red cherries? Not green ones - ewwwww! But these sticky red nuggets offer signature fruitcake texture, maraschino cherry taste, and a very pretty look.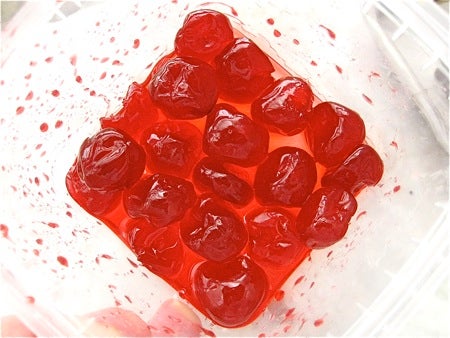 And talk about juicy! Unlike the candied cherries you might buy at the supermarket, these are nice and moist. Look at all the syrup in the bottom of the tub – feel free to stir it into your next Shirley Temple.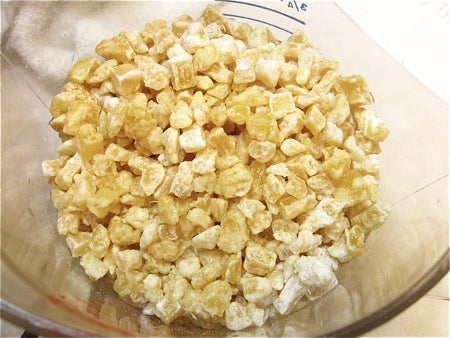 Next up in our ingredient review: dried pineapple nuggets.  Why not just use fresh pineapple? Because it's awfully juicy, and your fruitcake is moist anyway; fresh pineapple tends to push it over the edge into soggy.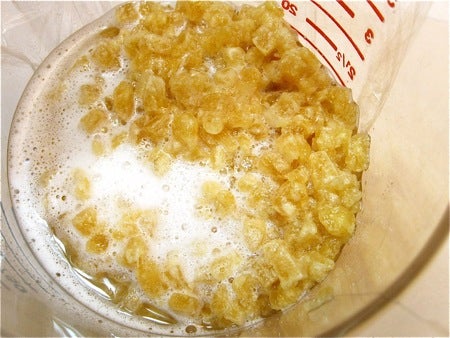 OK, let's get started. The night before, combine 3 cups (16 ounces) dried pineapple nuggets and 3/4 cup rum, apple juice, or water in a microwave-safe bowl or measuring cup.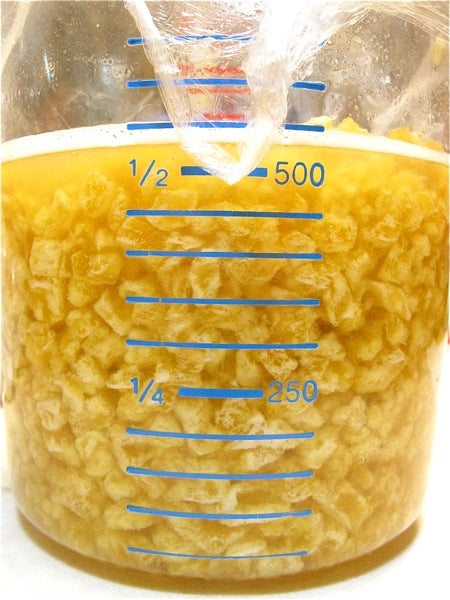 Cover with plastic wrap, and heat till the liquid starts to form tiny bubbles, 2 to 3 minutes; see those little bubbles around the edge?
Remove from the microwave, and let rest overnight, covered.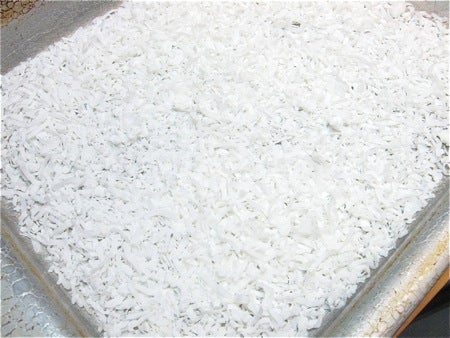 Next, we're going to toast coconut. You can skip this step and buy toasted coconut, but it's not hard to make your own. You just have to be watchful.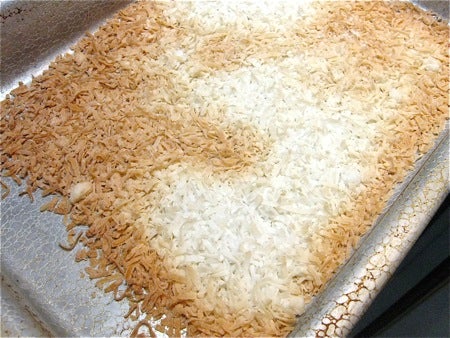 Put 2 cups (about 5 ounces) sweetened coconut in an ungreased 9" x 13" pan. Bake in a preheated 300°F oven for about 13 to 15 minutes, stirring several times. The coconut won't do anything for awhile, then will brown quite quickly; this is the "watchful" part.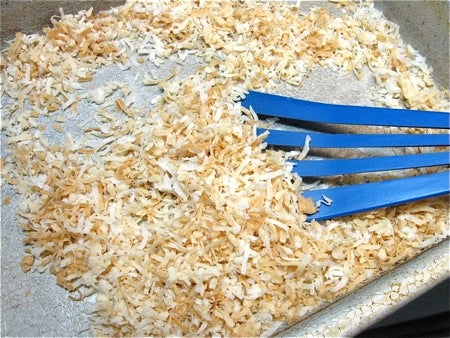 Stir it around so the edges don't get overly brown.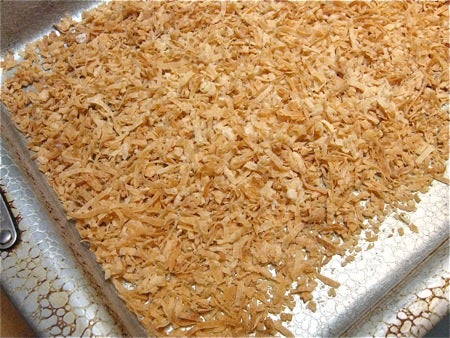 And here it is, nicely toasted.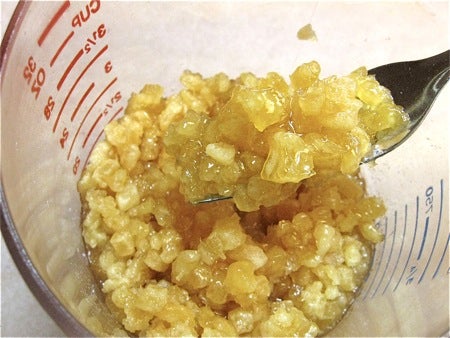 Here's the pineapple, after its overnight rest; notice how it's absorbed the liquid and become syrupy.
Fresh banana adds just the right degree of moistness to your cake. You want 1/2 cup mashed banana; 1 medium-large banana should do it. And the riper the banana, the stronger the flavor; this is a perfect use for your dark-brown, last-one-in-the-fruit bowl, very overripe banana.
Two more preliminary steps: Preheat your oven to 300°F. Pick the loaf pans of your choice: two 8 1/2" x 4 1/2" loaf pans OR five 7" wooden bakers OR six 7" paper bake & give pans. Or a combination.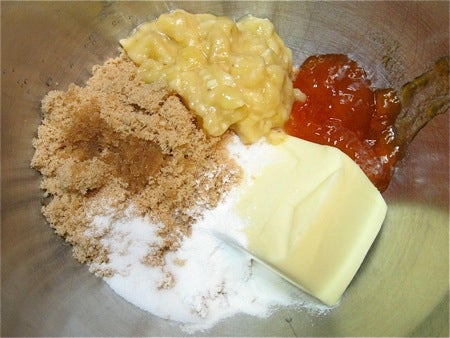 At last – we're ready to get baking. Place the following in a mixing bowl:
1 cup butter
1 cup granulated sugar
3/4 cup brown sugar, firmly packed
1/4 cup apricot jam or orange marmalade
1 ripe medium banana, peeled and mashed; about 1/2 cup
2 teaspoons baking powder
1 teaspoon salt
3/4 teaspoon coconut flavor, optional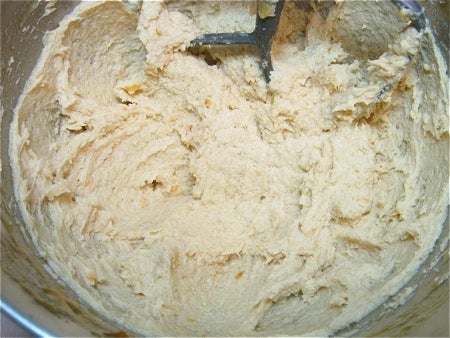 Mix to combine.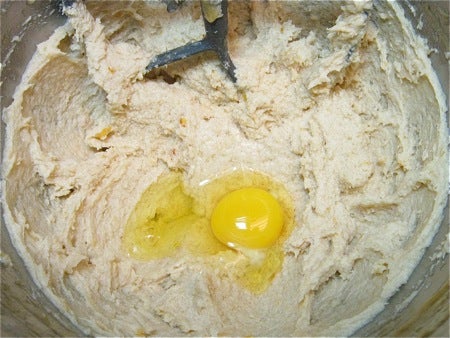 Beat in 5 large eggs, one at a time.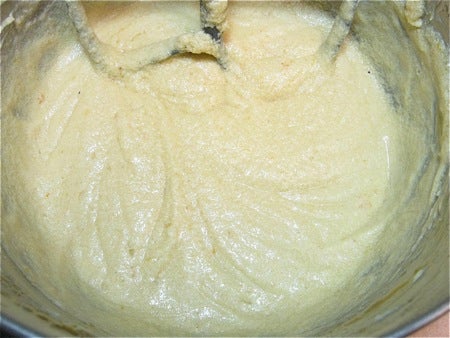 The batter will become quite creamy, though not entirely smooth; it may look a bit curdled, which is OK.
Whisk together 3/4 cup coconut milk powder and 3 3/4 cups (15 3/4 ounces) King Arthur Unbleached All-Purpose Flour.
Want to omit the coconut milk powder? I didn't try this recipe without, but Sue, our test kitchen director, says it should be fine to just leave it out without making any flour adjustment. Can you substitute canned coconut milk? No, not really; it would add too much liquid. Though you can certainly substitute canned coconut milk for the regular milk, which makes its appearance next.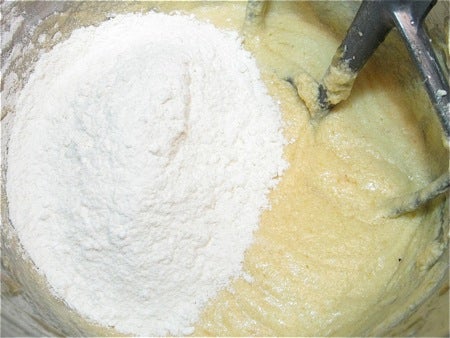 Gently beat the dry ingredients into the wet ingredients, a portion at a time...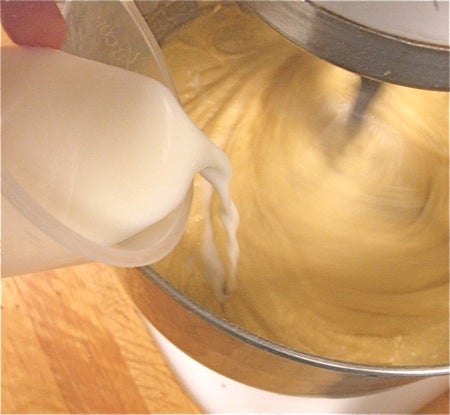 ...alternately with 1/2 cup milk. Or coconut milk.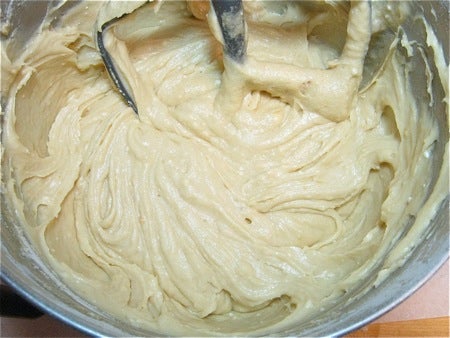 NOW you've got a nice, creamy batter.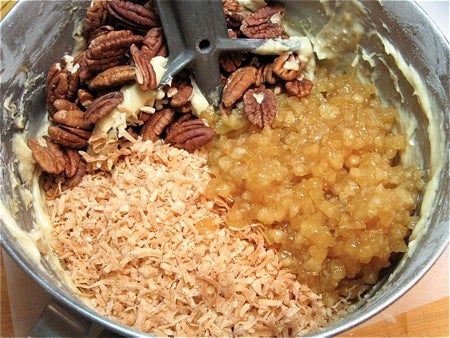 Here comes the yummy part: the pineapple, coconut, and 2 cups pecan halves.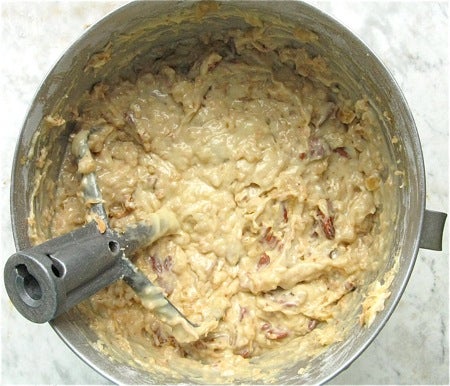 Stir it all in.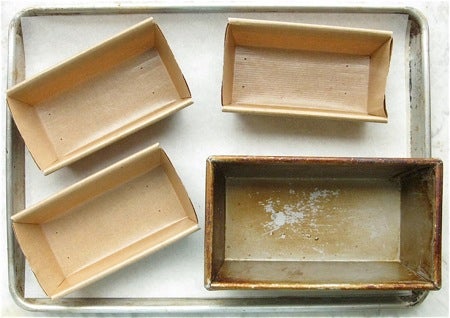 For ease of use, I like to put all my pans on a baking sheet. I've lined the baking sheet with parchment, in case of spills; but this is a thick batter, and it shouldn't overflow.
Here I've selected one 8 1/2" x 4 1/2" loaf pan; and three 7" paper bake & give pans.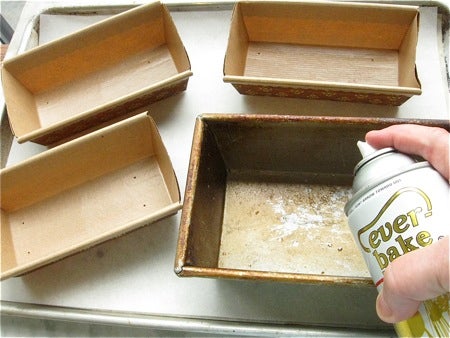 Grease with non-stick vegetable oil spray; EverBake is our test kitchen favorite.
Psssst: If you've been reading this blog forever, and have watched me using EverBake forever, and haven't yet grabbed yourself a can – what's the holdup?  All of us in the King Arthur test kitchen love it. And it won't darken on your pans, like so many do.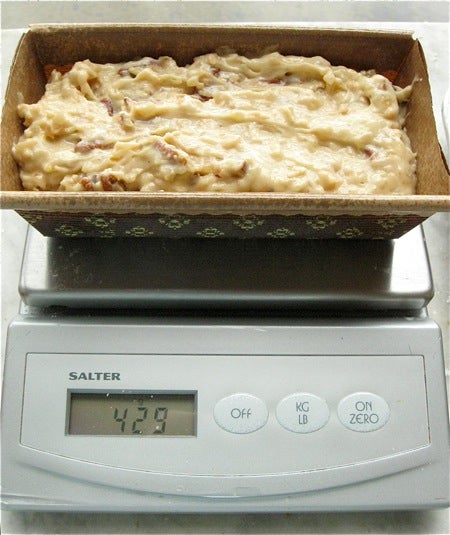 A scale helps in dividing the batter evenly among the pans. The small (7") paper pans will take about 430g batter (a generous 15 ounces). An 8 1/2" x 4 1/2" pan will take about 1290g (2 pounds, 13 1/2 ounces).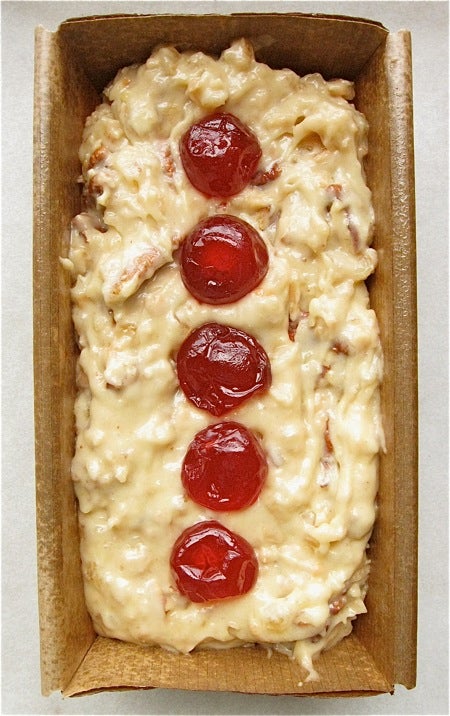 Plop candied cherries down the center of each loaf, like buttons on a snowman. You'll need 22 to 30 cherries, about 4 to 5 ounces.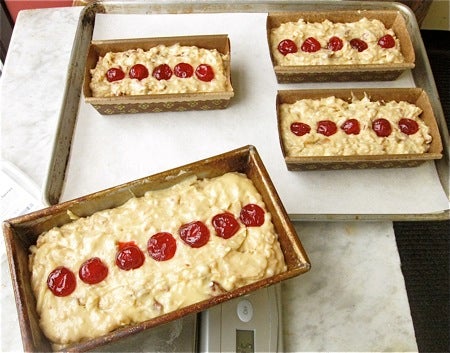 Almost ready to go into the oven... but not quite.
Sprinkle the top of each loaf with coarse sugar. While this step isn't traditional for fruitcake (nor is it necessary; don't get hung up here), it lends a pretty touch. I've used Swedish pearl sugar on this loaf. And I tried coarse white sparkling sugar on another.  Two of the loaves I left plain.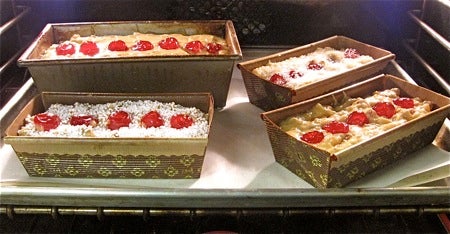 Place the pan in the preheated 300°F oven. See why putting all the loaf pans on a baking sheet makes sense?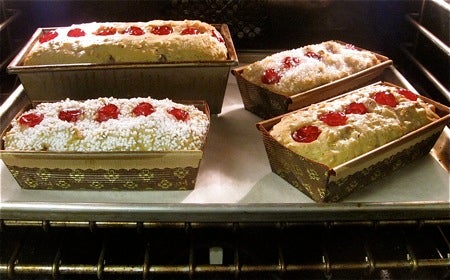 Bake till done. This will take about 60 minutes for the smaller cakes; and about 90 to 95 minutes for the larger cake. When done, the cakes will be a light golden brown all over.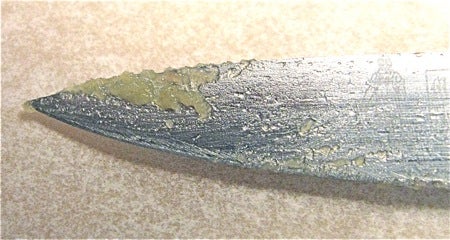 A paring knife inserted into the center will come out clean. This isn't clean.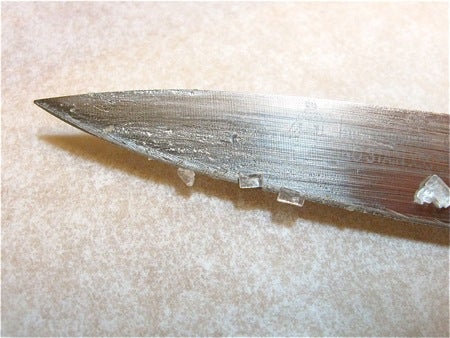 This is.
Be sure to give the cakes enough time. The temperature at the center will be about 200°F. The very center on top may still look a bit undone; that's OK.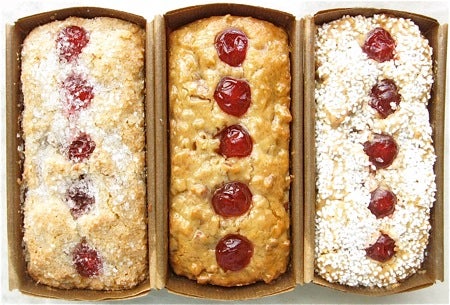 Remove from the oven, and allow the cakes to cool a bit while you ready the glaze. If you've used metal pans, turn the cakes out; the cakes in the paper pans can remain in their pans.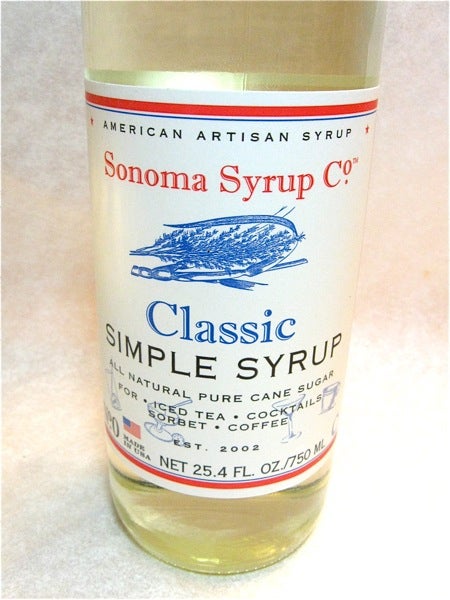 For the glaze, combine 1 cup sugar syrup or simple syrup with 2 to 4 tablespoons rum, brandy, or the liqueur of your choice (coconut?). The alcohol is optional; if you eschew strong beverages, just stick to simple syrup, flavored with vanilla or another extract if you like.
To make your own simple syrup, bring equal parts (by volume) granulated sugar and water to a boil; simmer for 3 minutes, remove from the heat, and cool to room temperature. Or you can purchase simple syrup. Or vanilla syrup. Or ginger syrup (oo-la-la!)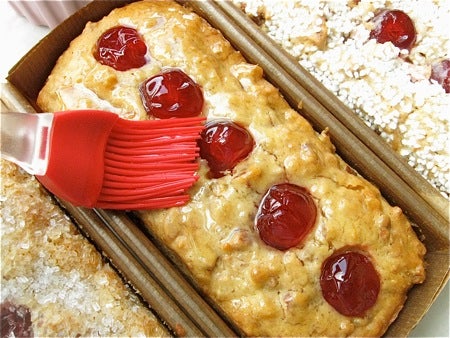 Brush the top of the warm cakes with the glaze, letting it drip down the sides. Don't use it all up; two coats is good to start. Reserve the rest in a covered jar.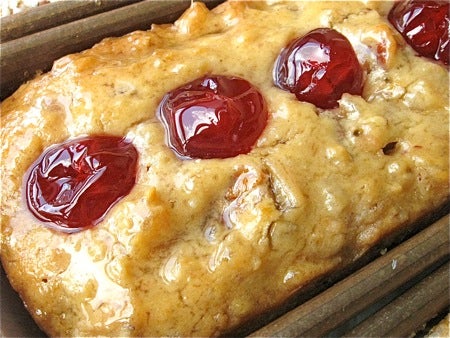 Now doesn't that look deluxe?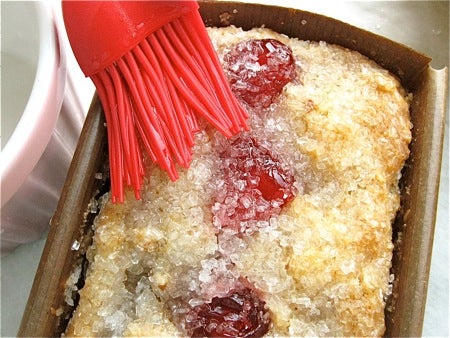 The cakes with sugar on top take the glaze, too. It's all good.
When completely cooled, wrap the cakes well in plastic; the ones in the paper pans can remain in their pans. Let rest at least 24 hours before serving.
Store well-wrapped cakes for up to 6 to 7 weeks, brushing with additional glaze every week or so. Each time you brush the cakes, you'll use about half as much glaze as you did the first time; the cakes will take on a pleasantly dense moistness.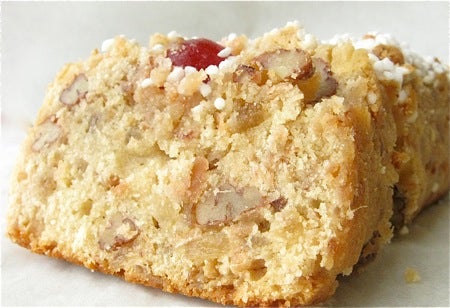 I baked this cake the last week in August. I gave it to my husband to take on vacation the middle of October; I'd remembered to brush it with glaze probably four times total. He declared it my best fruitcake ever... though he says that every year. (Yes, he's learned what I need to hear!) But I can attest it was nice and moist, even after 7 weeks. And very flavorful.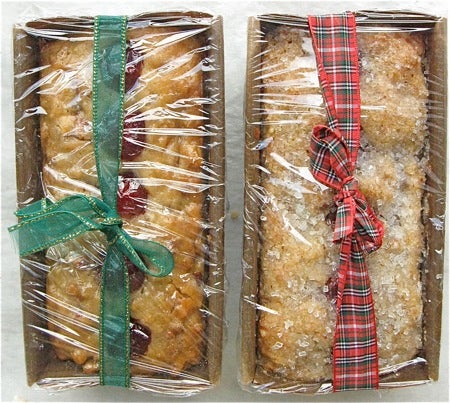 At last! All dressed up and ready to go under someone's tree. Preferably someone who likes fruitcake – or is at least willing to give it a try. We don't want THIS fruitcake to become the butt of any bad jokes!
Read, rate, and review (please!) our recipe for Taste of the Tropics Fruit Cake.