So OK.  I've already covered latkes in this blog. And it wasn't even that long ago: Dec. 18, 2008, to be precise. Just in time for Chanukah.
But latkes – potato pancakes – are a subject worth bringing up again. Because frankly, they're NOT just for Chanukah. You don't have to be Jewish to enjoy them; all you have to be is a lover of salty crunchy fried stuff, which covers probably 90% of us.
And I've found yet another, even easier way to make them.
No frying pan; no grease-spattered clothes. And now, no grating potatoes, and no wringing out the liquid in a dish towel.
And, since they're oven-baked and ready all at once, no standing at the stove flipping latke after latke while the rest of the family eats.
Impossible, you say? "You can't make REAL latkes without grating raw potatoes."
Oh yeah? Just watch me...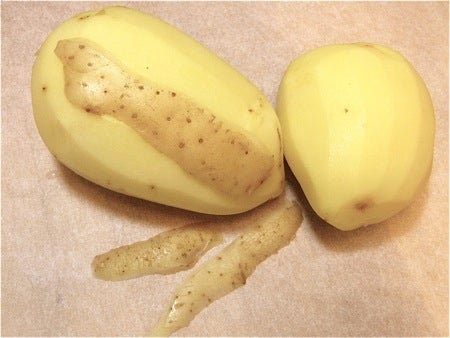 Not only can you make good latkes without grating raw potatoes – you also don't have to start with russets, as most traditional recipes do. How about yellow potatoes, or Yukon Golds? Start with 3 medium potatoes, about 1 1/2 to 1 3/4 pounds. Peel them.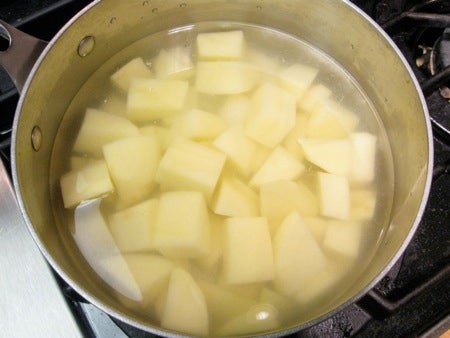 Here's method #1: Boiling the potatoes. Cut each potato into about 6 chunks, then cut each chunk in half again. Place the potatoes in a medium saucepan. Cover with about 4 cups of water; the water should cover the potatoes by about 1/2". Add 1 1/2 to 2 tablespoons salt to the water (yes, tablespoons; use the greater amount if you like saltier latkes).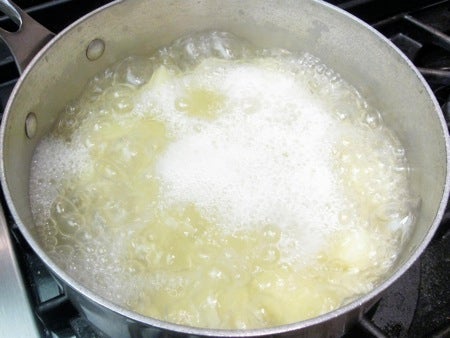 Boil the potatoes for about 8 minutes, or until they're fork tender.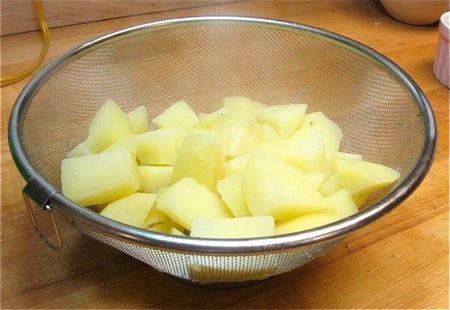 Drain them in a colander.
Want to use russets (e.g., Burbank) or another baking potato instead? We can do that. Method #2: microwaving. Start with 3 medium potatoes, 1 1/2 to 1 3/4 pounds. Peel them.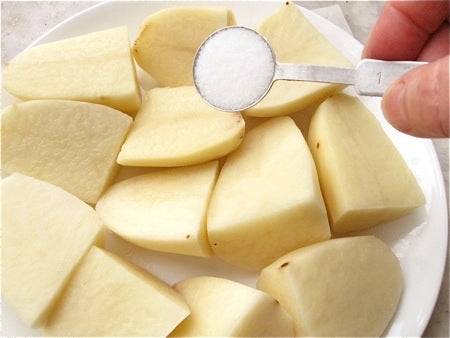 Cut each potato into about 6 chunks. Place them on a microwave-safe plate, and sprinkle with 1 to 1 1/2 teaspoons salt, to taste (more if you like a saltier latke).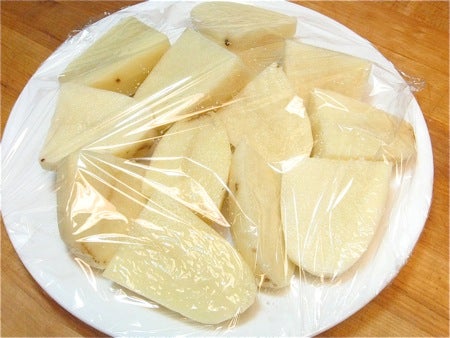 Cover the plate with plastic wrap, and microwave for about 10 minutes, till the potatoes are soft.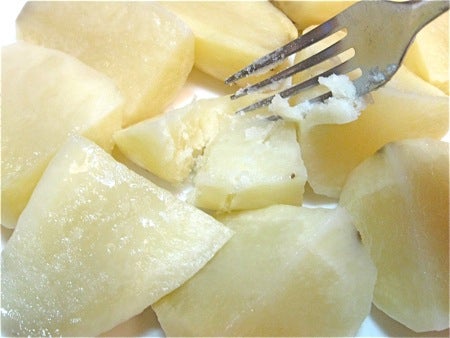 See how easily they break apart? They shouldn't offer your fork any resistance.
Allow the potatoes to cool a bit while you shred or finely dice 1 medium onion, whisk 1 large egg, and preheat the oven to 400°F to 425°F (425°F if you feel your oven runs a bit cool). The oil has to be hot enough to sizzle the latkes as they cook. If you put them into the oven and after several minutes they're just sitting there, and not sizzling, increase the oven temperature.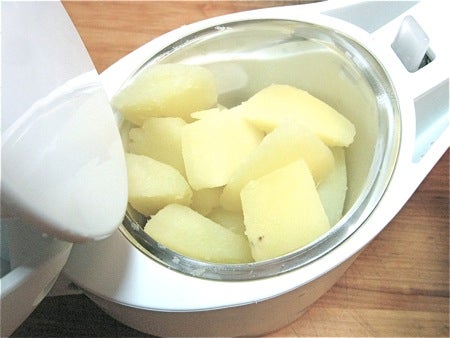 Whichever type of potato you've used, the next step is to put them through a potato ricer. You can use your grandma's old metal version, or one of the sleek new acrylic ricers. Whichever you choose, if it has removable plates, use the coarsest one.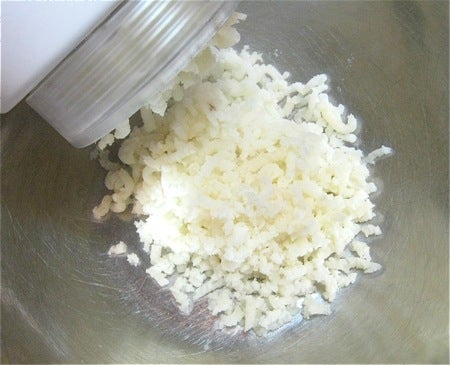 Rice about 1/3 of the cooked potatoes into a bowl.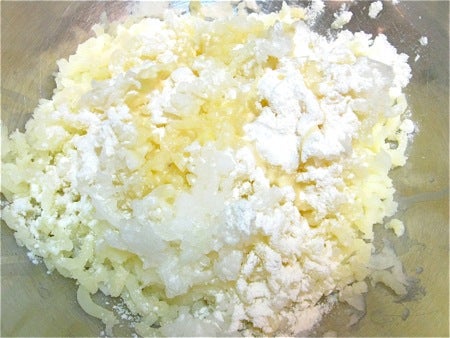 Sprinkle with half the onions and 1 tablespoon of King Arthur Unbleached all-Purpose Flour, and drizzle with about half the beaten egg. Rice another third of the potatoes into the bowl, and sprinkle with the remaining onions and 1 tablespoon flour; drizzle with the remaining egg. Rice the remaining potatoes into the bowl.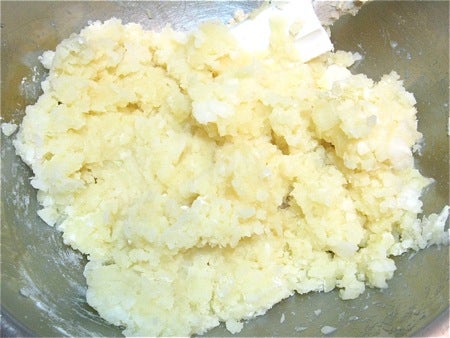 Gently combine all of the ingredients. Don't stir too much; you don't want potato purée.


Line two rimmed baking sheets with easy-release aluminum foil (see below). Or simply get out two rimmed baking sheets.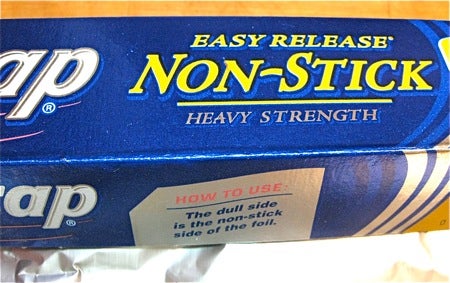 I've seen the light. For no-mess, no-stick oven-baked latkes, grab yourself a roll of this non-stick aluminum foil. Works like a charm.
Pour 1/4 cup oil into each pan, tilting the pans to spread it around. Place one of the pans into the oven, and allow the oil to heat for 2 minutes. This step isn't necessary if you use easy-release aluminum foil, but helps avoid sticking if you're using plain aluminum foil.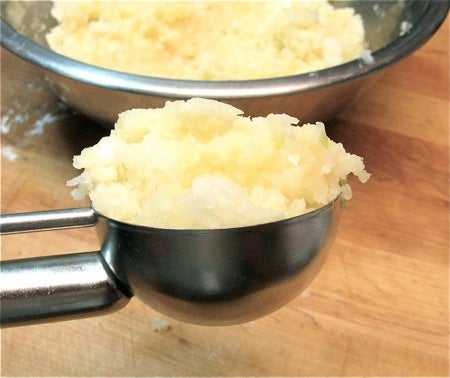 If you've heated the pan, remove it from the oven. Scoop a heaping 1/4 cup of potatoes onto the pan; a muffin scoop works well here.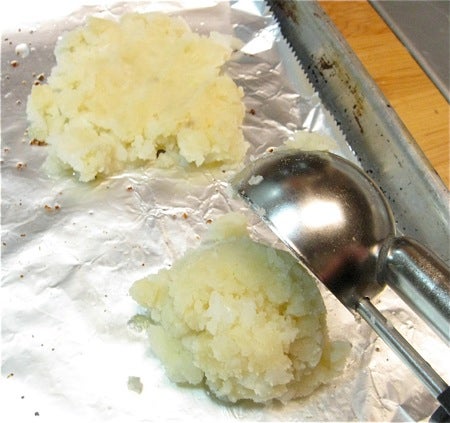 See? Potatoes slide right out of the scoop in a nice, even ball.

Repeat till you've scooped 6 or 7 latkes onto the pan. Using the back of a spoon (or your fingers – be careful!), gently flatten the latkes to about 3/8" thick.
Repeat with the second pan and the remaining potatoes.
Bake the latkes for 10 minutes, till they're deep brown on the bottom. Flip them over. If they seem to be sticking to the pan, let them bake awhile longer; this often helps. Make sure their bottoms are a very deep brown before you flip them.
Reverse the pans as you return them to the oven — upper pan to the lower rack, lower pan to the upper rack.
Bake for an additional 15 minutes, till the bottoms of the latkes are golden brown.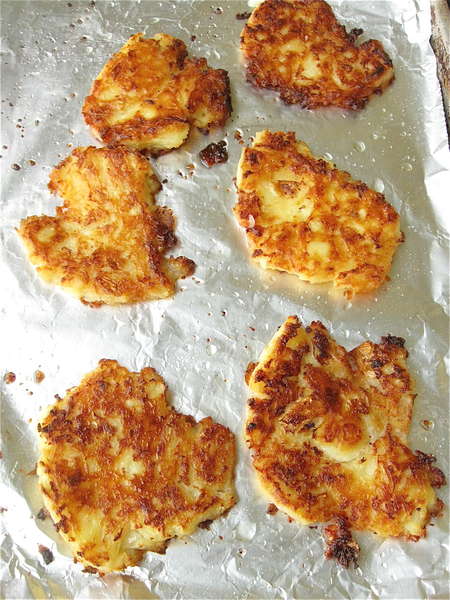 Remove from the oven. Now isn't THAT a sight! Are you drooling yet?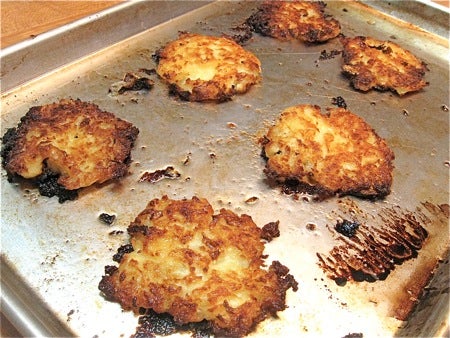 Here's what the same process looks like without foil. It works – you'll just have more cleanup.
Also, let me reiterate here – use the full 1/4 cup of oil called for in each pan. If you try to skimp and cut calories, not only do you not get the full latke effect; you end up scraping stuck latkes off the pan.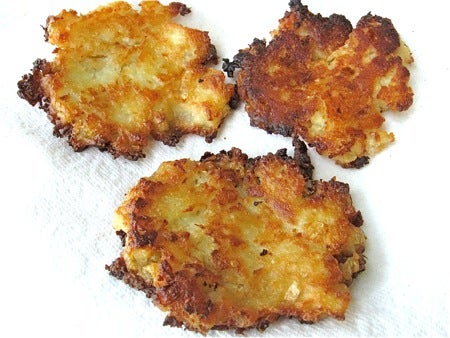 Drain on paper towels just prior to serving.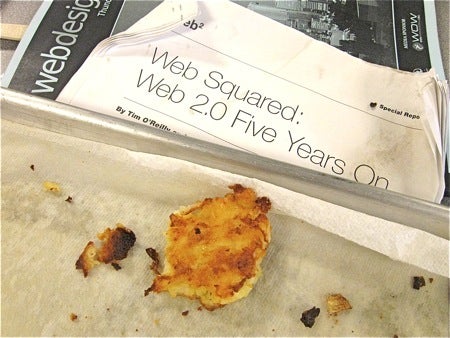 In fact, I just serve the latkes right on paper towels. Since we have three veteran Jewish cooks/latke aficionados on our Web team, any latkes I make go right onto the table in our office. From which they quickly disappear.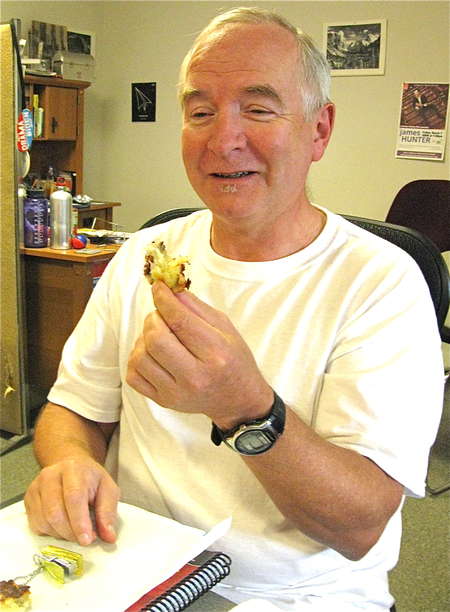 Jim approves. Not sure they're as good as his wife Joanna's, but he surely enjoyed them.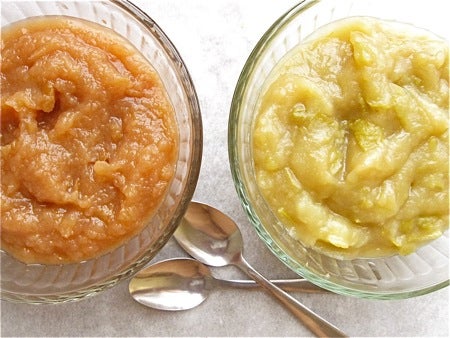 Now, since you can't serve latkes without applesauce, let's make applesauce – the easy way.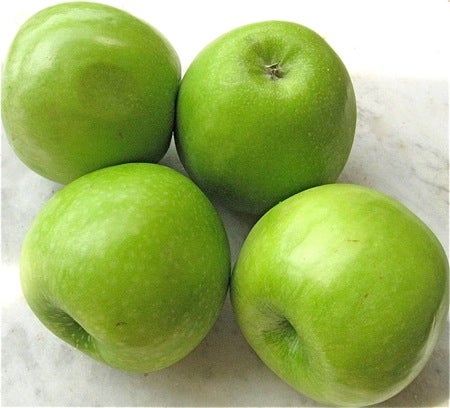 First, pick your apples. Literally, and figuratively. Here are my favorite standby, available throughout the year: Granny Smiths.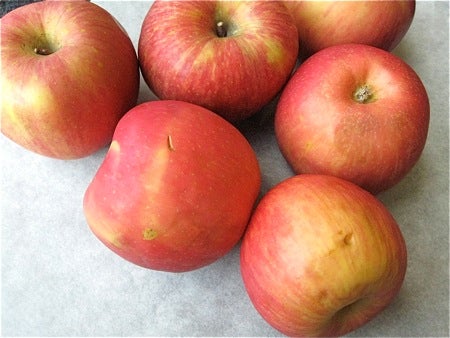 And here's another year-round apple: Braeburn. Or maybe it was Fuji, Or Gala. All three are similar, and equally good. Notice you don't need perfect apples for applesauce. In fact, sauce is a great way to use up your bumped-and-bruised, getting-old apples.
Start with 1 3/4 to 2 pounds apples. It's a workable amount, and the recipe scales up easily, for when you have more apples.
Here's a key to great applesauce: boiled cider. Thick and tangy-sweet, it enhances the flavor of anything apple.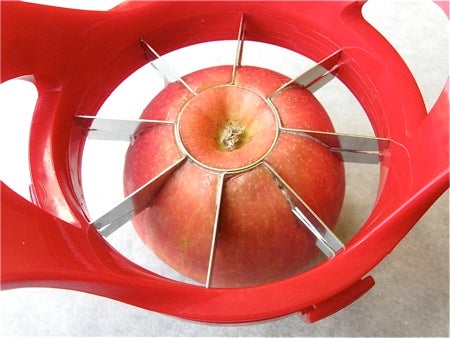 There's no need to peel the apples. Just core, and slice into chunks. An apple corer/slicer works very well here.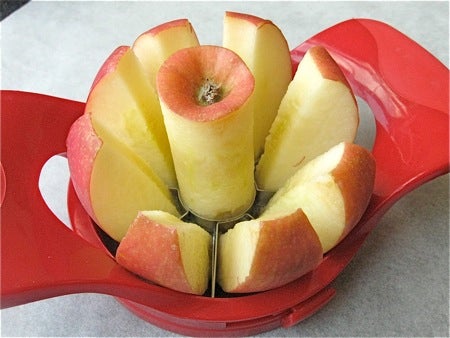 Just push down, and remove the core.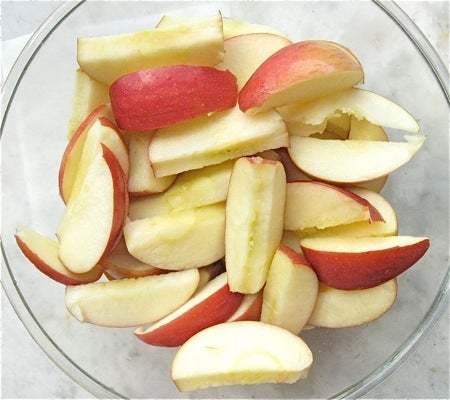 Put the apples in a microwave-safe bowl.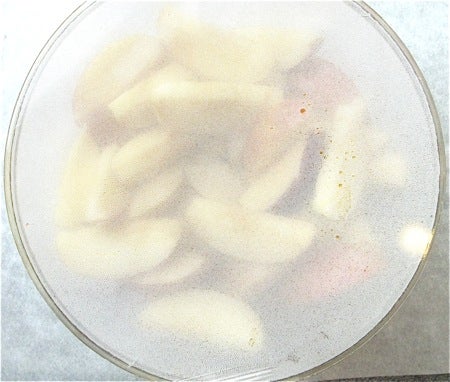 Cover with plastic wrap, and microwave for about 10 minutes, till the apples are soft.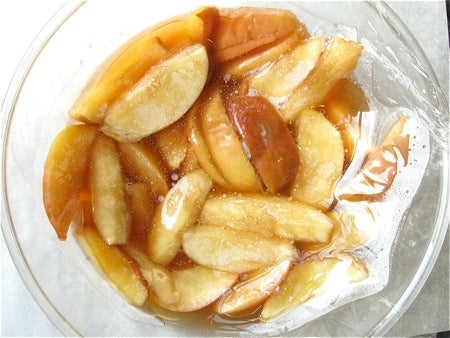 Remove from the microwave, and place on the counter to cool for 15 minutes or so; the plastic wrap will shrink down onto the apples.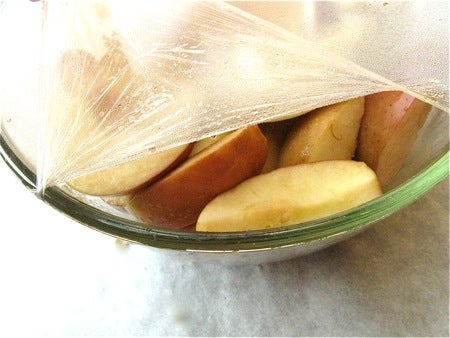 Carefully remove the plastic wrap (the apples will still be warm).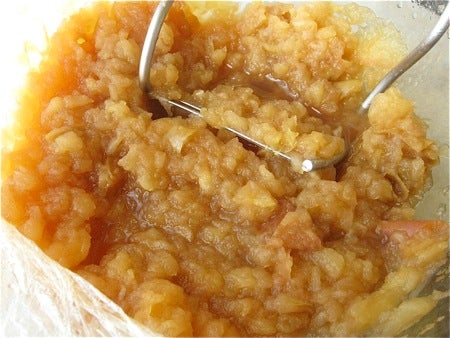 Mash the apples using a pastry blender or potato masher.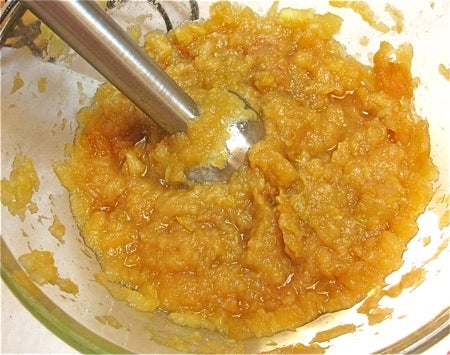 If you've left the peels on the apples, use a hand (stick) blender to coarsely chop skins/sauce. Blend as smooth as you like; I like my applesauce fairly chunky.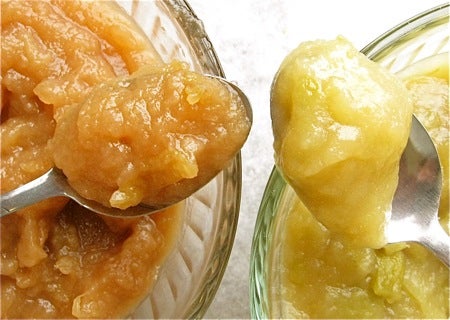 Add sugar to taste, and boiled cider, if desired, for enhanced flavor. For 2 pounds of mildly tart apples, I like about 2 to 4 tablespoons of sugar, and 2 tablespoons boiled cider. On the left is the sauce from the red apples; on the right, the Granny Smith sauce.
Feel free to use your own favorite varieties. I usually use windfall apples from a friend's tree; I don't even know what kind they are. Be advised that some apples cook up softer than others. Macs, for instance, cook quickly, and will need less time in the microwave.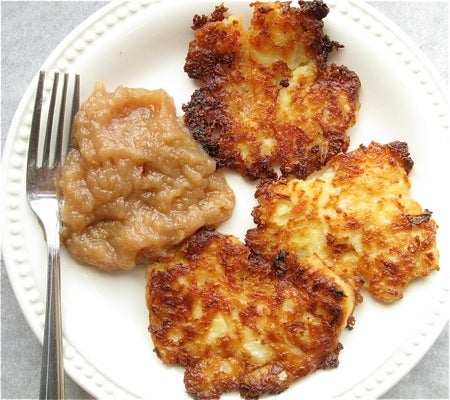 At last! We've reached the finish line. Homemade latkes, homemade applesauce. Where's the homemade sour cream?
Read, rate, and review (please!) our recipe for Oven Latkes with Homemade Applesauce.
P.S. So I was making these at home tonight, and could I find my grandmother's potato ricer? NO, I could not. Hot boiled potatoes, ready to make latkes for supper... light dawns on Marblehead! I used my food processor with the coarse shredding disk. Worked like an absolute charm. So if you have a food processor/shredding disk, go for it.
Buy vs. Bake
Buy: Stage Deli, New York City: Three latkes with applesauce and sour cream, $16.95
Blake & Todd, New York City: Side order of one potato pancake (latke), $2.65
Make at home: Three latkes with applesauce and sour cream, $1.24
One potato pancake (latke), 18¢