Ah, pancakes – how do I love thee? Let me count the ways...
I love thee for thy crust and texture light,
I love thee for thy flavor – buttery bright,
I love thee purely, syrup on the side,
I love thee with a passion only you provide,
I love thee...
Oh, heck. My apologies, Elizabeth Barrett Browning. There's a better way for me to list The Top Ten Reasons I Love Pancakes:
1. They're not HOT or COLD, but pleasingly warm, perfect for any season.
2. They're soft, moist, and a gentle way to get your appetite in gear for the day.
3. Pancakes remind me of being about 9 years old.
4. They're the ideal vehicle for melting butter and maple syrup.
5. You can scale them up or down, according to appetite or diet: single, short stack, tall stack.
6. There's no flavor combination quite so fine as salty bacon and syrupy pancake.
7. You can make a whole-grain pancake that's out of this world. Really.
8. A superior diner pancake is one of God's gifts to hungry humans.
9. They're a special treat when you serve them at dinner. Unlike a bowl of oatmeal.
10. There are so many ways to gussy them up, you wouldn't have to eat the same pancakes twice in a month of Sundays.
Witness these gems: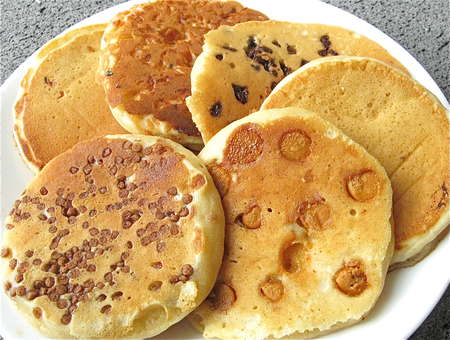 OK, not winning any beauty contests, granted.  But tasty? Well, as they say in Maine – Mmm-MMM, I tell you, Mr. Man, these are SOME good.
And, if I still lived in Maine, I wouldn't have wasted all this time waxing eloquent about pancakes when I could have gotten out my flour and eggs and milk and butter and whipped up a batch.
So enough with the palaver. Let's make pancakes with panache – Pancakes Gone Wild.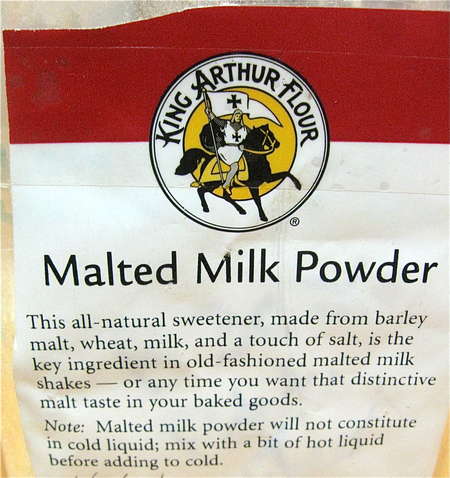 Malted milk powder is the secret ingredient in these pancakes. It adds that certain something...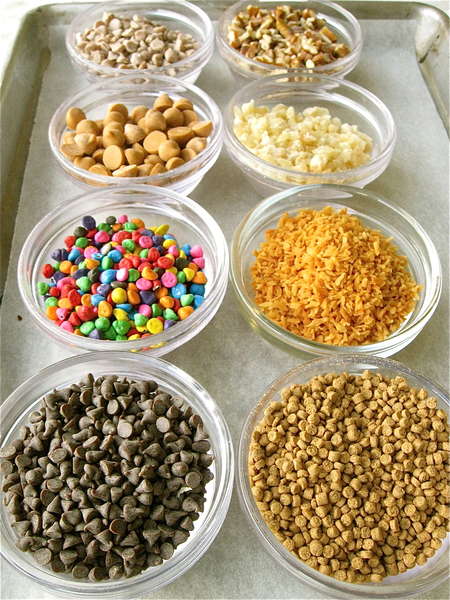 ...as do all of these cool things you can add! Here we have (front to back) chocolate mini chips and cinnamon Flav-R-Bites; candy-coated chocolate chips and toasted coconut; butterscotch chips and crystallized ginger mini bits; and cappuccino chips and diced walnuts.
If you choose one add-in, you'll need about 2/3 cup. For multiple add-ins, just lay out a selection, and let everyone select one (or more) to sprinkle atop their cakes as they cook.
Start by whisking together 1 large egg, 2/3 cup milk, 2 tablespoons vegetable oil or melted butter, and 1 teaspoon vanilla extract.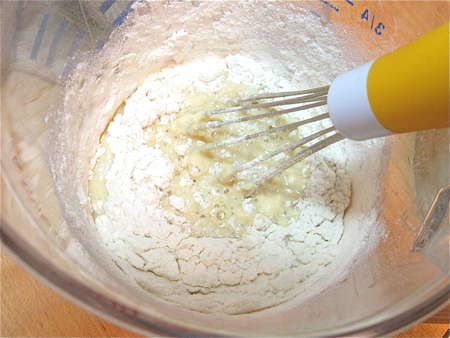 Whisk in 3/4 cup King Arthur Unbleached All-Purpose Flour, 1/4 teaspoon salt, 1 teaspoon baking powder, and 2 tablespoons malted milk powder (or 1 tablespoon sugar).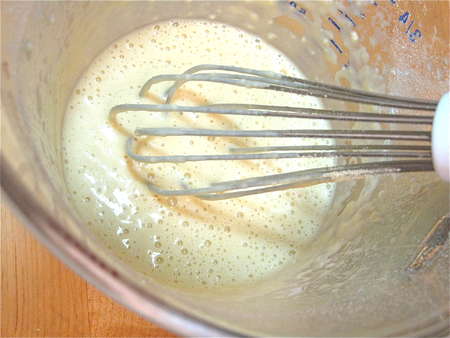 If you're using just one add-in, stir 2/3 cup into the batter. For two types of pancakes, divide the batter in half, adding 1/2 cup chips, nuts, etc., to each half.
Let the batter rest for 15 minutes, while you heat your griddle to medium-high, about 350°F. Or, if you don't have an electric griddle, heat a frying pan over medium heat.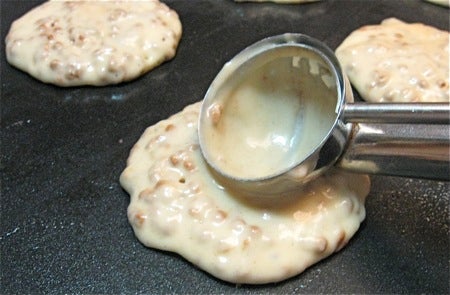 Dollop the batter onto the hot, greased griddle. A scoop works very well here. A cookie scoop will make kid-friendly (or diet-conscious) 2 1/2" to 3" cakes. A muffin scoop, full-sized 4" to 4 1/2" cakes.
If you've stirred in "enhancements," you may need to use the back of the scoop or a spoon to spread the pancakes a bit.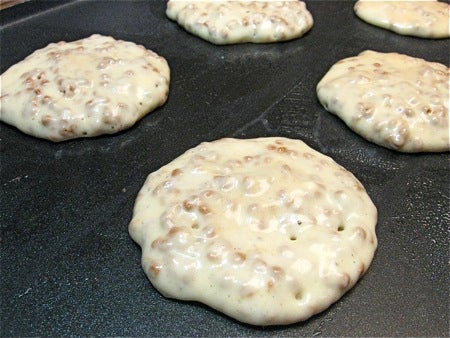 Let the cakes cook for about 90 seconds, or until they start to show a few bubbles on top. Check the bottom to see how brown they are; if they're browning too quickly (say, in under a minute), reduce the temperature of the griddle or pan. If they're taking longer than 2 minutes to brown nicely, increase the temperature.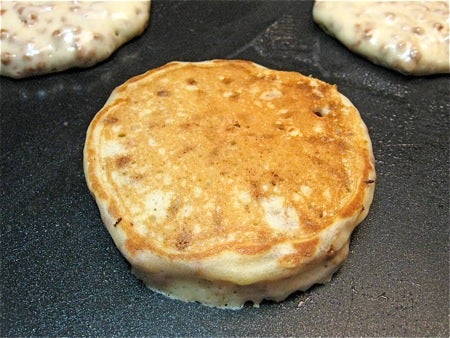 Here's one of my cinnamon Flav-R-Bite pancakes. I've just flipped it; what a nice color!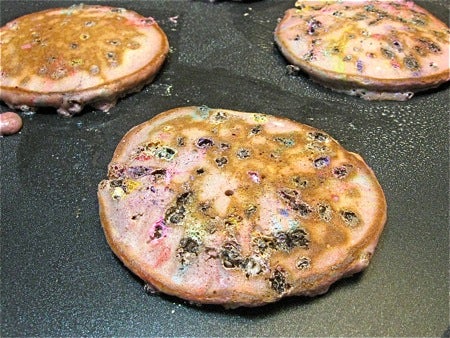 Now, here's what happens when you add candy-coated mini chips to pancake batter. The color runs, and you get PURPLE PANCAKES! Kids might enjoy these, but they were a little too funky looking for my taste.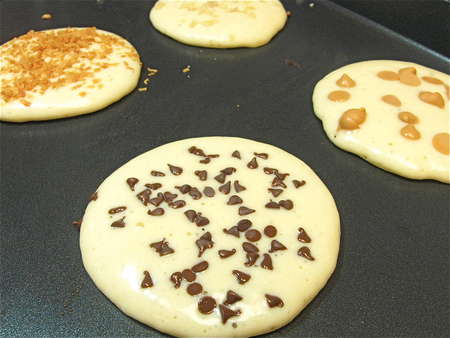 If each person wants to add their own enhancements, have them sprinkle a tablespoon or so on top of the pancakes, as soon as you pour them onto the griddle. (Since the batter without add-ins isn't as thick, the batter for these cakes will pour, rather than needing to be scooped.)
Flip the cakes over when they're brown on the bottom.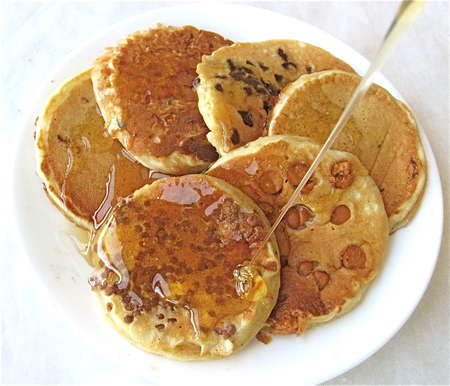 Pile on a plate. Put them "goodie side up" to identify what's in each pancake. Drizzle on the syrup; butter, too, if you like.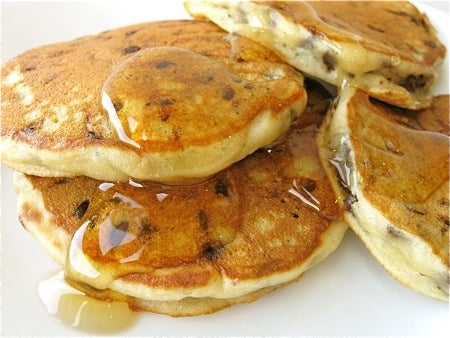 Here are the pancakes with mini chocolate chips stirred into the batter, rather than sprinkled on top.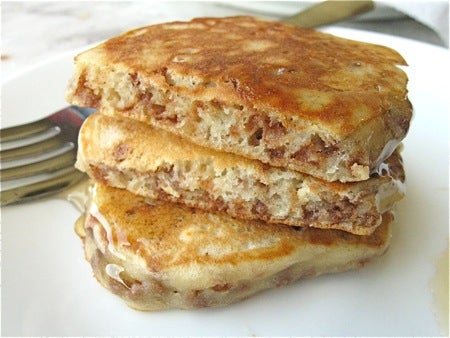 And here are the cakes with cinnamon Flav-R-Bites. Pause a moment, and imagine with me just how good these taste. Warm pancake, a touch of syrup, soft pockets of cinnamon. Ahhh...
Read, rate, and review (please!) our recipe for Pancakes Gone Wild.
Buy vs. Bake
Buy: Little House of Pancakes, Pigeon Forge, TN: Chocolate Chip Pancakes, stack of 3, $6.95

Make at home: Chocolate Chip Pancakes, stack of 3 full-sized cakes, 82¢