Threadcakes contest winner 3D catagory 2009
I don't know about you, but this cake reminds me so much of the cast and crew I get to work with each day.
You know, I really love where I work for so many reasons. For instance, during your fifth year as an employee-owner of King Arthur Flour, you get knighted for the first time. You kneel on a pillow during our holiday celebration (known as Twelfth Night); then Steve Voigt, KAF president, states your title while dubbing you on the shoulders with a sword, and you rise to the adoring applause of your fans (or at least your friends and co-workers). The titles are often humorous, and tie in with your work here at KAF, plus your personality and hmmm, shall we say "quirks?"
For instance, Carol here in customer service is Countess Carol, Sorceress of Smiling Service and Maker of Mischievous Magic. Fellow baker's hotline baker Mary T. is Mistress Mary Maven of Multi-tasking. PJ's 15-year title is Wizard PJ of Wordsmithing and All Things Creative, Poet of Promotion. And our Web guru Joe Caron, known for his smooth talking and eclectic appetite, has the most outrageous title: Baron of *BS* and Buffets!
I've only been to a couple of knighting ceremonies, and it's always a treat to hear someone's new moniker. I still have a full year to go before I get my first title, but I'm rather betting it's going to have something to do with decorating. Over the past year or so, I've done a lot of cookie and cake decorating for the catalogue and for our Traveling Baking Demos. Decorating cookies is how I got my start on the blog (see The Other Cookie Baker), and I still get tickled when our merchandising/graphics folks, Deb and Ruth, ask me to decorate something new for photography.
As a blog writer, I'm also a blog reader. Earlier this summer I came across a contest for decorated cakes called Threadcakes. It's sponsored by Threadless, a fashion site for unique T-shirt designs. The gist of the contest is to create a cake based upon one of their original T-shirt designs, using your favorite decorating medium. What a concept! I would check back every few days to see the latest entries. "Man," I thought "How cool would it be to enter a cake!"  I mean, just look at the winning entry, the fantastic "Noah Express" pictured above.
Little did I know that I would have been immediately disqualified, as King Arthur Flour was sponsoring prizes for the contest, and it would have been an ethical no-no. Luckily Halley, our Web director, asked me if I had seen the contest and if I was interested in doing a blog based on the same idea and sharing the Threadcakes site with our readers, too. I jumped on it as fast as a duck on a junebug and immediately said I would do "Fondant For Beginners with Ribbon Roses." It was one of the  first things I ever learned to make with fondant, and a technique I have used over and over. So, if  you aren't quite ready for Noah's Ark, let start a little simpler.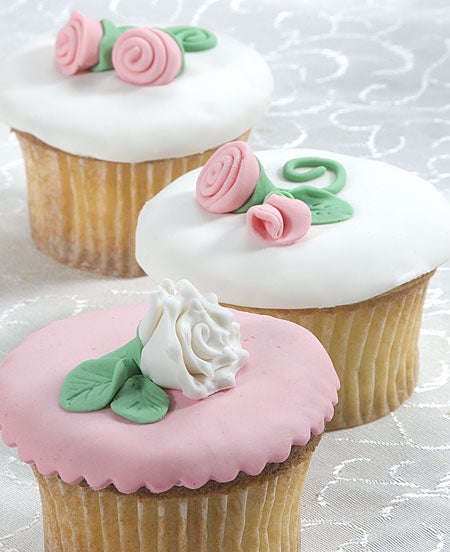 First, let me tell you there is no recipe for this blog. It is strictly about techniques, and other than the fondant itself, no special tools or products are needed. Here's a handy materials list, though:
1 tub ready-to-use fondant
gel or paste food coloring
cornstarch or confectioners' sugar to prevent sticking
plastic gloves to prevent rainbow-colored hands
toothpicks
pizza wheel or sharp knife
rolling pin or pastry roller
round cookie or biscuit cutters
small bowl of water
a batch of your favorite cupcakes (I used the Tender White Cake )
a batch of buttercream icing ( I used Quick Buttercream)
Optional but nice: sugar pearls, tweezers
First let's see what fondant looks like.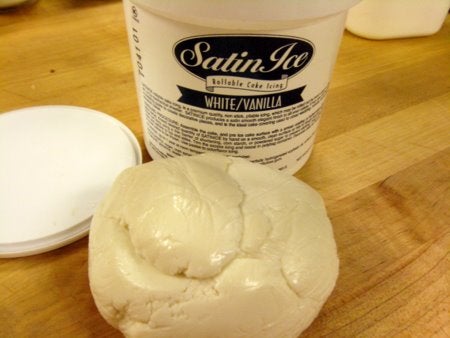 If you are thinking Play-doh, you get a gold star. Fondant is very similar in texture to new Play-doh, soft and smooth. It's a bit dry and stiff when it first comes out of the tub, but kneading brings it to a supple texture, perfect for rolling and shaping.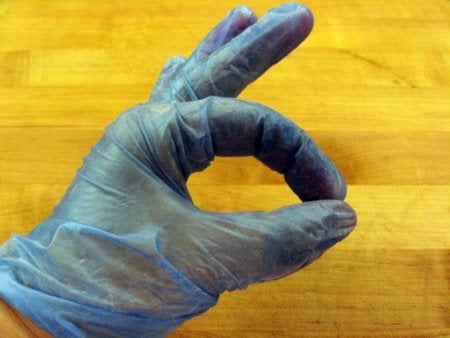 If you choose to color your fondant, I can't say enough about using protective gloves. I have ended up with fuchsia-colored hands more times than I care to count. You can also knead the fondant in a zip-top bag to keep clean.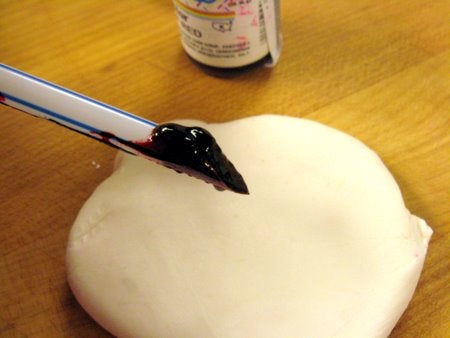 After kneading for 5 minutes or so, the fondant will be smooth. Add the gel coloring. Avoid the liquid colors you buy in the grocery store. The extra water will affect the fondant's texture. I like to use a snipped drinking straw as a disposable scoop.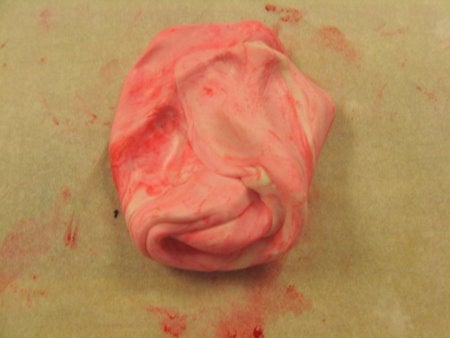 As you knead in the color, it will have a lovely marbled effect that is very pretty for flowers and ribbons. It makes a nice background as well.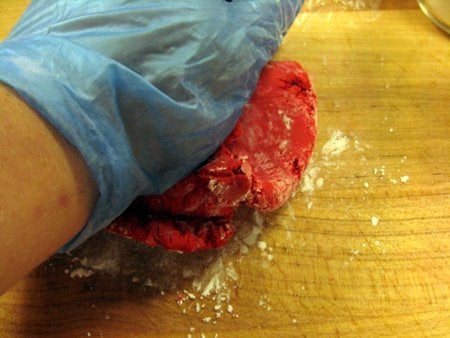 As you continue to knead, the fondant will even out to one solid color. A dusting of cornstarch or confectioners' sugar keeps the fondant from sticking. Use a light coat, though; you don't want to dry it out.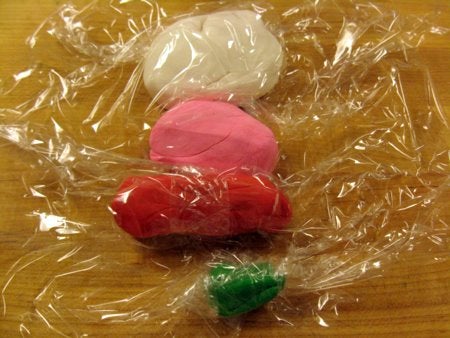 Once you have all of your basic colors established, lay them out and keep them well covered with plastic wrap. Fondant will dry when exposed to air, and this will cause your decorations to crack.
To begin, we will cover a cupcake with a smooth fondant top. You will need to roll out a sheet of fondant with your rolling pin, and take out your round biscuit or cookie cutters. You are looking for a sheet that is about 1/8" thick. You can see it next to the cupcake in the photo.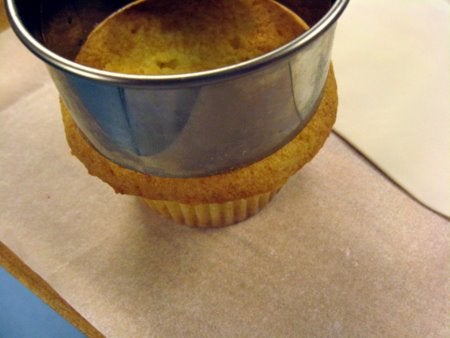 To ensure that the fondant covers the top of the cupcake, test your cutters until you have found the correct size. This cutter is too small, and the fondant would not end up covering the edges of the cupcake.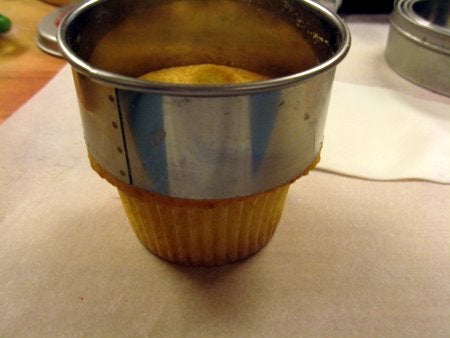 This cutter is just the right size. It comes right to the edge of the cupcake and will ensure a nice fit. Cut your fondant rounds a few at a time, so they don't dry out as you work. And KEEP THEM COVERED!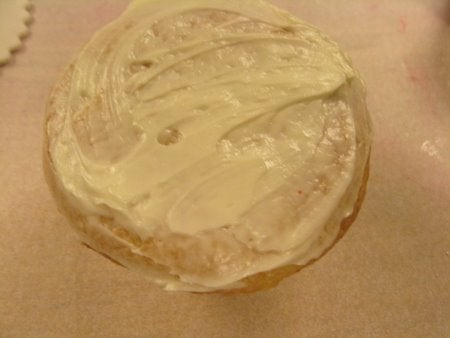 Fondant needs a little something to help it stick to the surface of the cake. Apply a layer of buttercream. Not too thick, or it will squirt out from underneath the fondant layer. Gently lay on one of your fondant rounds, right on top of the buttercream.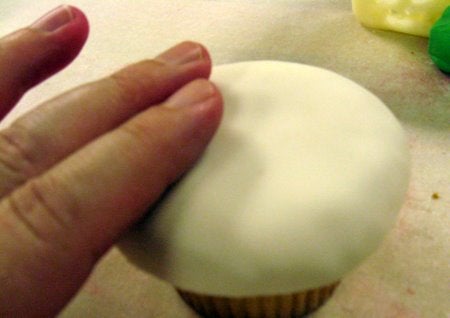 Gently smooth the fondant onto the top of the cupcake, right to the edges. It's very pliable, so be careful not to press too hard or stretch it out too much. Use a bit of cornstarch on your fingers if there's any stickiness. As a fan of clean new paper and smooth whiteboards, I love this part!
Now for the roses. While I love the red roses, I found the deep color a little hard on the eyes for demonstrating, so I'll show you how to make the roses in pink.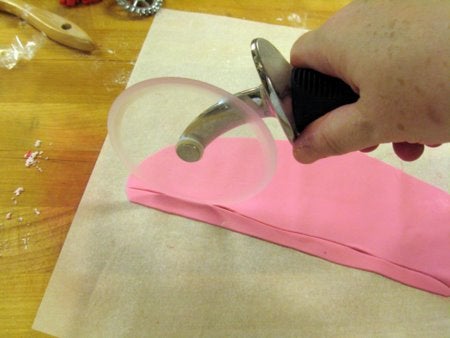 To begin the rose, roll a thin (1/8") sheet of fondant, approximately 6"-8" long. Using a pizza wheel or sharp knife, cut long strips, approximately 3/4" wide. Each strip will make one rose.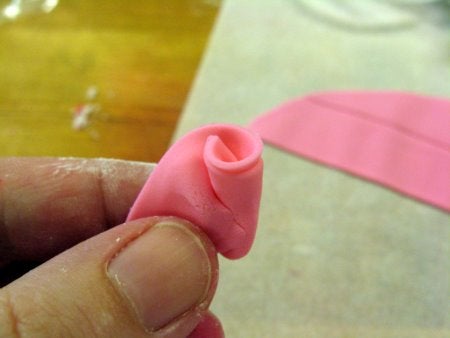 Beginning at one end of the ribbon, make a small fold, and roll the ribbon around itself. This makes the center of the rose. You could stop here, trim off the excess and have a perfect little rosebud.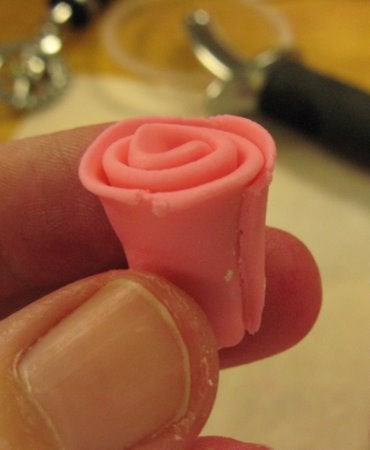 Continue rolling until you reach the size you like, or the end of the ribbon. Gently pinch the bottom of the roll to seal the piece. Smooth the side seam with your finger.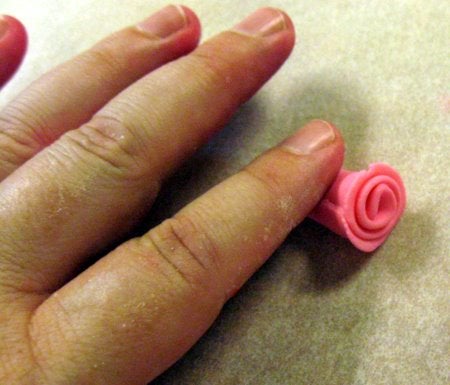 Using gentle pressure, roll the end of the rose to taper off the excess at the bottom edge.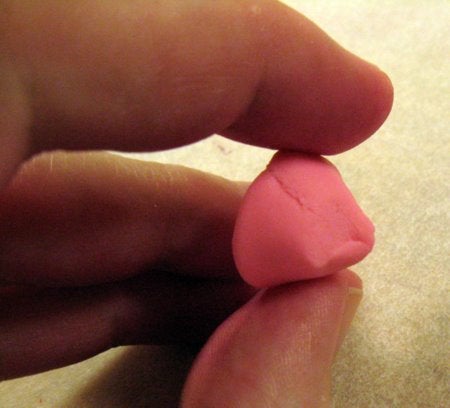 Trim off the excess, so that you have just a small taper on the back of the rose.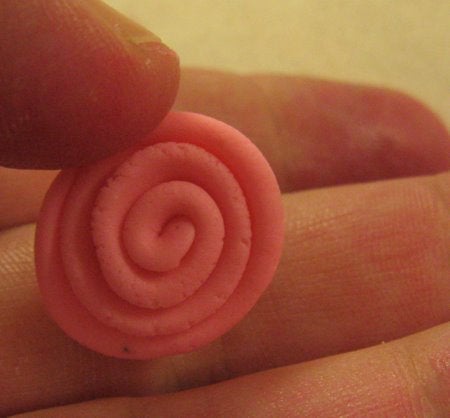 Almost done! Using your thumb or finger, gently roll back each layer of the rose to spread the "petals" out and give dimension to the piece.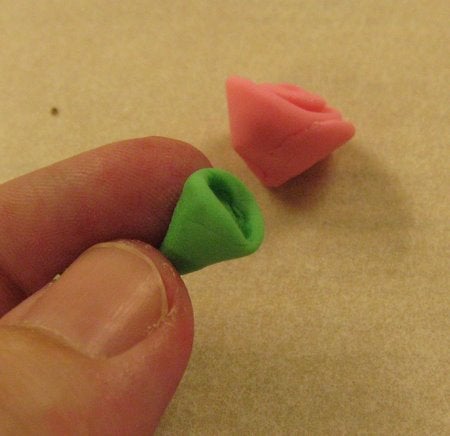 To make the calyx for the rose, make a small cone of green fondant. You'll want to hollow it out a bit, to hold the base of the rose. I used a wooden chopstick here.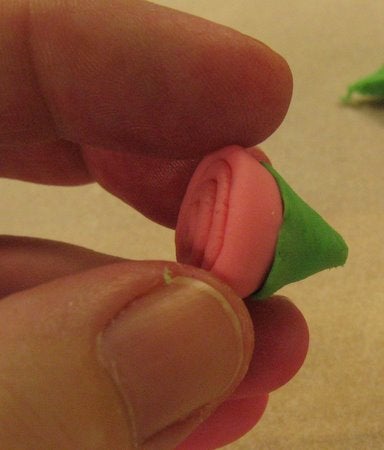 Set the base of the rose into the hollow on the calyx and smooth them together.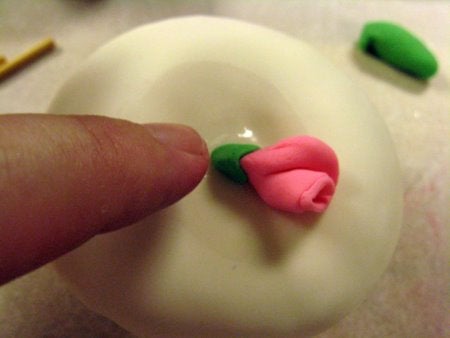 To attach your pieces to the cupcake, use your finger to spread a bit of water on. This will act as glue to hold the pieces together. Be careful not to add too much water, as the colors may bleed. Also, anyplace that fondant gets wet will appear shiny, so only put the water where it will be covered up.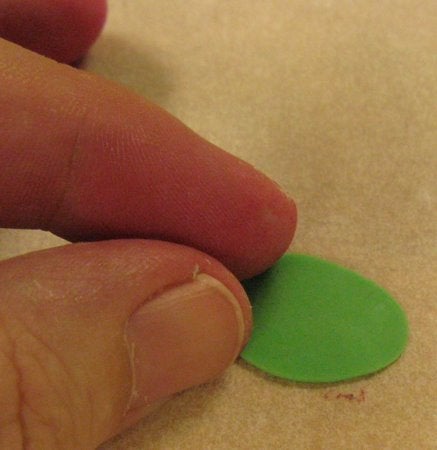 To make the leaves for your roses, pinch off a small amount of green fondant. Press it flat between your fingers, or between two layers of parchment. Pinch one end to form the curl of the leaf.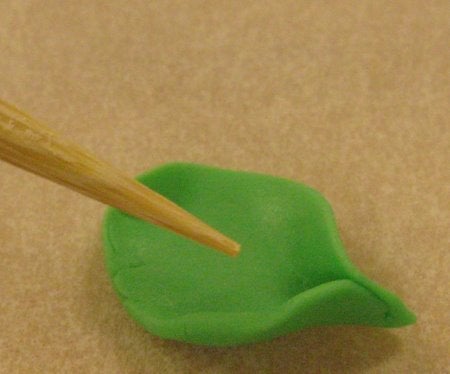 '
To add veining to your leaves, a toothpick works great. Just press the tip into the fondant while it's still pliable. The point of a bamboo skewer would also work well.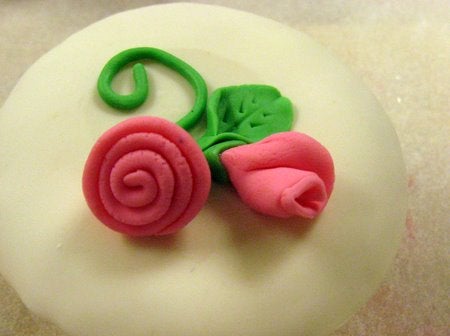 Sweet!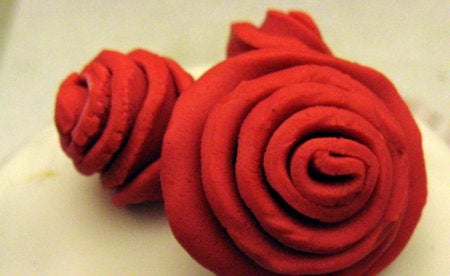 Not a big fan of pink? Try red roses for a more dramatic look.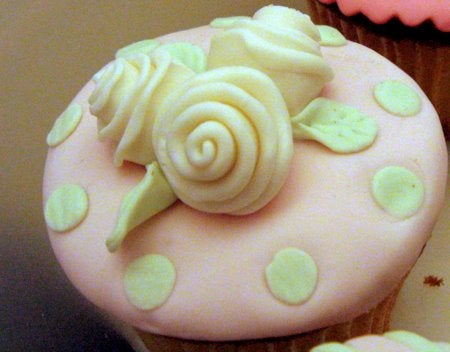 Or how about white roses on a pale pink background, with pastel green leaves?
To make pastel colors, just blend some of your base fondant with a large chunk of white fondant. You can make any shade you like.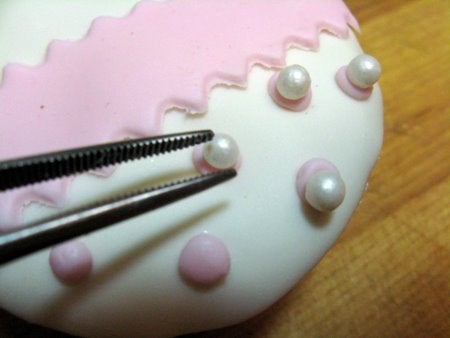 For a sparkly look, place little balls of fondant on your cupcake top, add a tiny touch of water, and press in sugar pearls. The ribbon on the center of this cupcake was cut with a pie crimper, and applied with a touch of water on the back.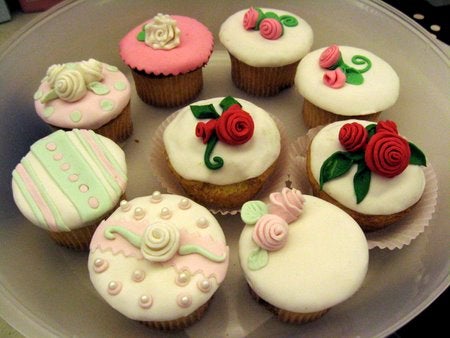 So here they are, a royal round of ribbon roses fit for any one of our knights – even Susan, Lady Reid, Baroness of Baking Sheetdom and Duchess of Delectation!