Do you find it hard to resist fast food?
When you drive by Mickey D's, do you feel a sudden craving for french fries? Does the King sing you a siren song of Whoppers?
Are you finding it hard to resist sampling KFC's new come-on, Kentucky Grilled?
My answers to the above are yes, yes, yes, and absolutely.
I confess – I'm a closet fast-food craver.
Notice I didn't say "fast-food junkie." I very seldom eat fast food; I know it can be pretty empty, calorie-wise. I resort to the occasional McDouble from the dollar menu when I'm in need of some fast, cheap, on-the-road protein; and I'm a sucker for a Dairy Queen Blizzard.
But other than that, I keep my hands locked tight on the steering wheel and my eyes fastened on the road whenever I drive down Route 12A, our local fast-food Wonderland.
However, I'm also not a fast-food snob. The Taco Bells, Dunkin' Donuts, KFCs, Subways, Pizza Huts, and Wendy's of the world have their place.
Like in airports, where personally I'd rather have a $1.29 McDonald's Grilled Chicken Snack Wrap than take a chance on a $7.75 Big Charlie's Sloppy B-B-Q Dawg.
Plus, Julia Child said her favorite french fries of all time came from... you guessed it. The Golden Arches.
Still, if you don't watch it you can pay a premium for what's basically, let's face it, cheap food. Once you stray from the dollar menu, you're in treacherous territory, financially speaking.
That's why, whenever I feel a craving for a fast-food fix, I turn to my favorite solution:
The homemade Taco Bell Gordita clone, comfort food at its best.
Several years ago, Taco Bell introduced Gorditas, soft sandwiches filled with your choice of meat, plus salsa, cheese, sour cream, and hot sauce.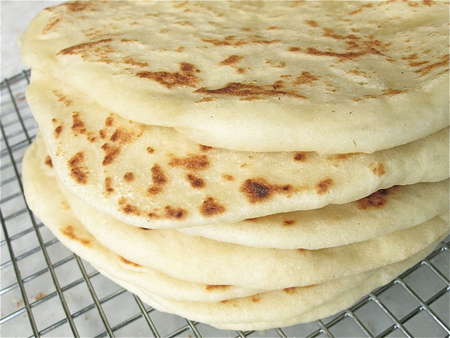 The shell, an ultra-soft, almost doughy white flatbread, was a perfect container for the assertive (and messy) filling.
The following sandwich, inspired by the original Taco Bell Gordita, features a grilled chicken and sautéed veggie filling topped with a rich, homemade Caesar dressing.
And one of these 8", two-fisted sandwiches will set you back just $1.42.
Not quite the dollar menu, but pretty darned close... and tasty enough to tempt me away from the local TB/KFC any day.
So how do you make flatbread with that soft-soft, foldable texture? "Cook" some of the starch in the flour first, which makes the dough VERY easy to handle, and the bread nice and soft, without any starchy taste.
Place 2 cups of King Arthur Unbleached All-Purpose Flour in a bowl, and stir in 1 1/4 cups boiling water.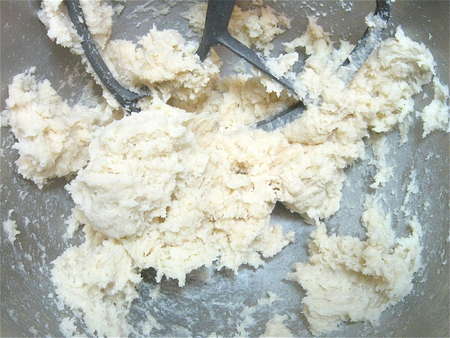 Stir till smooth. Cover the bowl and set the mixture aside for 30 minutes.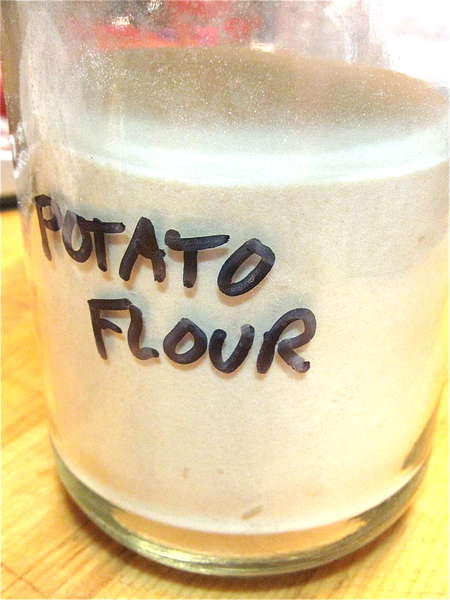 Here's the next secret to soft bread: potato flour.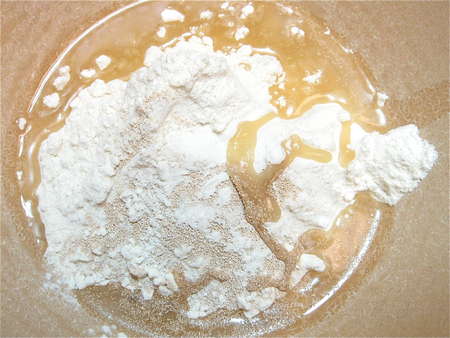 Combine 1/4 cup potato flour (or flakes or buds) and the remaining 1 cup of flour with 1 1/4 teaspoons salt, 2 tablespoons vegetable oil, and 1 teaspoon instant yeast. Yes, that's right; just 1 teaspoon. You don't want/need these breads to rise very much.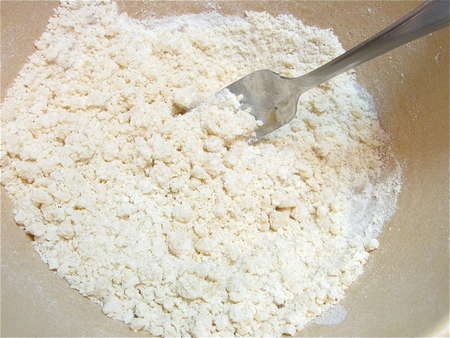 Whisk till crumbly.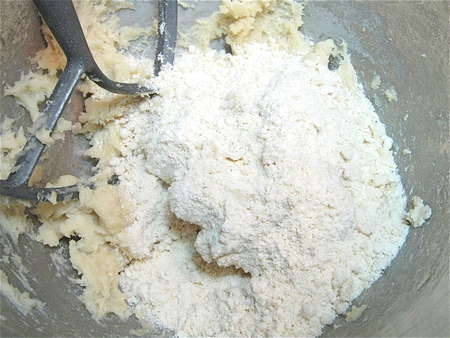 Add to the cooled flour/water mixture.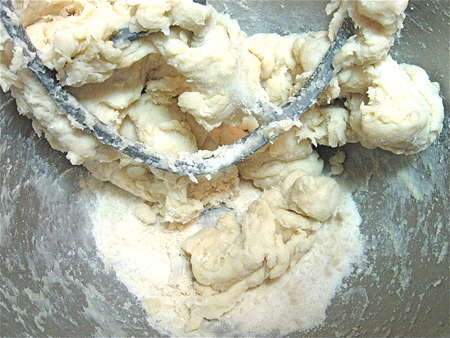 Stir together. It'll seem dry at first, but the dough will eventually pick up the flour/potato flour mixture.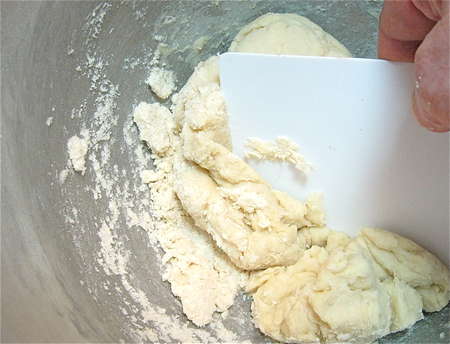 You can give it a hand with a bowl scraper.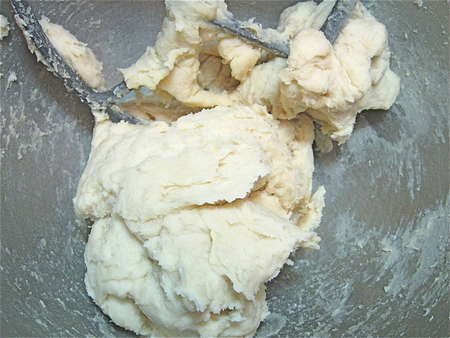 Knead for several minutes (by hand, mixer, or bread machine). The dough will remain soft and somewhat sticky.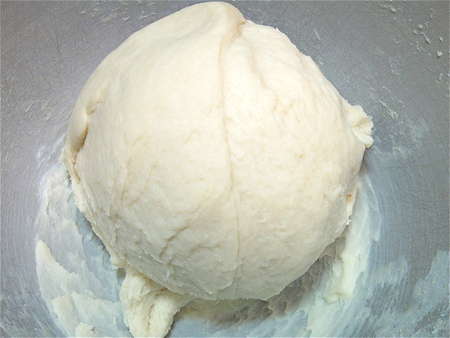 And finally, it'll become very smooth.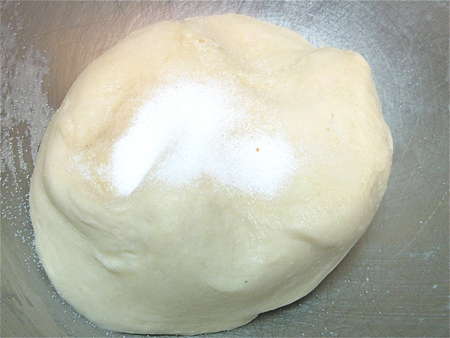 WHOOOOOOPS. Forgot the salt. No problem – I'll just sprinkle it on top, and give it another couple of minutes with the dough hook to knead it in.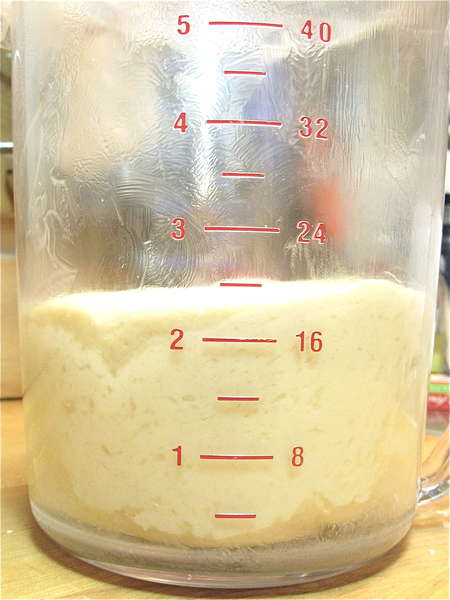 Put the dough into a greased container. This is an 8-cup measure; I like to track the dough as it rises.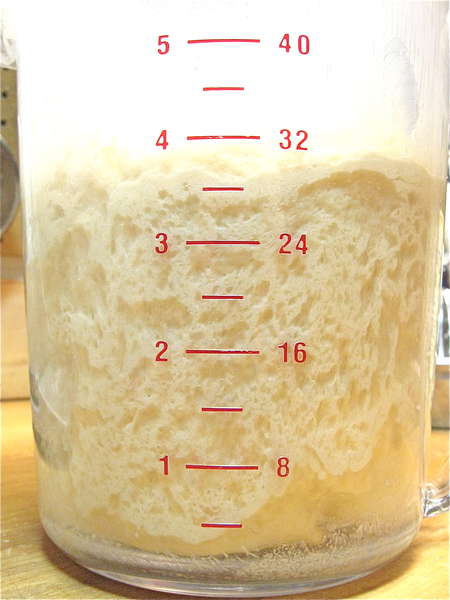 Let the dough rise, covered, for 1 hour. It's not a huge riser (remember the 1 teaspoon yeast?), but it'll definitely puff up.
Next, divide the dough into 8 pieces. Gotta love a scale for this job. 629g, divided in half, becomes...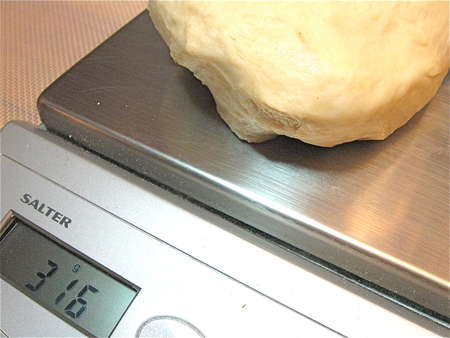 ...316g. CLOSE ENOUGH!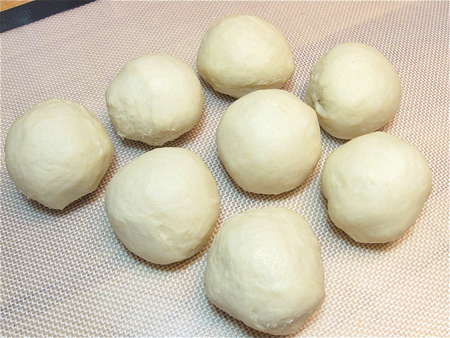 Each piece divided in half again becomes 158g; finally, each ball of dough is 79g. My scale measures in grams or ounces, but grams are much easier to deal with, arithmetically speaking.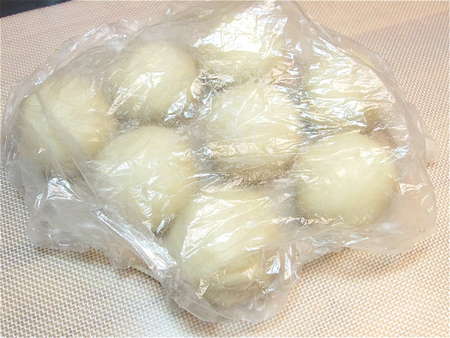 Let the dough balls rest, covered, for 15 to 30 minutes. Yup, those shower caps sure come in handy around the kitchen...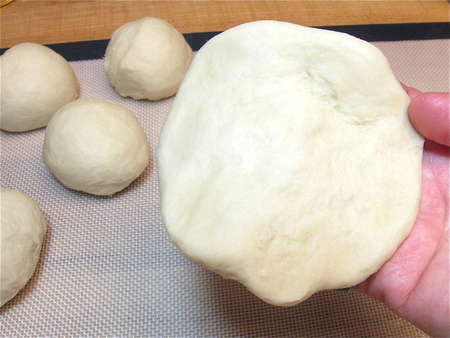 Next, you're going to flatten each piece into a circle. The dough is EXTREMELY easy to work with; no fighting back.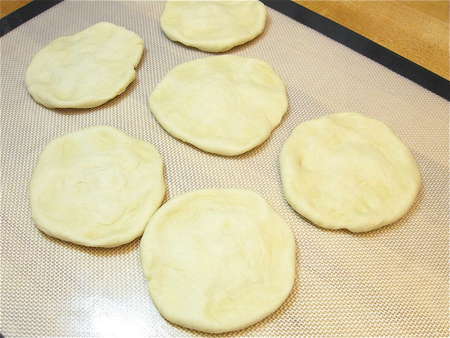 Make the circles about 5" in diameter.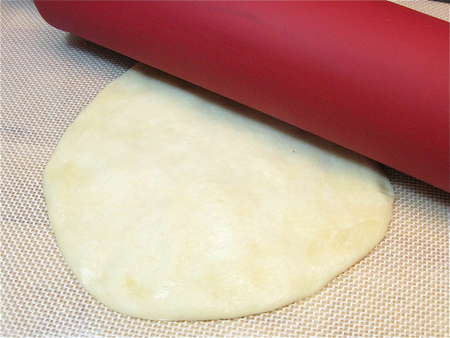 Then roll them to about 7" to 8" diameter. The rolling will give them a nice, smooth top surface.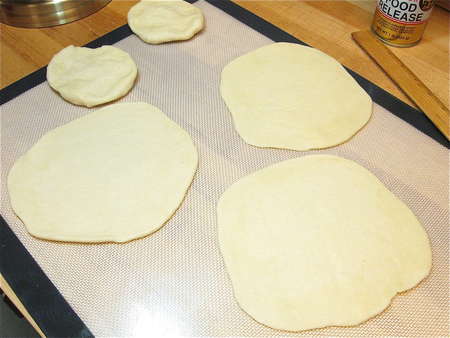 Here they are, ready to go.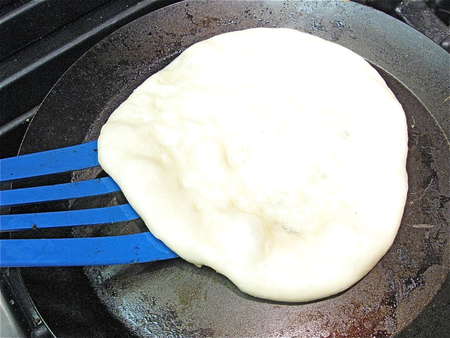 Heat a skillet over medium heat; no oil necessary. Place one flatbread into the skillet.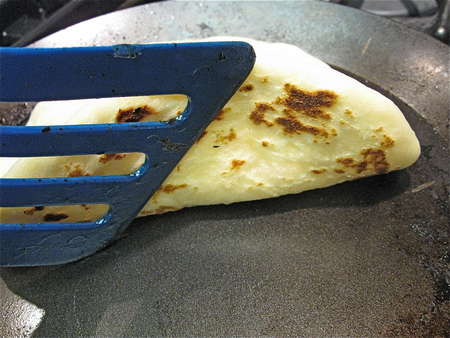 Cook till brown underneath, about 1 minute. The bread will puff up a bit.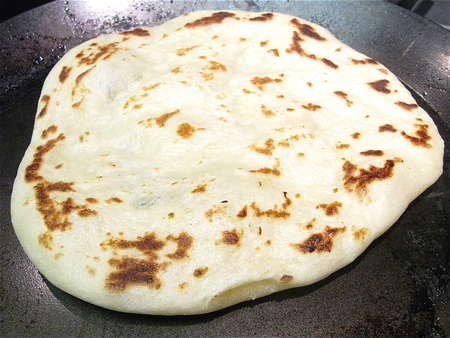 Turn over, and cook till the other side is brown, about 1 minute or so.
If any of them develop big bubbles, just prick with a skewer.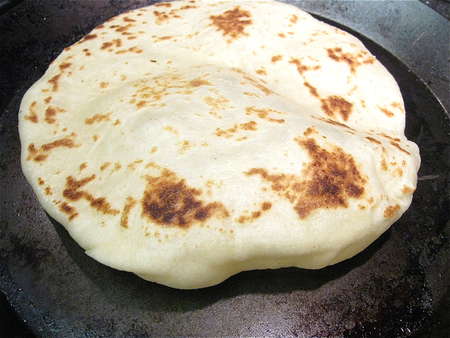 Now, that's a tectonic-shift bubble.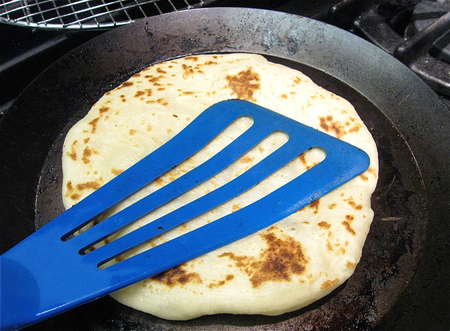 But it flattens out nicely under the pressure of a spatula. Remember, these are FLATbreads; not pitas.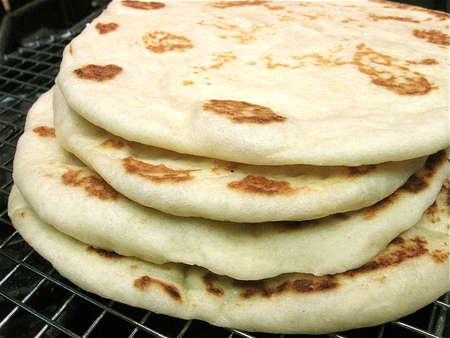 As the breads come out of the skillet, stack them atop one another. This keeps them soft and moist. When they're cool, bag in plastic.
OK, let's move on to the filling.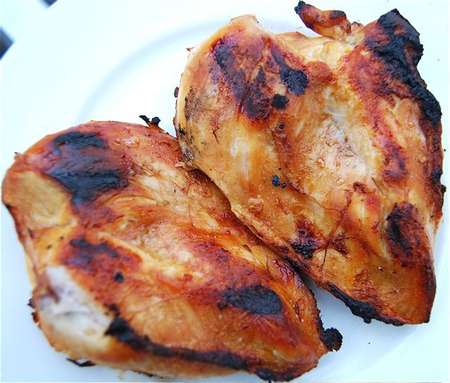 Start with 1 pound of boneless chicken — breast, or thighs. Grill till cooked through, and refrigerate till you're ready to make the sandwiches. These sandwiches are a great use for leftover grilled chicken.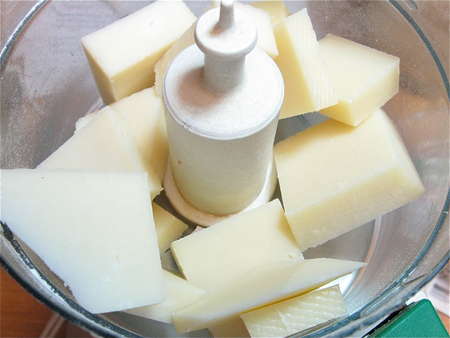 Next, the Caesar dressing. If you like Caesar dressing, you'll love this version – it's extra-thick (a mayonnaise consistency), and assertively flavored. Start with 4 ounces of Parmesan, Romano, or Asiago cheese.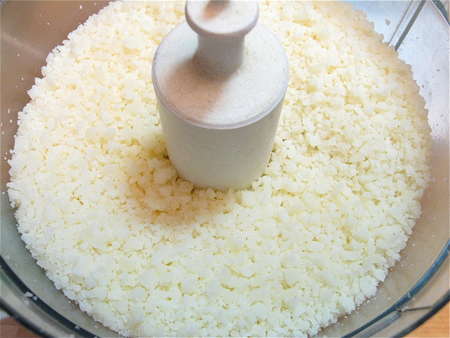 Grate in a food processor (or by hand, though a food processor is certainly easier).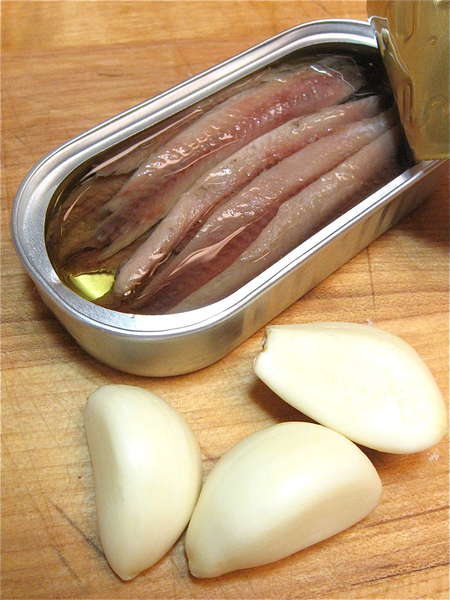 Next, 3 anchovy fillets, and 1 or 2 or 3 (or more) large garlic cloves. EWWW, do you HAVE to use the anchovies? No, of course not. But they make the Caesar dressing authentic, without giving it any fishy taste.
Trust me; I don't like anchovies much, but I always add them to my Caesar dressing. Plus an anchovy fillet in your tuna salad intensifies the tuna flavor. Really!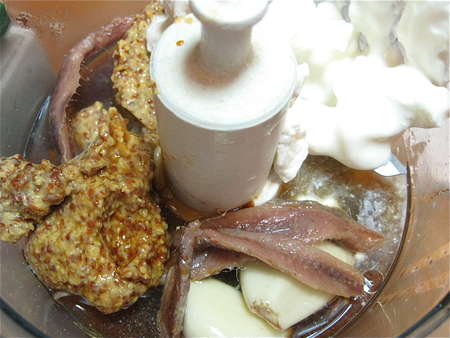 Place the anchovies, peeled garlic cloves, 2 tablespoons each freshly squeezed lemon juice and Dijon-style mustard, 2 teaspoons Worcestershire sauce, and 1/4 cup sour cream in the food processor bowl.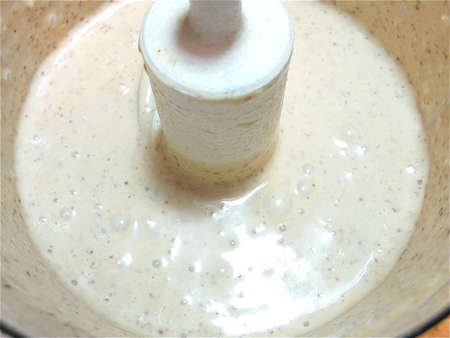 Process till smooth.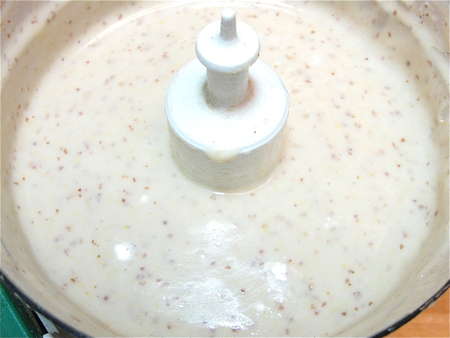 Drizzle in 3/4 cup olive oil, with the machine running if possible. If not, just add the olive oil all at once, and process.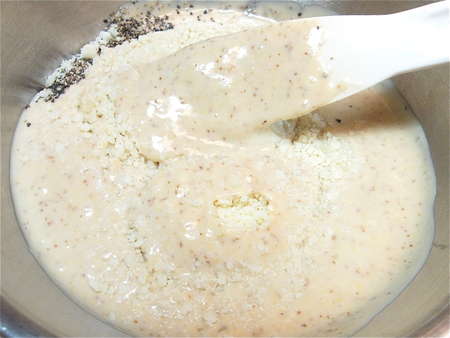 Transfer the mixture to a bowl, and stir in the grated cheese and 1 teaspoon coarsely ground black pepper.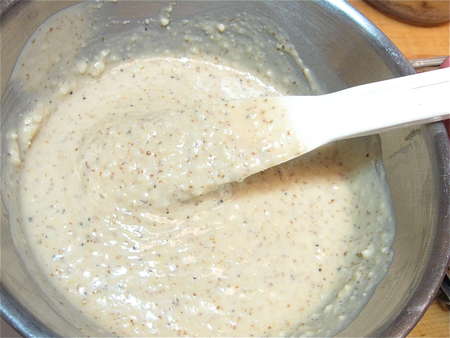 And there you have it – homemade Caesar dressing.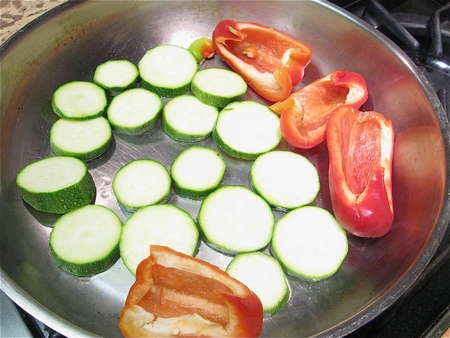 OK, we're almost there. We're going to sauté 1 large red bell pepper; and 1 medium zucchini, cut in 1/4" slices. Hey, why didn't you just go ahead and grill these at the same time you grilled the chicken? Be my guest; my grill isn't big enough!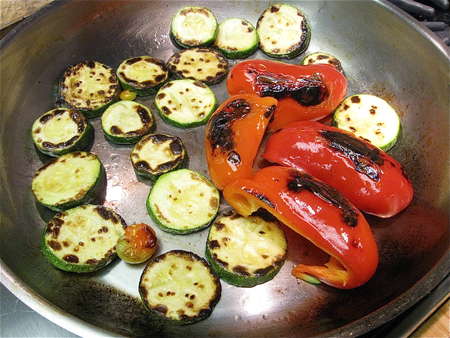 Make sure they're nicely browned.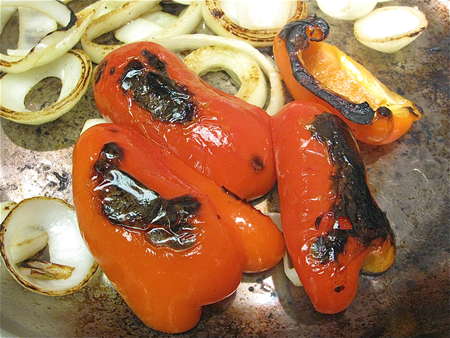 The zucchini was done, but the peppers needed more time. So I removed the zucchini to make room for 1 large sweet onion, peeled and cut in fat slices.
Once everything is nicely browned — zucchini, onion, and red pepper — transfer to a bowl with the grilled chicken. Cut everything into bite-sized pieces; my trusty desk scissors (not kitchen shears) come in handy here.
Love your kitchen shears? Use 'em! Far be it from me to direct you in your choice of shears. I just happen to prefer the longer blades of my desk scissors.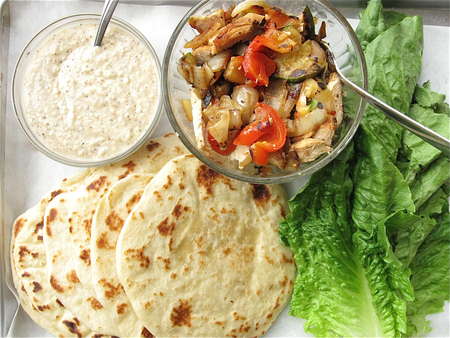 At last! Everything is assembled: bread, lettuce, Caesar dressing, and chicken/veggies.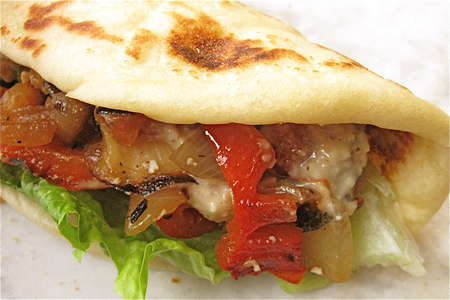 Put a lettuce leaf on one flatbread. Top with chicken/veggies, then Caesar dressing. Fold closed. Transfer to lips. Enjoy!
Read, rate, and review (please!) our recipe for Soft Wrap Bread.
Buy vs. Bake
Buy: Taco Bell Cheddar Bacon Gordita Crunch, $2.49
Make at home: Caesar Grilled Chicken Sandwich on Soft Wrap Bread, $1.42