A few minutes ago, while filling in the "bake vs. buy" information for this post, I discovered that eggplant caponata, purchased online, will cost you a cool $10.50 for a 19-ounce jar.
That's just about $71/gallon.
WHOA. And you thought gas at the pump was expensive!
As tedious as it is to figure out a buy vs. bake comparison for most of these blog recipes, it's a good self-reminder. Trying to save money? Don't go out. Go in – to the kitchen. Open your cupboard. Peer into the fridge. What can you make out of what you've got?
Plenty, if you know how.
Take caponata. If you've never enjoyed it, caponata is a tasty Italian "relish" made of slowly sautéed eggplant, tomatoes, onions, and garlic, mixed with capers, oil-cured black olives, and sliced fresh tomatoes. Served at room temperature, it's the perfect spread for crostini, or a dip for wedges of pita bread.
Are you likely to have all of those ingredients on hand? At this time of the year, I often do. Fresh local tomatoes and eggplant are just starting to appear at our farmstands. I keep onions and fresh garlic in the cupboard; capers are in the fridge. Oil-cured olives are a pricey treat. But a little go a long way, so a container of those is usually tucked away in the fridge, too.
Caponata? I'm there.
And the bread to go with it? I've been baking bread for so long, I don't even think about it anymore. So please, those of you who are just learning (or want to)' ride along on my coattails. I've got a secret: yeast bread isn't scary. If you use the right kind of yeast and flour, you're 90% of the way there.
And reading this blog regularly will take you the rest of the way.
Buy vs. Bake – it's not just about the money. It's about creating, and sharing, and making the world around you a better (and tastier) place.
Let's start by making caponata – at about 1/4 the price and 10 times the flavor of what you'd purchase. And then we'll make the garlic grilling bread to go with it.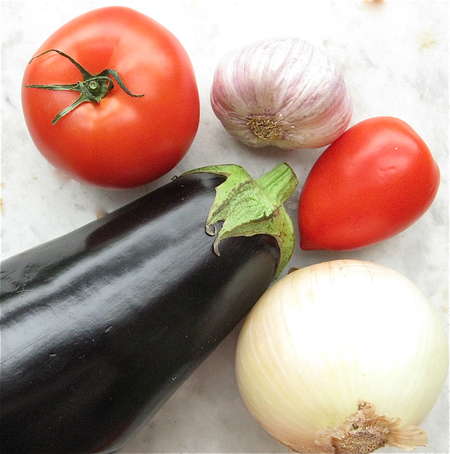 Seize the (summer) day: even vegetables that are available year-round seem fresher in the summer, don't they? The base for our caponata is a medium eggplant (about 1 pound); a medium-large onion (12 to 13 ounces); a pound of fresh tomatoes; and 4 large garlic cloves (more or less, to taste).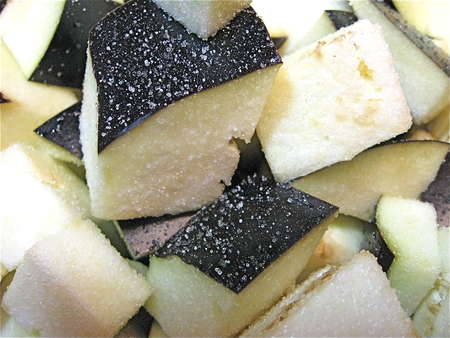 Chop the eggplant into 3/4" cubes, sprinkle with salt, and place in a colander or strainer.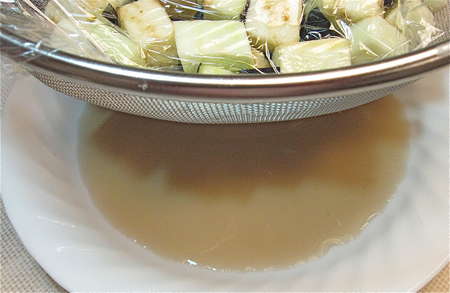 Cover with plastic wrap, weigh down (I usually use a half-gallon jug of olive oil, or something equally weighty), and let drain for 30 minutes. See the liquid it releases? Recipe books say this drains the eggplant's "bitterness." Though I've never found eggplants particularly bitter, I usually follow this step; I figure it can't hurt.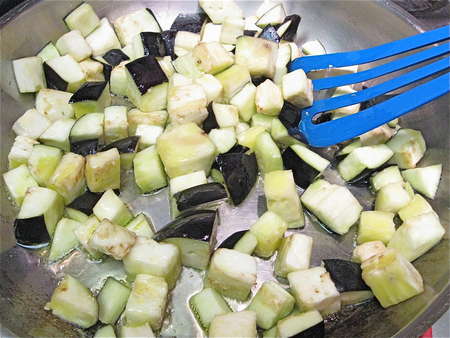 Heat about 1/3 cup olive oil in a large skillet, and add the eggplant.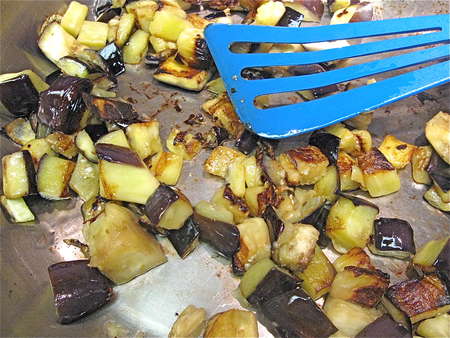 Cook, stirring frequently, till the eggplant browns.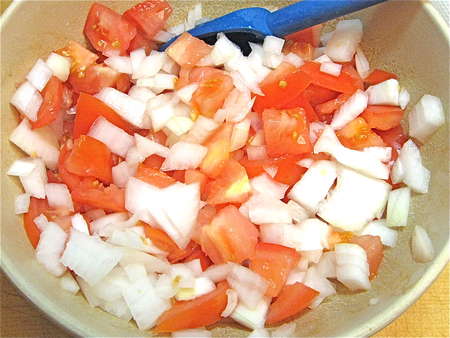 Chop the tomatoes into 3/4" cubes, and the onions into 1/2" dice.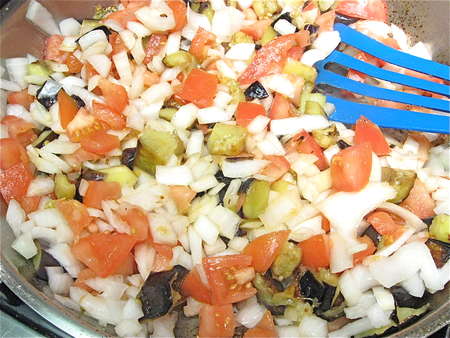 Add to the eggplant in the pan, stirring to combine.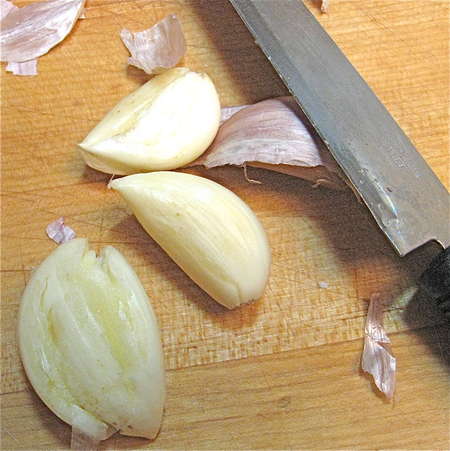 Meanwhile, peel the garlic, which is easily accomplished by pressing down on each clove with the flat side of a knife; the peel will slip right off.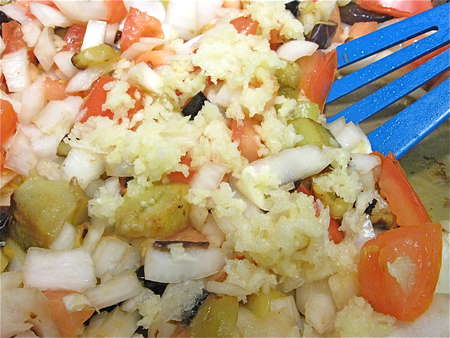 Mince the garlic, and add it to the mixture in the pan. Stir to distribute.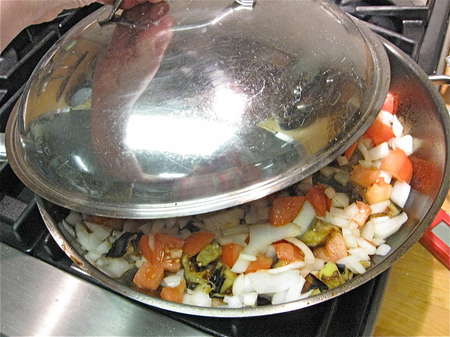 Cover the pan, and cook gently, over medium heat, for about 30 minutes, stirring occasionally.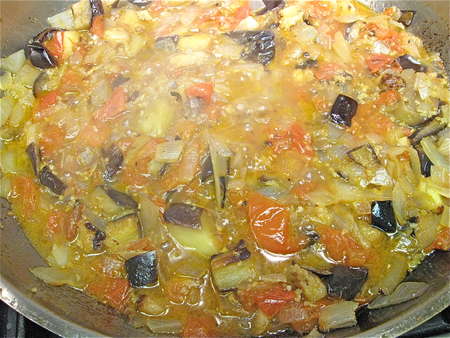 The vegetables will give up their flavorful juice.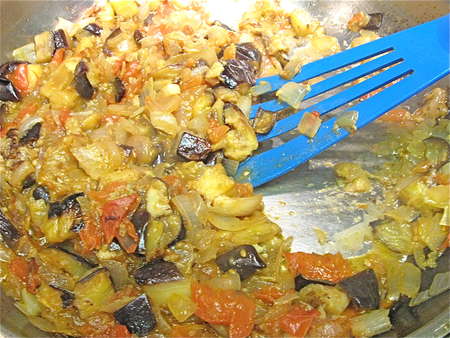 Remove the cover, and raise the heat so that the vegetables are bubbling quite vigorously. Cook for about 15 minutes, till the juice is just about all absorbed/evaporated. Remove from the heat, and stir in 1 tablespoon sugar, 1/4 teaspoon salt (or to taste), and 1/2 teaspoon coarsely ground black pepper. Be aware that you're going to be adding salty capers, and you've already salted the eggplant once; so you may not need to add any salt at all.
Can you leave out the black pepper? Of course. Can you leave out the sugar? It won't taste as good, but of course.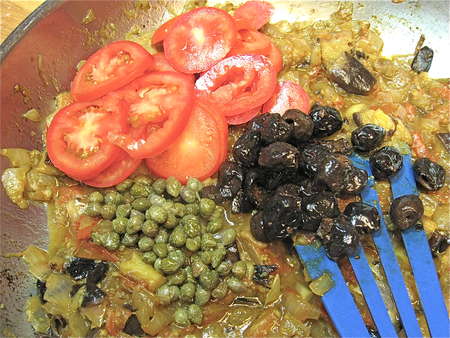 When the caponata is lukewarm, stir in 3 tablespoons drained capers; 1/2 cup oil-cured pitted black olives; and 2 medium plum tomatoes, thinly sliced.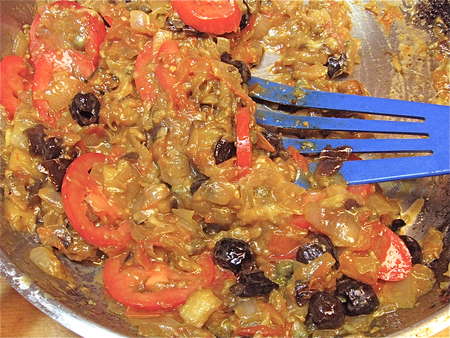 Stir to combine...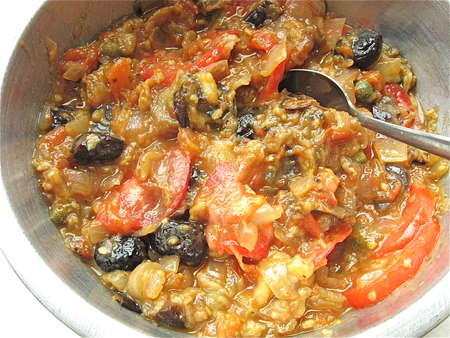 ...and transfer to a bowl.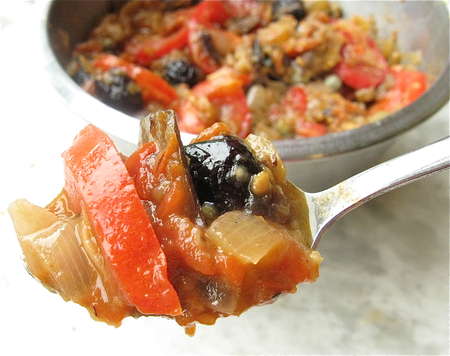 That's it – you've made caponata. A delicious partner for bread. If you're not going to use it within several hours, cover the bowl and refrigerate it.
Speaking of bread –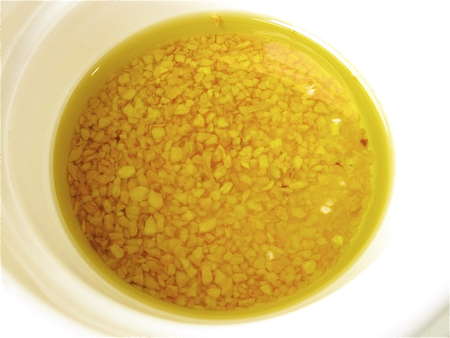 Let's make some garlic grilling bread. I often start with dried minced garlic, since it's less likely to affect yeast bread's rise. (Did you know fresh garlic and ground cinnamon both slow down yeast? 'Tis true.) Here I've mixed 2 teaspoons of dried minced garlic with 2 tablespoons of olive oil. I'll let this sit on the counter overnight. Using fresh garlic? You can skip this step. Also, you can skip the garlic entirely and use garlic oil.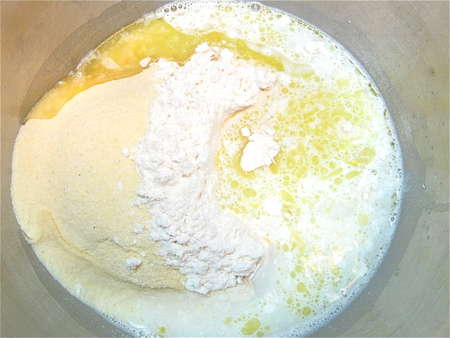 We're going to make a soft grilled bread, pita-like in texture. Let's start by corralling all of the ingredients in a bowl:
2 teaspoons dried or fresh minced garlic mixed with 2 tablespoons olive oil
¾ cup (6 ounces) lukewarm water
2 cups (8 ½ ounces) King Arthur Unbleached All-Purpose Flour
1 cup (5 7/8 ounces) semolina
1 tablespoon King Arthur Easy-Roll Dough Improver OR Baker's Special Dry Milk OR nonfat dry milk
1 tablespoon Pizza Dough Flavor; optional, but tasty
1 ¼ teaspoons salt
2 teaspoons sugar
2 teaspoons instant yeast
Don't have semolina? Substitute an equal amount of all-purpose flour.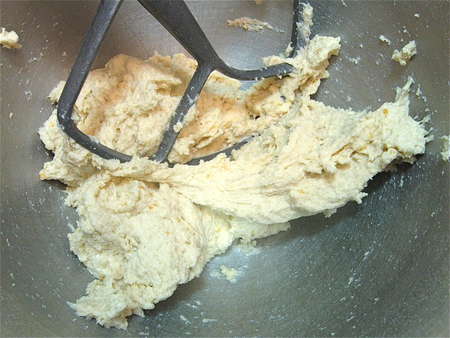 Use the flat beater paddle of your mixer to combine all of the ingredients till they hold together.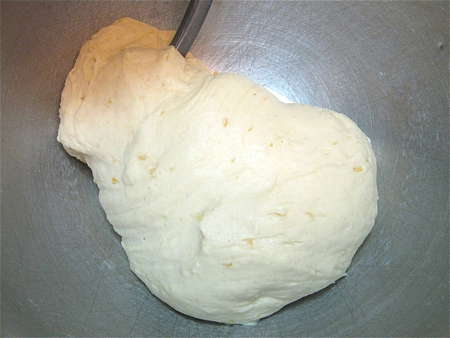 Switch to the dough hook, and knead for about 7 minutes on medium speed, till the dough is smooth.
Can you do this in a bread machine set on the dough cycle? Absolutely. Can you do it by hand? Of course. Whatever kneading method you prefer is the one you should use.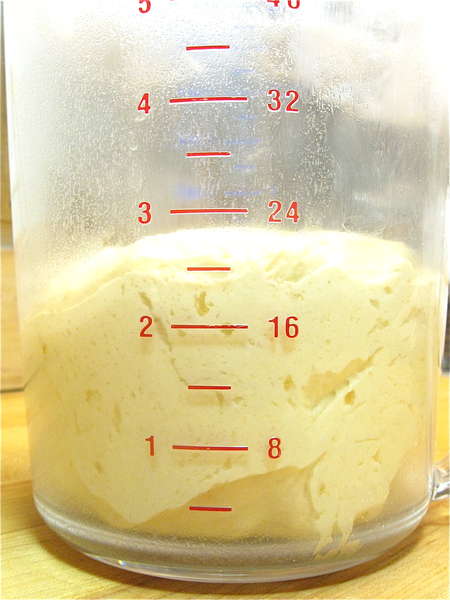 Place the dough in a lightly greased bowl (or an 8-cup measure, as I'm using here), and let it rise for 45 to 60 minutes, till it's very puffy.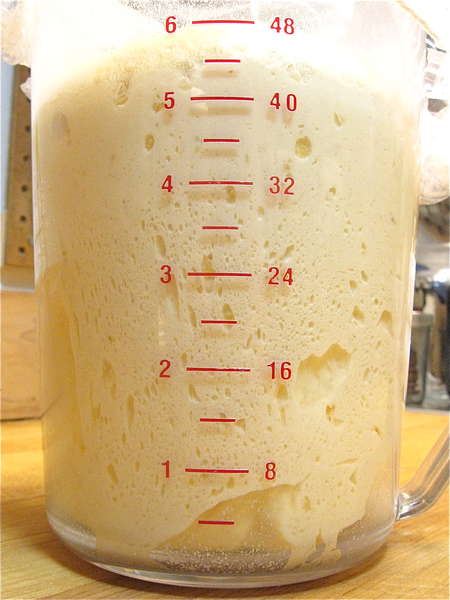 Like this – WOW!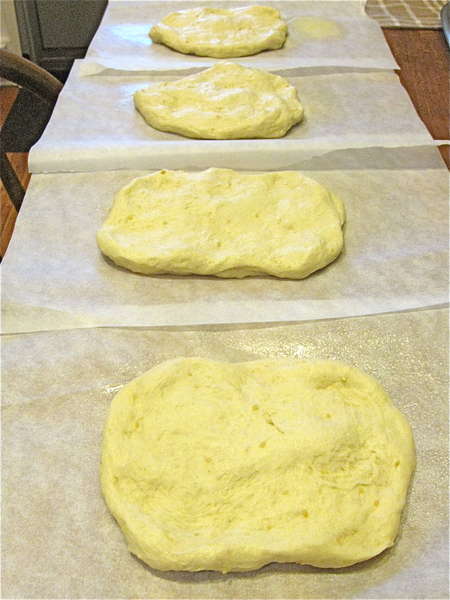 Divide the dough into four pieces, and place them on four greased pieces of parchment, about 9" x 12" each. You can easily make this size by tearing a half-sheet piece of parchment in half.
Can you put them on waxed paper or plastic wrap instead? Sure, go for it; the parchment police won't nab you.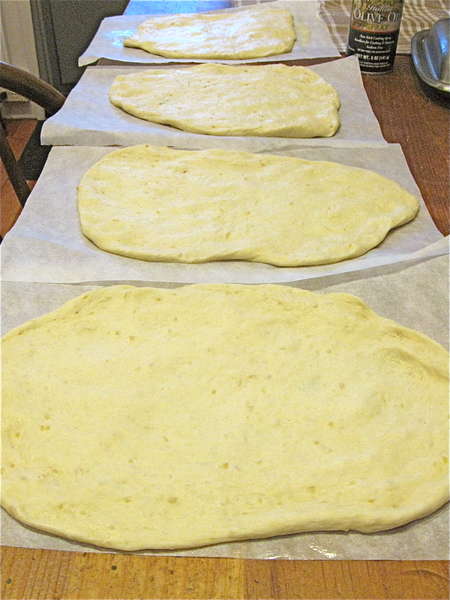 Flatten the pieces of dough so they cover most of the parchment; they'll be about 1/4" thick (or thinner). Spray them with olive oil spray, or brush lightly with oil, so they don't dry out.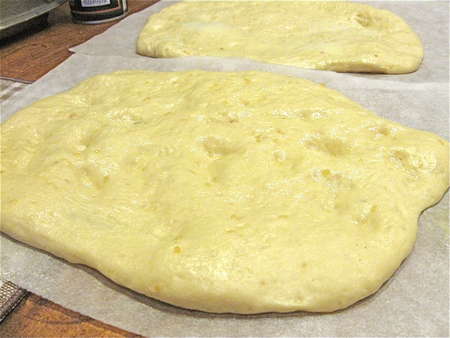 Let the breads rise for 30 to 60 minutes, while you heat your outdoor grill to about 400°F.
Can you bake these in the oven, rather than grilling them? Absolutely. They won't have the grill marks or the charred/smoky flavor, but any port in a storm, eh? Preheat your kitchen oven to 425°F.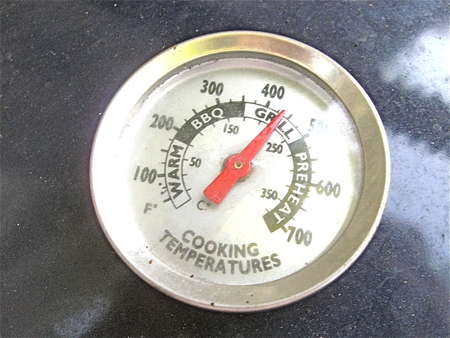 I have an electric grill with a thermometer. Lucky me, huh?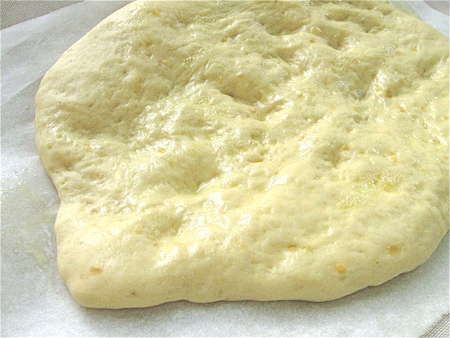 Here's one of the breads after about 45 minutes.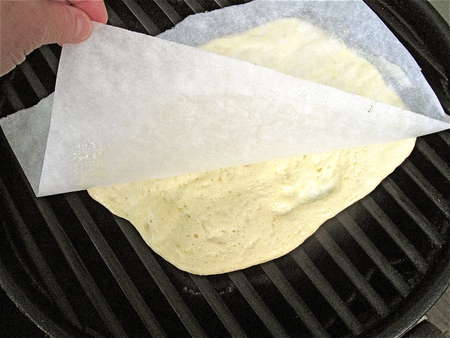 Pick up the bread, paper and all, and turn it onto the hot grill. Peel off the paper. If your grill has a cover, put it on.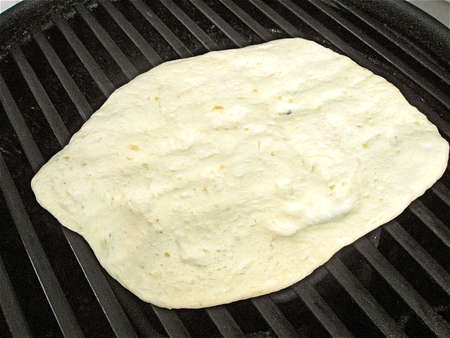 Bake till the bottom is nicely browned. Don't worry, the dough sets quickly, and won't fall through the grill cracks.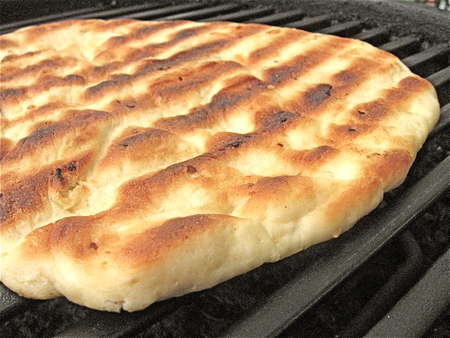 Turn it over, and grill till the other side is brown. Adjust your grill's temperature if it seems to be darkening too quickly. Or too slowly.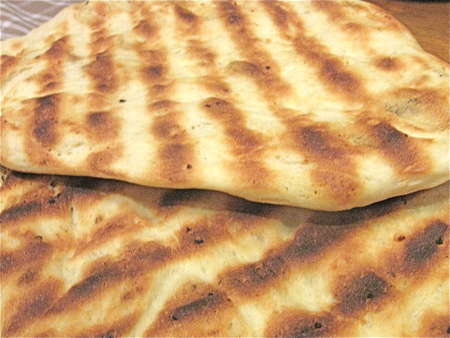 Repeat with the remaining pieces of dough.
If you're using your oven, simply place the bread with its parchment onto a hot oven stone, or onto a baking sheet. Bake till it's golden brown and puffy. Since I didn't actually test this I don't know the exact amount of time, but I'd guess about 15 to 20 minutes at 425°F.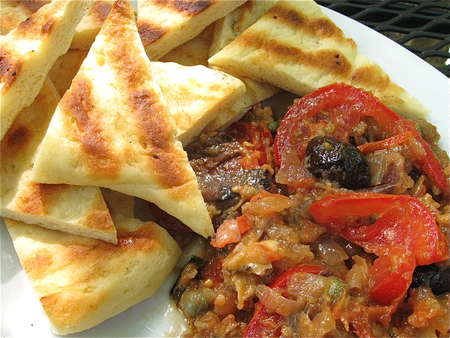 Serve the bread warm, or at room temperature, with the caponata. Caponata is best served at room temperature, so if you've had it in the fridge, give it a chance to warm up.
Buy vs. Bake
Buy: Via Amazon: Sole Mediterraneo® Caponata Sauce, with tomatoes, eggplant, bell peppers, black olives, and capers, 55¢/ounce
Make at home: Eggplant Caponata, 13¢/ounce